29 Sep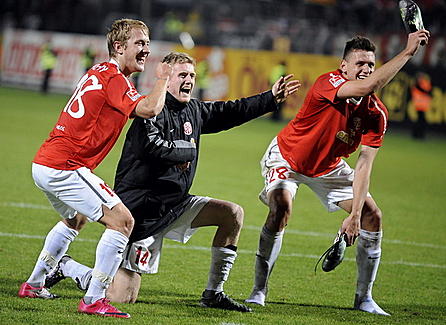 The Boygroup celebrating a goal – Foto : DAPD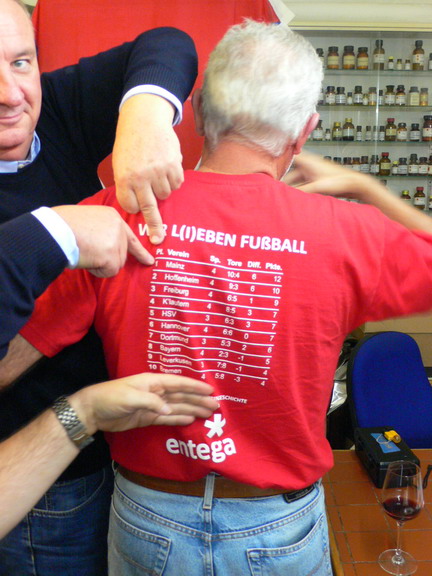 Top spot for Mainz in the Bundesliga
September 2010
What can you say about a soccer team that just recently upgraded to Bundesliga status, is young, daring and has straight-away won the first 6 matches of the German premier league against much feared and stronger opponents ??
Fantastic Boygroup !!
That is how they call themselves and they happen to be from our Rheinhessen area- just around the corner from us in Mainz.
FSV Mainz 05 – here's their official website : www.mainz05.de/
In English : en.wikipedia.org/wiki/1._FSV_Mainz_05
They have managed to coolly beat both Wolfsburg ( coming up from 3-0 to win 3-4 ),  Werder Bremen at home, Köln and Kaiserslautern too and most importantly they have beaten Bayern Munich by 3 goals in Munich last Saturday – OK, one of the goals, the one for he Bavarian side had to be shot by the Mainz team – gotta help them poor suckers a bit ………..
The nice thing about the "Boygroup" as they call themselves is that they are all around 20 years of age, a mixed bag of unpretentious, formerly unknown players with an unrivalled team-spirit who like to play good, offensive, fast soccer, no surrender – and they are at the top of the German Bundesliga, after winning 6 straight matches against far more powerful opponents.
I placed a bet for them against their overpowering Bayern Munich opponents last Saturday at Andy's Pub and it worked out – 2 good cigars enjoyed during the match and they beat Munich at home.
So we celebrated this refreshing, aggressive, fun to watch great neighbourhood team at the pharmacy this Tuesday during our pharmacy smoke while eating some great home-cooked chicken drumsticks provided courtesy of Albert ( Happy Birtday Albert ! ), fantastic air cured Salamis courtesy of Manfred "Mannix ( Happy vacation to Beirut !! ) and great "Schmalz" and Baguettes courtesy of "Big Hans".
As always ; great cigars and good fun too.
Next pharmacy smoke will take place in Portugal ………
Nino
Drumsticks & Big Hans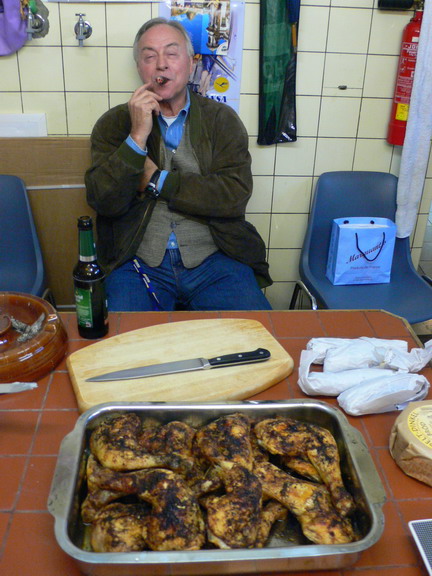 Happy Birthday Albert !!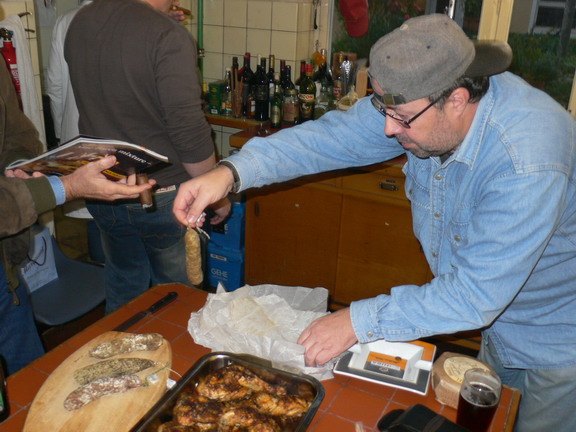 Finest Salamis by Mannix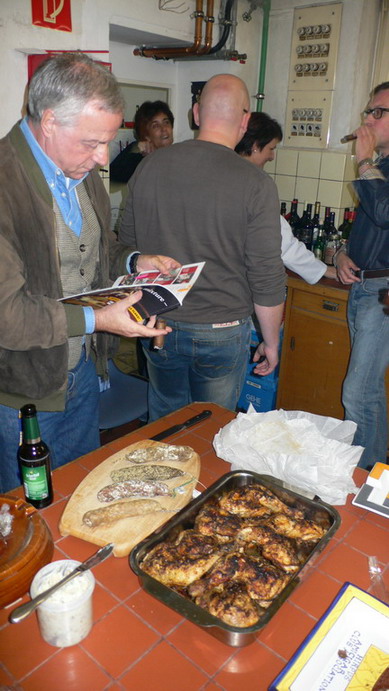 Full board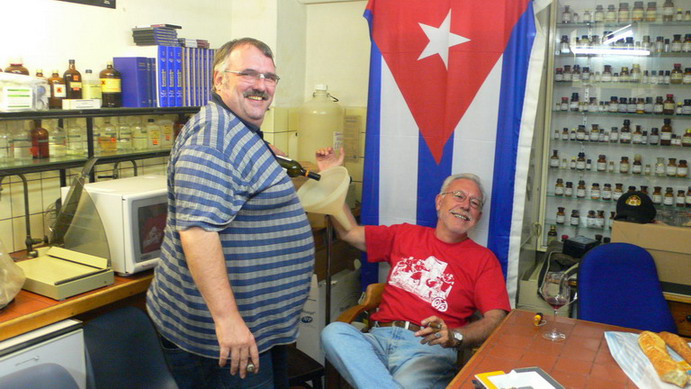 Christoph feeding me some intravenous Red
Wörrstadt Medical Services – Having Fun as always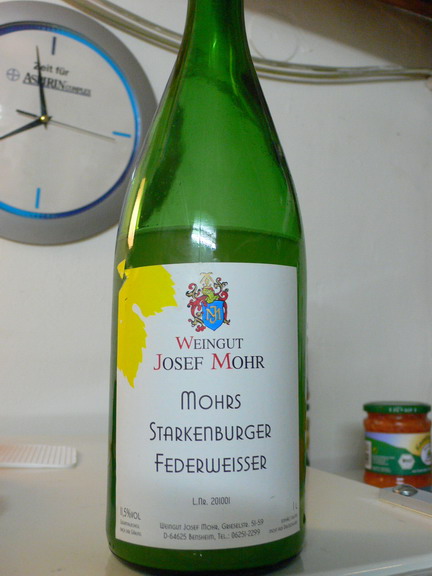 Federweisser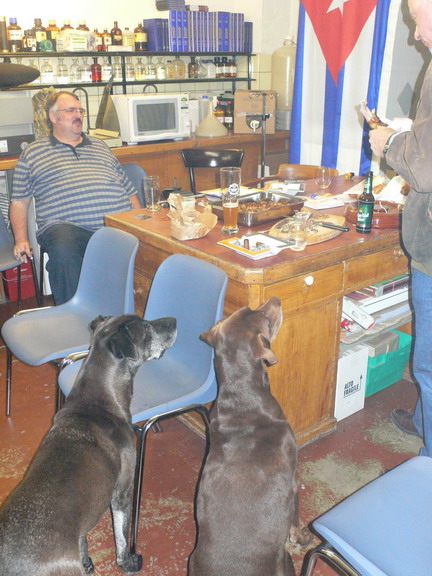 Waiting for dinner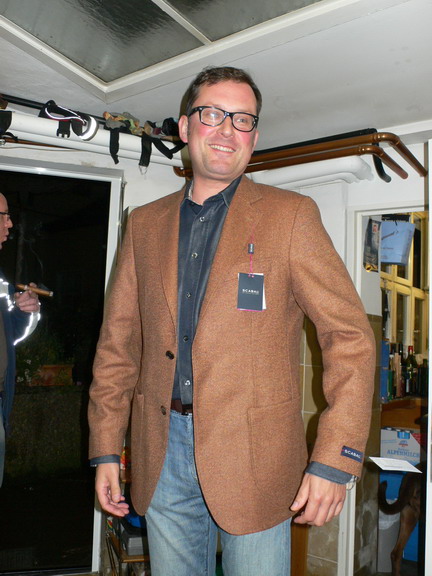 Suits you well, Sir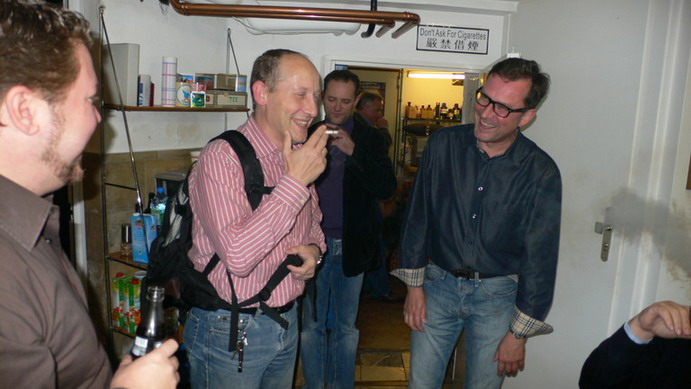 Backpacking Bernie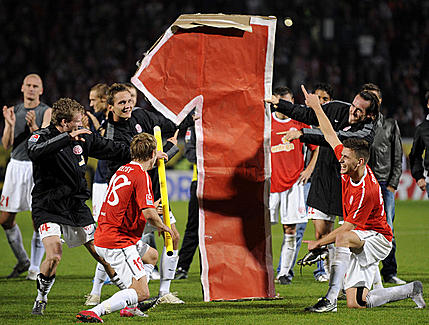 Number One – Foto : DAPD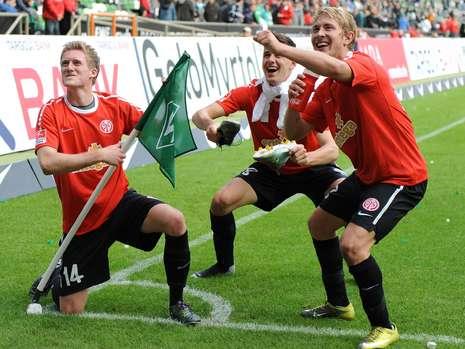 Red & White Dynamite – Guitar, Drums & Singer celebrating
Foto : Bildzeitung
Copyright 09-2010 © Ninos Flying Cigar