19 Sep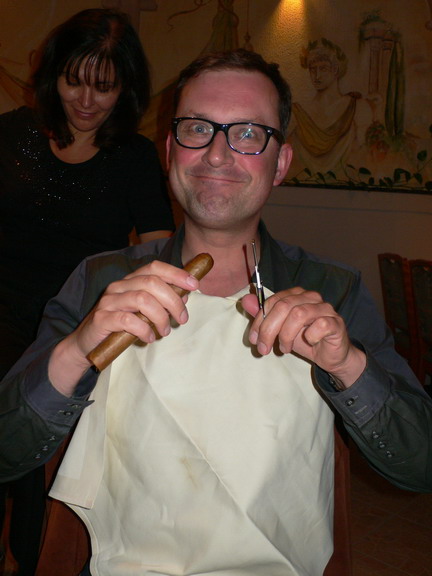 Andreas ready to cut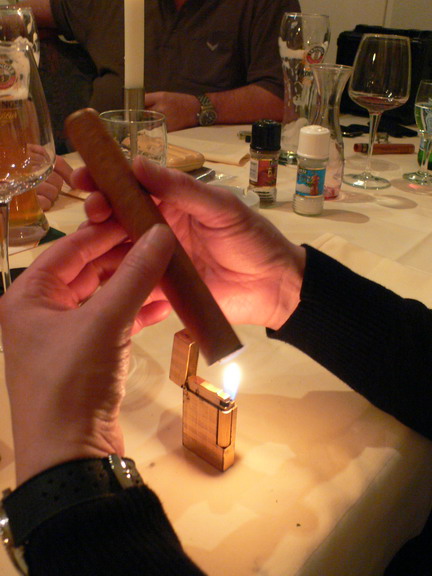 Michael ready to light
Sept. 2010
I found the BHK to be the best cigar by far we smoked in Havana this year and have been following its development smoking one or two from each line every couple of months to see how it's going.
Last Friday we tried some BHK 56 – here's our opinion on them :
We finally got around to smoking some BHK 56 from a last batch I have received so they could be compared to the inaugural release.
Both Andreas and I had smoked the previous sticks and we found this latest batch to be fully consistent with our very favourable earlier reviews.
Again, a lush mouth-coating creaminess from the very first draw, an absolutely round and perfect taste and aroma that could almost be chewed. Perfect construction, silky smooth wrappers, razor-sharp burn, no issues or problems whatsoever on them.
Very enjoyable and smooth cruising until half-way when I noticed the cigar becoming stronger – not biting or harsh, just stronger and starting to "kick" ass while tasting absolutely delicious.
It would remain strong to the very end, but again, not in a negative fashion, just a cigar that needs some solid foundation, maybe not just the vitello tonnato and fettucine nere I had just had for dinner.
Also I noticed that the cigar was still a bit humid ( guess around 75% while I prefer somewhat lower RH ) which might have affected its strength – I will definitely not touch these cigars again before they have aged some years.
It is not a cigar for beginners but it will give you a great pleasure if you pay the attention it demands.
We all agreed on the exceptional quality of the cigar and the way it stands out from regular, ER or even EL production.
If you manage to get these at affordable prices without having to sell your children or send your wives to work the streets – GO for them !!
As a way of a measuring stick, Andreas, Bernhard and I had smoked some Robaina Padrinos just a short time ago, so we have experience with big, fleshy, strong cigars.
Michael "Turner" agreed to put his review into words and share it here :
Nino, thank you for being so generous and share these cigars with us.
The Behike 56 started with immediately with a very good intensity, but wasn't rough after lighting like so many other cigars are. The flavour was dominantly cocoa and maybe vegetal aromas. Most dominant at this point was the mouth-coating feel this cigar gave me. Unlike other cigars, which are creamy this mouth-feeling was more viscous and longer lasting, maybe like olive oil or butter.
The downside at the first third was, that the cigar felt not that good integrated flavour wise, some corners here and there. Given the youth of the Behikes this is not the fault of the cigar. But surprisingly the cigar got better in this case when it reached the mid-point.
Strength was getting higher, but my knees weren't starting to shake, like my smoking companions experienced. Flavours were getting more intense, maybe a slight woodiness come into the game. But at this point we were just enjoying the cigar and the company of the others. Our "tasting" wasn't that scientific anymore.
Overall a full flavoured and nicotine-strong cigar, but in a very well-mannered way.
I smoked it until 1 inch remained, but only then some sharpness kicked in. Not that much, but enough to put it into the ashtray, since we were getting ready to leave. Very good at the moment, but to have all the fun, I would wait at least 3-4 years before lighting another one.
In the end I consider Nino's Behike 56 as one of the three best cigars I've smoked this year. Thanks for sharing !
Next we will see how the BHK line compares to the Cohiba Gran Reserva, smoking the BHK52/54 against it.
Projecting from the experience of the BHK's smoked so far it will be a close finish.
Nino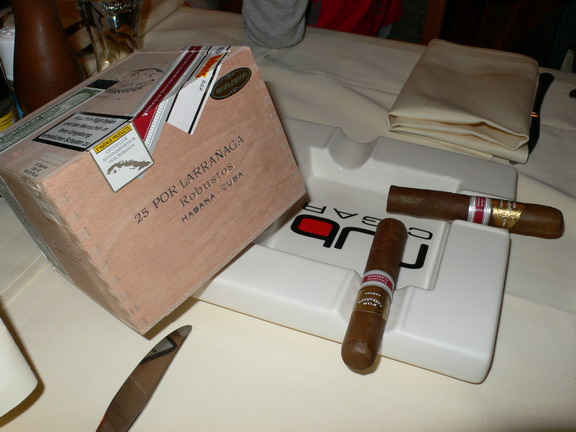 PL Robustos ER Germany for starters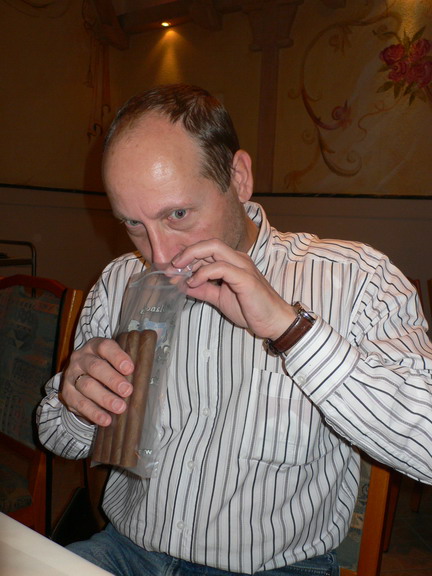 Bernhard exploring Intertabac sticks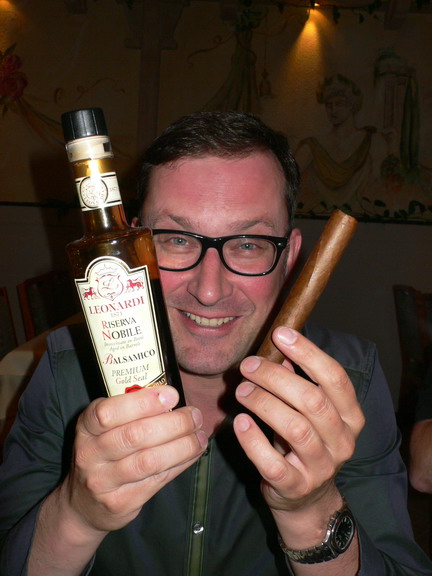 Some sticks need spicing up …..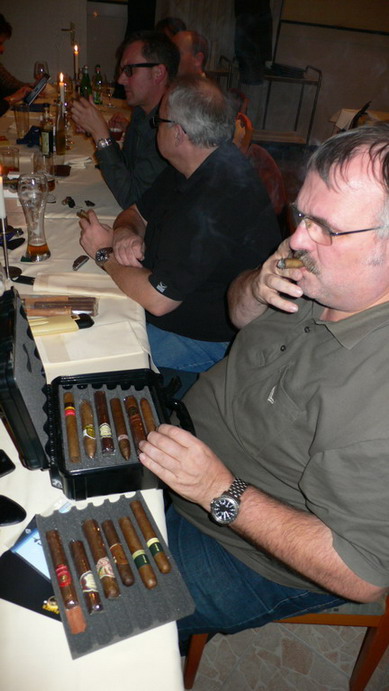 Gottfried & Christoph freshly arrived from the Intertabac cigar fair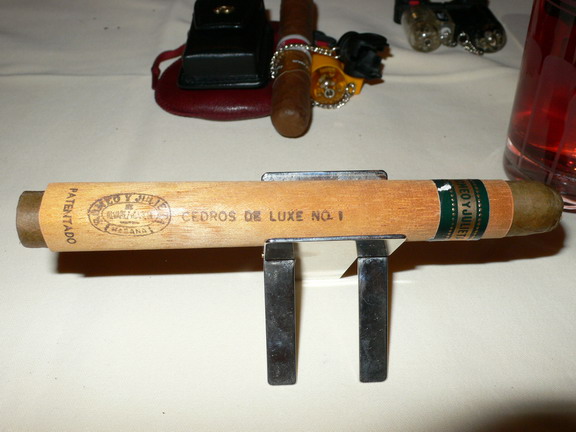 90's RyJ Cedros courtesy of Michael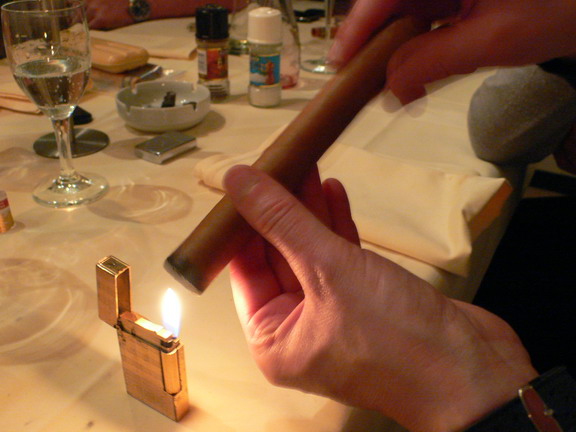 Starting up the BHK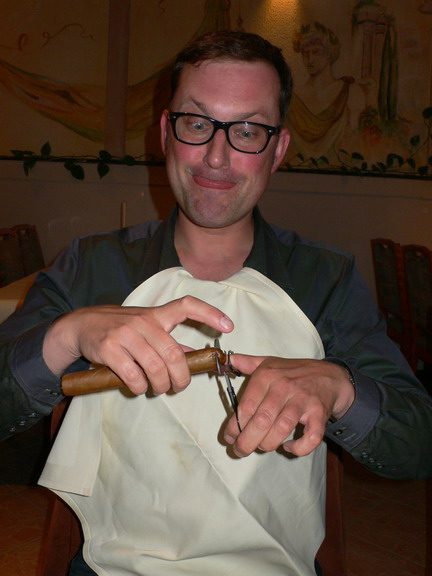 Gourmet Andreas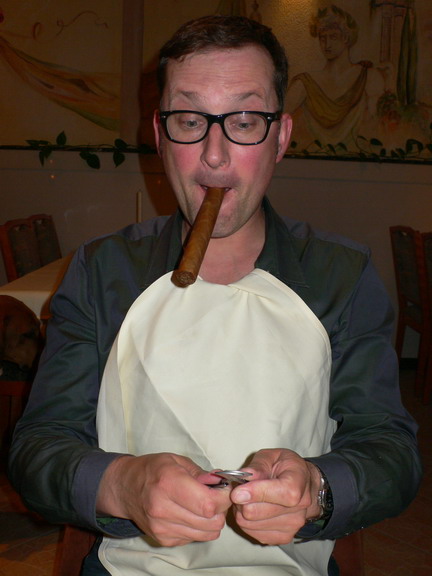 Mission achieved without injury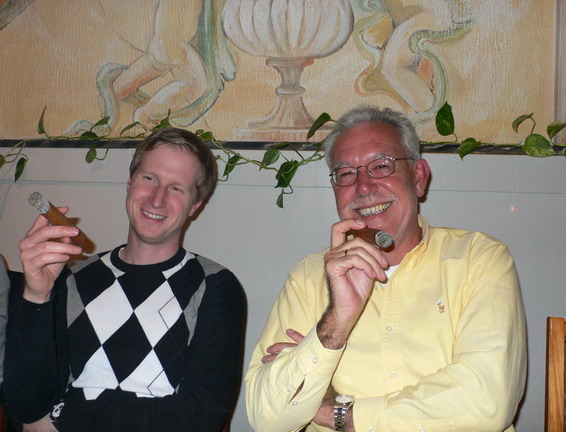 Good time with Michael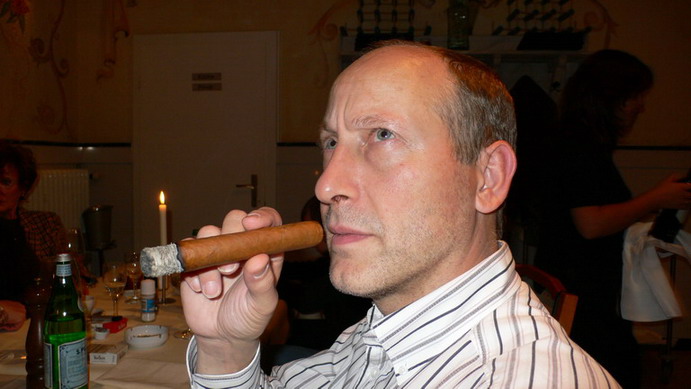 Bernhard working up his memory for El Padrino vs BHK comparison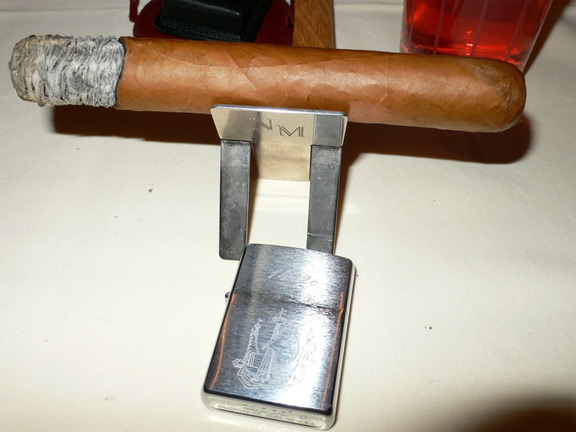 Perfect sample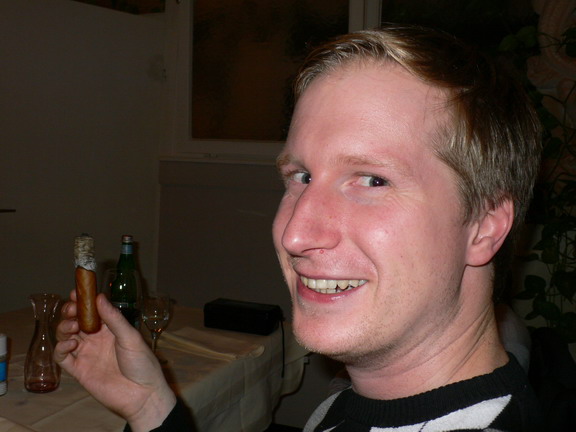 Good to the last inch by Michael
Copyright 09-2010 © Ninos Flying Cigar