24 May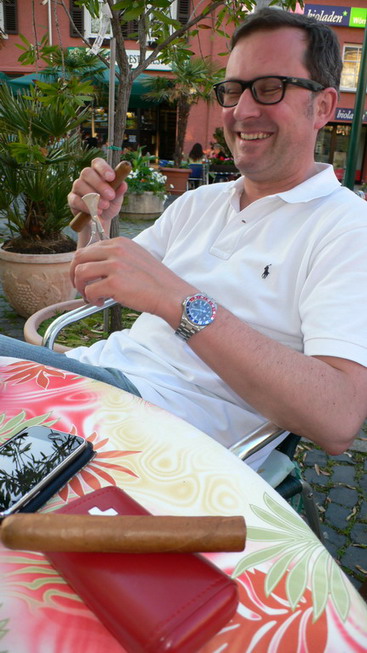 Andreas
Pre-Birthday Cigar with Andreas 24.May.2010
Not celebrating his upcoming 46-th birthday tomorrow, just having a good time at the ice-cream café in Wörrstadt.
We smoked the BHK 54 and Andreas was just as pleased with it as I had been with the BHK 56 yesterday after lunch in the garden.
He just found some better descriptions of it, like the roasted aromas at the end or the strength that develops after the first third.
Here's his review :
Dank Nino´s Grosszügikeit kam ich schon jetzt in den Genuss eine BHK 54 zu rauchen.
Die äusseren Bedingungen hätten nicht besser sein können:
ein warmer wolkenloser Pfingstmontag-Abend und wir beide am gegenüber gelegenen Neunröhrenplatz unter Palmen beim Italiener.
Auch der erste Eindruck der Zigarre hätte nicht besser sein können:
herrlich samtige Deckblätter umhüllen eine perfekt konstruierte Zigarre.
Wunderbarer würziger Duft und nach dem Abschneiden ein aromatischer Kaltzug bei perfektem Widerstand.
Nach dem Anzünden schnell präsente Cohiba-würdige Geschmackseindrücke.
Endlich mal wieder eine kubanische Zigarre mit Marken-Typizität!
Trotz ihrer Jugend überraschend ausgewogen und zu keiner Zeit beissend, harsch oder zickig.
Perfekter Abbrand bestätigt das hohe Niveau der Verarbeitung.
Im Mund verbleiben die Aromen lange und kleiden den Gaumen voll aus.
Zum letzten Drittel werden die Aromen "brauner".
Auch merkt man ihr nun ihre Nikotinstärke deutlich an!
Es erfolgt ein harmonischer Wechsel von den – in meinen Augen – typisch leichten würzigen Cohiba-Aromen zu mehr Röst-Aromen.
Nach mehr als 80 Minuten legen wir die Zigarre beseelt zur Seite und sinnen noch lange über das Glück nach diese Zigarre geraucht zu haben.
Eine absolute Kaufempfehlung unsererseits – allerdings sicherlich nichts für Anfänger.
But we talked about everything and the BHK was a loyal and pleasant companion throughout.
The weather was glorious, so we had the office cigar moved outside for a change.
Happy Birthday Andreas !!
Nino
Sniff one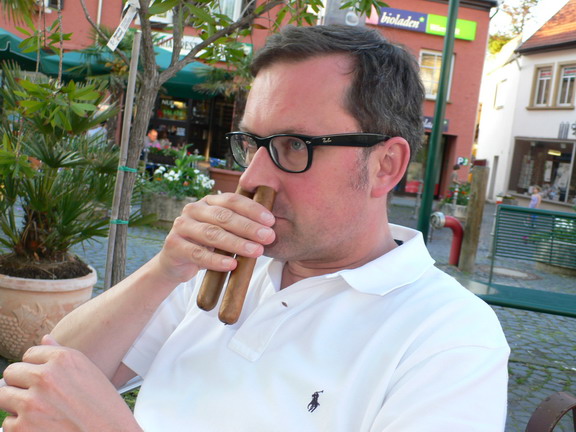 Sniff two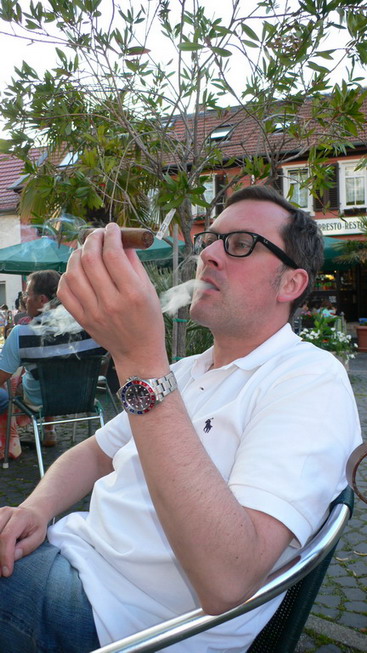 Feines Stöffche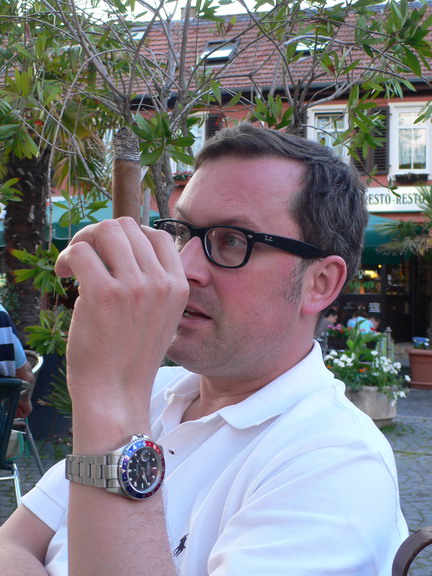 Andreas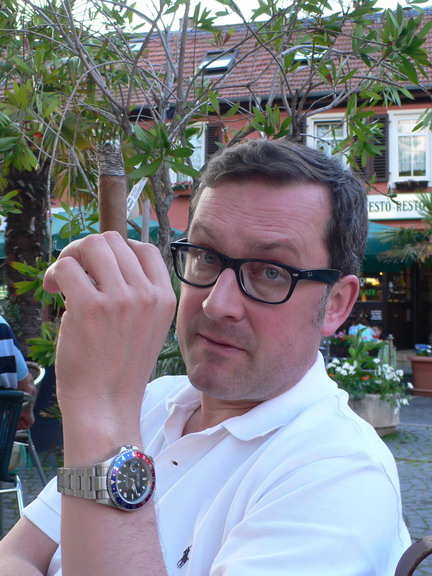 Andreas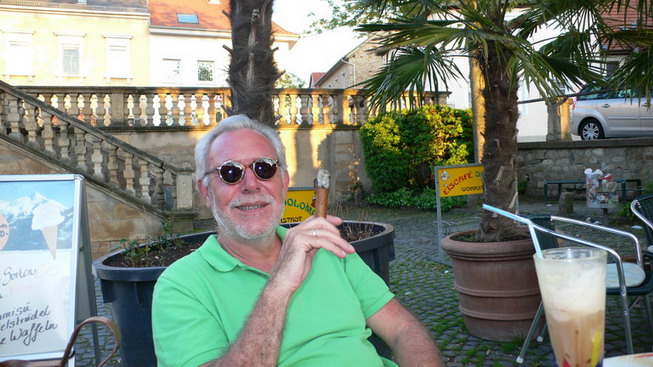 Always good to share cigar time with Andreas
Copyright 05-2010 © Ninos Flying Cigar