25 Aug
UPS – United (Nations) Pharmacy Smoke
Day Three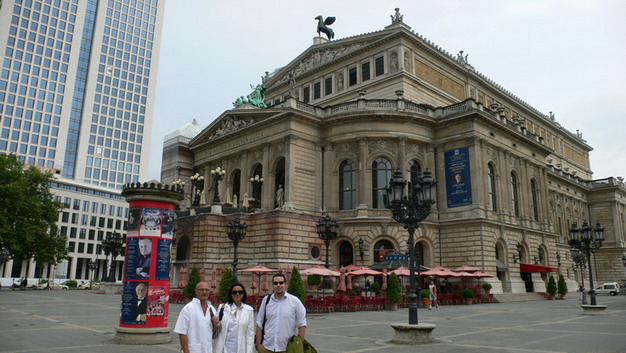 Gino, Anna & Greg in front of the Old Opera in Frankfurt
21 August 2009
I did not get much sleep last night, but I'm OK so far – I am just getting older, so smoking, drinking and staying up late does not leave me fresh anymore.
Greg, a US cigar friend from Boston, landed some 45 minutes earlier than expected, so again, no cappuccino at the Cafe.
It's hurry up to the airport with Gino & Anna to pick up Greg.
Great guy Greg, I mean, who else would come over from the US on 4 flights for 48 hrs of cigars ?
After picking up Greg from the airport we drove into downtown Frankfurt and parked below the Alte Oper (Old Opera) building – which is almost brand new, having been re-constructed from rubbles and ashes only 25 years ago.
We had a first walk through downtown and crossed the Main River into fancy Sachsenhausen neighbourhood and the finest in typical Frankfurt gastronomy.
I was weary whether this kind of hearty and strong food plus having apple cider as beverage would be accepted by our guests, but hey, they all loved it and threatened to return for more.
You cannot get more local than at "Zum Gemalten Haus".
It was fun and we lighted up the cigars. Our womenfolk had left us for a shopping expedition and we relaxed knowing we had kept the credit cards.
Smoking slowly while slowly walking, we returned downtown past the European Central Bank and almost into the red light district that borders the LCDH – itself in a fancy modern building in the shadow of a Bank's HQ.
Rigo welcomed us, we had a nice corner, but it was too damm hot in the lounge – the a/c wasn't working, so we moved, garden doors were opened and a little breeze came in.
A somewhat limited selection awaited us at the LCDH, but then again, who needs to scratch his head or flip a coin while being impressed by walls and walls of cigars.
A bit on the hot side too in the Walk In humidor, where we chose a nice cigar for smoking and selected some Elegantes Nr 2 that had just arrived.
The Lounge itself is large, modern, elegant and refined.
I specially loved the large picture in the men's room, always nice to have a cigar smoking lady near you in pressing times ………
Two hours passed by shooting the breeze, taking unfocused pictures and having not very focused conversations yet (certainly not due to any alcoholic Mojito excesses).
We picked up our ladies from the Café and returned to the village, ready for the big cigar evening.
It started slowly but picked up speed rapidly as all the usual suspects began arriving and greeting each other – some only familiar from pictures in forums like Max "mdoeg" from Austria and his lovely wife Gabi. He was with the Swiss crowd of Heiko, Marcel and Tom – there I met Rob "Vic Vitola", also coming all the way from the USA to attend the event. Michael "Turner" also arrived in the house.
All the Düsseldorf/Solingen people came in as well. Patricia and Marc Benden of Cigarworld Benden, Alex, Michael & Vicky, Hung, Dirk and Markus.
Patricia had the original idea about coming down to the Pharmacy Smoke aa she approached me in Havana last March – having heard that she would attend, my good friend Urs Portmann of Portmann Cigars also promised to be in the village with us and brought Hannes Weiss along – a pleasure to have them here.
Ralf "Lestat39" who's been attending our smokes quite loyally also drove up from Stuttgart with his wife and their 2 dogs.
Also present were fine Hamburg smokers – Manfred "Puck", Dieter "habanadi" & Anja, Paul & Martina.
All in All we assembled around 50 smokers in the pharmacy's patio and lab and the party began.
Everybody formed small groups and got to know each other with all mixing up and having a good time.
Two BBQ stations were manned by Alex and Michael who had brought all the ingredients for a big Meat Fest, courtesy of the Düsseldorf/Solingen gang.
Gottfried and Gabriel had prepared the patio with benches and chairs so we all had space and even put up pavilions just in case it rained.
Gino had been so kind as to bring Buffalo Mozzarella and local Avellino cheese along with a 4 liter bottle of red wine for us. A 50 liter barrel of beer was provided along with all kinds of alcoholic and non-alcoholic beverages.
Gino also presented a beautiful AmiCigar ashtray to the pharmacy and I presented a signed 1996 Pol Roger Sir Winston bottle to Urs courtesy of Min Ron Nee from my last visit in Hong Kong.
A splendid Cigar Bar was provided in the Lab with excellent '98 Punch Churchills and ERM Petit Coronas courtesy of Ralf "Lestat39", Partagas Lusitanias by Mr Portmann and PL ER Asia Pacifico by Andreas.
Good cigars were smoked, shared, given away, admired and enjoyed all night long. Everybody was in the "have this, try this, smoke this" mood
That is until Guy passed around a "special" cigar to some seriously cigar smoking people wanting their opinion on it – and no one guessed what "the special cigar" could be.
Opinions ranged from RASS to Nicaragua, while others, like myself, believing it came from Greg, thought it was a vintage.
All we could agree on was that it was a very harsh cigar.
Turned out to be a Montecristo OPEN Robusto.
That was NOT funny !
I felt quite ridiculed – somewhat similar to "losing face" in Asia and getting ready for ritual Seppuku.
Talk about a cheap Charlie party pooper.
If Guy had bent over that moment, I am quite sure in which cavity his cigar would have been disposed of and buried in.
But what do you expect from a guy who smokes cigarettes on the side ….
Hannes, Andreas, Gino and I had some good digestifs while checking out vintage cigars from Hannes' Havana locker that he had passed on to me earlier this year.
These cigars will be enjoyed in due course – starting that evening and continuing this Saturday for my private retirement dinner with Hannes attending.
I received a box of RyJ Duke EL 2009 from a good friend – Danke  !
We all had good fun and all we hope is that all the visitors had fun as well and enjoyed the evening.
It was a great night that ended at 0400 hrs – remember this was a regular duty night for Andreas ………….
Believe it or not, he's already announcing ( or is he threatening ) the next pharmacy smoke !
Nino

Links to places mentioned in this report :
www.ecb.int/home/html/index.en.html
www.cigarworld.de/content/ushops.php4
www.adler-apotheke-woerrstadt.de/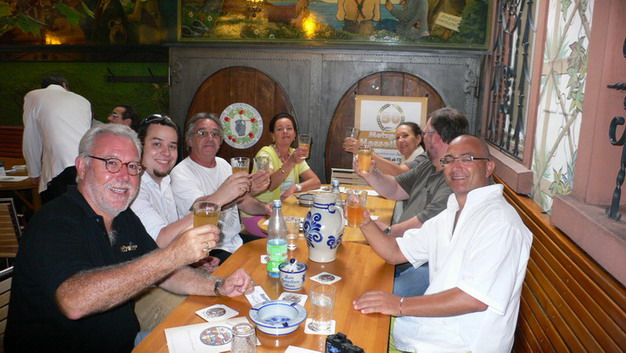 Frankfurt lunch in Sachsenhausen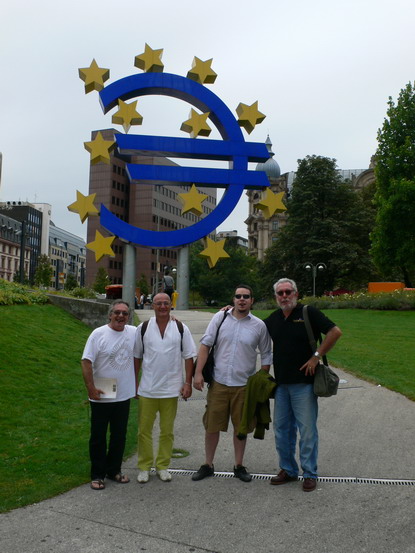 At the European Central Bank – Frankfurt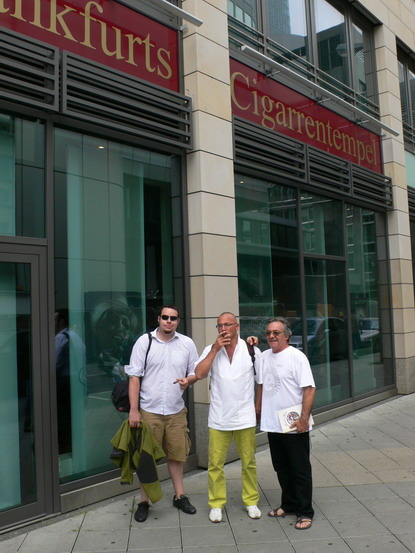 LCDH Frankfurt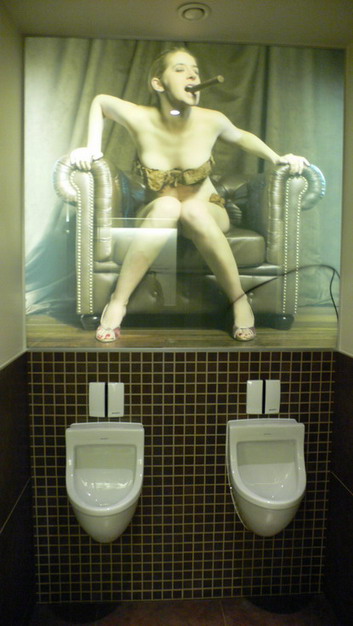 LCDH Frankfurt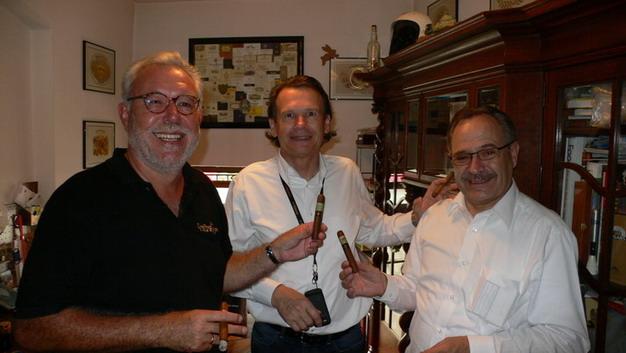 Hannes & Urs receiving a 1958 Ed. Limitada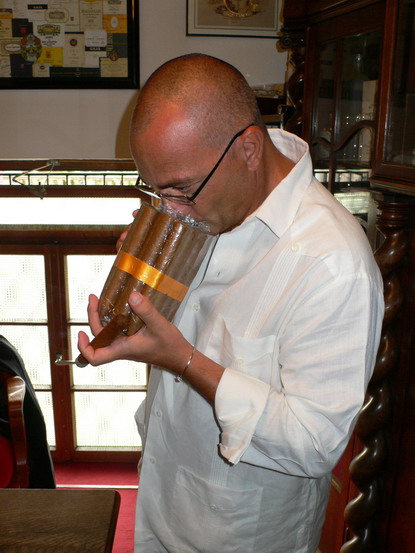 Gino and 2001 La Corona Pyramides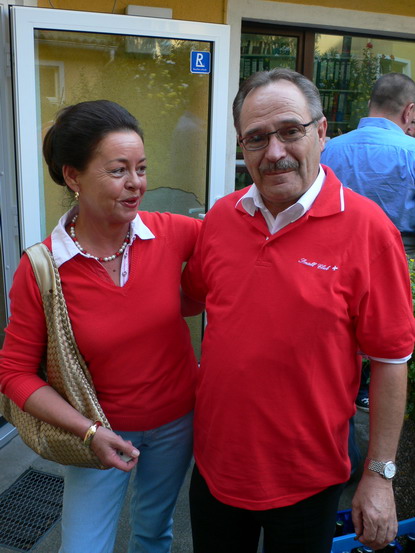 Partners in colour –  Inge & Urs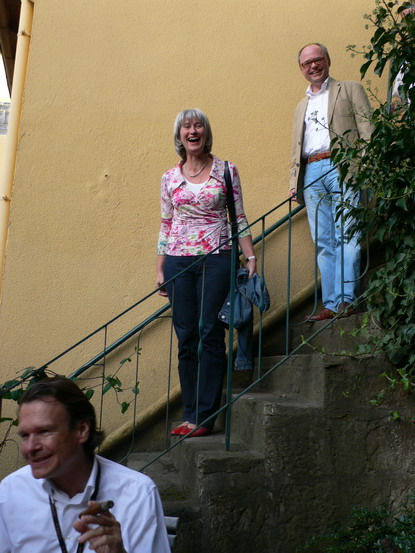 Hamburgers coming in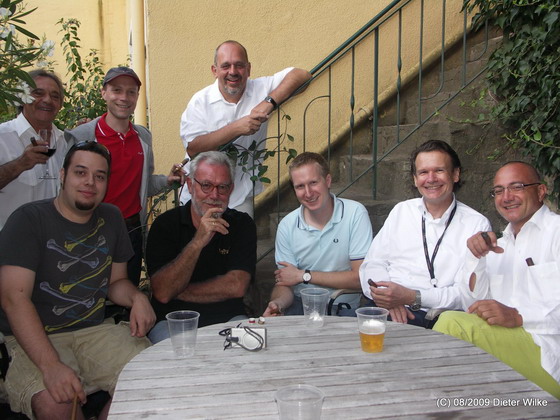 Nice group – Foto Dieter Wilke "habanadi"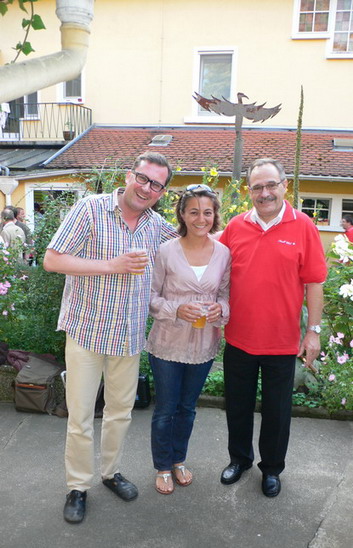 Andreas, Patricia Benden & Urs Portmann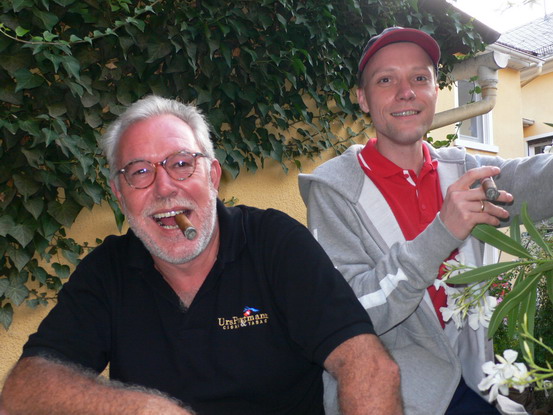 Non-serious smokers – with Dirk "Fumador"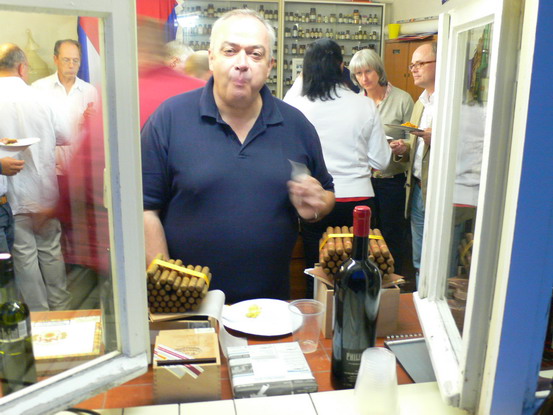 Gottfried enjoying the best place in the house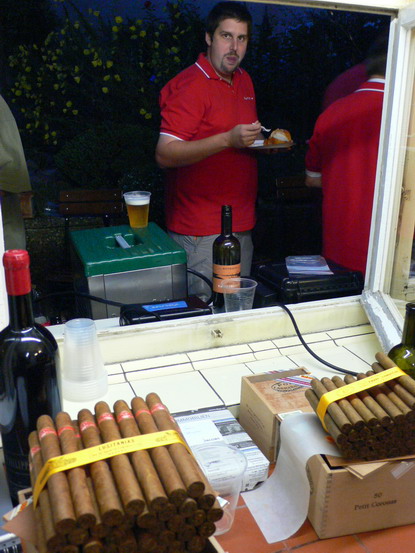 Max in heaven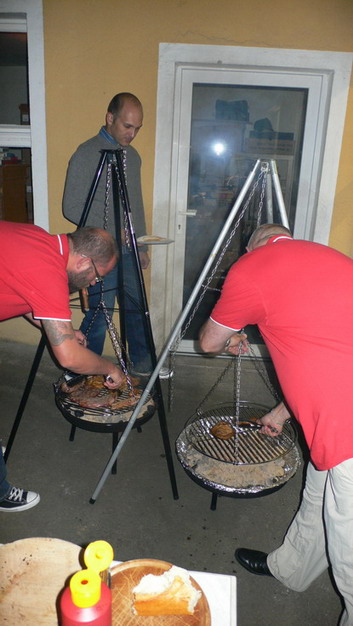 BBQ masters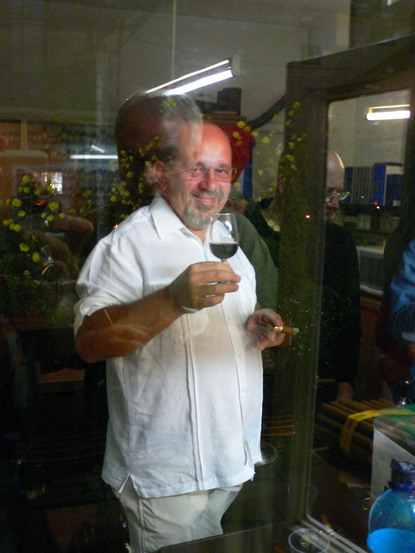 Prost Dieter !!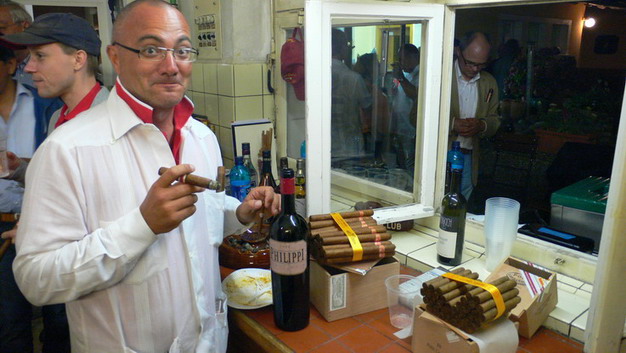 Gino having a good time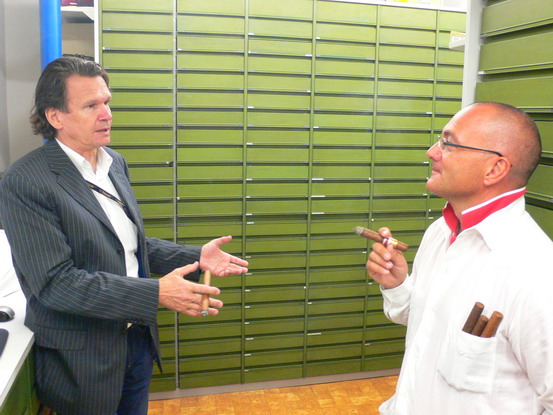 Hannes & Gino in the pharmacy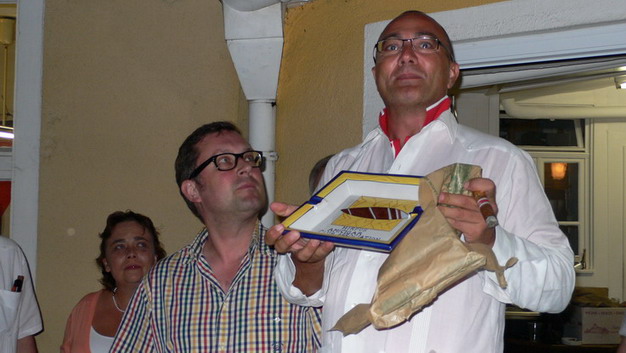 Gino presenting Andreas the AmiCigar ashtray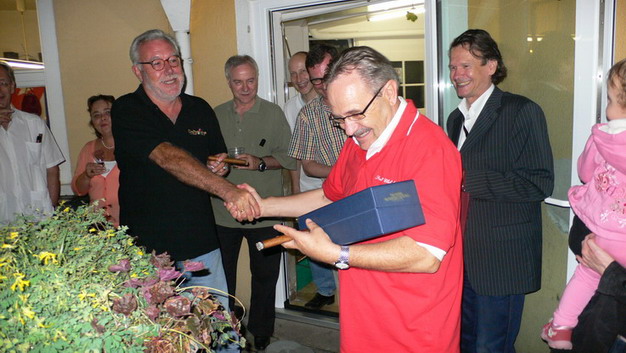 Reservekanister für Urs
Tom tasting Guy's "special cigar"
Prost !
Cigarignac for Gino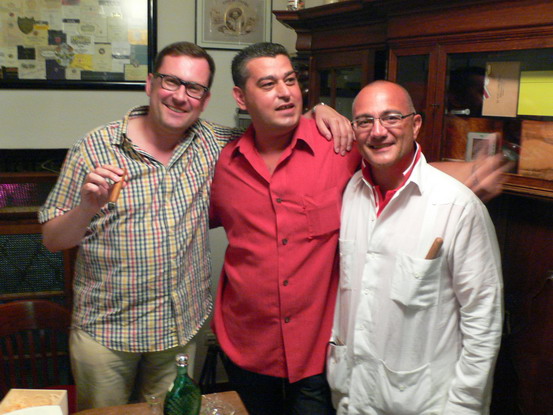 Massimo joins us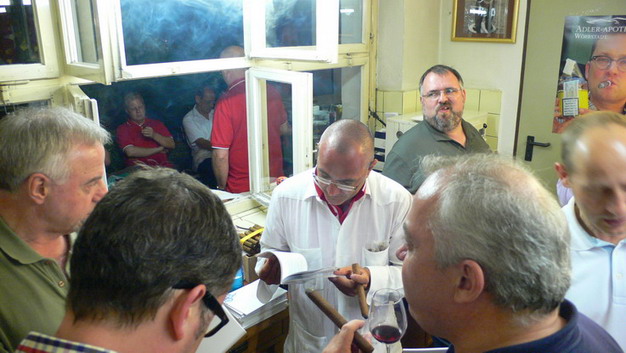 Gino reading Magali de la Cruz
Copyright 08-2008 © Ninos Flying Cigar