26 Aug
UPS – United (Nations) Pharmacy Smoke
Day Four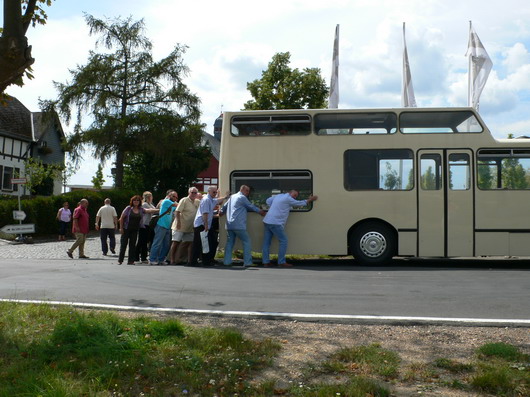 Pushing the Bus at Kloster Eberbach
22 August 2009
It was the end of their vacation and regretfully Gino & Anna had to return to Naples – sadly missed by all.
Grazie – vi riingraziamo per la vostra presenza e visita con noi !
Inge took them to Mainz for a tour of the city before driving them to the airport.
The rest, around 36 people, left on the cigar bus for a tour of the Rheingau area, or as I call it jokingly, the Rhine Wine area.
First stop was at JB Becker in Walluf, for a sparkling wine tasting next to the river organized by Hans who joined us there.
A good way to start the sunny and hot day.
Next we continued past Eltville and went uphill to the famous Kloster ( Monastery ) Eberbach, a famous wine estate owned by the State of Hessen.
Here we visited the Steinberg Keller and tasted the exclusive "Mauerwein" while visiting this same Vineyard. It is enclosed by a wall, hence the name "Mauerwein", that runs all around the vineyard and keeps in the day's heat at night.
Only the grapes collected from this wall are used for the Riesling Mauerwein, of which we tasted the Spätlese or late harvest. Selling at 26 € from the Estate, you can imagine its price outside the walls.
Our own Constantin "Fauntleroy" was priceless in explaining the particular details of the vineyard and the wines grown on it during a short lecture.
He's studying Oenology at the world renowned Geisenheim School of Wines nearby and is both a passionate cigar smoker as well as a gifted taster both of cigars and wines with a solid reputation.
Next stop was scheduled to be the Niederwald Denkmal ( Monument) or the "Germania" as we call it, where we had planned to sing a popular song from the 19-th century Prussian struggle against the French that occupied the opposite Rhine river side,  "Die Wacht am Rhein" .
The monument was erected after the Franco-Prussian war in 1871 to commemorate the founding of the new German Empire.
But we found out that the water cooling line was damaged and we had lost all of the cooling water.
Heiko, our friend and driver, with the help of Dieter, crawled underneath the bus and managed to repair the line with German ingenuity, plastic and Ziploc bags, tape, wire and whatever we managed to get him – almost including the fastening of a roadside sign that we unscrewed.
After filling in the missing quantity of water ( slowly, slowly, as we had to fetch it from the men's room at the wine estate in small quantities) we managed to continue with an hours worth of delay.
We had to cancel the Germania appointment and our singing performance.
Why do I suspect an act of sabotage here by Guy ?? – (Just kidding ) : – ))
We hit hard with the bus bottom going into the wine estate and damaged the line).
We had a late lunch at Schloss Vollrads' Gutsrestaurant, the fantastic first growth wine estate of late Graf (Count) Matuschka-Greiffenclau, where the Cigar Cult Club has celebrated a few Christmas events.
Very relaxing atmosphere at the castle, with wine tastings and weddings being celebrated in the sunny atmosphere.
It's so popular – specially on sunny, hot Saturdays – that we were almost stuck there, as cars had illegally blocked the way out of the castle.
Heiko managed a great driving feat inching his way between cars and the castle wall.
Another, and final, narrow alley lay ahead – the Drosselgasse, a tourist trap alley that we walked down to the Rhine river in the city of Rüdesheim. This is a hugely popular river town that receives millions of tourist from everywhere just to celebrate the "typical german lifestyle" of "Wein, Weib und Gesang" – wine, women and song that only exists right here.
I preferred a cold Weizenbier with Christoph while Guy searched for "Bananas from the Wall" ( an ATM machine or money spender).
Back in Wörrstadt a typical wine estate cold dinner awaited us as well as a wine tasting at the "Landgrafenhof".
We had a nice, relaxing time, but I left early with Inge as I was "fried" by now from lack of rest and the wines turned out to be a bit disappointing.
Nino

Links to places mentioned in this report :
www.winzer-online.com/www/de/weingut/weingut/9234_weingut_j_b_becker.html
en.wikipedia.org/wiki/Kloster_Eberbach
en.wikipedia.org/wiki/Steinberg,_Kloster_Eberbach
www.cellartracker.com/wine.asp?iWine=170945
en.wikipedia.org/wiki/Niederwalddenkmal
en.wikipedia.org/wiki/Die_Wacht_am_Rhein
en.wikipedia.org/wiki/Schloss_Vollrads
www.ruedesheim.de/cms/index.php
Additional pictures to this report :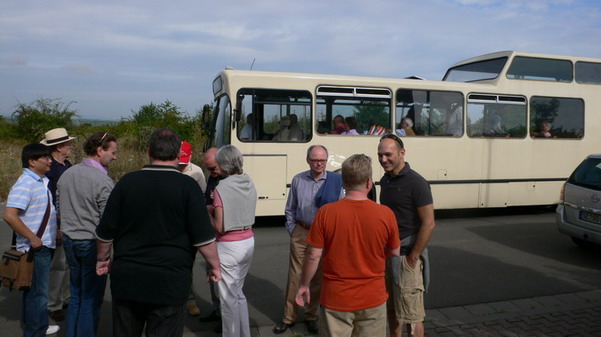 Cigar Bus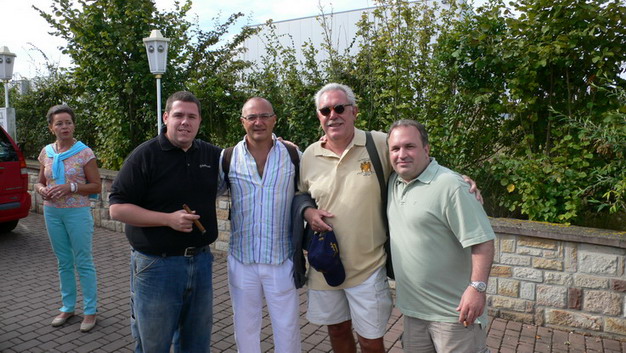 Inge, Tom "Bolivar", Gino "Mr Japan" and Rob "Vic Vitola"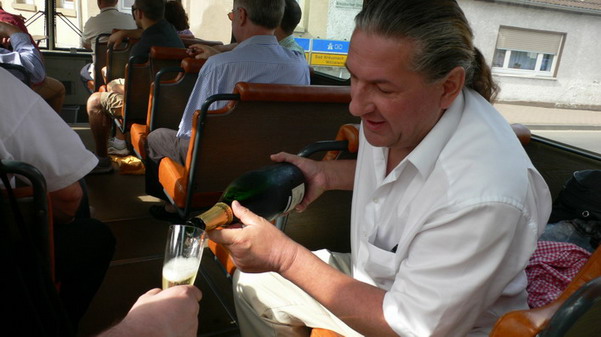 Thomas passing out Breakfast sparkling wine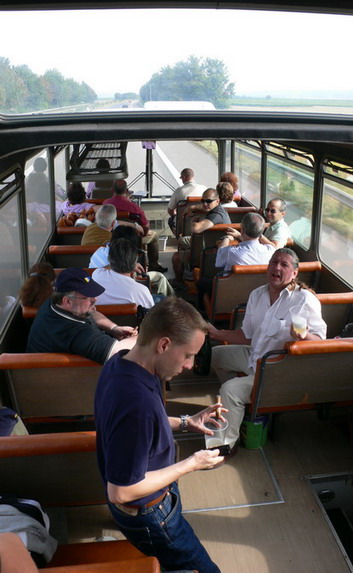 Cigar Bus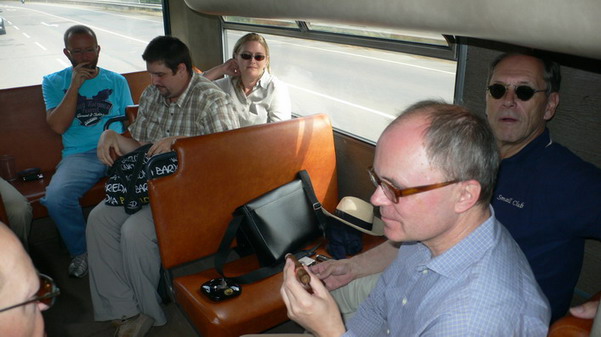 Cigar Bus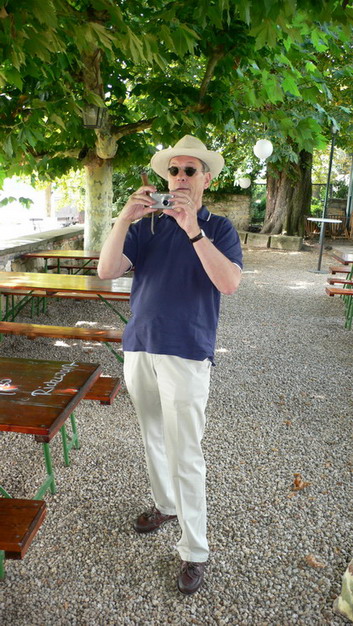 Manfred "Puck"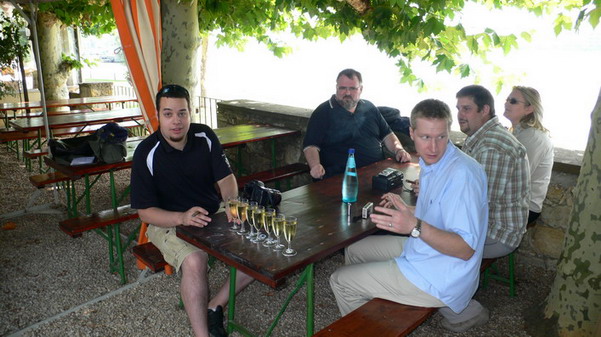 At JB Becker – Walluf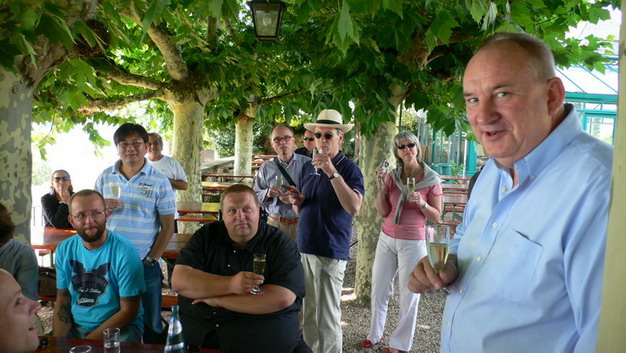 Big Hans explaining at JB Becker – Walluf
Manfred "Puck"
Grabbing Spundekäs' on the bus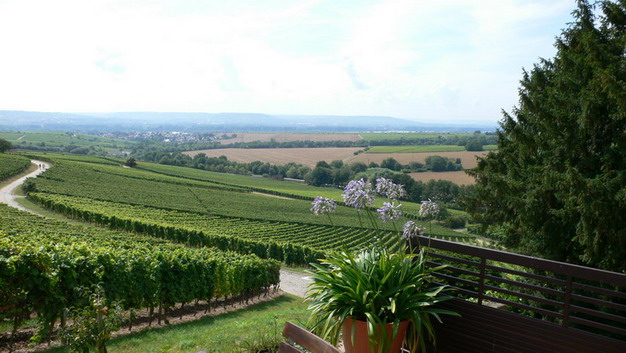 Kloster Eberbach – Steinberg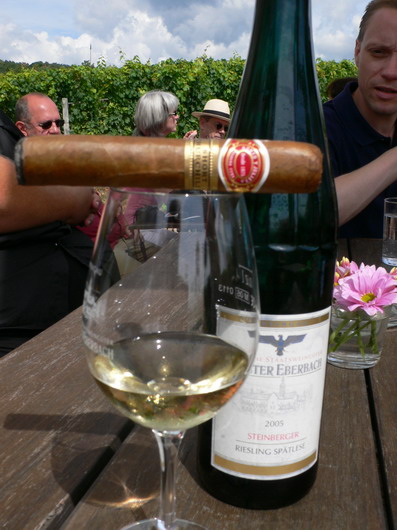 Kloster Eberbach – Steinberg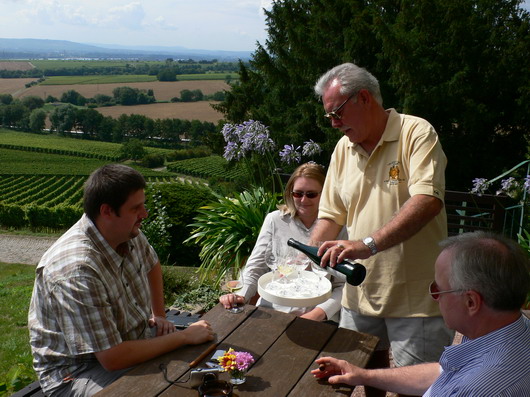 Serving Gabi & Max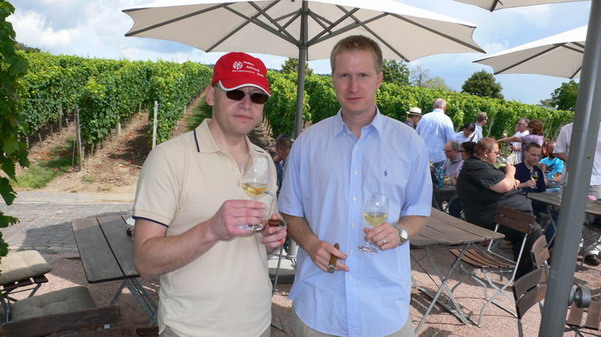 Gabriel "atacama" and Michael "Turner"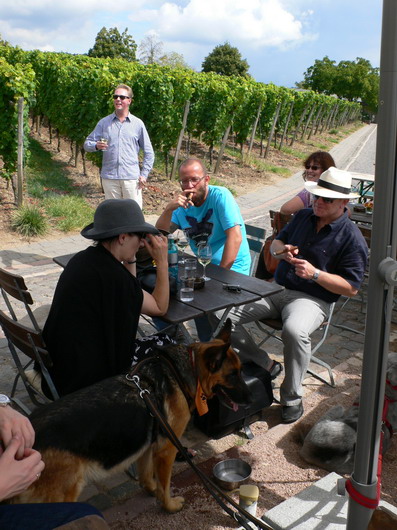 Constantin- our wine guide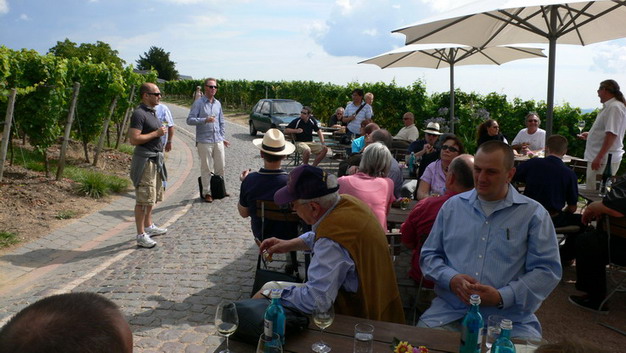 Constantin explaining the Mauerwein at Ebersbach
Big Hans organized the Eberbach Tasting
Manfred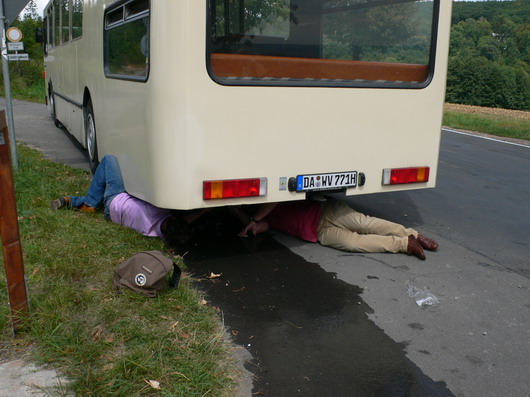 Heiko & Dieter working hard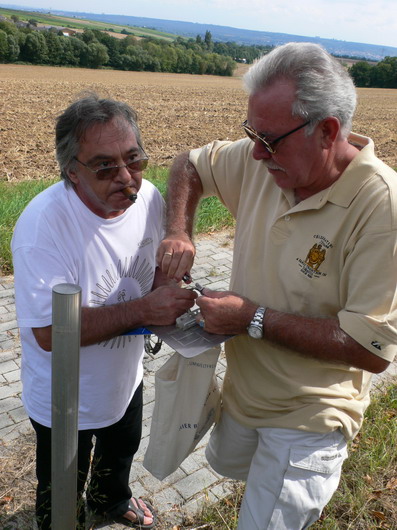 Colecting repair material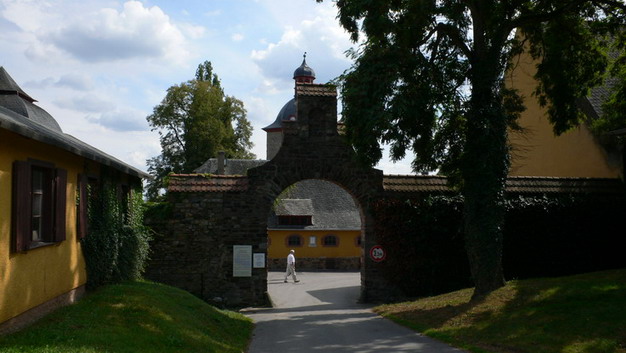 Schloss Vollrads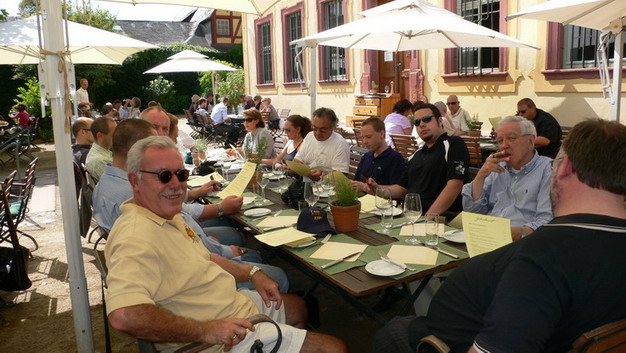 Schloss Vollrads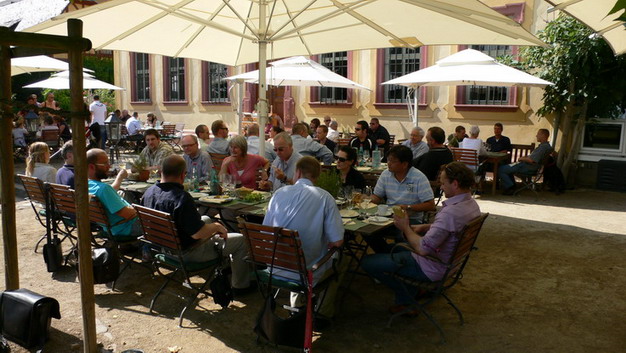 Schloss Vollrads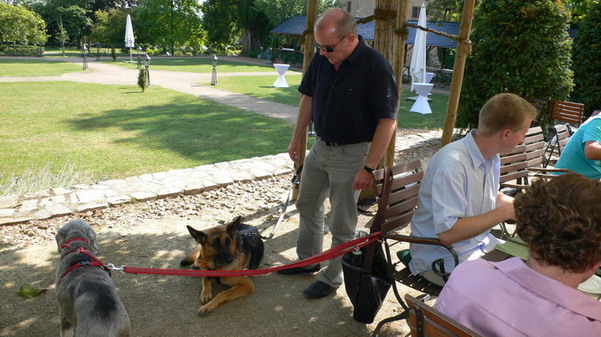 Schloss Vollrads – Ralf & Dogs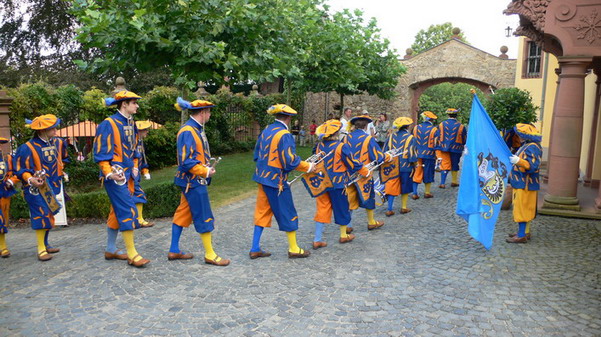 Schloss Vollrads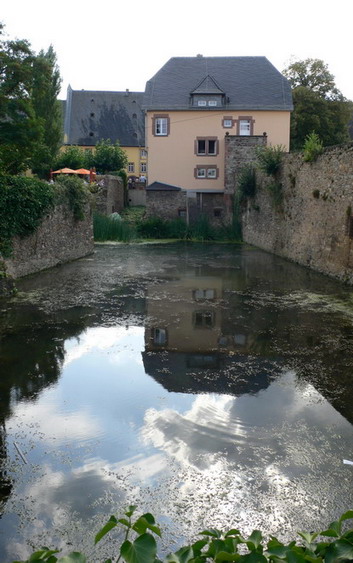 Schloss Vollrads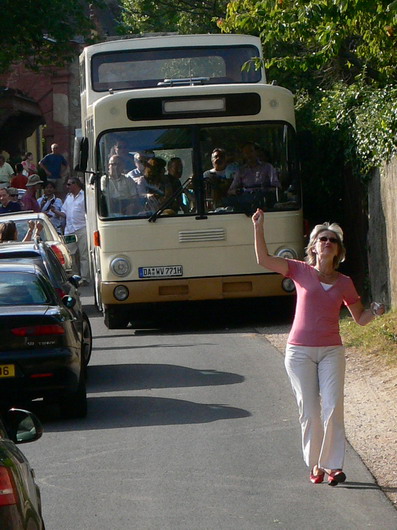 Lovely Traffic Warden Martina – and great driving skills by Heiko !
Rüdesheim – Cigar Box….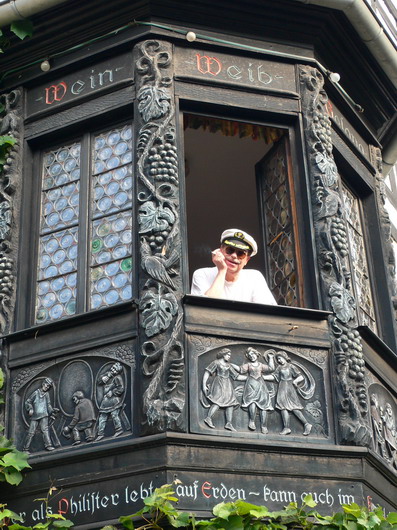 Rüdesheim – Wein, Weib, Gesang .. und Rauch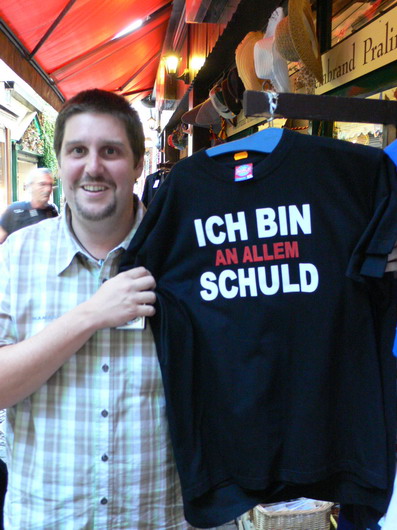 Woas I ?? – Max in Rüdesheim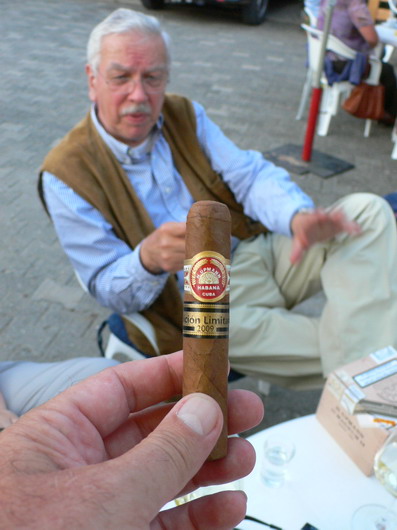 H.Upmann EL 2009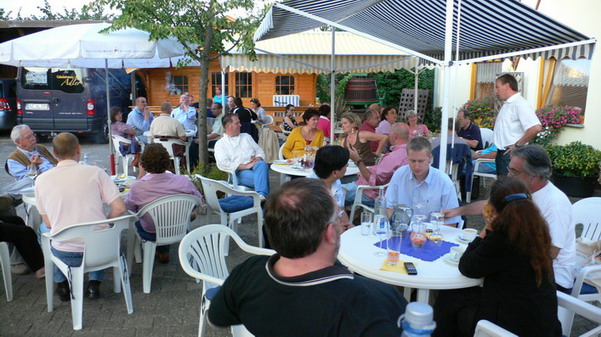 Landgrafenhof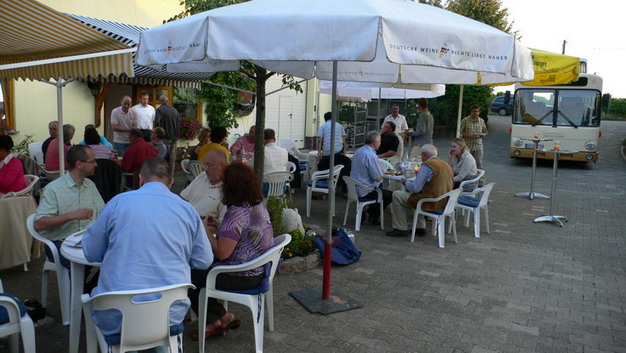 Landgrafenhof
Copyright 08-2009 © Ninos Flying Cigar