25 Aug
UPS – United (Nations) Pharmacy Smoke
Day Two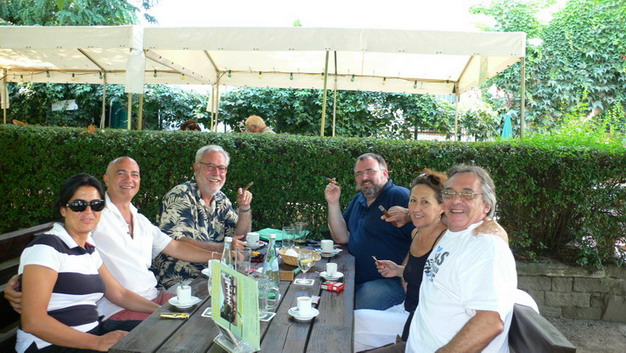 Lunch at Kolb's in Worms
20 August 2009
After a great day yesterday we wanted to meet at the village Café to start our trip to Worms, Bensheim and Heidelberg.
Very hot day, hottest so far in Germany with temps reaching 39 C.
But first I had to pick up the lost French contingent – Guy & Monique.
As he had booked the flight without asking first, he had arrived the previous night very late at a remote corner of Germany known as "German Siberia". Not exactly the middle of nowhere or the regional asshole, but very close to it.
Funny, he thought he was south of Frankfurt, when in fact he was north and next to Belgium & Luxemburg.
Of course the Ryanair captain said : Welcome to Frankfurt …. He just missed that the captain also mentioned Hahn. So he was in Frankfurt-Hahn, about as far from Frankfurt city as you can get without actually landing in Frankfurt/Oder which is located on the German-Polish border ……….
But what do you expect when your flight is cheaper than walking – which in this case, with this airline, was not cheap at all considering all the extra charges – Pay paynuts, get monkeys. Guy just saved soles on his Jesus sandals …
But enough of that. More trouble was to follow.
I arrived ahead of time, having left early, we said hello, lighted a Short Churchill from my box and left for home – good that we had lighted a serious cigar, as we got to enjoy it while we did the " Stop-'n-Go" Autobahn shuffle.
A traffic jam every 5 klicks due to construction, which also gave us a chance to call each other dirty names trying to find out who was to blame. At least my insults were original and I stand by them. Screw you, Cheap Charlie aka Guy !
We arrived late in the village, I missed another funny Capuccino story, and after saying hello to my wife, the Italians and Christoph, a cigar friend that had volunteered to chauffeur the guests, we left for Worms.
This is an old and historically important city where a cathedral from the 11-th century is located, the Hagen/Nibelungen saga took place and Martin Luther posted his thesis on a church door.
But first we had to eat – I had a table at Kolb's by the old Rhine river bridge, and there we enjoyed a nice lunch beneath the trees watching the ships go by.
We also took a little tour of Worms before we crossed the Rhine to Bensheim and a visit to Rauchkultur Seiler. There Walter was waiting for us and after being welcomed by Mrs Seiler, a check of the Walk In Humidor and the shop we left for the market square and some cold drinks – it was so hot.
Walter, of the "Zigarren Zirkel Bergstrasse" cigar club, presented us with Bolivar Colosales ER Alemania and we decided that the shade was definitely a better option than continuing to Heidelberg and getting melted in the sun walking the old university city and castle.
Instead we drove through the countryside back towards the Rhine and crossed it by ferry.
Dinner that night at Massimo's again and Christoph, Gabriel and Stephanie joined our group for another fine evening. Fresh lamb chops followed a Salmon/Potatoes Flan and Massimo rolled out the Bar.
Gino having enjoyed the Cigarignac the previous evening went back for it – I decided he should take a decanter back home and enjoy it in Avellino as a souvenir.
Again I passed Yolanda Diademas around while Gino and I smoked a fine Salomones by a roller that Gino wanted to try as he had not had the chance yet.
Guy was at his most generous with copyright infringing stories, taking center stage a la Charles Aznavour 1970's and  talking about his one & only Cuba visit last century.
I should have known the chemistry wouldn't work after putting him in contact with a Cuban friend and he recklessly posting her information on roller categories in a public forum with her full name in the open, a good way to burn sources, piss off friends and pretend he knows about the subject …
But all in all a fine evening and I got to smoke the one cigar that Guy brought me, a RA ER Francia. Sacre Bleu, how generous, hope Cheap Charlie didn't go all broke on it …
We walked home up the village for a short night before the big day
Nino
Links to places mentioned in this report :
www.hahn-airport.de/default.aspx?menu=by_car&cc=de
www.frankfurt-oder.de/DE/Seiten/default.aspx
www.kolbs-biergarten-worms.de/46/Willkommen.html
www.rauchkultur-seiler.de/cms/front_content.php
Additional  pictures to this report :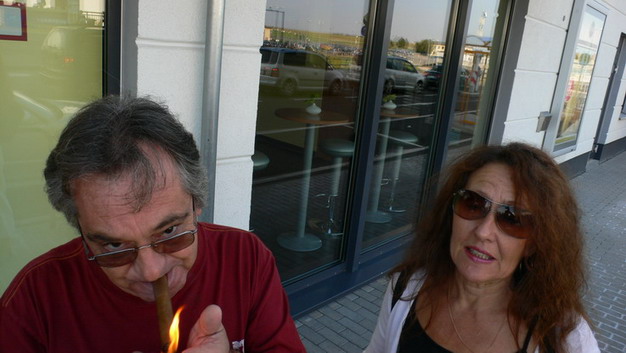 Lighting up in Hahn – Guy shoots a dirty look already ……….. bienvenue.
Hagen throwing the treasure into the Rhine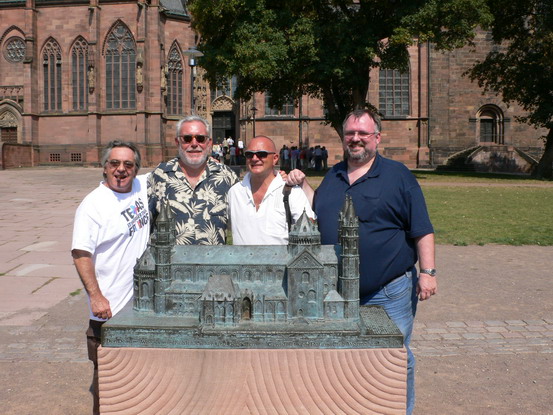 Worms Cathedral en miniature ( Nice Humidor …………. :-))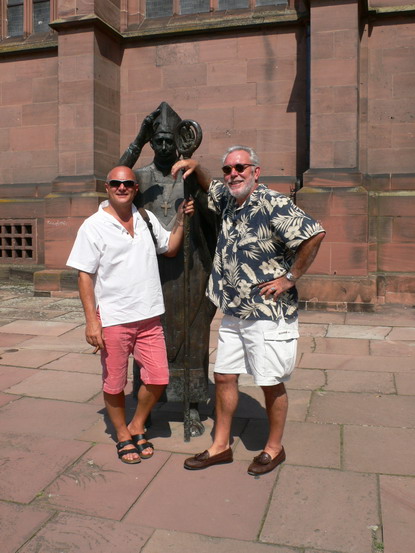 With the Bishop that launched the construction ( 1000 – 1025 )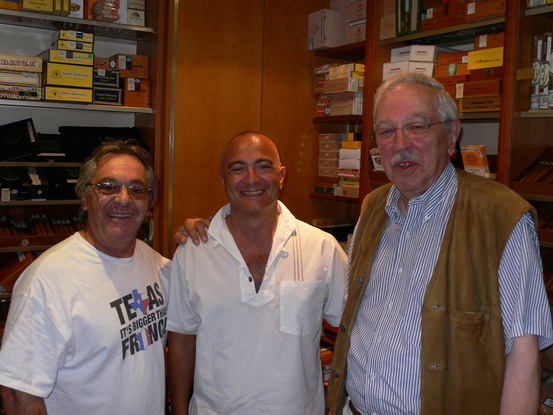 Bensheim – At Rauchkultur Seiler with Walter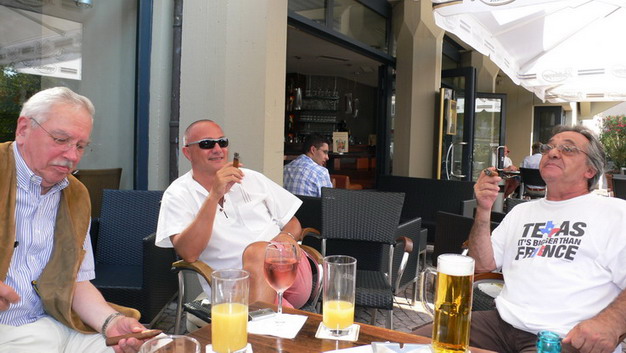 Heatwave ( Rick : Your T-Shirt arrived )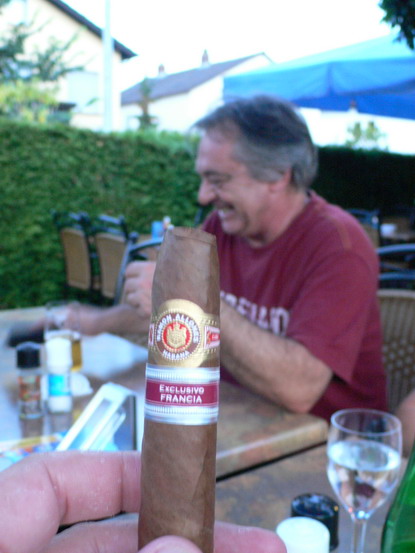 Sacre Blue, quelle surprise !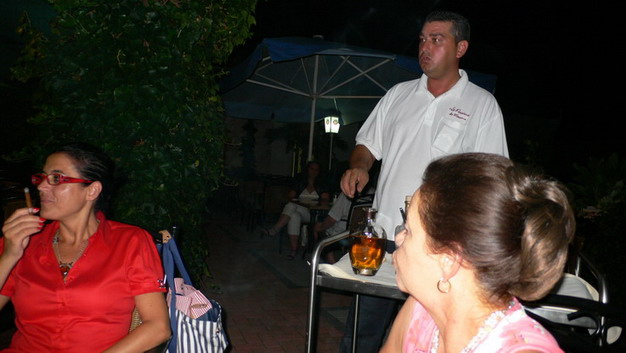 Massimo's rolling Bar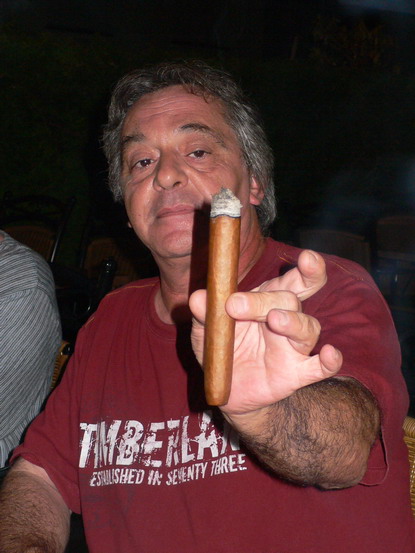 Looks very happy getting to smoke a Yolanda custom rolled …..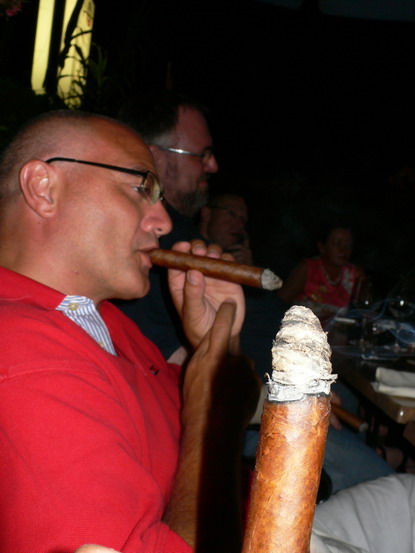 Enjoying Salomones
Copyright 08-2009 © Ninos Flying Cigar