9 Aug
"1966 Romeo y Julieta / Cohiba 35 Aniversario Humidor "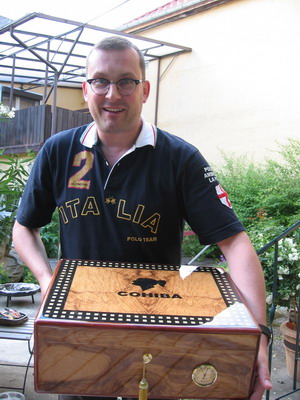 Andreas & Cohiba 35 Aniversario Humidor
English Version below the German text 
Anfang Juli hatten wie wieder mal den "ANS", den Apotheken Notdienst Smoke. 
Nicht nur die "üblichen Verdächtigen" besuchten uns, sondern auch Thomas "Stocki" kam hoch um wieder mit uns zu rauchen, im Cafe Fritz zu übernachten und uns mit fantastischen Fotos zu beglücken.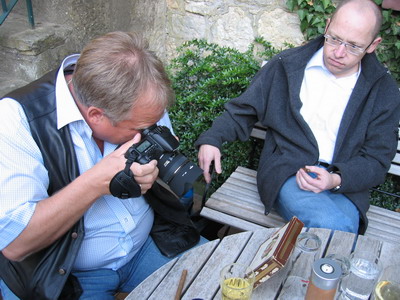 Thomas "Stocki" in seinem Element !! Foto Nino
Mit dabei war natürlich Walter, der diesmal begleitet wurde von Albert, ein sehr angenehmer und freundlicher Mitraucher des Zigarren Zirkels Bergstrasse.
Thomas und ich hatten Albert bereits in Havanna getroffen. 
Walter eröffnete die Session mit einer grossartigen Überraschung : Eine Kiste Romeo y Julieta Curiosidades aus dem Jahre 1966 !!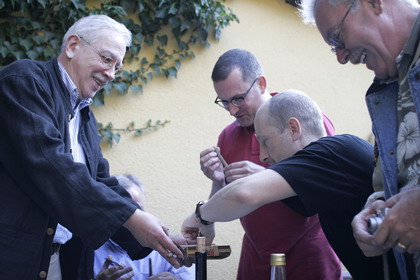 Walter verteilt 1966 Romeo & Julieta Curiosidades Foto Thomas Stockinger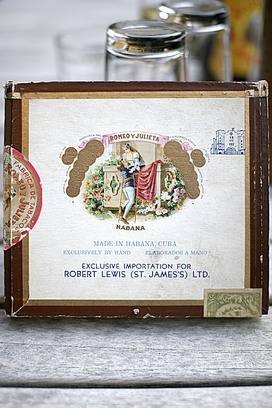 1966 Romeo & Julieta Curiosidades Foto Thomas Stockinger
Es handelt sich dabei um eine Extra-Anfertigung für einen damaligen englischen Importeur.
Die standen noch nicht mal in MRN's Enzyklopädie. 
Einfach ein Erlebnis.  
Die Zigarren waren noch absolut präsent, es war ein kräftiger, würziger Smoke und man hätte nicht glauben können dass diese Leckerlis fast 40 Jahre alt waren. 
Thomas freute sich seine Kameraausrüstung zu benutzen und schoss einige absolut professionelle Bilder von uns allen, die er uns einige Tage später auch als Abzüge bzw. Foto CD freundlicherweise zusandte.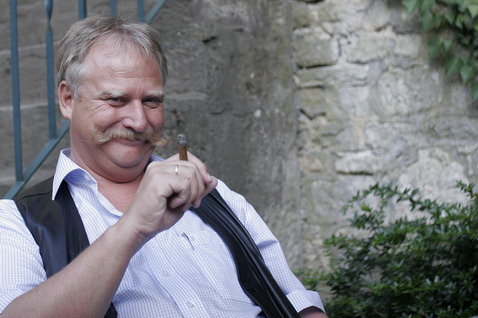 Happy Thomas Foto Nino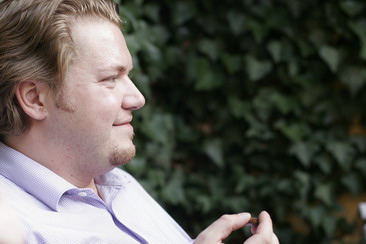 Bernd "Tyremountain" – Foto Thomas Stockinger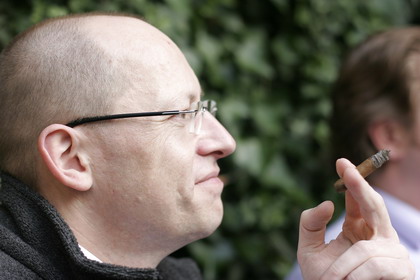 Gabriel Foto Thomas Stockinger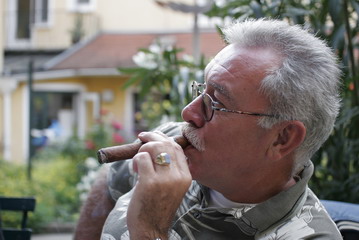 Nino Foto Thomas Stockinger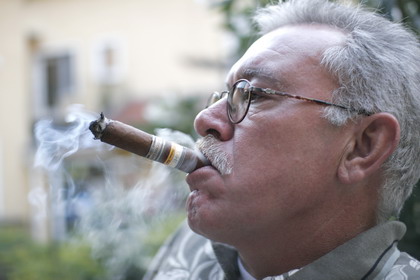 Nino & Cohiba EL 2004 Foto Thomas Stockinger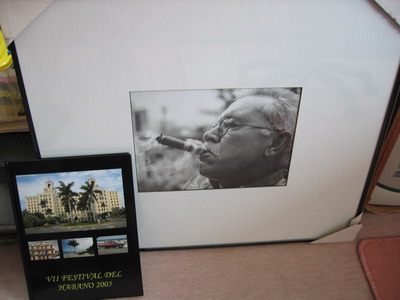 Stockis' Masterpieces
So genossen wir den Abend im Hof der Apotheke, bestellten uns Pizza und tranken kaltes Bier aus aus dem Schwarzwald – "Rothaus Tannenzäpfle", hatten Spass, gute Gespräche und eine lebhafte Unterhaltung als sich auch noch Andreas Vater zu uns gesellte.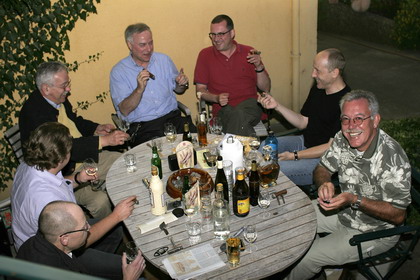 ANS Smoke Foto Thomas Stockinger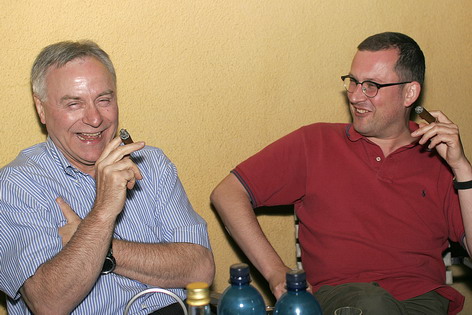 Albert & Andreas Foto Thomas Stockinger
Es ging einige Tage später weiter, als Andreas uns einlud einen Grillabend zu veranstalten.
Die Ausrede war einfach : Unsere Frauen waren zu einem Wellness Wochenende nach Speyer gefahren und somit waren Andreas, Bernhard und ich alleine. 
Zu exzellenten Steaks, Bauchfleisch, leckeren Ruccola Salat und frisch gezapftem Beck´s-Bier aus einer der neuen Zapfanlagen von Andreas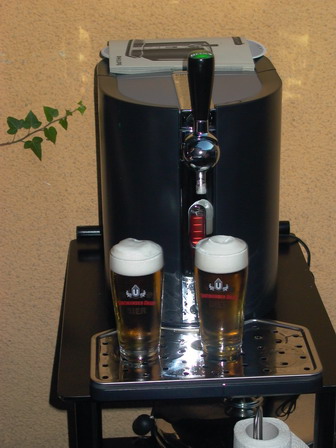 Das Becks Zapfgerät
( wen´s interessiert: www.perfectdraft.de und www.beertender.ch  )
trafen wir uns dann Samstag Abend. 
Leider ohne Thomas "Stocki" der zwar eingeladen war, aber zu einem anderen, nicht minder wichtigen Fest – Zigarrenmässig aber nicht äquivalenten – gerufen wurde.
Sein Leiden war gross als er die Fotos bekam von dem was er verpasst hatte ………………..
Zur Begrüssung wurde eine Flasche Dom Perignon 1996 geköpft und die passende Zigarre war eine Partagas Serie D Reserva aus der lackierten Kiste.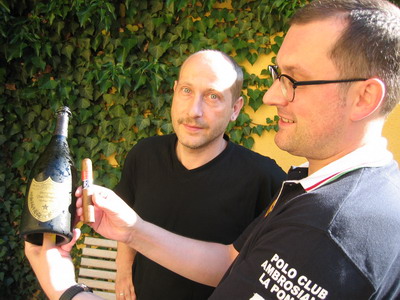 Dom Perignon 1996 & Partagas Reserva
Eine sehr schöne, würzige aber milde Zigarre die sich bestimmt noch entwickeln wird. Auch war der typische Partagasgeschmack noch nicht sehr präsent.
Aber schon hier waren die ausgesuchten Tabake sehr gut zu schmecken.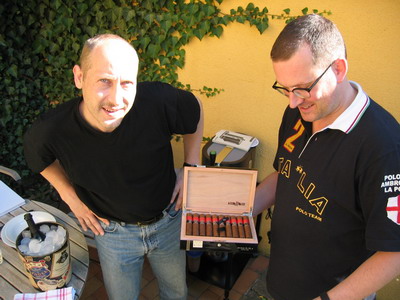 Bernhard, Partagas Reserva & Andreas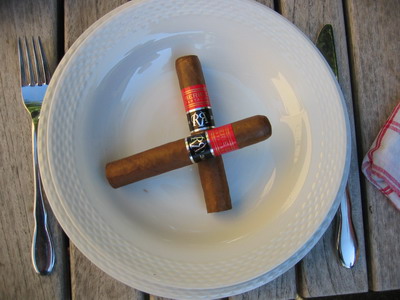 Es ist angerichtet / the appetizer is served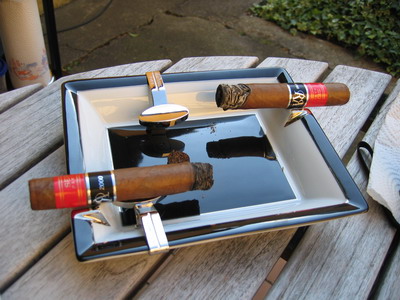 Just Beautiful
Nach den Steaks brachte dann Andreas den Cohiba 35 Jahre Aniversario 135'er Humidor ans Licht und wir "entjungfernten" ihn.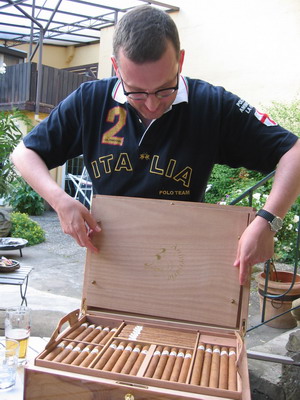 Entjungfernung / Deflowering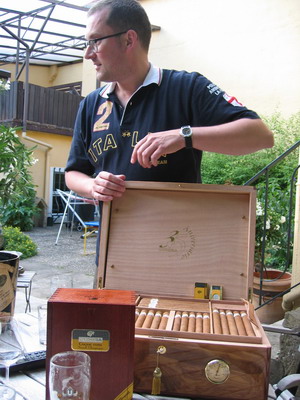 Purer Luxus Abend / Pure Luxury Evening
Drei Cohiba A wurden entfernt, und stilgerecht mit einem Cohiba Cutter geköpft sowie mit einem Cohiba S.T. Dupont Feuerzeug angezündet.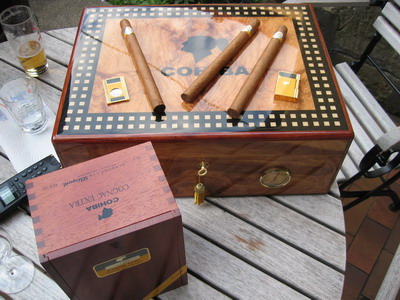 Alle Elemente stimmen / All Elements are Cohiba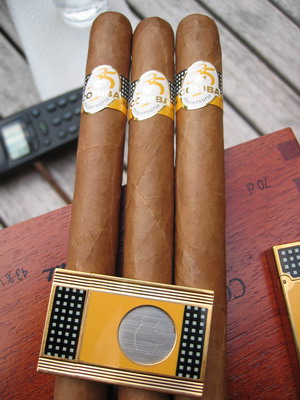 Drei Opfer / Three Victims
Ein Traum von mehr als 2 Stunden Länge, ein absoluter Wahnsinn einer Zigarre, eine Aroma, ein Duft, ein Geschmack der einmalig sein dürfte und den wohl wenige gekostet haben.
Es handelt sich dabei um die geniale Kombination von Eleganz, gepaart mit kräftigen Aromen, die den ganzen Gaumen in Anspruch nehmen, und langen Nachhalt – ohne ihn jemals zu überfordern, sondern nur stets auf neue mit Geschmackssensationen zu begeistern! 
Ein Zigarren Höhepunkt der schwer zu toppen sein dürfte. 
Begleitet wurde diese Ausnahme Zigarre von einem Cohiba Cognac, einem Grande Champagne von Bisquit.
Auch hier wieder ein nicht zu beschreibendes Aroma, fette, ölige "Tränen" im Glas, dunkelbraun-Orangene Farbe, den Gaumen mit Geschmack überdeckend jedoch trefflich passen zur Cohiba.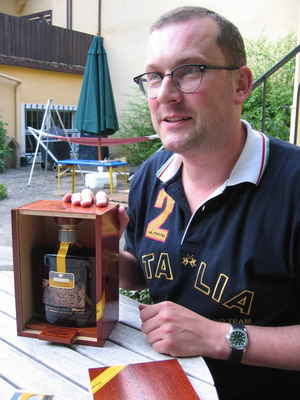 Noch ein Opfer / Another Victim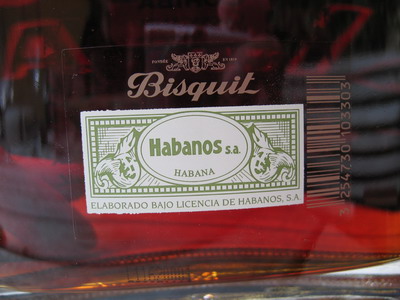 Einfach Schön / Simply pretty
Wenn das nicht das Paradies ist, was dann ?? 
Wir erwogen unseren Frauen eine zusätzliche Woche Wellness zu spendieren …………….
Ich erwog diesen Bericht " Ora, labora et deflora " zu nennen …………. 
Zum Dessert brachte Andreas dann eine andere Ausnahme Zigarre heraus, eine Habana 2000 Cuaba Distinguidos aus dem Habana 2000 Millennium Porzellan Jar.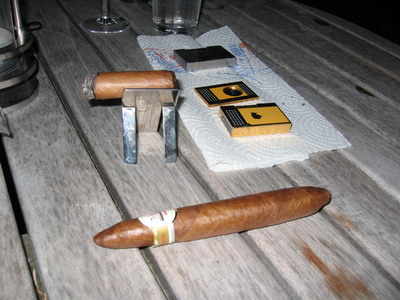 Cuaba Distinguidos Millennium Jar
Sehr stark, kräftig, es überwog die schwere Süsse. Mir persönlich zu süsslich, die Cohiba war deutlich eleganter und präziser.
Dennoch eine fantastische Zigarre die uns jedoch auch etwas "gongte".
Es war definitiv die stärkste der gereichten Zigarren – und sie zeigte mal wieder was gute Lagerung einer guten Zigarre im positiven Sinne antun kann ! 
Ihr wisst dass ich Zigarren nicht beschreiben kann. Ich kann sie nur rauchen.
Daher wird Andreas die entsprechenden Tastingnotizen in nächster Zukunft hier unter  Zigarrentastings  veröffentlichen  ,,,,,,,,,,,,,,,, 
Gegen Mitternacht verabschiedeten Bernhard und ich von Andreas, liefen die wenigen Hundert Meter glücklich untergehakt nach Hause und fühlten uns wie kleine Kinder die gerade einen Schokoladenladen für sich allein hatten.
Einfach Göttlich !! 
Da unsere Frauen ja noch am Sonntag weg waren, nutzten wir die freie Zeit um uns in einer nahegelegenen Waldschänke um 11 Uhr zum Frühschoppen zu treffen. 
Der Hund von Andreas bekam seinen Auslauf vorher, die Tochter von Andreas bekam von der Natur eine Maus zum spielen vorgesetzt und wir drei bekamen jeweils eine gut abgehangene         1999'er Ramon Allones Small Club Corona.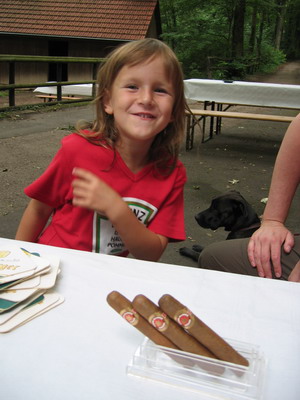 Luise, Lotte & Ramon Allones Small Club Coronas
Dazu ein kaltes Getränk und eine heisse Bratwurst -ein schöner gemütlicher Ausklang und eine gute Stärkung für das Wiedersehen mit unseren Frauen !  ;-))
Eine Veranstaltung an der ich zu meinem grössten Bedauern nicht teilnehmen konnte, war die Smoker Night von Urs Portmann am 13 Juli in Maienfeld -CH-.
Thomas liess mir freundlicherweise die Fotos zukommen und als ich unsere "Bande" zusammen mit Julian sah, kamen mir fast die Tränen, denn ich fehlte auf dem Foto.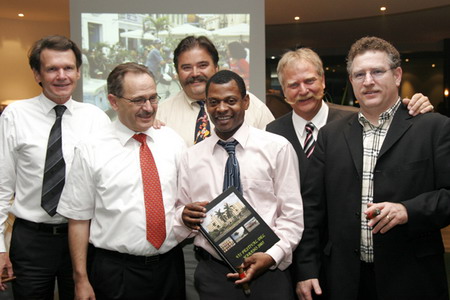 Hannes, Urs, Horst, Julian, Thomas & Norbert in Maienfeld, CH, 13.07.2005
Missing : Nino
Foto Thomas Stockinger
Ich war sehr gerührt als ich sah dass Julian eine Kopie des Buches unserer Kuba Reise von Thomas bekam.
Thomas hat ein Fotobuch dieser Reise exklusiv für unsere "Bande" und ausgesuchte Freunde herausgegeben.
So flog ich an dem Tag traurig nach New York – Newark – und erlebte dort noch die Ausläufer des Hurrikans "Dennis" der Kuba so getroffen hatte. Es war bewölkt, heiss und schwül.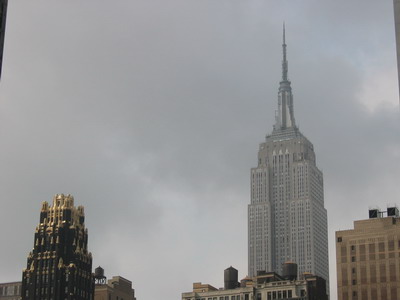 Dennis over Manhattan
Wie immer besuchte ich JR Cigars, rauchte dort eine RA SCC während ich mir die Angebote anschaute, und kaufte einen schönen Reisehumidor in Leder von Montecristo mit  einigen Churchills. 
Bei Nat Sherman vorbeigeschaut, sie feiern gerade 75 Jubiläum und ein sehr schönes Polo mit Logo und Jubiläums Stickerei kam noch mit. 
Aus NYC gelandet hatte ich ein Päckchen eines lieben, netten – und Nichtrauchenden – Menschen der mir aus Havanna  12 frisch gerollte Salomones und 12 Sublimes von Reynaldo aus dem Hostal del Habano mitgebracht hatte.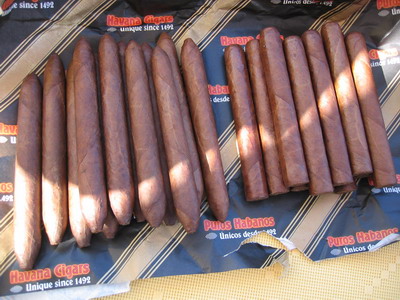 Reynaldo's Masterpieces
Ein fantastischer Anblick, Danke Hunter !!
Und noch ein Päckchen erreichte mich : Mein geliebter Xikar Redwood war umgetauscht worden. Und mit meinen Initialen versehen worden. Dazu noch einige kleine aber feine Geschenke für unsere Rheinhessenraucher.
Danke Herr Waldhelm !! 
Beim zweiten ANS Smoke im Juli konnte ich leider nicht dabei sein, ich musste fliegen. Aber Walter hatte erneut eine Sensation dabei, eine grosse, rare Zigarre !! Mon Dieu quelle Fromage ………… Ich revanchierte mich in absentia mit einer Montecristo Clemenceau um beim französischen zu bleiben.
Und noch einen Höhepunkt erwartet uns im Juli : Die Einweihung von Heiners privater Zigarren Lounge in seinem Haus. Wir werden mit feinen Zigarren feiern und dazu einen 1942 Rum aus den Beständen des Afrika Korps von Feldmarschall Rommel – von den Briten "befreit" – trinken den Heiner ersteigern konnte.
Fortsetzung folgt ……………….hier :
English Version :
A very good Month / Smokes  July 2005 
"1966 Romeo y Julieta / Cohiba 35 Aniversario Humidor "
Early July we again held the "ANS", Apotheken Notdienst Smoke or Pharmacy Duty Smoke. 
We were joined not just by the "usual suspects", but also Thomas "Stocki" drove up to smoke with us again, stay at "Café Fritz" and take some phantastic photographs. 
Along was Walter, this time joined by Albert, a friendly and nice fellow smoker from the Zigarren Zirkel Bensheim.
Thomas and I had already met Albert in Havana. 
Walter opened the Session with a great Surprise : A Box of Romeo y Julieta Curiosidades from 1966 !! 
They were specially made for a British Importer and not even featured in MRN's Encyclopedia. 
Truly an experience. 
The cigars were still absolutely alive, it was a strong, spicy smoke and one could not have believed that these beauties were almost 40 years old. 
Thomas enjoyed using his Camera Equipment and he took some absolutely professional shots of us all, which he kindly had sent to us a few days later as prints or on a CD. 
We enjoyed the evening in the Pharmacy Courtyard – Patio -, ordered pizzas and had cold
Beer from the Black Forest – "Rothaus Tannenzäpfle" -, we had fun, good conversations and it got livelier when Andreas father joined us at the table.
We continued the party a few days later when Andreas invited us for a BBQ Dinner. 
The excuse was simple : our wives had gone to Speyer to enjoy a Wellness/Spa weekend, so Andreas, Bernhard and I were home alone. 
So we met Saturday evening for tasty steaks, pork belly, fresh Ruccola Salad and fresh draught Becks beer from Andreas new Beerdraft system 
if interested : www.perfectdraft.de or www.bartender.ch ). 
Regrettably missing was Thomas. He was invited but away at a not less important – but cigar-wise inferior – party.
His suffering was great when he received the pictures of what he had missed ……………….. 
We kicked off the evening with a bottle of Dom Perignon 1996, the cigar was a Partagas Serie D Reserva from the lacquered Black Box.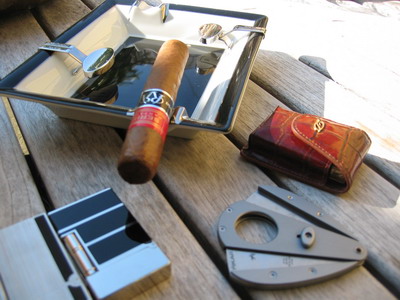 Blick auf den Tisch / View on the Table
A very pretty, spicy but mild cigar which will for sure develop. Also not yet developed was the typical Partagas taste.
But the choice tobaccos were already well noticeable. 
After the steaks, the Cohiba 35 Aniversario 135 Humidor was brought out to daylight by Andreas and we "deflowered" it. Three Cohiba A's were taken out and cut in style with a Cohiba cutter and then lighted in style with a S.T.Dupont Cohiba lighter.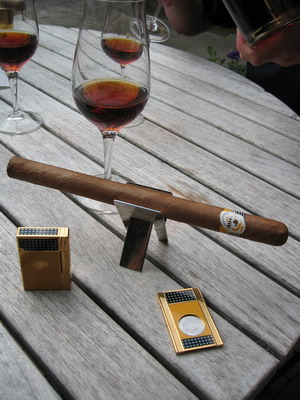 Schönes Bild / Pretty Picture
This was a dream of more than 2 hours, an absolute Cigar Madness with an aroma,  smell, taste which was unique and which a few only have tasted.
We are talking about the brilliant combination of elegance coupled with strong aromas, which take possesion of the palate, without overtaxing it, and steadily feed it new tasting sensations and a long finish. 
A cigar climax that will be difficult to top. 
This exceptional cigar was enjoyed with a Cohiba Cognac, a Grande Champagne by Bisquit.
Again an indescribable Aroma with fat, oily "Tears" in the glass, dark-brown-orange colour, overpowering the palate with taste, but perfectly suiting the Cohiba. 
If this is not paradise, then what is ? 
We considered giving our wives an additional week of Wellness …………..
I considered naming this report " Ora, labora et deflora " …………… 
Another exceptional Cigar was brought out by Andreas for dessert, a Cuaba Distinguidos from the Habana 2000 Millennium porcelain jar. 
Very strong, powerful, the heavy sweetness was overpowering. Personally I found it too sweet, the Cohiba was definitely more elegant and precise.
Still a fantastic cigar which made us a bit dizzy.
It was definitely the strongest cigar offered – and it showed again what  good storage can do to a good cigar in a positive sense. 
Note to International Readers : As my german friends know, I am not one to dwell much in cigar tastings as I just cannot write about cigars. 
Write about big cities, travels and flying, maybe. Write about cigars : No.
Being Spanish, I don't make a big fuss about cigars. I just smoke them.
The one responsible for cigar tastings or reviews is Andreas. He has the gift of putting – German – words to taste.
He will review the cigars in his  "Zigarrentastings" Area of my blog. 
Around midnight we bid farewell to Andreas.
Bernhard and I walked happily home holding arms and felt like boys who just had a candy store to themselves.
Simply Divine !! 
As our wives were away on Sunday as well, we used their absence to meet at 11 am in a nearby forest Inn for an early drink. 
Andreas dog got his walk-out, Andreas daughter got a – real – mouse to play with, and the three of us got a well cured 1999 Ramon Allones Small Club Corona.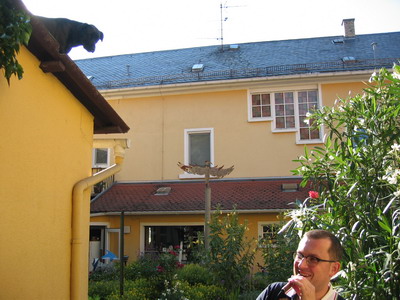 Lotte der Hund schaut auf Andreas / Lotte the Dog looks down on Andreas
A cold drink, a hot sausage – a nice End to the week-end and a good preparation for the reunion with our wives. 
An event that I could not take part in, to my outmost Regret, was Urs Portmann Smoker Night, held on July 13-th in Maienfeld – Switzerland.
Thomas kindly sent me the pictures, and I almost had tears in my eyes as I saw our "Gang" together with Julian, as I was missing there.
I was very moved  to see that Thomas had presented Julian with a copy of our private Cuba Travel book.
Thomas has published a picture-book of that trip exclusively for our "Gang" and a chosen few friends. 
That same day I flew to NYC – Newark – and there I noticed the remnants of  hurricane "Dennis" that had ravaged  Cuba a week earlier. It was cloudy, hot & humid.
As always, I visited JR Cigars and smoked a RA SCC there while perusing the special offers.
I bought a very pretty leather Travel Humidor by Montecristo along with a couple of Churchills. 
I also dropped by Nat Sherman's, they are just celebrating their 75-th Anniversary and bought a nice Polo shirt embroidered with their Logo. 
As I came home from NYC, a parcel was waiting for me – from a kind and non-smoking friend who travels frequently to Havana – with 12 Salomones and 12 Sublimes freshly custom rolled by Reynaldo at the Hostal del Habano with oily, shiny, fat dark wrappers. 
A terrific sight, thank you Hunter !!
And another parcel was waiting for me : My beloved Xikar Redwood Cutter had been replaced – even my initials were engraved on the new one. And some small presents were attached for my fellow Rheinhessenraucher buddies.
Thank you, Mr Waldhelm !!
Regrettably I could not attend our second ANS in July as I was away flying.
Walter again caused a sensation by bringing a great rare Cigar !! Mon Dieu quelle fromage ………… I returned his graciousnes in absentia with a Montecristo Clemenceau – pardon my french. 
Another highlight awaits us next week : The grand opening of Heiner's private Cigar Lounge in his home.
We'll celebrate with good cigars and open some very rare bottles of 1942 Rum from the Afrika Korps of Field Marshall Rommel " liberated" by the British that Heiner was able to buy at an auction. 
To be continued ……………….here :
Copyright 07-2005
© Ninos Flying Cigar

Weitere Fotos zu diesem Bericht / Additional pictures to this report :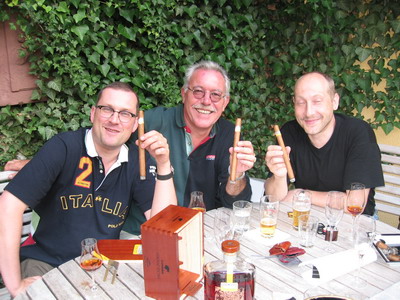 Noch Schöneres Bild / Even Prettier Picture
Missing : Thomas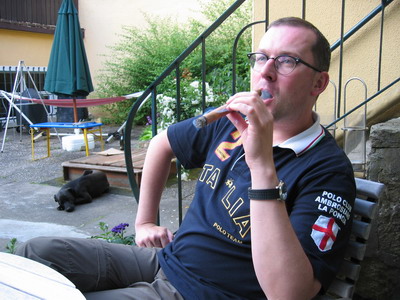 Lotte ist neidisch im Hintergrund / Lotte envious in the background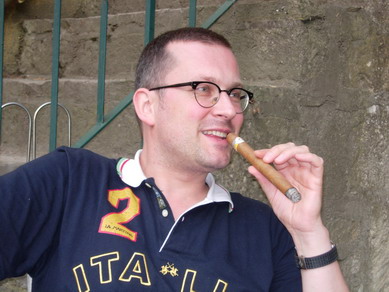 Happy Andreas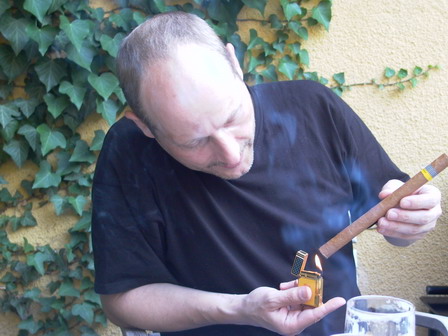 Der Feinmechaniker bei der Arbeit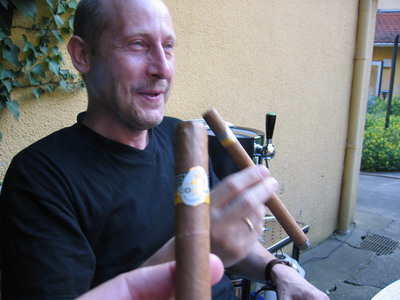 Geschafft ! Happy Bernhard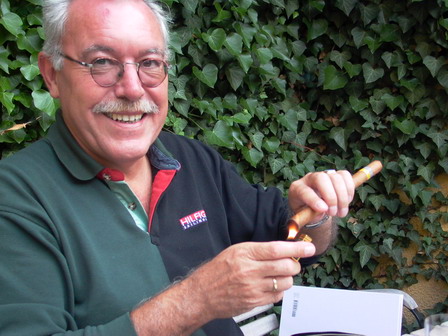 Heating up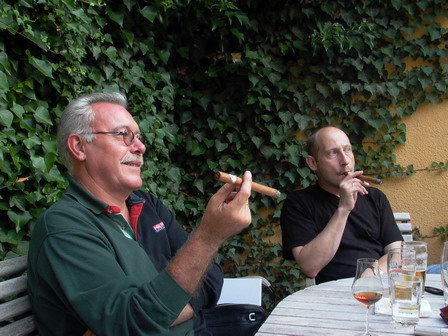 Enjoying twoandahalfhours of a fine stick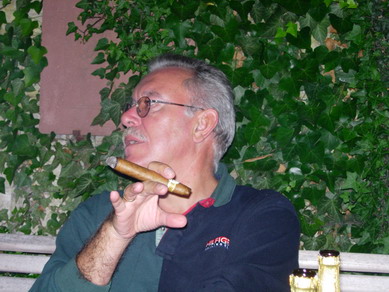 Cuaba
Copyright 07-2005
© Ninos Flying Cigar