9 Aug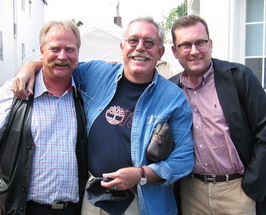 Thomas, Nino, Andreas 19 Sept. 2005
16 Sept. 2005
Heute vor einem Jahr habe ich die Fliegende Zigarre in die Luft geschickt.
In dieser Zeit ist die Seite über 5700 mal besucht worden, ich habe viele freundliche mails und Zustimmung bekommen und gute Freunde haben mich unterstützt.
Ich möchte mich bei allen Besuchern und Freunden von Flying Cigar herzlich bedanken.
Zwei Menschen möchte ich – stellvertretend für viele – besonders für Ihren Beitrag zum Erfolg der Seite erwähnen :
Andreas "Rheinhessenraucher" und Thomas "Stocki".
Danke und eine gute Zigarre auf weitere interessante Berichte, hervorragende Tastings und tolle Fotos.
One Year Flying Cigar   
A year ago today a Flying Cigar took off and became airborne. 
More than 5700 Visitors have clicked on the Site, I have received encouraging mails and good Buddies have supported me this past year.
I'd like to thank all Visitors and Friends for their support. 
Two persons stand for all who have supported me : Andreas "Rheinhessenraucher" and Thomas "Stocki". 
Thank you and here's a good cigar to more interesting Reports, excellent Tastings and great pictures. 
Copyright  © Ninos Flying Cigar 09-2005