21 Sep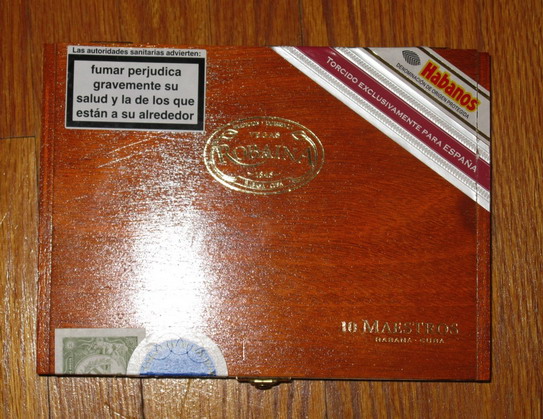 Vegas Robaina Maestros ER España
Review by Steve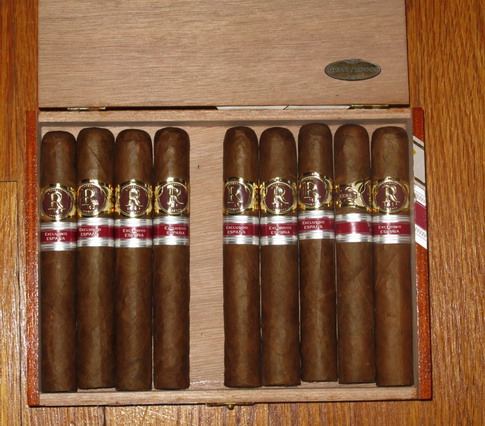 Vegas Robaina Maestros ER España
Sept. 2008
Fellow Aficionado Steve was kind enough to send me his review and pictures of this cigar and let me share it with you all.
Thank you Steve !!
I smoked one of these Spanish master pieces this afternoon, and it met, and exceeded my expectations.
I have never smoked a VR before so I had no idea what to expect from the Vegas Robaina RE 2007 Maestros. But, I had a pretty good hunch.
Flash was kind enough to pick up a box of Vegas Robaina's while he vacationed in Spain last week and I received the box early this morning. This is a Robustos Extra, measuring, 50 by 5.6″, with a beautiful double band, one for Vegas, and one for the Spanish RE. They are gorgeous looking cigars, slightly oily and medium brown. Perfect construction, nicely presented in a varnished wooden box. These cigars feel amazing, soft and velvety, not over packed, and perfectly rolled. I expected the Spanish to insist on perfect construction and I was not disappointed.
The prelight aroma was very nice and then I tried a draw, and was impressed that it was perfect. Upon lighting, I took a draw and wow, smelled like sweet grass, but tasted of light earth, sour dough and mellow coffee. The burn was perfectly even and the ash held on for a good 1.5 inches each time. I pared the cigar with La Fin Du Monde, which was great.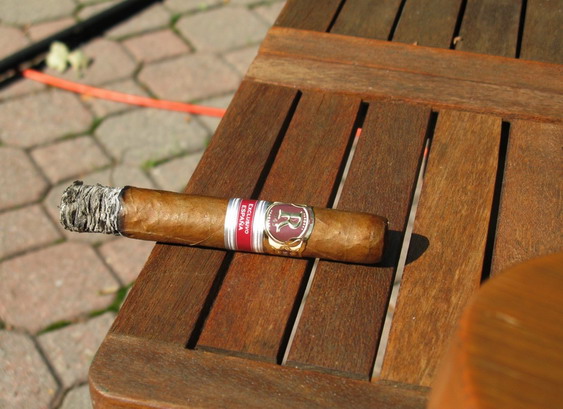 Opening Third
The middle third really opened up and got more opulent, with denser earth, more coffee, and a slight sweetness. Holy $hit, this cigar is what Hemmingway would have smoked while he watched the Americans being trampled to death in Pamplona, or while he wrote "For Whom the Bells Toll", while quaffing a legendary Spanish wine, like Bodegas. This is a mind blowing epiphany smoke. And it is right out of the box. No resting or aging. The Spaniards rule!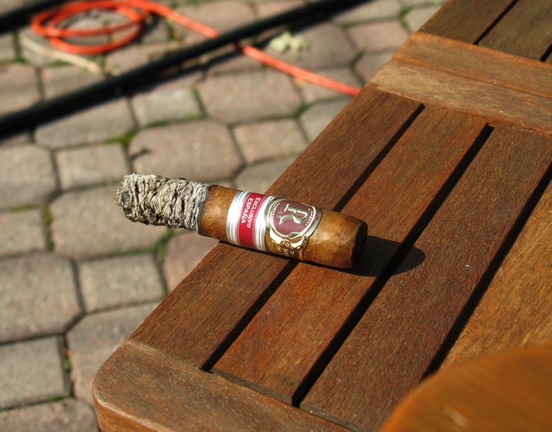 Middle Third
The last third get sweet, slightly spicy, and even more opulent, and I pared this with Hennessy, and I smoked this cigar until my fingers burned. Flash, you bugger, you have really out done yourself here. Enjoy your boxes over the next 10 years, if you can resist not smoking them all in the next year. I expected the Spanish to insist on the best tobacco and I was not disappointed.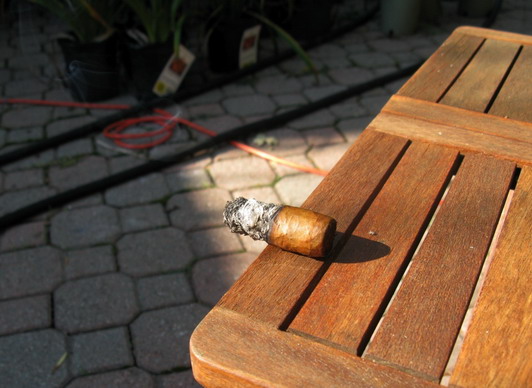 The Nub
These cigars will go deep into my humidor for many years and will be smoked on rare special occasions.
The Vegas Robaina RE 2007 Maestros probably have legendary aging potential, as I would expect the Spaniards to also insist on superb aging qualities for their 50% ownership of the Cuban cigar industry.
Hands down a 96. I am still recovering.
Steve
Copyright 09-2008 © Ninos Flying Cigar