12 Dec
Didier & Jimmy – Singapore 2010
Laguito Jimmy Exclusive Blend
December 2010
Thanks to Thorsten's connection I met Didier Houvenaghel in Singapore at Jimmy's lounge and we had a ton of conversations ( in Spanish btw ) about all kinds of issues – from his extremely interesting biography, his love of tobacco and cigars, his cigar manufacture, his experiences studying agriculture in Cuba, manufacturing cigars in Nicaragua, travelling in Asia, making music in Brazil – just anything that came up. But they were only the beginning as we could have talked for ages.
The private talks we had on these themes were long, rewarding and showed the extent of Didier's passion to achieve the maximum quality in anything he touches.He is a dedicated man with a mission – regardless of the field with lots of engagement and humanity in him.
Despite being quite busy with his 9-month old "Charlito" he joined Jimmy, Inge and me for cigars and a farewell chicken rice dinner before we departed for home.
The funny part is that I had smoked the first Nicaraos ever at Jimmy's lounge about 4-5 years ago – he has them as house cigars, and enjoyed them hugely, I remembered when I saw the cigars again with their special bands.
Jimmy showed me his new dedicated cigar manufactured by Nicarao – a Laguito Nr 1 vitola in maduro wrapper that only comes in 20 boxes ( Cajon Rustico ) of 100 cigars.
The cigars are rolled by a very special roller and the blend is made jointly by Didier and Abdel Fernandez.
Very impressive and rewarded by accolades from Jimmy on their quality and taste.
So, in a way, the small cigar world came around and it was back to the beginning for me and "Nicarao" cigars.
Only that this time, I had the distinct pleasure of smoking them with their maker.
My appreciation to Didier for sharing his time and thoughts with us !
Nino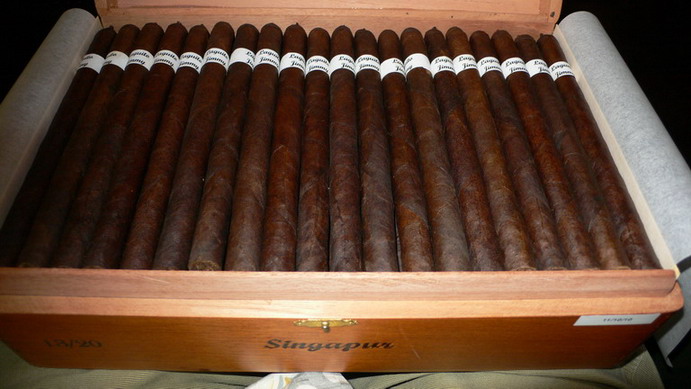 Laguito Jimmy Exclusive Blend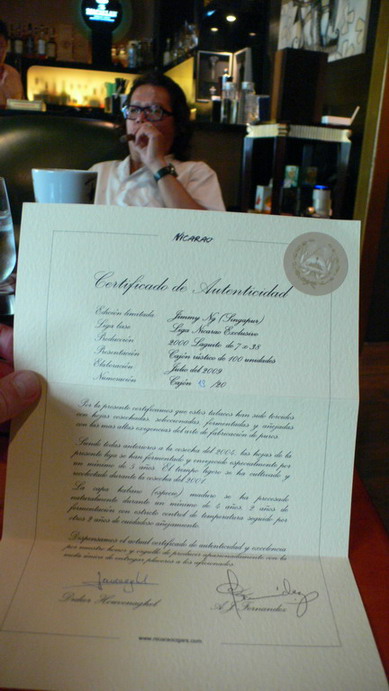 Only 20 "Cajones Rusticos" made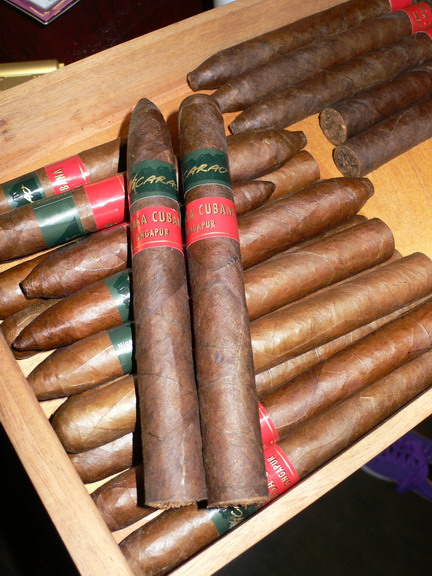 Casa Cubana Nicaraos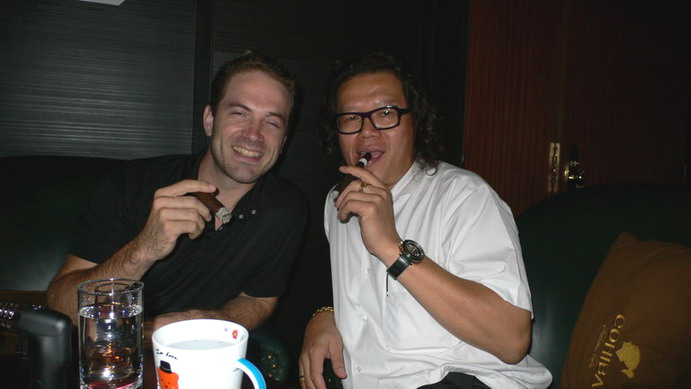 Didier & Jimmy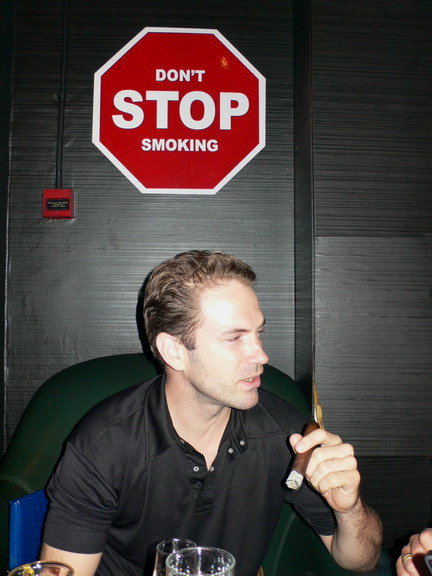 Didier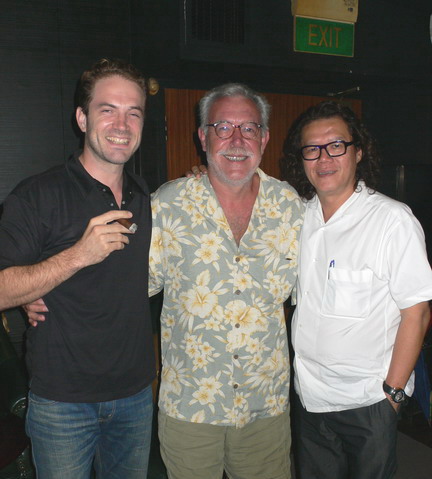 With Didier & Jimmy
Burning out the gases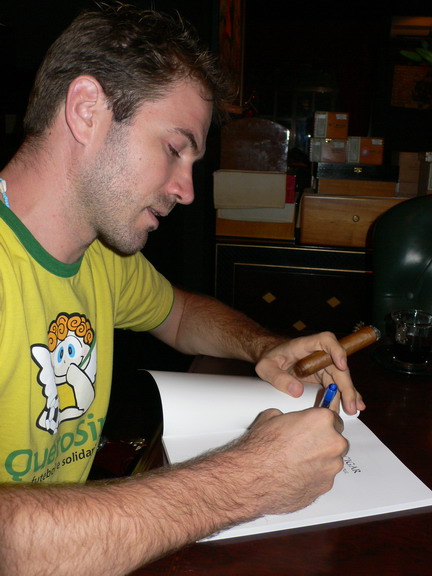 Didier signing his book for me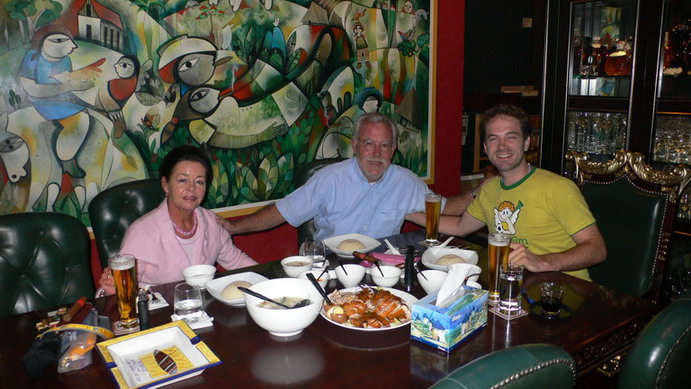 Farewell dinner  – Fishball soup and chicken rice with Didier
PS : Regarding the book "From Soil to Soul" :
Didier is not happy with the English translation and the soft cover of his book and will work on a new edition – the present one is only available from him directly as he published it on his own.
I am honored that he dedicated and signed the book to me.
He is on Facebook and happy to share his cigar passion and knowledge with anyone.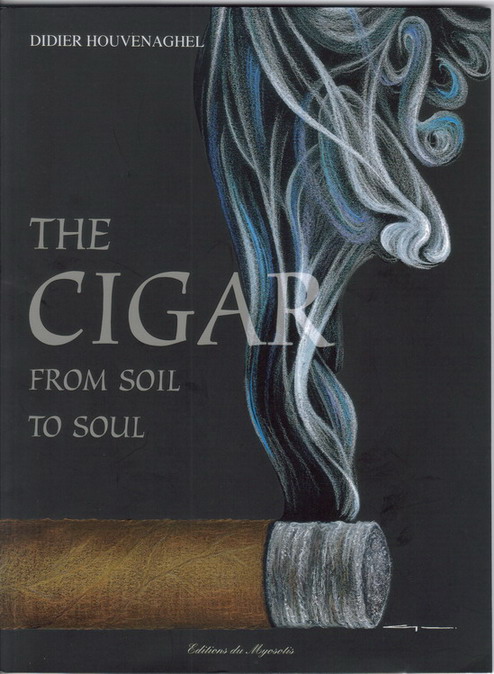 The Cigar From Soil To Soul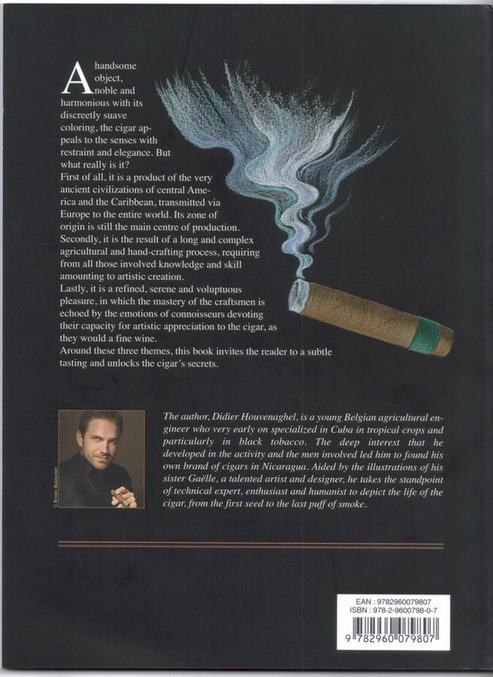 The Cigar From Soil To Soul
Copyright 12-2010 © Ninos Flying Cigar