17 Jun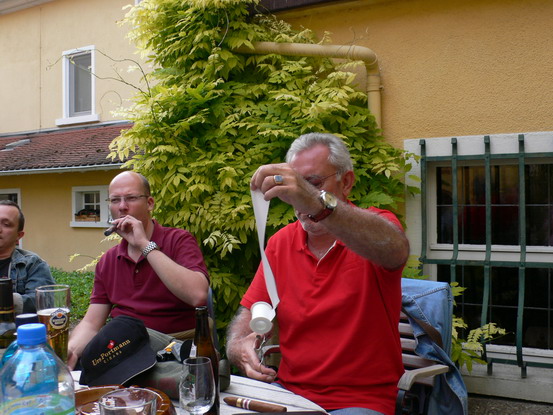 Taping the cross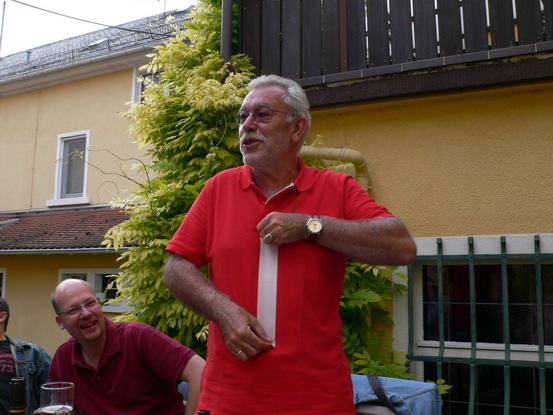 1
2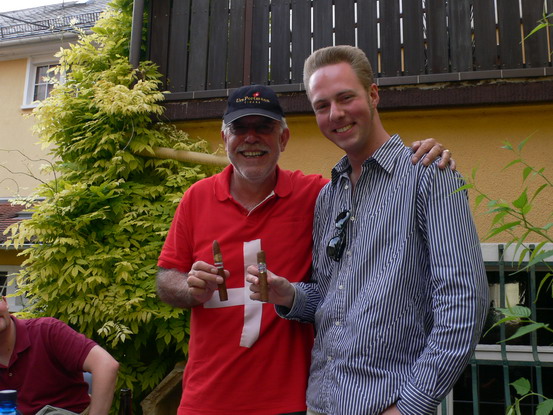 Ready – My PL ER Suiza & Constantin with Portmann 40 Aniv.
16 June 2010
After the beautifully ineffective Spanish world cup show I was in need of some relief.
Andreas & the pharmacy smoke promised to be a haven.
It was – but only after I suffered a bit having good fun.
I taped a bright white Swiss cross across my red shirt as atonement for the lousy Spanish match and then we enjoyed the evening in style.
I enjoyed a PL Valiosos ER Suiza,  gotta destroy the enemy by fire, in this case I succeeded.
No, we didn't get the RA Belicosos ER Alemania from Urs Portmann as a sign of gratitude for his team's victory, but it was nice to see that Mario had rolled them – always wanted to have a box where I knew who the roller was ………. Gracias Mario, whoever you are.
Constantin and Michael were present and we had a good exchange on some dates coming up.
Jorge was again in the house and this time he surprised us with a very smooth and chocolaty Puros Aliados Fuerte that was regarded by all as being a very decent, well made and pleasant cigar.
Same for the "4 Kilos" Red from Mallorca of which Bernhard opened 2 bottles – a solid, good red that was enjoyed by all – 95 on the Richter scale at least.
Constantin brought a rare spirit, namely a Ginger (Ingwer) brand that was quite special on the palate but nevertheless an experience.
And Andreas showed off the custom made "Arado" Steerhide leather flying jacket that he had just received from a Berlin store renowned for their quality flying jackets.
See : www.original-fliegerjacken.de/de/uebersicht.php?gclid=CPGqvLa9paICFcITzAodzXPwxg
All in all I suffered – but it was mildly and gladly.
Nino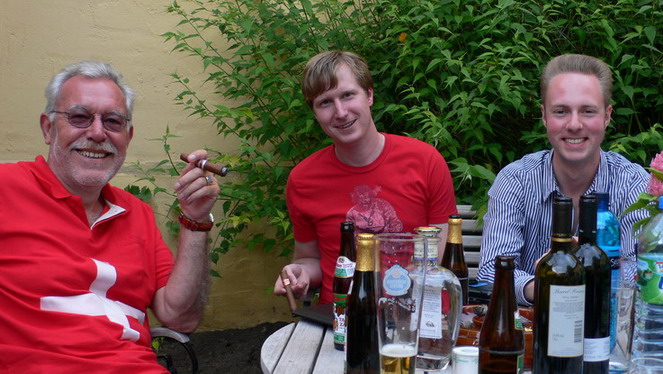 Having fun with Michael & Constantin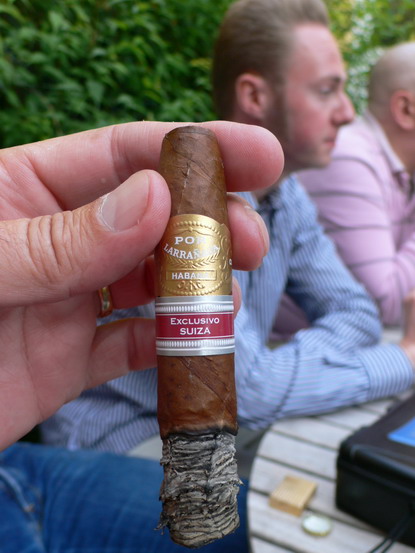 PL ER Suiza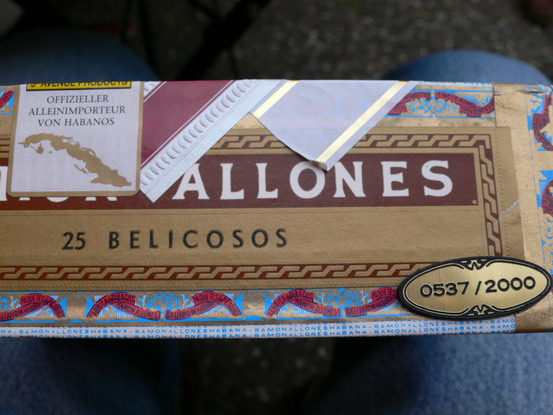 RA ER Alemania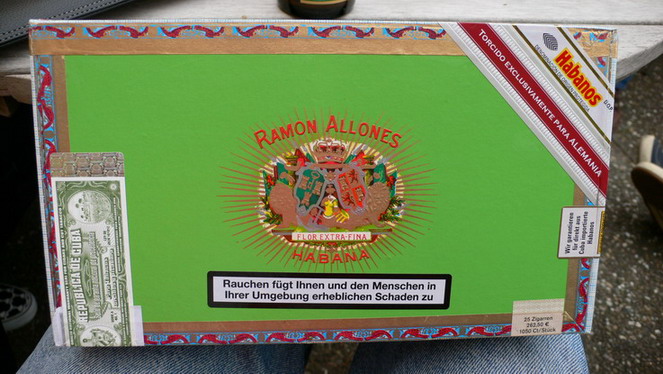 RA ER Alemania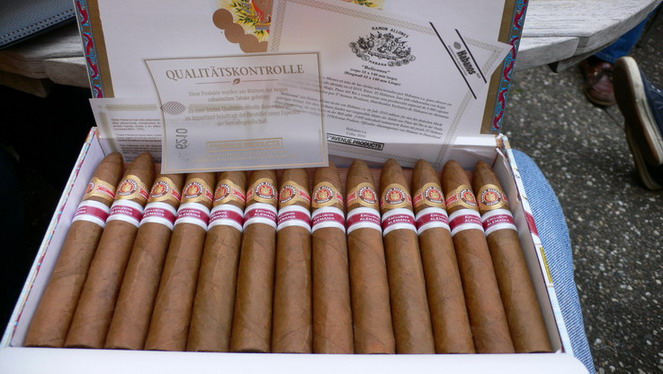 RA ER Alemania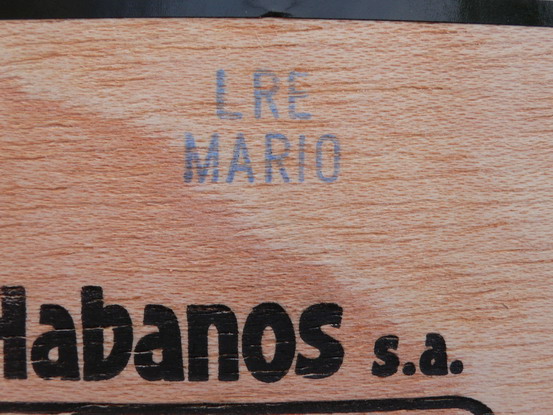 Gracias Mario ……..:-))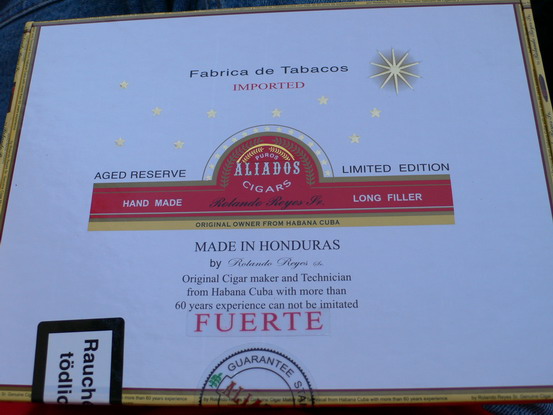 Puros Aliados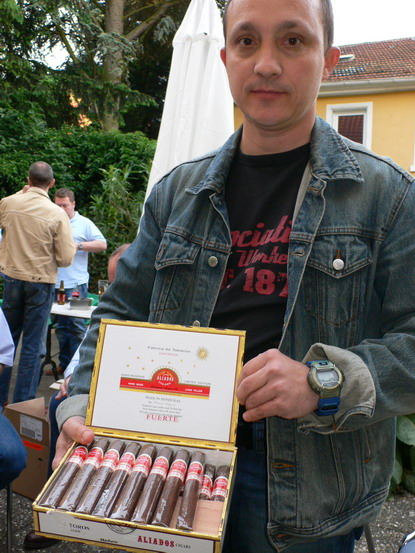 Jorge & Puros Aliados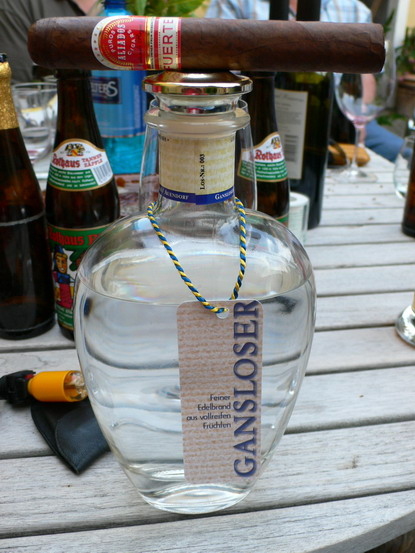 Ginger spirit
Smoking away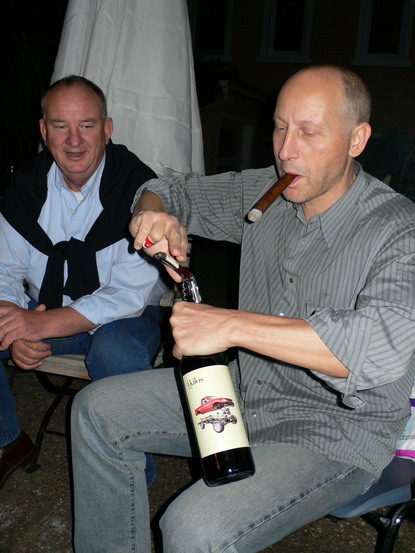 Bernhard – opening with precision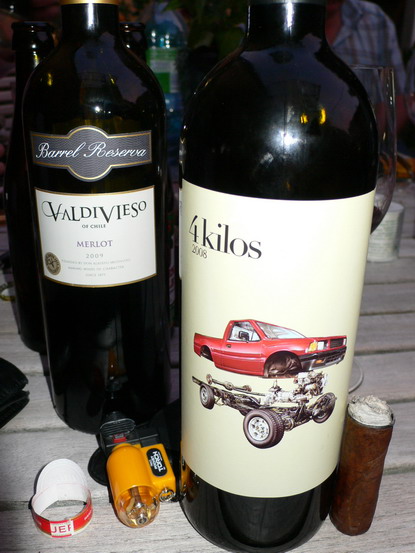 Funny label – Good wine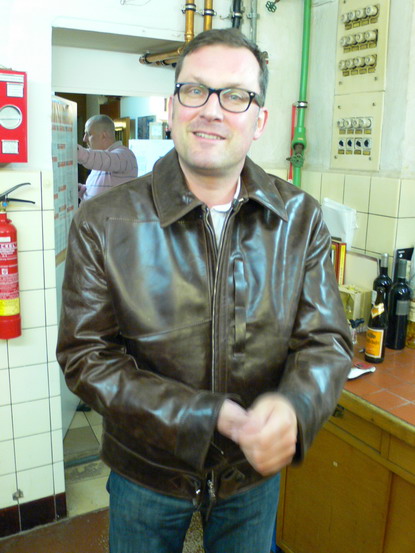 Andreas & his Arado jacket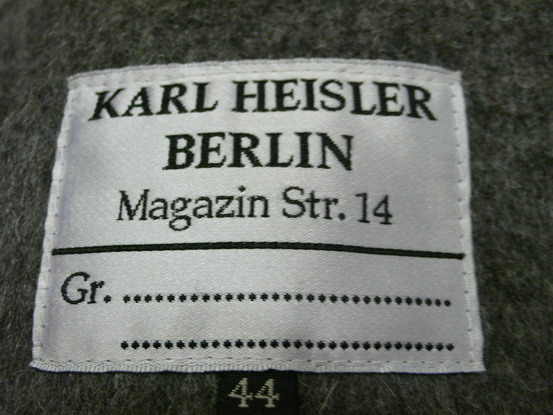 Manufacturer
Custom made quality
Copyright 06-2010 © Ninos Flying Cigar