9 Aug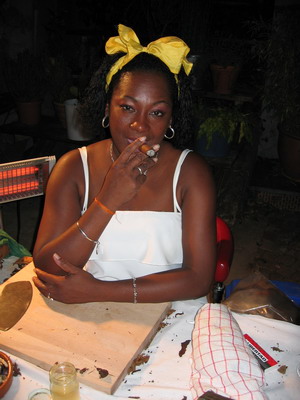 Alicia Parada aus Kuba
English Translation follows the German text.
Letzten
Samstag, 27 August, einen Tag nachdem wir aus Almaty / Kasachstan zurück
kehrten, fand das Vierte Grill Fest unseres Wiesbadener Cigar Cult Clubs
statt.
Wie immer trafen wir uns am Rheinufer im Fotostudio vom Mitraucher Frank Widmann.
Unter
ist eine sehr professionelles Internetpräsenz von Frank mit einer Foto Galerie, sowie Studio Tour und der Möglichkeit sehr attraktive Desktop Images zu laden.
Für Fotografie Interessierte ein Muss.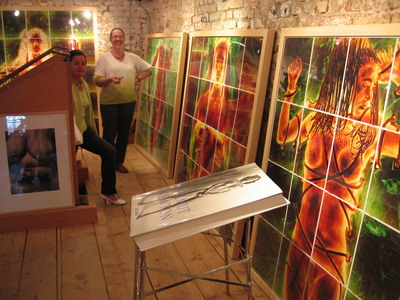 Frank's Studio 
Im geräumigen Loft konnten wir seine interessanten Fotos und Studien bewundern sowie bereits kleine Gesprächsgruppen bilden.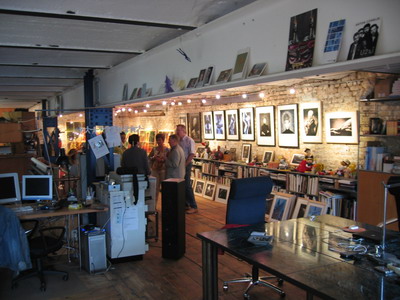 Frank's Studio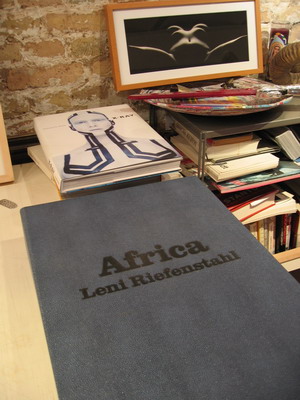 Grosse Bücher / Grosse Fotos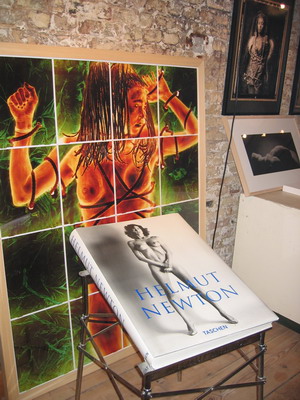 Big Books / Great Photos
Diesmal hatte Organisator Stephan eine besondere Atraktion, nämlich Alicia, eine Kubanische Rollerin sowie Stefan Lorösch von El Mundo del Tabaco  
der uns mit 2 Gratis Zigarren von La Libertad bzw. La Meridiana beglückte, sowie eine interessante Tombola veranstaltete mit sehr guten Preisen – der Hauptgewinn, ein Reisehumidor in Leder ging an einem Nichtraucher ……….. sein Vater freute sich.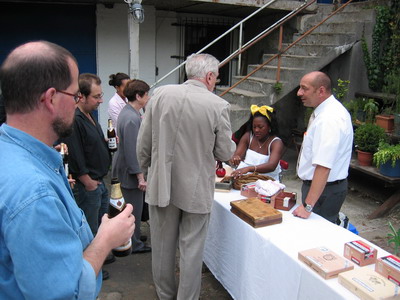 Alicia Parada & Stefan Lorösch / El Mundo del Tabaco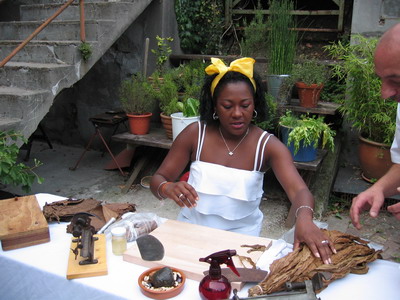 On the Job
Die von Alicia frisch gerollten Zigarren hatten ein leckeres Kubanisches Deckblatt, schmeckten vorzüglich und wir alle spendeten bei diesen Zigarren für ein Waisenhaus in der Dominikanischen Republik, abseits der Touristenzentren, was die Zigarren noch besser machte. 
Bei sehr gutem Essen vom Grill, von Stephan exzellent bedient, eiskaltem Radeberger und guten Weinen verbrachten wir einen sehr schönen Nachmittag / Abend im Kreise unserer Freunde und Mitraucher.  
Irene Seiler, Walter Born, Albert Häuser, die Bauers und Eberhard Brandt waren vom Zigarren Zirkel Bergstrasse

Bensheim da, und  "El Kioskero" aus Bad Vilbel.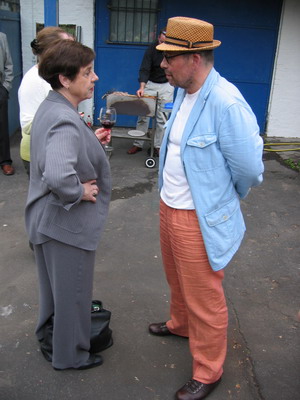 Irene Seiler & Ricci El Kioskero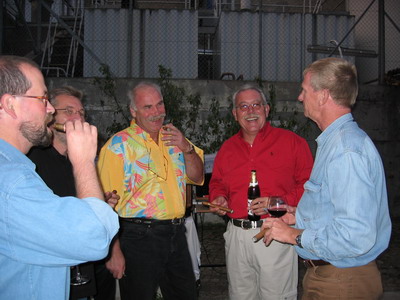 Gute Zigarren und gute Menschen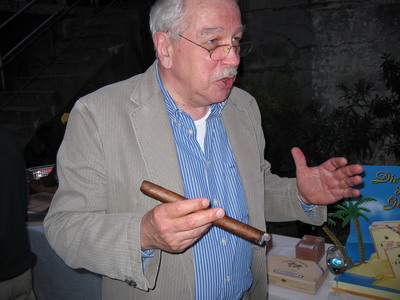 Eigentlich hatte ich sie sooo gross bestellt ………
I actually had ordered it it this Size …………..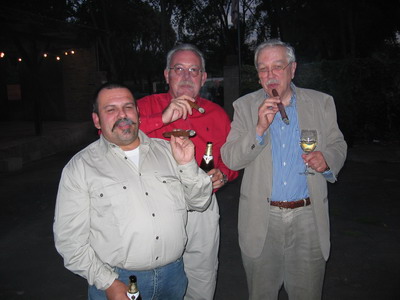 Three Big Ones
Gottfried spendete eine Glaskaraffe " Cigarignac " und informierte uns passend dazu über das Fest im Dalberger Hof dass vom 16 bis 18 September stattfindet.

www.dalbergerhof.de/aktuell.htm
Hier sind die Cigar Cult Club Smoker willkommen, denn der Inhaber ist selbst Mitglied. 
Hier entsteht auch der erstklassige "Cigarignac" im Barrique, unter tatkräftigem Hineinblasen von gutem Habanosrauch in das Fass, was dem eh schon vorzüglichem Weinbrand sein besonderes Aroma gibt. 
Gegen Mitternacht verabschiedeten wir uns von einem richtig schönen Abend der dieses Jahr auch wettermässig sehr angenehm war. ( Letztes Jahr haben wir uns abgefroren ) 
Ein anderer sehr angenehmer Smoke im August war unser Rheinhessenraucher Treffen, erneut in Worms, von Heiner vorgeschlagen war sein Stammlokal "Kolb's Biergarten" am Rheinufer unter der alten Rheinbrücke.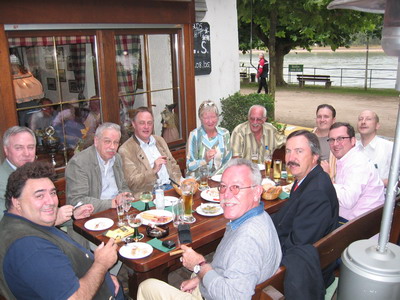 Rheinhessenraucher Smoke in Worms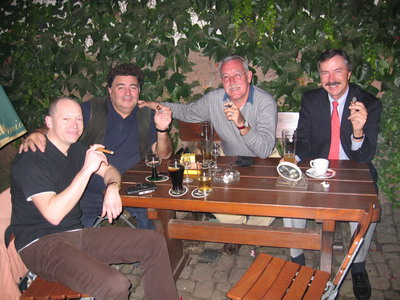 Gabriel, Heiner, Nino & Don Enrique 
Am Stammtisch "Rheinblick" trafen wir uns alle, bedingt durch die Nähe zur Bergstrasse verstärkt durch Don Walter und Albert sowie Andre, und aus Ludwigshafen kam Don Enrique mit dem ich wieder mal etwas Spanisch reden konnte. 
Unser Freund Peter, ein Ex-Smoker, jedoch weiterhin Mitglied der Rheinhessenraucher, gesellte sich auch zu uns, und so konnten wir unsere Toleranz gegenüber unseren Nichtrauchenden Freunden zeigen.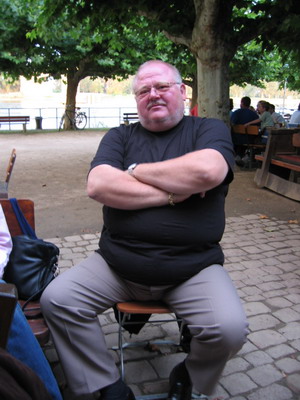 Auch Nicht Raucher sind Willkommen / Non Smokers Welcomed
Es war ein sehr schöner Abend, ein schöner Smoke und wir alle waren von der Lokalität sehr angetan. 
Davor, am 05 August, hatten Andreas, Bernhard und ich einen privaten Smoke um die Punch Robusto Edicion
Regional zu verköstigen.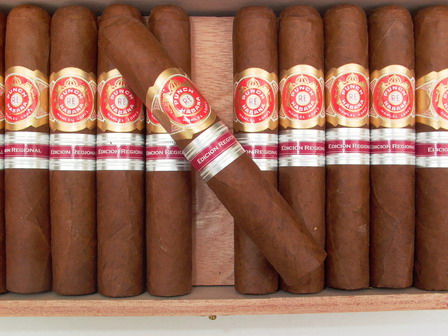 Punch Robusto / Foto Andreas
Gerade bei Andreas eingetroffen, veranstaltete dieser ein gemütliches Mallorquinisches Abendessen mit Sobreasada, Salchichon, Chorizo und verschiedenen Ziegenkäsen, und wir rauchten diese schöne Zigarre – die zwar herrlich schmeckte aber noch zu jung war – und danach noch eine frisch gerollte von Reynaldo aus Havanna, die mir freundlicherweise
Hunter mitgebracht hatte. 
Zwischendurch machte ich mich an die Arbeit und klebte einige der angesammelten Bandeloren um das Foto von Stocki. Dieses wird einen guten Platz in meinem Arbeitszimmer finden. 
Und jetzt Ende August, bei herrlichem Sommerwetter und mit sechs freien Wochen vor mir, geniesse ich die Gartenarbeit, die Sonne und meine Brot & Butter Ramon Allones .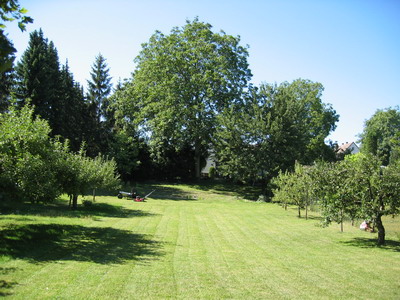 Im Garten
Im September freuen wir uns auf das Fest im Dalberger Hof, einem Smoke der Extraklasse in Wörrstadt mit guten Freunden aus Nord und Süd sowie auf den Smoke & Dine im Mainz Hyatt mit Prof. Guido Knopp.

Livin' well.

Grill Night Cigar Cult Club and other August Smokes. 

Last Saturday, 27-th August, a day after we came back from Almaty / Kazakhstan, we celebrated the Fourth Annual Grill Night of our Cigar Cult Club in Wiesbaden.
As always we met by the Rhine River Promenade at the Photo Studio of Co-Smoker Frank Widmann.
His very professional Internet Site can be found on
featuring Photo Galleries, a Tour of the Studio as well as great Desktop Images for  downloading.
A Must for Photography Enthusiasts. 
In the very spacious Loft we had the opportunity to admire his Photos and Studies as well as to gather around in conversation. 
This time Stephan, the Organizer, had a special Attraction for  us, Alicia Parada,a Cuban Roller and Stefan Lorösch of El Mundo del Tabaco www.el-mundo-del-tabaco.de who presented us with two free Cigars of La Libertad and La Meridiana Range and also held a Tombola with some very attractive Prizes ( the Main Prize, a  Leather Travel Humidor went
to a Non-Smoker ……..he made his Father very happy.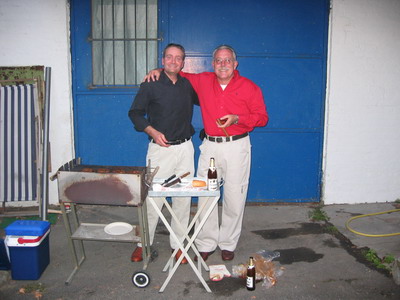 Stephan, the Great Griller
The Cigars rolled by Alicia had a very tasty Cuban Wrapper, tasted great and we all
donated  for the Cigars to help support an Orphanage in the Dominican Republic, away from the Tourist Centers, which made the Cigars taste even better.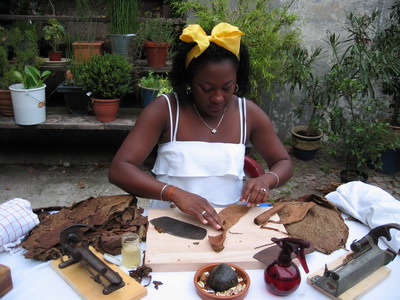 We spent a very pleasant Afternoon and Evening and enjoyed a good B-B-Q served
by Stephan, ice cold Radeberger and good Wines in the company of our Friends,
spouses and Smoking Buddies.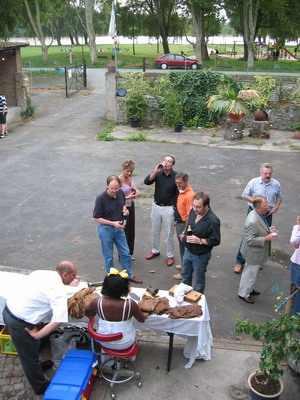 Der Rhein im Hintergrund / Rhine River in the Back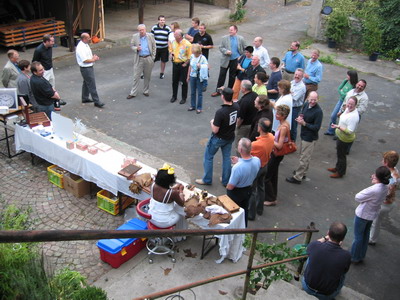 Good Times
Irene Seiler, Walter Born, Albert Häuser, the Bauers and Eberhard Brandt of the Zigarren
Zirkel Bergstrasse
came over from Bensheim to be with us and "El Kioskero" came from Bad Vilbel. 
We drank a Decanter of "Cigarignac" on Gottfried and he informed us about the next
Wine Fair to be held Sept. 16-18 on the Dalberger Hof Estate.

www.dalbergerhof.de/aktuell.htm
Cigar Smokers are welcome, the Owner is a Co-Smoker and Member of the Cigar Cult Club.
The excellent "Cigarignac" is made there in a Barrique Barrel, with us blowing good
Habanos Smoke into the Barrel, which gives this great Brandy an extraordinary Aroma. 
We left around midnight, having enjoyed a really nice evening which even was quite comfortable weather wise. ( Last year we froze our A..es off ) 
Another very pleasant Smoke in August took place by the Rhine River, under the old
Rhine Bridge in Worms, at "Kolb's Biergarten", which is Heiner's regular Place.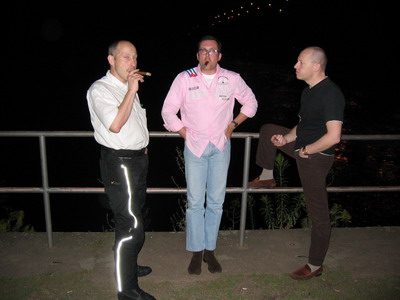 Smoking by the River
At the "Rheinblick" Table we all met, being so close to the Bergstrasse we were re-inforced by Don Walter, Albert and Andre, and I had the Chance to speak Spanish
again with Don Enrique from Ludwigshafen.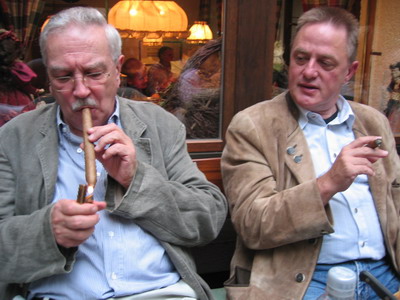 Don Walter & Helmut
Our good friend and ex-Smoker Peter also dropped by, which gave us the Chance to
show Tolerance towards our Non-Smoking Friends.
It was a lovely Evening, a good Smoke and all loved the venue. 
Previously, on August 05-th, Andreas, Bernhard and I had a private Smoke to try the
brand-new Punch Robusto Edicion Regional.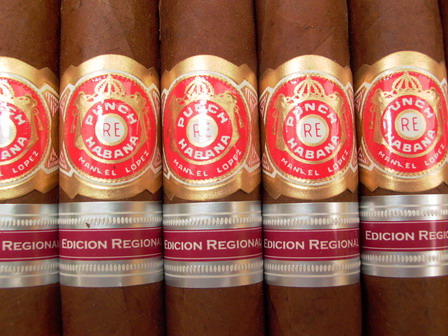 Punch Robusto
/ Foto Andreas
Freshly arrived at Andreas, he organized a Mallorquin Dinner of Sobreasada, Salchichon,
Chorizo and assorted Goat cheeses, and we tried this beauty of a Cigar – which tasted excellent but was still too young, before we smoked one of Reynaldos's freshly rolled Habanos delivered courtesy of Hunter from Havana. 
In between I worked on pasting some Cigar Bands on the Photograph that my friend
Stocki took, which will find a good place in my Office. 
Now, late August, enjoying great weather and looking forward to six weeks off, I
enjoy  a bit of Gardening and my Bread & Butter Ramon Allones. 
September we look forward to the Dalberger Hof Estate Weekend, then an Extraordinary
Smoke in Wörrstadt with good friends and then the Smoke & Dine Smoke
at the Mainz Hyatt with Prof. Guido Knopp. 
Livin' well. 
Nino
Copyright 08-2005 © Ninos Flying Cigar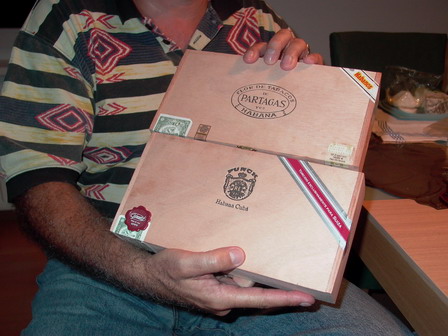 Great
Robustos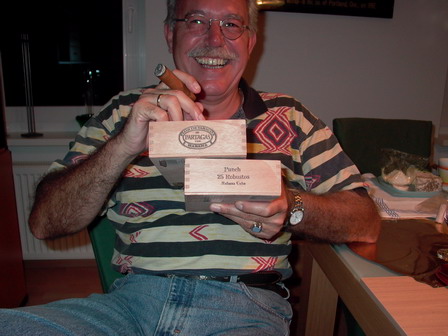 Grosse
Robustos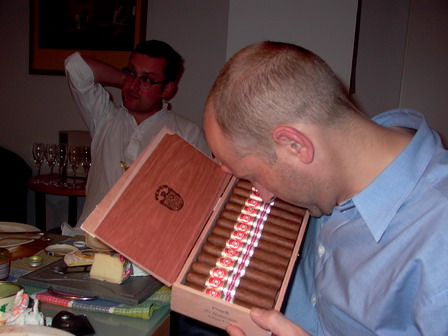 Bernhard
checking the Goods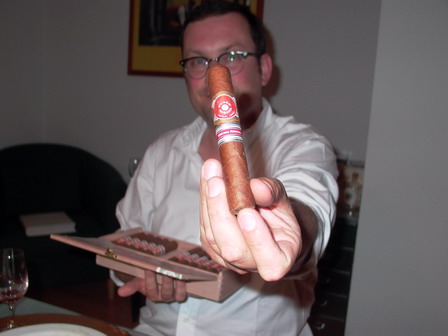 Andreas
: Have One !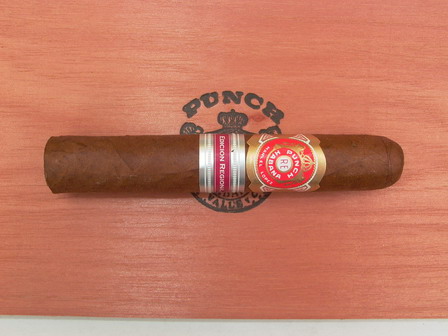 Punch
Robusto / Foto Andreas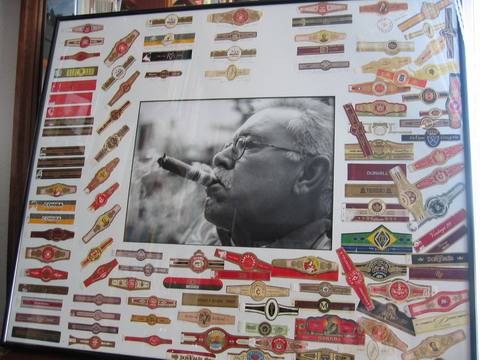 Stockis Foto
Copyright 08-2005 ©
Ninos Flying Cigar