6 Feb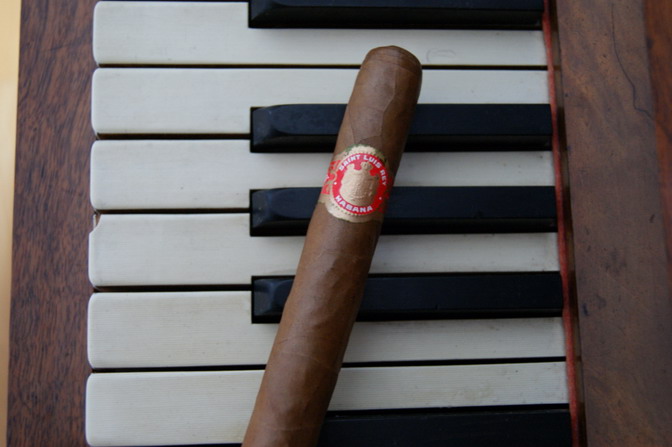 SLR DC – Photograph by Arild/Ama015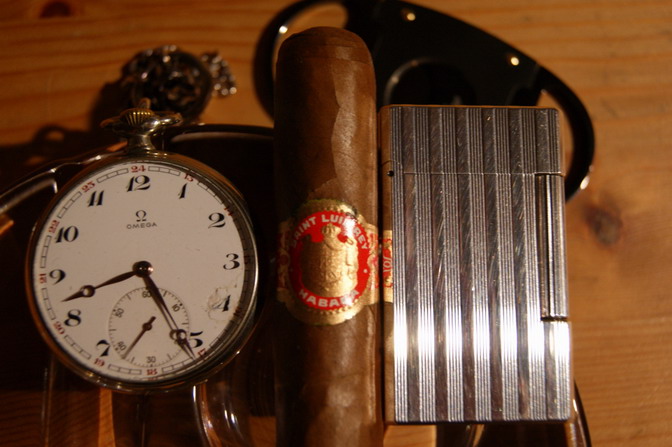 SLR DC – Photograph by Arild/Ama015
A review by Arild/Ama015 – February 2011
I have received kind  permission from Arild, a fellow Aficionado and true Cuban cigar lover from Norway, to post this review which in my opinion is one of the best – if not THE best – I have read so far on cigars and the intimate journey to them.
As we would say in German, it is written with "heart blood" and keeps the reader fascinated sharing his thoughts and progression through life while radiating joy. Truly amazing.
Wishing Ida and Arild a fantastic evening in Paris on February 18-th and all the joy in the world !!
Nino
-.-
Can one Havana cigar change a life? For me the answer to that question is yes. When I paid what I thought at the time to be a ridiculous high price for one cigar some fifteen years ago, I was curious what a perfectly hand made Cuban cigar would be like. I sat for myself with a Partagas Lusitanias in my hand, admired the beautiful work of the Torcedor and anxiously put light to the large animal. I hoped for much, but did not know what to expect.
The rest is history as they say. I was overwhelmed with tastes I've never experienced before, and could not understand that a 100% pure nature product could give me such complexity of tastes and pleasure for several hours. After that cigar, I read all I could find at the time about these gems from the island of Cuba. I found, bought and smoked cigars of different Marcas and enjoyed every minute of it.
The discovery of such tastes and the enjoyment of the experience brought me to fine Cognac's, wine, single malts, coffee, teas and good food. Ever since my first Havana, life has been better to live because I discovered the great tastes you can find in this wonderful world.
Now I understand better who I am, and what I searched for in my life. The answer is simple, but perhaps hard to discover – the good life, and to make it even better, Ida shares it with me.
Today I sit for myself in my smoking-room in the basement of my house. In front of me I see a truly beautiful Saint Luis Rey Double Corona from a cabinet of fifty, boxcode AEP FEB 07.
Only four years of age, but time has come for this particular cigar tonight. The Prominente weighed in at 18.7 grammes, and it has a wrapper of golden reddish color if I ever saw one.
Construction seems flawless.
When I slowly took the SLR up to my nose, haha, I was hit by a nice memory, and that memory was a bottle of Chateau Gruaud-Larose 1989 served to me by a good friend a year ago. I see a French farm in front of me with a lot of different animals walking around free as a bird (almost) enjoying life until the last day of their life. Add some strawberries and a tiny amount of white pepper and you know what I get up to my nose this moment.
The foot of the cigar has much of the same smell, and if I close my eyes I can see a tired working horse passing by at close range with the pipe smoking owner walking close behind. I remember the perfumed smell of my Grandfathers pipe like it was yesterday. I know this is a pure natural product, but how can I smell perfumed pipe tobacco then? This is the great mystery of the finest Cuban tobacco, you can recognize myriads of smells and tastes from a leaf of tobacco. Incredible.
Draw is on the firm side, and if I could choose, this would be the draw I asked for. Tasting the cold draw gives me promises for the rest of the evening. You are not alone when you have a fantastic Havana cigar in your hand. Pepper and hay on the tip of the tongue, and the classic, unique taste of Vuelta Abajo tobacco.
Putting the large SLR to life with the soft flame of my beloved Davidoff S.T. Dupont lighter gives the air of my smoking-room a hint of what to come. I believe I get better taste from the beginning of the cigar using a soft flame instead of the ultra hot torch I use when outside. As usual I smoke very slowly, blowing the smoke quietly out of my nose, at the same time tasting with my tongue and mouth. I`m happy because I probably have around four hours of pleasure in front of me this evening.
First impressions are those of nuts, perhaps Cashew is the closest in taste, and hints of the fine vanilla you get from oak casks from Limousine in France. I can also taste a slightly sweet taste, not sugar, but more like honey. In the bottom of the taste there are congeners for a long life. The taste of the congeners is difficult to describe, but think of eaux-de-vie, a little bit raw and fruity, but with potential for becoming a superb Grande Champagne cognac in the future.
So this SLR is still young, but ohhh so good already, at least at the point I am now, just started the travel down its long body.
I have some pure Norwegian water with the cigar to start with. This makes me able to find out what the major tastes and impressions of the cigar are. Later I will pair the cigar with a 2002 Les Champs Perdrix white Bourgogne from Jean-Yves Devevey. A nice Bourgogne for the price, and perfectly able to clean my mouth between puffs on the Havana.
The SLR continues to give me nuts and wood. It's medium bodied at this point, and the smoke actually feels fat and creamy. It covers my taste buds, and is in no hurry to leave. Burn seems to be quite even, not perfect, but not a problem either. The ash is that black and white you often see on Cuban cigars.
The smoke changes over to more spices and hay after half an hour. New baked bread comes to mind. And the French farm again. Not the animals walking around this time, but the smell of new cut hay in the fields a warm autumn day. It is a total treat to sit here in my smoking room, looking at the wonderful reddish wrapper, see the brilliantly blue smoke coming out of my nose, and just relax. Your mind finds the time to rest, the stress of everyday life seems far gone, and once in a while a new taste appears and give a pling in your brain.
One hour gone already, and I have only smoked a tiny part of this giant, this will be a long night, lucky me. I think some music will do. Leonid Kuzmin playing the piano will suit me perfectly. Can you find more impressive music than a master playing his piano?
It is strange how a cigar can bring your thought's flying away. I think of my beloved father who left us way to early five years ago. I miss him and think of him with pride. Just wished he could be here with me sharing an SLR this evening. In a way he is. And my soon to be fiancée Ida, I am a lucky man.
Enough of me thinking, back to the now leather and fruit tasting beast. Can it be the smell of my leather strop I use for my straight razors I taste? It could well be, the cow leather and the fruity, natural smells of my shaving soaps and creams. The Bourgogne cleans my palate at this point in time. It also brings a lot of fruity tastes to the cigar. Not over powering, no no, just some apples, oranges and ripe pears in the back of my mind.
It is no secret that I like a nice dram of old cognac. Funny that I mentioned the eaux-de-vie impression I got at the start of the cigar, because now I can relate the SLR to a cognac around the age of ten years. The touch of vanilla from the oak, some spring flowers and fruity notes from the cognac's early life as a white wine.
I am at the halfway point when these "deep" thoughts got the better of me.
The milk chocolate colored SLR start to taste milk chocolate…
Still medium bodied and creamy. My first thought when I took the SLR up to my nose was the smell of a wonderful red wine, A Gruaud-Larose 1989. And now when the milk chocolate appeared, I can taste sweet red wine. And this is a mind-blowing combination. If you have tasted Recioto della Valpolicella with a chocolate dessert you need no further explanation. This also proves to me that the white wine I am enjoying does not overpower the tastes of the Havana cigar. How could I taste sweet red Italian wine if so?
When you smoke a Havana cigar, and suddenly get blown away by a taste or impression it is always related to something you have experienced before. That is why I always stick my nose into everything. You never know when you will need that good or bad smell again do you.
I have not smoked older SLR DC`s or the very rare Prominentes from this Marca. But if this cigar teaches me something, it is this. Always have these cigars in your ageing collection. It smokes surprisingly well already, only God knows what it will be like in ten years, but I'm willing to bet my left arm that it will be fantastic.
The Italian Recioto red wine and milk chocolate refuses to leave my palate, but is that a problem?
I guess not. I feel so lucky, sitting here enjoying one of the ultimate tastes life can give you.
Three hours now, and the Prominente is still sweet, creamy, lovingly, beautiful and complex. I can see the end coming now in the not too long future. The journey so far has been one to remember.
It becomes a little stronger now with darker tones. Coffee from Mt. Kenya comes to mind with the typical cherry notes of that coffee.
The smoke is so thick and creamy at this point. Can you imagine cream with a little fresh Kenya AA coffee and a touch of white pepper added? And two drops of Delamain Family Reserve cognac. Sounds like a dessert cream to me.
I will stop writing now, even if I have another hour left of the cigar. I guess nobody read this far anyway, LOL.
To sum it up. This Grande Havana cigar can be compared to Vivaldi`s Four seasons, it takes you through a journey of tastes during the yearly seasons on a farm.
Ida and myself will attend just Vivaldi`s Four seasons ballet at the Paris Garnier Opera the 18-th of February. That will be a night to remember, so will this evening with a superior Havana cigar.
Life is good.
Arild
All text and photographs are copyright of Arild/Ama015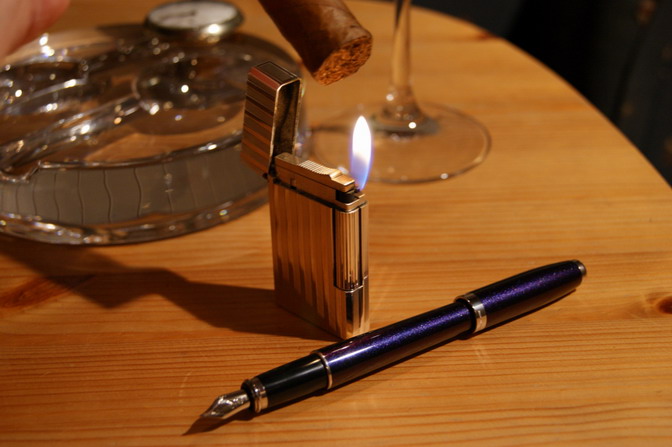 SLR DC – Photograph by Arild/Ama015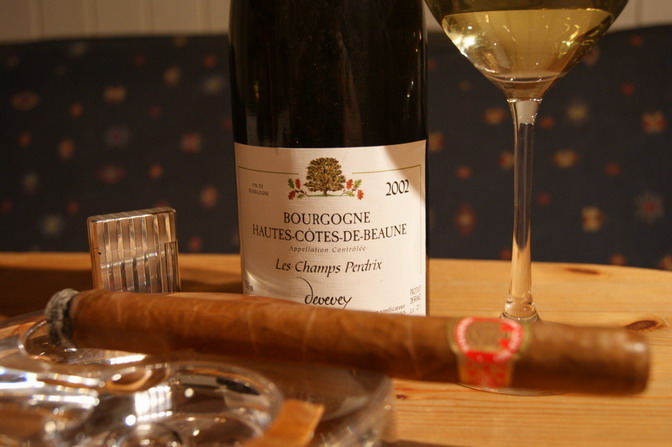 SLR DC – Photograph by Arild/Ama015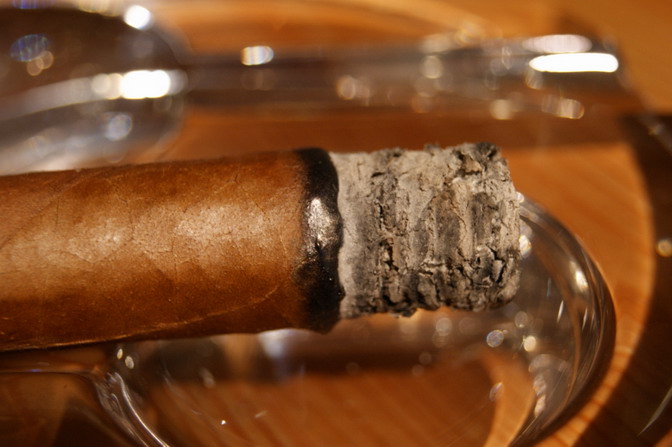 SLR DC – Photograph by Arild/Ama015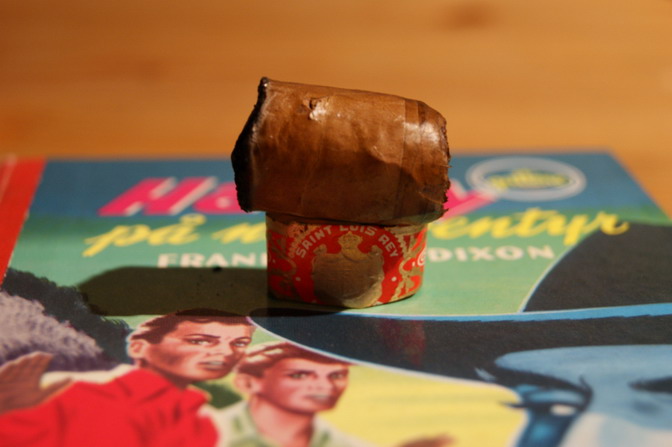 SLR DC – Photograph by Arild/Ama015
Copyright 02-2011 © Ninos Flying Cigar