20 Feb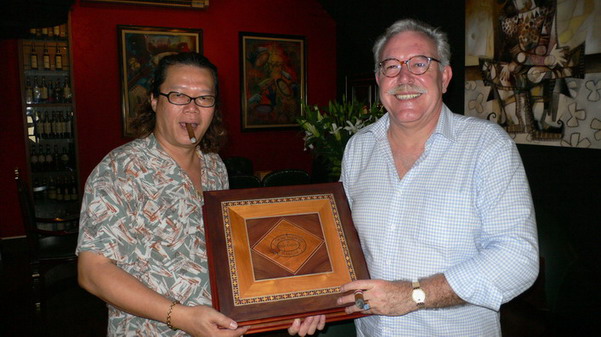 Jimmy & Sobresaliente humidor
Birthday dinner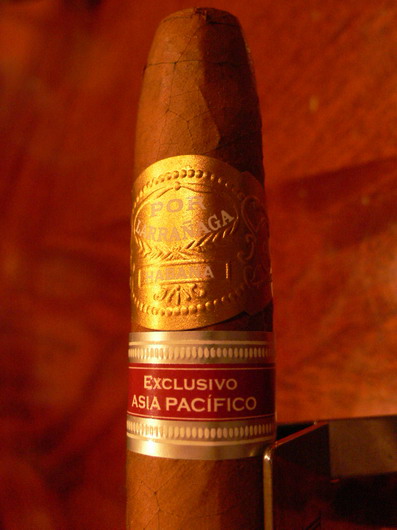 PL Belicoso Extra RE Asia Pacific
Feb. 2009
There are a few things to celebrate in February besides Valentine's day and the Habanos Festival.
A day before Valentine's day I celebrated my 12-th year as a Purser on long range flights.
Being a Friday, Inge and I celebrated having a regular Friday dinner of excellent seafood at Massimo's with two other couples, my pharmacist and his wife and Bernd, his best friend and his wife.
Late night on Valentine's day I flew to Singapore looking forward to meeting Jimmy again and to celebrate my 56-th birthday there.
A Partagas Sobresaliente humidor was waiting there for me gathering dust as Jimmy complained.
Jimmy would depart for Cuba while I was still in Singapore and we were planning details in the Festival programme as Jimmy would join the "Portmann Band of cigar gypsies" as a member.
As such he would be the first to receive the by now traditional embroidered cap that I had ordered from Mr Park in Seoul/Korea. I had this idea five years ago and have been providing the caps to the fellow group members ever since.
We arrived on time at 10 am German or 5 pm local time after a smooth 12 h flight and taxied past a giant SIA A-380 to our gate – the aircraft does not really look that huge when you see it close up from a B-747.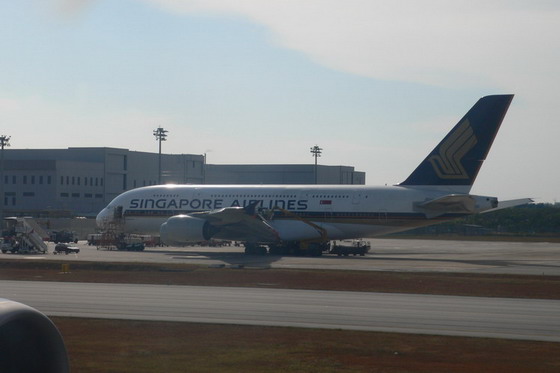 SIA A-380 at Changi Airport
A quick shower at the hotel and off up Orchard Road to the Regent hotel and Jimmy's array of exclusive lounges.
www.lacasacubana.com/cigars.htm
Jimmy was waiting for me and we enjoyed a long conversation as it had been almost a year that we had not seen each other. He offered a rare cigar, a vintage Dunhill Seleccion Suprema 154 from a box that was owned by Edmond de Rothschild from Dunhill's vaults. Beautiful cigar with a very intense and rich last third.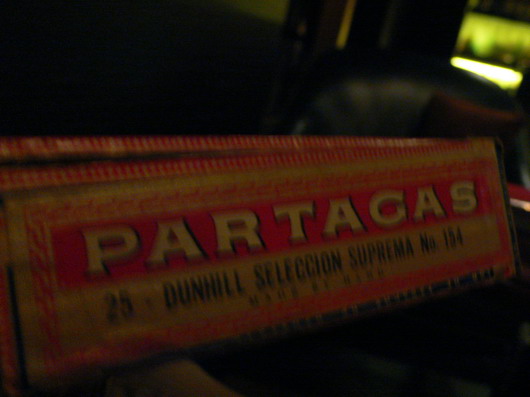 Partagas Seleccion Suprema No 154
Dunhill for Rothschild
Travel plans for Cuba were made a few months ago and Jimmy had booked the same flight from Singapore to Frankfurt that I was on so he could stay in the village and smoke at the pharmacy smoke on Friday evening before leaving for Cuba on Sunday with us.
These were the scheduled plans but due to some change of plans by some people in his group, he was forced to cancel those bookings and depart earlier.
A big disappointment for me, as I would have loved to have him as my guest, both on the flight to FRA and at home. I would have made sure his trip with me would have been as excellent as his hospitality.
We smoked another rare Dunhill vintage cigar, a perfect 505 with a distinct aged aroma, very spicy to the end.
Dunhill Seleccion Suprema 505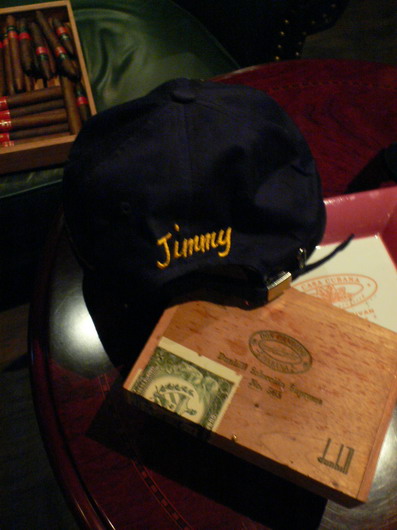 Dunhill Seleccion Suprema 505
Being very tired I was surprised that I held out until midnight before heading back to the horel.
Next morning I managed to run my errands and fetch everything on my list before noon.
Jimmy and Ann, his lovely, and lively, wife picked me up at my hotel and we headed to Chinatown for a good lunch.
First stop was a stall serving the best fishball noodles in Singapore for the last 40 years. A delicious affair that satisfied the appetite but left room for more substantial fare.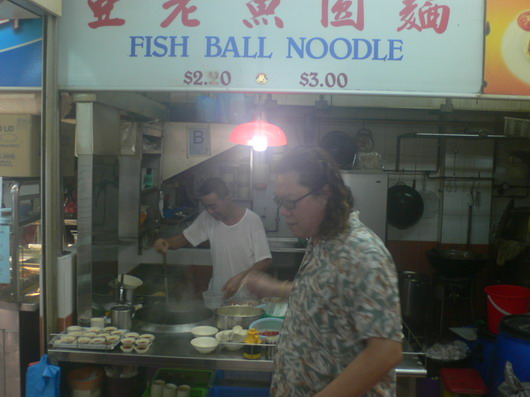 At the Fishball stall
For this we moved a hundred yards down Keong Saik Rd to Yanti, a genuine Nasi Padang place renowned for its outstanding quality.
Beef, chicken, stingray, curry, calamaris, eggplant, vegetables, rice and fruit juice came on the table for a very tasty and filling meal.
Jeff, the pipe smoking owner joined us at the only smoking table and Jimmy brought a tray of deliciously thick and aromatic coffee from across the street while we smoked Trinidad Reyes and discussed the worsening global economic situation.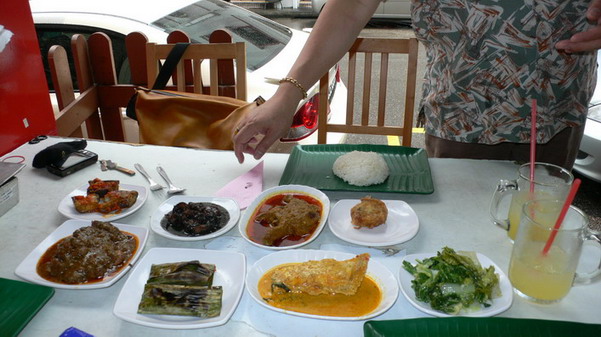 Nasi Padang lunch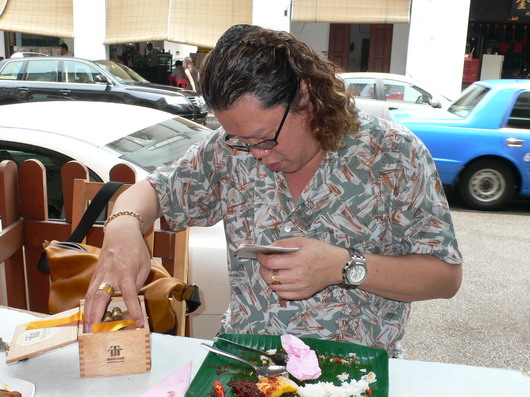 Jimmy & Trinidad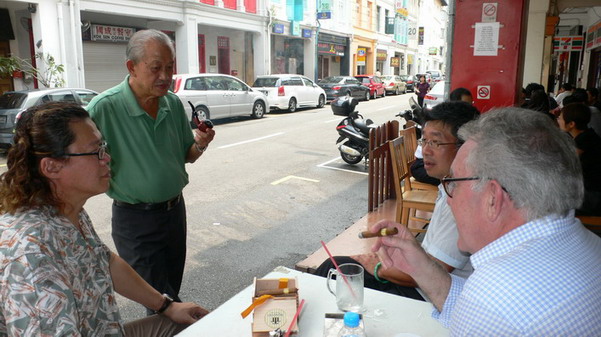 Jimmy, Jeff and the smoking table
To combat the slump and give a boost of stimulus to the local economy we proceeded to Funan Electronics Centre. I was in search of some printing cartridges and Jimmy wanted my advice on a good camera for Cuba.
Ann had taken a liking to my Lumix LX-1 and she used it quite comfortably, so I recommended the newly released successor model, the LX-3.
We found a shop and after some humorous bargaining Jimmy bought loaded with accessories for a very good price.
I really seriously hated Jimmy now – he not only had better cigars, better car, better lounges and better single malt plus better wines than me … he even had a better camera : – ))
Oh well, guess some people are born to be leaders and some people are born to be followers, so I followed Jimmy back to the Casa Cubana lounge.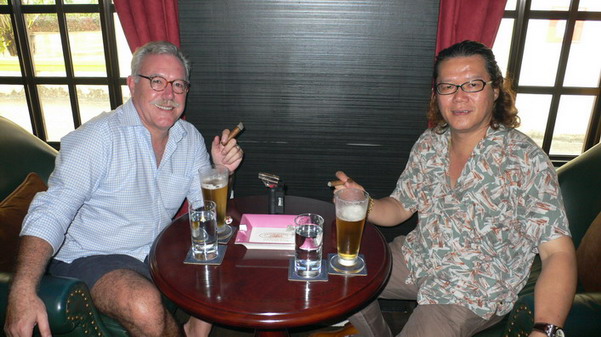 With Jimmy at the lounge
There he rubbed salt on my wounds by displaying a selection of his latest acquisitions to his unique vintage cigar collection.
You may admire these boxes here by searching for "Jimmy's Treasures" ….
I was then left speechless when he presented me with a cabinet of Por Larrañaga Belicosos Extra Edicion Regional Asia-Pacifico signed by him and dedicated for my birthday.
A gesture that deeply touched me. We know each other now for some time and meeting him both in Singapore or Cuba, has always been a pleasure, as he is not only a very knowledgeable person on fine cigars, wine and malts but also a very down to earth man with great common sense and sound opinions.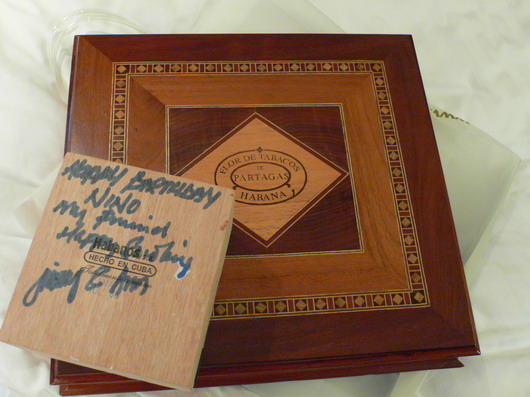 Sobresaliente & PL RE Belicosos Extra
I returned to my hotel for a short nap and a quick shower and then it was time again to meet Jimmy and his friends and patrons.
It was a very busy night in the lounges with customers from Japan, Singapore and Europe eating, smoking and drinking, so we decided to stay in and ordered a Chinese dinner of Tofu, duck pancakes, beef noodles, delicious cod and delicate fried rice all washed down with champagne to celebrate my birthday. A colourful and lively dinner with Jimmy, Ann and the staff sharing the evening with us.
Again I was left speechless when Jimmy cracked a 1960's Cabinet 50 box of Dunhill Partagas Seleccion 150 that were sublime in construction and taste. Very rich, nutty and perfect specimens of vintage cigars at their best and worth the price of a small car. Jimmy had decided to keep some of Cabinet cigars for his private smoking enjoyment. What a way to celebrate !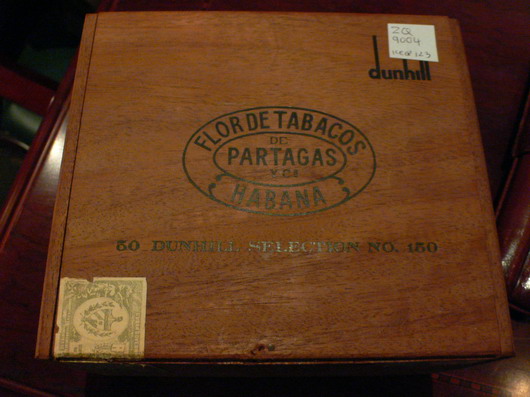 1960's Dunhill Partagas Seleccion 150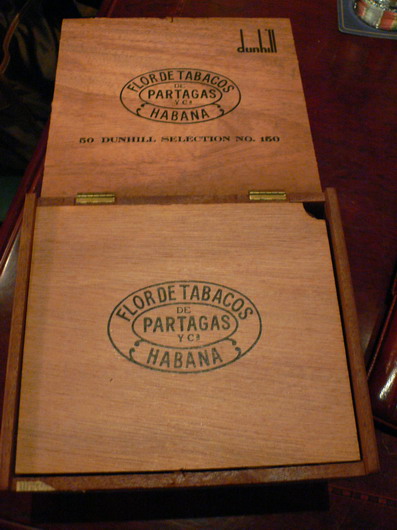 1960's Dunhill Partagas Seleccion 150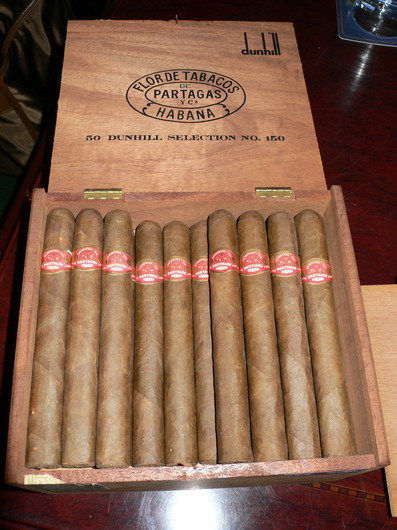 1960's Dunhill Partagas Seleccion 150
I made sure I would return to Singapore again even after retiring by leaving a half full bottle of 18 yr. old Macallan with my name on it for future visits, the next one certainly being my retirement flight.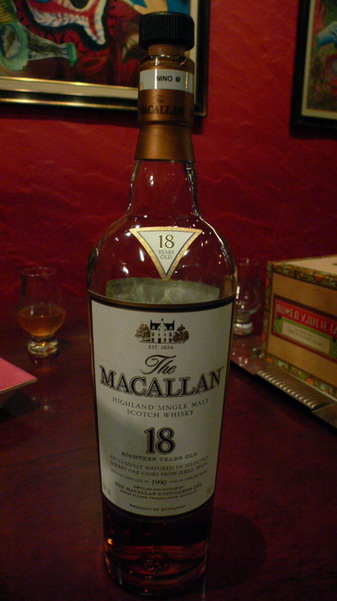 Nino's Macallan
Again it was a very interesting group of people and a wide range of topics that were discussed while smoking fine cigars and enjoying the malt.
An Indonesian cardiologist, an Austrian surgeon, a group of Japanese businessmen, the local patrons, a group of Europeans, a very talented and witty cigar distributor from Europe – all sharing on topics ranging from cigar storage to recent productions, harvest and hurricane damage to freezing beetles and cigar quality to US embargo.
Some of the people I will see in Havana next week, so it was nice to get to know them better and share my day with them.
The only regret, again, was not having Jimmy on my flight to Germany and then in the village to share a pharmacy smoke with us and give him the pleasure of enjoying a German cigar smokers round.
But we work hard on this.
Before flying the shuttle to Jakarta the next day I walked over to La Casa Cubana for a coffee and a cigar. I only had an hour before putting on the uniform, so I wanted something small but ended up smoking a Sobresaliente courtesy of Fred, another Cuba tour participant. Medium strength cigar, creamy, very rich, with lots of potential.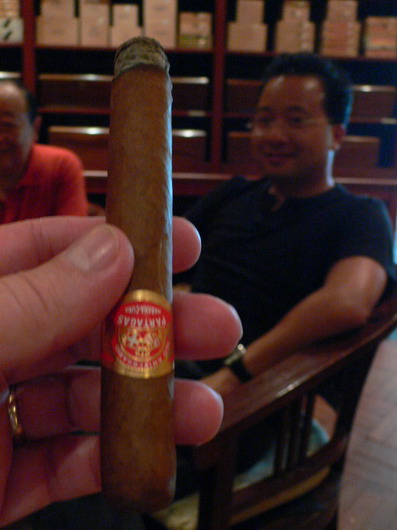 Sobresaliente & Fred
I bid farewell to Jimmy as even though he would be at the airport that evening at the same time I was retuning from Jakarta, we would not see each other, as he departed from a different Terminal.
My after landing cigar was smoked at "Three Monkeys" with my Captain after a light snack at the underground "dirty spoon" at Orchard Towers.
Opposite "Three Monkeys" is "Moonshine", a new live music joint that offers a smoking open air terrace from which the busy night action can be observed. Funny as hell to watch drunk farangs being dragged to the ATM's by, putting it mildly, pretty women of dubious gender.
The last day in Singapore gave me time to relax by the pool and catch up on reading and mails before heading out for coffee and a cigar.
A 12 h flight home and only 2 days to unwind, write this report & put it on-line, pack for Cuba, confirm last details of the programme and fly off Sunday.
We will have a private Rum and cigar tasting at El Laguito meeting Mr Brown, our old friend from H.Upmann and newly appointed director at Cohiba. Of course we will also be back at H.Upmann and see Maritza. Also scheduled is a visit to the newly -hopefully- opened Fabrica de Especialidades to meet Armando.
A visit to Vega Robaina has been set as always and we will lunch with Don Alejandro whose health is deteriorating.
Alex has been kind enough to invite me to the second privately organized Vertical Tasting, this time at Partagas where we will compare 10 yr old and newly released  8-9-8's from the unvarnished box.
The guest list for this vertical tasting is extremely impressive, an International gathering of the finest smokers and collectors and I am honoured to have Urs Portmann and Hans Weiss by my side.
I also look forward to the traditional Portmann dinner at "La Divina Pastora" and a private dinner with Jimmy as our guest of honour in "La Guarida".
With Cuba looming ahead I still have images of Singapore on my mind.
Thank you Jimmy, Ann, friends and staff at La Casa Cubana for an unforgettable experience !
Nino
Additional pictures to this report :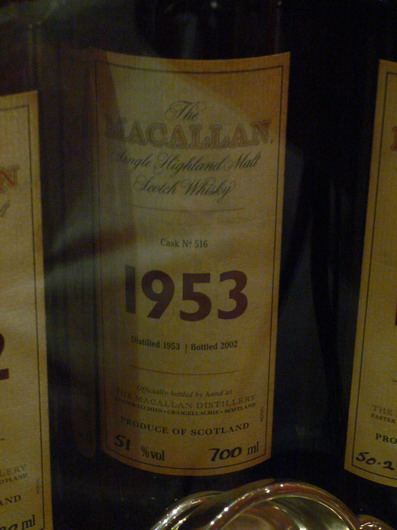 My "launching" year
Still going strong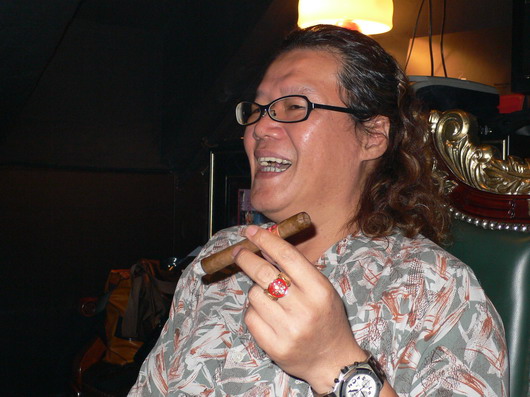 Jimmy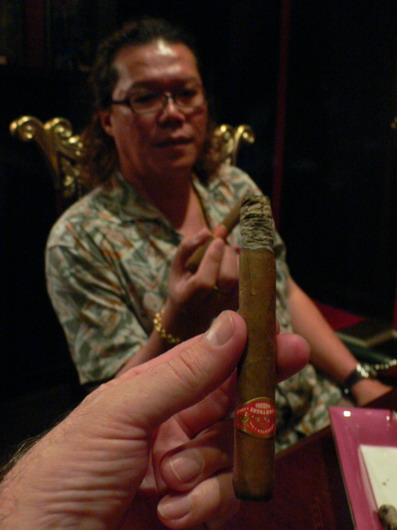 Partagas Seleccion 150 & Jimmy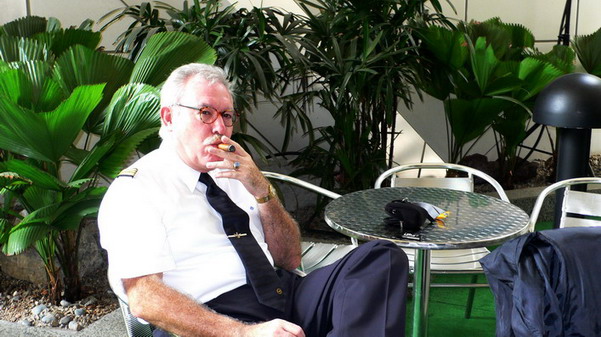 Finishing off the Sobresaliente before my Jakarta shuttle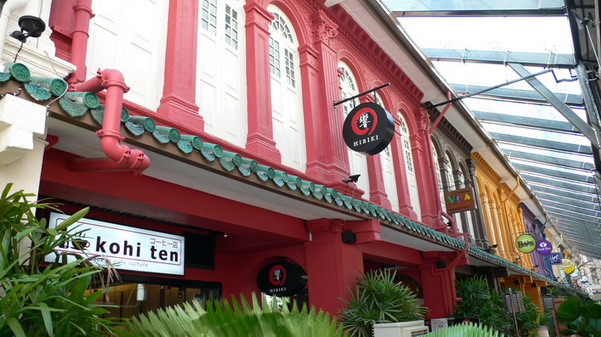 Near Centrepoint on Orchard Rd.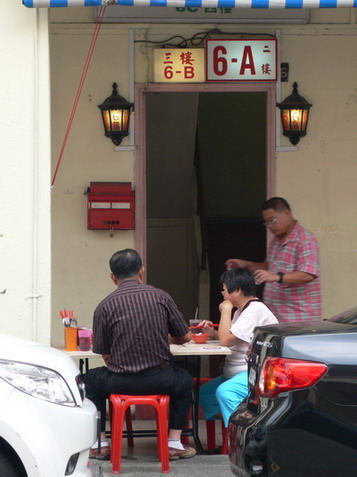 "Red Light" District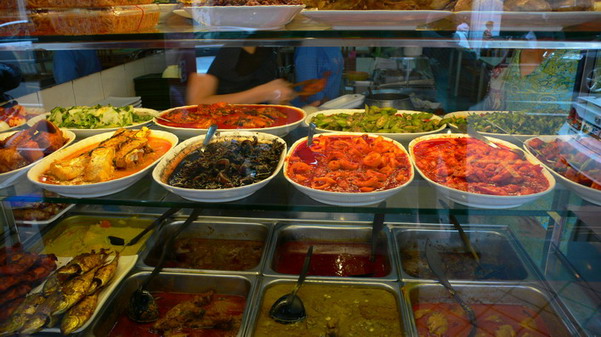 Yanti Nasi Padang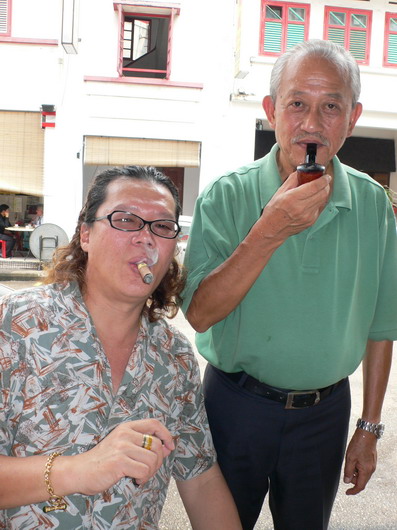 Jimmy & Jeff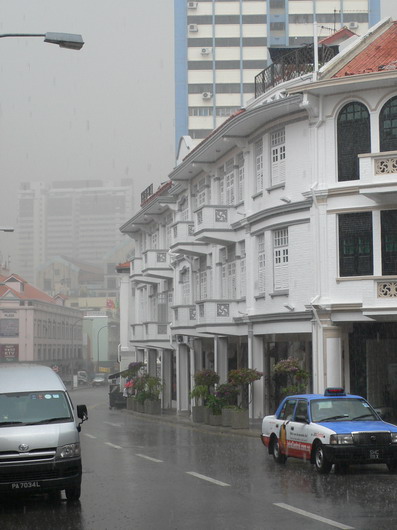 Tropical downpour at lunchtime
Keong Saik Rd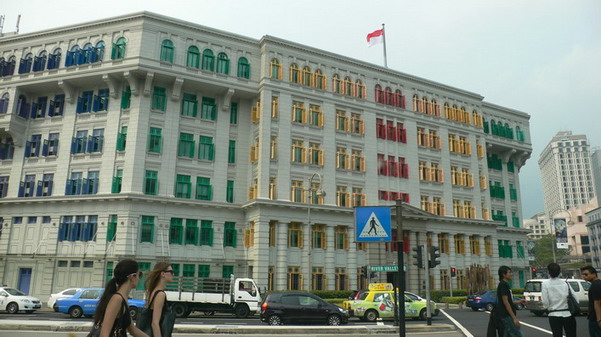 Downtown Singapore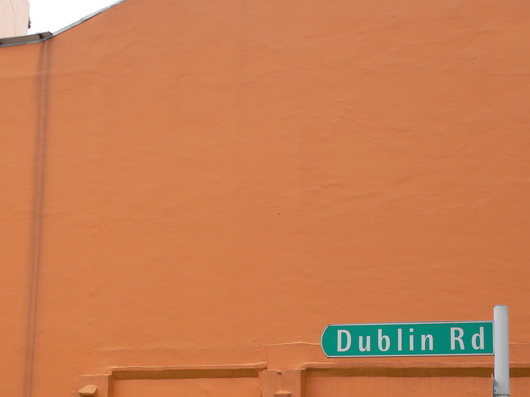 Singapore
Copyright 02-2009 © Ninos Flying Cigar