28 Nov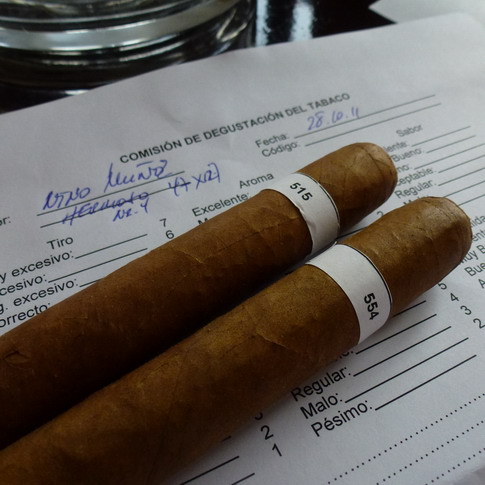 Hotel Nacional – Pre-tasting of blends
Nov. 2011
I had the pleasure of attending two official pre-tastings for the FdH 2012 new releases at the Hotel Nacional in Havana courtesy of Cuban friends.
They took place on Oct. 21 and 28 from 9 am to noon. Here are some notes on my first days in HAV and these tastings.
A few days in town and the "magic" still works – off to my daily after breakfast cigar at the Melia Habana. Good thing I arrived early, I was able to put away some boxes of '97 Part. Charlottes and '05 boxes of Part. Lonsdales. Met Valerio Cornale at the Casa. We were alone and spent some hours conversing on life, cigars and philosophy, the simple pleasures of life, good food, good people and good cigars. A great man and a pleasure to spend time with.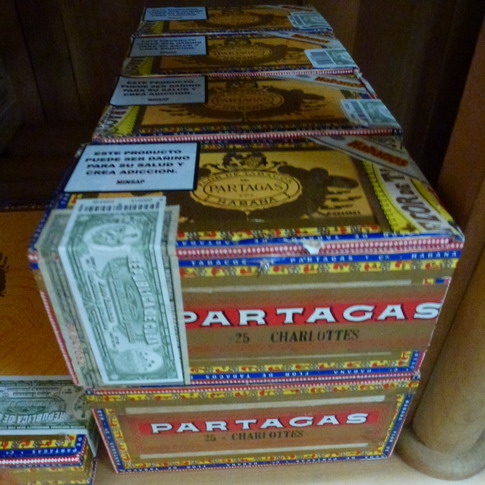 Part. Charlottes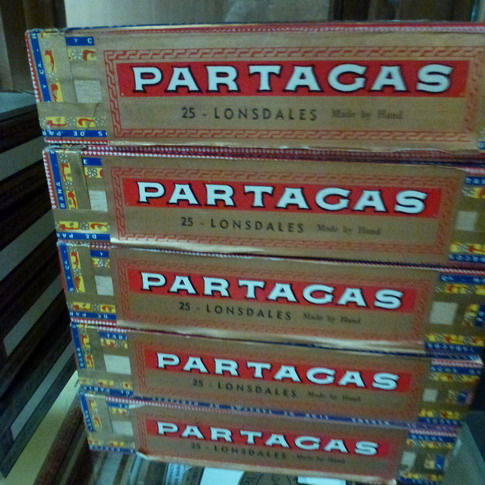 Part. Lonsdale
"Punch Joe", a great character, calls and we meet for vintage cigars and drinks before deciding where to head for dinner. We have met years ago but it was Rob Ayala who "hooked" us up – I should spend a lot of my time with good people like him, Toby, Y and S and they would make my stay so much more interesting and worthwhile. He wants me to try "La Moraleja", a new Paladar near the Habana Libre.
Arriving there we stumble into Toby and Steve and we have the downstairs bar to ourselves.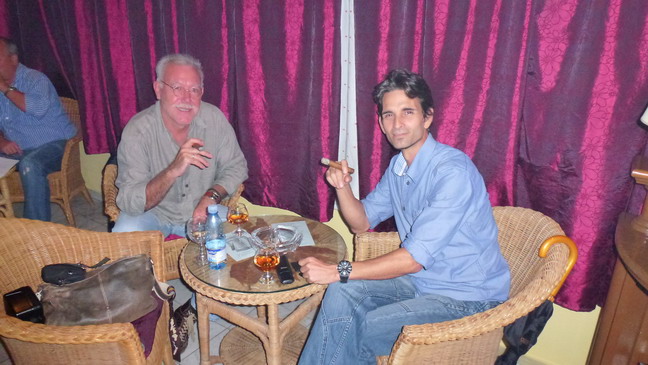 With Punch Jose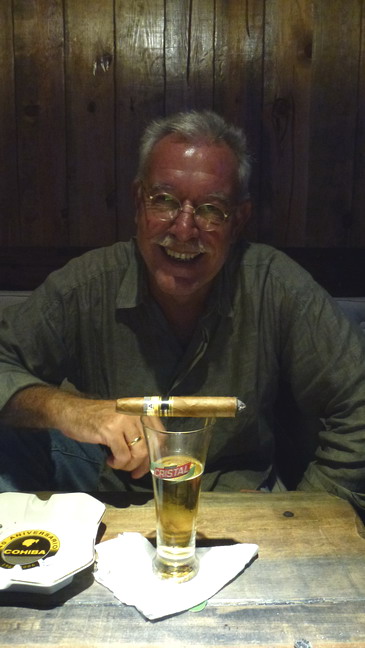 La Moraleja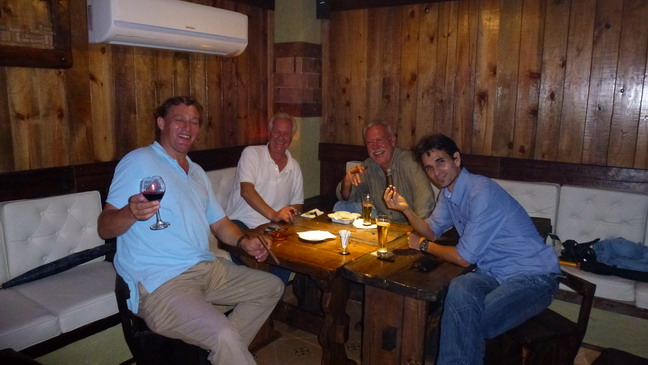 Toby, Steve & Punch Joe, La Moraleja
A 4 hr dinner/drinks meeting follows with the best Ensalada de Pulpo on earth, remarkable texture and great job by chef Ernesto. I should return for a dozen more lunches there making the garden my oasis away from home.
The "cold front" has arrived in Havana yesterday. From 27 C at 9 pm to 24 C at 08 am. Fresh breeze, humidity is gone, so smoking ( and rolling ) cigars is enjoyable ( and possible ) again.
Factories have been sending rollers home the last few days due to the high humidity.
The tobacco leaves absorb the ambient RH and cannot be rolled.
It has been hot and humid as a snake's ass so far and raining quite heavily with a hurricane passing the western end of Cuba up to the Yucatan and then reversing back to Cuba.
Good to be able to walk the city, see Abel at Partagas, La China, Deborah and VC, lunch at the Inglaterra terrace, then off to Reynaldo and a few hours there with LS exchanging the news, rumours – "restructuring" again – and facts, smoking a good Petit Salomones that Reynaldo claims has 7 yr old tobacco. He has 2 rollers now in the back bar rolling cigars. Dinner at El Palenque, has been reconstructed after the fire damage last year.
Eating out is now much more diverse and interesting as the government has issued new licences to open Paladares and many maitres, chefs and sommeliers have left the state run Hotel and restaurants to open attractive and high quality places like La Moraleja, Habana Chef, Mi Casa, El Carruaje, Le Chansonnier – even the former foreign minister Roberto Robaina has opened a Paladar.
I will post a report on eating out in Havana.
It was at La Fontana where I had a very "religious" experience with the best cigar so far, a Cohiba 1966 that blew me off my feet from the very first puff. Nic Wing with me, he agreed.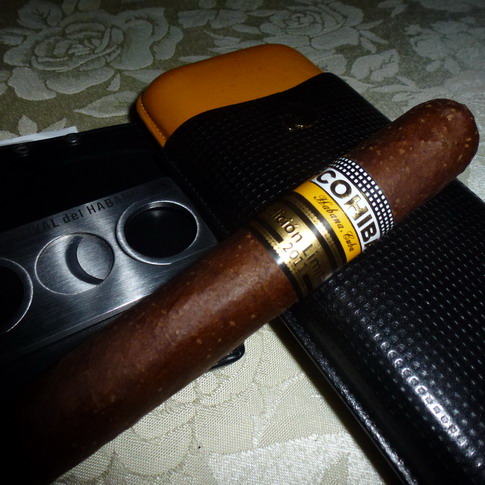 Cohiba 1966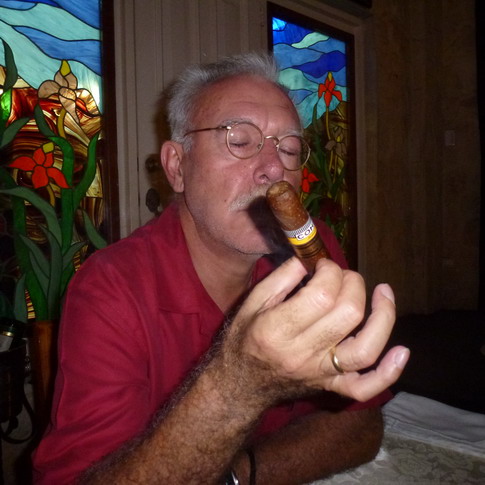 Amen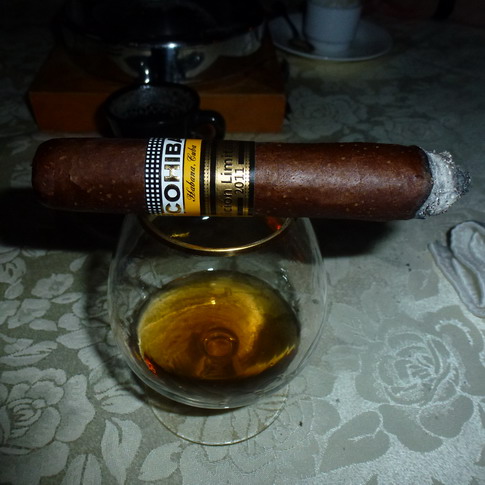 Magnificent
I smoke 6 to 8 cigars a day in Havana and only there I feel that I enjoy them the most, be it the humidity, the climate, the atmosphere – it certainly is a different pleasure.
The 1966 would be one of the most memorable sticks of this trip, along with the RA Extra, the RyJ GR pre-release, Robustos from VR and cigars rolled by Miguel at Hector Luis' farm.
To the tasting panel now.
The tasting panel for the new releases ( they taste and decide on the blends ) meets at the Hotel Nacional in the Museum Bar and comprises rollers, blenders, marketing people and executives, in all ca 25 persons.
It looks like a fun job but it is actually hard work and demands high concentration. Assisting it was very educative and I am very grateful it was made possible and for the warm welcome I received.
Apart from the RyJ Gran Reserva which was magnificent as expected, the following cigars were also tasted : Hermosos Nr 4 (48×127) and Julieta (47×178).
The tasting is performed according to a tasting sheet. Black coffee, tea or water are the beverages, a little snack is served after the first cigar. The cigars are banded with a number that marks the specific blend and 2 blends are tasted.
The cigars ( Hermosos ) were markedly different. The first were mild, med.-strong, floral, woody with a perfect draw. The second were stronger, with a tighter draw and more intense, concentrated.
First could have been a ERM Choix Supreme, the second earthier, altogether a different animal.
Both had the same ( ½ a leaf of Ligero ), so the difference would be the Seco content. Later information revealed a Seco content of 2 ½ leafs in the first and 2 leafs in the second cigar.
As for the Julieta, there was only one blend ( although I'd be privileged in smoking/tasting more blends later). It was light to medium, herbal, perfect in both construction and draw. The blend consisted of 1 Ligero, 2 Seco and 1 ½ Volado leafs.
I'd be equally privileged in receiving some samples of a discontinued vitola that might be re-issued, the Dulcinea, a slightly longer (!!) and thinner Diadema. Another vitola I received was the sought after H.Upmann Butifarra.
The following tasting would be Gorditos and Pt. Belicosos and as I was informed the Hunters & Frankau people would attend it.
Fittingly, my "thank you" cigars for the Cuban friends were 1999 Vintage RyJ Exhibicion Nr 4 from the H&F vintage line and we smoked them in the Nacional terrace after the official tasting.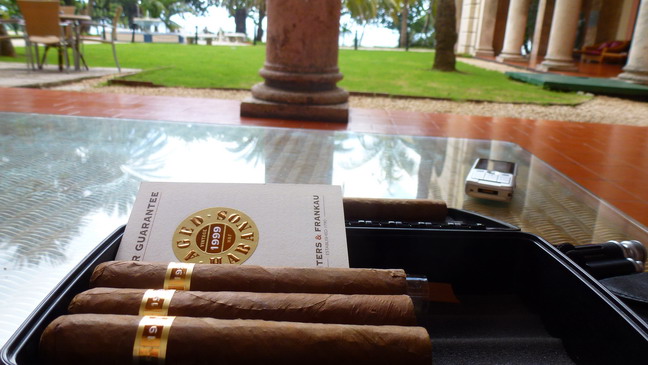 1999 Hunters & Frankau Vintage, Hotel Nacional
Due to the rain I postponed my planned trip to the tobacco plantations and decided to make life more personal and comfortable in a Casa particular – searching for the right one was a pleasure in which I was assisted by Toby's landlord, a most helpful gentleman. Also procuring a driver was an issue and again I was lucky finding just the right guy with the right car.
All factories are closed to visitors but I should be able to tour two of the most important again courtesy of friends.
James Suckling would post about the factory visits on his blog :
www.jamessuckling.com/my-blog-visits-to-cigar-factories-over.html
To be continued ..
Nino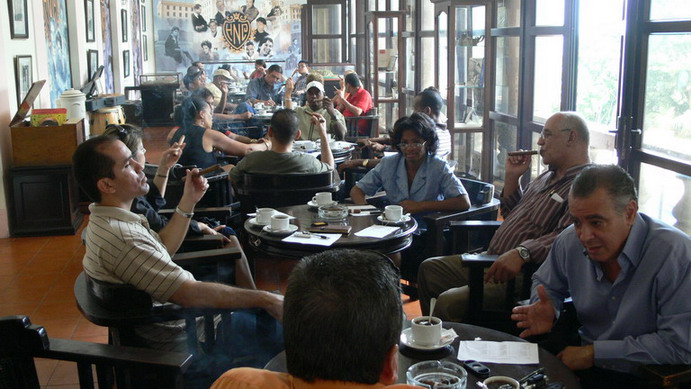 Tasting Panel – Hotel Nacional, Museum Bar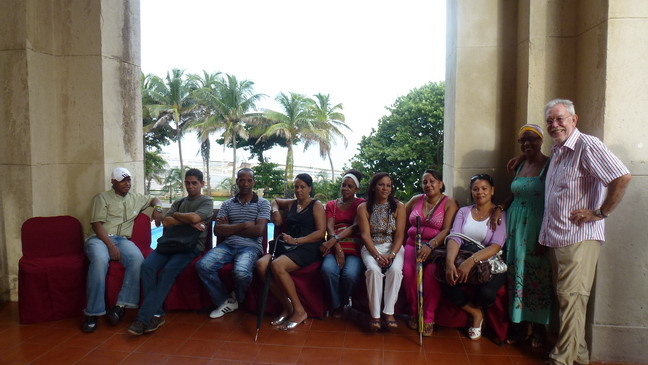 Participants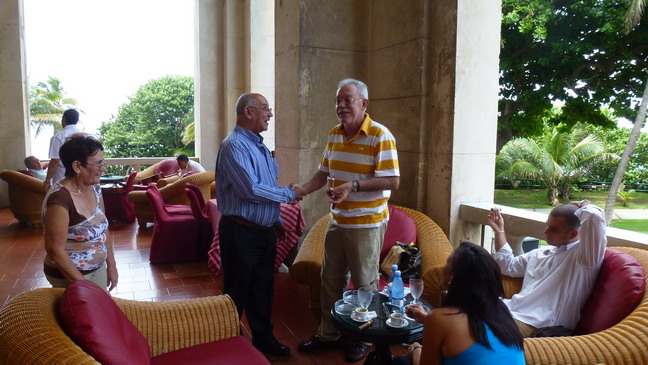 Thanking Juan J., chief of the tasting panel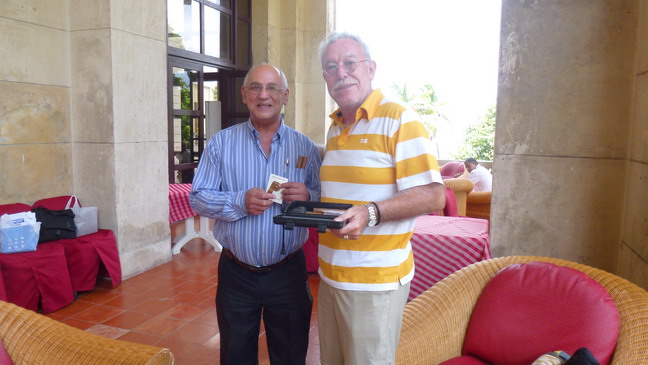 Juan J.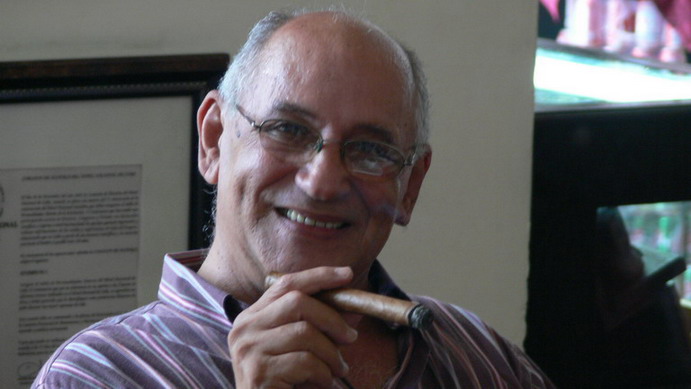 Juan J.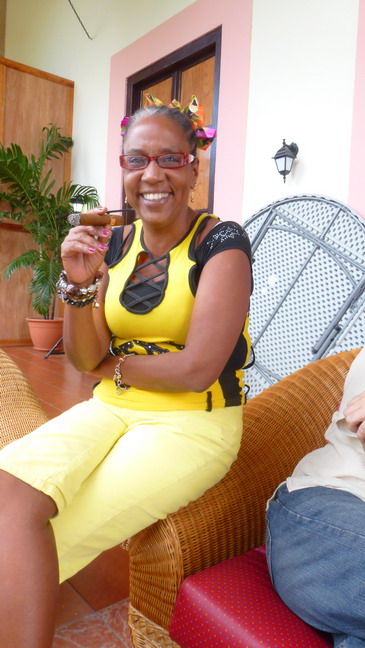 ELy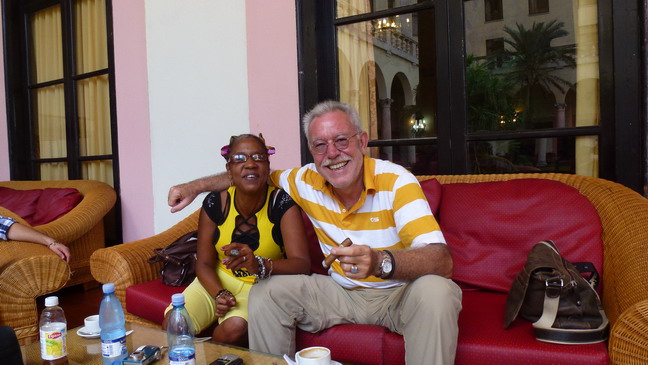 La proxima visita visitaremos a Cueto !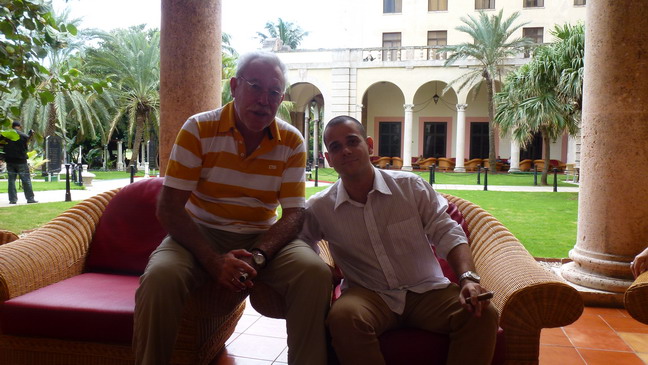 Enjoying the terrace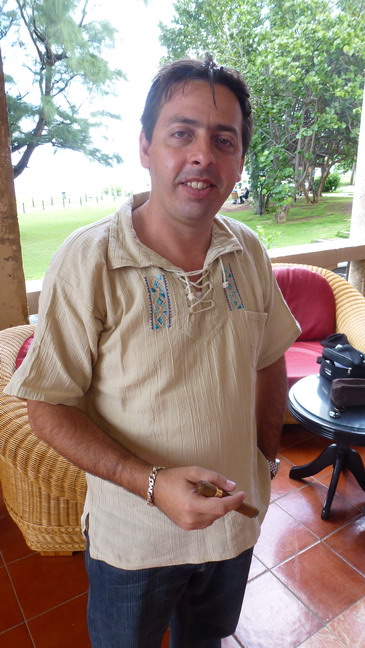 Another good taster
With Urbano & Punch Joe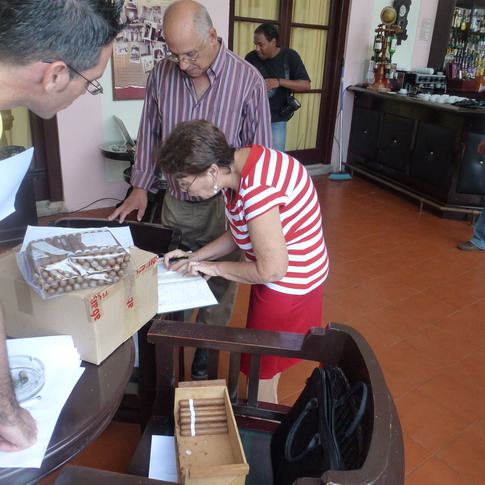 Juan J. and Maria E.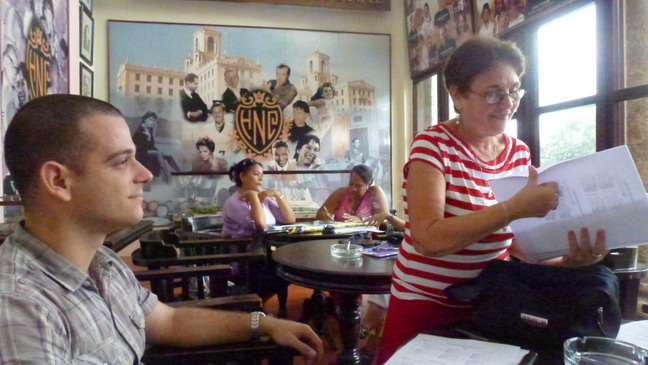 Maria E. passing out the tasting sheets
Always good spirited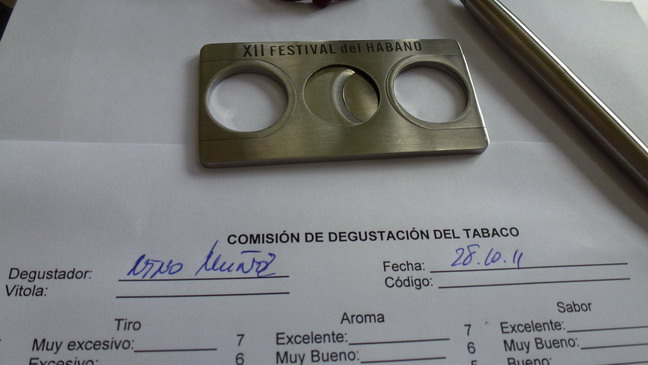 tasting sheet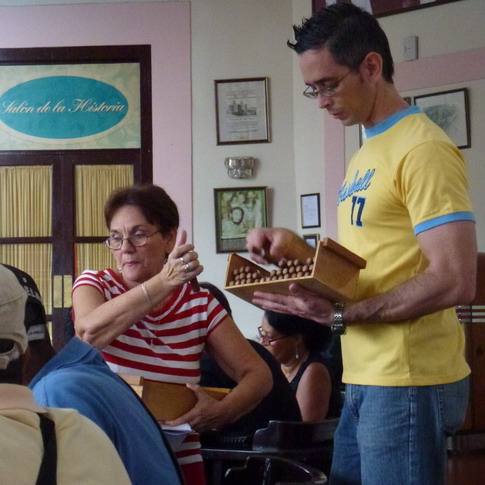 Passing out the cigars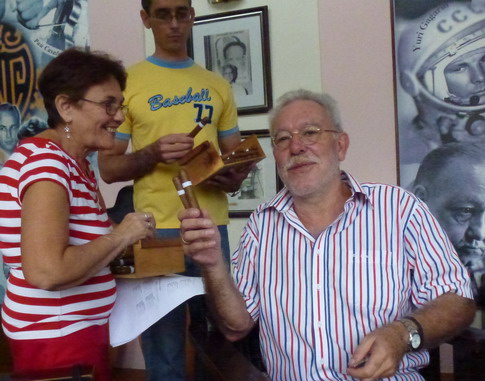 Gracias !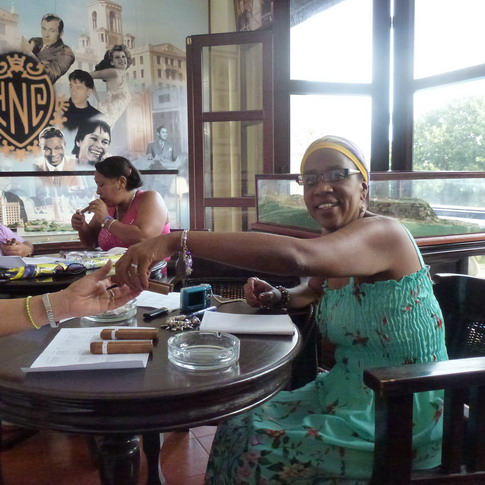 ELy hard at work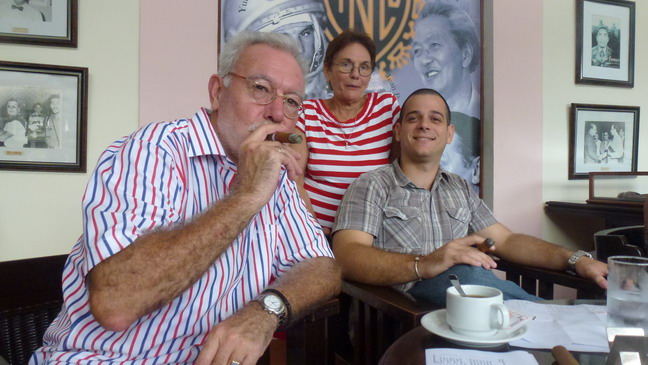 Getting educated in tasting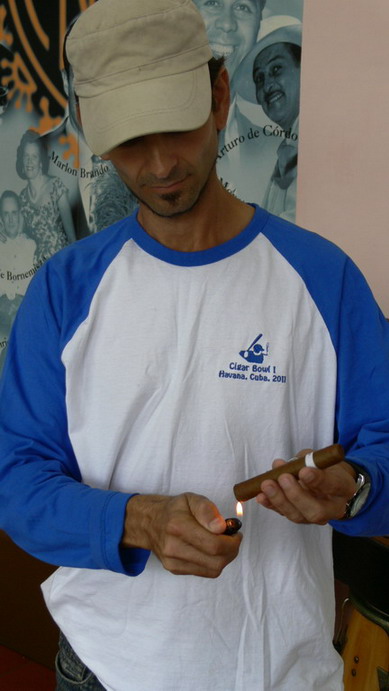 Punch Joe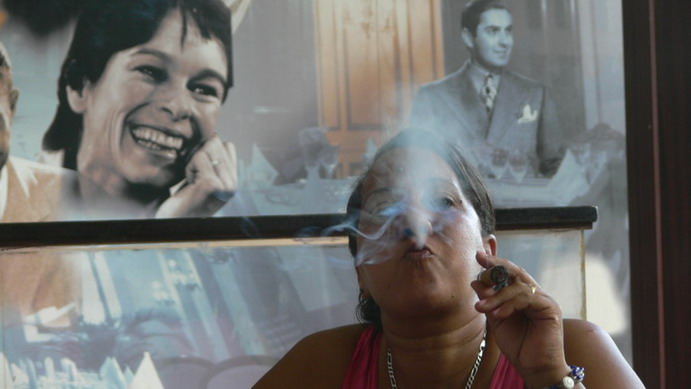 Puffing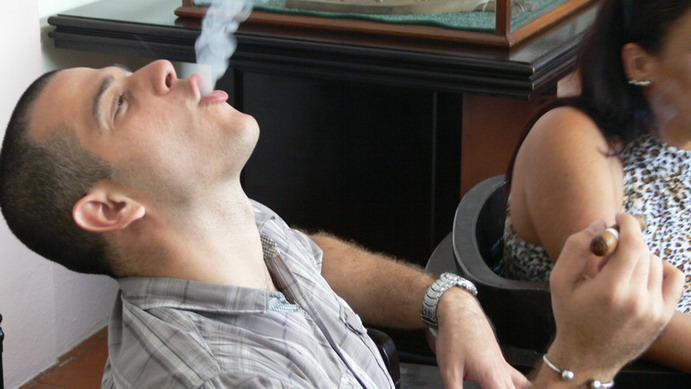 and exhaling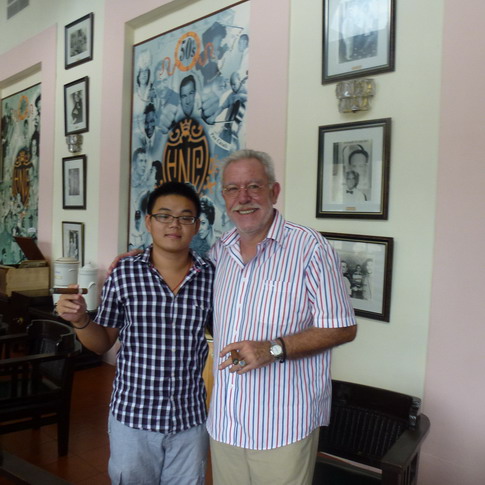 Ni hao, Urbano !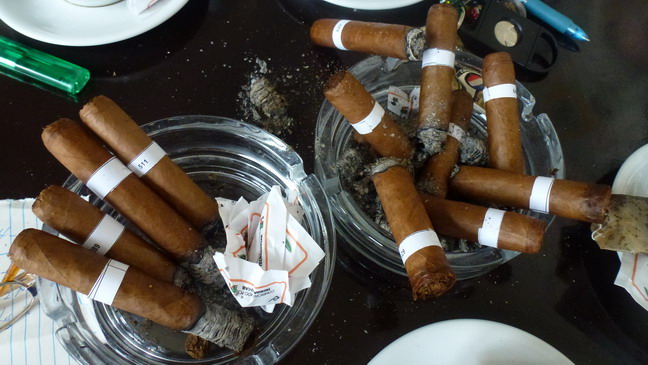 Results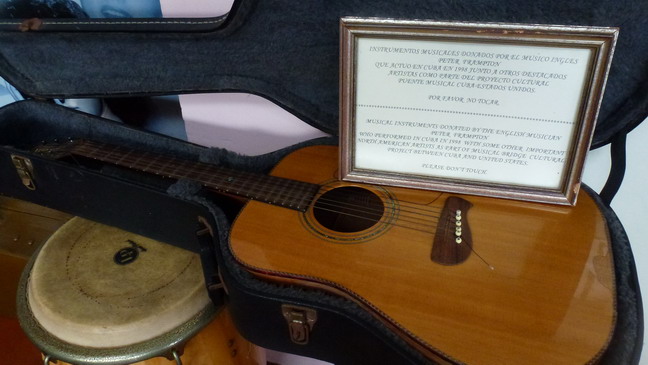 Peter Frampton's guitar at the Nacional Bar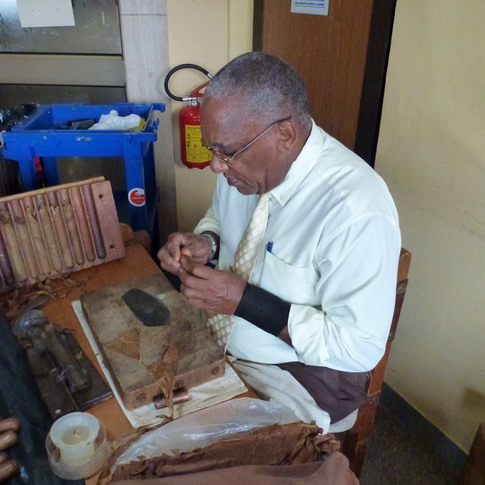 Santos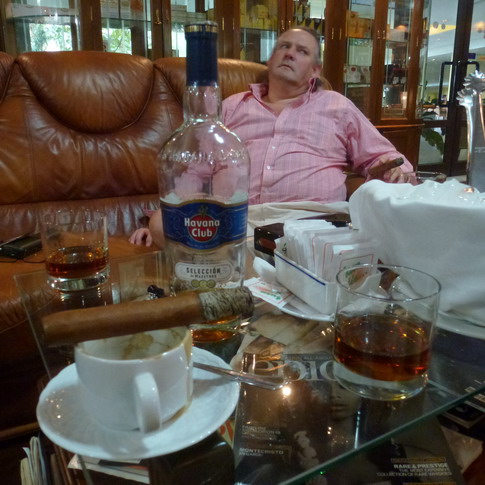 Seleccion de Maestros after lunch
La Fontana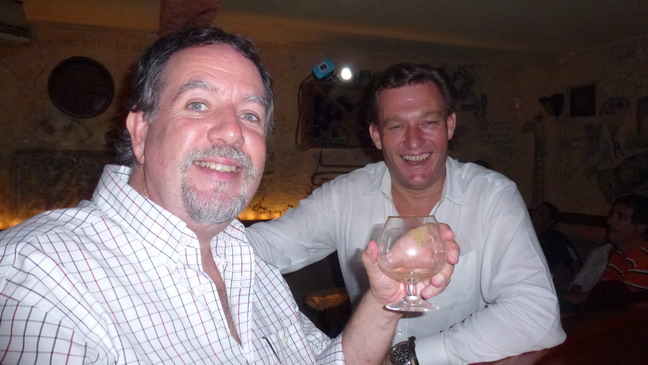 Nic & Toby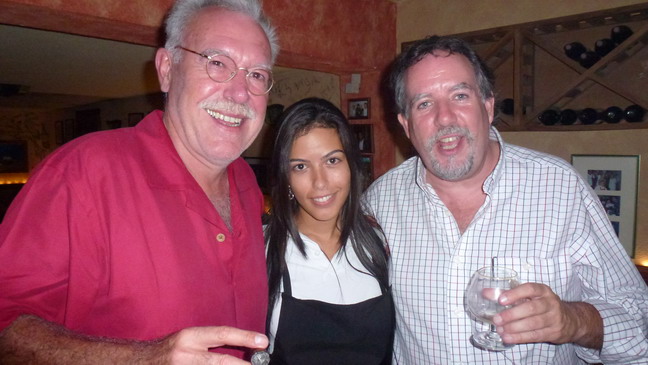 With the friendly ( and most pretty ) staff at La Fontana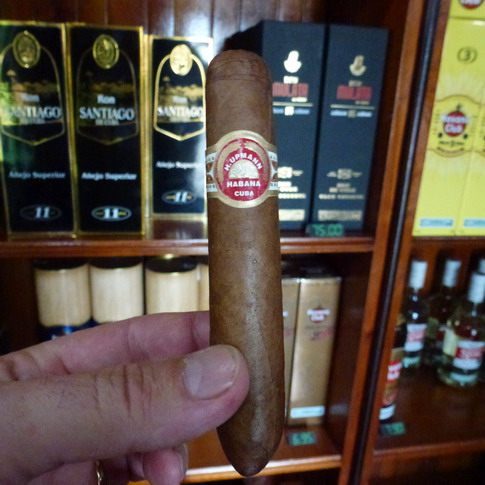 Butifarra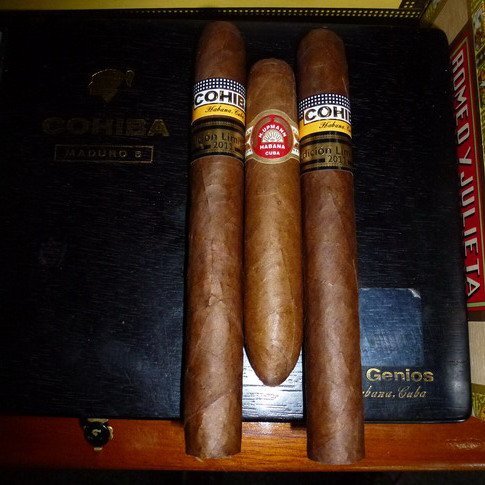 1966 & Butifarra
Copyright 11-2011 © Ninos Flying Cigar