11 Jul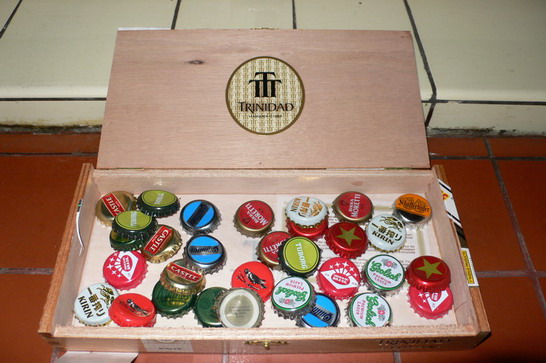 World Cup Beers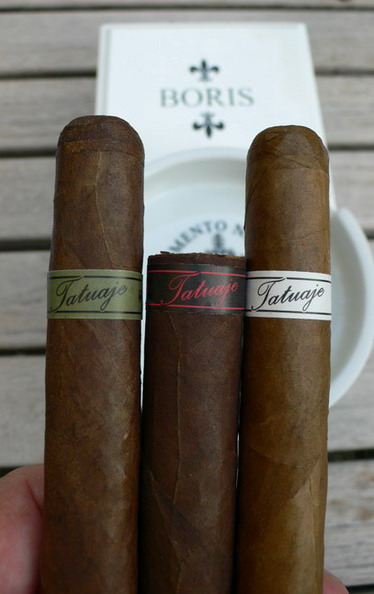 Alan's rare Tatuajes : Frank, Drac & Boris
Uruguay vs Germany
Weekend and hot as a snake's ass in the village, 36 C in the shade and no relief, not even in the cool courtyard at Café Fritz.
We met for dinner, checked Alan's last three rare and hard to find Tatuajes before we moved over to the pharmacy patio for the match Uruguay vs Germany for the third and fourth loser slots in this World Cup while drinking beers from all over the world to celebrate the tournament.
Very fast and equal match with slight advantage for Germany – I really missed Klose and would have wished he had scored at least one goal to pull even with Ronaldo in the top scoring list.
We will sadly miss the Netzer-Delling duo and enjoyed their last evening together as tv commentators.
Here's my/our comments on the Tatuajes and all the beers :
Cigar : Tatuaje "The Frank" Halloween Release 2008
Size : 7,58 x 49 Double Corona / Box pressed
Wrapper : Broadleaf
Binder : Nicaragua
Filler : Nicaragua
Strenght : Medium
666 boxes were made for this Halloween release of 2008. Created by Pete Johnson. It is Alan's favourite cigar.
I can see why as I smoked this cigar and enjoyed it tremendously over almost 2 hours !
A spicy, well rounded cigar first class from start to finish and giving perfect pleasure.
It was number 1 of all three smoked !!
Cigar : Tatuaje "The Drac" Halloween Release 2009
Size : 6,75 x 52 Torpedo
Wrapper : Habano Maduro
Binder : Nicaragua
Filler : Nicaragua
Strenght : Full
1300 boxes were released and most boxes sold within an hour due to the hype from the year before.
Sad to say that this stick was almost a letdown due to high expectations from the previous year's release.
And it was confirmed by us as well, Andreas smoked this cigar and we rated it third although it developed nicely after a negative start.
Cigar : Tatuaje "The Boris" Halloween Release 2009
Size : 7 x 49 Churchill
Wrapper : Ecuadorian Sumatra Rosada
Binder : Nicaragua
Filler : Nicaragua
Strenght : Full
The Boris is billed as being "The Frank" out of costume. For those not in the know : each year Pete Johnson has been releasing a cigar at Halloween with a name that can be attributed to the classic monster of movie history.
This cigars was smoked by Bernhard and he was impressed with its quality and peppery undertones.
We all tasted it and it came up number 2 of the Tatuaje monsters.
All in all we greatly enjoyed the Tatuajes and wish to thank Alana "Mr Goodfella" for his kindness.
Alan : Safe travels to you and we hope you make it to the pharmacy one day !!
-.-
And here's the line up of beers that we tasted during the match :
Quilmes – Argentina : Slightly sweet, good.
Tui East India Pale – New Zealand : Refreshing but a bit on the sweet side too.
Castle – South Africa : Best so far, clean hop taste.
Moretti – Italy : Very good, slightly bitter, dry, good plalate.
Mythos – Greece : Worst so far, must be a myth that is beer, 2 sips of this piss and watered the grass with it.
Brahma – Brazil : Tastes light but good, slightly fruity, sweet.
Tuborg – Denmark : Fresh, clean, good.
Grolsch – Netherlands : Very good, refreshing.
Kirin Ichiban – Japan : Tastes "German", first class, fresh, clean,
Estrella – Spain : Average standard, "Mediterranean" light.
Newcastle Brown Ale – England : Really very good !
Dju Dju – Ghana : Found out it's Mango beer so we passed it to the ladies.
We finished off the evening sipping Johnny Walker Blue label, smoking Partagas Shorts and getting ready for the Final match Spain vs Netherlands.
Nino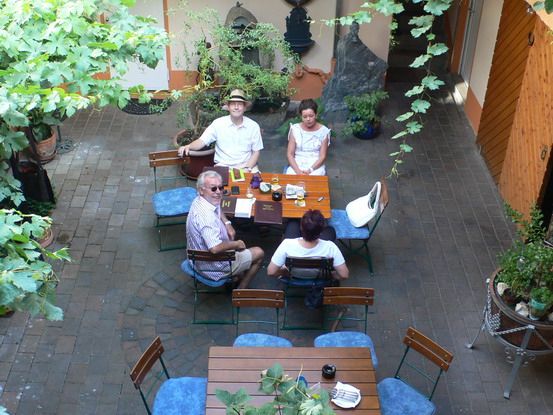 Cafe Fritz Wörrstadt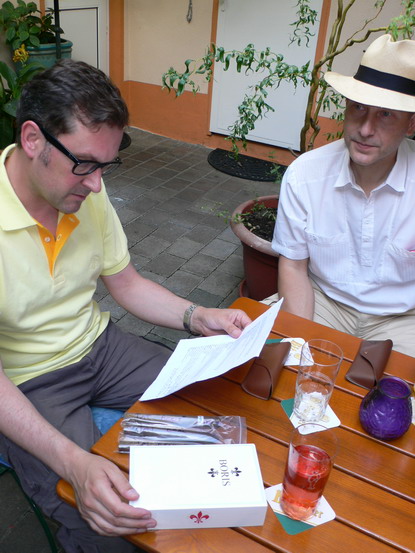 Reading the Briefing on the Tatuajes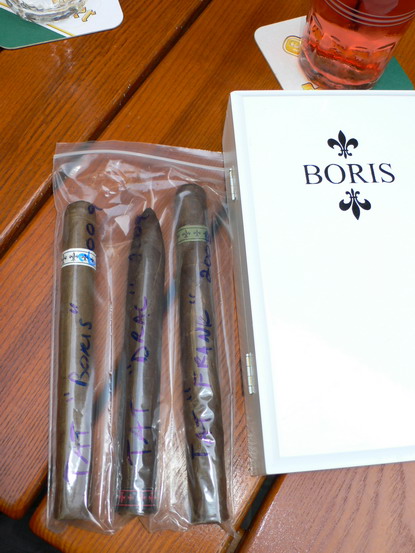 Tatuajes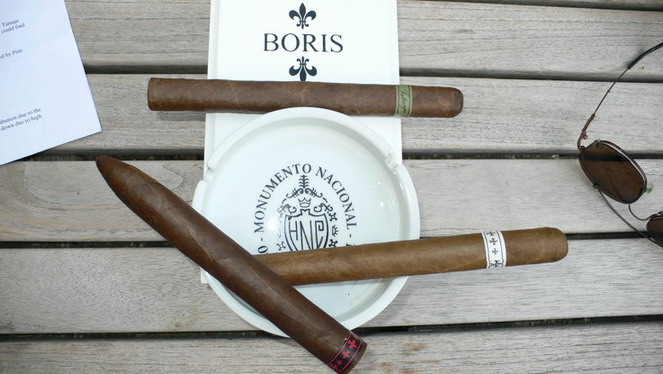 Tatuajes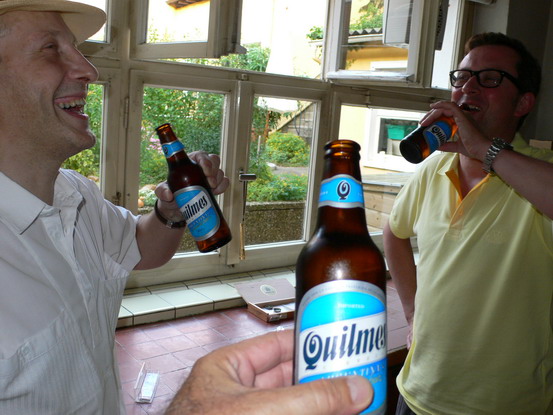 Good in the heat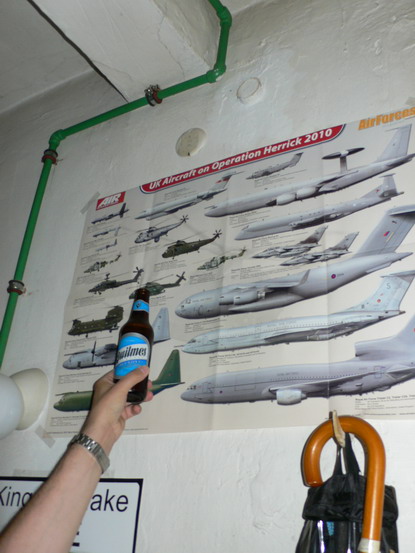 Argentinean Beer & Royal Air Force – strange mix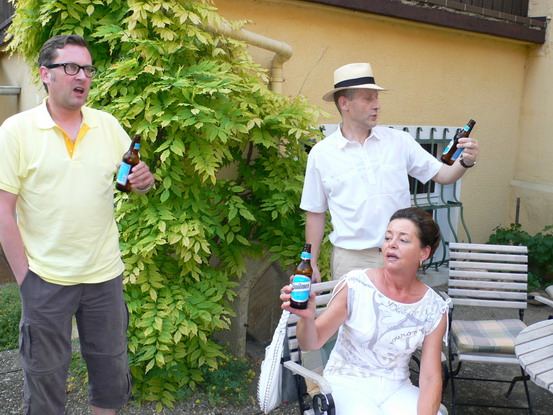 Don't cry Argentina, your beer is good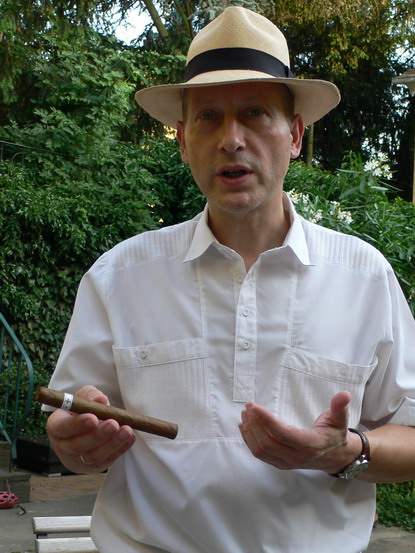 Getting to know the Tat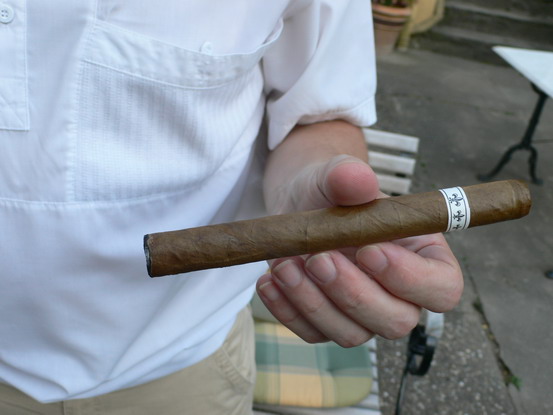 Bernhard & Number Two
Number Three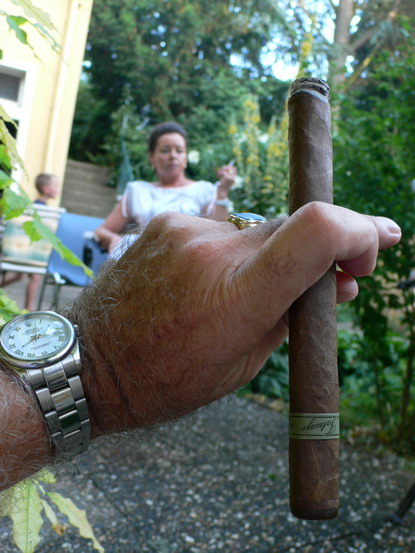 Number One !
Cross tasting the Tatuajes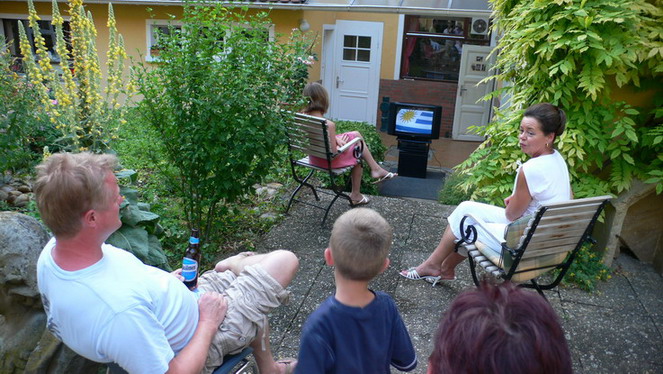 Uruguay national anthem playing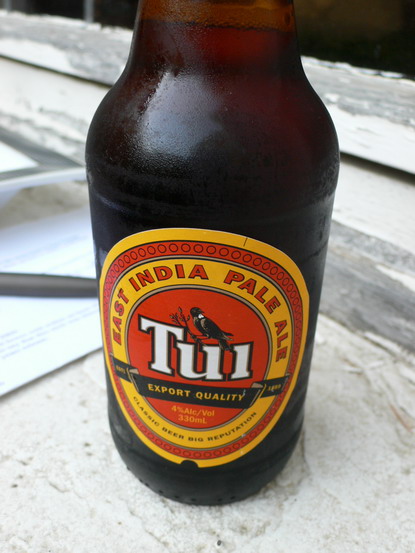 Kiwi Tui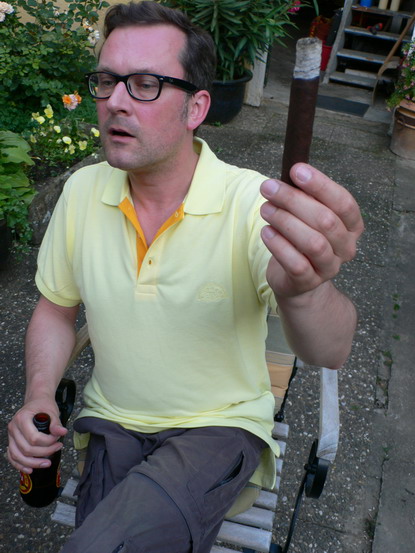 Pass me the cigar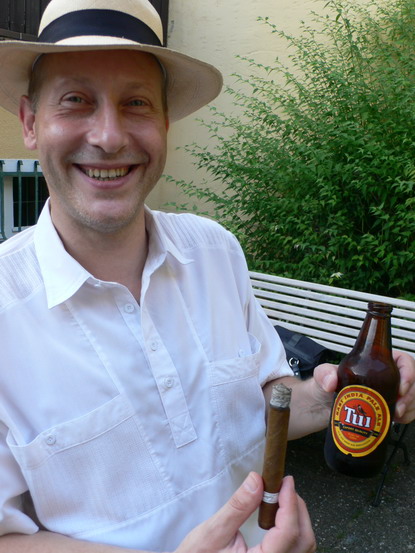 Tui Kiwi & Tatuaje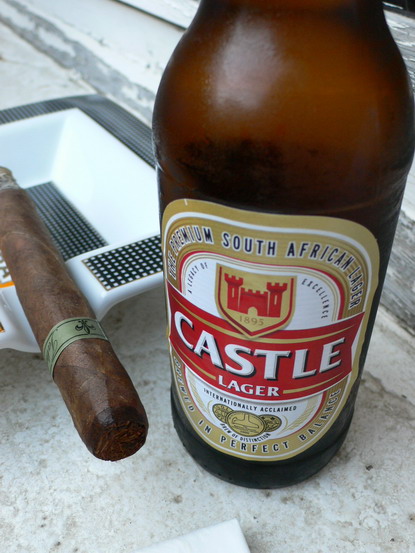 Castle from the Cape for the Cup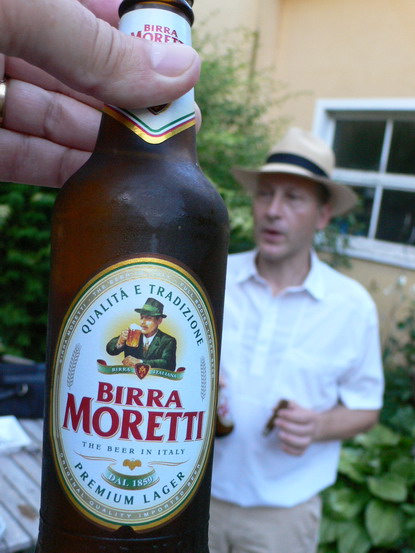 Della Italia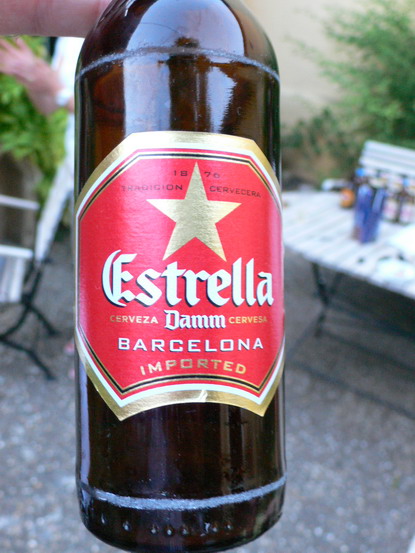 La primera Estrella de la Furia Roja? Ojala !!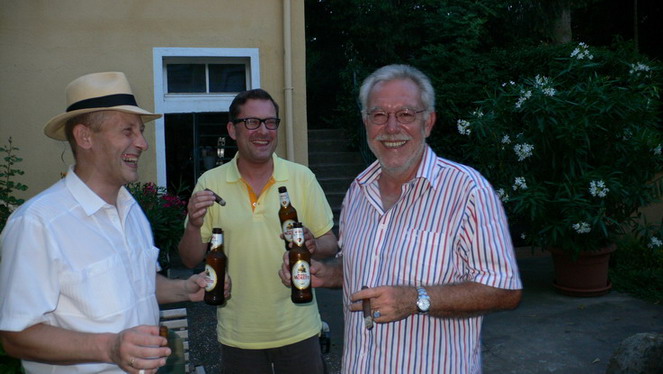 Tasting beers, looking dandy & smoking fine – Life's good to us.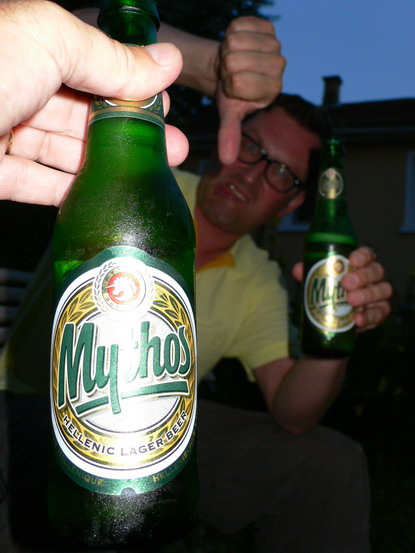 Piss Poor Myth of a beer – Thumbs down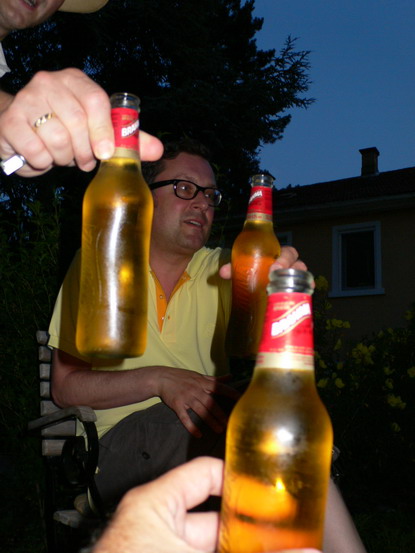 Brahma do Brasil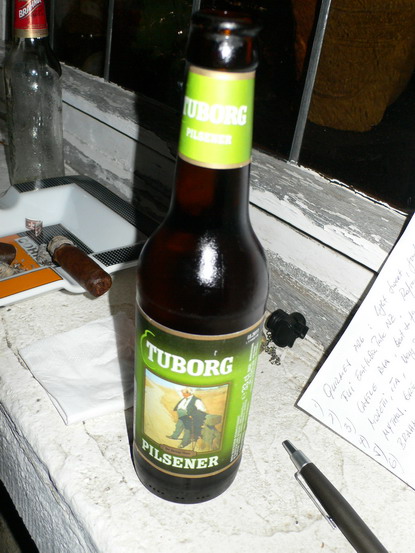 The thirsty Tuborg man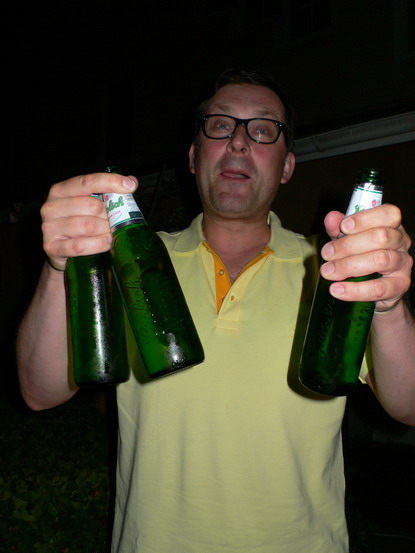 Grolsch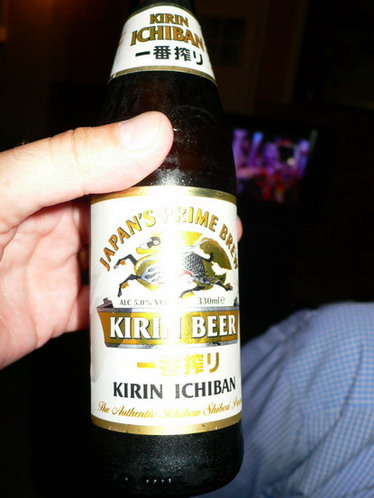 Kirin, Hai dozo !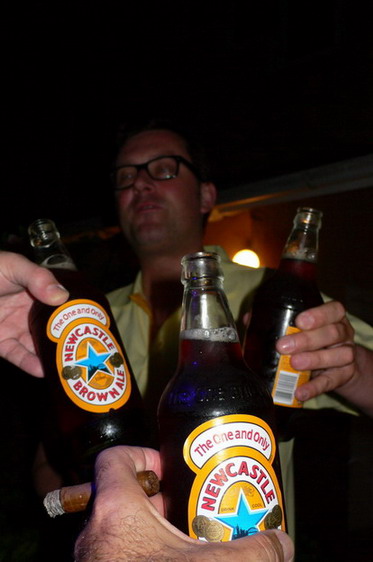 Good One & Only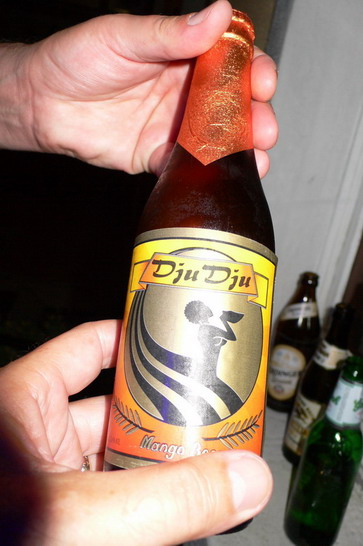 Who needs Mango beer ………..
Good ol' Johnny – Still going strong
Copyright 07-2010 © Ninos Flying Cigar