19 Oct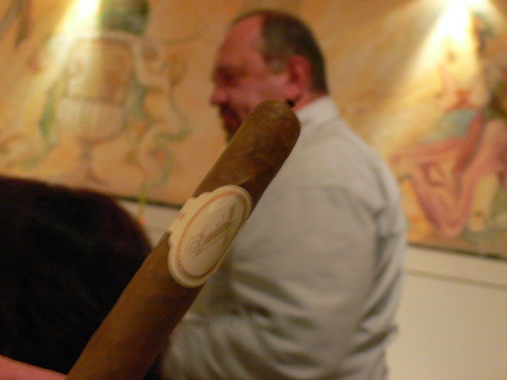 Dieter & Davidoff No 1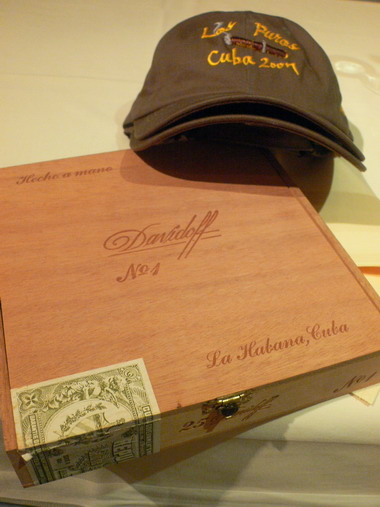 1985 Davidoff No 1
30 Sept. 2007
English Translation after the German text
Nach dem Florida Urlaub jetzt mal was ganz anderes :
Am letzten Tag im September trafen Dieter "Habanadi" und Anja in Wörrstadt zu einem Kurz Urlaub in Rheinhessen.
Interessantes war dabei eingeplant wie ein ANS in der Apotheke und ein Abstecher zu Johann Lafer in Stromberg.
Siehe seinen Bericht : "Ein Kurzurlaub und ANS in Wörrstadt mit Damen, Äpfeln, Trauben und Hühnerfüßen"

Leider konnte ich nur den ersten Abend in Wörrstadt mit Anja und Dieter verbringen – die Koffer waren gepackt, am nächsten Tag ging es nach Spanien.
Durch Stau bedingt, erreichte uns Dieter erst spät.
Ins Cafe Fritz, auspacken und in der Gaststube den ersten Rheinhessenwein zum einstimmen.
Ich fahre mit Anja und Dieter noch etwas durch die Weinberge, das Wetter ist noch glorios und wir haben herrliche Sonnenuntergänge.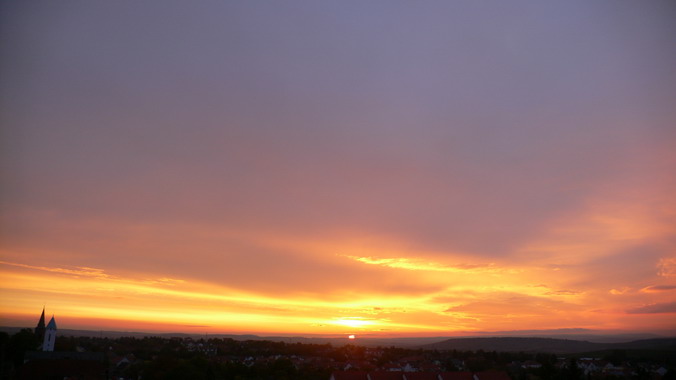 Wörrstadt Sept. 2007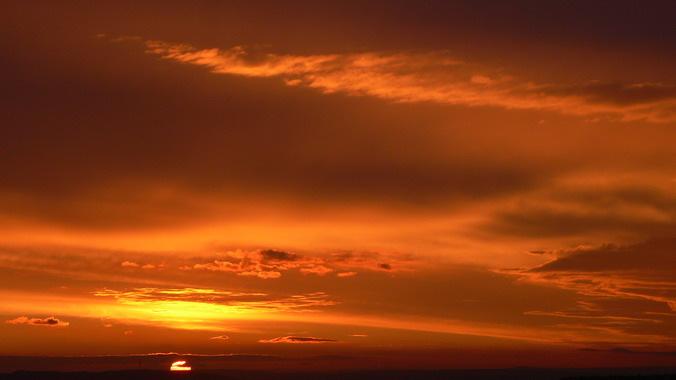 Wörrstadt Sept. 2007
Die Lese ist im vollem Gang, aber am Weinberg ist noch Zeit für ein Plausch mit einer netten Dame die am "Kreuzweg" zur Kapelle die Blumenbeete pflegt.
Zum Abendessen haben wir den Nebenraum bei Massimo reserviert – man will ja nicht stören als Raucher – obwohl wir an diesem Abend die einzigen Gäste sind.
Es gibt Muscheln mit vier verschiedenen Saucen, Pasta, Steak, alles ein Genuss.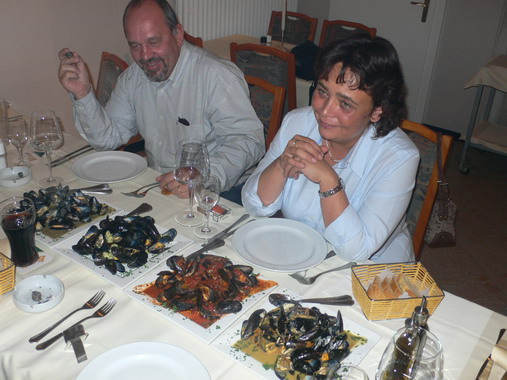 Dieter, Anja und viele Muscheln
Zum Nachtisch bietet uns Dieter eine rare Kostbarkeit an ; eine Davidoff No. 1 von 1985 !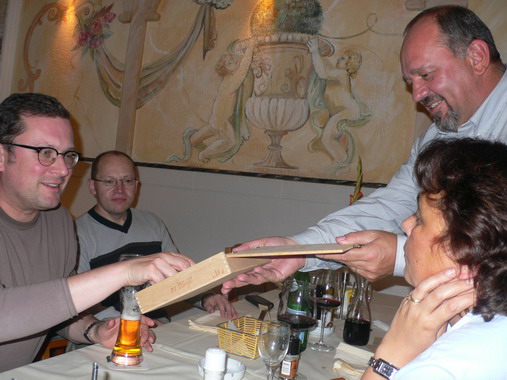 Grosse Augen zum Nachtisch
Eine fantastische Zigarre, wir fühlen uns geehrt – Danke Dieter !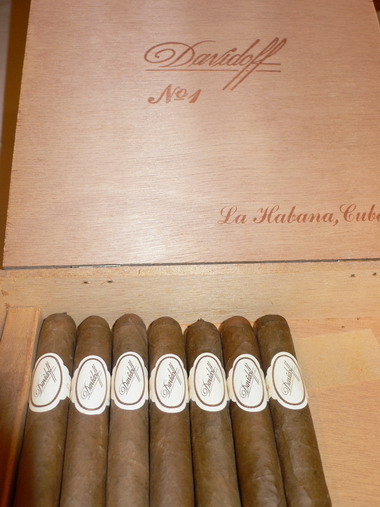 Rares Gut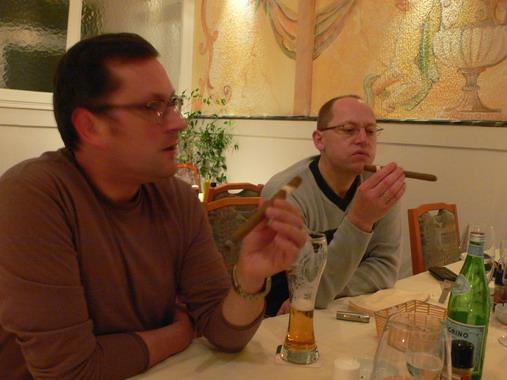 Andreas & Gabriel mit Bewunderung.
Mein Tasting (allerdings wieder in Englisch – komisch aber so ist es mir leichter die Zigarre zu beschreiben, auf Deutsch "fehlen" mir die Worte ) findet ihr weiter unten im "Englischen Teil" des Berichtes.
Zur Davidoff genossen wir eine halbe Flasche Berta Bric del Gaian Grappa von 1999. Das Aroma hatte Dieter vom letztem Mal noch im Kopf. Herrliches Aroma, passend zum floralem Aroma der Davidoff.
Wie ich dann von Andreas hörte, war der ANS am 01 Oktober eine lustige Angelegenheit die sich bis in die frühen Morgenstunden zog und Dieter gut gefiel.
Wir haben uns sehr gefreut Dieter und Anja hier zu haben – vielleicht gibt es ein wiedersehen mit den "Cigarmigos" in Mannheim.
– / –
English Text :

After vacationing in Florida, Dieter "Habanadi", member of the North German "Cigarmigos" took a short four day vacation in Rheinhessen, staying in our village while enjoying the region.
He had a remarkable dinner at one of Germany's best Restaurants, Johann Lafer's in Stromberg and also attended a Pharmacy Smoke.
The day he arrived, we had the pleasure of a fine dinner at Massimo's, our village Italian Restaurant, comprising clams in four different sauces, pasta and a succulent Steak.
For dessert Dieter presented us with a rare and precious cigar. Truly a great pleasure and a fine token of appreciation by Dieter.
Bought in 1991, he still had some Davidoff No. 1 in its original box from 1985.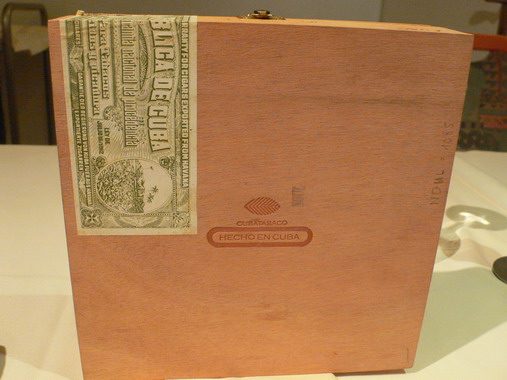 Box NO UL – OCT  85
Speaking of the box, there was still a full aroma discernible in it.
The sticks were also quite aromatic, no signs of weakness there, although a bit subdued.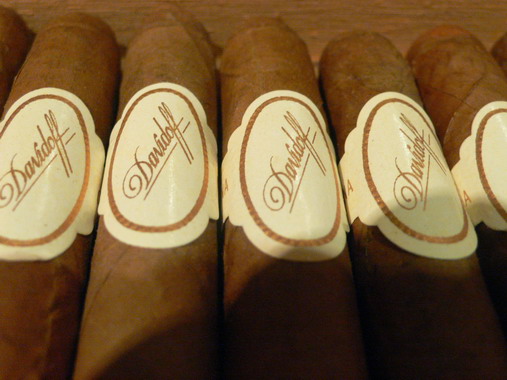 Davidoff No 1
Seductive smell of leather, chocolate and cocoa.
Good burn, the draw on mine was a  bit tight, the others were perfect.
First puffs : grassy, bit disappointing, straw.
After half a dozen puffs it opens up, both aroma and taste become complex.
Quote by Andreas : " The whole spectrum of taste and flavour – from green to brown"
Dieter discovers coconut flavour, Andreas finds Eucalyptus. Spicy, still going strong.
Range of flavours still present, everything in there.
Tight draw, relighting necessary on mine.
Slight resemblance to "Dom Perignon".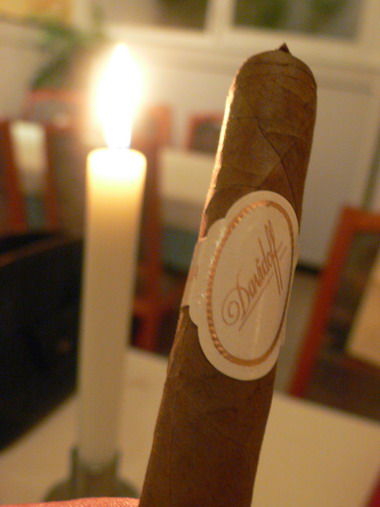 Beauty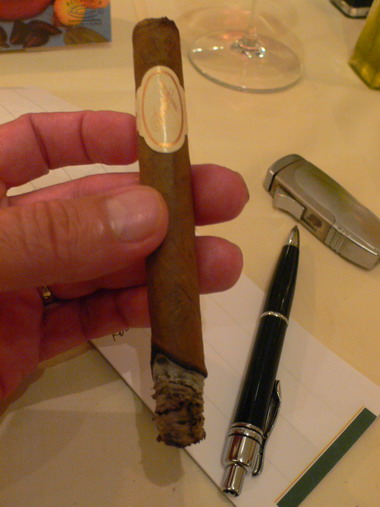 Notes
Paired with a 1999 Berta Bric del Gaian Grappa, complemented the floral bouquet of both cigar and beverage.
Cigar demands attention which is happily given.
Mint, eucalyptus, roated coffee.
Last third bites a bit, aggressive, sharp.
All four smoked were perfect for a 22 year old cigar.
Again : Thank you very much, Dieter !!
Nino
Copyright 10 -2007 © Ninos Flying Cigar