9 Aug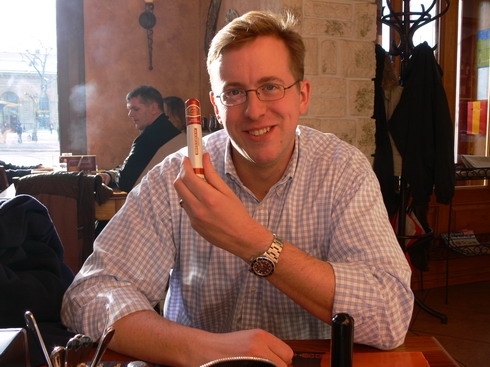 Dave having a Break
A few days after returning from the Festival in Havana, I received a call from Switzerland.
Who is disturbing my well deserved Sunday rest ?
Boss Hogg was tired of skiing at Grindelwald and on his way up the Rhine River by
train to Düsseldorf.
Could he stop somewhere near and have a cigar with me ?
Sure thing.
We met in Mainz, about 20 minutes from the village I live and had 2 hours of chat, food and cigars.
I had reserved a table at "Besitos", a Spanish Tapas Bar and Restaurant across from the
Mainz Railway Station and we enjoyed some "quality cigar time " together.
Of course, as I had just returned from the Festival, I had to personally show him
a few beauties fresh off my Havana bag.
Like the RyJ Short Churchill and the SCdLH Rodolfo.
Just to have him see the cigars in live colour.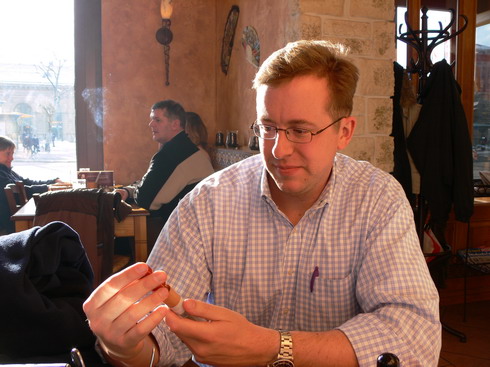 Checking Cigars
Of course being a law abiding US citizen, he did not touch them, he only admired the Tubo ……………. :-))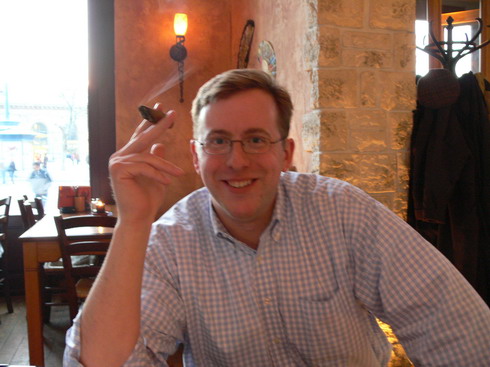 Smoking 'em
I also presented him with the original Invitation to the Opening Gala and a Brochure on
the National Ballett.
We started with a 2001 RASCC that was too tight, but after the late lunch ( he had had nothing to eat in the Swiss train – and that was a 7 hr ride !! ) I offered him a fresh PSD4 that he seemed to enjoy.

Enjoying the Break
He was very kind offering me a beautiful pig-tailed Lady by the name of Trinidad and
an Ashton VSG that I smoked that same evening at my local Pub.
Great & spicy cigar, beautiful dark wrapper – my first non-Cuban in 10 days !
It was our first personal meeting – he had e-mailed me and I had contacted him from
Philadelphia during my last flight.
We share some things – he has lived near Madrid in a Village where I went to school
as a kid, his Spanish is excellent and almost better than mine.
It was a pleasure having him here, smoking with me after having met on CW and kept
in touch by mail, and I guess it won't be his last time around.
Only regret was, that it was too short.
Bienvenido !
Copyright © Ninos Flying Cigar 03-2006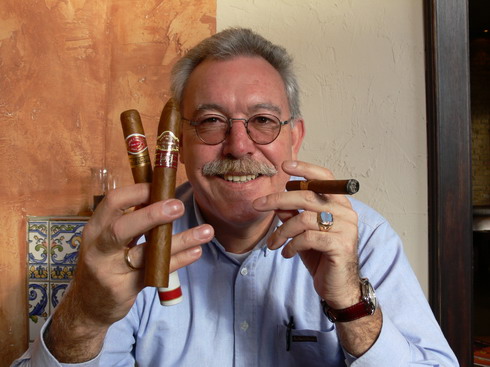 A handful of cigars ……