12 May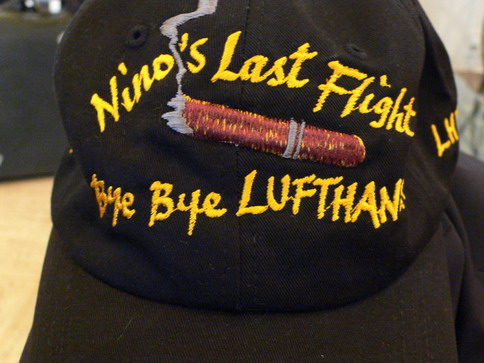 Retirement Cap
Singapore – Frankfurt will be my last flight in late July 2009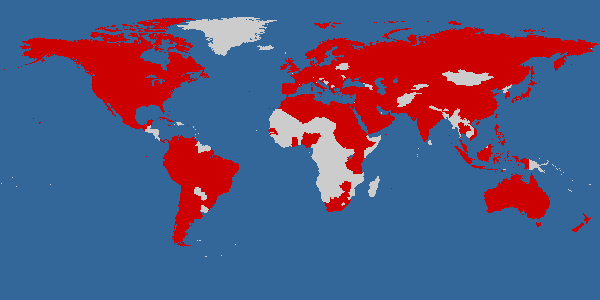 Genug von der Welt gesehen – Seen enough of the World
Nations Visited in Red
May 2009
Ende Juli, nach der Landung aus Singapur, werde ich meine Uniformmütze endgültig an den Nagel hängen.
Ich habe meinen Abschied bei der Deutschen Lufthansa für den 31.08.2009 vereinbart.
Das bedeutet dass mein letzter aktiver Flieger-Monat Juli sein wird, und ich habe mir als letzten aktiven Flug als Purser einen Singapur-Umlauf Ende Juli gewünscht.
Nach fast 35 Jahren bei Lufthansa und 7.000 Flügen denke ich dass es Zeit ist, anderen Platz zu machen und das Reisen als Privatier und Passagier zusammen mit Inge zu geniessen.
Natürlich werde ich das Zigeunerleben vermissen, natürlich wird mir das fliegen, das Crew Leben und der Spaß fehlen.
Wir werden jedoch weiterhin privat fliegen und reisen, unsere Flieger-Privilegien geniessen und genauso viel Spaß haben wie bisher.
Ich denke aber dass es jetzt erst Recht spannend werden wird – und freue mich auf die Herausforderungen.
Ab September wird es also eine neue Rubrik bei Flying Cigars geben : Retired Travels & Cigars …. :-))
-.-
I will be hanging down my cap for good after landing home from Singapore in late July.
The decision to retire from Lufthansa German Airlines as of 31-st August 2009 has been taken.
This means that my last active duty month for Lufthansa will be July and my last active duty flight as a Purser will be to Singapore and back in late July.
After almost 35 years with Lufthansa and nearly 7.000 flights worldwide, I feel it's time to let others carry on and to enjoy flying as a passenger with Inge.
Of course I will miss leading a gipsy' life, of course I will miss the flying, the crew life and the fun – but I/we will continue to enjoy our Airline staff privileges, fly and travel as we feel like and continue to have fun.
I guess that retirement will be a great challenge and I look forward to it.
So, expect a new section at Nino's Flying Cigars from September onwards : Retired Travels & Cigars …. : – ))
Nino

Copyright 05-2009 © Ninos Flying Cigar