4 Nov
Heiko's Habanos Blindtasting Results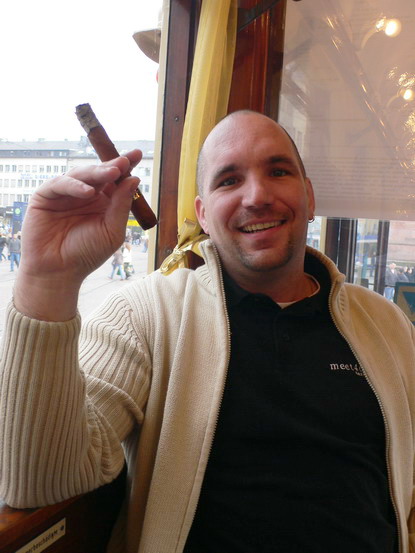 Heiko / Darmstadt 2008
November 2009
Ich möchte mich herzlich für Heiko's Beitrag bedanken !
A big Thanks for Heiko's contribution !
The English Version follows the German Text.
Im Rahmen eines Blindtastings wurden 3 verschiedene Zigarren in unterschiedlichen 2er-Kombinationen an 27 Teilnehmer ausgegeben.
Hierfür wurden folgende Probanden ausgewählt:
Hoyo de Monterrey Epicure No. 2
Partagas Serie D No. 4
Montecristo Open Master
Folgende Kombinationen wurden umgesetzt:
Hoyo de Monterrey, Partagas Serie D No. 4
Hoyo de Monterrey, Montecristo Open Master
Partagas Serie D No. 4, Montecristo Open Master
Theoretisch wäre es auch möglich gewesen, 2 identische Zigarren zu versenden, dies wurde aber in diesem Fall nicht umgesetzt.
Die Teilnehmer wussten lediglich, dass es sich bei den Probanden um klassische Robustos aus dem Standardsortiment handelt, also keine Hermosos No. 4.
Im folgenden sind die Kommentare verschiedener Teilnehmer zu den einzelnen Zigarren aufgeführt, diese Beschreibungen waren nicht verpflichtend, ein Tipp über die Marke sollte aber möglichst abgegeben werden.
Hoyo de Monterrey (#1 bis 18)
Hoyo de Monterrey Epicure Nr 2
Kandidat 1