17 Sep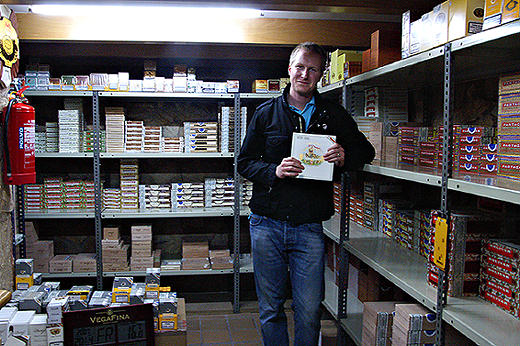 Michael in Barcelona / L'Estanc Laietana
Tasting : Michael "Turner"
Ende April habe ich Barcelona besucht und ein Teil der Reise war, zum Missfallen von Sabine, auf das Zigarren-Shopping ausgerichtet. Unser Appartement war nur einige Schritte von der sehr gut ausgestatteten L'Estanc Laietana  entfernt. Dort waren unter anderem eine Menge von '98er Grandes de España zu finden und die Geschäftsführerin überredete mich dazu, doch einige zu probieren. Eigentlich wollte ich noch einige Kisten Partagas Shorts mitnehmen, doch irgendwann gab ich nach. Die folgenden Zeilen sind das Tasting der am Abend gerauchten Zigarre.
Aussehen: Helles Colorado Claro Deckblatt mit einer sandpapier-artigen Oberfläche, starker Boxpress, flacher Kopf, elastisch.
Geruch unangezündet: Schwacher, kaum merklicher Geruch.
Kaltzug: Da war nix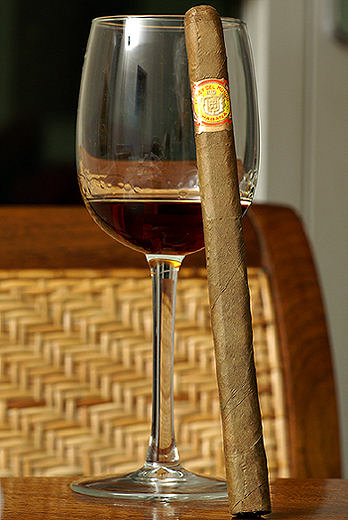 El Rey del Mundo Grandes de E.
Beim Rauchen: Die Zigarre brauchte die ersten paar Zentimeter, um etwas Geschmack zu entwickeln. In dieser frühen Phase war sie einfach eine milde, und wenig aufregende Zigarre. Etwas später wurde sie etwas stärker und entwickelte eine leichte Süße wie frisch gepresster Zuckerohrsaft und einen ziemlich schönen Tabakgeschmack. Geschmacklich wurde sie mit der Zeit immer intensiver, aber ohne ihre Balance und Eleganz zu verlieren. Gegen Mitte waren dann vegetale und kakaoartige Aromen zu finden, die im weiteren Rauchverlauf vernehmlicher wurden. Bis zum Ende blieb die Zigarre fein und ausgewogen, einfach ein Genuss. Einige Züge vor dem Weglegen kamen doch noch ruppige Töne auf. Über die ganze Länge war der Abbrand kerzengerade, genauso wenig konnte man die Delicados zum überhitzen bringen.
Alles in allem eine trotz ihres Formats sehr einfach zu rauchende, geschmacklich sehr elegante und ausgewogene Zigarre mit wenig Stärke aber viel Geschmack. Glücklicherweise wird sie wegen des Formates oft übersehen (zu wenig Tabak fürs Geld). So kann man mit ein wenig Glück perfekt gelagerte, neun Jahre alte Zigarren für einen sehr guten Preis bekommen. Natürlich habe ich mir noch eine Kiste sowie einige einzelne Grandes einpacken lassen. Vielleicht die beste Zigarre, die ich bis dahin in 2007 hatte.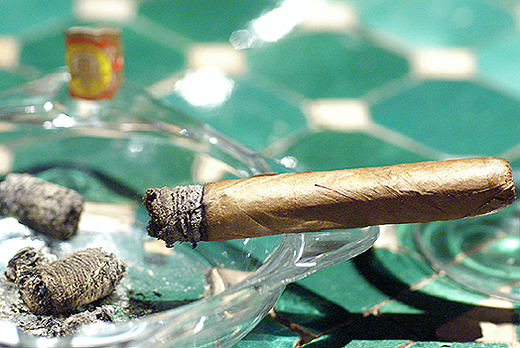 El Rey del Mundo Grandes de E.
Recently I visited Barcelona, and part of the trip was cigar shopping (to the displeasure of my girlfriend). Our apartment was just a few steps away from the well-stocked L'Estanc Laietana. There I stumbled across a huge amount of '98 boxes of the Grandes de España, and the lady managing the cava talked me into trying one. I had wanted to buy a few boxes of the Partagas Shorts, but then I gave in.The following lines are a tasting of this cigar.
Appearance: Light colorado-claro wrapper with a sandpaper-like appearance, firm box-press, flat head, elastic body.
Pre-light smell: Faint, almost indiscernible smell.
Pre-light taste: Nothing.
El Rey del Mundo Grandes de E.
Smoking: The cigar needed a few centimeters to pick up flavours. In this early stage it was just a mild, unexciting cigar. Later it developed into a mild/medium smoke. In the flavour department it got a little sugarcane-sweetness and a very pleasant tobacco-taste. The cigar's intensity was getting higher and higher, yet it was perfectly balanced and truly elegant. Somewhere at the cigar's midway-point I could detect some vegetal and coca-like flavour which got more discernible at later stages. Until the very end the cigar stayed smooth, well balanced and enjoyable. A few puffs before the end, it showed a distant harsh note. Over the whole length the burn was razor straight and it wasn't possible to overheat the cigar.
Abstract: A very easy smoking, very elegant and balanced cigar with little strength but big flavour. It seems the cigar was stored very well the last nine years. One of the best cigars I've smoked this year.
Text & Pictures : Michael "Turner"
Copyright 09-2009 © Ninos Flying Cigar