14 May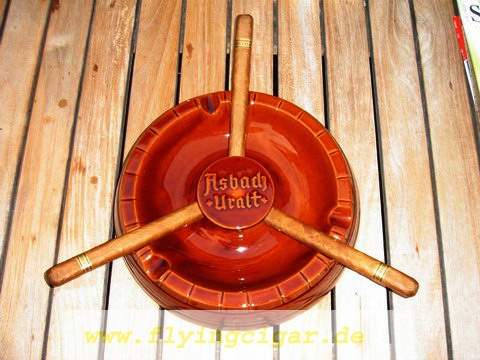 Ascher passt …….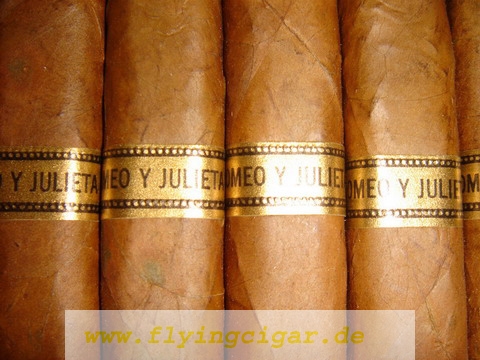 Clemenceau's
Hi all,
not much of a review here. But I finally dared to write one ………
As you know, I am utterly useless at describing cigars – except for my opinion when actually smoking them.
My cigar attitude : I like them – I smoke them, Amen.
That said, I can write that we ( Andreas, Stefan and I ) enjoyed a good 1972 RyJ Clemenceau last Sunday evening in the Pharmacy's courtyard.
Very good pre-light aroma, grassy, deep. Fantastic shape & appearance ( as was to be expected ), very well conditioned. Firm.
First and second thirds were good, but the prevalent taste and aroma was grassy, hay-like, not unpleasant but somehow lacking depth, kind of light ( to me ), not much tobacco aromas, more a garden variety of dry leaves.
Buuuuuuuuuuut the : the last third ( maybe it was the last 40 %, not sure ), the cigar became what I expected it to be, deep, good, almost ( not wholly ) rich, pleasant, the taste was good and also the aftertaste was "solid", no lightness, no hay, no "easiness", the cigar became "serious", ready to interact with adults.
I switched from red wine to Anejo Cuban Rum then, good choice, it deserved it and the pairing was right.
If there's one thing, I wish that it would have been like that from the start.
Felt like nursing a pretty baby girl through childhood, puberty and youth to finally become an adult Miss " Cigar of the Night" – with the last third.
Still – a great experience, second one smoked from that box, and still having punch left, but should be taken care of pretty soon. Like within the  next 5 years.
Hope I managed to bring some meaning across …..
I forgot to mention why we were smoking them : The French Presidential Elections.
Here's my comment on ICC's "Whatcha smokin' today" Thread :
"Had a RyJ '72 Clemenceau today – what a great last third, tres delicieux, mon Dieu !
Especially after learning that Sarko had won the elections, the French are smarting up …………there's hope !"
Sarko or not, the last third was great.
Nino
All pictures taken by my friend Andreas "The Pharmacist"
More pictures of the cigars and the evening :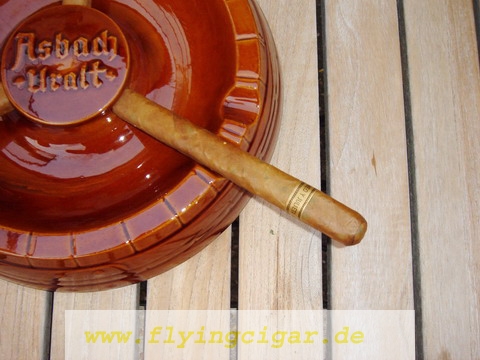 Prelight Mood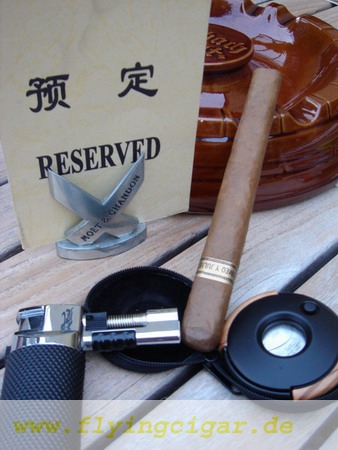 Basics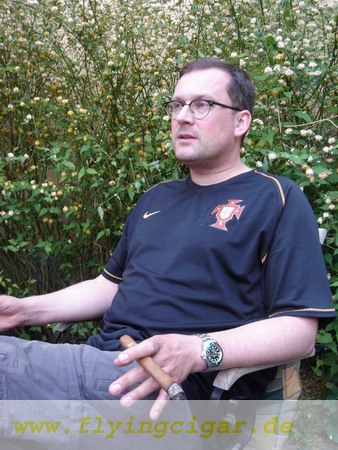 Andreas & Clemenceau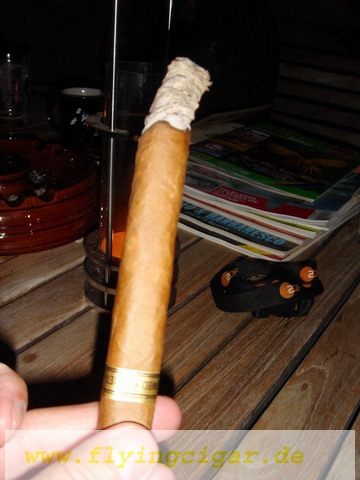 Bye, Baby
Copyright 05-2007 © Ninos Flying Cigar