30 Nov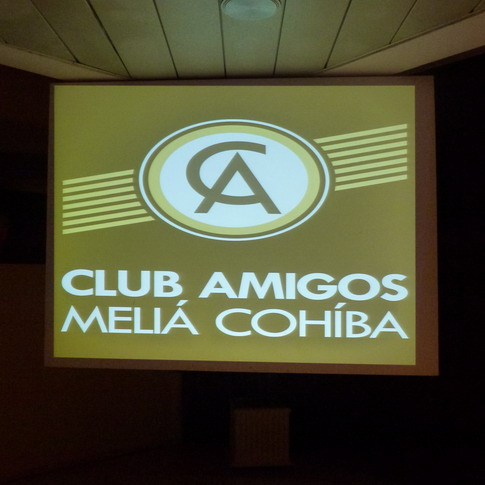 Havana Oct. 2011 – Melia Cohiba
Nov. 2011
This dinner is organized by the Club Amigos Melia Cohiba and was held previously every last Thursday of the month. It will be launched officially from December 2011 on every last Wednesday of the month.
Dr Luis Sorinas who would give a chat about cigars, food and Havana city planning during the dinner had informed me about it.
I thought it would be a good idea to take Toby and Nic along as well as Punch Joe for a seriously interesting evening, so I must thank the good services of Ms Velkis & Lissette of the Melia Cohiba PR dept. to squeeze us in.
We had pre-dinner Mojitos at the Casa and then proceeded to the Salon at 8 pm sharp – the open air venue cancelled due to stormy and rainy weather.
It all started with a dry Martini enhanced by the olive being filled with Spanish Jamon Iberico and the first cigar was given at the door, a RA Extra EL 2011, a vitola that was discontinued in 1970 and re-introduced just now.
Dr Sorinas gave a short welcome and introduced the ca 45 guests – mostly Spanish businessmen and diplomats with some Habanos SA executives, before giving a short and deeply knowledgeable expose on the cigar and the history and background of Ramon Allones from its founding.
The Spanish Habanos SA executive Gonzalo Fernandez Navarrete also gave some brief information on Ramon Allones, his mother being the grand-grand-grand daughter of Ramon Allones himself.
October being the month of "Cuban Heritage" the dinner was traditional Cuban cuisine.
Appetizer was a delicious cold Malanga creme and we were informed that Malanga crème was used traditionally in Cuba to feed babies after the breastfeeding.
Wine was a Rioja Tempranillo Riaza Crianza, 12 months in US/French oak and 6 months in bottle, interestingly served at 15 C for the Appetizer and later at 18 C or room temperature for the main course to observe the changes in bouquet and aromas.
After a lemon sorbet we were served pork with onions and Tamale cream in a bowl of fried green bananas – absolutely fingerlicking good.
Dessert was cream of Guayaba with slices of cheese and a sweet wine.
Master of this fantastic traditional Cuban dinner was, surprisingly, a Spanish-born Japanese chef, Watanabe-san, who also gave a brief intro on the menu.
Between the courses we were shown a fascinating selection of old b/w photographs of Havana and had the cities urban development explained from the early days of the 20-th century to the 1960's with an in-depth look at the architectural achievements of Cuban city planners.
After dessert a 1998 Vegas Robaina Corona was passed along with an 18 yr old Chivas Regal Whisky.
The whole affair was absolutely brilliant, educative and at 40 CUC per person a steal – we all agreed that the quality of food and beverages, service, cigars plus the seminar would have commanded a much higher price in London or elsewhere in Europe.
Nic Wing being there by virtue of a pilot's strike of his airline was doubly happy.
I had the chance to catch up with Miguel Brown and specially with "Elvis" of Gato Tuerto fame, who sported the Oris watch that Rob Ayala had given him for a lifetime of free drinks at the Jazz place.
Living well in Havana.
Nino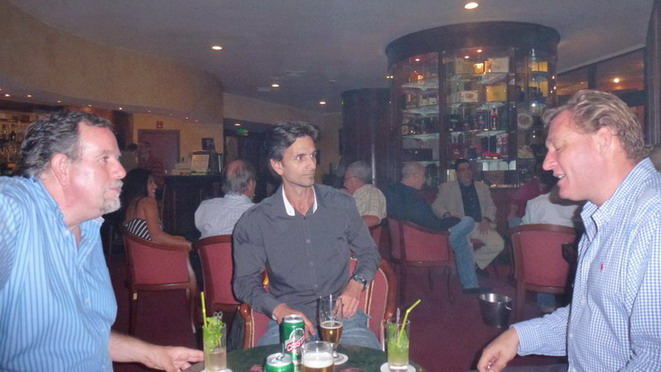 Pre-dinner Mojitos Nic, Punch Joe and Toby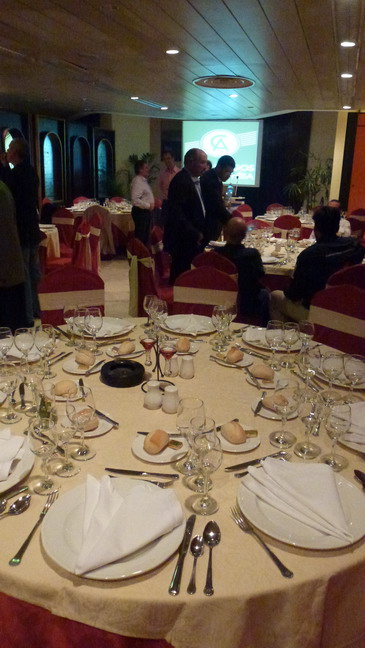 Club Amigos Melia Cohiba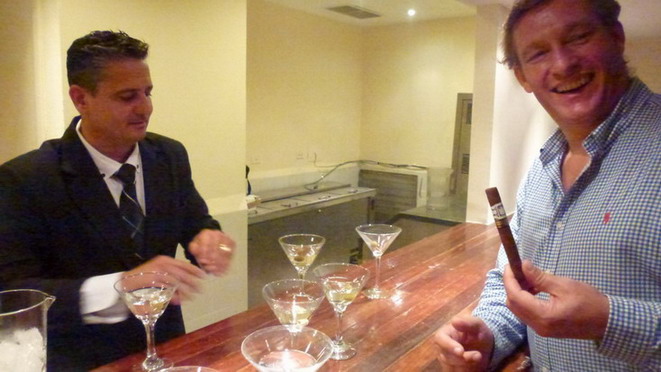 RA Extra EL 2011 & Martinis for Toby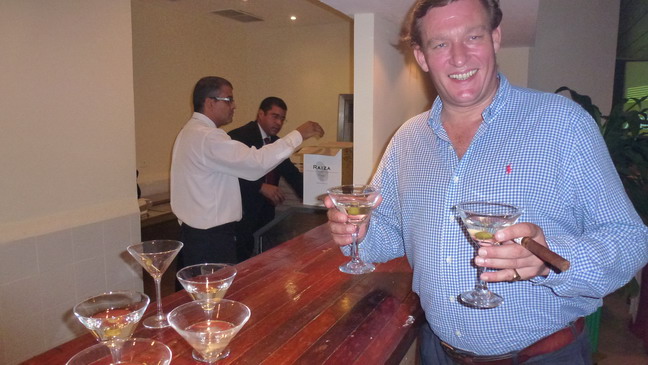 RA Extra EL 2011 & Martinis for Toby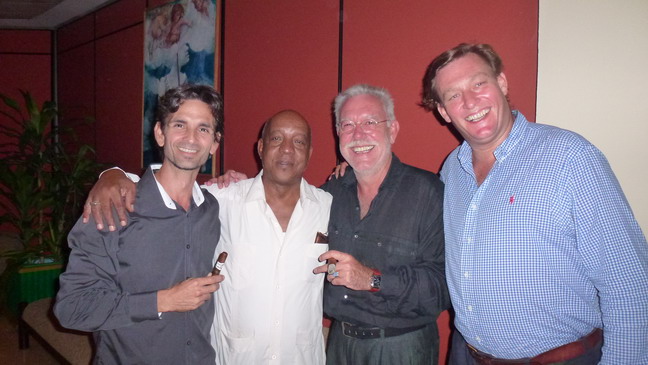 With Miguel Brown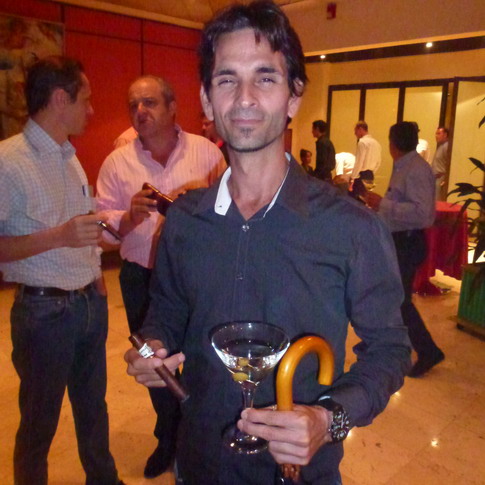 RA Joe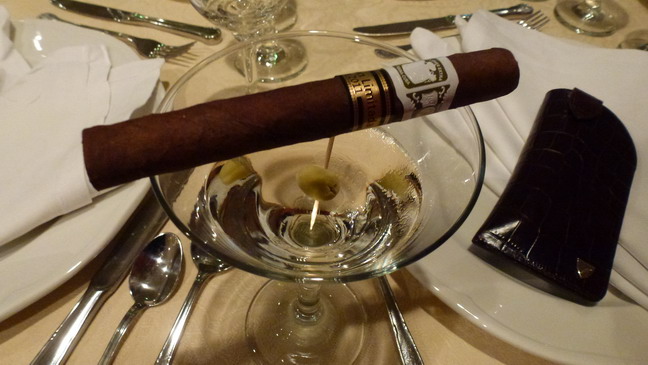 RA Extra EL 2011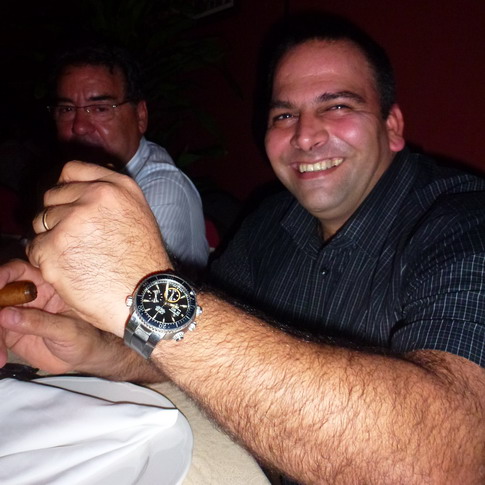 Elvis and Oris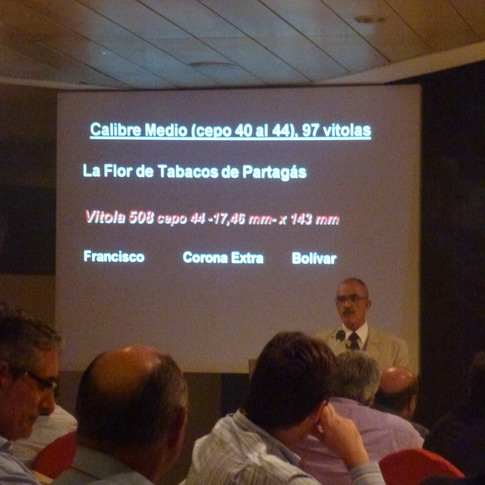 Interesting Information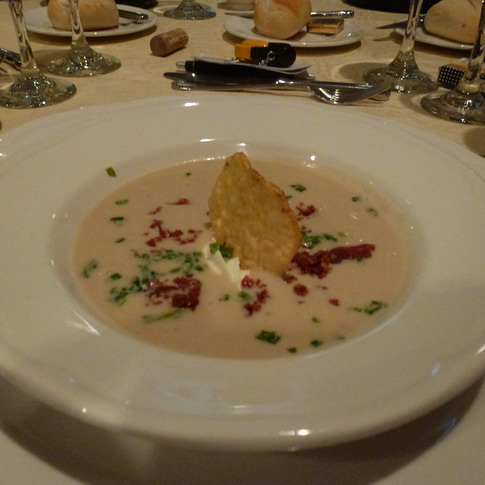 Malanga Creme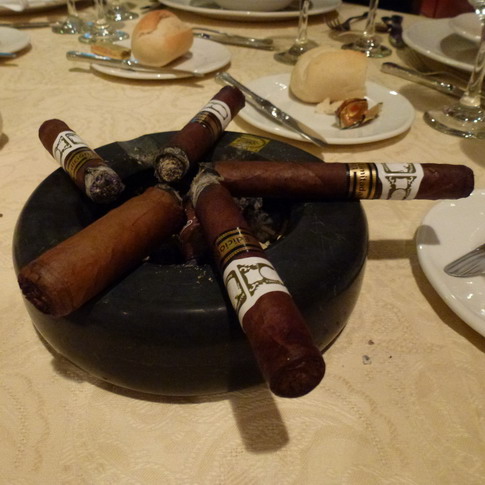 RA Ashes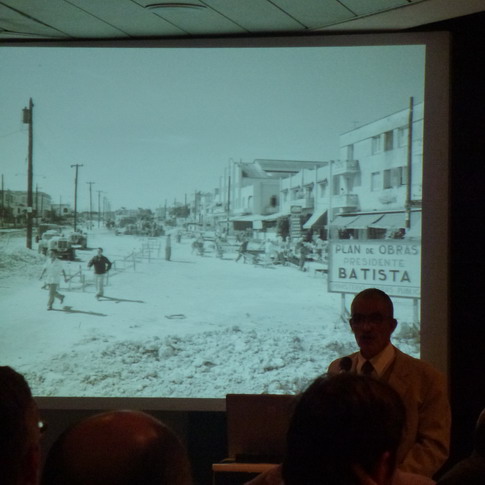 City planning in the 50's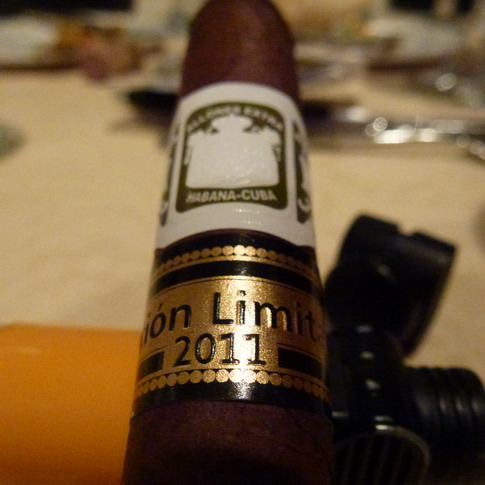 RA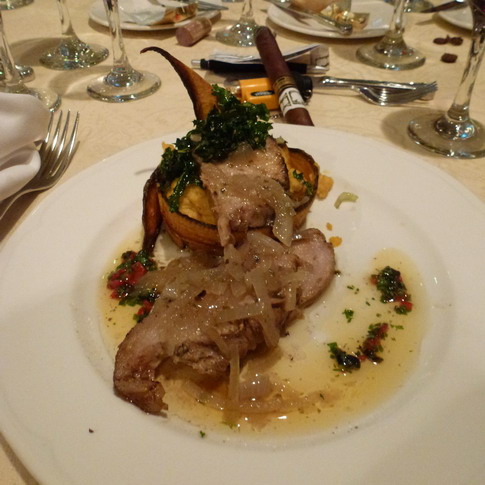 Pork a la Cubana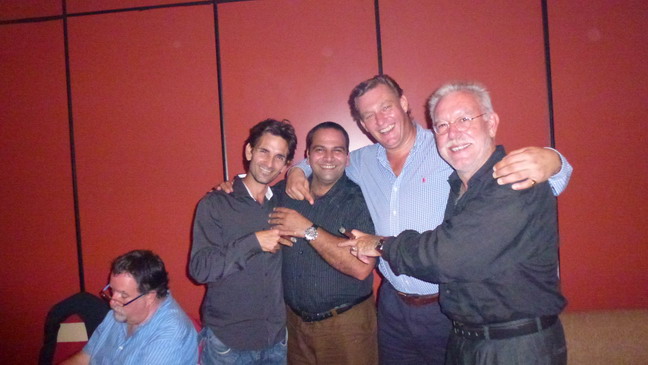 Elvis & Oris again – suffer Rob !!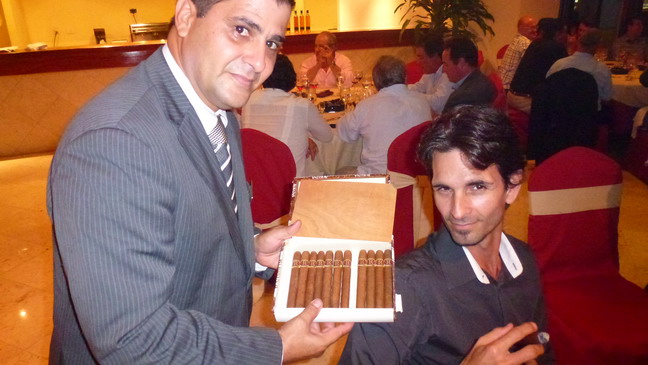 Vintage Vegas Robaina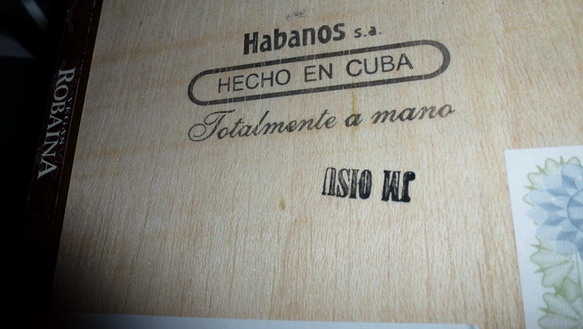 VR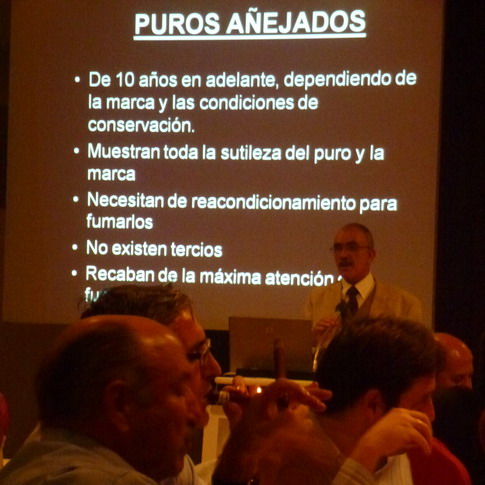 Vintage cigar information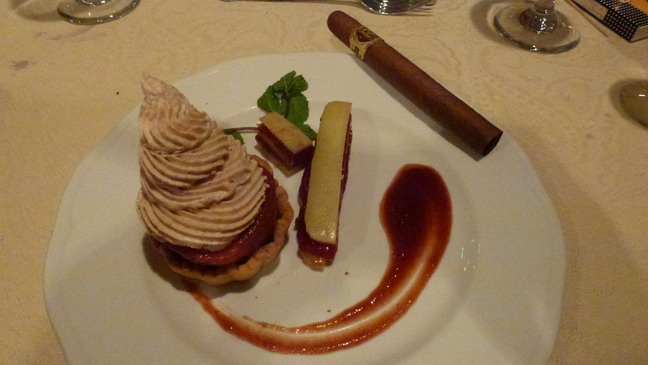 Dessert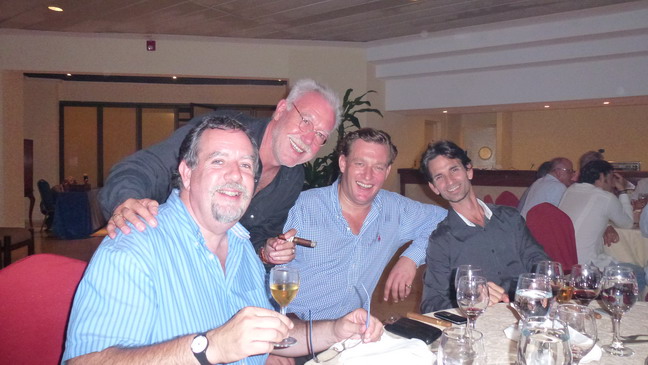 Happy All
Copyright 11-2011 © Ninos Flying Cigar