7 Oct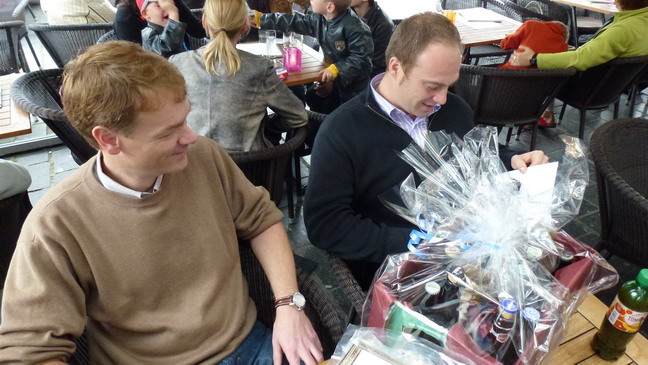 In Lommel : Frank & Cliff plus a sample case of finest Belgian beers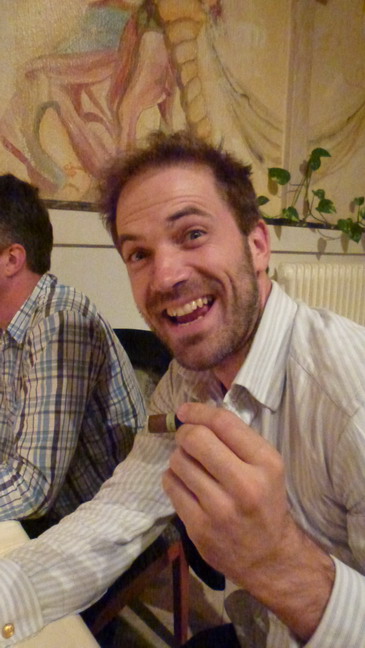 In Wörrstadt : Another crazy and passionate Belgian – Didier Houvenaghel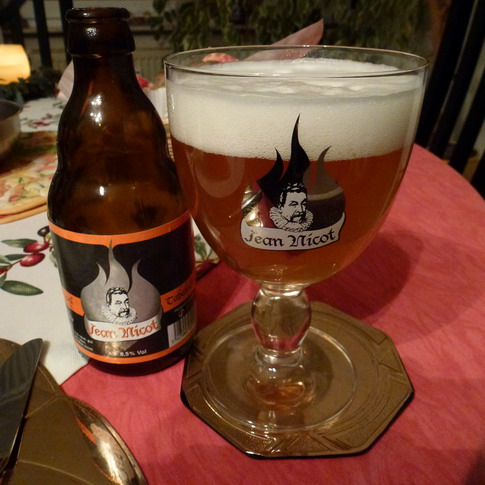 Jean Nicot Tripel Tabaksbier
October 2011
Belgium : small country, great people !
Guess I've already used that sentence before, but after returning from a fantastic short trip to see Frank and Cliff in Lommel and spending time with both there, I have to positively re-affirm it again.
Actually the first Belgian of the trip came to see us in the village, as always a welcomed friend, Didier Houvenaghel, touring Europe again, attending the Intertabac in Dortmund and opening a Nicarao lounge in Paris.
We had a good dinner with him and Thorsten Wolfertz at Massimo's as usual, and, before departing the next day Didier was kind enough to sign a copy of his book "The Cigar from Soil to Soul" for fellow Belgian and good friend Frank.
I left the pharmacy and hopped in my car with Inge in tow on our way to Lommel.
A leisurely 3 hr drive and funny enough past Germany we first drove through Holland for a while before entering Belgium. Three countries in three hours – only in Europe ……..
Frank had booked us into a great little Hotel in Lommel, Tuin Hotel, and we enjoyed a perfect, rustic and aesthetically beautiful room ( this coming from Inge and me, trust us, we know Hotels having "lived" in them for 35 years … and : the smaller the better ! ).
The Tuin Hotel is also very popular for its Café and Brasserie style Restaurant and after checking in we sat down at the heated terrace watching the busy weekly market.
See : www.tuinhotel.be/content.php?hmID=1821&smID=1551&ssmID=3
Lommel has a prosperous, clean and very comfortable feel and look about it, well organized, proper and its citizens obviously enjoy the good life. Cafes and restaurants were quite full and while smoking is not permitted anywhere inside, the heated terraces offer a perfect solution and are also tastefully and well equipped – at least from what we experienced at Tuin Café.
Frank had taken half day off his demanding job and Cliff had been kind enough to drive up 2 hrs from southern Belgium to be with us. And not just that – he surprised me with a sample case of Belgium's finest beers, and some of the most rare too !
Actually, the reason for my trip to Lommel, other than Frank and I having to smoke a cigar together every 3 weeks :- )))) was to pick up a few cases of a most exclusive Belgian beer, a unique beer in being the first "Tabaksbier" created, developed and specially commissioned by the Aroma de Cuba Cigar Club for its Gran Fiesta, the Jean Nicot Tripel Tabaksbier which contains Tobacco and is quite top-heavy at 8,5% Alc.
It is brewed in the middle of the Ardenne forest by Brewerij De Graal, a young & artisanal brewery in Brakel and it is named after Jean Nicot ( Nimes, 1530-Paris 1600 ), the namesake of the Nicotiana plant.
Inge and I opened it first night back home and I loved it ! Absolutely fruity, citrusy, floral and smoky with a great bouquet and long aftertaste. It's not Inge's cup of tea, too fruity for her so the good news is : I can enjoy all of my case !!
So there we were in Lommel, sharing cigars, stories, beer and a truly good time.
Cigars were quite a few, from the Juan Lopez Andorra ER and vintage PL Monte Carlos to '98 LGC Sabrosos, '99 RyJ Exh. Nr 4, Partagas 155-th Anniv. and Partagas 15-th Encuentro de Amigos, plus Partagas EL 2006 and BHK 56.
Beers were Pils by Cristal Alken plus some other special ones to try.
Stories were abundant and allowed sharing glimpses behind the curtain or facade of the cigar universe.
Cliff had to leave at 8:30 pm for the long ride back home, I'm sure we'll see each other again there or here.
Frank graciously kept us company until 10:30 pm and shared coffee with us next morning.
He provided us with a fantastic hospitality not just by booking the Hotel and inviting us, but also by the mutual friendship and affection that has developed between us and that makes it a celebratory ritual to meet and share the joy of life together every three weeks.
Inge and I look forward to entertain Frank and his family here in Wörrstadt.
Three weeks from now, in Havana, Cuba, I will miss not having Frank along, as I know he'd give his left nut to travel the island and, being a hard-core Partagas follower, attend the Encuentro de Amigos de Partagas with me.
Tot ziens, Frank and Cliff, and Dank uw wel for a truly special time in Belgium.
Nino & Inge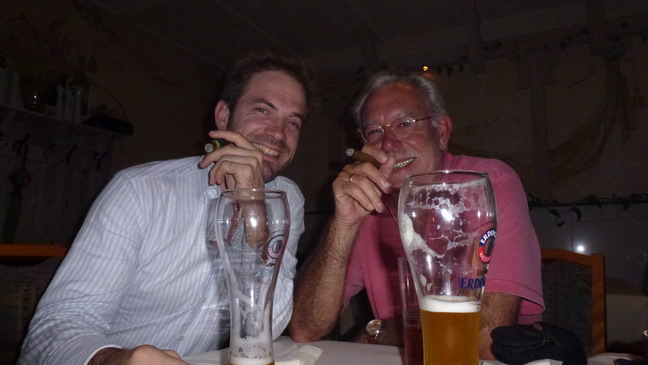 At Massimo's with Didier & Nicarao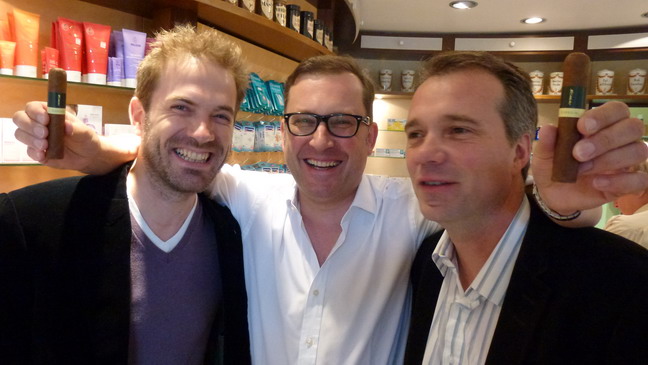 Andreas with Didier & Thorsten plus Nicaraos at the pharmacy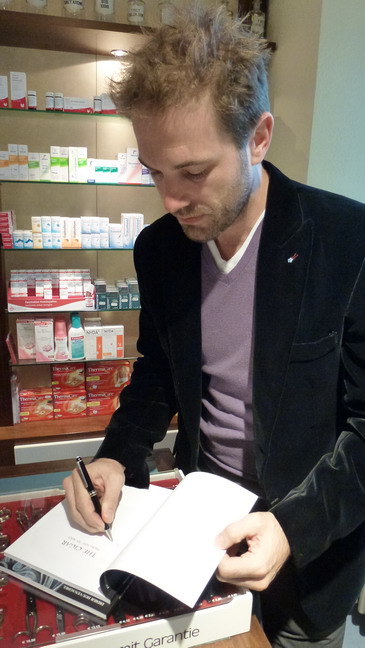 Didier signing his book for Frank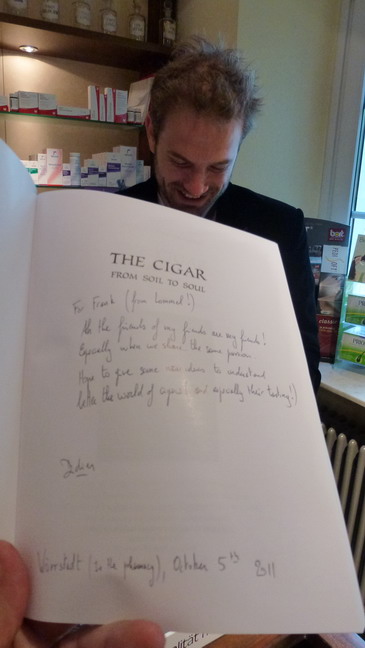 Für Dich, mein Lieber !
In the pharmacy before taking off for Belgium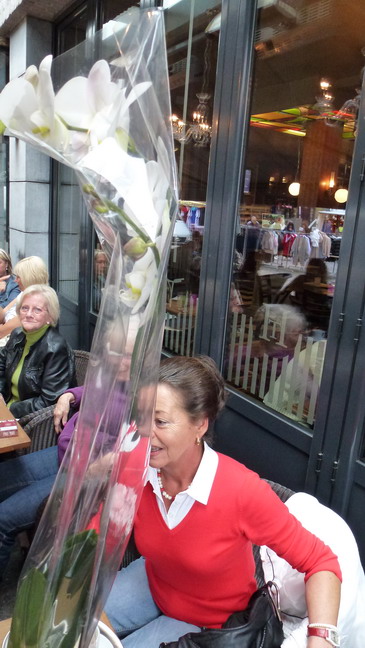 Inge receiving beatiful orchids in Lommel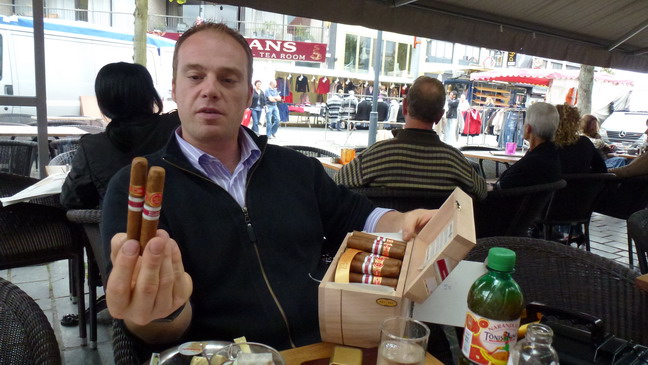 Cliff & Andorra sticks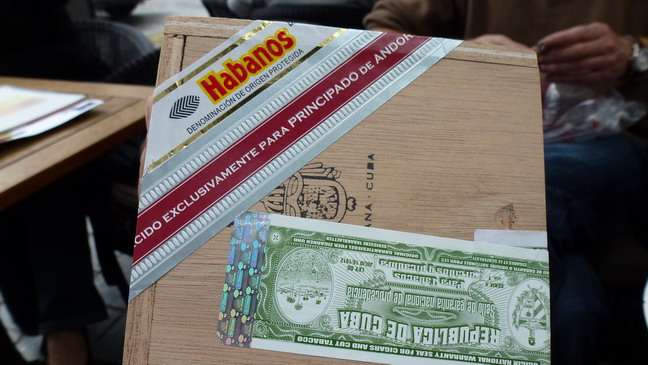 Juan Lopez ER Andorra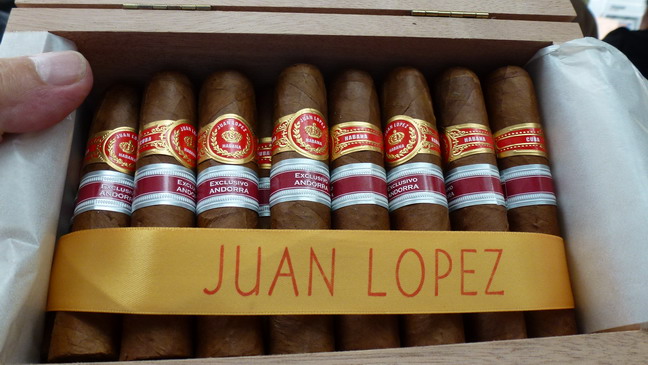 Juan Lopez ER Andorra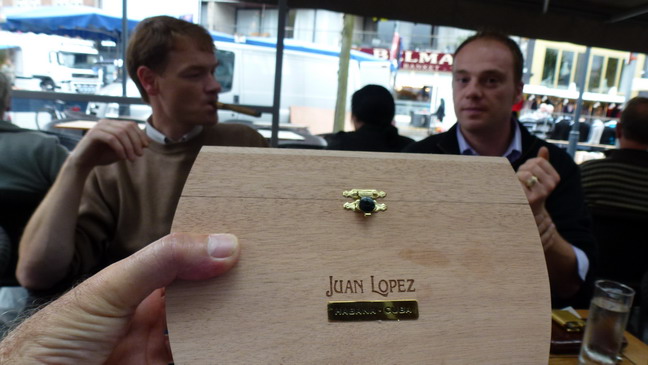 Juan Lopez ER Andorra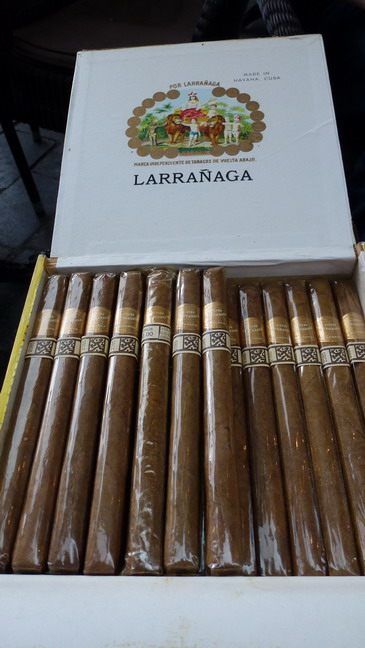 Vintage PL Monte Carlos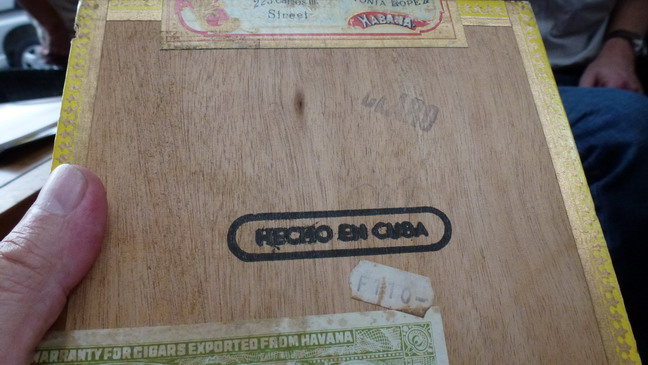 Vintage PL Monte Carlos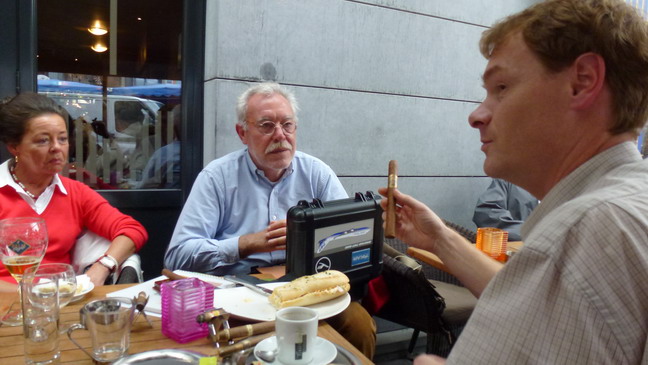 Sharing cigars
Smoking Cigars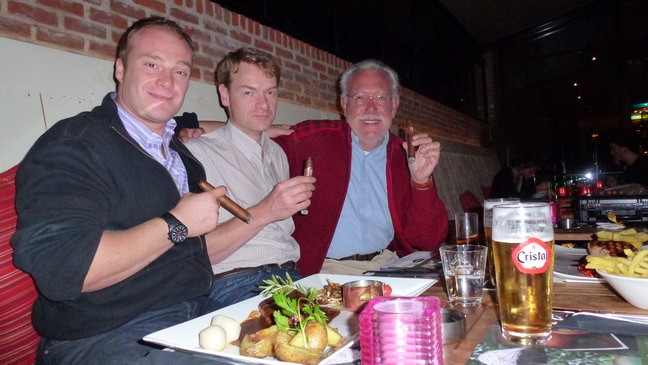 Cigar dinner at Tuin Brasserie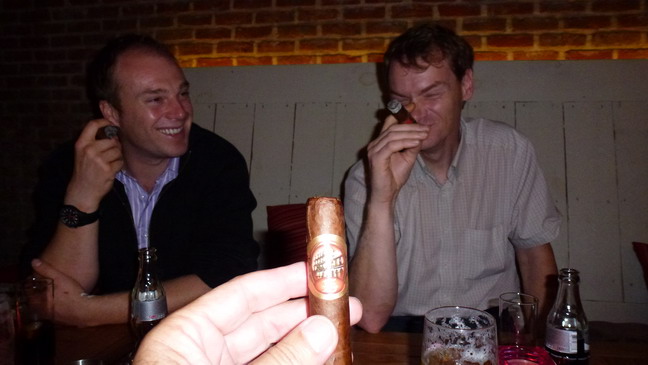 Partagas for Frank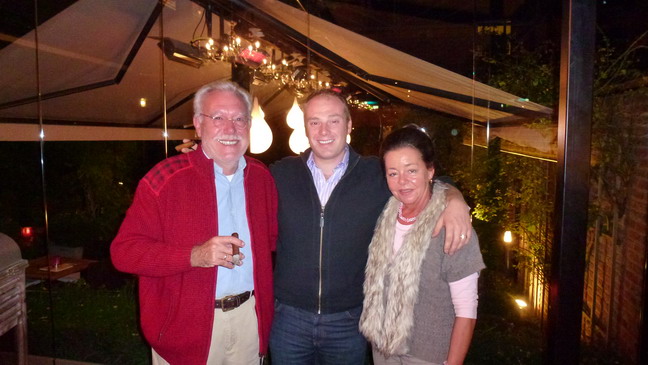 Thank you Cliff !!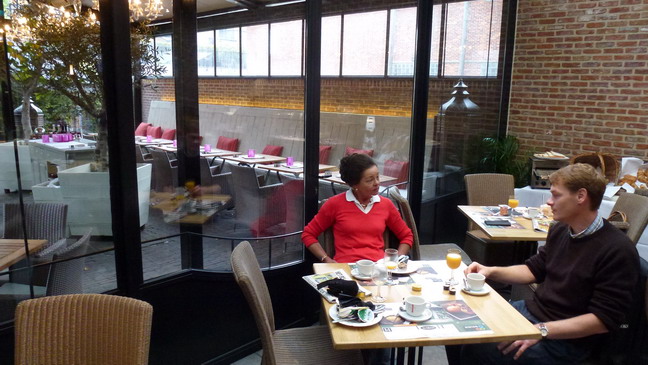 Morning coffee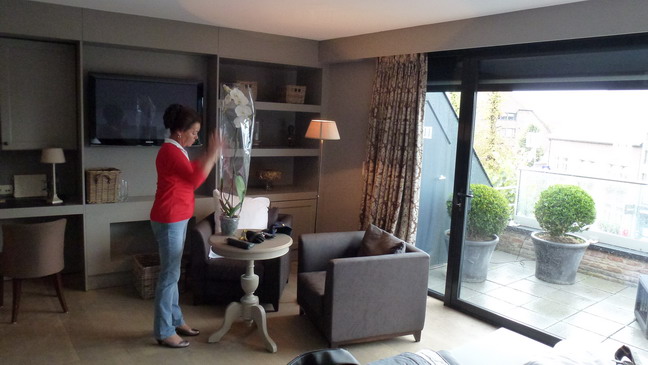 Great room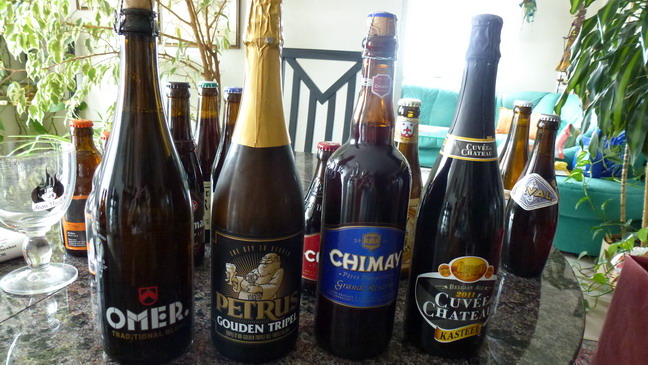 Great beer
More beer
Jean Nicot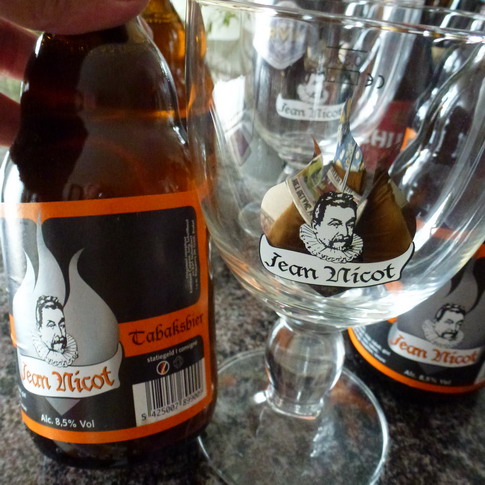 Jean Nicot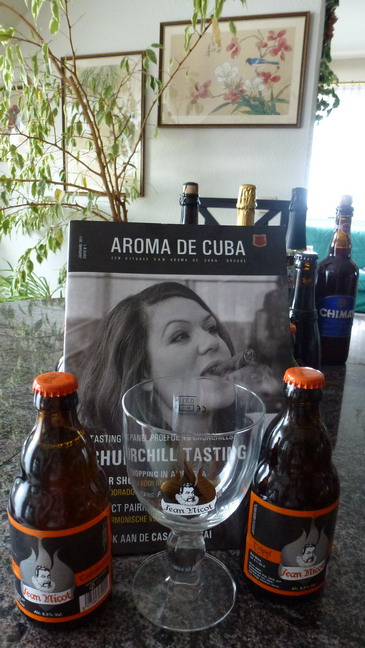 Jean Nicot
Copyright 10-2011 © Ninos Flying Cigar