11 May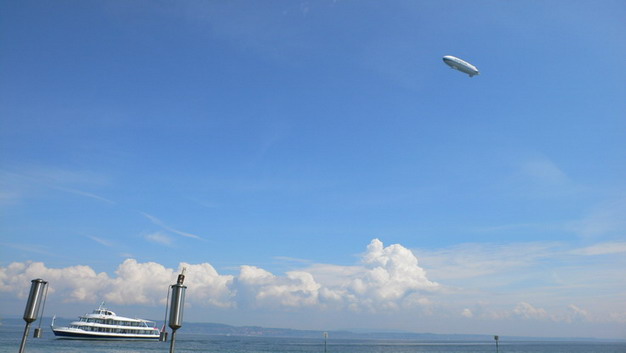 Zeppelin over Lake Constance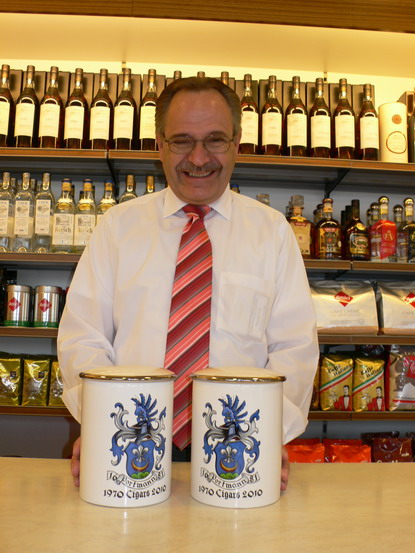 Honest smile – Perfect service – Great Jars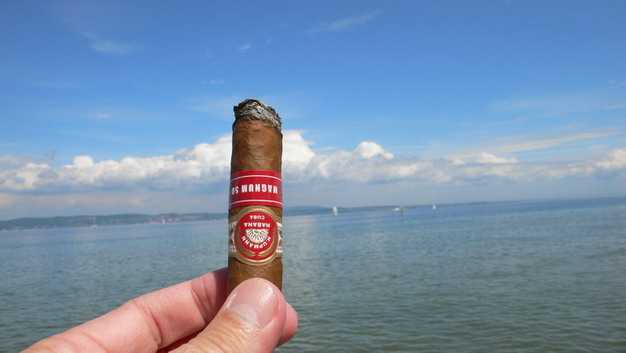 Perfect weather for a good cigar
May 2010
I had to pick up some bundles of custom rolled cigars that had been lying around in storage since our return from the Festival  and there were the 40-th Anniversary Portmann Robusto Jars on the shopping list ever since I smoked the pre-production sticks last year with Gino in Kreuzlingen.
Portmann 40 Aniversario Jar – Foto : Portmann Cigars
Plus : I had just visited the Gym for the 100-th time since I joined it in early November, not bad an  average of fitness and a weight reduction of 20lbs or 10 kg since I started – all just with plain old sports, no diet, no BS. Feeling much better now, so I decided I deserved a break.
Last but not least, I wanted to give myself a bit of slack. Driving to Lake Constance looked like a good idea to clear up the brain.
Or as Jose, my Los Angeles friend would say : Frente para delante y hechandole muchas ganas a la vida !!!

Good reasons one and all that justified the trip down south despite some people writing lately that cigars were cheaper up north  due to the worsening Euro exchange rate.
Well, it's just not all about the price – it's also about quality, service, selection, reputation, the way Mr Portmann & staff make you feel at home – it's so much more than saving 5 cents on a stick, really.
Leaving quite early on a Saturday morning the autobahns were empty and I managed to fly low and arrive for a morning coffee with Mr Urs Portmann at the store – 2h20 for 350 km is not a speed record but a good average. The return trip on a Mother's Day Sunday was even faster as no trucks were on the road.
The Hotel I chose was again the Steigenberger Inselhotel in Konstanz, an old and trusted place that I love for its old style beauty, the lakeside location plus being opposite the old town and just a walk away from Portmann. Service was impeccable and first class. www.steigenberger.com/Konstanz/?source=FH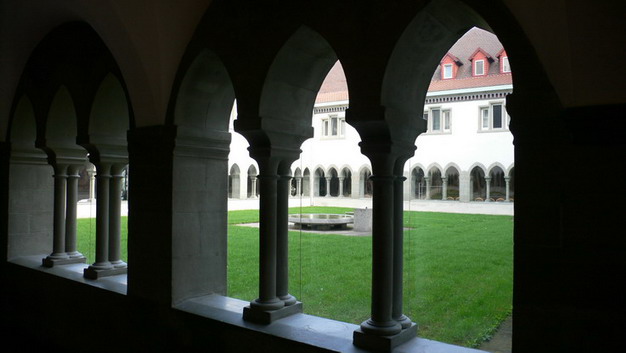 Steigenberger Inselhotel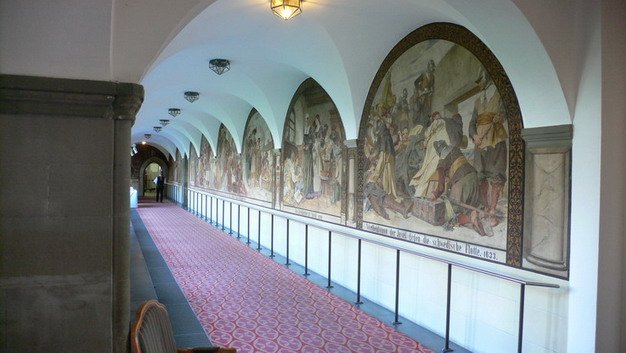 Steigenberger Inselhotel
I looked forward to a cigar at their Zeppelin Bar and while that Bar is now "smoke free", they have managed to allocate a smoking lounge right next to it which we happened to inaugurate. It has an humidor and looks out to the terrace and the lake. Small but pleasant and it does the job perfectly.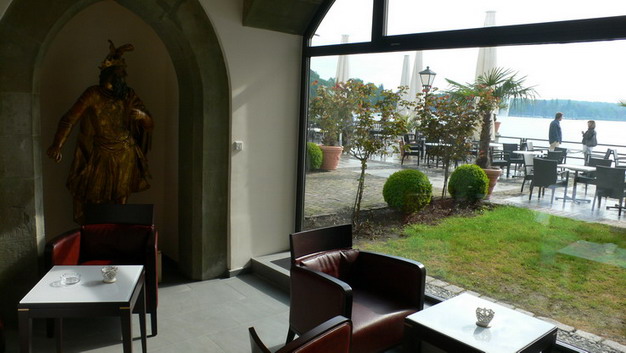 Steigenberger Inselhotel – Smoking Lounge Zeppelin Bar
On the wall at the Zeppelin Bar I again was fascinated by the paintings, photographs and mementos remembering this great pioneer of aviation.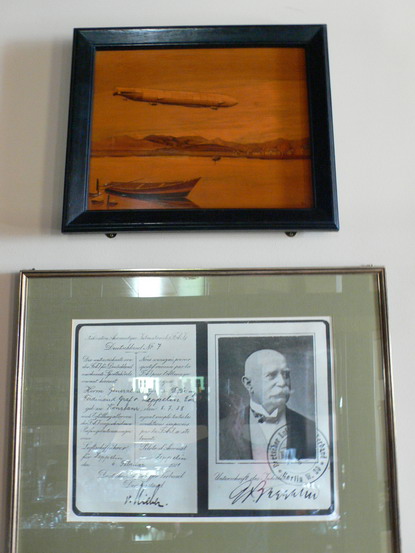 Steigenberger Inselhotel – Zeppelin Bar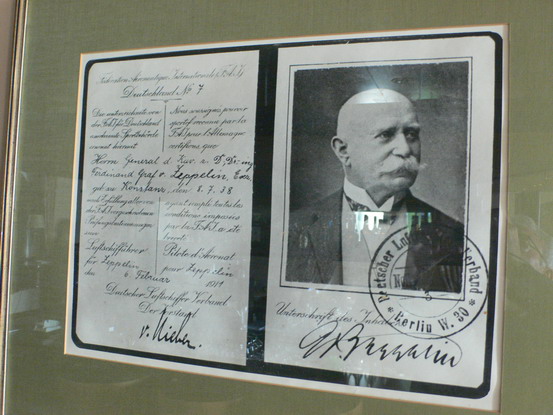 Steigenberger Inselhotel – Zeppelin Bar
Copy of Graf Zeppelin's German Pilot's licence # 7
It was pleasant  to be back, especially with the beautiful blue sky and the great summer day feeling. And with good cigars !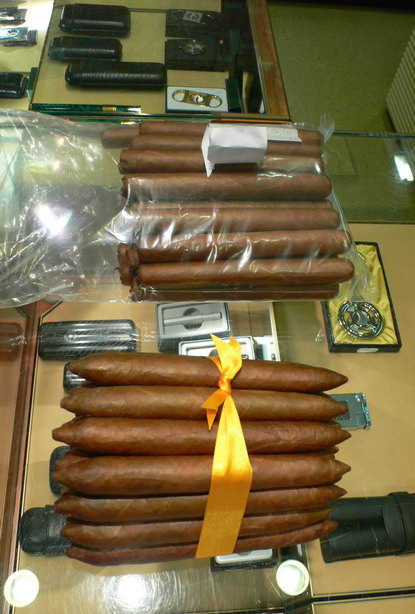 Robaina Padrinos & Cueto Salomones
A friend picked me up and we drove over to the Swiss side of the lake, the small boat harbour at Bottighofen and their "Wirtschaft am Schlössli".  www.wirtschaftamschloessli.ch/
We enjoyed a very relaxed long lunch right by the lake with fresh lake-fish on lentils followed by fresh smoked asparagus – a first for me, very tasty – with veal brains and perfect liver chops.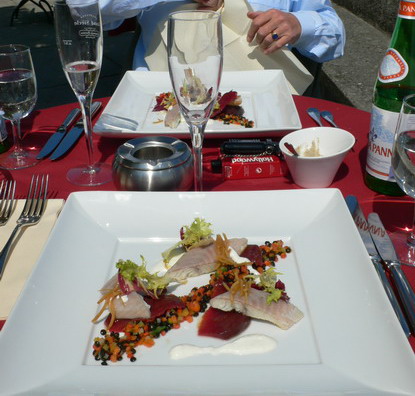 Fresh fish from the lake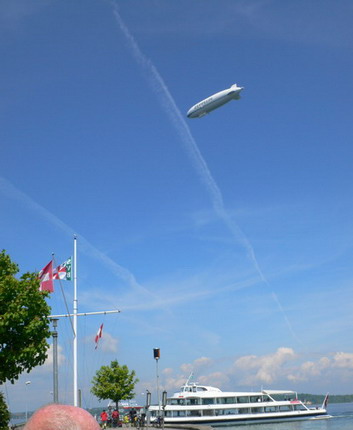 Who's buzzing me ?
Smoked asparagus & Kalbsbrieß
While having lunch in the sun we observed the first of many rounds of the Zeppelin NT flying around the lake. A glorious sight.
To all interested in its history : www.zeppelin-museum.de/
We continued our perfect afternoon in Gottlieben having a café crème and sweets at the Gottlieben factory of the finest sweet rolls around. Again the Zeppelin would buzz over our heads and cruise boats would elegantly pass us by.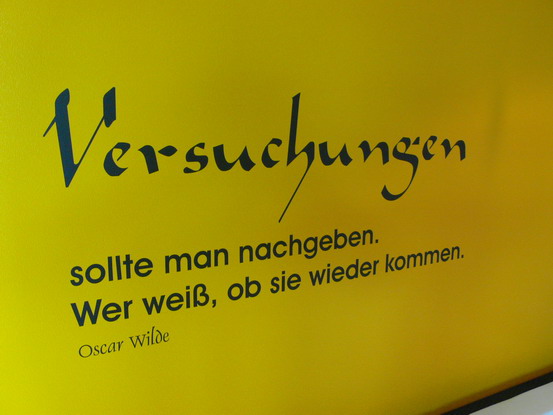 Gottlieben – So true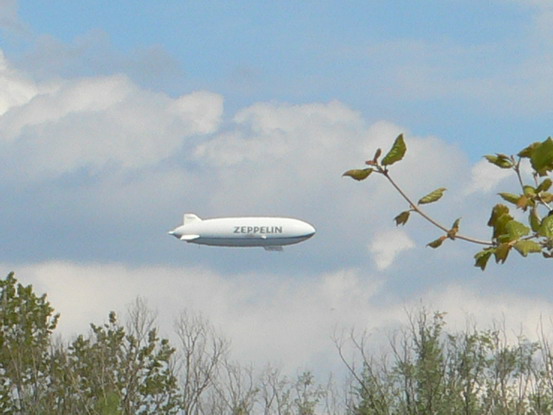 Gottlieben – Buzzin' again
Next stop was the Portmann shop for some acquisitions, the aforementioned jars and 2 boxes of their monthly special which happened to be Juan Lopez Nr 2 again.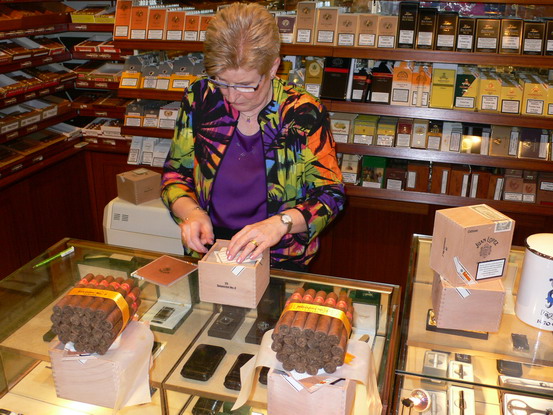 Mrs Portmann selects the JL Nr 2 for me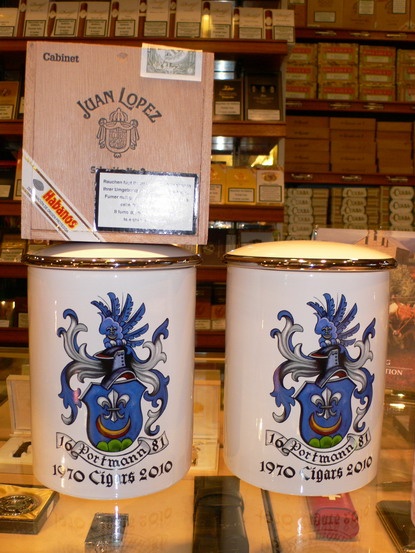 Juan & Jars
Danke Urs !
We then smoked a cigar in the company of other smokers at the lounge next door where I met Heiko & Marcel, plus the usual suspects and we exchanged some tips on the next Big Pharmacy Cigar Meet coming up later this month.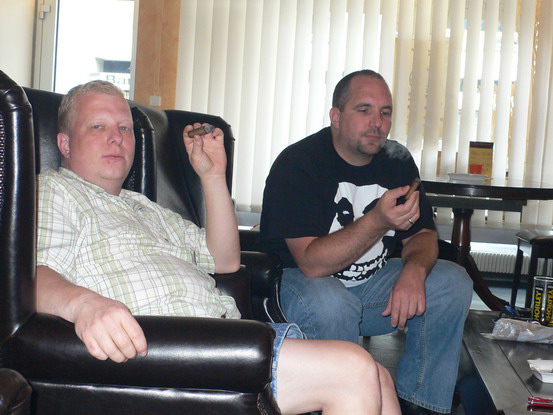 Marcel & Heiko in the lounge – Kreuzlingen
Heiko was gracious enough to provide me with his tasting review of the Portmann 40 Aniversario Robusto which you will find attached to this report.
It was back to Germany, a quick shower and off to dinner with friends.
I had suggested an old & trusted place in Konstanz, the Spanish Restaurant "La Bodega" located right in the middle of the old town. Extremely popular and always filled to capacity, it was only my Spanish and the fact I know the lady owner that got me a table a week in advance.
We thoroughly felt in Spain for over 2 hrs and had as many Tapas as we could stuff washed down by Segura Viudas Cava – absolutely brilliant service by Carmina, a beautiful miss from former Spanish Equatorial Guinea and the most genuine Spanish/Canary Islands cuisine north of Madrid/Las Palmas.
Maria, the owner came around with her blackboard explaining the fresh dishes, it's a market fresh affair and very much popular as the lines waiting for a table proved.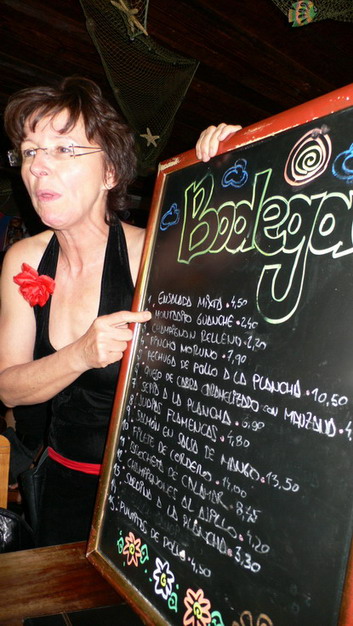 Maria reading out the specials
After dinner drinks and cigars were taken at the Zeppelin Bar and we enjoyed the lounge and conversations for the rest of the evening until it was time for my friends to catch the last ferry home across the lake.
I was to take that same ferry next morning over to the picturesque medieval town of Meersburg with the towering castle on top of the hill. www.burg-meersburg.de/
Taking the ferry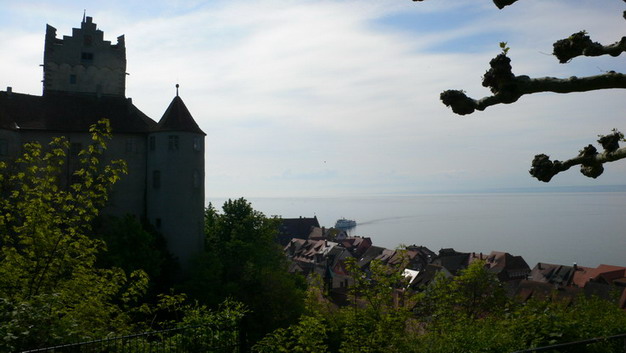 Meersburg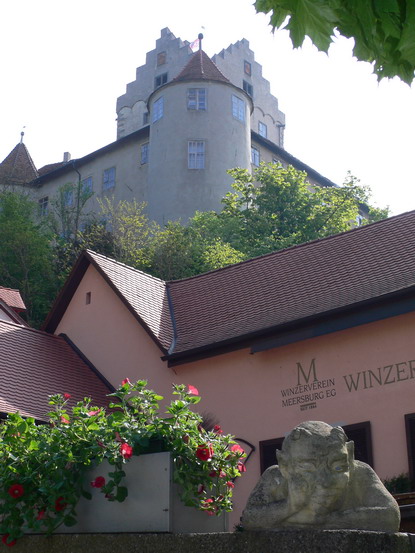 Meersburg
After a stroll through the town I drove a few miles to the lakeside residence of friends opposite the Mainau castle and we continued our conversations while enjoying a splendid homemade brunch and smoking a good custom rolled cigar in the garden.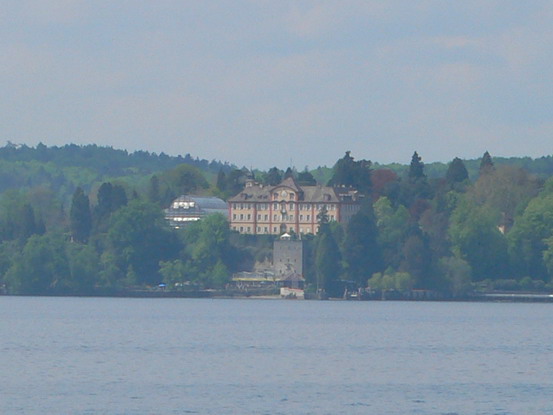 Mainau castle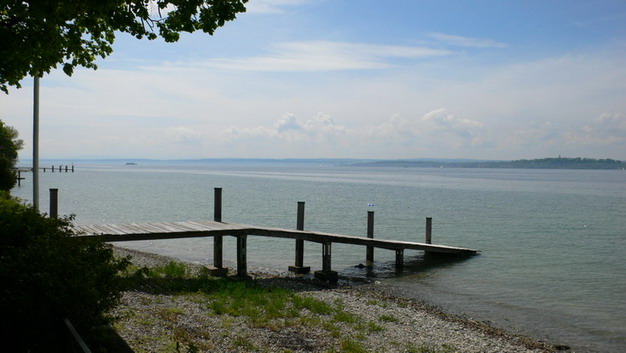 Perfect Bliss
Again the Zeppelin would be buzzing overhead – absolutely beautiful on a blue sky sunny day.
Time to leave as Inge was expecting me home for coffee and visiting relatives for Mother's Day.
I now look forward to meet Reynaldo, the well known roller from the Hostal Conde de Villanueva, who is on a tour of Germany and smoke a freshly rolled Salomones with him this weekend.
Nino
Portmann 40 Aniversario – Robusto
Review by Heiko "Eldondo"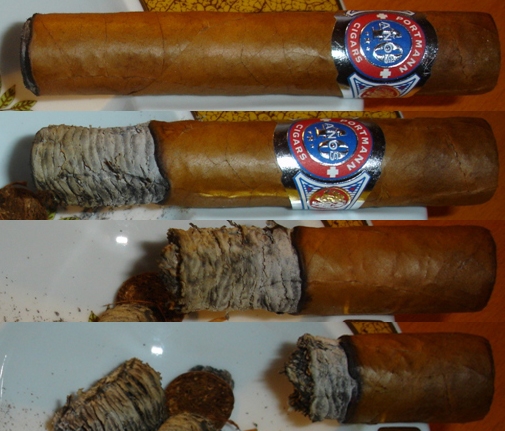 Portmann 40 Aniversario Robusto – Photo : Heiko "Eldondo"
Some people asked me about a review of this cigar… here you go:
Light colorado coloured wrapper, matt and good rolled.
A bit wet imho, I like them more on the dry side….
The cold smell is leather, cedar and tobacco… surprisingly no ammonia….
The first third starts with a intensive cedar note, added by some cinnamon and dark roasted coffee… it's hard at the limit to get bitter, but always staying good.
The second third gets really strong: tar (like a heavy peated Whisky) and leather… seems to be a men's cigar.
The last third brings back the dark roasted coffee beans, joined by some dark chocolate. Tannic and earthy aromas coming up.
Smoking time was 90 minutes, had a very good smoke volume over the whole time… big'n'fat smoke….
I like this cigar and they will be great for sure after aging some years in the jar…
Heiko "Eldondo"
Additional pictures to this report :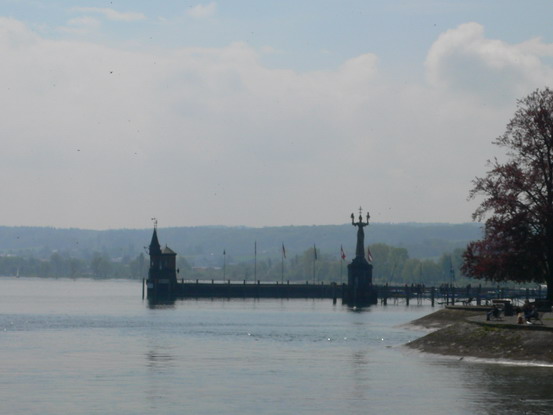 Konstanz harbour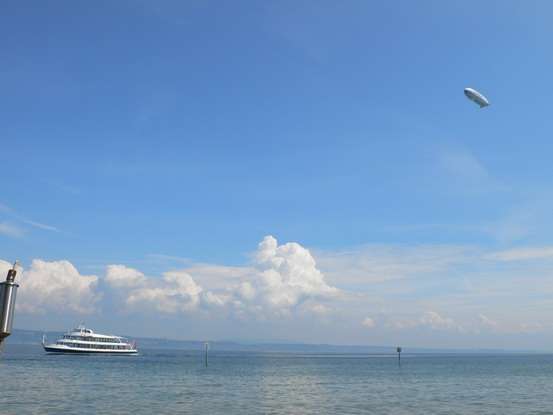 Zeppelin over the lake
Zeppelin overhead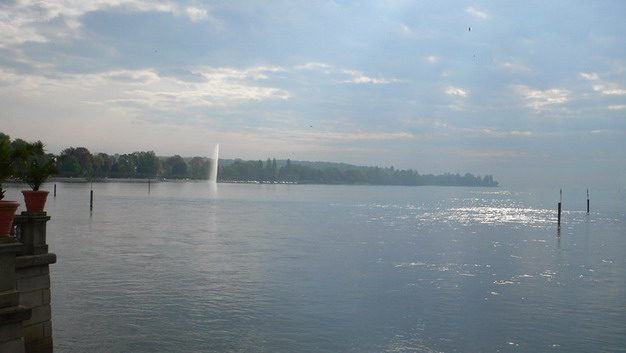 Sunday tranquility by the lake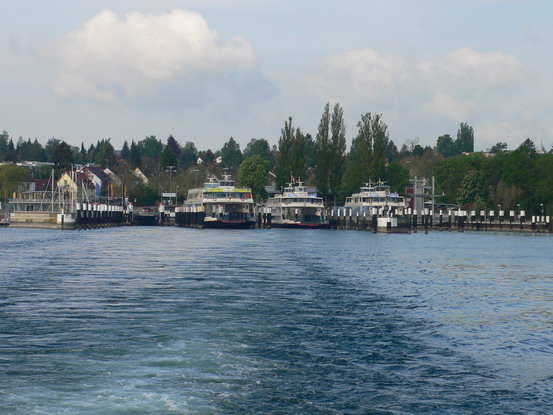 Konstanz-Staad ferry harbour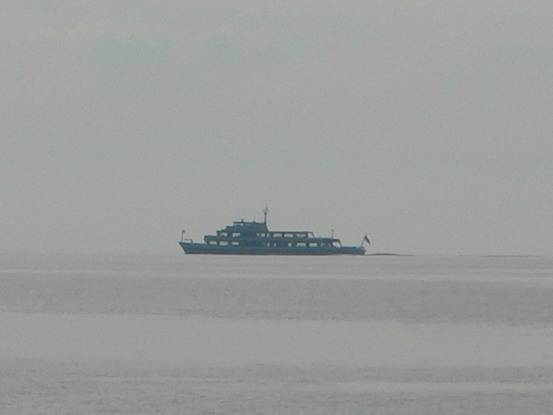 Ferry on the lake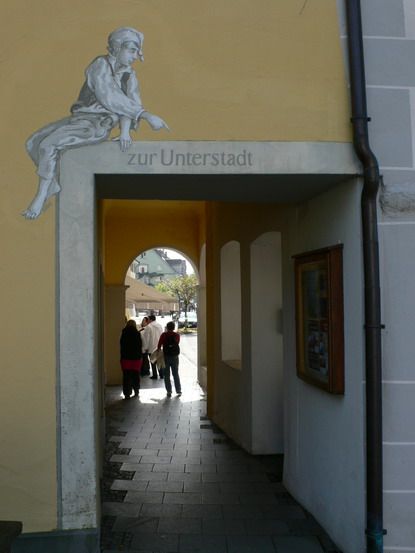 Meersburg
Copyright 05-2010 © Ninos Flying Cigar