15 Dec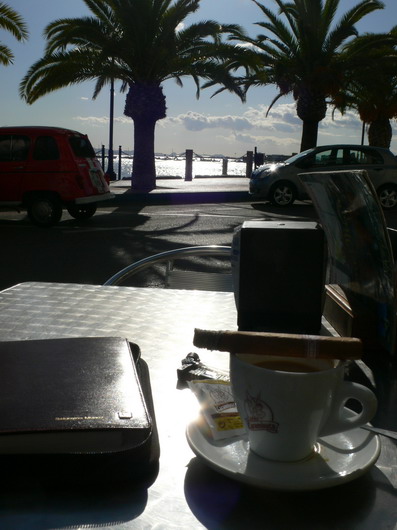 Arrival cigar at Mar Menor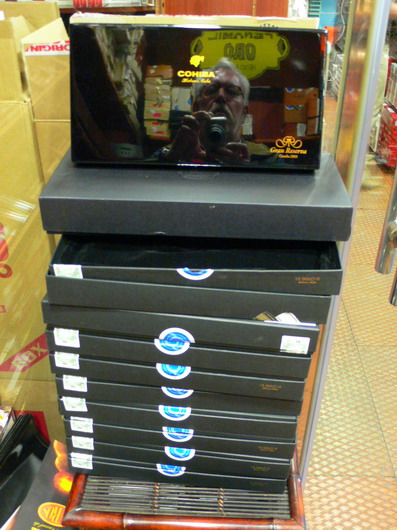 Cohiba Gran Reserva 2003 at Diego's Cava de Puros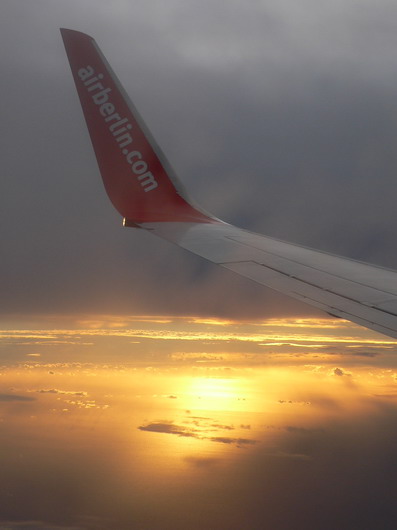 Sunrise over the Med approaching Palma
December 2009
It was off again to Spain but this time I left my car at home and, even though it was a bit of a detour, flew via Palma de Mallorca to Alicante, stayed for 9 days at the Mar Menor and flew home from San Javier airport again via Palma to Frankfurt.
All this to avoid both flying Ryanair and driving through France.
The flights were on Air Berlin.
Excellent performance, first class service both on the ground and on board and none of the "barking, commanding, hurry up and wait, pay-for-every-detail-but-no-service-at-all- plus non stop-announcements-in flight" attitude of Ryanair.
Also, it was flying off from the "real" Frankfurt airport, not from a "lonely-hut-in-the-backwoods-named Frankfurt-Hahn" that is more than an hour away from the real thing.
After the novelty of flying the cheap carrier has worn off, I am happy not to use them again except as a last resort.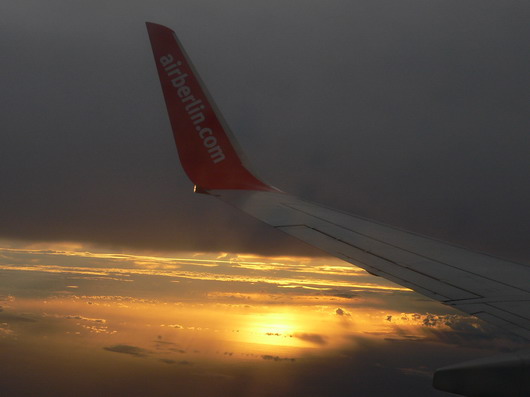 Sunrise over the Med
Approaching Palma
Transit time at Palma allowed me to smoke a breakfast cigar in the spacious but foul smelling smoking lounge opposite my departing gate.
On the return leg we bought some Torres brandy and a Mallorquin Herb Liquor for home.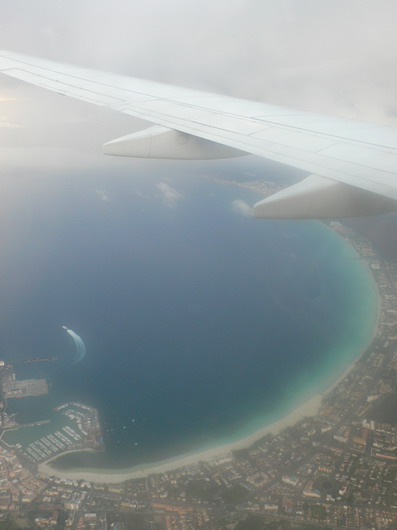 Mallorca coastline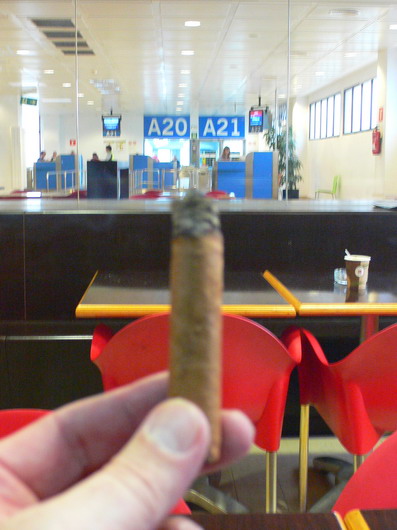 Smoking at the gate
There were family matters to be resolved and I spent basically all the time sorting and working out paperwork, doing all kind of errands and having almost no time for myself.
Fortunately Inge joined me there for a week to help out and we took a few breaks from the work to enjoy a lunch in the sun and some tapas and café con leche in the afternoon.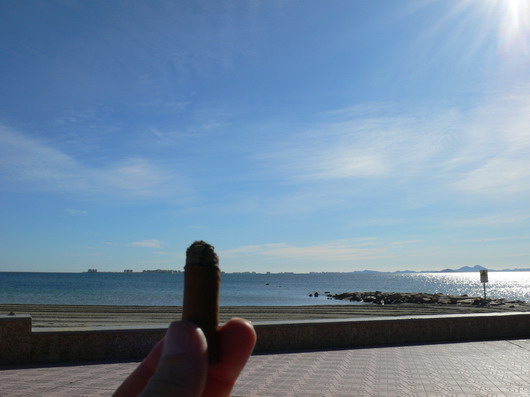 Mar Menor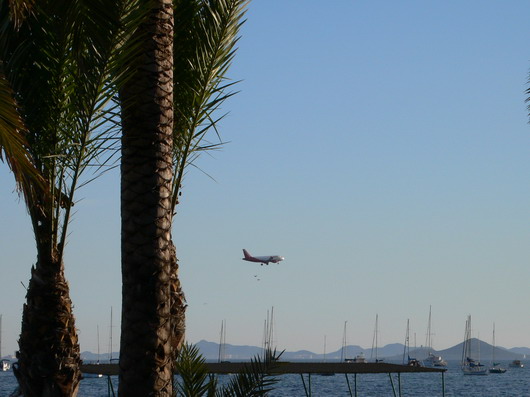 Inge's plane on final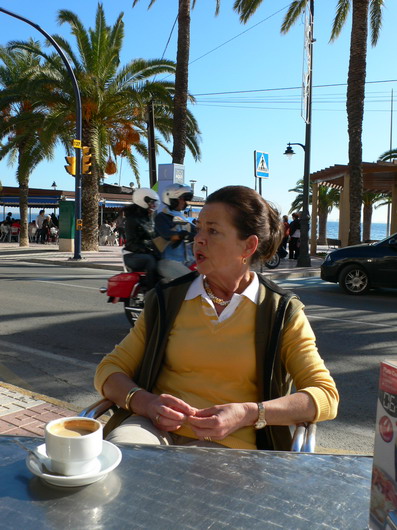 Inge enjoing the sun
The weather was absolutely glorious with temps in the lower 20's and I had the chance to smoke my cigars outside by the beach or on the large and sunny L-shaped terrace of our Hotel room overlooking both the Mar Menor and the Med while watching the flamingos feed on the salt flats
After staying a few times at the Barcelo Lodomar Hotel, I discovered during my last visit that its general manager, Gabriel, is also a keen and very interested cigar smoker himself.
So, besides the great rooms & rates, excellent breakfast and service, another incentive has been added to staying there; talking cigars with this aficionado.
The daily paper was bought at the Estanco, this being Cava Diego, my cigar merchant in the village, and Diego showed me some gorgeous boxes of Cohiba Gran Reserva 2003.
He had received 15 boxes – not bad for a village merchant, large merchants in Madrid have received up to 50 boxes per store – and had so far sold seven. The regular price in Spain is 675 euros, which is not bad compared to the asking price in Germany and was of course very tempting with Christmas coming up ………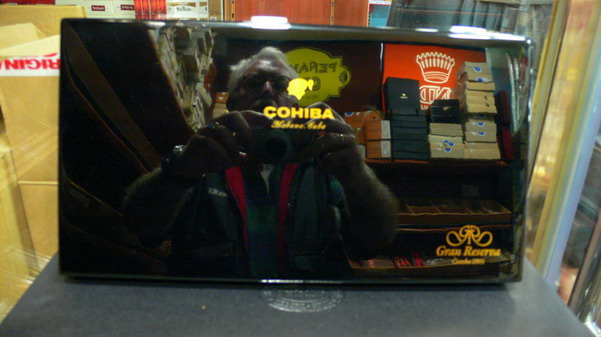 CGR 2003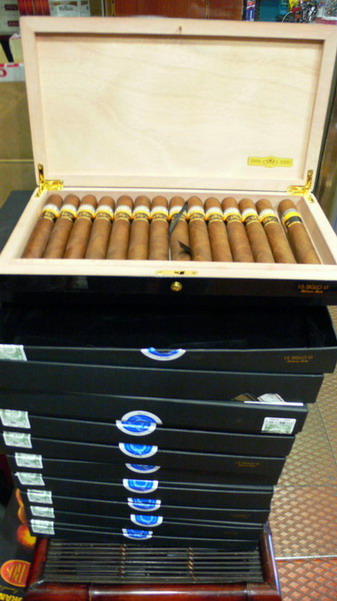 CGR 2003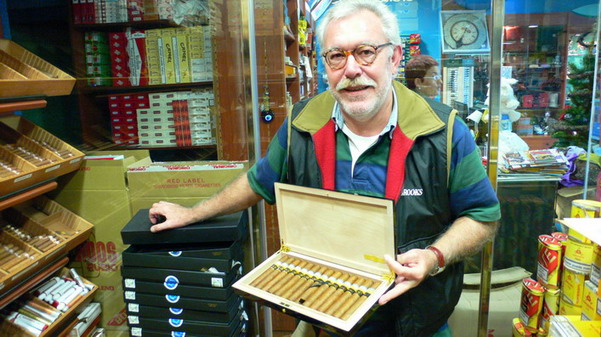 CGR 2003
Guess the only one regretting Christmas, or rather positively hating it, was the large turkey that saw his last day at the restaurant I frequent in the village.
Very tasty meat and the blood was boiled and cooked and put up tapas style with pine seeds.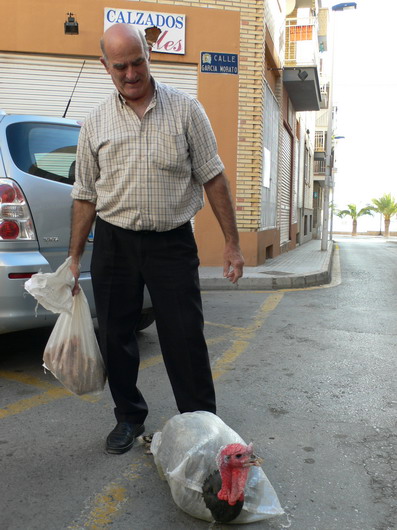 Gines & turkey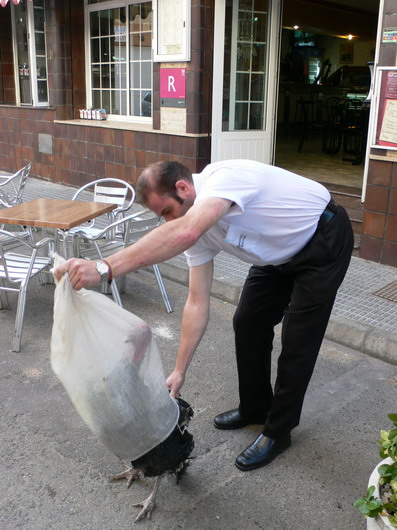 Fran liberating the turkey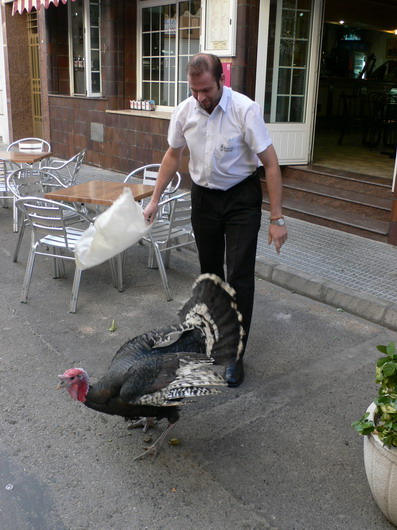 Fran & turkey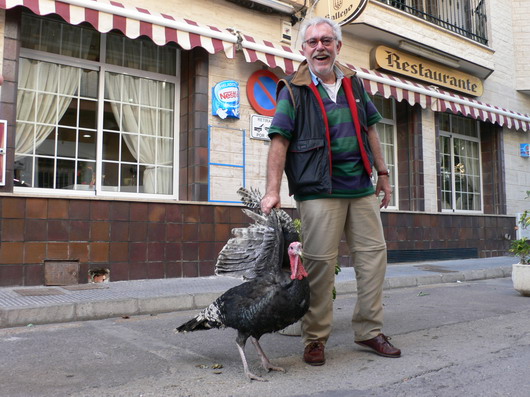 No take off for this turkey
Lottery is big in Spain, and the biggest lottery in the world is the Spanish Christmas lottery called "El Gordo" – the Fat One – that is played basically by every man, woman and child in the country.
The drawing of the winning numbers is televised on national TV and is specially old fashioned, as the numbers are sung by schoolchildren.
Inge bought some of her lucky numbers and, if lucky, we should be worriless forever – at least this is what the guy selling the lottery tickets at Cabo de Palos swore.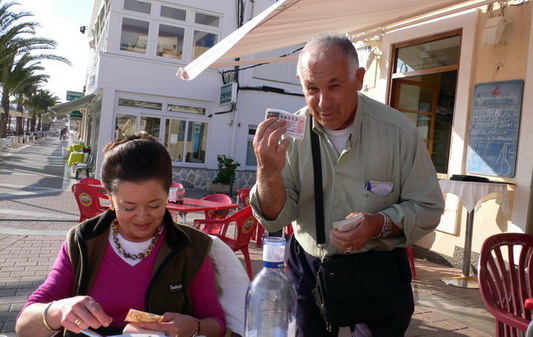 Inge buying the "El Gordo" lottery in Cabo de Palos
Other than a lunch with good friends, this sunny lunch in my favourite spot at Cabo de Palos, looking out over the Med and the fishing boats, was the only way to relax a bit from the stress.
Cabo de Palos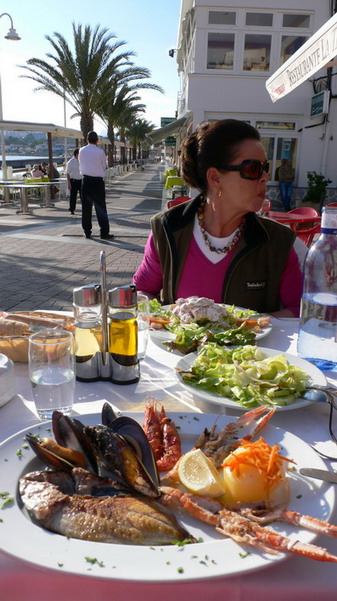 Cabo de Palos
Obama received the Prize in Oslo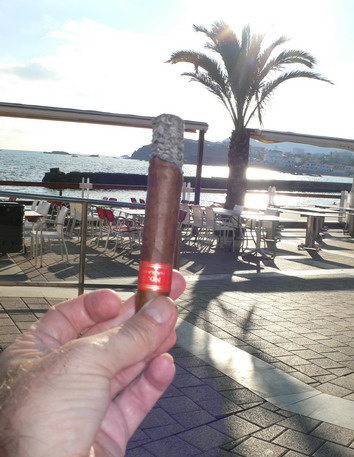 Cabo de Palos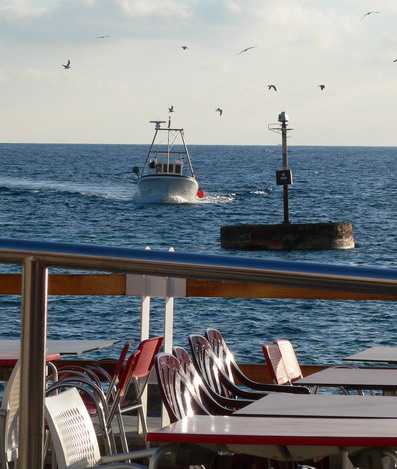 Cabo de Palos
Pepe, a retired flight engineer with lots of flying experience and stories to match, enjoyed dipping our cigars in his homemade herb liquor after our lunch at his home – something he's been doing all his life. A practice that is still widespread in Spain, with cigar smokers dipping their sticks in anything from coffee to brandy while smoking.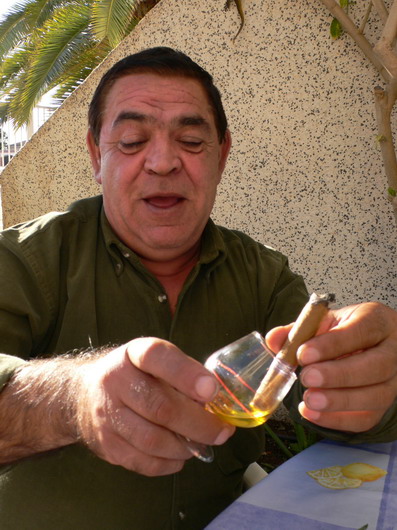 Pepe dipping the Upmann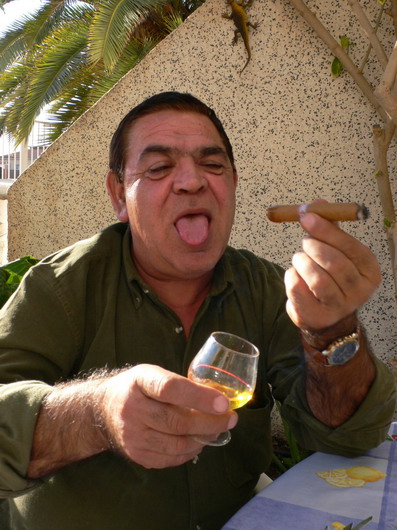 and enjoying the smoke
Another widespread custom is that smoking is still not only permitted but even privileged in bars and restaurants – like the Meson that I found in Cartagena that had a sign asking non-smokers to use the back street door to enter the place.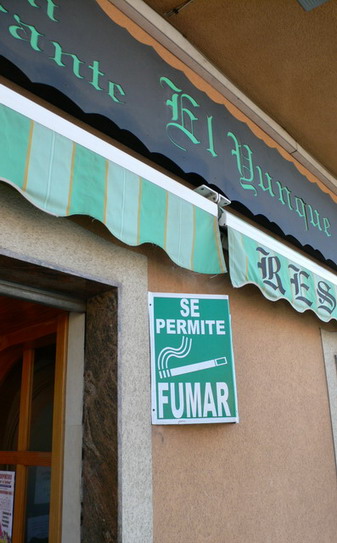 Smoking permitted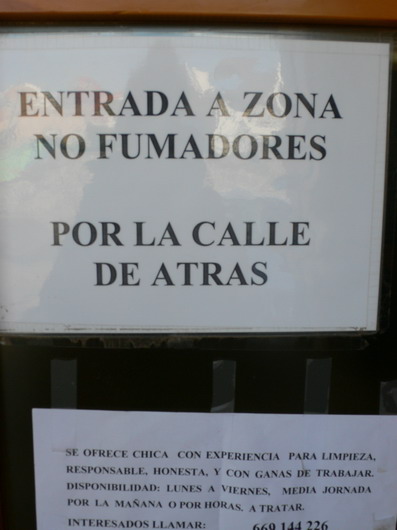 Entrance for Non-Smokers through the back street
Even Real Madrid gave me some satisfaction by winning in Marseille and playing well enough to be applauded for a change.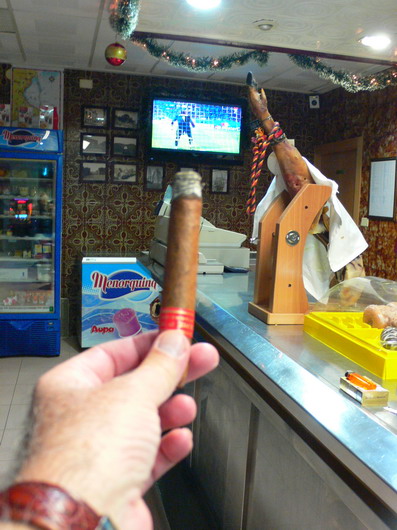 Celebrating Real's victory in Marseille
We returned home to snow and freezing cold, but enjoyed the cosy hospitality at Massimo's next day to celebrate our 25-th anniversary having a good dinner and a better evening with the pharmacist and the Massimo's.
This is where we all, our group of friends, will celebrate New Year's eve and after the formal dinner, we will continue celebrating well into the new year and Massimo's birthday that first day.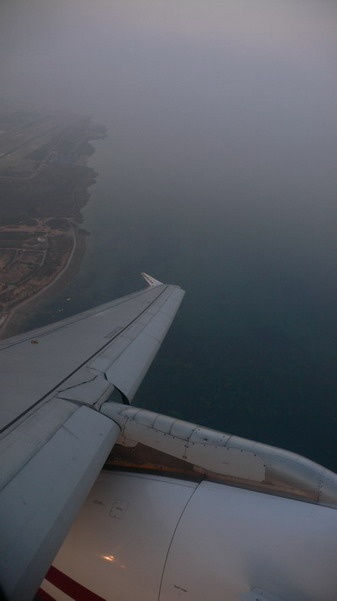 Saturday – Take off from Mar Menor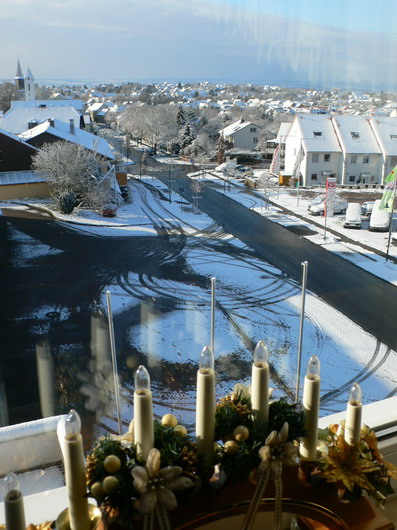 Sunday – Village in white
Guess this is the last report for this year, so here's wishing you all a merry Christmas and a happy new year !!
Nino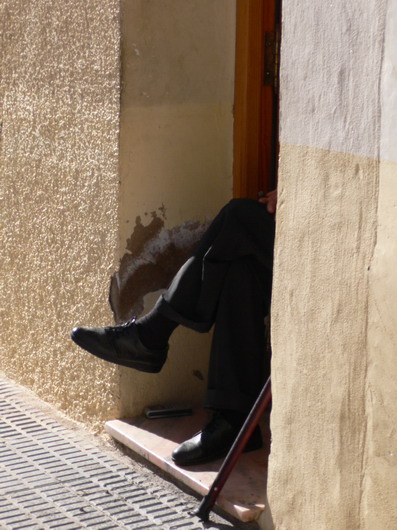 Old Man smoking a cigar in the sun
Copyright 12-2009 © Ninos Flying Cigar