12 Oct
On the Road in Europe – Trip Report
The pilgrims route to Santiago in northern Spain – Zamora
September October 2009
The "re-discovery of slow life" started pretty fast with an incredibly long drive – almost 1.700 km in one push, 1.673 to be precise, all the way from Wörrstadt in central Germany to Santander in northern Spain.
I started my trip at 6 pm on a Saturday planning to cross most of France in the night and staying a day or two near Arcachon, south of Bordeaux.
Driving went smoothly, almost like on railway tracks, well the opposite of what I was to encounter on my way back, and the only problem that I had was not falling asleep on the empty autoroutes south of Paris.
After 2 short naps in the car south of Orleans and near Cognac, I crossed the Garonde shortly after sunrise and arrived in Pyla-sur-mer around 8 am on Sunday morning.
The place was familiar as we had vacationed there long time ago in the 70's and I knew where I wanted to stay.
But, alas, all good Hotels were full and overpriced, the bad ones were underwhelming and really down at their heels and the only place that offered me a room told me to come back after 3 pm.
Being fit and enjoying the driving, the decision was quick, I would continue the trip and do the second part of the drive from Arcachon to Santander right away.
After a petit dejeuner of a half baguette and a croissant, café au lait, a petit corona, and "merci madame, au revoir – but not in this lifetime" I hit the road south towards Spain around 10h30 again.
Detouring twice to look at Capbreton and Hossegor, I crossed the Pyrenees' and into Spain.
Again driving was mostly easy and not a problem.
What was a problem though was that, although I loved the mountain landscape, I hated the places I was passing, one uglier than the next.
I had intended to stop and stay near Bilbao, where I visited school and lived for almost 4 years back in the 60's -but  I couldn't stand the ugly post-industrial junk and the polluted and overbuilt towns that stretched along the highway and the Nervion river to the Bay of Biscay. It was a competition for the worst eyesore around.
So ugly that I wondered whether I had really spent time there and whether memories dissolve and erase the ugly parts to leave just the nice ones – today I wouldn't be caught dead over the fence in that area.
Even the bays in the rocky coastline where I used to go swimming in my youth were littered with garbage and debris and the refineries, power stations and steel mills belching smoke on my left could not be made prettier by the blue Atlantic on my right. I didn't even care to stop until I was well past the city of Santurce for some panorama pictures that belied the ugly views of what I had seen the last hour.
On it was, Castro Urdiales and Laredo offered themselves with pretty beaches and views, but were also full of vacationing Basques, no way to get a quiet Hotel there.
I passed the fishing villages of Noja and Santoña and took a look at the bullring there – a friendly oldtimer smoking a cigar showed me inside the 1907 built ring.
I drove on until I reached pretty Santander at 4:30 pm and checked myself into modern, central Hotel Bahia that offered an unrestricted view from my room in the eight floor of the harbour, full of tall sailing ships – I had stumbled on the second annual harbour festival.
A 14 hour long haul flight is nothing compared to what I had just performed.
But I was cured of some memories and starting to enjoy the journey. I was catching my breath in Santander and enjoying a most attractive city. I decided to stay for a few days.
After a long shower it was out into town and a few cold beers to some tapas and a good dinner washed down with a good Ribera del Duero red. A Torres 10 Brandy and a good cigar finished the evening and made sure that I wouldn't dream of driving that night, as I was under the impression that a subway was running under my feet or an earthquake was happening from all the driving in the last 22 hours.
Next morning came up sunny and hot again and after a nice breakfast I walked the city admiring its civilized charm, its wealthy buildings, the well dressed and most friendly citizens and the charming beaches that give the city a beautiful seaside resort feel.
I walked up to the Magdalena Peninsula and around the royal palace that is a well known summer university now. In the aquariums I watched the penguins and sea lions being fed and the tall ships sail out of the bay.
A café con leche and a cigar overlooking the popular Sardinero beach area and then it was back to town and a visit to the "Mir", a Saint Petersburg based naval sailing vessel of the Russian navy.
Next to the harbour, in a central park, there were eating and drinking stands providing fresh and tasty northern Spanish food like hams, seafood, octopus and other staples of divine calories.
A smart octopus handler from Ukraine cut the beasts arms expertly and a friendly Cuban girl from La Habana Vieja, newly arrived in Spain 8 months ago, served it to me along with some cups of Galician Albariño wine ( cups in the sense of the word, as wine is drunk in cups in Galicia where Pulpo a la Gallega was invented ).
The old town was pretty full with people going out for tapas and drinks, as it was the eve of the regional patron virgin, celebrated with a fantastic display of fireworks in the harbour.
I watched it all while drinking a Torres and smoking a Partagas P 2.
My plan was to drive on the northern coastline to Asturias before heading south over the Picos de Europa mountain range and into the high plains of Castilla.
A few days later I bid farewell to Santander promising myself to return with Inge and stay in the Cantabria/Asturias region for longer, as I truly liked it and felt at home there.
Stopping for directions off the highway in Torrelavega I came upon a sign stating that the city had bonds with La Habana Vieja – funny encounter but not the only link to Cuba. I would see shop signs with the names of "Taboada" or "Seoane", familiar to Habanos smokers and a reminder of the many Spanish emigrants from those parts that left for Cuba centuries ago.
After driving the soft and lush green hills that had so much Celtic background in a radiant blue sky, I stopped in the small beach town of Comillas for a late breakfast. I waited for the Tortilla de patatas to be freshly made and enjoyed a Small Club Corona while checking my map. The weather changed drastically in that short time and I continued my trip in pouring rain. That and road construction managed to slow me enough to admire the Picos de Europa.
Passing south of Gijon and the mining town of Oviedo I slowly climbed up the Puerto de Pajares.
The altitude was almost 1.400 meters and stopping for a cigar near the top I felt like the clouds were just a touch away. Simply spectacular views all the way up from Santander.
Also spectacular was the change in climate after reaching the plains of Castilla – the sky opened up, turned blue and sunny again, the air was dry and hot and the view limitless.
I was passing signs for the Camino de Santiago, the pilgrim way and I would pass many pilgrims on their way carrying the typical shell on their backpacks. Later on in Galicia I was to put some of those beautiful shells in my bag as a souvenir.
I had reached my first destination, the small village in north-west Spain where I was born and would stay there for some time. It had changed little but positively in the last 24 years. That is when I last visited it.
While enjoying the peace and tranquillity of the village and my relative's fine home cooking, I had the chance to relive the simple village life. Grape harvest was on and I watched fascinated how wine was made the old way and stored in earthen vats and oak barrels in private cellars like I had as a child. Home made Chorizo sausage was brought out, sheep and goat cheese, good wine, it was culinary heaven. Daily trips to the market in Zamora would let me procure all the fine regional food available there, giving me a chance to walk the city enjoying a coffee or fine tapas like mussels (tiberios), pulpo, boquerones, callos before returning home to savour more home made delicacies.
Also located in Zamora is one of Spain's best museum of the traditional Semana Santa or Easter week and its midnight processions. Opposite the Viriato monument, a local hero that fought the Romans, I would visit the monumental Parador, a hotel located in a former 16-th century Monastery, where I stayed with Inge during my last visit to my village and enjoy the view over the Duero while smoking a cigar and reading the paper.
From the village I would start a side-trip that would take me for a few days to the Sierra de la Culebra, a mountain range straddling north of the Portuguese border and the Lake of Sanabria and home to a large population of deer and wolves as well as some of the best beef.
I passed spectacular areas and villages that were doomed, as in many places the people had moved away and no-one was left in them. I was to read that there were some 300 villages in the region that had not seen any births so far this century.
I continued to southern Galicia and northern Portugal from there. After driving around the Marin peninsula between Pontevedra and Vigo I left the main road south of Baiona for the Costa Verde. The Atlantic was beautiful and so was the salty smell and the fresh seafood that I would enjoy to fresh Albariño and Ribeiro white wines wherever I stopped for the night. Again, a region that I will visit again and that left me impressed with its wild beauty and friendly, reserved people.
Taking the ferry boat from A Guardia I crossed the Minho river into Portugal, continuing south and then east across the mountain range appropriately named Tras os Montes – behind the mountains.
Once more, a highly spectacular scenery and a part of Portugal that I was not familiar with.
For my next visit I plan to take the river boat from Spain to Oporto on the Douro river and enjoy the wine region with Inge. After spending a week in Oporto and falling in love with the city, I am interested in seeing more of its hinterland and enjoy its unpolluted beauty.
Returning to Spain, I drove back to Zamora and more discoveries.
With so much history around in Castilla, I wanted to take day trips with my aunt and uncle, and so we visited Toro to visit the Gran Colegiata church and the old traditional wine cellars. We spent a day in the historical city of Salamanca, home of the world's fourth oldest university and a great Plaza Mayor.
Travelling around Castilla we visited the small town of Urueña, ringed by a fortress wall and beautifully preserved. All along the hills were the castles that give name to this part of Spain – Castilla.
Along with castles the area is also home to many Monasteries – like the monastery of La Sagrada Espina, truly overwhelming.
A day was also spent visiting Tordesillas, a small town by the river Duero that was capital of Spain in the 1500's and home of the famous treaty signed 1494 between Portugal and Spain to divide all new discoveries and dominions between them.
All good things must pass, and after promising to return in significantly less than another 24 years, I bid my village, my relatives and all friends there farewell and crossed Spain from north to south to visit my parents on the Mediterranean coast.
Rain and flooding awaited me, floods so severe that streets and roads were closed – funny, it rains there every year, nothing new, really, but obviously all the construction and all the Urbanizaciones built in the last 30 years have managed to block riverbeds and seal the earth so that the consequences are worse every year.
A real shame and very much third world conditions.
The whole Med coast, as I see it,  is in dire need of some serious "re-arranging" back to its natural status – preferably with lots of dynamite to blow away the cancerous growth of second-homes and third-apartments only used in July and August and then left empty for 10 months.
If it wouldn't be for my parents living there, I seriously doubt that I would even fly over that area – more so after having been to the "other Spain", which often is to be found a short drive from the coastline, not just in Castilla.
But the beach, preserved from construction by a natural bird habitat, was nice, the area quiet after all the summer tourists had gone away and I could again arrange some needed help for my parents, so the days there were well spent.
It was almost 4 weeks since I had left home, not just Inge but even my mother-in-law was missing me, and I was getting an overdose of driving.
On my way back home I was invited to spend a few days in Calpe with my friend Heiner and his wife, giving me a needed respite and clearing my head before the long drive home.
It was surf & turf there, as we had summerlike temperatures that allowed us to have seafood dinner by the beach and enjoy a cigar until midnight out in the fresh sea breeze and the next day a great outing into the mountains, valleys and canyons of the hinterland for some great lunch in a small bodega that was very hard to reach on a curvy, winding and spectacular road.
I left Calpe in the morning, again driving like on tracks all the way up to the French border, passing Barcelona in an eye-blink and stopped near L'Escala for a last good meal and a cigar in Spain.
Peas & Ham followed by rabbit and a MC Edmundo with coffee.
Not long after crossing into France and the weather turned ugly, the sky opened the floodgates and the autoroute was flooded forming a 15 km "bouchon" or standstill.
Well, standstill it might have been, but still some frenzied, chaotic and anarchic drivers would try to drive into my trunk blazing their lights and trying to force their way.
Incredible. Stupid. Fearsome. Exceptional, I thought.
After all, the speed limit was 110 in the rain, 130 in (non-existing) sunshine and we were all standing still. Must be my German licence plate, I thought.
But later, a 120 km south of Lyon, in thick fog, rain and slippery roads the same thing again.
Les Kamikazes de la autoroute. Blazing headlights announcing : "get out of my way or I'll slam you all the way to Germany".
I was tired of guessing whether they just hated me personally or were all in a hurry to get to an airport and fly to Thailand to have sex "avec les garcons", as the radio announcer was just explaining some minister with a prominent name and little culture had done, and pulled out into a run-down Hotel in a deserted village where I could relax with a few beers, a not very tasty beef brochette ( shish kebab avec frites ) and wash it down with some Marc de Bourgogne while smoking a cigar outside in the rainy, drab and gray nothingness as smoking is not allowed inside anywhere.
The last part of the trip went more or less the same, with the added nuisance of more Kamikazes in rush hour morning traffic into Lyon and some more maniacs between Nancy and Metz.
Swearing, uhm …. promising to take the plane next trip south, even if it involved flying Ryanair, just to avoid the autoroutes and their manic drivers and be able to spit on their empty brains, I crossed back into Germany and the civilized driving on Autobahns without speed limits but with lots of common sense.
Even the weather cleared up and I was able to enjoy the first sunshine after crossing the Pyrenees'.
Four weeks and 6.613 km after leaving Wörrstadt I was home again and it felt good to smoke a cigar in the sunshine of the village.
Nino
See also the Picture Galleries :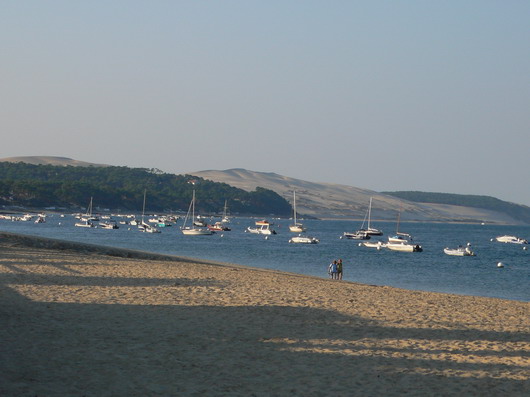 Pyla sur Mer and the big dune – south of Arcachon/France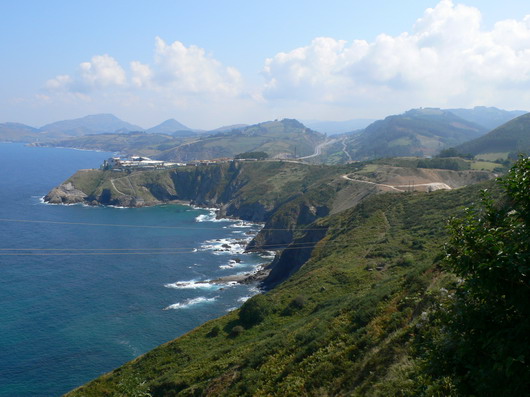 The Basque coastline near Santurce/Bilbao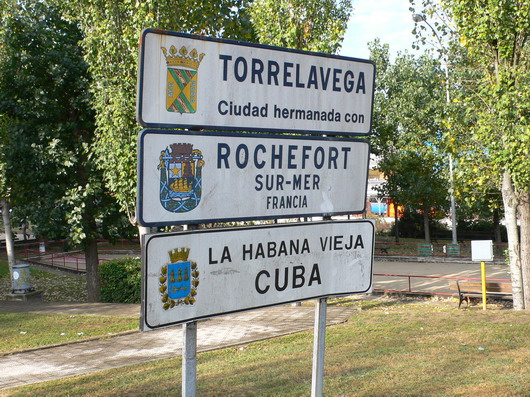 Funny Encounters – Torrelavega, sister city of Old Havana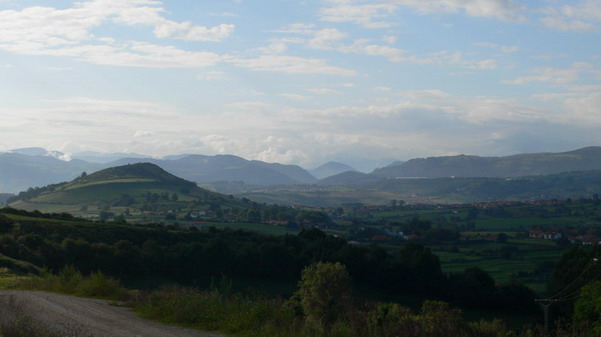 Picos de Europa – Cantabria/Asturias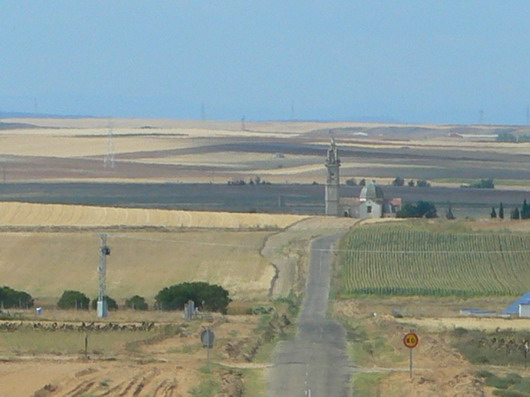 Castilla – Tierra de Pan, near Zamora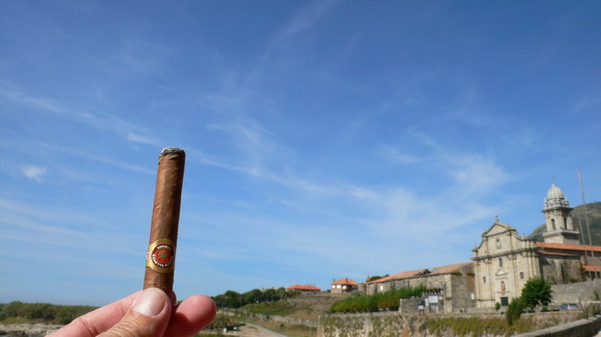 Real Mosteiro de Oia – Galicia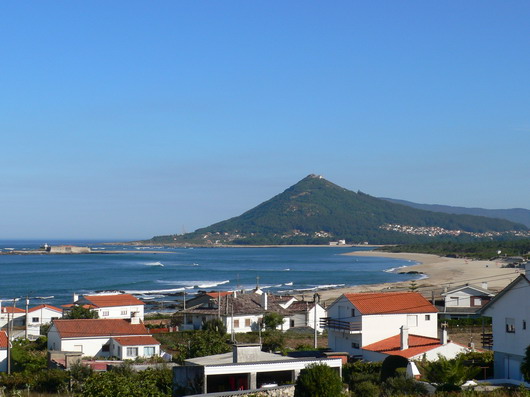 Looking back to Spain from Portugal – Minho river delta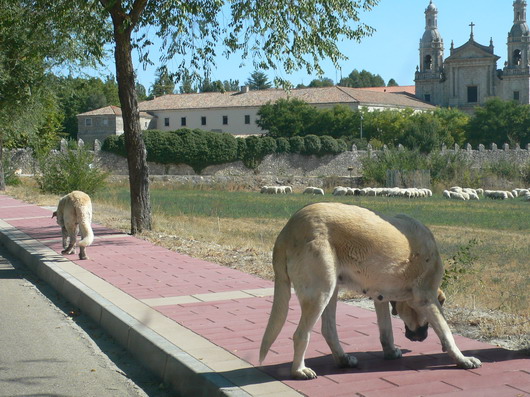 Shepard dogs at the Monasterio de la Santa Espina – Valladolid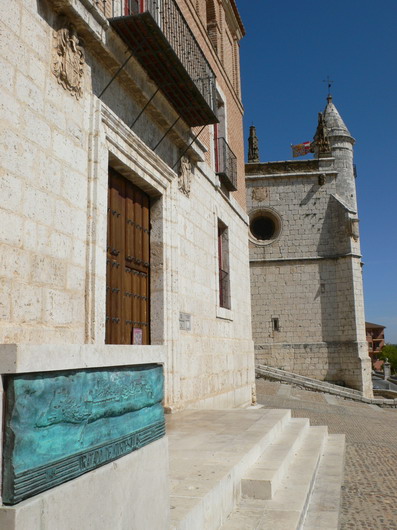 The Houses of the Treaty – Tordesillas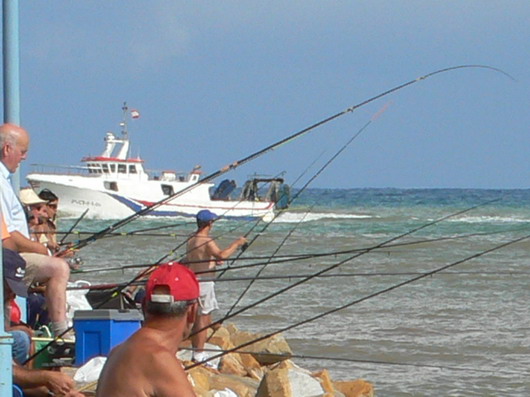 On the Med at La Manga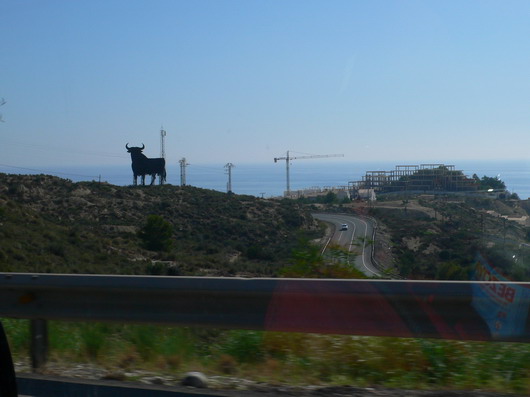 On the Med near Benidorm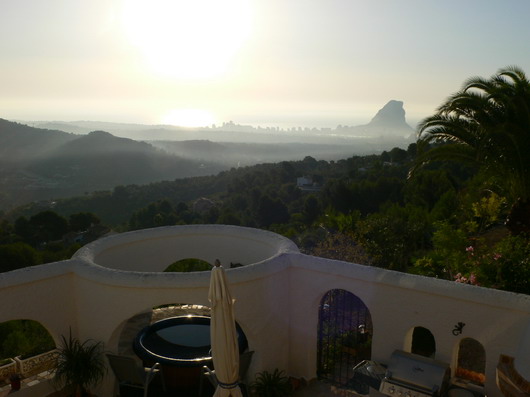 Calpe and the Rock of Ifach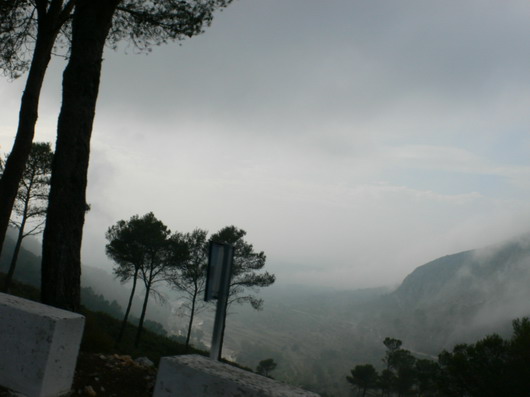 Driving the canyons, mountains and valleys of the mediterranean Hinterland – Near Vall d' Ebo
Bouchon Monkeys  : Worst driving, worst drivers, worst weather – the French autoroute nightmare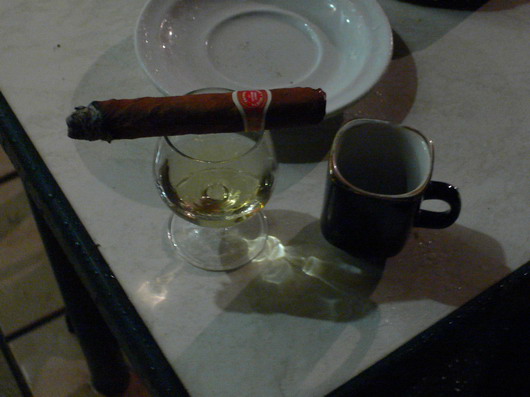 Last stop before home – Marc de Bourgogne in Burgundy
Copyright 10-2009 © Ninos Flying Cigar