7 Mar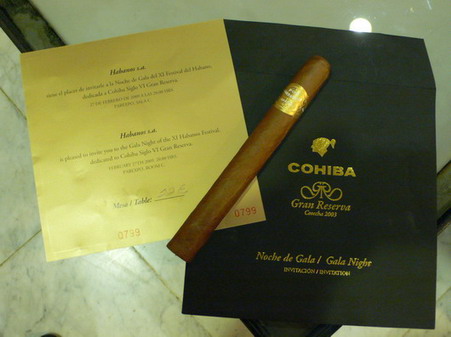 XI Festival del Habano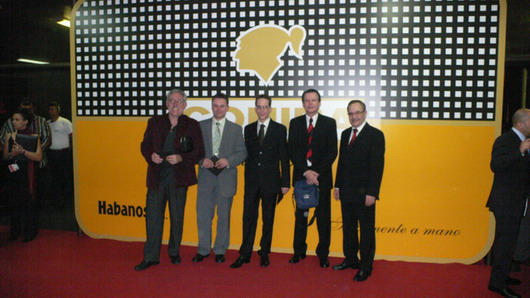 Gala Dinner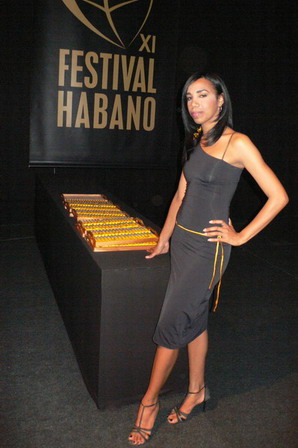 Gala Dinner
Welcome Night & Gala Dinner
Da die Welcome Night am Tag nach unsere Ankunft stattfand, hatte ich mich auf eine zweistündige Siesta im Dunkeln des Teatro Karl Marx eingestellt – langweilige Show und das same-same  Blah-Blah zu neuen Zigarren.
Aber es kam anders, die Show war frisch, die Musik gut, das Blah-Blah kurz und die Sache in 45 Minuten über die Bühne – warum nicht gleich ?
Vorgestellt wurde die Montecristo OPEN – der Werbefilm hätte für ein Lifestyle Magazin sein können. Man sah nur happy people, jede Menge Golf, Tennis, Yachten und open air feeling.
Für welche Zielgruppe ist die Zigarre bloß gemacht wordem ??
Jedenfalls kann ich nur sagen dass von 4 meiner zugeteilten OPEN Zigarren 3 sehr schnell – ich meine in Minuten – im Ascher gelandet sind. Es war heisse Luft die auch nach drei Zügen nicht besser wurde.
Die vierte wurde verschenkt. Ich bin kein Masochist.
In der ganzen Gruppe gab es die gleiche Reaktion – Pfui Teufel was ein Ding.
Das Gala Dinner war da schon eine ganz andere Liga. Gediegen, super Ambiente, super Zigarren – die Cohiba Gran Reserva war im Konsensus die Beste seit Jahren wenn nicht seit … na, zumindest an die 99,5 Punkte kam sie.
Ich rauchte sie bereits mit meinem Lieblingsapotheker zu Hause und wir teilen diese Punktzahl.
Eine fantastische Zigarre – mit einem wohl fantastischen Preis, den ich mir wie 99,5 % der Zigarrenraucher nicht leisten kann.
Dafür war die Show wie erwähnt einfach Spitze, das Flamenco Ballett göttlich, das Orchester genial und alle anderen Superlative dieser Welt noch dazu.
Superlativ war auch das Ergebnis der Auktion, hervorragend geleitet wie immer durch Simon Chase, der dieses Jahr in Rente geht. Es kamen 981.000 € zusammen, ein Batzen. Der Cohiba Humidor ging für 350.000 € weg wie warme Semmel. Und es hätten wohl auch mehr sein können.
Krise ? Welche Krise ??
Fragt sich nur wie viele der Humidore nächstes Jahr noch herumstehen ……….
Eine der Köche der sich durch eine Taxifahrt seinen Monat verdiente und uns zum Hotel fuhr, brachte es auf den Punkt : Sind die Leute denn meschugge ? Die Stumpen sind doch nur ein paar hunderter Wert und hörte nicht auf sich den Kopf zu kratzen.
-.- 

As the welcome night was held the day after our arrival in Cuba, I planned the usual 2 hr nap in the dark Teatro Karl Marx while the show went on and the usual blah blah about this year's new release was broadcasted.
It was a very different song & dance this time around, the Show was fresh, the music was good, the blah blah was short and the whole thing ended mercifully short in 45 minutes – why not always ?
The new Montecristo OPEN was introduced – the promotion clip could have been straight out of a lifestyle magazine. Lots of happy people, golf, tennis, yachts and open air feeling.
Who are the targeted happy people for this cigar ?
All I can say is that 3 out of the 4 cigars I received landed in the can pretty fast – I am talking minutes here. It was hot air that didn't improve by further puffing. The fourth was given away. I am no masochist.
The group's reaction was all same : WTF is this thing ??
The gala dinner and auction was a wholly different ballgame. Luxurious, great atmosphere and great cigars. The consensus on the Cohiba Gran Reserva was that it is the best cigar released for years and she reached 99,5 points on my scale.
I smoked the CGR at home with my pharmacist and he shared my choice of points. A fantastic cigar with a fantastic price which I, like 99,5 % of all cigar smokers, will not be able to pay.
But the Show was great, the ballet perfect, the orchestra magnifique, the flamenco dance troupe out of this world and all the other superlatives of this world.
Superlative also the result of the auction, led by the outstanding Simon Chase who will be retiring this year. 981.000 € were collected, more than last year.
The Cohiba humidor took off like a rabbit for 350.000 € and it could easily have fetched more.
Crisis, what crisis ??
Just wondering how many of the humidors will still be around next year.
One of the cooks who made their month by driving us back to the Hotel after the event, just wondered about the sanity of people paying that much for cigars that in his opinion were worth only a couple of hundred and kept scratching his head.
Siehe Fotogalerie – See Picture Gallery :
Teatro Karl Marx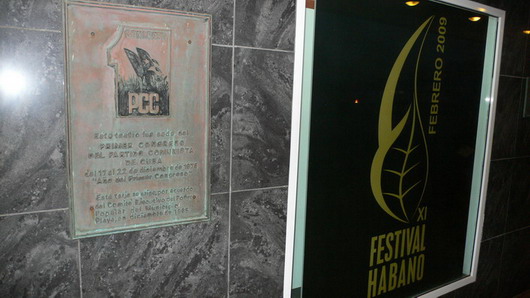 Karl Marx, PCC & FdH
Marc & Urs Portmann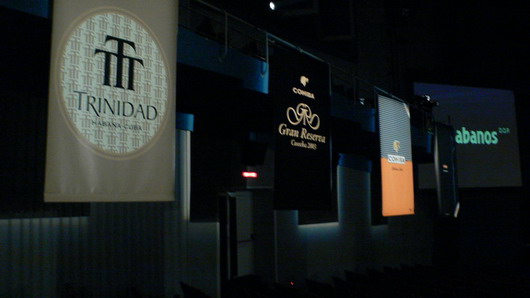 Teatro Karl Marx
Marc & Urs Portmann & Arturo Mejuto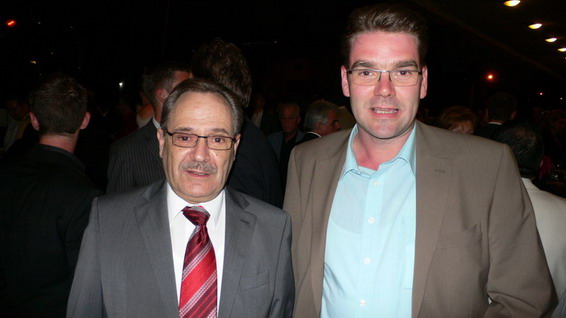 Urs & Marc Andre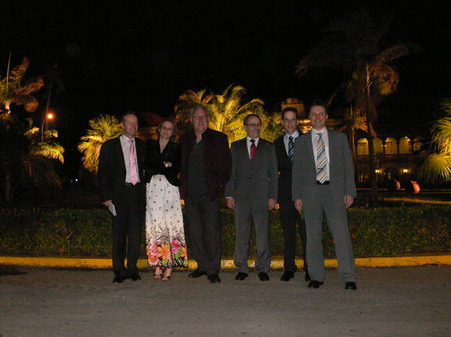 Habana Club – Welcome Nght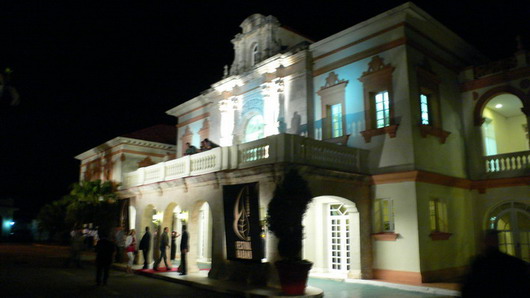 Habana Club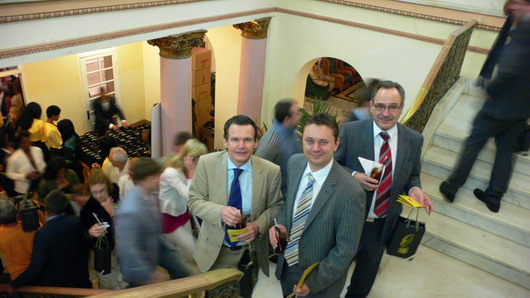 "Super" Mario & Urs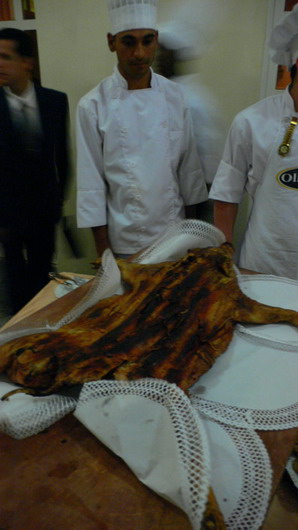 Flying Pig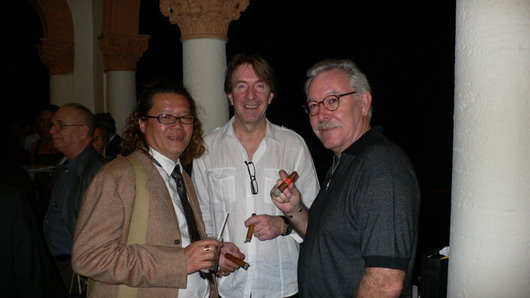 Jimmy & Kay G.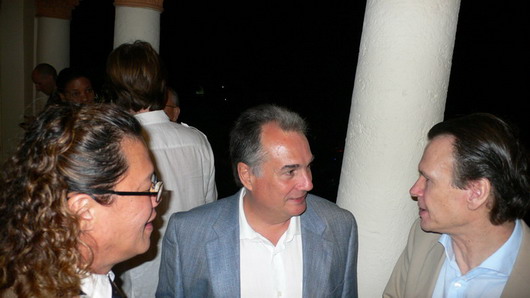 Jimmy & Arturo Mejuto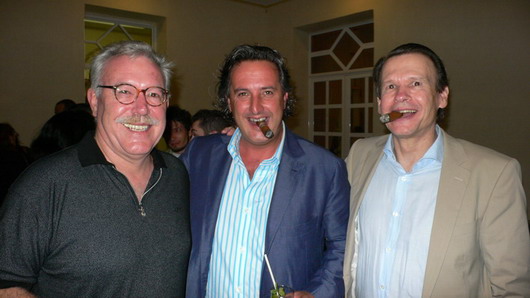 The Cigar Czar from down under – Rob Ayala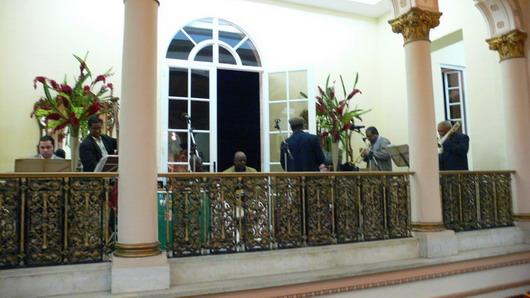 Habana Club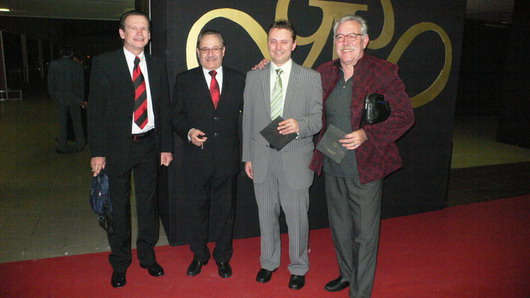 Mit "Super" Mario – unserem Besten !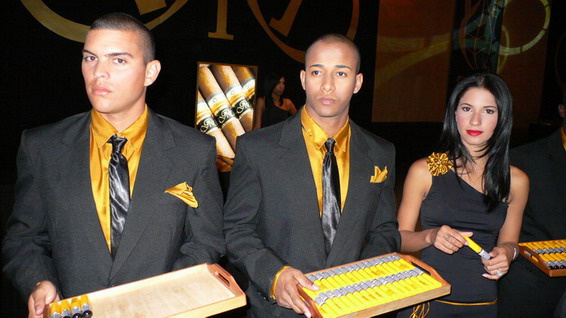 Gala Dinner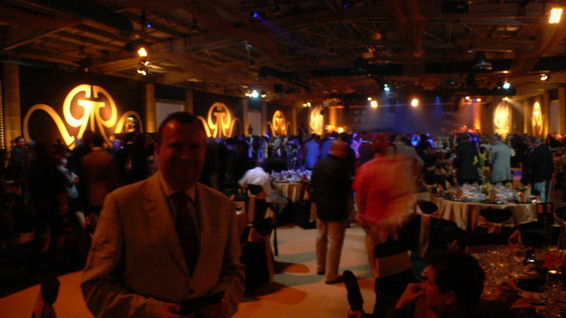 Pabexpo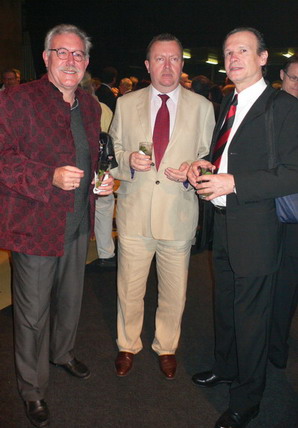 Gala Dinner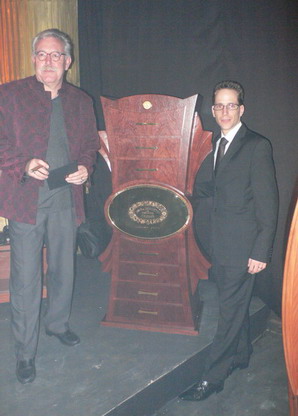 Hoyo de Monterrey Humidor at the Auction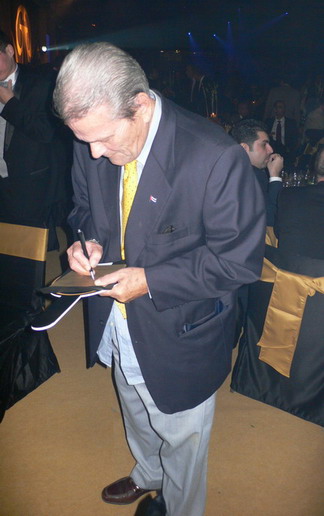 Adriano Martinez Rius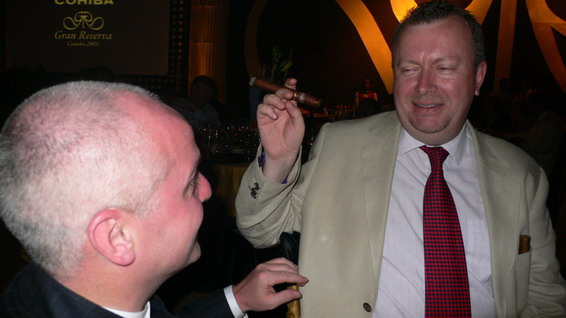 Cris & Captain Keith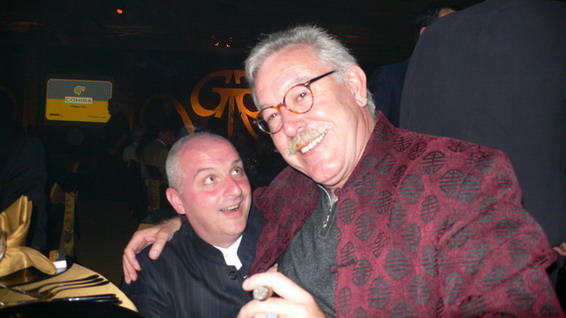 Fooling around with Cris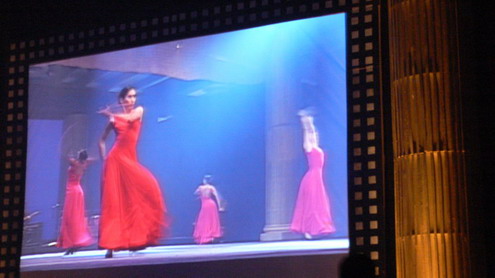 Flamenco Show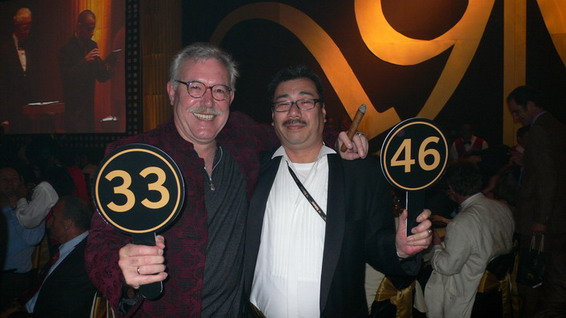 Bidding with Carlos-san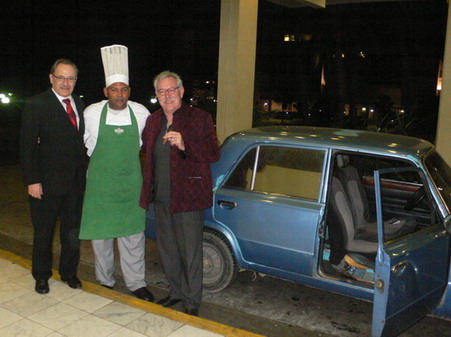 Ein Koch, ein Lada, ein Taxi – A cook, a Lada, a cab
Copyright 03-2009 © Ninos Flying Cigar