7 Mar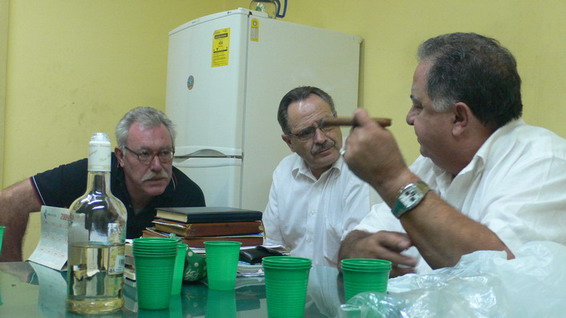 Spezialitätenfabrik – Specialties factory / Director Armando Rodriguez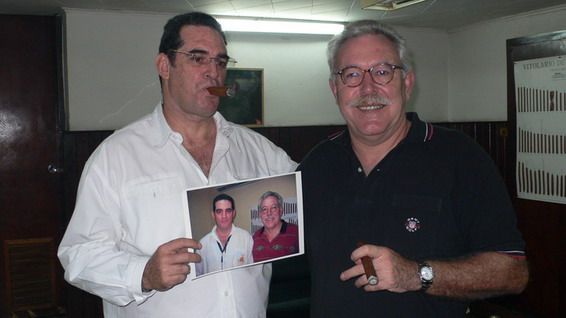 Carlos Lazaro & Nino 2004 in La Corona & 2009 Romeo y Julieta
Romeo y Julieta – Hamlet
El Rey del Mundo / Fabrica de Especialidades – Romeo y Julieta
Es war ein sehr kurzer Besuch, denn die neue Spezialitätenfabrik hat wenig zu bieten, ausser den sehr freundlichen Direktor Armando Rodriguez, ein alter Freund aus La Corona Zeiten der jetzt hier etwas traurig die Stellung hält und darauf wartet dass es anläuft.
Zu 85% sei die Fabrik fertig hörten wir, die AirCon Anlage werde jetzt eingebaut. Wie jedes Jahr zuvor verspricht man uns dass die Fabrik nächstes Jahr zum Festival eröffnet wird. Que Dios lo crea, wie der Kubaner sagen würde.
Dann besuchten wir Romeo y Julieta wo ich Carlos Lazaro wieder traf, ebenfalls aus La Corona Zeiten – und er mich mit einem Foto von vor 5 Jahren überraschte !
In der Fabrik ist sehr wenig los, einige Lehrlinge werden ausgebildet, aber alles ist durch den Umbau wie ausgestorben.
Wir tranken noch einen Kaffee in dem RyJ Shop zwischen den Touristen die aus Varadero angekarrt werden, wo wir wieder auf Hamlet trafen, den sehr freundlichen und legendären Roller – der allerdings mangels Rohware nichts zu rollen hat.
-.-
It was a very short visit , as the new "Specialties factory" has very little to offer, except for Armando Rodriguez, the friendly director, an old friend from La Corona times, who holds the fort with a sad face and waits for the production to start.
We heard that the factory is 85% ready and the AirCon system is being installed. As every year, we heard the ritual promise to open the factory for next year's Festival. Que Dios lo crea, as the Cubans would say.
Then we visited Romeo y Julieta where I met Carlos Lazaro again, also ex La Corona, and he surprised me with a photograph of the two of us 5 years ago.
Very little activity in the factory, some rollers are being trained, but due to renovation all is deserted.
We had a coffee in the factory's shop among the day trip tourists from Varadero, where we met Hamlet again, the excellent, extremely friendly and quite legendary roller, who, regrettably, has no cigars to roll right now, as he has no raw material to roll them with.
Siehe Fotogalerie – See Picture Gallery :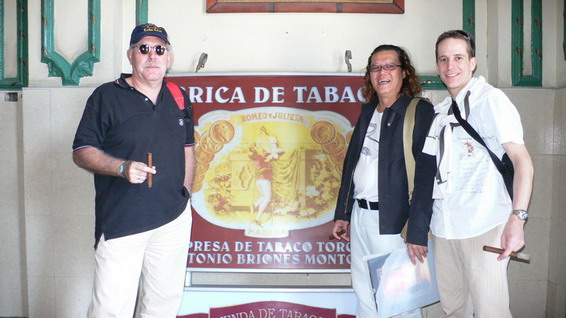 Romeo y Julieta – Jimmy & Marc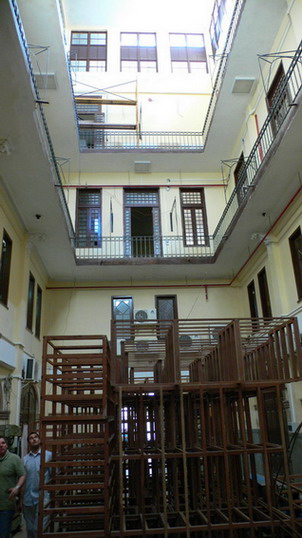 El Rey del Mundo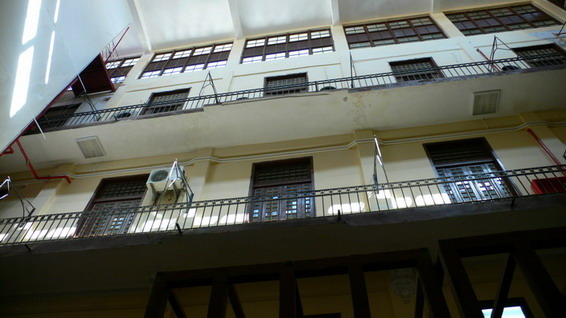 El Rey del Mundo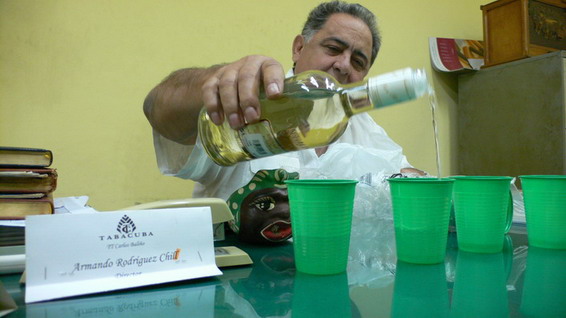 Welcome drink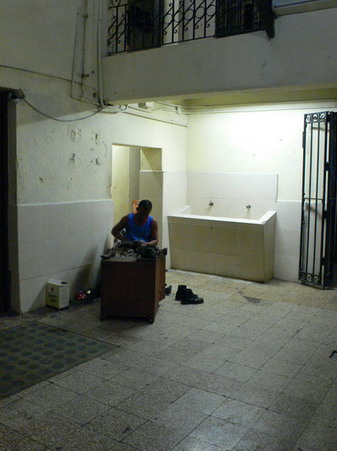 Romeo y Julieta – Shoemaker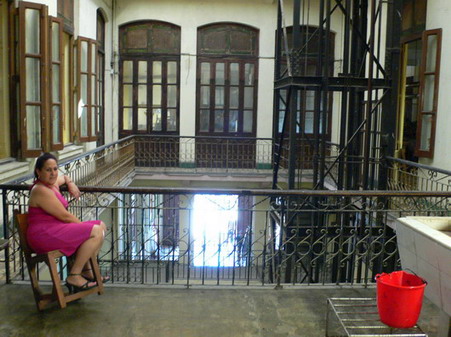 Romeo y Julieta – Virginia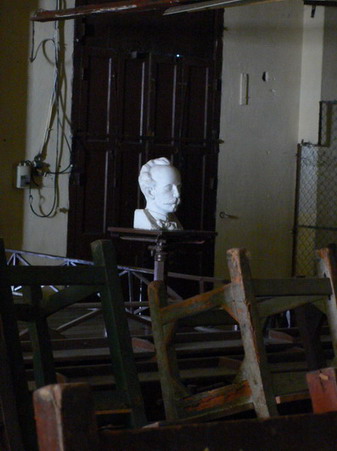 In the Galera – Romeo y Julieta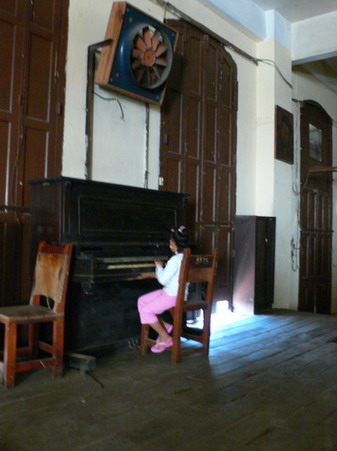 Romeo y Julieta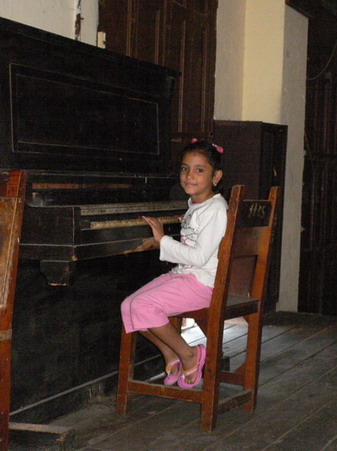 Romeo y Julieta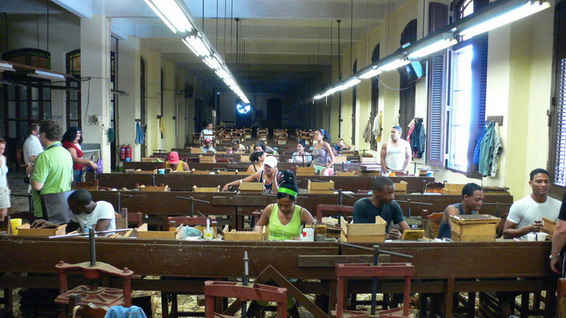 Romeo y Julieta – Training Galera
Romeo y Julieta – Roller Lehrlinge/Apprentices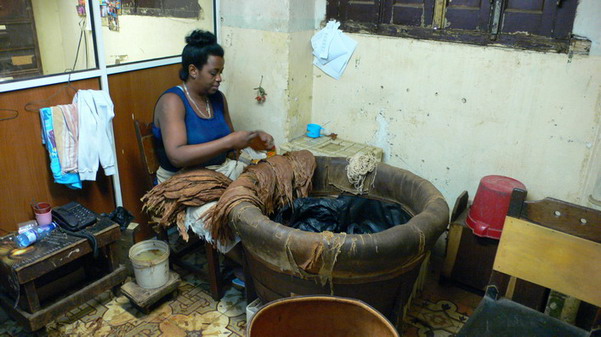 Romeo y Julieta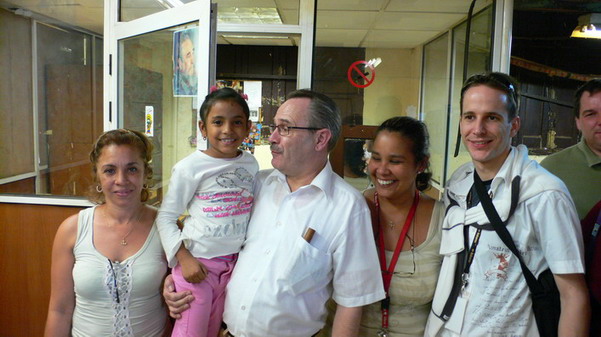 Romeo y Julieta
Copyright 03-2009 © Ninos Flying Cigar