6 Aug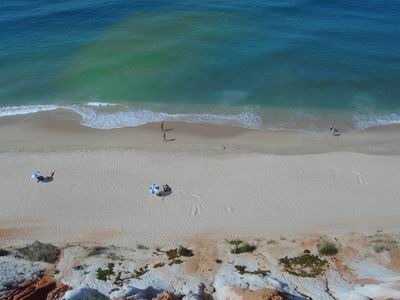 Smoking among Friends under Pine Trees
A brief Guide to the Algarve
This Report is in english for all my Portuguese Friends – my German friends will understand. 
On our Departure from Faro Airport I find an Article on Charutos ( cigars in Portuguese ) in the Airport Magazine. I take out a Montecristo Nr 2 and smoke it while reading the Article and waiting for our flight to be called.  
Now, that's what I call a Smoker friendly Airport.  
A quote is mentioned from an Interview with the actor George Burns :  
Is it true that you smoke eight to ten cigars a day ?
That's true.
Is it true that you drink five martinis a day ?
That's true.
Is it true that you still surround yourself with beautiful young girls ?
That's true.
And what does your doctor say about all this ?
My doctor is dead.  
Now, that's humour.  
It happens to be the Tenth Anniversary of our first Vacation in the Algave, and in the past 10 years we have been here 19 times.  
Now that's affection and loyalty for a place.  
It is not just the place that commands our loyalty and affection, but also all our friends there, the tranquil mood, the smells of pine and seaweed, the light, the deep blue sky, the white houses, the rusty ochre of the cliffs, the smell of frying sardines around lunchtime from all corners, simply everything………  
When we first arrived, I did not expect to fall in love with the place. To the contrary.
But all it took was just one look down the Falesia cliffs to the beach below, one walk down the beach to Vilamoura and back, one dinner at Fernandos Adega Ticosta, two weeks at the Sheraton and we were hooked.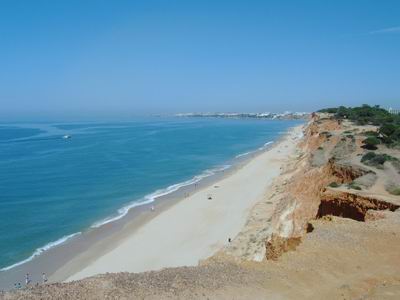 Ever since that first visit, we have been coming back yearly. In all seasons, to all places. From the Sheraton to the Balaia Village Resort to the Jardims de Falesia to Villa Peixe in Meia Praia to the Falesia Hotel. We have rented Apartments, Suites and Villas. We have our roots in the Falesia/Acoteias/Olhos de Agua area, and that's where we spend most of our time. Should we decide to retire somewhere, this will be the chosen corner.  
Although the Algarve is beautiful in its entirety, as we have traveled to it's four corners.
The Algarve is comparatively small, less than 160 kms from side to side, but very diverse.  
Tavira and the so called "Sand Algarve" which reaches from Faro to the Spanish border are attractive. Long stretches of fine flat beaches and dunes.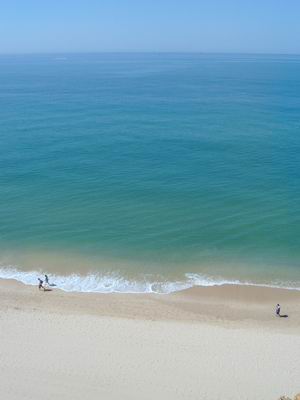 Falesia Beach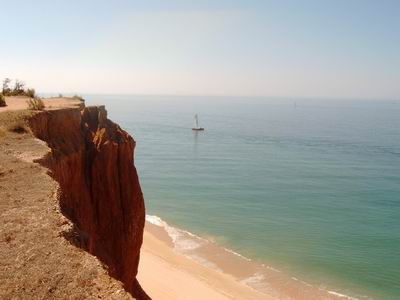 Falesia Beach
Falesia Beach
The "Rocky Algarve" is basically from Quinta do Lago to Sagres. The red cliffs shining bright in the deep blue sky with the seagulls flying overhead, the sound of the waves in my ears, now that's what I see and hear before I drift to sleep when we are on the beach at Falesia or Santa Eulalia.  
My wife believes that there is a weather "divide" at Lagos. It is indeed windy from there to Sagres and Cape St. Vincent, the trees are few and far between and the coast is rugged, wild and tough.  
It is the End of Europe.  
I like to sit in Sagres at the A Tasca Restaurant overlooking the harbour, enjoying fresh shrimps and a bottle of vinho verde while feeling that looking out to almost Brazil I have the wires and cables cut that connect me to everyday stress and hassle.
It is a wonderful feeling knowing that you can leave everything behind and enjoy that moment, feel free of those constraints and connections to the common "rat race".  
A worthwhile day trip to take it all in would be to start early and drive from Portimao to the Hilltown of Monchique. Take empty plastic bottles with you, as you can fill them up with fresh mountain water at one of the springs at the roadside leading from Monchique up to the top of Mount Foia, which at 904 meters ist the tallest in the Region. The view from the top is spectacular on a clear day.   
Then it is back down the road where you can have the best Frango ao Piri-Piri (spicy chicken) in one of the Restaurants on the left before coming back into Monchique. Our favourite is A Rampa.  
After taking in Caldas de Monchique, a haven of tranquility and the perfect setting for a well established spa, drive on top of the Mountains from Monchique to Marmelete, through the Serra de Monchique and the Eucalyptus forests. From here on to the beatiful and historic town of Aljezur, and after a stroll there continue southbound to the great beach of Carrapateira, get off the road and onto the rocky and dusty beachroad for the perfect view of this beach.  
Then it is back on to Vila do Bispo and a short drive to Sagres, with its Naval School established by Henry the Seafarer and decisive in Portugals conquests of the World and the Age of Discovery. It is another 6 kms to Europe's most potent Lighthouse at Cape St. Vincent, which you can visit by donating to the wardens. Spectacular views from here as well.
As you drive back towards Portimao, you may want to stop at one of the fishing villages like Salema or Burgau or visit the Resort at Luz.
Then you are in Lagos, an ancient City, where you can still see the remains of the slave market established in 1443 as the first in Europe. Take time for a stroll. Here you may also visit Ponta da Piedade, a rocky promontory in the coast. Or relax at the pleasant Meia Praia beach. Continue past Alvor to Portimao an attractive city, second largest in the Algarve, with a busy beach area, Praia da Rocha. Across is the sleepy town of Ferragudo. To get there you must pass the Bridge over the harbour. Underneath the bridge you can eat grilled sardines from a wide selection of Restaurants or book a coastal tour on a sailing boat.  
This would be the ideal daytrip to show you the diversity of the Algarve.  
Then there's the old town of Silves with its castle, also worth a visit, or take a trip up from Castro Marim to Alcoutim along the River Guadiana which marks the border with Spain. At Alcoutim take a boat over to the spanish village of Sanlucar del Guadiana.  
We have traveled and visited these landmarks many times and are still enthralled and surprised at the sights.
A word of caution though : be careful on Portuguese roads, specially on the dreaded EN 125.
Being so polite, friendly and introverted, it is hard to imagine Portuguese to drive like devils, but they do. Basically it is a constant change between someone driving far too slow, someone driving far too fast – you may think he is already inside your boot – and someone coming head-on at you around the bend passing some tractor or donkey cart.
It is a constant change between Valium and Adrenaline.
But to be fair, I must admit that the only accident I had was in Spain, where some sleepy Idiot actually drove into my boot – while doing 140 km/h on the Motorway between Seville and Portugal. And that was a few hours after his being released from the Hospital after a previous Car crash that had put him there for a few days …..
Portugal was never more welcome than that evening when we limped across the border at the Guadiana Bridge in Ayamonte.  
Our vacation routine consists of getting up early, around 07h and going for a jog from Falesia to the Alfamar Hotel and back along the cliffs. The sun rises behind Vilamoura, the smells of the earth are intense and the air is so crisp, spicy and solid that it can almost be "eaten" with a knife and fork.
Breakfast.
A lazy day of reading underneath a palm tree, an occasional Café com leite and a small Ramon Allones. One falls into a dreamless sleep, a void, perfect bliss. The soul relaxes and wonders at the peace surrounding it.
Then a check of the tides and a long walk around low tide from Praia Maria Luisa to Praia dos Tomates, passing Olhos de Agua and Praia de Falesia. During low tide you can pass around the bends of the coastline. The clam diggers are out and pulling in heavy bags of small clams –ameijoas- which the women or men will sort out themselves on the beach. The walk takes about an hour and a half and is a wonderful way to lose those calories from yesterdays Cataplana or Arroz de Mariscos.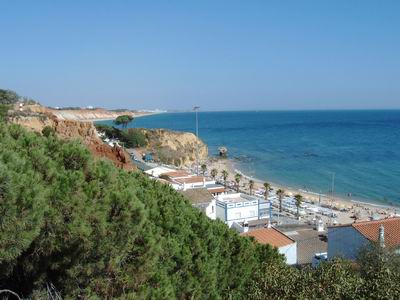 Olhos de Agua
Then it's Sundown time and there we are at Taberna Forja to have a talk with the owner Licinio, accompanied by a bottle of Planalto or a Cuba Libre and a Cigar.
Our Sundowner Place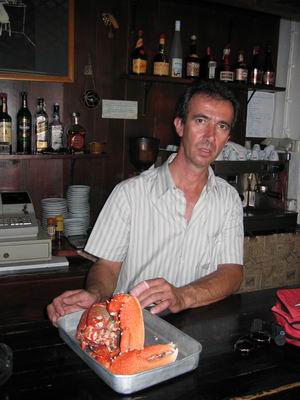 Licinio with dinner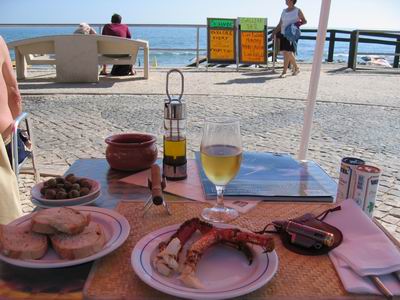 Little Snack & Cigar at Licinios
Facing the beach we enjoy the hustle and bustle, the end of the day activities, the strolling tourists and the fishermen working on their boats for the nightly ride out to catch tomorrows seafood. Conversations with Lucinio a friend from Boliquieme.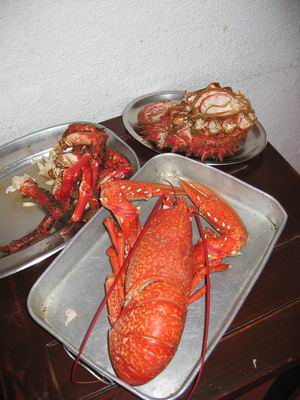 Fresh and tasty Seafood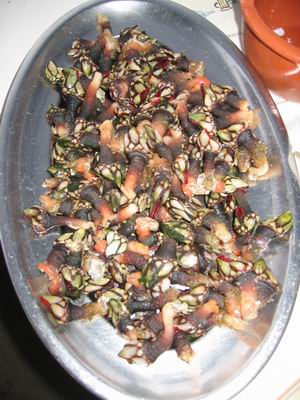 Fresh, delicious Perceves
Background music is by Eric Clapton, Van Morrison or the Buena Vista Social Club. A pleasure.
The sky turns pink, the contrails left by the passing Aircraft on their way to the Canary Islands or to Brazil are like straight arrows in the blue sky.
This is the place to watch the "office" fly by.
A table has been reserved at Adega Ticosta, our friend Fernando offers the best of the regional cooking in the area, especially if he has been out hunting or fishing or just slaughtered a pig or two and your command of Portuguese allows you to understand what's fresh and not on the menu.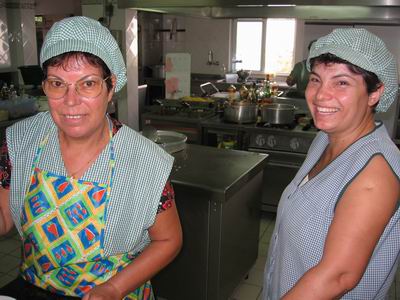 Lovely people and great Cooks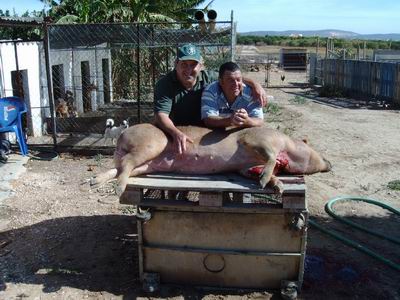 Fresh Pork for a few days
Like coelho (rabbit), jabali (wild boar), perceves or camarao tigre.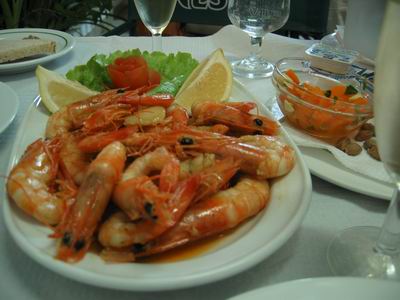 Appetizers at Fernandos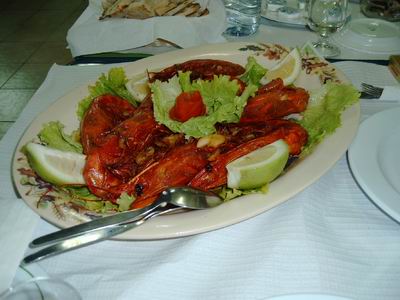 Camarao Tigre at Fernandos
A friend from our first visit, Fernando, his wife and two lovely doughters have taken us in as part of the family.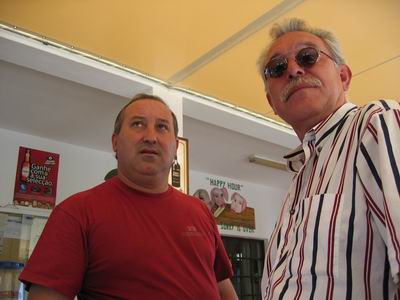 Fernando & Nino
He, together with Licinio, provides us also with information on good Restaurants, which we then try together. 
Places to recommend are : Cantinho da Ribeira in Alfontes overhead Boliqueime, Retiro da Isca near Acoteias, Laranjal near Olhos de Agua.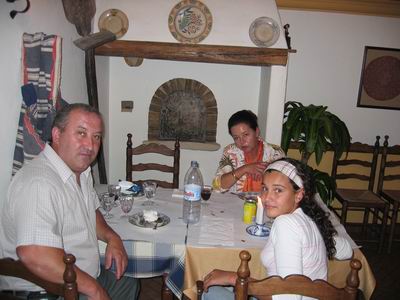 Fernando, Inge and Elisabeta at Cantinho da Ribeira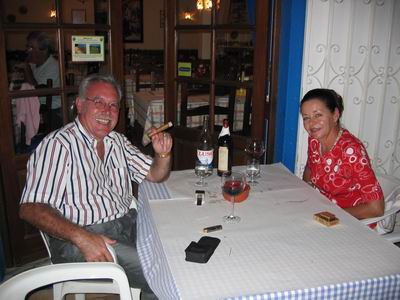 Enjoying ourselves at Retiro da Isca
Then there are other first class places a bit further like Veneza near Querenca, Camene in the Praia de Faro opposite the Airport, Gigis at Quinta do Lago beach. All of these require advance Reservation.
Further inland is a farmhouse serving good fresh food, Adega Nunes in Machados.
Another two excellent Restaurants serving great regional food are Paixanito near Loule and Moinho Ti Casinha, hard to find, hidden in a Valley near Querenca, a jewel.  
This time, Fernando took us for dinner with his daughter Elisabeta to Cantinho da Ribeira. A friend and former colleague from his long years at the Alfamar has opened a cozy, intimate restaurant.  
The menu is written on a simple piece of paper, as it changes according to market and season. We had excellent Papas de Milho com Marisco ( cornsoup with shellfish ), Bacalhau a brasa com Cebolada e Batatas Pala-Pala ( Grilled Codfish ) and a fantastic Tarta de Amendoa e Filgo, an Almond Tart. All of it great, fresh, cooked to perfection and inexpensive. A bottle of Red Alentejo Monte Velho to wash it down is just a perfect choice.  
I smoke a 1993 Don Juan Urquijo, a great Philippine Cigar my wife bought in Manila a few years back.
The perfect Drink for a Cigar would be a fine Port from any of the excellent Houses or a fine Brandy, an Adega Velha, a Fim de Seculo or a regular Maciera which my wife likes best.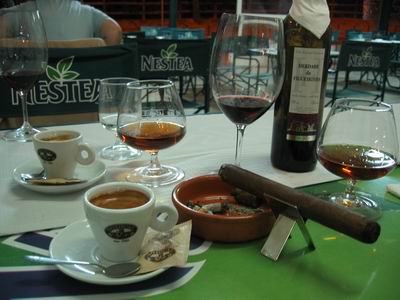 Café Copa y Puro ( Bica, Maciera e Charuto ) at Fernandos ……  
The small cup of black coffee, the Bica, is the best we have experienced anywhere in the World, creamy, a tasty "cover" of rich smelling cofee-cream on top, thick, black and perfect.
Accomodation in the Algarve is suitable for every wish and wallet.  
We started at the Sheraton Algarve in 1994 and have since rented both Rooms and Apartments as well as a Villa there.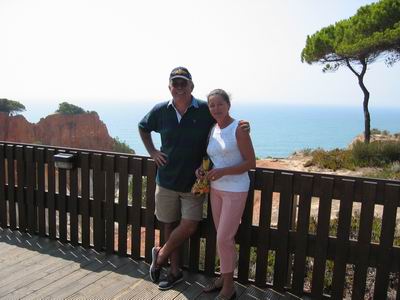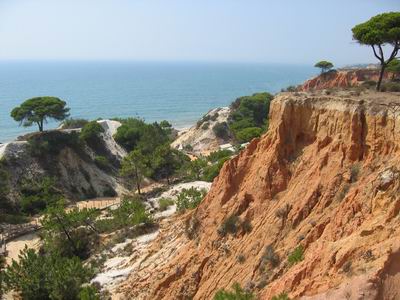 Sheraton Algarve.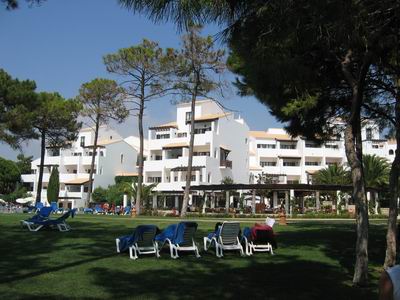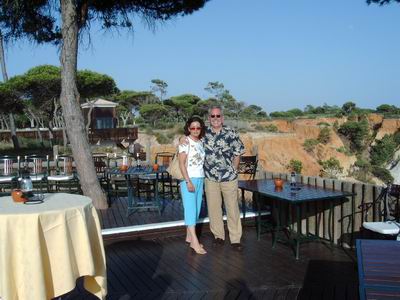 Sheraton Algarve.
We consider it to be one of the premier Hotels in the Algarve, almost 70 acres of  feel-good factor, although it has become pricey. But it is a luxury place, worth the money.
www.pinecliffs.com/en/sheraton/

Next door to the Sheraton is the Falesia Hotel, which is practical for a short stay, has shuttle service to Falesia Beach and is more affordable than its Luxury neighbour. We have been very well attended there both by the former Manager Mr Candeias as well as by the present Mrs Valente.
We are always happy to return, it feels like coming home.
An Apartment Resort that we can also recommend is the Balaia Village. Having an Apartment is something that is particularly recommended when you stay for longer periods. This Resort is well maintained, has several Pools, Tennis Courts as well as a Golf Course. Across the Road is Praia Maria Luisa.
www.portugalvirtual.pt/_lodging/algarve/balaia.village/  
Next Door to Balaia Village is Alfagar Resort, also an Apartment Resort. We have viewed their new ApartHotel and are impressed with the Quality and the Views. We will try it out for sure.
Again next to the Alfagar Resort is the brand new Luxury Spa & Hotel Grande Real Santa Eulalia.
A spectacular luxury place with first class design, well appointed rooms – some equipped with open air jacuzzis -, discreet and excellent service and great views over the Praia Santa Eulalia. 
A fantastic Hideaway and a place to get back in shape. When we visited it, the President of Portugal, Mr J. Sampaio was relaxing there for a few days. We found his security detail having dinner at ………. Fernandos.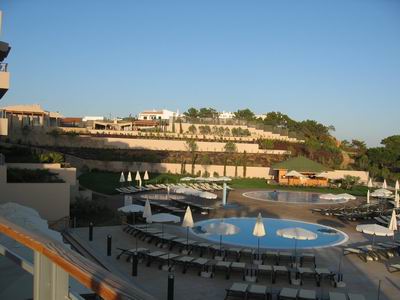 Gran Real Santa Eulalia Spa & Resort
We like to thank Ms Stange for her pleasant and friendly service and Tour of the Hotel.
Not to be missed among the great Hotels of the Algarve is the Quinta do Lago Resort & Golf Course. The whole place is Paradise, worth a visit, if only to park down at the wooden Bridge and cross the 700 meters over to the Beach across the Ria Formosa natural park, past Gigis, and have a long walk either right towards Vale do Lobo ( another great Resort ) or left towards the end of the beach and a look at Ilha de Faro. Take the time to drive around Quinta do Lago and be impressed by the magnificient Estates there.
Take the Ayrton Senna Road, the great brazilian Driver owned a Villa at Quinta. Be surprised by the views and breathless by the sheer beauty and opulence of the place.
We always say on the day before our departure when we order a drink at Licinios ; es el penultimo.
As it is never the last order there, and we keep coming back, time and again, we sincerely say :  
Muito Obrigados e Ate Logo !  
Nino
Copyright
09-2004
@ Ninos Flying Cigar

Additional Pictures to this Report :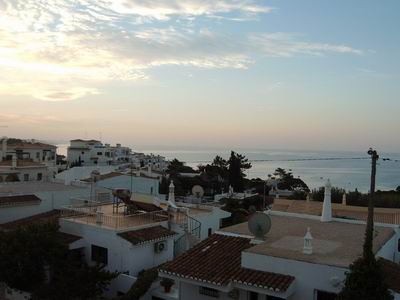 View over Olhos de Agua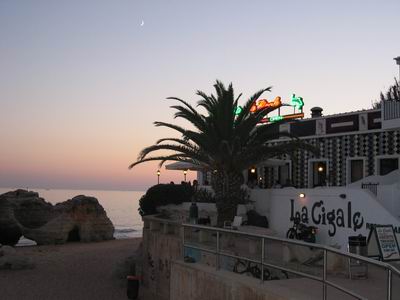 Olhos de Agua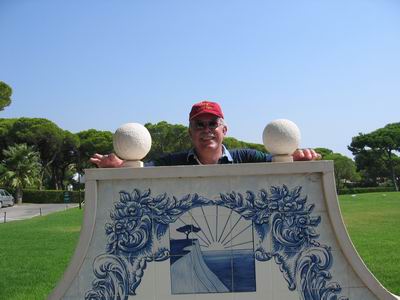 Sheraton Algarve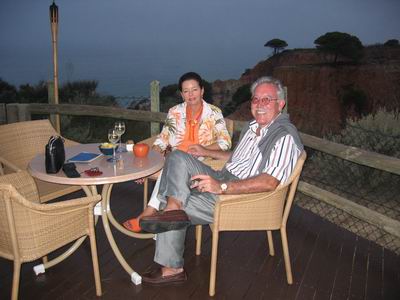 Sundowner at the Sheraton Algarve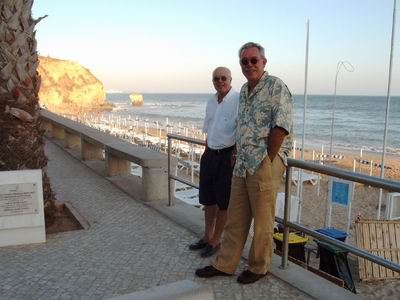 Lucinio & Nino in Olhos de Agua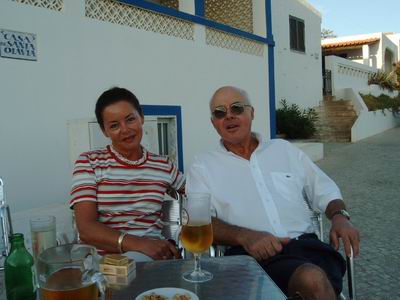 Inge and Lucinio at Licinios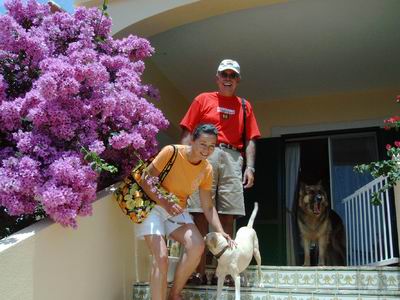 At Lucinios Kennel in Boliqueime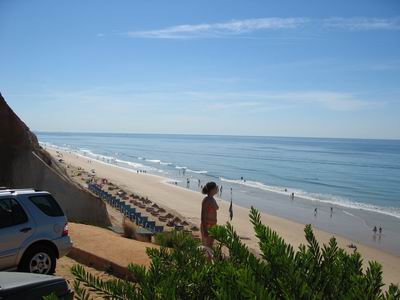 Falesia Beach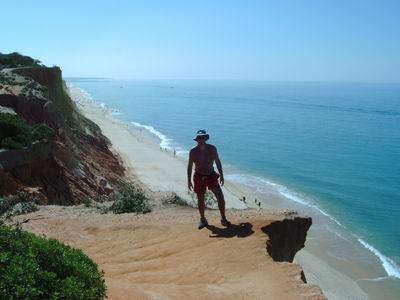 Early morning at Falesia Beach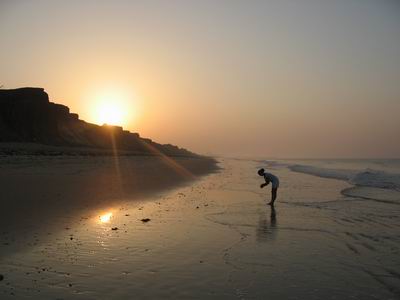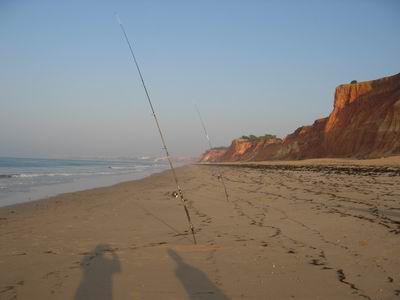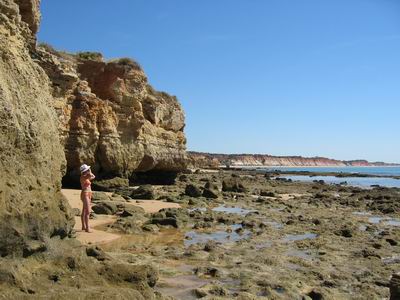 Near Olhos de Agua, Falesia Beach in the Background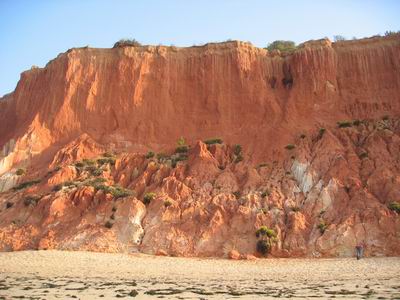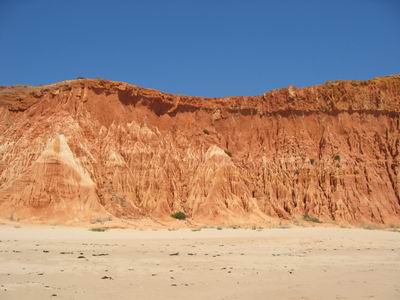 Details of Falesia Beach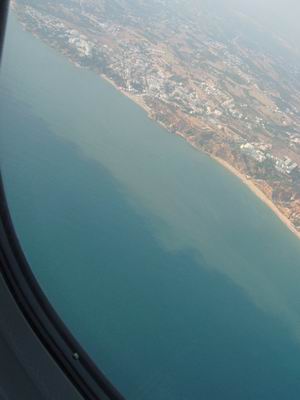 After Take Off, Olhos de Agua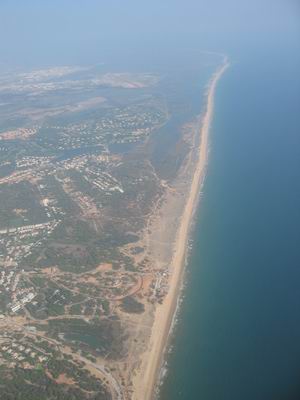 After Take Off, Airport in the Background and Quinta do Lago.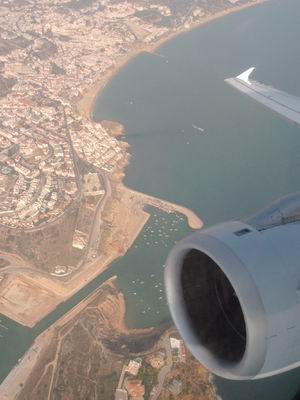 After Take Off, Albufeira Marina
Copyright 09-2004 @ Ninos Flying Cigar