29 Jun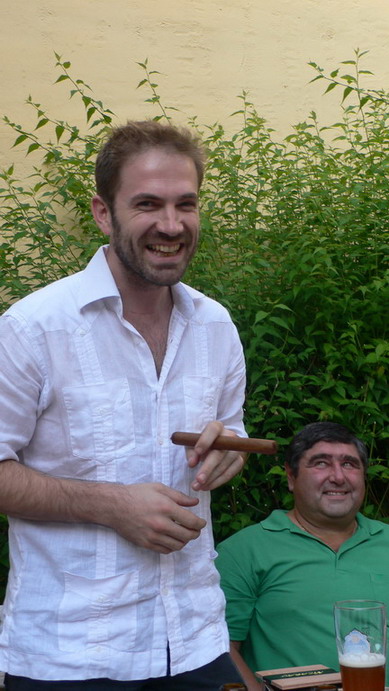 Didier introducing Nicarao at the pharmacy smoke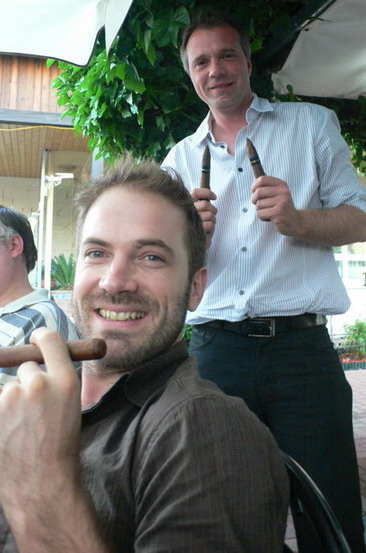 Didier & Thorsten
June 2011
A few weeks ago I received the good news from Gottfried that Thorsten Wolfertz, the Solingen manufacturer of Xikar cutters and scissors and a good friend of us would come to the pharmacy once again bringing another good friend, Didier Houvenaghel, the young Belgian living in Singapore who studied tobacco agronomist at Pinar del Rio university and produces his own cigar brand, the acclaimed Nicarao in Nicaragua.
See :www.flyingcigar.de/travel_cigars/2010_12_singapore_didier_houvenaghel_cigars_soul_and_pas.php
It was to become even better as they had planned a two day stay with us – a private dinner and tasting of some excellent and exclusive Nicarao Salomones and Diademas during a dinner at Massimo's and a tasting of the Nicarao Toro the next day at the pharmacy smoke meeting.
We were 15 people in all at Massimo's and Inge and I were quite happy to see Didier again after last year's meeting in Singapore. Some of our guys also knew Didier from earlier visits to introduce his cigars like at Cigarworld Benden in Düsseldorf and remembered him fondly for his knowledge, passion and outgoing personality.
While I smoked the Nicarao cigars and found them, once again, to be among the best of all non-Cuban cigars, I passed some Cuban cigars to both Thorsten and Didier, a 2010 Reynaldo Salomones and a 2010 Santos rolled on special moulds ( thanks Bill ! ).
The Nicarao sticks were absolutely picture perfect in construction and appearance and glorious to smoke. Effortless draw, great aroma and spiciness right from the start, perfect burn and ash, and specially the Diadema left us all giving that cigar a full 95 points – and wishing it would be available commercially. The dilemma of pricing it up on a range where it can not compete with a Cuban counterpart in the European market makes it a rare specimen.
It was a long and very balmy evening of good food, fun and perfect cigars that ended well beyond midnight and we took a stroll through the sleeping village back home to show Didier the opposite of the Singapore nightlife. He clearly enjoyed it.
Next day was the ANS at the pharmacy and 25 friends gathered as always to have a good time smoking good cigars. It was the hottest day so far this summer with the temperature reaching 38 Celsius  and the humidity reaching Asian levels – Didier clearly felt very much at home.
We started with a Magnum of Schloss Vaux bubbly courtesy of Bernhard who is quite an addict to this Rheingau brand.
After a local Schnitzel dinner washed down with Erdinger Urweisse, Didier introduced us to his Nicarao brand of cigars giving a short overview of the soil, the planting, harvest, fermentation and production that he supervises and some comparisons with other cigar producing countries.
Thorsten passed the cigars and also complemented the information – they will on a tour of Germany visiting merchants and also holding meetings with aficionados sharing the passion for Nicarao cigars.
Again the cigar impressed us with the overall quality, absolutely fantastic smoke.
I was happy to invite Didier to a Robaina Padrino – he has great affection and respect for the late Don Alejandro whom he visited frequently in his Vega, and who also smoked Nicarao and found it to be remarkable, and a 2006 Reynaldo Diadema.
It was a great evening and we were quite happy to stay outside well past darkness as it was simply too hot to go inside and, by candlelight, Didier interviewed Michael "Turner" in one of his "Match Time" interviews.
Next day after breakfast we toured the vineyards and local area before Thorsten and Didier took off for Schwerin and Berlin.
Before leaving he also conducted another 2 short interviews with Andreas and myself :
Andreas : www.youtube.com/watch?v=xDuePWJ7gK0&feature=related
Nino : www.youtube.com/watch?v=A1L3iczKbLo
Muchas gracias por tu visita hermano y hasta muy pronto !
Nino
Here's Didier's interesting bio :
Didier Houvenaghel is a Belgian agricultural engineer who very early went to Cuba and specialized at the University of Pinar del Rio in tropical crops and particularly in black tobacco. There, in the Island very much cheered thanks to
relatives on his mother's side, Didier discovered much about his young cigar passion.
Besides his University studies in Cuba, Didier also spent a lot of time with the hands in different fields of the Vuelta abajo soils, mainly San Luis and San Juan y Martinez. Through the diversity and deep knowledge he acquired of the agricultural
and post harvest processes, he developed his multifaceted and innovative approach to the cigar science.
Later while working in Sustainable Development for the European Commission, Didier started writing his own cigar book and collected abundant information in Cuba and also in the Dominican Republic and in Central America. He mastered the secular tradition that used to be verbally transmitted among generations. After nearly 6 years of research, he finally published The Cigars, from Soil to Soul (Editions du Gerfaut, Paris) in 2005. He likes to say: "This book is written to give an efficient tool to the reader so he can understand better the diversity and the complexity of the cigar making process, and also realize how much Passion, Dedication and Love is needed to produce a nice cigar. With this knowledge, the reader and cigar aficionado can develop their own truth."
As said by Arsenio Ramos Mendez (former chief specialist in tobacco at the Cuban Ministry of Agriculture), "…readers will be able to acquire or to extend knowledge of the general background and history, as well as the technical and
practical aspects of the world of the cigar. They will be able to discover new dimensions of this universe and in this way improve their capacity to choose and analyse cigars, thus gaining even greater satisfaction from their passion…".
The deep interest that he developed for the Cigar industry and true friendships with the men involved led him to found his own brand of cigars in Nicaragua in 2001. Today his brand Nicarao is sold in more than 15 countries on 4 continents and is globally acclaimed in the cigar industry.
Having developed a partnership with Abdel Fernandez, Nicarao now has 3 product lines – Nicarao Clasico, Nicarao Especial and Nicarao Exclusivo – and is recognized by the most demanding amateurs as one of the very best cigar brands of
the world. Didier and Abdel are also producing outstanding private collection cigars and cigars for aging.
Lately, their brotherhood led them to start reviving a very old Cuban brand.
Didier says "To bring back such an important part of the Cuban cigar industry from Past to Present is a fantastic adventure. It is an historical treasure that we bring to life again. We do feel the presence of our fellow ancestors… We are developing a
blend with this ancestral mindset: with respect of the past we create a cigar that will conquer the future. It is a responsibility and we will respond to it like we have always done, with Love, Depth, Passion, and therefore high quality."
Didier devotes himself to spread the Cigar Culture around the world. He does numerous cigar seminars in different countries and writes technical columns in the most renowned cigar magazines such as Cigar Clan.
When he talks about cigars, Didier takes the exciting and interesting standpoint of technical expert, enthusiast and humanist to depict the life of the cigar, from the first seed to the last puff of smoke. Beyond his young age, he is seen as an uprising and prominent authority in the worldwide cigar science and industry.
Renowned for the extend of his knowledge and the quality of his cigars, Didier also differentiates himself with his genuine dedication to the Cigar and his strong personality.
Beyond Cigars, Didier is very passionate about music and currently leads the development of an alternative network of Music Academies for favelas children in Brazil.
One of Didier's mottos is "To work with love and bring pleasures and passions to the World". In cigars but for everything in Life too!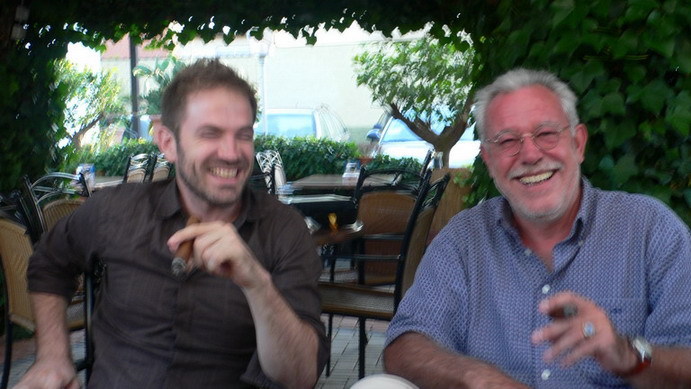 Having fun at Massimo's
Andreas & Lotte arrive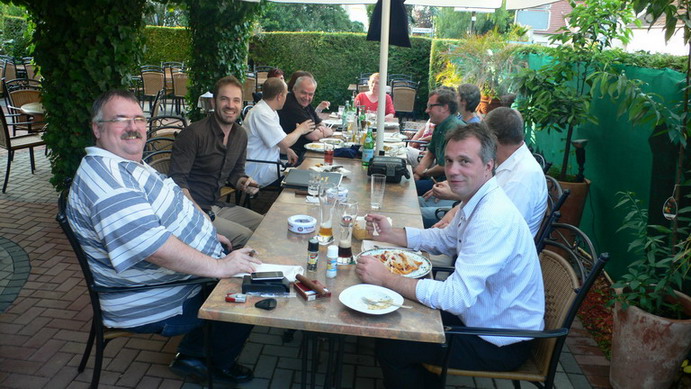 Massimo's
Having fun
Salomones heads & ash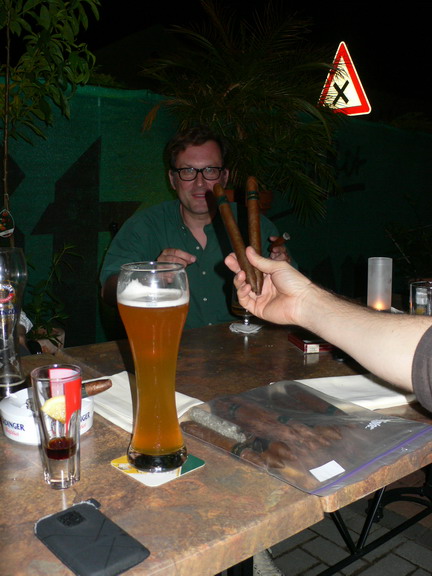 Nicarao Diademas exclusivas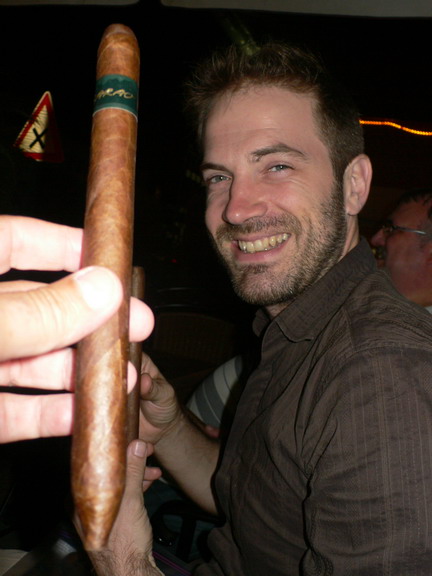 The cigar and its maker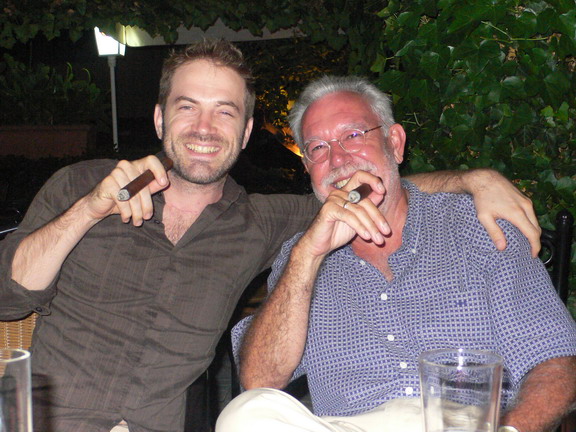 Didier & Nino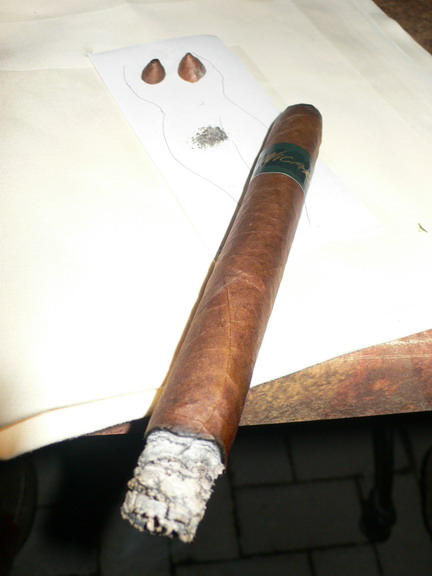 Smoking perfect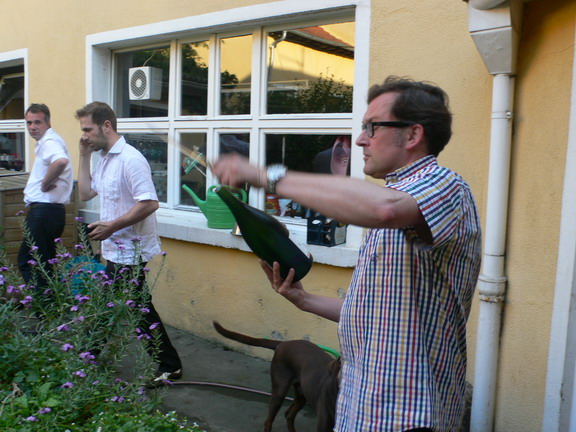 Wake up call at the pharmacy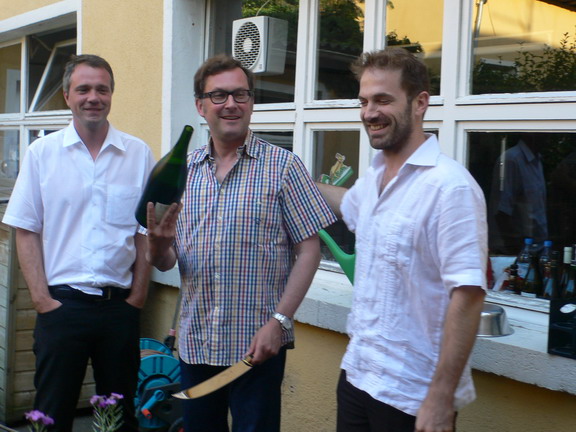 Thorsten, Andreas & Didier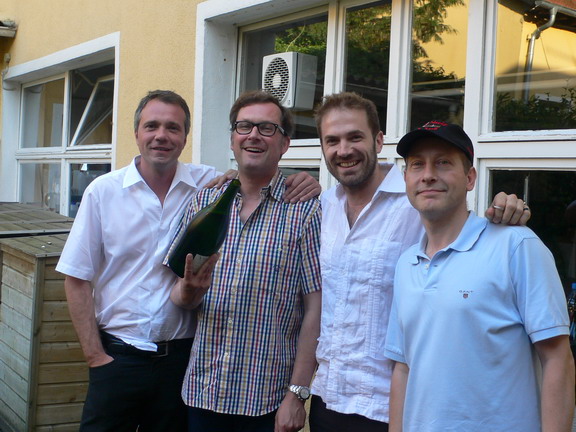 Plus Bernhard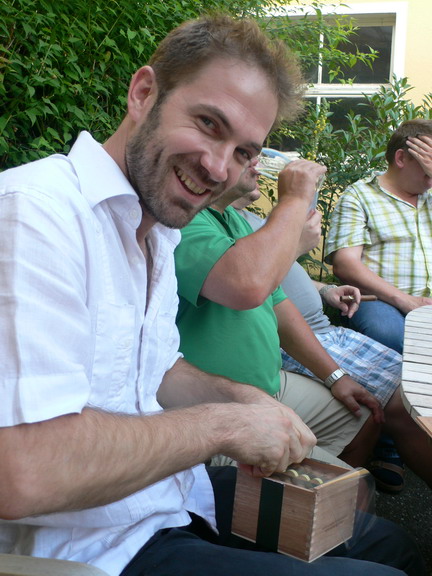 Opening a box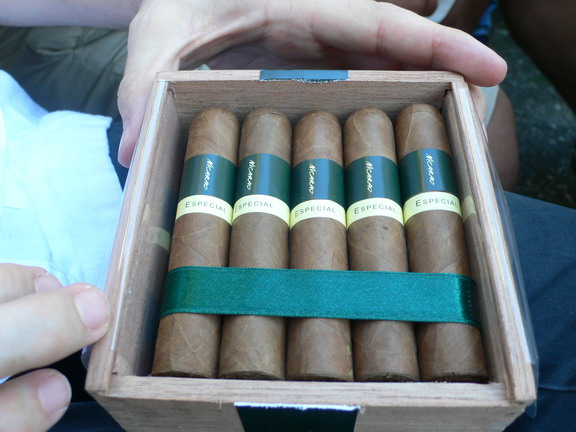 Nicarao Toros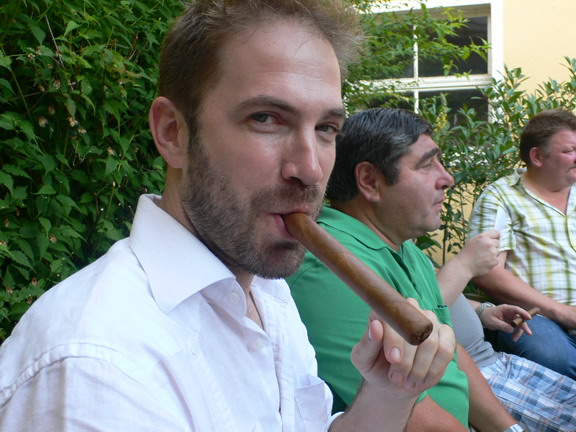 Didier & Padrino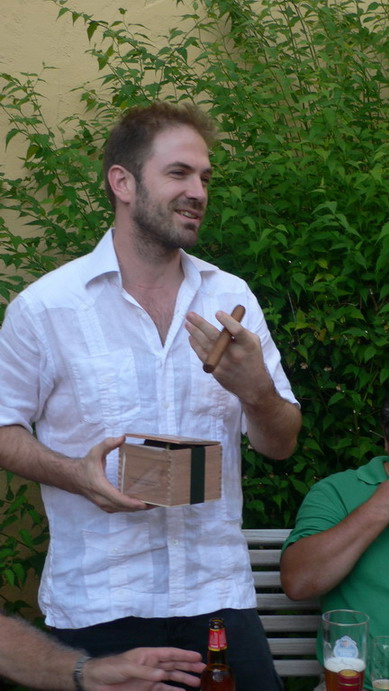 Didier passing out information and cigars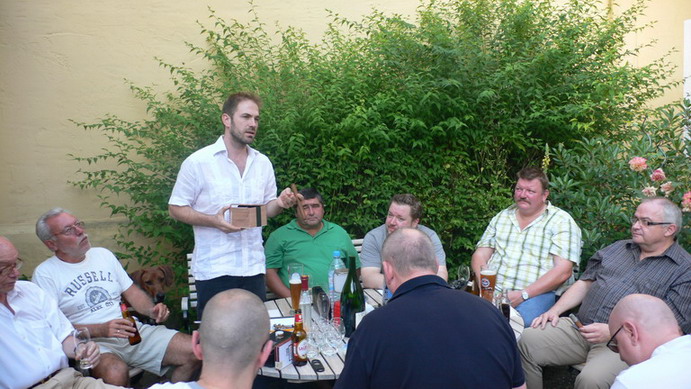 Carefully listening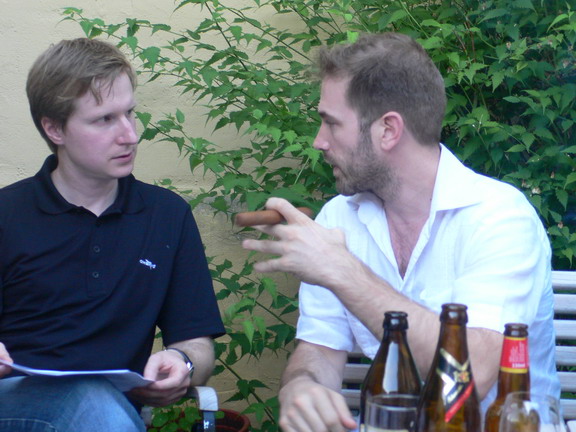 Michael & Didier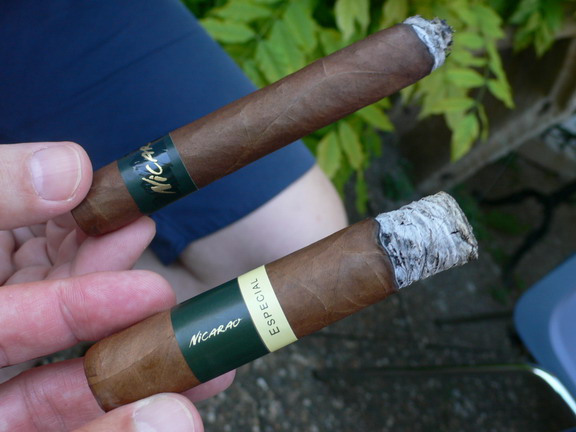 Perfect Cigars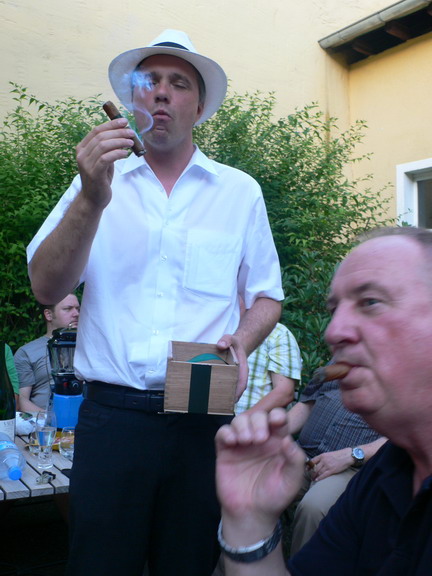 Thorsten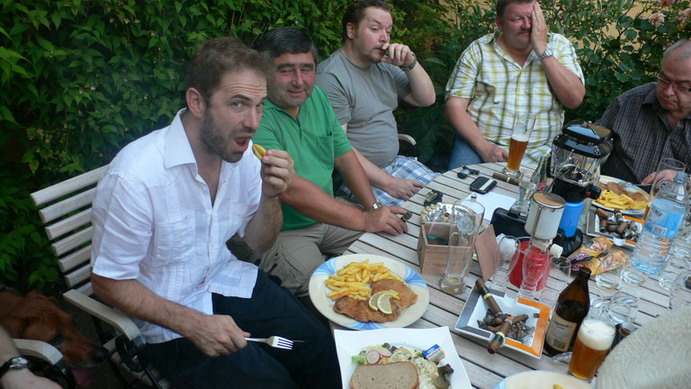 Chasing the Schnitzel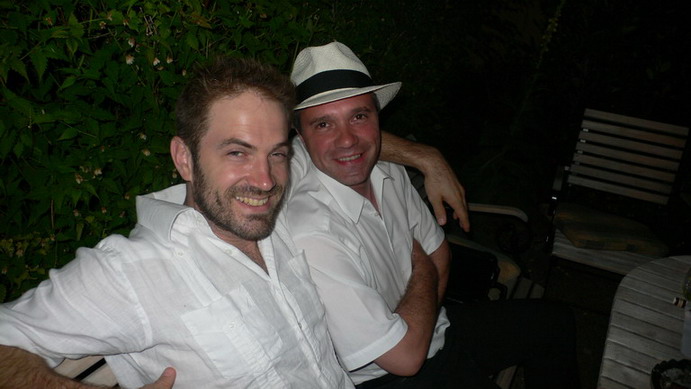 Thank you guys !!
Copyright 06-2011 © Ninos Flying Cigar