22 Nov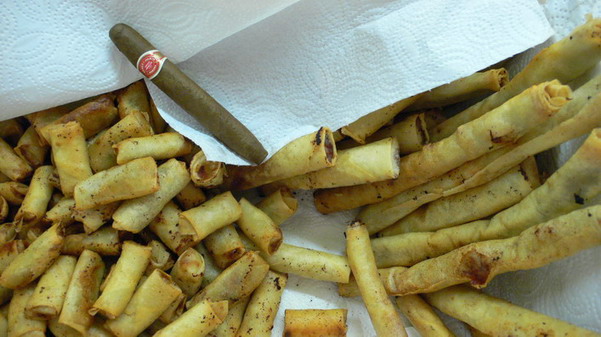 Vivian's Spring Rolls & a vintage RyJ Celestiales Finos
… and Oysters, and Horse Burgers, and Cheese and Cigars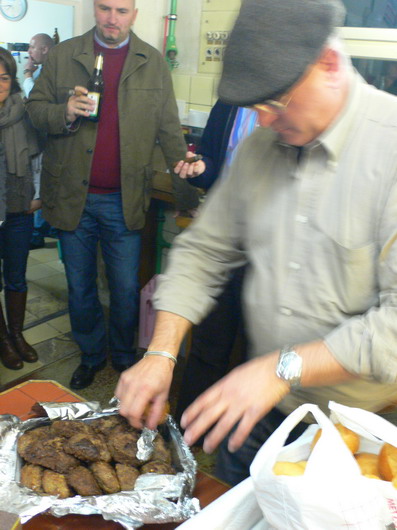 Michael unveils the burger stable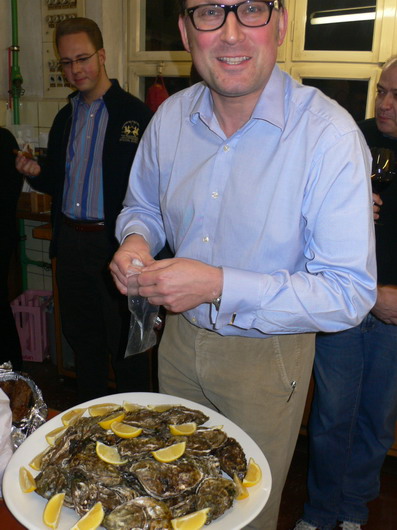 Andreas and perfect oysters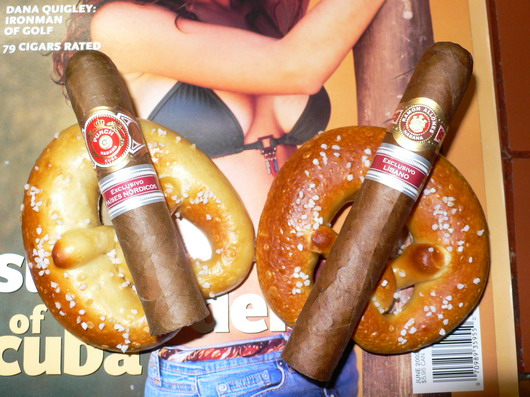 Two nice regional bretzels
ANS November 2009
Vivian, Andreas great Philippine  housekeeper, has been sporadically providing us with excellent home made spring rolls – but this time she really put on a show, bringing a really large box full of them, so it's about time we honour her and her tasty little rolls.
So tasty they are in fact, that we used them as a "lure" to attract Patricia of the Benden "cigar siblings" to visit us again along with the regular Solingen crowd and even Thorsten, the Xikar manufacturer and Pepin Garcia's 601 importer managed to drop by in the early morning hours.
Also present were Ralf from Stuttgart and Tom from Zürich – future visitors to the Festival del Habano with the Portmann group, Tom being my worthy successor as translator and guide there.
No, we didn't just survive on spring rolls, Alex and Michael also brought several dozen tasty horse meat burgers, Gabriel's wife Stephanie made the local cheese dip we call "Spundekäs'", Christoph brought some Bavarian cheese from a trip to Allgäu, and Massimo delivered around 60 fresh, salty and meaty triple-a-grade oysters of which Bernhard opened almost all sustaining a few bruises, cuts and scratches in the line of service.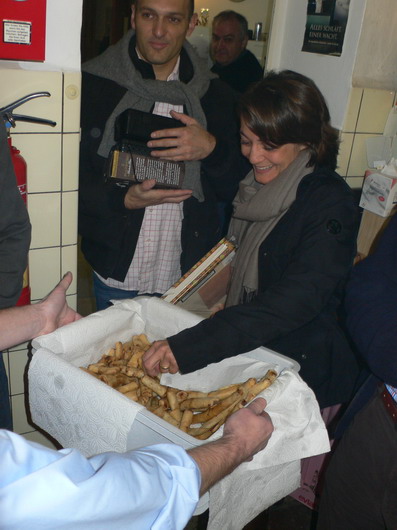 Patricia goes straight for the rolls while Marc holds the presents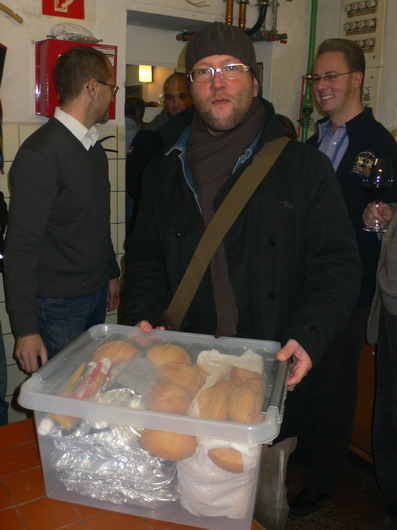 Fresh from Solingen – galloping horse burgers with Alex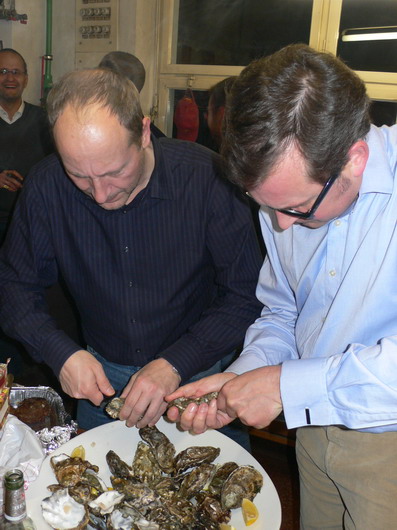 Bernhard & Andreas on the oyster job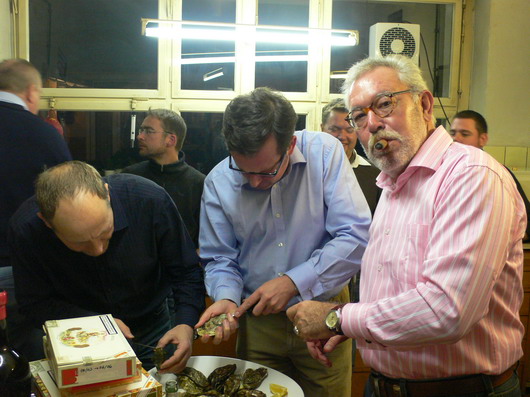 Sure, I'll help you eat them …..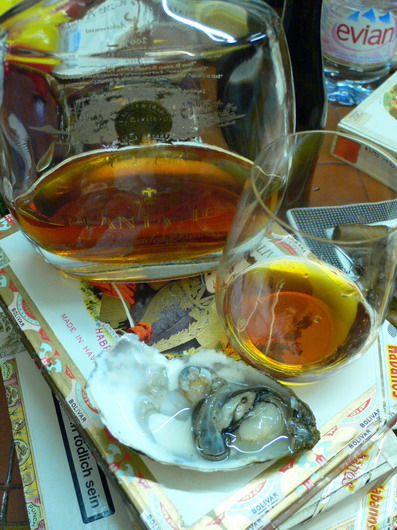 Barbados Plantation Rum, Oysters in Wodka & Habanos – The Living is good
The old lab was again packed and smokers overflowed into the garden – even though Bernd "Tyremountain" has kindly provided the lab with a ventilation system that works perfectly.
We are now able now to see who we talk to even as we happily puff away through boxes of fine rolled tobacco leaves.
Of which we had several, courtesy of the Benden's, Ralf and some loose rare sticks of aged provenance from Hong Kong courtesy of a prominent collector acquaintance of Constantin. Non Cuban specials like 601, Oliva and Nub, were courtesy of Thorsten.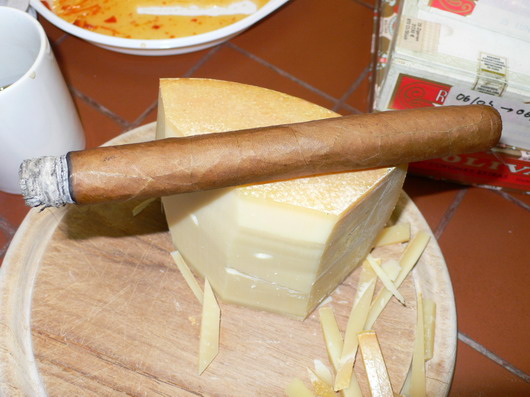 Cohiba 30 from Hong Kong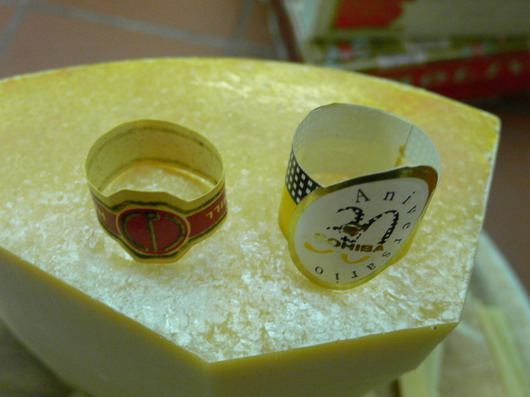 Dunhill Habana & Cohiba 30 plus Allgäuer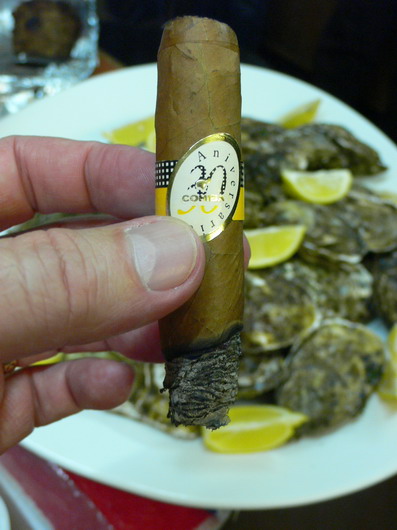 Cohiba 30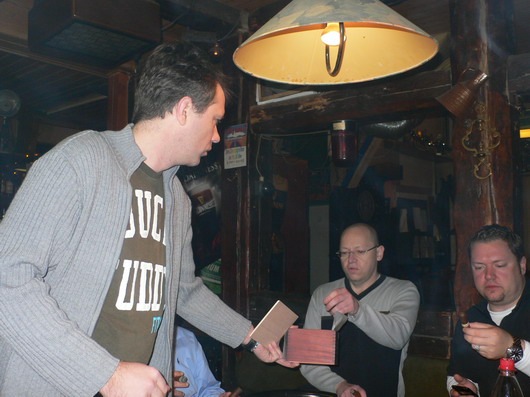 Thorsten passes around Oliva V's
Constantin also provided us with the yummy dessert, a Madeira island honey & almond dry cake that went along perfectly with the 1996 colheita Madeira he brought from his vacation.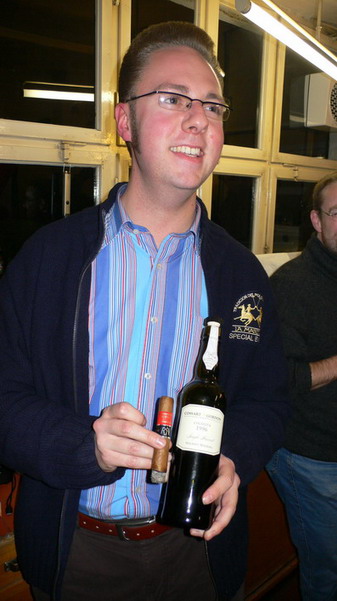 A relaxed & happy Constantin before the horror of dawn
Also excellent was the aged Barbados Plantation Rum provided by Marc & Patricia Benden, followed by first class Grappa and Beluga Wodka to wash down the oysters.
Tom had incredibly never tried Jägermeister, so Gabriel made sure he wouldn't leave Germany without having tasted it – guess there won't be any encore trials for Tom of this herbal bitter liquor in the near future.
As I had given away my collection of all the past 75 issues of "Cigar Aficionado" magazine to make room in my cellar and Thorsten  was just 1 day faster picking them up than Bernd, I felt that I had to give the poor guy a consolation price – being single and not much into non-cubans, he received a special issue ………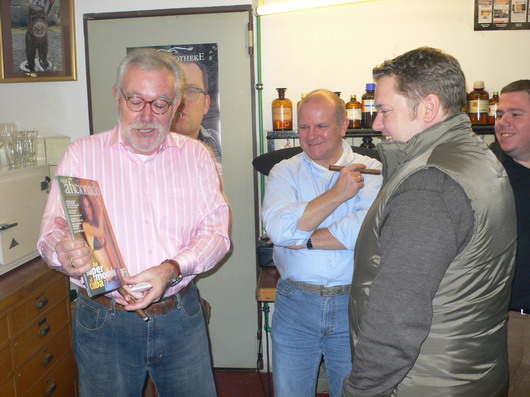 Here's a nice cA issue for you, Bernd …..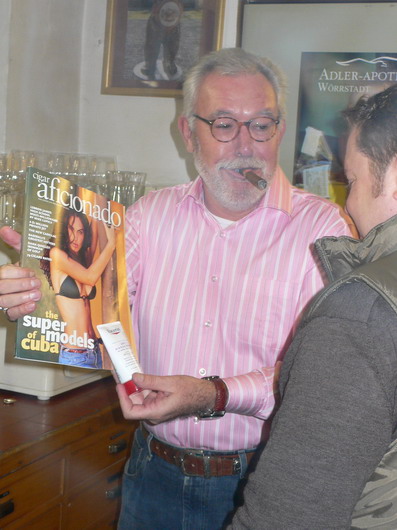 ….. and some hand lotion to turn the pages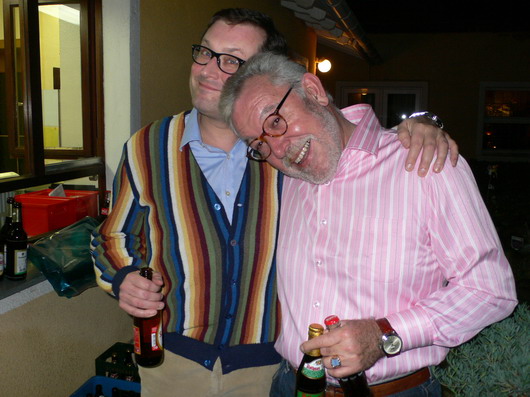 C'm on, Bernd, we were just kidding –
"Testbild" & "Schwuler Lachs" having fun
Talking about special issues – we had some rare RE releases like the Punch ER Paises Nordicos, the RA Beritus ER Lebanon and we also received some Indian Punch Platinos ER India that Andreas and I will review later on.
Constantin gave me a 1998 RyJ Celestiales Finos to compare to the newly released ER Asia Pacific that I reviewed at the last ANS and was quite pleased with. Thanks, Constantin !
So, while our wives were at Massimo enjoying a ladies-only Friday dinner, we had a splendid gathering as usual with the gang, the last leaving the lab at dawn, only to meet again at 0900 hrs for a fantastic brunch.
This time we had it at the village Irish Pub, run by Andy, the pub that I go to daily for my cigar and glass of wine before dinner.
Tasty scrambled eggs prepared in a wok with ham, fresh rolls and bread, cheese, jam, honey, sausages and home made deer and wild boar salamis – a breakfast fit for kings.
And with the Pub being "Smokers Only", there was no problem enjoying a few sticks after the feast while shooting the breeze with our friends.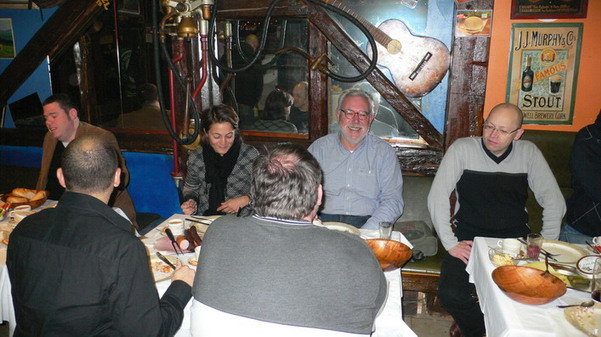 Andy's Irish Pub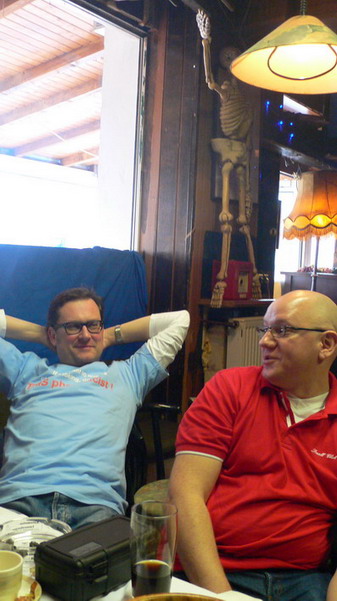 Andy's Irish Pub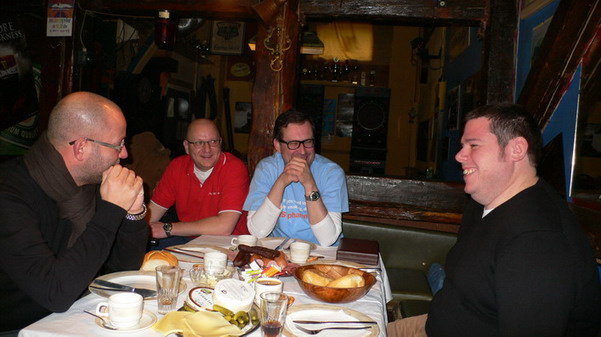 Andy's Irish Pub
The unanimous decision was to repeat the experience again in 2 weeks after the next ANS.
I can see the Pub becoming the breakfast "institution" for our cigar meetings.
And talking about cigars & meetings – next weekend I will be smoking at Portmann's in Switzerland, driving down with Gabriel and Christoph.
That's a reason to celebrate !
Nino
Additional pictures to this Report :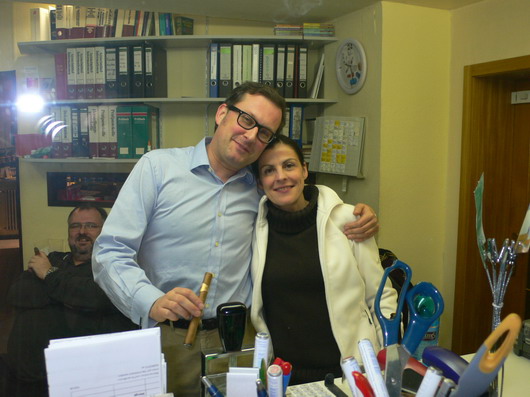 Wörrstadt Medical Services – Andreas & Petra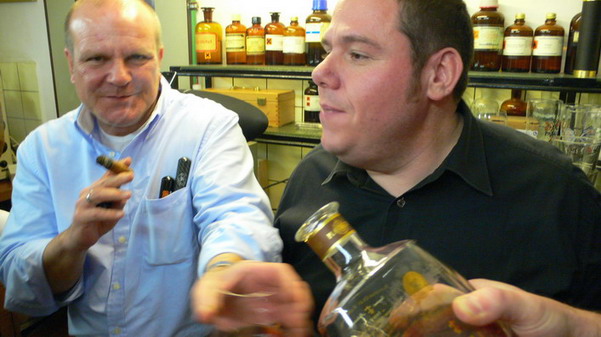 Ralf & Tom training for the 2010 Festival drinking contest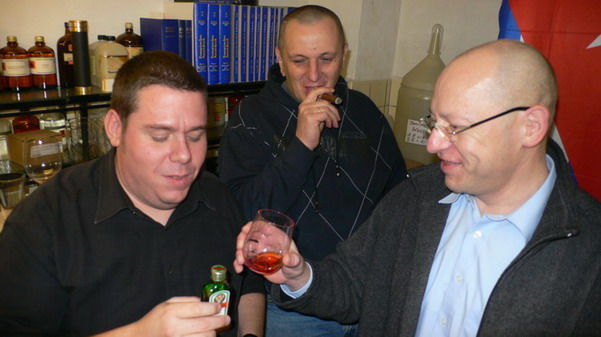 Gabriel toasts Tom while Vitaly is amused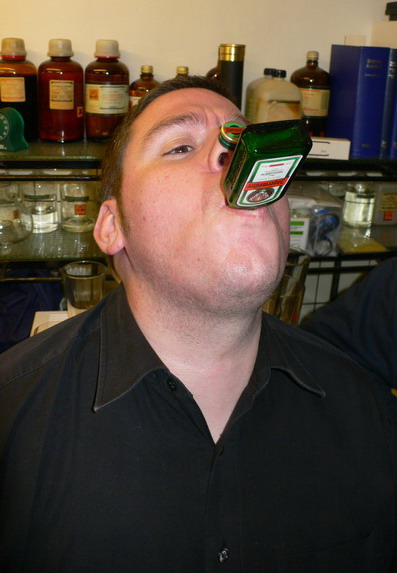 Jägermeister ex & hopp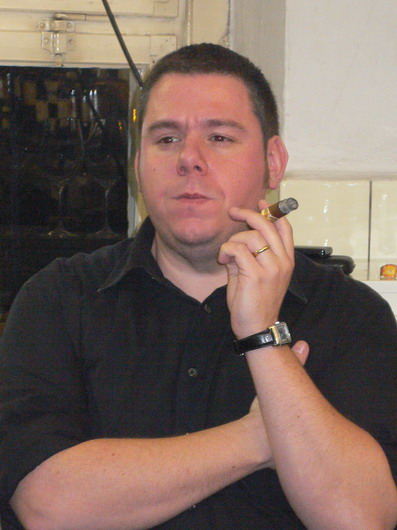 Hmmm – not zo funny with theze Krauts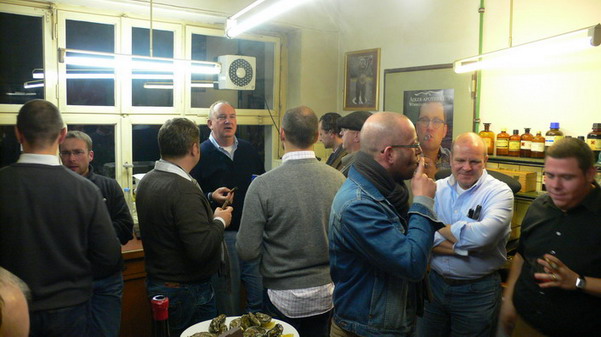 Nicely ventilated Lab now – Thanks Bernd !!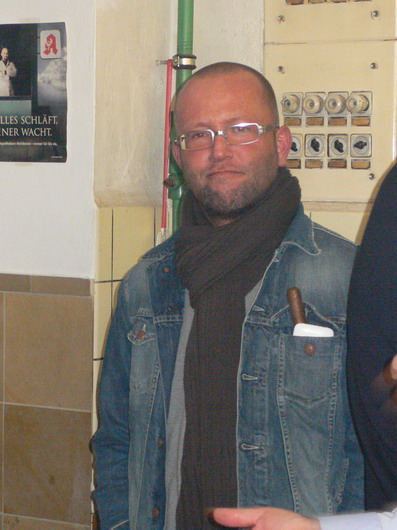 Alles raucht – Einer wacht / Alex der "Wahl-Wörrstädter"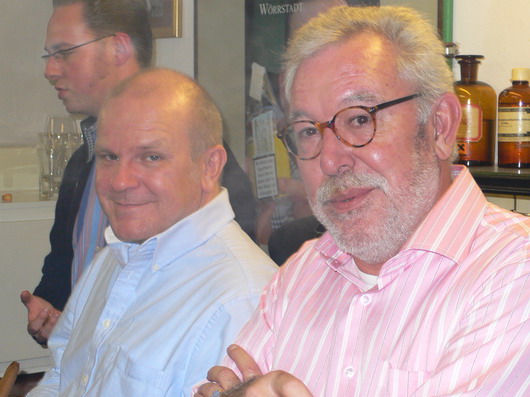 Constantin, Ralf & Graybeard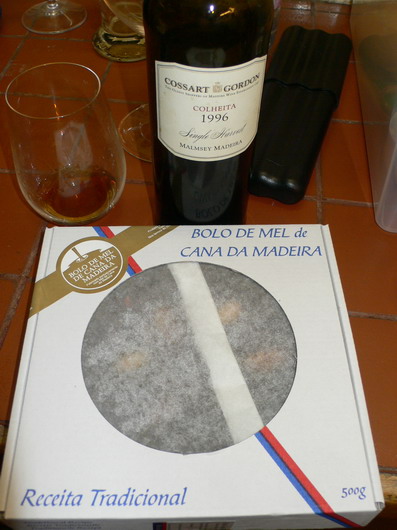 Constantin's Madeira dessert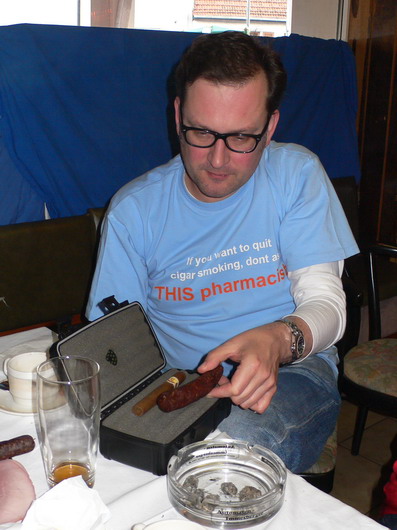 Now, was it smoking the sausage or eating the cigar ??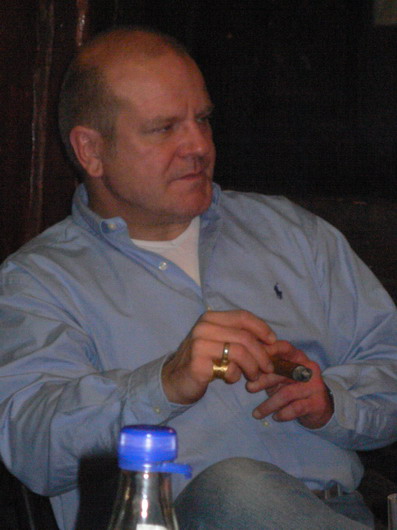 "Two Rings" Ralf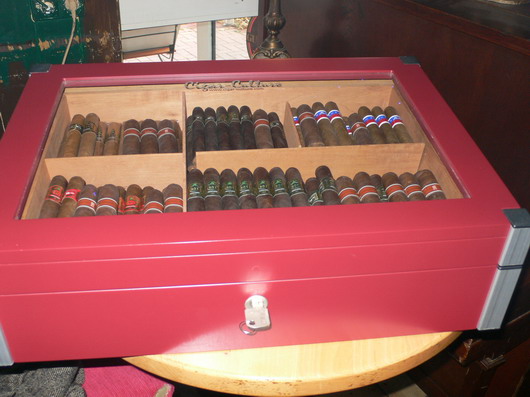 Thorsten's NC Box on wheels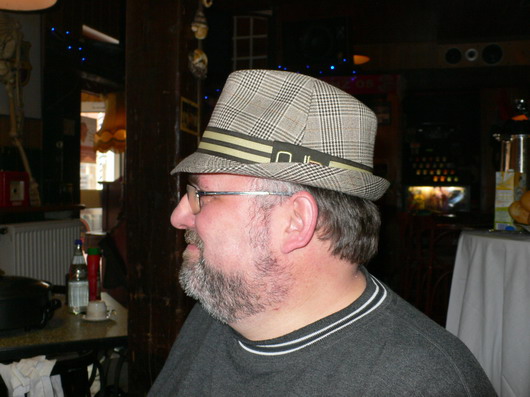 Christoph "The Nub"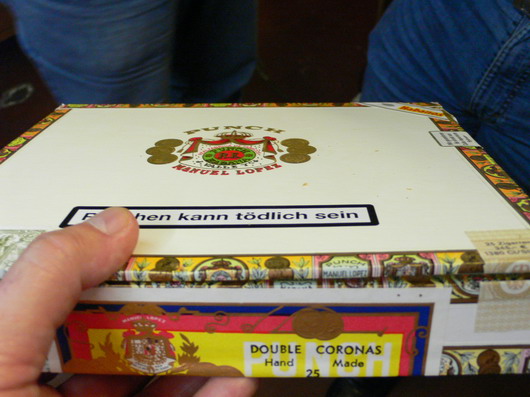 ANS 11-09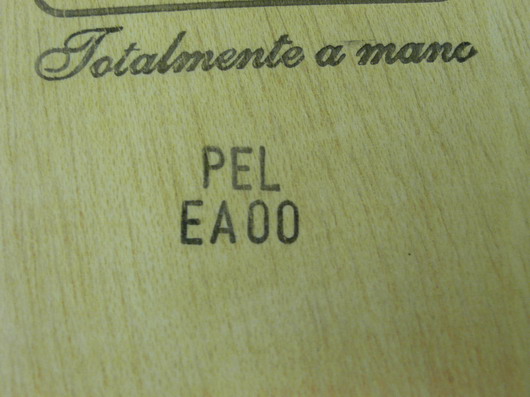 ANS 11-09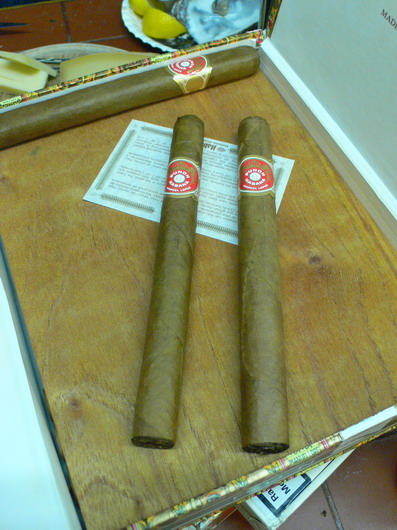 ANS 11-09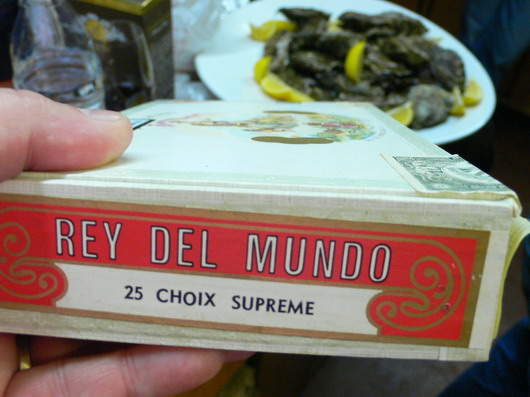 ANS 11-09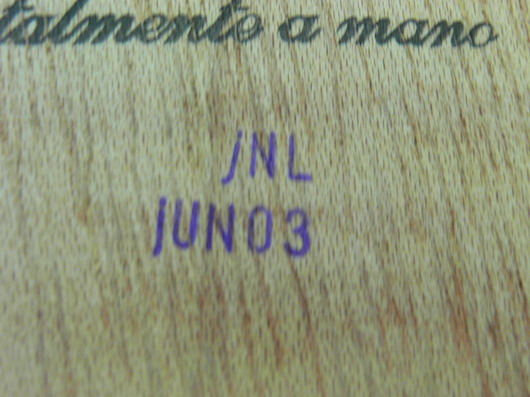 ANS 11-09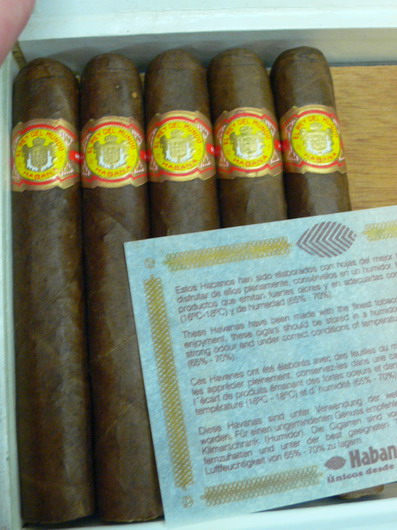 ANS 11-09
ANS 11-09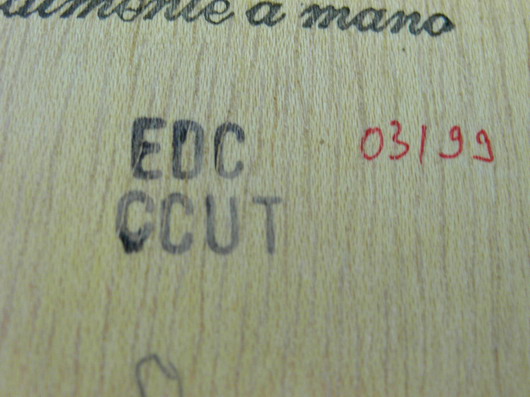 ANS 11-09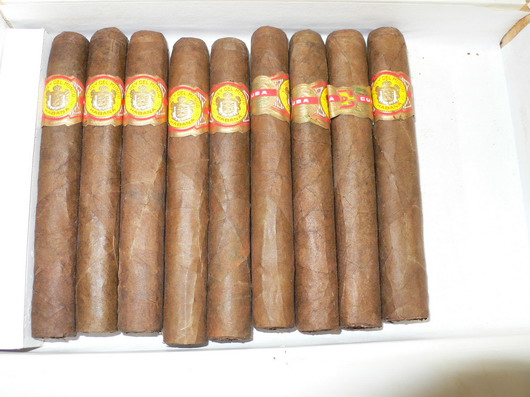 ANS 11-09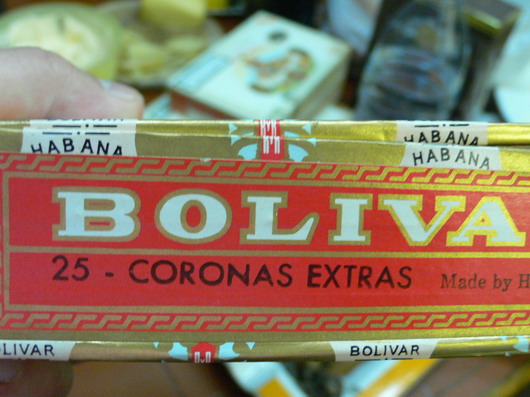 ANS 11-09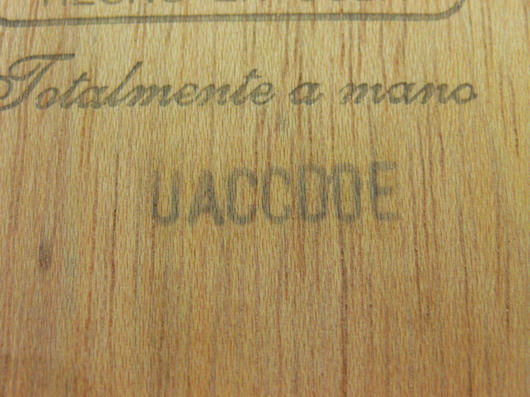 ANS 11-09
Amen
Copyright 11-2009 © Ninos Flying Cigar