31 Oct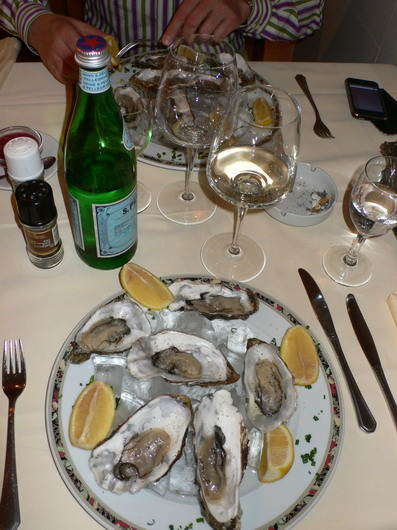 Surf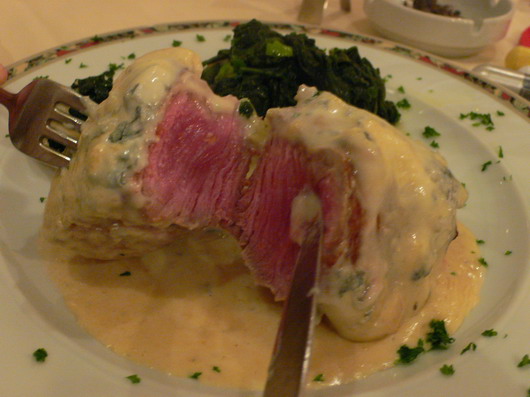 Turf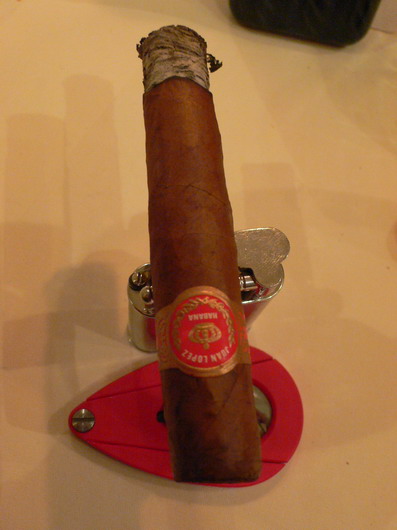 And A Good Cigar
October 2009
Before I start my fitness and diet programme coming Monday it was the regular Friday dinner at Massimo's.
Good to be back with friends after a Spain trip.
Surf, Turf and a good cigar – this time 3 different kinds of oyster preparation, raw, a la Rockefeller and backed with Gorgonzola cheese, followed by a tender piece of steak cooked to perfection and finished with a nice whole turbot.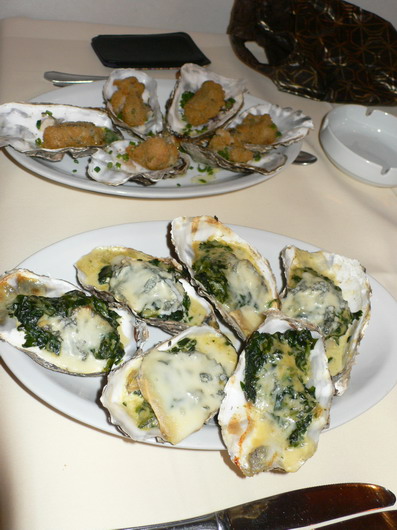 Surfin' Viagra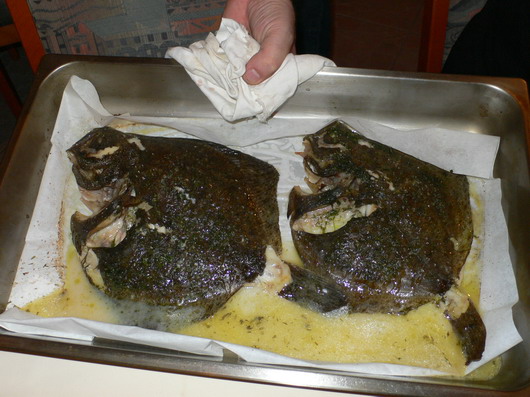 Turbots for the house
Cigars were not too bad either, as we could compare the older Monarcas with the younger ones that come in tubos.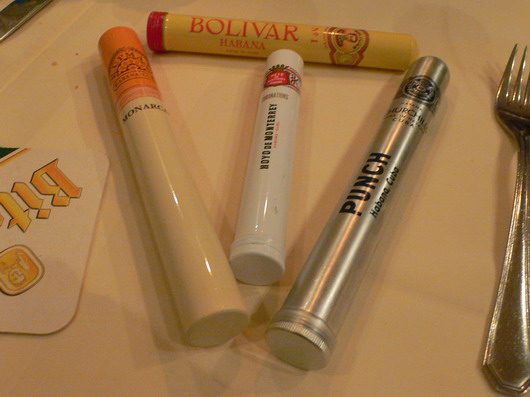 Full Metal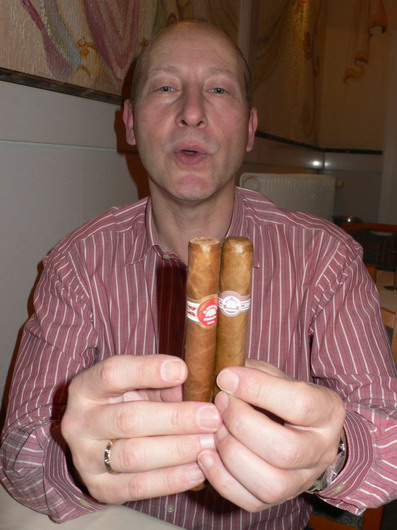 Monarchy old & new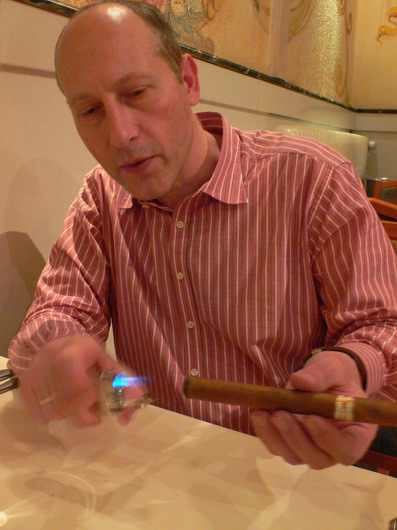 Bernhard firing up the Monarca
I finished my dinner with an excellent Juan Lopez Nr 2 though, part of a few sticks "retirement CARE package present" that was sent to me by Steve Cohen from Toronto/Canada and what can I say, I am a believer ….. very, very yummy, incredibly rich, creamy, smooth and full of power, a great "to the last puff in-between the nails Robusto" that deserves to be in any humidor.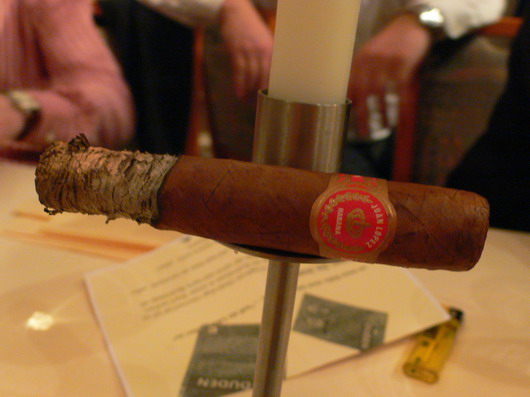 Juan Lopez, the well-deserved Canadian favourite from Toronto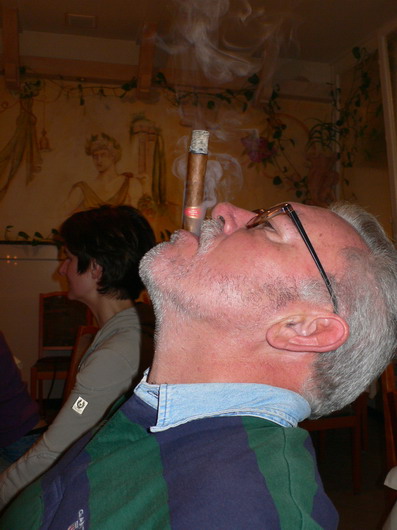 Perfect !
Thank you VERY much for that gem !
I enjoyed it to the traditional Berta Grappa.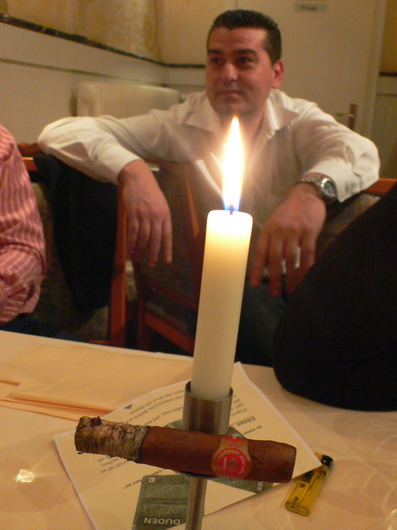 Massimo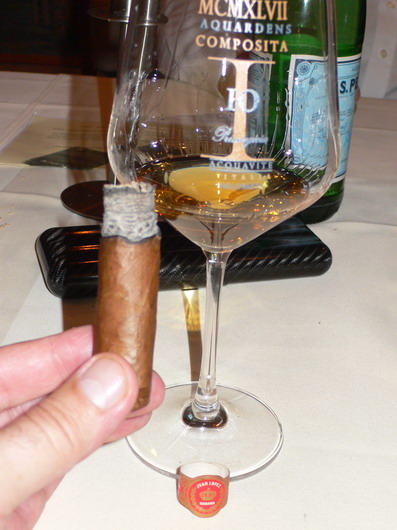 Juan & Berta Get Together
Even Lotte enjoyed the good dog life and received some pieces of the dinner action while we had some shooting practice on the i-phone ….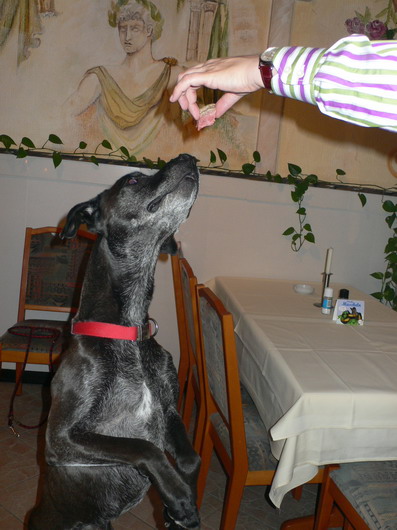 Well trained Lotte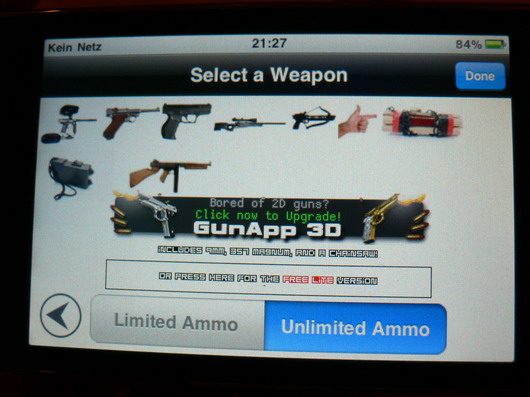 Shooting Practice …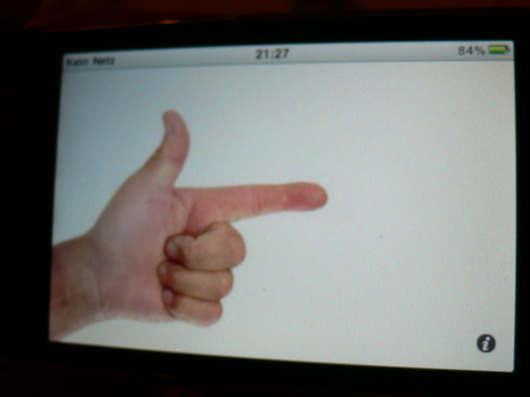 Bang
Not that I am looking forward to exercise and losing 20 pounds of hard earned belly matter, my so called "treasure chamber", but I do look forward to the weekly reward for it – a good dinner.
One shouldn't exaggerate things. Moderation in everything, even in moderation.
And to top it up, the postman rang twice yesterday … but that is the next report.
Nino
Copyright 10-2009 © Ninos Flying Cigar