26 Oct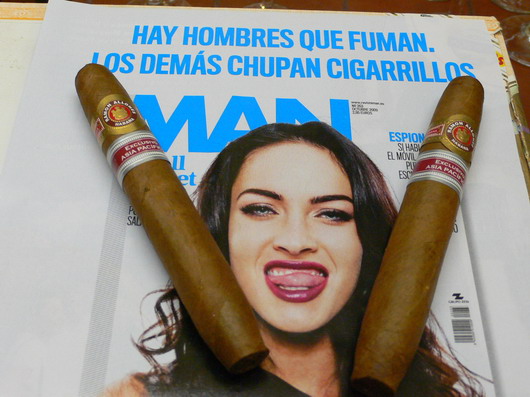 Celestial Sticks – RA Celestiales Finos ER Asia Pacific
Hay hombres que fuman lo bueno ……….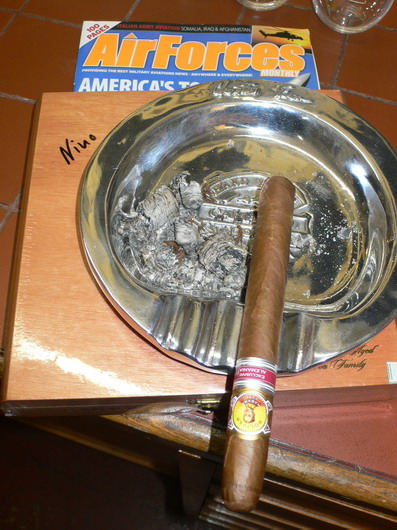 A crash & burn landing for the 5-ta Avenida ER Alemania
a celestial flight, a crash landing and a really high flight.
October 2009
I had been away for too long so being back among friends in the pharmacy was a reason to celebrate with some good sticks.
First in line were some RA Celestiales Finos ER Asia Pacific from Hong Kong – I wish to thank Alex, they sure turned out to be as tasty as the horse meat burgers he regularly brings down from Solingen.
One for myself and one for Andreas, my co-pilot on this flight, they turned out to be truly celestial.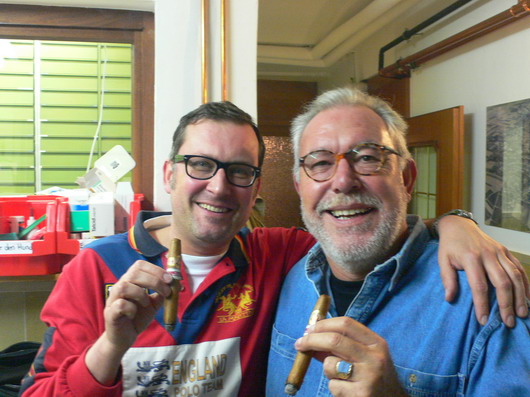 Co Pilot Andreas on the Celestial Pharmacy Flight
My impressions of the flight with this this fine joy stick :
Conditions for take off were : Wrapper was Claro, construction was good, the pre-light draw perfect.
Heading down the runway, the pre-light aroma was very pleasant sweet honey, time to light the engines and let the celestial flight take off into the smoky pharmacy clouds.
The climb out (1/3) was very aromatic, strong and rich and the perfect burn as well as the long and firm ash impressed me.
The cruise flight (2/3) was very smooth, accessible and with a fine balance between flavour and strength – overall a fine and creamy flight, no bumps, no turbulences, no re-lighting, absolutely perfect.
The descent and landing (3/3) continued to be very smooth, still very enjoyable and "easy" to handle, all the way to the last pull on the nub that was burning between my fingers long after landing and taxiing. Still, before parking at the gate (ashtray) and switching off the fires I had a last pull.
It had been an extremely pleasant 1h20 minute flight of fancy with this attractive vitola that offers an excellent price-quality ratio too.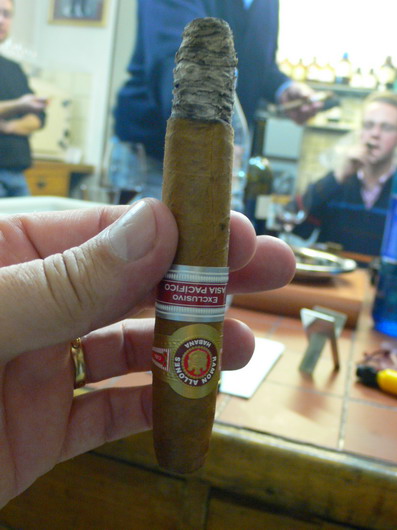 Well performed Take Off and very positive climb rate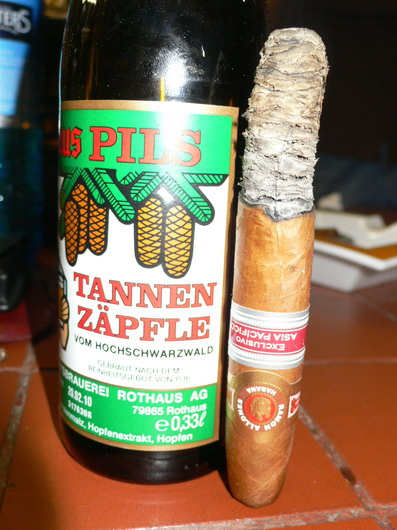 Smooth Cruise Flight and Perfect Landing
My co-pilot Andreas agreed on the check flight performance adding this : Well constructed, very harmonious for a young cigar – but little typical RA flavours present at the moment.
The second stick should have been a highlight, being a 109 cone head RE Alemania 5-ta Avenida.
It came from Hamburg -Thanks are sent to our good friend Paul up there.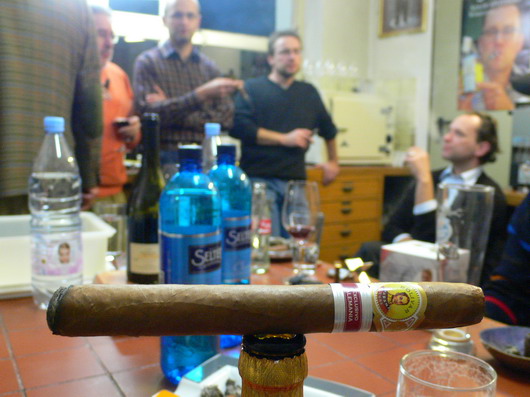 Quinta Avenida Take Off …
The stick burned well, too well even, but crashed in mediocracy half way into the flight and was left to expire without mercy in the big ashen ceramic graveyard after senior Check Captain Constantin had also convinced himself of the cadet's piss poor performance.
… and Crash Landing in Mediocracy
It began with soapy, non-descript aromas after take-off, as mentioned a very easy – too mucho easy – draw, continued without any intensity, lackluster, too light, too mucho hot air, lots of dry straw air filled the cabin, very few hints of anything, some chocolate in cruise flight but basically tasteless, empty and flat after the fine Celestiales.
Nothing "Bolivaresque" about this stick, not really enjoyable. There was nothing funky to taste here.
Also no comparison in construction with the Dantes 109 of the Mexico RE, their oily sheen, perfect heads.
Mediocre was the best term we came up with.
I consoled myself re-booking to a 2007 MC Petit Edmundo from a Portmann Drachenburg dinner box that turned out to be pure bliss.
Intense, rich, peppery, solid construction and a great taste that lasted 90 minutes – Plain Perfect.
( Hey Steve C. in ON – enjoy this stick !  )
We all had received some very pretty metal Camacho ashtrays from Mr Portmann, so we put them to good use right away.
Constantin and I exchanged some PL PC's, as he wanted to try the '07 – I received an '06 from him, and must admit that he was right, the '07's are better, the '06 being lighter and less intense, not as satisfying as the later production. Funny also about the bands ……. even though I store at very low humidity the band was oxydized.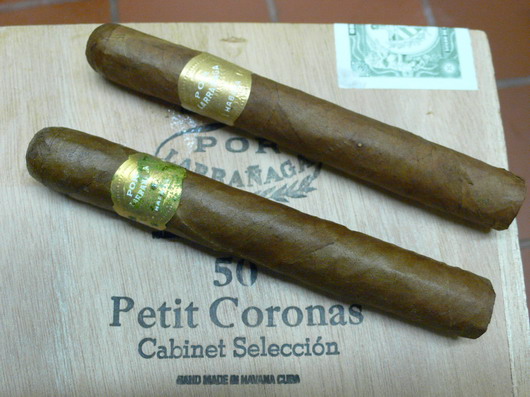 Top : Constantin's 2006 PL PC with clean band
Bottom : Nino's 2007 PL PC with oxydized" band
Gabriel smoked a very attractive Nub Maduro, a tasty bugger with incredible ash, while Vitaly and others went for the Swiss PL Valiosos ER which received a good rating.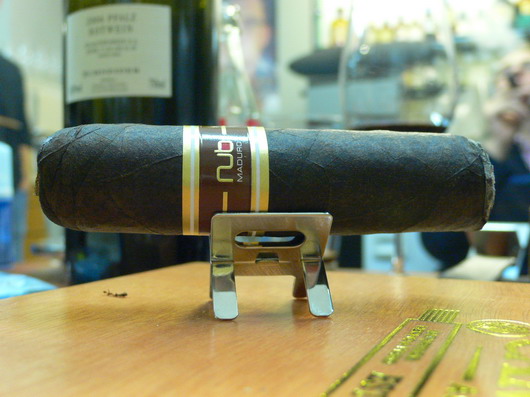 Damm – what a torpedo !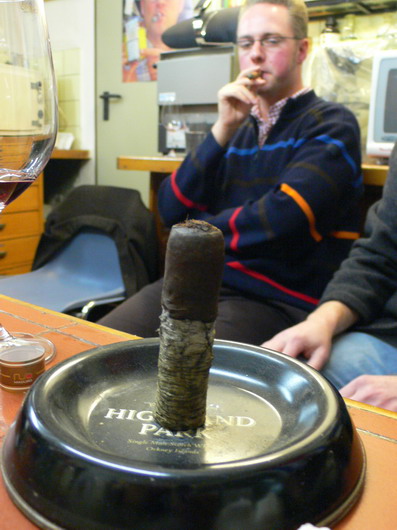 Gabriel's Nub Acrobatics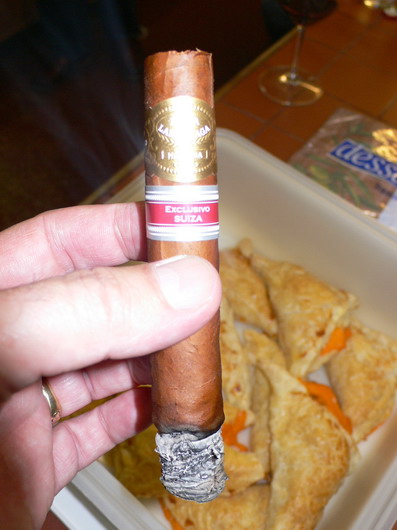 VEG – Valiosos Empanadas Gabriel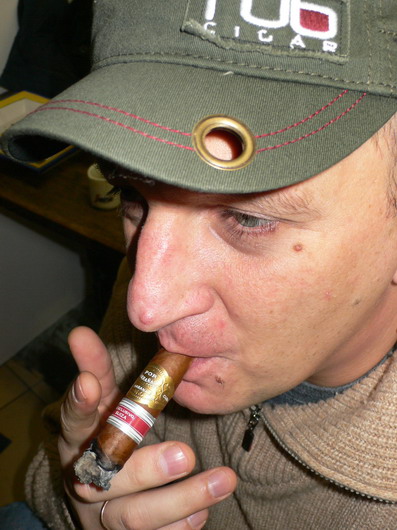 VV – Vitaly Valiosos
Mannix had a very sweet Oliva "chocolate cigar"  that reminded him of candy and also went for one of the Jose Marti "Cuba Libre" baseball bats that Walter had on offer and were quite yummy Nicaraguans.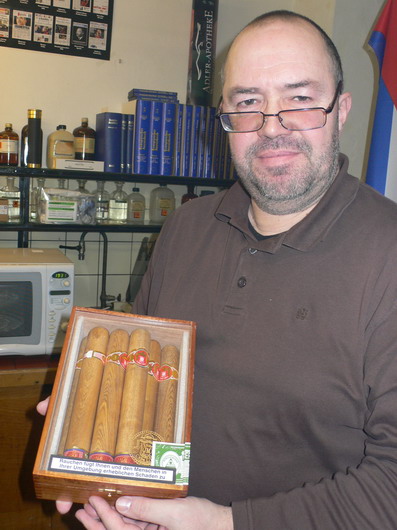 Mannix & Baseball Bats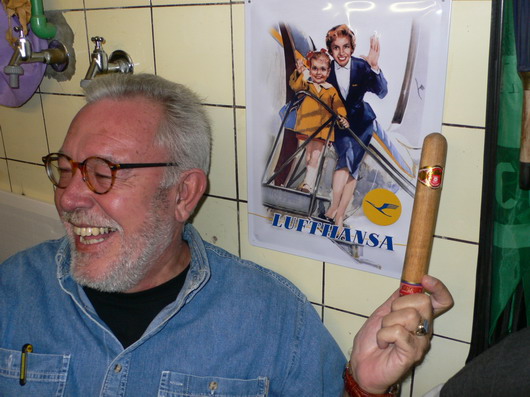 With a Louisville slugger at my designated seat
In the music department, the evening was a Motown theme night, with Andreas playing all his '70's and '80's Motown music for us, which lead to a not-too- bad performance by Bernd "Tyremountain"  as "Stevie Wonder" the piano man.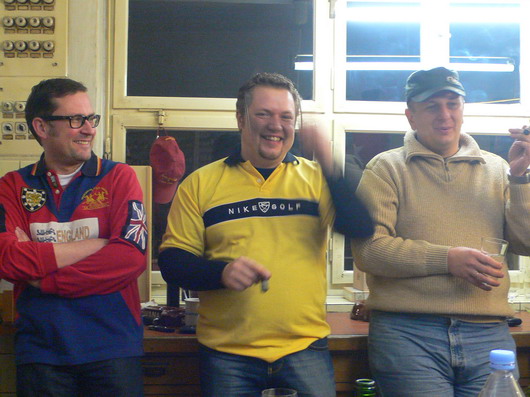 Bernd "Tyremountain"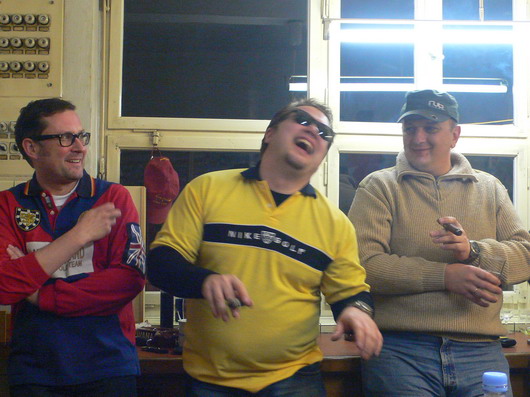 aka lil' "Stevie Wonder" from Wiesbaden
It was good to be back.
And now to a  very special  " High Flight " ……….a really high flight ! ) "
To top up the Celestiales Finos review, I'd like to share this video that I just found on a cigar site – a great ride and spectacular views from Lockheed U-2 spy plane flying at 70.000 ft with the BBC World's "Top Gear" presenter, a programme I love to watch.
Ride along on the Lockheed U-2 spy plane and check out the amazing view cruising at 70,000ft as the sky above turns black"
Copyright 10-2009 © Ninos Flying Cigar