4 Sep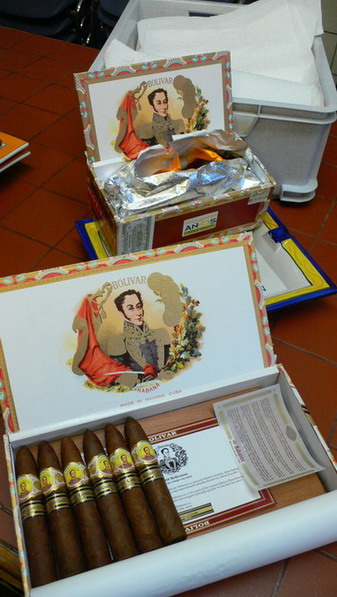 All New (Bolivar) Smokes at the Pharmacy
( Oder : An Nino's Stammplatz ) –
03 Sept. 2009
Beim Apotheken Notdienst Smoke gestern Abend im Labor ging es vornehmlich um 2 neue Zigarren von Bolivar.
Nachdem ich zwar einige Kisten der neuen Elegantes Nr 2 ER Alemania besitze aber die Zigarre selbst noch nicht geraucht hatte, gab es die Gelegenheit sie zu rauchen.
Auch die neue Bolivar Petit Belicosos EL 2009 wurde gestern, courtesy of Andreas, ausgiebig verkostet.
Ich rauchte zuerst die Petit Belicosos und war von Beginn an beeindruckt vom "kernigen" Geschmack dieser kleinen Aromabombe. Sie blieb erdig, kräftig und voller typischer Kraft bis zum Ende, dabei aber bereits rund und sehr angenehm. Zu dieser Zigarre passte das urige "Dachsenfranz" Kellerbier das Christoph spendierte.
Eine Zigarre die ich mir besorgen werde, auch wenn der Preis von 12 € hoch für das Format ist, und der ich auch gutes Potential gebe. Die Meinung wurde von allen in der Runde geteilt.
Danach widmete ich mich der Elegante Nr 2 – ein elegantes Format das mir sehr gut gefällt, aber zu dem man eine ruhige Ecke braucht und viel Zeit. Ich liess mir Zeit und, im Gespräch mit Mannix vertieft, rauchte ich an die 2 Stunden an diesem Modell.
Ebenfalls wir die Petit Belicoso war auch die Elegantes eine Zigarre die mir von Anfang an sehr gut schmeckte, jedoch auf eine dezente, konzentrierte Art den Bolivar Geschmack verkörpert.
Nicht dieser "in your face"-Auftritt der kleinen Belicoso, quasi mit Faust auf's Auge, sondern sehr, sehr
elegant und voller Understatement in ihren Details.
Hier wiederum komplimentierte der eher süsse "Mannix" Grappa sowie ein Belgischer Branntwein die Eleganz der Zigarre ideal.
Erneut eine Zigarre auf deren wiedersehen ich mich in 8 bis 10 Jahren freue.
Warten kann ich jetzt ja gut, als "Privatier", daher habe ich "Langzeitmässig"  auch vorgesorgt – aus dem Lufthansa Shop am Flughafen brachte ich ein schönes, altes Metallschild mit, das meinen Stammplatz im Labor anzeigen soll – es erspart mir so das "frühe aufstehen und Badetuch auf Stuhl legen" …..
Was ich morgen Samstag in Wiesbaden beim Grillfest des Cigar Cult Club – unter neuer Leitung durch unseren Freund Gabriel – nicht benötigen werde, denn im Fotostudio von Frank Widmann am Rheinufer ist ausrauchend Platz.
Wieder ein gelungener Apotheken Notdienst Smoke – Danke Andreas, besonders für die kleinen, leckeren Petit Belicosos !!
-.-
Yesterday's pharmacy smoke at the old lab was mostly dedicated to 2 new Bolivar cigars.
Although I own a couple of boxes of the new Elegantes Nr 2 ER Alemania, I had not had the chance to try the cigar yet, but the chance presented itself.
We also tasted the Petit Belicoso EL 2009, as Andreas was so generous as to share a newly arrived box.
I started with the Petit Belicosos first and was impressed right from the first puff by the "robust" taste of this little aroma bomb. It remained earthy, strong and full of typical strength all the way to the end but was ready and pleasantly round as well as very smoke-able right away.
A cigar that, due to its robust taste profile, got along fine with a robust beer like the "Dachsenfranz" Kellerbier that Christoph invited us to.
A cigar that will be also on my shopping list, even though its price at 12 € is steep, and a cigar that I give a good potential for developing. An opinion that was shared by all present.
I then turned my attention to the Elegantes Nr 2, a very elegant vitola that I personally like, but that needs a quiet corner and lots of time to enjoy. I had time and being deep in conversation with "Mannix" I managed to get a full 2 hours of smoking pleasure.
Again, as with the Petit Belicoso, a cigar that I liked immediately, right from the start, albeit of a different taste profile. A cigar that very delicately concentrates on the finer notes of the Bolivar Marca.
Not the "in your face", bold and gutsy performance of the short Belicoso, but a more understated and elegance-filled show of details.Well complemented by a "Mannix" sweet Grappa as well as a Belgian Brandy that enhanced the cigar's finesse.
Again a cigar I look forward to meet again in 8 to 10 years time.
Being retired now, I can wait patiently, but I have started to organize my favourite seat at the lab by buying a nice metal plaque of Lufthansa's ad from the 50's to attach to my place at the lab – what we call in German a "Stammplatz". That way I won't have to get up at 5 in the morning to drape a beach towel over my chair ……..
Something I won't need to do tomorrow Saturday at the Cigar Cult Club's summer BBQ down by the Rhine river promenade in Wiesbaden.
There's enough space at Frank Widmann's photography studio to enjoy the evening with all the friends and fellow smokers.
We will congratulate the new president of the CCC, our good buddy Gabriel, who has taken over the helm.
Again a very pleasant evening smoke at the lab – thank you again Andreas for the tasty little Petit Belicoso buggers !!
Nino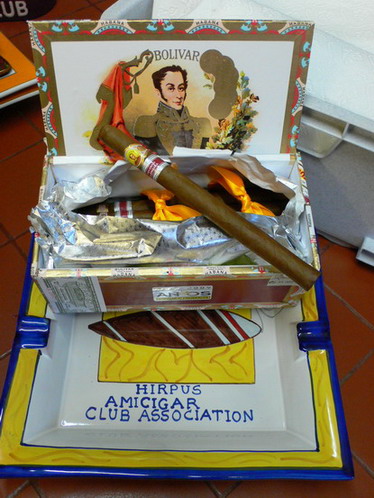 Elegantes Nr 2 & Elegant Ashtray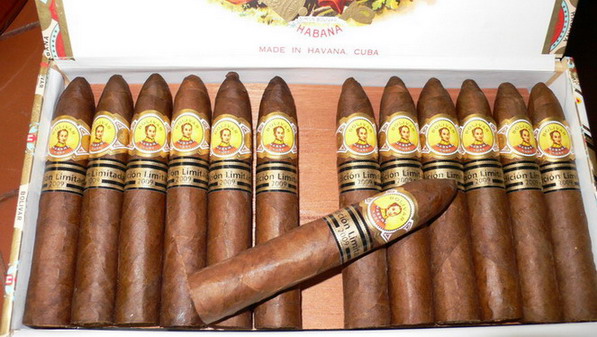 Petit Belicosos EL 09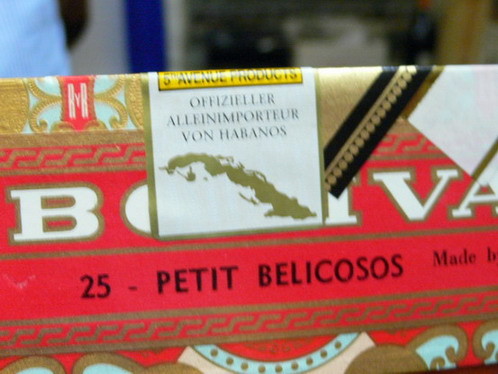 Petit Belicosos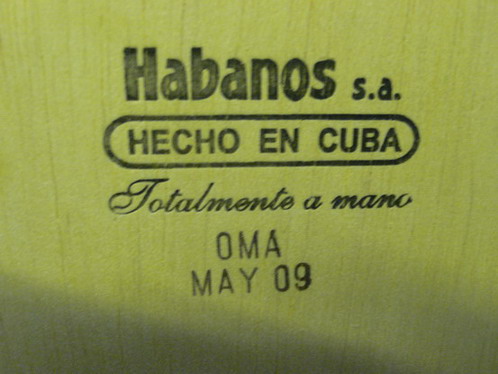 Petit Belicosos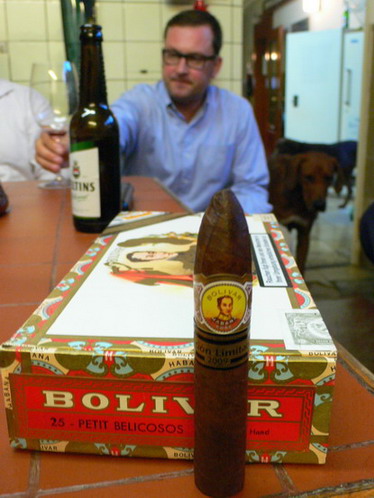 Petit Belicosos & Andreas
Dachsenfranz Kellerbier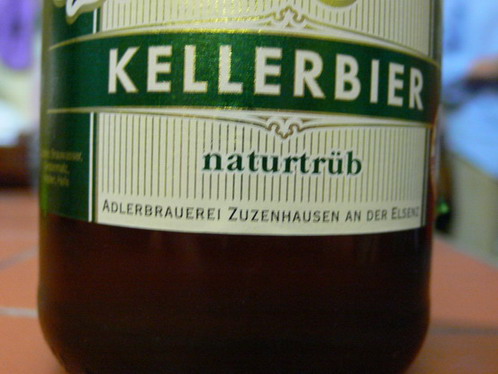 Dachsenfranz Kellerbier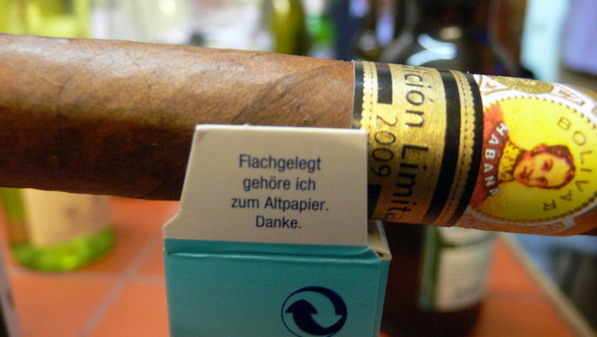 Uhm…. Wie bitte – Was meinen der Herr ??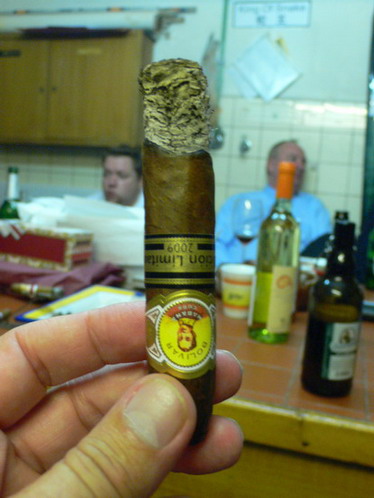 Guter Stumpen !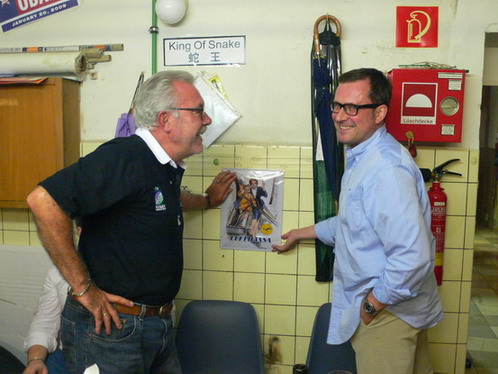 Mein Stammplatz wird markiert …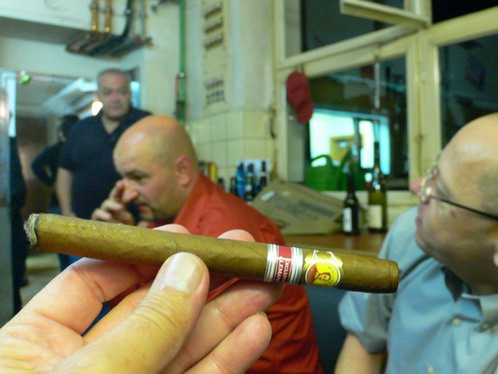 Elegantes Nr 2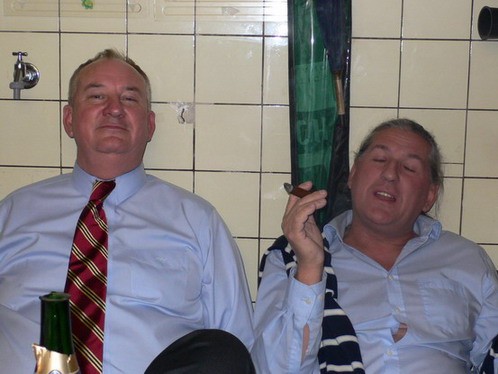 Hans geniesst – Thomas babbelt Non-Stop und Narkosefrei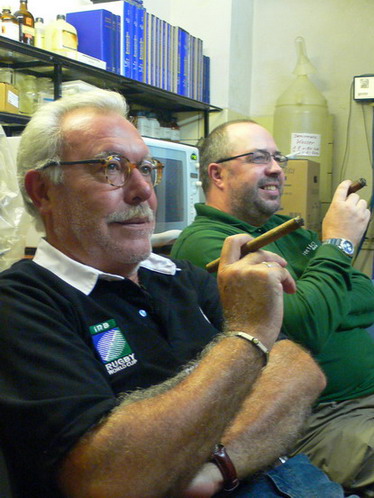 Mannnix und ich hören fasziniert Thomas' Abenteuern zu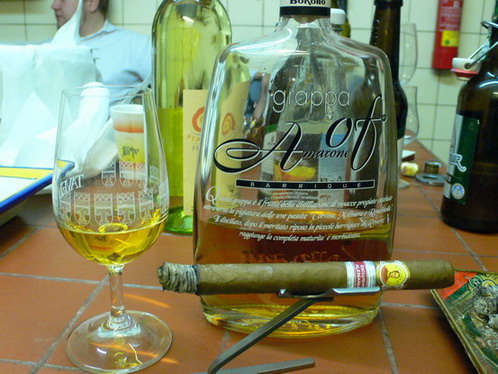 Ein schöner Abschluß – The End
Copyright 09-2009 © Ninos Flying Cigar