10 May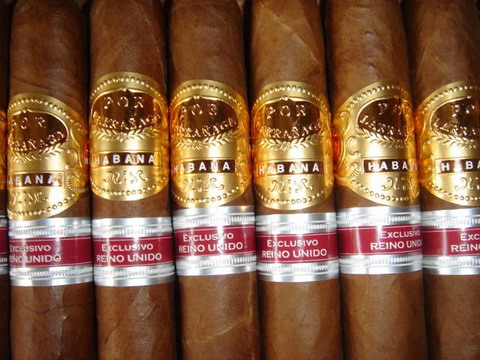 Por Larrañaga Magnifico ER UK Humidor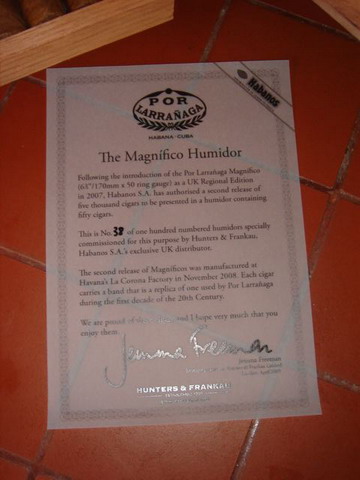 Por Larrañaga Magnifico ER UK Humidor
Por Larrañaga Magnifico ER UK Humidor
May 2009
Ein wunderschöner Humidor, signiert von Jemma Freeman, Ana Lopez und Simon Chase, hat seinen Weg nach Wörrstadt gefunden.
Happy Smoking Andreas !!
-.-
A beautiful humidor signed by Jemma Freeman, Ana Lopez and Simon Chase has found its way to Wörrstadt.
Happy smoking Andreas !!
Additional Information :
For more insight in both Ms Jemma Freeman's, Managing Director of Hunters and Frankau and the company's background ( as well Ms Ana Lopez, Cuban Corporate Director and her role in both Habanos SA and H&F )
I strongly recommend this highly interesting article in Forces :
www.forces.org/writers/james/files/family.htm
As for Simon Chase, Marketing Director of H&F, here's a small part of his official cigar bio :
"Simon Chase is Marketing Director of London-based Hunters & Frankau, cigar importers since 1790.
Acknowledged by Cigar Aficionado magazine as "an expert in all things cigar-related," he joined Hunters & Frankau in 1977 and has since accumulated extensive knowledge of tobacco growing and cigar making, past and present, particularly in Cuba.
In February 1998 he was awarded by Habanos SA, Cuba's worldwide cigar marketing company, the coveted Hombre Habano del Año (Habanos Man of the Year) trophy for Communications.
In their citation, Habanos SA highlighted the role Simon Chase has played in educating cigar enthusiasts through contributing to books, writing articles and hosting cigar dinners.
Over recent years Simon Chase has gained a reputation in Havana for his skills as an auctioneer.
Since February 1999 he has conducted six auctions, five in Havana and one in London, that have raised over 2½ million US dollars for the Cuban Public Health Service.
All the lots, which are special cigars usually contained in humidors made by Cuban artists and craftsmen, share distinction of being signed by President Fidel Castro.
Simon's most successful night as an auctioneer was his first. It took place on 28th February 1999 at Habanos S.A.'s Gala Dinner of the Millennium when he sold five lots for $750,000.
Shortly afterwards President Castro, who was present on that occasion, endorsed the Festival del Habano as an official state-recognized annual event."
Here's a link to Hunters & Frankau "About Us" :
www.cigars.co.uk/page.php?cid=2
And here you can see both Ms Freeman & Ms Lopez awarding the 2008 Silver Chaveta Award to
well deserving Ajay Patel of La Casa del Habano, Teddington in London :

www.cigars.co.uk/page.php?cid=327
Update 27.05.2009 :

For tasting notes of the PL Magnifico, please go to " Absolutely Nice Smoke in the Pharmacy"

All Humidor pictures : Andreas "Rheinhessenraucher"
Por Larrañaga Magnifico ER UK Humidor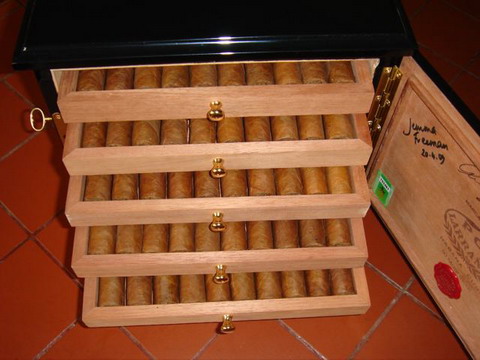 Por Larrañaga Magnifico ER UK Humidor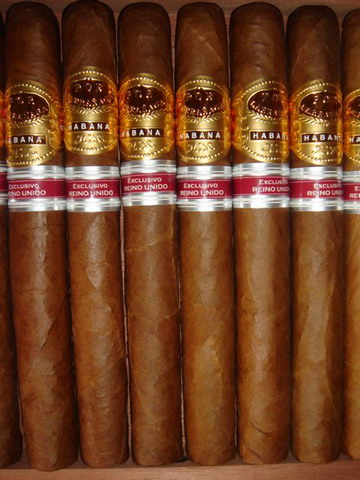 Por Larrañaga Magnifico ER UK Humidor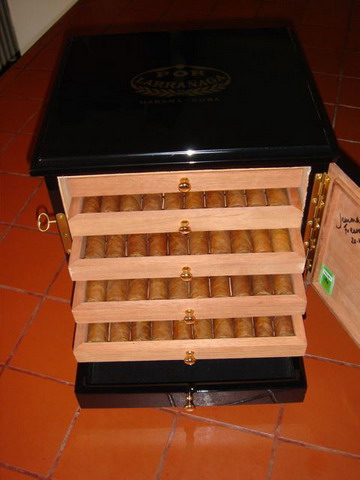 Por Larrañaga Magnifico ER UK Humidor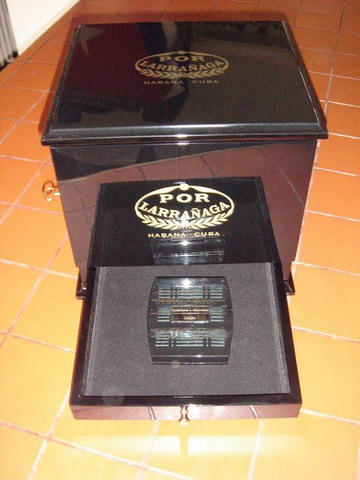 Por Larrañaga Magnifico ER UK Humidor
Por Larrañaga Magnifico ER UK Humidor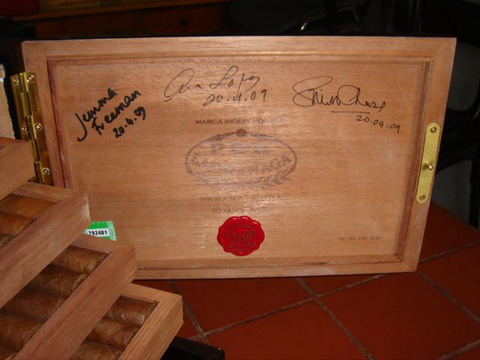 Por Larrañaga Magnifico ER UK Humidor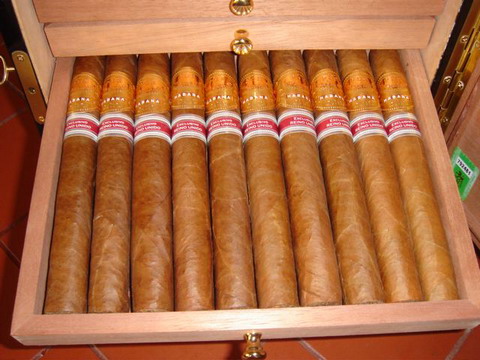 Por Larrañaga Magnifico ER UK Humidor
Copyright 05-2009 © Ninos Flying Cigar