12 Dec
Welcome to the 11th Habano´s Festival.
Habanos S.A. Corporation and Tabacuba Business Group are honored to invite you to the 11th Habanos Festival, the most important event in the Habanos realm.
From 23rd to 27th of February La Habana, venue of the Festival will become the meeting place of the distributors, specialists and lovers of the best cigar in the world. It will be a unique setting for presenting the novelties to be incorporated to the Habanos portfolio in 2009, which guarantee the dynamism of our market.
Within the Habanos Festival, the Trade Fair and the International Seminar will provide a wide exchange of knowledge, experiences, products and ideas and create a unique atmosphere to fully enjoy the aroma, flavor and texture of the Habanos, the true stars of the Festival.
We are looking forward to seeing you in Havana where you will find pleasure in the tradition and future of the Habanos.
Oscar Basulto Torres             Buenaventura Jiménez Sánchez-Cañete
Chairman of Organizing Committee
GENERAL PROGRAM:
Sunday 22

10:00- 16:00 hrs
Registration at Havana International Conference Centre.

Monday 23

10:00- 16:00 hrs.
Registration at Havana International Conference Centre.
10:00- 17:00 hrs.
Preliminary of the Habanosommelier Contest at International Conference Centre (Room 5).
14:00 hrs.
Opening of Trade Fair.
15:30 hrs.
Combinations with Habanos at International Conference Centre. (Room 6).
19:00 hrs.
Welcome Night: New Products Launching (2009).

Tuesday 24

07:00- 16:00 hrs.
Visit to tobacco plantations at Vuelta Abajo Region. (Pinar del Río).Free Night.

Wednesday 25

10:00- 10:30 hrs.
Opening of the International Seminar.
Main commercial results of Habanos S.A.
in 2008, by Manuel García Morejón, Commercial Vice President of Habanos S.A. (Room 4).
10:30- 11:00 hrs.
Launching of new products, 2009. (Room 4).
11:00- 11:30 hrs.
Coffee Break.
11:30- 12:30 hrs.
Tasting with Coffee, Rum and Habano. (Room 3).
12:30- 14:30 hrs.
Lunch at Bucan Restaurant.
14:30- 16:00 hrs.
Master class: Rolling a Habano totally by hand. (Room 4).
16:00- 17:00 hrs.
Tasting: Habanos with wines from Bodegas Torres. (Room 3).
20:00 hrs.
Night devoted to Trinidad Brand.
Its 40th anniversary and 10 years
of the commercial launching.
Habana Libre Tryp Hotel. Embajadores Room.

Thursday 26

 
09:00- 12:00 hrs.
Visit to Habanos Factories: H-Upmann & Laguito Cigar factories.
12:30- 14:00 hrs.
Lunch at Bucan Restaurant.
14:00- 15:30 hrs.
Combinations with Habanos. Final (Room 3).
15:30- 16:00 hrs.
Lecture: "The Habano in publications by Cesar Adames. (Room 4).
16:00- 16:30 hrs.
Lecture: "The Restoration in Cuba by Fernando Fernández. (Room 4).
16:30- 17:30 hrs.
Documental Projections: ¨With the chaveta´s Touch by Pamela Sporn¨, and ¨Habanos,
Women and Cohiba by Niurka Pérez¨.
(Room 3).Free Night.

Dinner arranged by Internacional Cubana
del Tabaco (ICT) and PROMOTORA DE
CIGARROS,S.L. (Promocigar).
Just by invitation.

Friday 27

 
10:00- 11:30 hrs.
Habanosommelier Final Contest
(Room3).
11:30- 12:00 hrs.
Lecture: "Habano Fermentation" by Luis Sorinas. (Room 4).
12:00- 13:00 hrs.
Closing Session. (Room 4).
Awards:
– Best Stand (by category).
– Habanosommelier contest winner.
13:00- hrs.
Final lunch at Bucán Restaurant.
20:00- hrs.
Gala Night: Launching of new product from Cohiba Brand. PABEXPO. (Room C).
 

Information provided courtesy of Habanos SA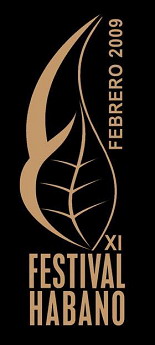 XI Festival del Habano