5 Jul
Nachdem der SWR 3 unserem ANS  einen Fernsehbeitrag widmete, schreibt die regionale Presse ebenfalls über uns :
Der Apotheken-Notdienst-Smoke ANS sowie die Rheinhessenraucher stehen im Mittelpunkt eines Berichtes der "Allgemeinen Zeitung" Alzey vom 05 Juli 2008.
Bereits im Februar 2008 berichtete die "Allgemeine Zeitung" Mainz über unsere Smoke and Dine Meetings im Hyatt Mainz.
Hier der Link zum heutigen Bericht :
http://www.allgemeine-zeitung.de/region/objekt.php3?artikel_id=3345930
Alle Inhalte sind das Copyright der Allgemeine Zeitung / Verlagsgruppe Rhein-Main
After being filmed by SWR 3 TV station holding our regular Pharmacy Smoke, the regional press has also dedicated a report to us :
Our regular Pharmacy Smoke Meetings and our Rheinhessenraucher cigar smoking group are the focus of a report in today's regional "Allgemeine Zeitung".
The same newspaper already reported on our Smoke and Dine meetings at the Mainz Hyatt back in February this year.
Here's the link to today's report :
http://www.allgemeine-zeitung.de/region/objekt.php3?artikel_id=3345930
All content copyright of Allgemeine Zeitung / Verlagsgruppe Rhein-Main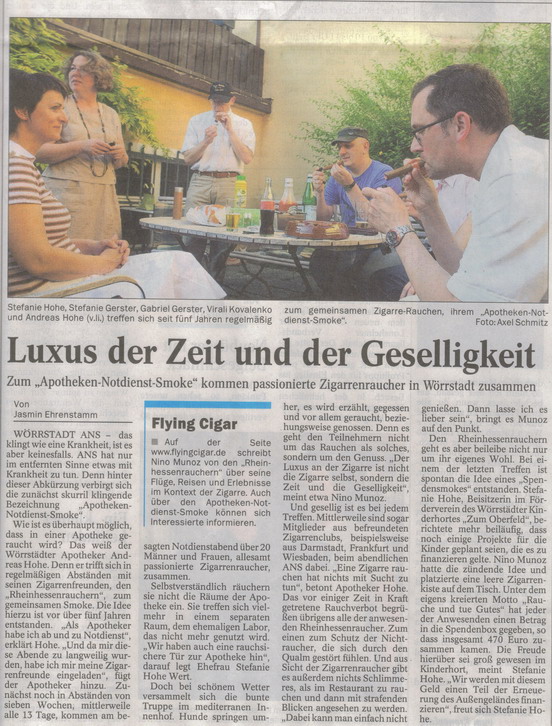 Bericht "Allgemeine Zeitung" 05 Juli 2008

Bericht "Allgemeine Zeitung" 20.02.2008