31 Mar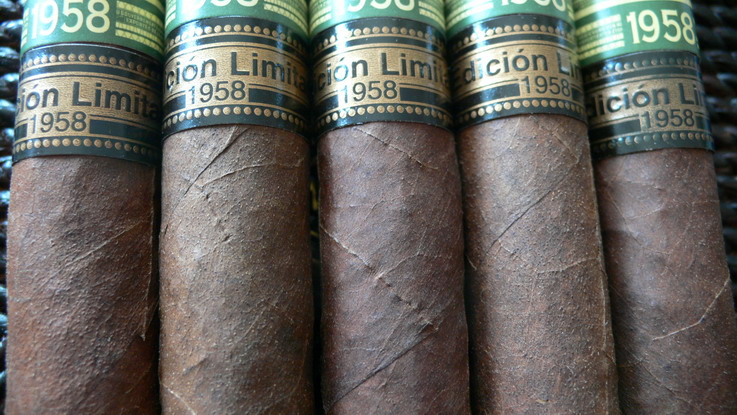 Noch sehr gut erhalten / Still Very well preserved
EDICIONES LIMITADAS VON 1958 !!
Mythisch / Mythical
01 April 2008
Während  meines Besuches in Kuba anlässlich des X Festival del Habano hatte ich das UNGLAUBLICHE  Glück einen sensationellen Fund zu machen – eine Rarität.
Einzigartig historische Zigarren die zeigen dass man sich in Kuba bereits seit vielen, vielen Jahren Gedanken über die Präsentation der Premium Marken gemacht hat.
Ediciones Limitadas aus dem Jahr 1958 !! Unglaublich. Sie lagen in einem geheimen Keller in Alt Havanna wo mich ein netter und freundlicher Kubaner hinführte – keine Mühe war mir zu gross,  gegen eine vernünftige Aufwandsentschädigung konnte ich sie für meine Mythen Sammlung erwerben.
Stolz möchte ich sie heute, am 01 April 2008, 50 Jahre nach der Einführung, den geneigten Lesern präsentieren.
Vielleicht kann mir jemand helfen den Roten Stempel auf der Steuerbanderole zu entziffern, da ist etwas wie "Counter…." aufgedruckt, aber ich denke dass wird "Konterrevolutionär" heissen, denn Zigarren wurden ja damals als Kapitalistisch empfunden …
Expertenmeinung gerade eingetroffen :
Nino, Sensationeller Fund, die 1958 !!!Nach meinen Aufzeichnungen sind das Pre – Revolution Cigars.
Und waren eine spezielle Anfertigung für den walisischen Grafen von ErFeit.
Dieser war ein naher Verwandter von Lord Lonsdale und wollte ebenfalls eine
eigene Cigarre.


Zu seinem 50. Geburtstag sollte ihm dieser Wunsch verwirklicht werden, aber
die bereits schwelende Revolution verhinderte eine weitere Produktion.


So blieb es bei den ersten Vor-Serien-Mustern, bei denen es noch leichte
Unvollkommenheiten gab:
Rechtschreibung zum Beispiel war und ist in Cuba immer ein Problem … und
so wurde aus Count ErFeit — COUNTERFEIT
Du scheinst bei Deinen Recherchen auf diese – lange verschollen geglaubten –
Vorserienmuster gestossen zu sein.
Hans W.

Danke, Hans !

SENSATION !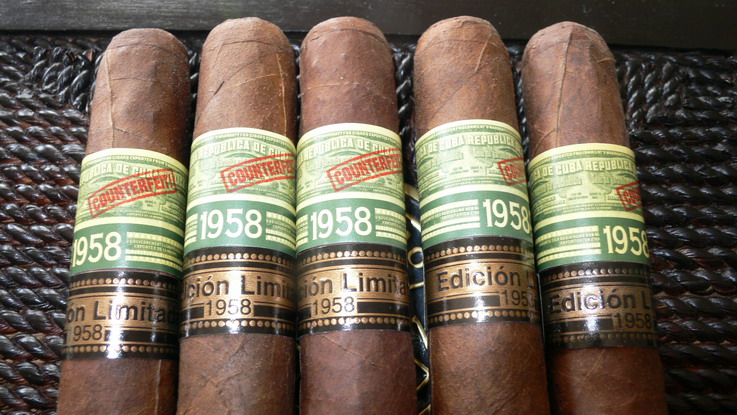 Rarity / Rarität
1958 EDICIONES LIMITADAS
April First, 2008
I am very proud to present , 50 years after it first saw the light of day, the very first Edicion Limitada, dating back to 1958 !!
A SENSATIONAL and extremely rare find that I was able to make during my visit to the X Festival del Habano last month.
Guided by a friendly local I was taken to a secret basement in Old Havana where, for a reasonable contribution to the local, I was able to purchase these astonishing historical cigars.
It clearly shows that the Cubans have always been concerned about the presentation of their premium cigars.
I am proud to present today, April First 2008, exactly 50 years after their first presentation, these rare cigars to you, dear reader of this blog.
Maybe someone can help me decipher the red stamp on the tax band, there is something like "Counter …" stamped on them, but I guess it means "Counterrevolutionary", as cigars were considered to be a capitalist sin back then …
Just In :
Expert opinion on the discovery :
Nino, sensational discovery, the 1958 !!
According to my notes these are Pre-Revolution cigars.
They were specially manufactured for the welsh Count of ErFeit.
He was a close relative of Lord Lonsdale and also wanted his own cigar format.
His wish should become reality on his 50-th birthday, but the already beginning Revolution made any production impossible.
Only some Pre-production sticks remained and they were not perfect.
Spelling has always been a problem in Cuba, and so Count ErFeit became … COUNTERFEIT.
During your research you must have stumbled on these pre-production series cigars, long believed to be missing.
Hans W.
Thank you, Hans !
Copyright 04-2008 © Ninos Flying Cigar