3 Sep
In "Gottes" Gabsheim bei Gottfried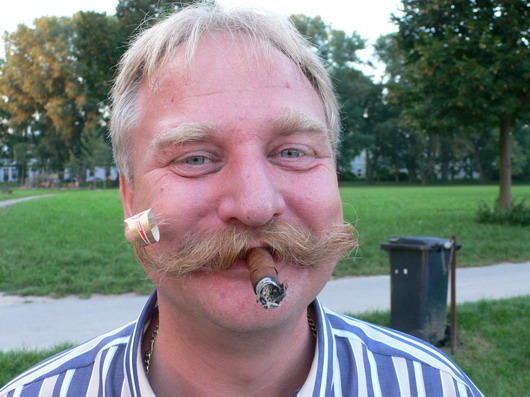 Stocki in Wiesbaden
Wörrstadt – Cigar Central Smoke

Wiesbaden – Cigar Cult Club Grillfest
(English translation below the german text)
Auch wenn ich denke dass es sich übertrieben anhört, entwickelt sich Wörrstadt doch zu einem Treffpunkt befreundeter Zigarrenraucher – sei es durch die zentrale Lage, sei es durch die Attraktivität der "Apotheken Smokes" bei Andreas im Alten Labor.
Nachdem Larry aus den USA uns Anfang besuchte, stand Ende August ein Doppelevent an, zu den sich befreundete Raucher anmeldeten.
Es war ein Freitag mit ANS und ein Samstag mit Grillfest unserer Freunde des Cigar Cult Club in Wiesbaden am Rheinufer.
Somit bot sich an das Angenehme mit dem Attraktivem zu verbinden.
Zu den Besuchern in Wörrstadt gehörten Michael "Turner" der aus München anreiste, Thomas "Stocki" der mit vier Auspuffrohre in der Corvette aus Stuttgart anrauschte und Tom "Bolivar" der samt attraktiver Frau und lieben Kindern am Samstag aus Zürich kam.
Alles in allem kamen zum ANS an die 25 Personen – bei einem fantastischen Wetter das den Smoke im Garten ermöglichte.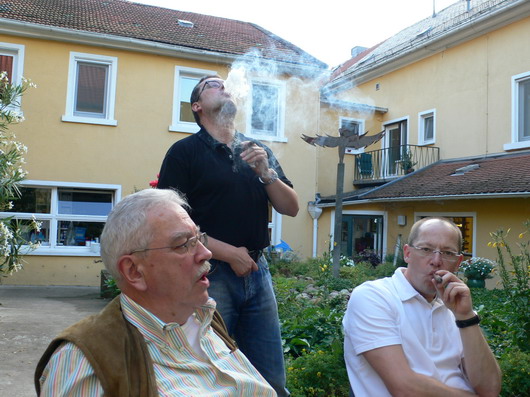 ANS – Die Ruhe vor dem Sturm – Walter, Andreas, Gabriel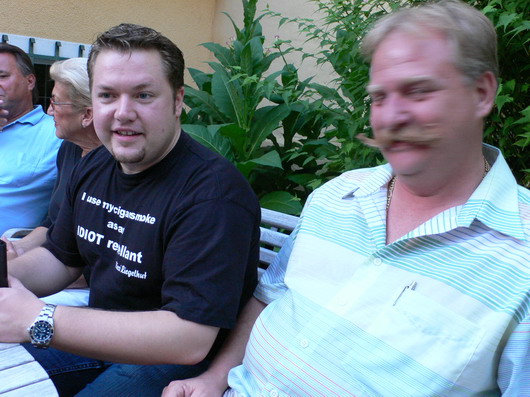 I use my cigar smoke as an IDIOT repellant
Bernd "Tyremountain" kam im aussagekräftigem T-Shirt aus dem Designstudio "Ricciland" – dieses Stoffstück will ich auch !
Michael hatte sehr schöne neue JLP "Petit Cazadores" dabei die nicht nur sehr gut aussahen sondern auch so schmeckten.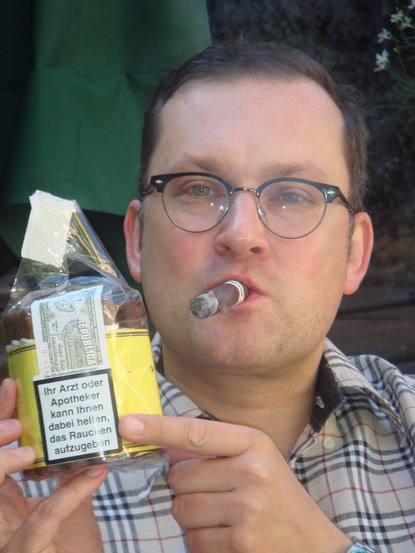 Geben SIE auf – Ich mache weiter ……
Es wurde ein schöner, gemütlicher Abend.
Samstag war eine Rheinfahrt nach Worms zum Besuch des Backfischfestes geplant.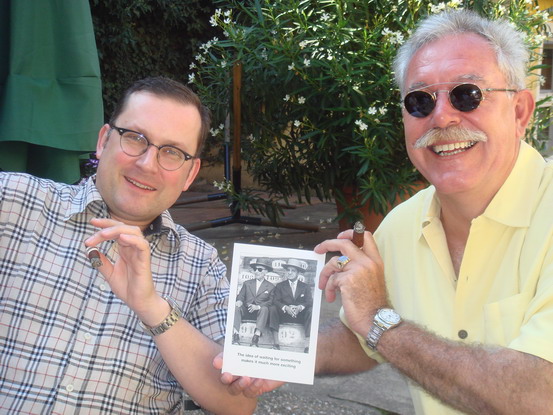 Brioni Gentlemen Toreros
Wir trafen uns zum Kaffee und erster Zigarre gegen 10 im Garten und verwarfen die Rheinfahrt für eine Art "Tupper-Zigarrenartikel-Party" zu der uns Gottfried in seinem Garten spontan einlud.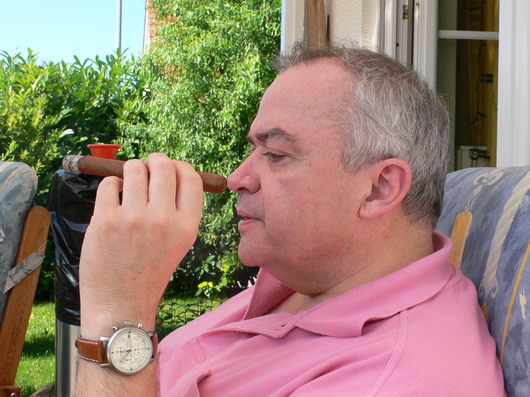 Gastgeber/Host : Gottfried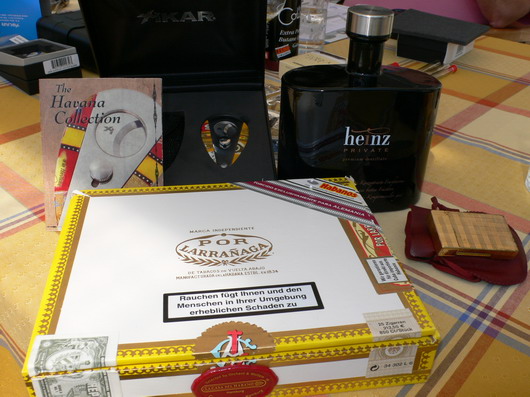 Tupperparty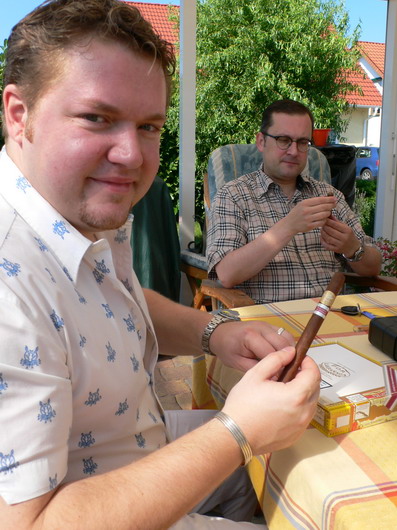 Bernd & Andreas
Es gab leckere PL Lonsdales ER zu leckerem Österreichischem Zigarrenbrandy.
Dann ging es in den Innenhof der "Alten Schmiede" in Wörrstadt zum Mittagessen. Unterm Baum wurde geredet und geraucht bis wir alle gegen 15h ins Eiscafe weiterzogen.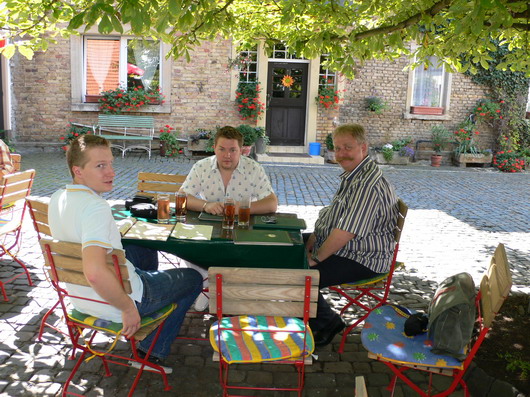 Alte Schmiede – Wörrstadt
Um 18h30 dann wieder Treffen an der Apotheke zur Abfahrt nach Wiesbaden.
Am Rheinufer, im Fotostudio von Frank Widmann erwarteten uns Mitraucher aus Wiesbaden, Bensheim und Heidelberg.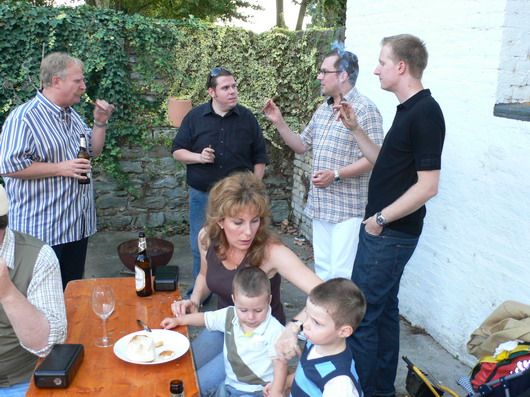 Tom & Family, Turner, Stocki, Andreas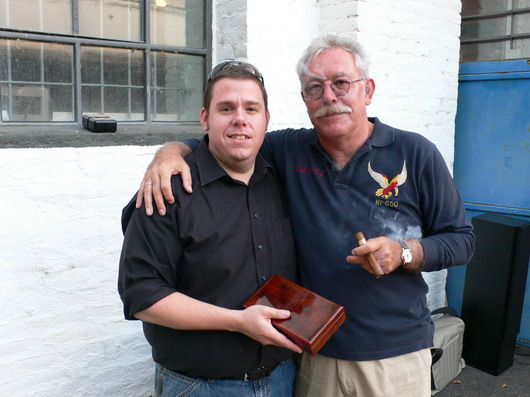 Tom "Bolivar" & Robaina "Personal"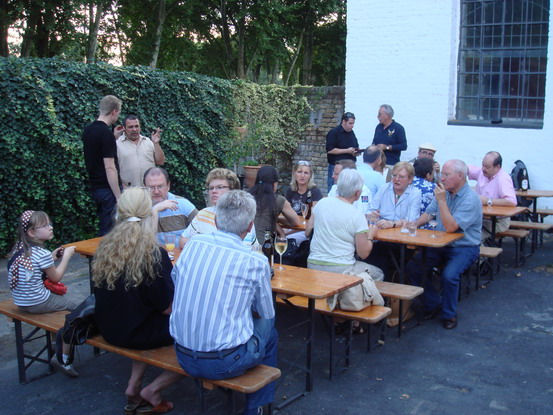 Wiesbaden BBQ
Walter, Turner, Andreas, Tom, Nino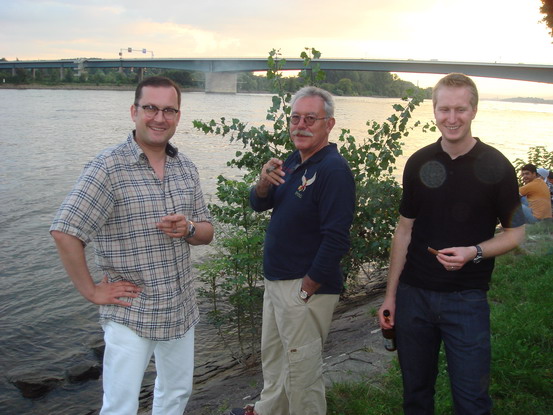 Down by the River
Ein schönes Grillfest, das Sechste des CCC, tolles Wetter und am Ende gab es von Gottfried den begehrten "Cigarignac" satt.
Die Rückfahrt nach Wörrstadt in "Hörners Zigarrenbus" gestaltete sich denn auch lustig.
Sonntag gab es ein "Landfrühstück" in einer Eierfarm und dann wieder der Schatten des Baumes in der "Alten Schmiede".
Tom & Andreas
Hier gab es von mir eine Kiste Bolivar "Gold Medal" aus der neuen Produktion, POS Nov 06, die allen schmeckte. Ebenso wie am Vortag die M5 Secretos, die aber noch ein paar Jahre braucht.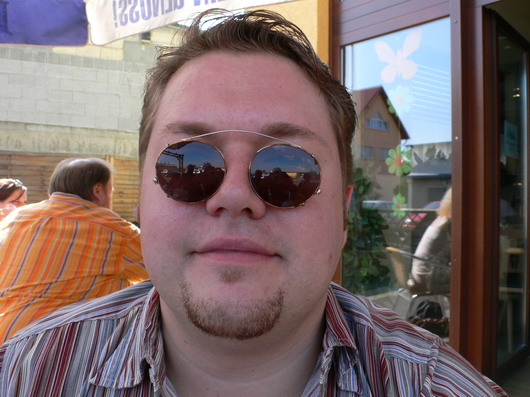 Bernd "Shades"
Landfrühstück / Country Breakfast
Stocki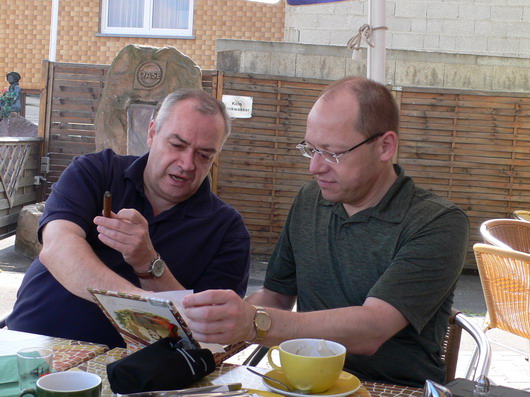 Gotti & Gabriel
Abends, nachdem Stocki und Turner abgefahren waren, gab es noch eine kleine Runde mit Tom und Familie bei Massimo.
Montag, gerade hatte sich Tom verabschiedet, traf Hauke "Deichgraf" mit Familie ein.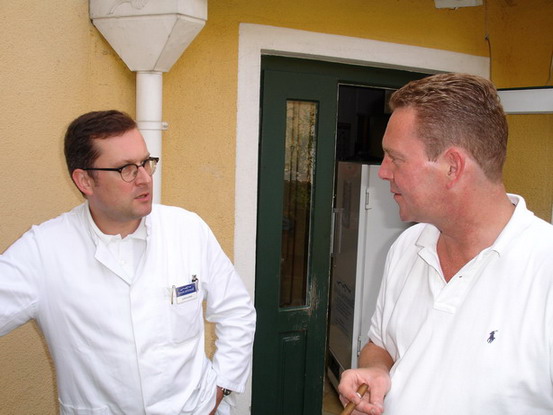 Andreas & Hauke
Dornfelder vom Winzer in Wörrstadt, Saumagen vom Metzger in Worms und eine Panatela in der Apotheke, das waren Haukes "Must-Do-Items" auf dem Weg nach Norden.
Für die Nimmersatten gab es Abends in Mainz noch ein "Smoke & Dine" im Hyatt.
Also rundherum ein erfülltes Zigarren Wochenende in der Provinz.
Und die Drehscheibe dreht sich weiter – Anmeldung von "Habanadi" liegt vor und einige "Rheingeniesser" wollen sich auch auf dem Weg machen …………..
A good Cigar Weekend in the Village
Wörrstadt – Cigar Central Smoke

Wiesbaden – Cigar Cult Club BBQ
Even though it sounds a bit over the top, Wörrstadt our little village, is attracting lots of good cigar smokers – be it by being centrally located or because of the attractive cigar evenings in the old lab of Andreas pharmacy.
After Larry's visit early August, we had a double whammy event planned for late August for which some friends had announced themselves as being "incoming".
It was a pharmacy smoke on Friday and the 6-th annual Cigar Cult Club BBQ in Wiesbaden by the river Rhine next the day.
Good way to have two smokes for the price of a single ride …….
Visitors to Wörrstadt were Michael "Turner" up from Munich, Thomas "Stocki" rode his Corvette up from Stuttgart and Tom "Bolivar" plus lovely wife and kids up from Zürich on Saturday.
We were around 25 guests at Friday's pharmacy smoke, which was held out in the yard in lovely weather.
Bernd "Tyremountain" wore a very interesting T-Shirt which I like to get my hands on – it's from a quote by Ricci.
Michael had a bundle of the new JLP Petit Cazadores, nice looking & tasty.
We had us some good fun, smoked great cigars and enjoyed the company.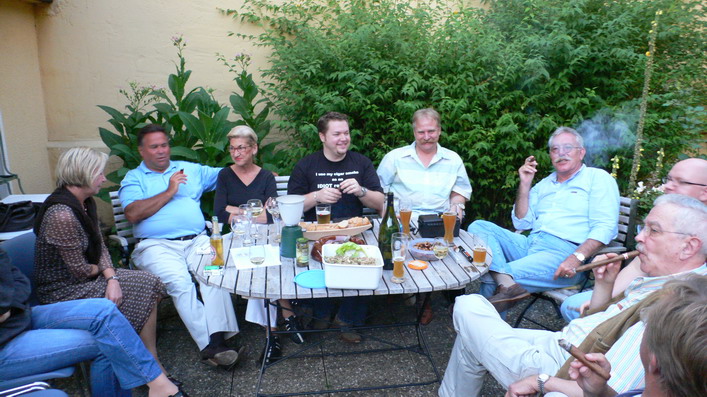 Life's good – cigars too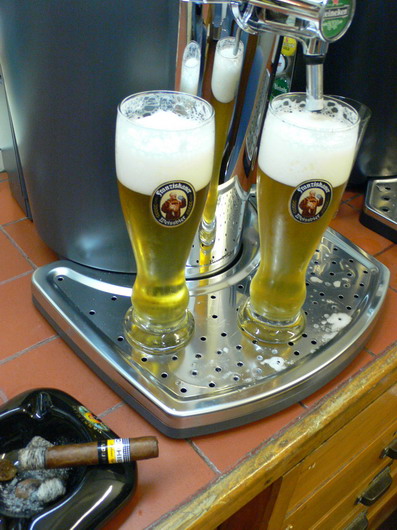 Dunkel & Helles /  Maduros & Blondies
Instead of a planned trip to Worms by the Rhine river, we met for early cigars and coffee on Saturday and decided to continue smoking on Gottfried's backyard.
We smoked the PL Lonsdales ER and hit a decanter of Austrian cigar brandy – lovely way to enjoy Saturday noon.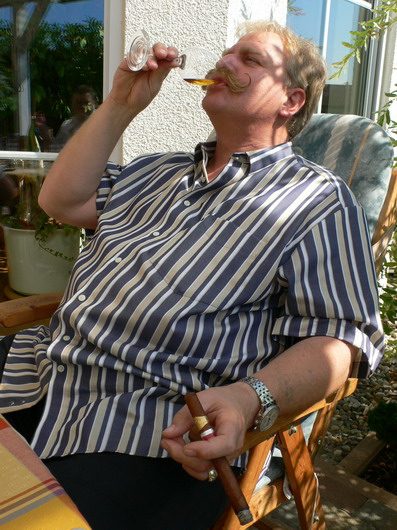 Good sippin'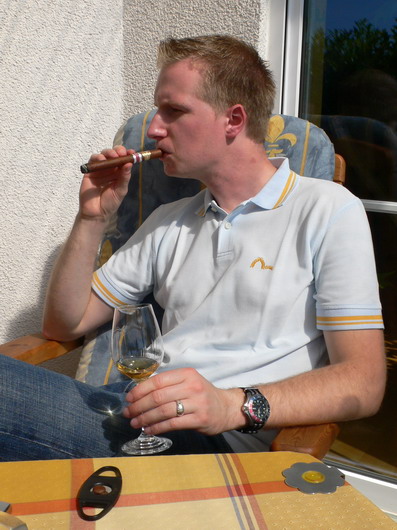 Good smokin'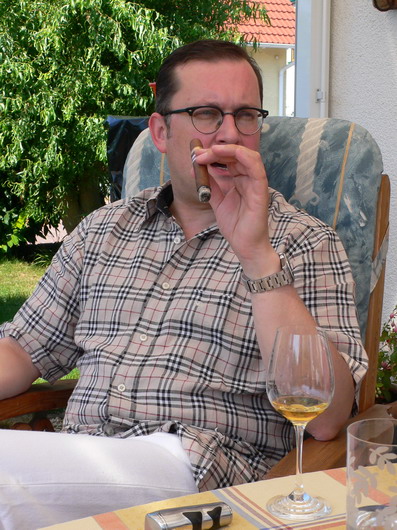 Good Time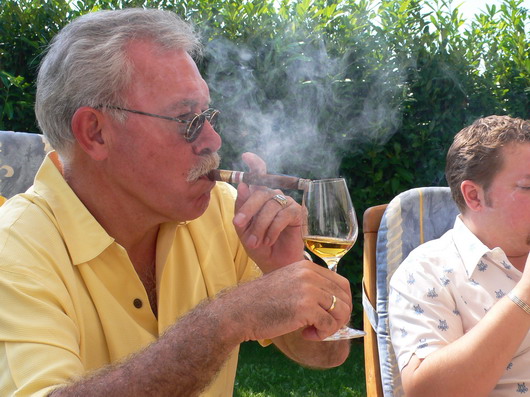 All's Good
Lunch was had under the big tree at "Alte Schmiede" and we continued well into the afternoon smoking at the local ice cream parlour.
Departure for Wiesbaden was 6:30 pm by bus from the pharmacy.
At the generous loft of photographer Frank Widmann by the Rhine we were met by fellow smokers from Wiesbaden, Bensheim and Heidelberg.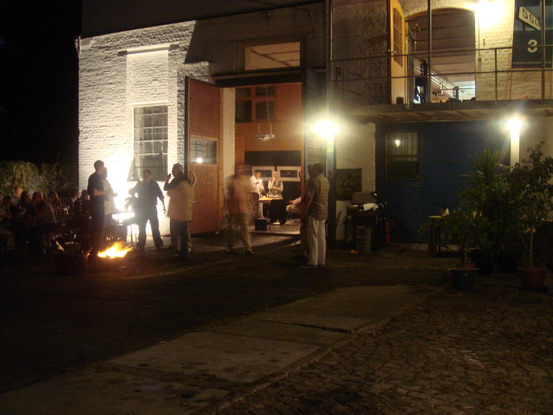 Frank's Loft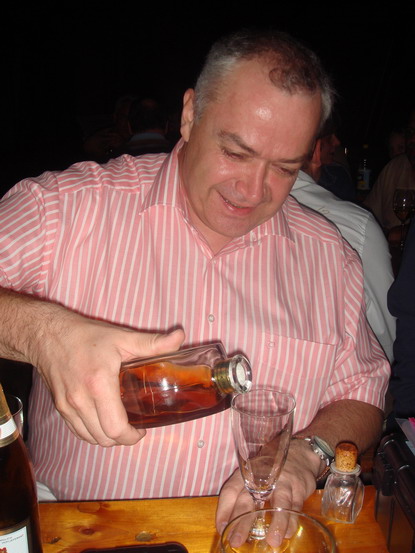 Gottfried & Cigarignac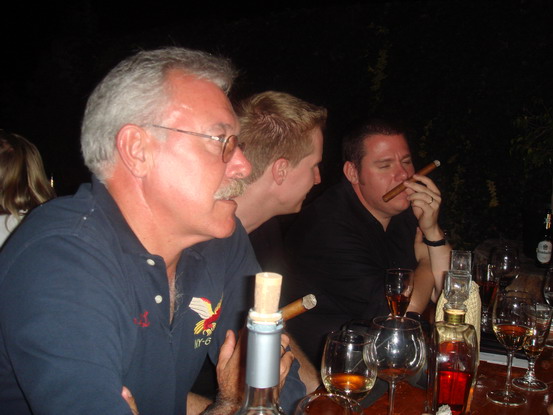 Nno, Michael "Turner" & Tom "Bolivar"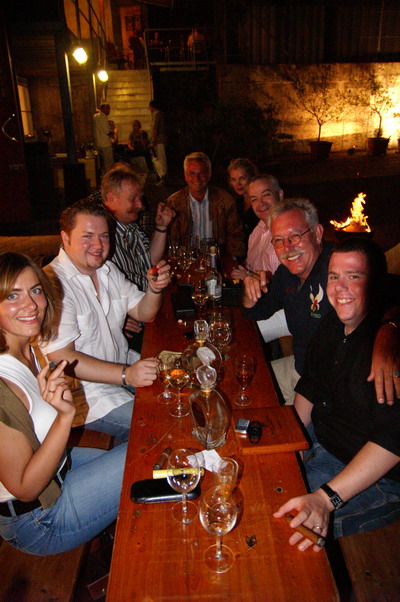 Band of Smokers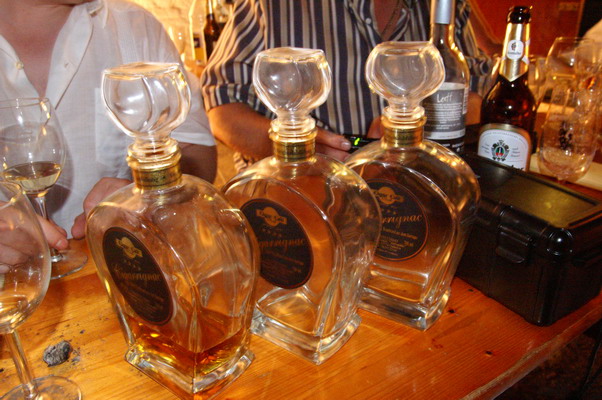 Cigarignac Stock
Again we were blessed by sunshine, we had a great time, good BBQ and we finished it off drowning several decanters of "Cigarignac", a brandy that matures in vats that contain some fine cigar aromas blown into them from Cuban cigars that were smoked at the vineyard specially for this brandy.
Needless to mention that the return trip to Wörrstadt was quite a funny affair.
Sunday woke up with a hearty breakfast in the country, followed by lunch under the tree again.
Waiting for Breakfast at the Pharmacy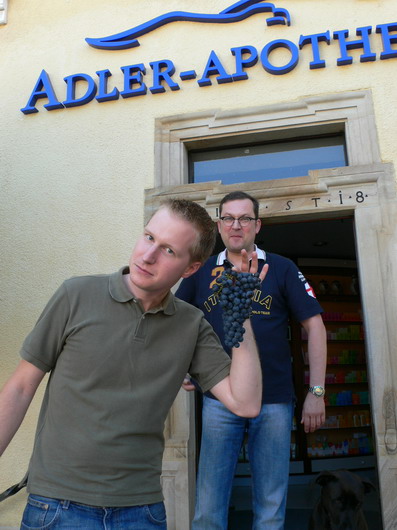 Michael & Andreas & fresh Grapes
We finished a box of Gold Medals, POS NOV 06 that I brought from Cuba, everyone was happy, just as with the Maduro 5's Secretos the day before, although they are still a bit too young – but accessible – right now.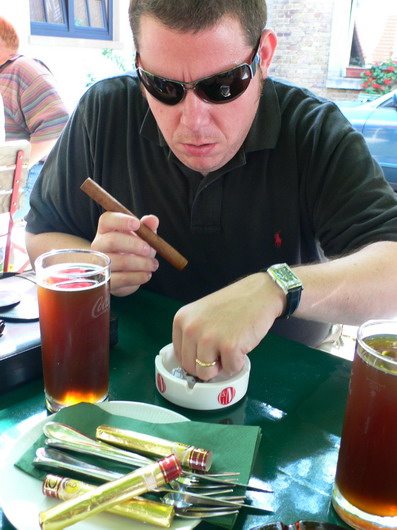 Tom looking …….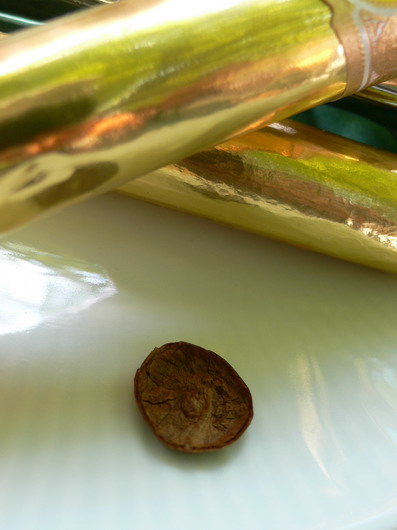 and finding the mark of a good Roller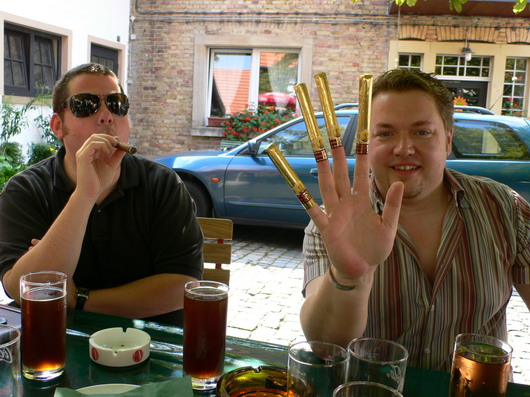 Tom  & Bernd "Goldfinger"
Turner "faking" Gold Medals
Dinner Sunday was an intimate affair at Massimo's with Gabriel and Tom's family – Stocki and Turner had left.
Monday, right after Tom's departure, another guest arrived, Hauke "Deichgraf", who had his car packed with country meats and local reds to carry up north to Hamburg. He added a quick panatela in the yard with us a must-do item before continuing the ride.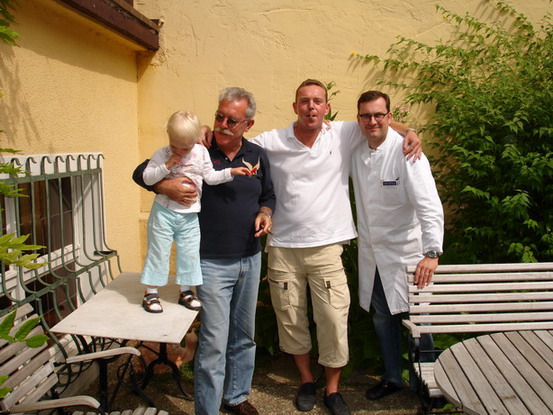 Hauke & Alina in Wörrstadt
And, if not already enough, that Monday evening there was a Smoke & Dine cigar dinner at the Mainz Hyatt ………..
Quite a cigar weekend for a provincial backwater.
And it looks bound to continue, as we have some guys from Hamburg and Düsseldorf "threatening" to visit us shortly……
Nino
Copyright 07-2007 © Ninos Flying Cigar