29 Apr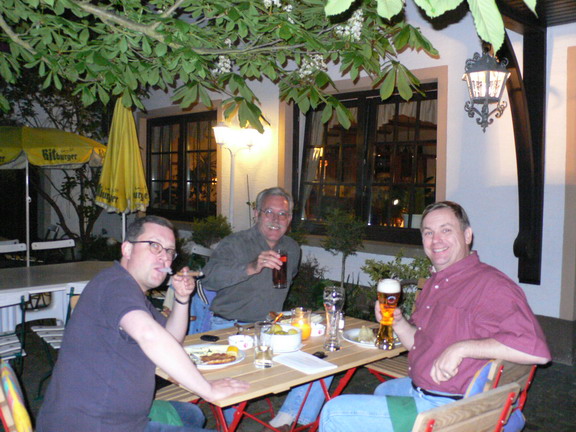 Heeeeeeeeeeeeeeeeere's Larry !
Andreas, the Pharmacist, and I had invited Larry of International Cigar Club to the ANS – the Pharmacy Smoke that Andreas organizes every 2 weeks when it's his turn for Night Duty.
So we met in Andreas office for an organizing & planning session that gave us both the chance to chat, smoke and drink for an evening while still calling it a "work" session.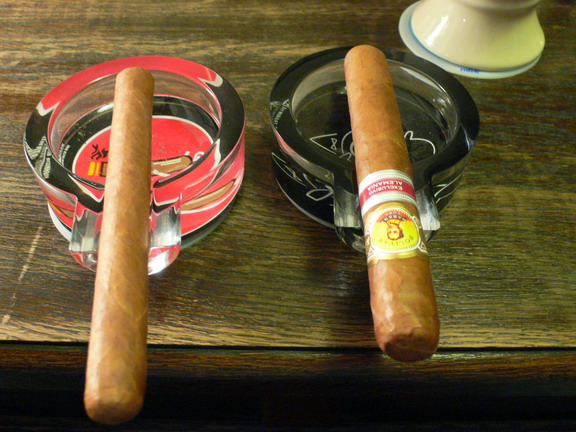 Duske & Duske Partagas Lonsdales vs. Bolivar Colosales – Working Session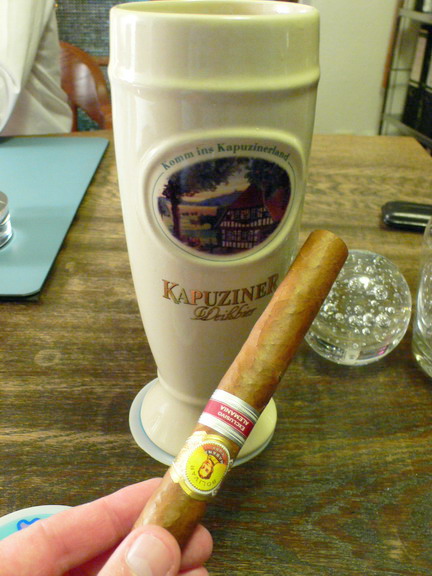 It's a tough job –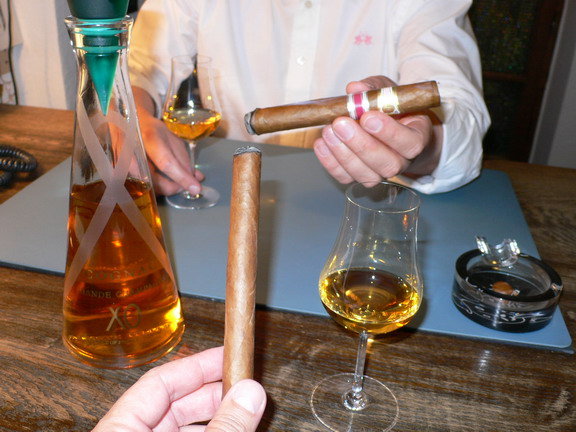 but someone's gotta do it.
The Pharmacy Smoke and Larry's visit along with Alan was a success – despite our planning, as they seemed to enjoy it, so we decided to go one step further and have Larry join us for dinner "al fresco" in one of the village's old style wine houses.
We are enjoying a summer-like spring right now, perfect – too early too hot, but fine by us.
Larry got lost on the GPS navigation system – the system had taken him to the center of the village and put him in front of the local Savings Bank, but managed to call my wife, so that we were able to pick him up.
We had the courtyard of the "Weingasthaus Lawall" all to ourselves and decided to sit outside to take advantage of the gorgeous weather.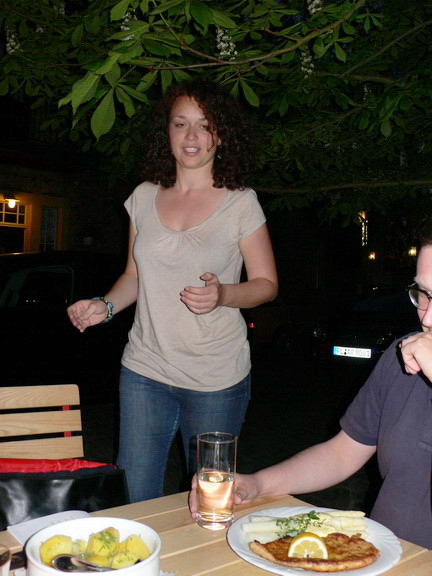 Great Service, great asparagus & great Schnitzel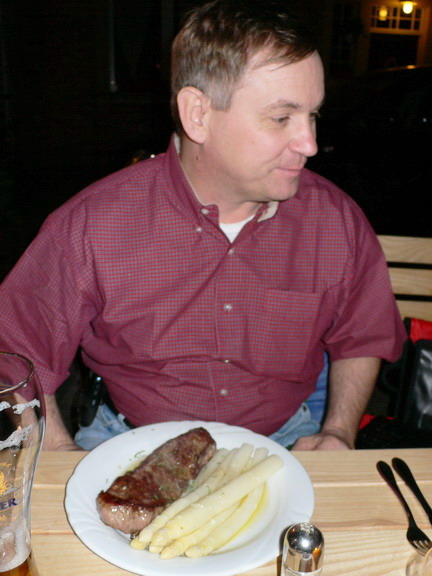 Uhm – could I try the Schnitzel, please ?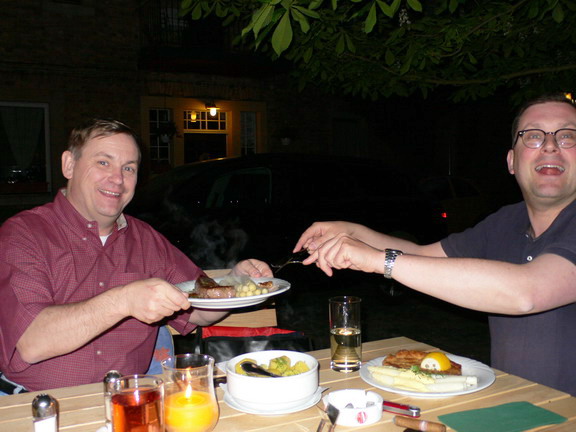 Sure thing, buddy, have it !
Now Larry's happy ! … and my Cordon Bleu  is safe !
Fresh white asparagus collected that afternoon from the fields around the village was the special of the day and so we chose an asparagus soup followed by asparagus with a steak for Larry, a Schnitzel for Andreas and a Cordon Bleu for myself.
Although Larry remarked they looked like tree trunks, they were just regular, albeit first category asparagus – nothing special around here in the spring.
Not really suitable for the menu, we had Kristall Weizen Bier as it was hot and changed later to some wine for the main course.
Good conversation, good cigars – what else do you need ?
For the last cigar of the evening we went inside the Gasthaus and enjoyed the company of the Cook who shared the table with us. He is of Indian origin and has a very attractive menu that includes not just standard German fare but also Indian food on request as well as other specials.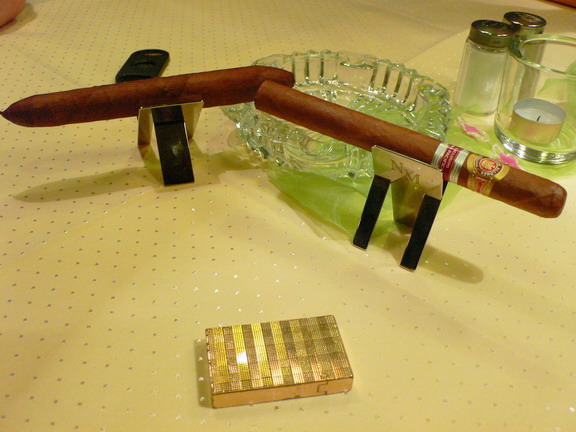 Salomones vs. RA Estupendos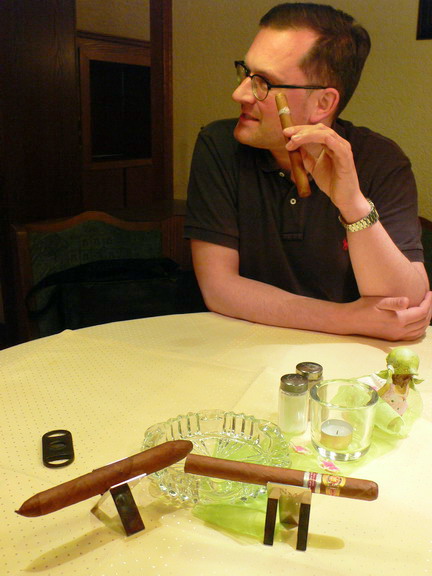 Happy Cigars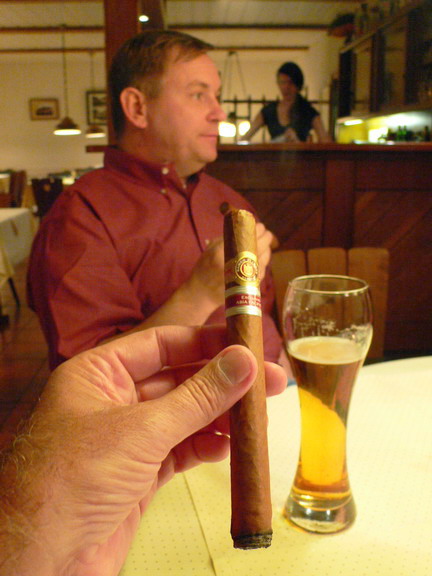 RA Estupendos by Larry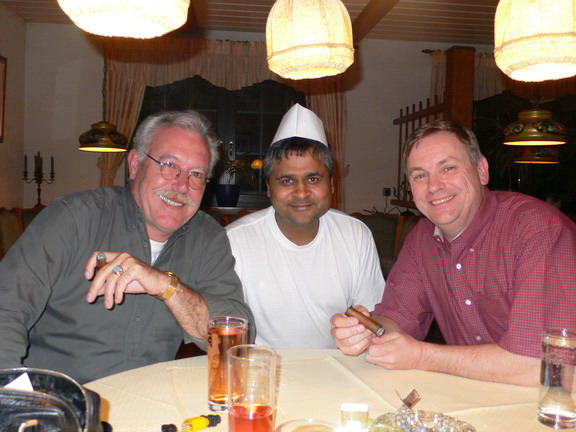 International in Wörrstadt
It is a great place to enjoy good food and wine, and we, my wife & I, as well as Andreas and all of our friends enjoy it.
It was close to midnight when Larry took off in his rental car back to the Hotel – happy to have seen a bit of village life instead of the uninspiring drabness of Rüsselsheim and its environs.
Glad you made it, Larry !
Nino
Copyright 04-2007 © Ninos Flying Cígar