19 Apr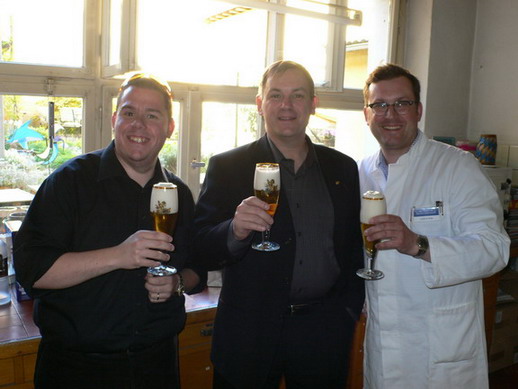 Tom, Larry & Andreas in the old Lab
ANS – the Pharmacy Smoke we hold every 2 weeks when Andreas, the pharmacist who created and "nurtured" it, has night duty, has been attracting ever more interested smokers.
Where else can you meet other cigar smokers in a relaxed atmosphere, enjoy good conversations, beverages and cigars ?
The nucleus of the group stems from the Rheinhessenraucher, our group, with added friends from Walter's Zigarrenzirkel Bergstrasse in nearby Bensheim/Darmstadt, as well as friends from the Wiesbaden/Mainz Cigar Cult Club formed by Stephan & Gottfried ( who happens to live in a neighbouring village). Add some curious, friends, colleagues and neighbours and – Bingo ! you have a nice group of cigar smokers for the evening.
We get many enquiries by now to smoke with us ; we are a loose group and have only one Requirement : Fun.
Which is why we will not accept any cheap Charlies expecting to grab our best cigars or monkey around  betting on the longest ash or the quickest beer drinking – we are too old for that kind of sh..ow. We have fun taking cigars – and ourselves – seriously enough to laugh about it all.
And as some of us participate in international cigar boards, we had the chance to invite the Owner and Head Cigar of International Cigar Club to smoke with us.
I picked up Larry and Alan in Rüsselsheim ( someone has to do the dirty jobs ) and drove them down the Rhine river on a beautiful and sunny day ( 28 c or 82 F ) past Nierstein , the vineyards ( guess they've never seen so many grapes in their lifetime ), the US Army Barracks at Dexheim ( last chance for a Cheeseburger ) to Wörrstadt.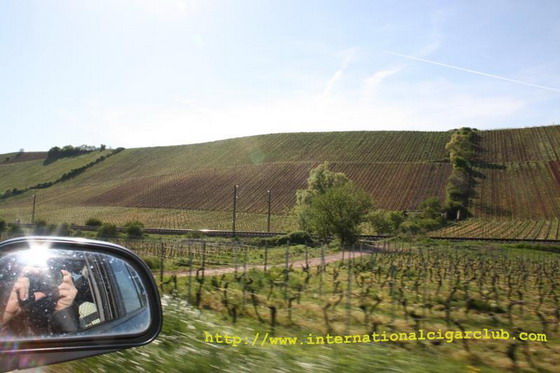 Nierstein / Photo by Larry D.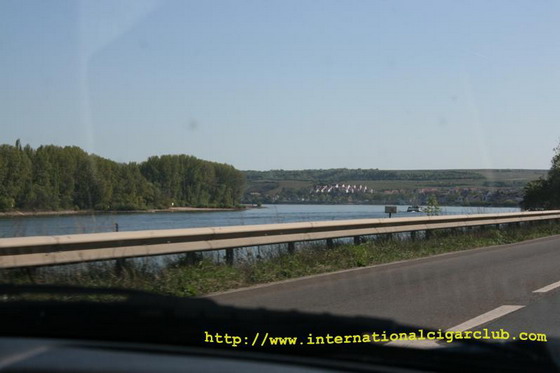 Rhine River – Photo by Larry D.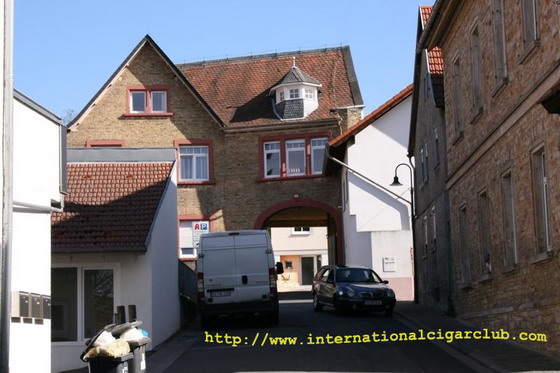 Behind the Pharmacy / Hinter der Apotheke – Photo by Larry D.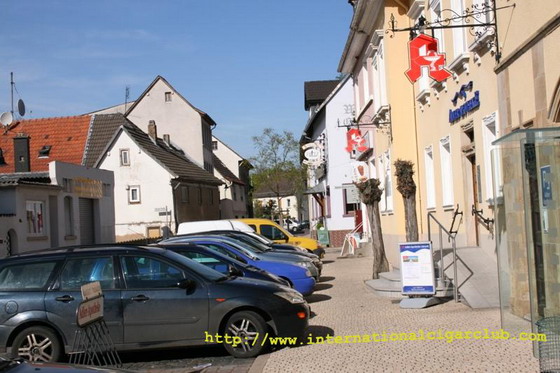 Front View of the Pharmacy – Photo by Larry D.
Short visit to the Pharmacy to be introduced to Andreas, and then off again to see another few million of grapes on the hills of the Wissberg, where they could take a look at the Roman chapel and the Golf course on the hill. Standing on top of the hill I received a call : Tom "Bolivar" has arrived at the Pharmacy. He wanted to join us and drove almost five hours from Zürich/Switzerland for the event ! Bravo !
Roman Chapel, Wissberg- Photo by Larry D.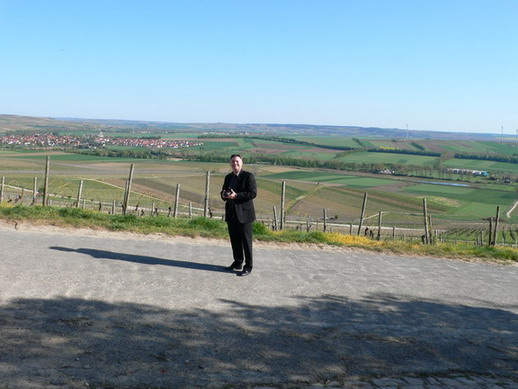 Larry in Rheinhessen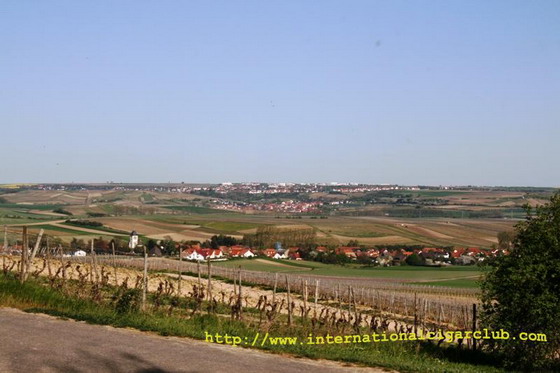 Wörrstadt on the Hill – Photo by Larry D.
Golf Club Wissberg – Photo by Larry D.
We quickly drove down the hill and back to the village Pharmacy where we have some draught beer and sit outside introducing each other and smoking a cigar while Andreas' friendly staff prepare some local cheese dish for us to snack on later.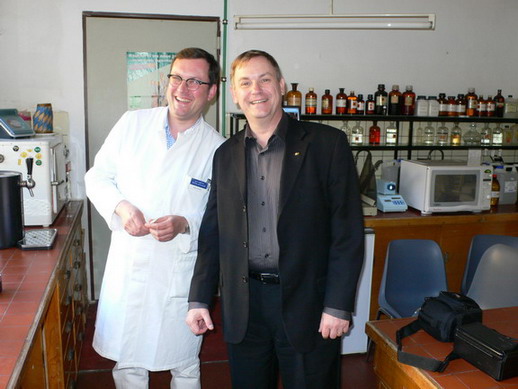 Andreas & Larry in the old Lab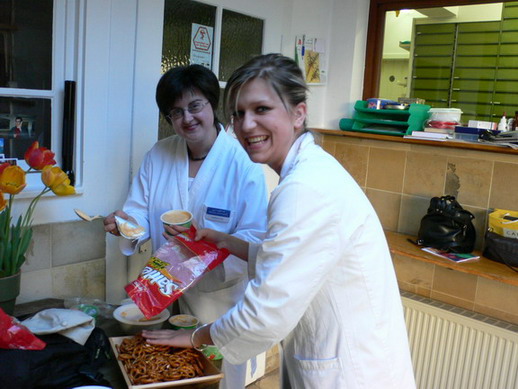 Preparing the snack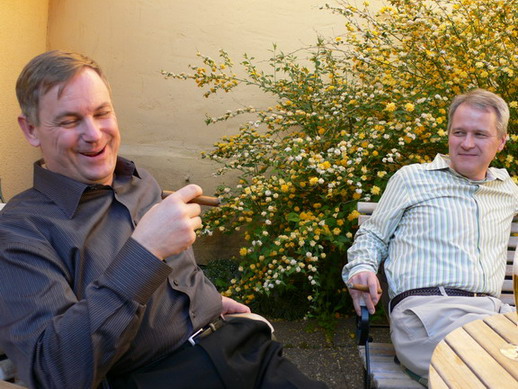 In the Pharmacy courtyard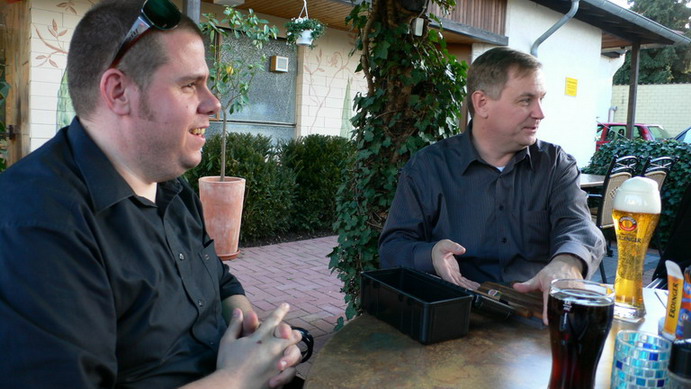 Tom & Larry at Massimo's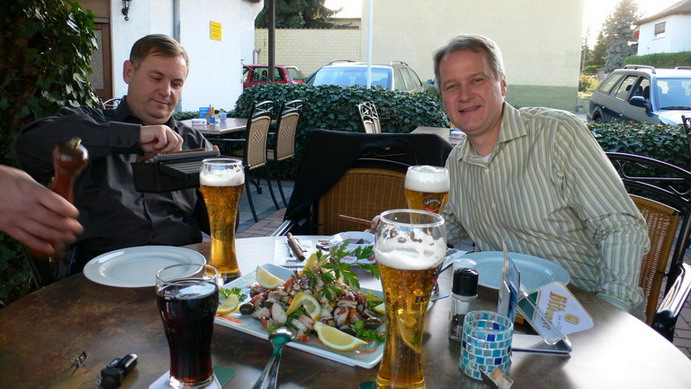 Larry & Alan at Massimo's
Then it's off to Massimo, the local Italian chef, where Tom, Larry, Alan and I have a good dinner overseen by the boss itself and finished off with some good Grappa. It's a truly international affair, with Larry talking about his visits to Hong Kong and Singapore, his upcoming visit to Hamburg and the inauguration of Christoph's Casa there, ICC and the board.
Both "Lusitanio" and "Turner" (Barcelona) were not able to attend – they'll regret it, I guess.
We are well prepared now to return to the Pharmacy, where we join the by now large group that has gathered in the courtyard and is sending smoke signals to the mild skies.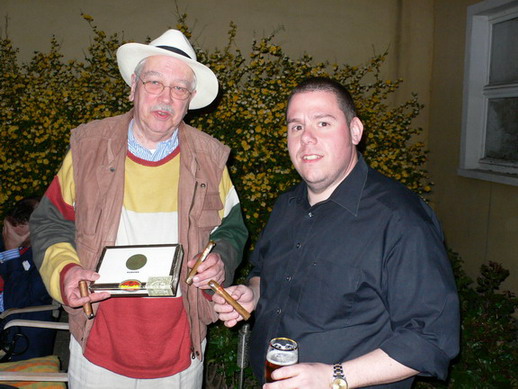 Walter & 70's La Corona with Tom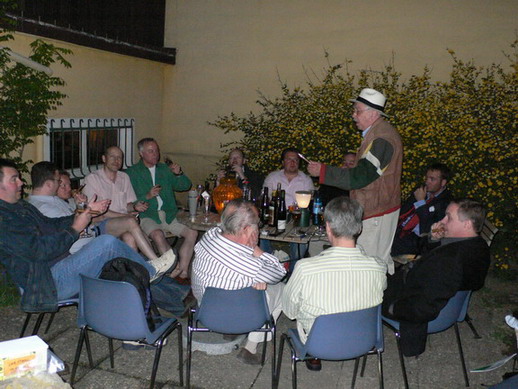 Walter giving a talk on La Corona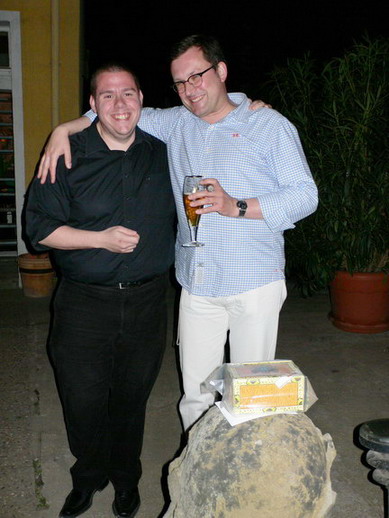 Tom's Los Statos Box
Totalmente a Mano – hand opened by Andreas
Walter presents us with 1970's La Corona Petit Coronas in cello, Tom has brought a 10 yr. old Box of TAM Los Statos Brevas for all of us.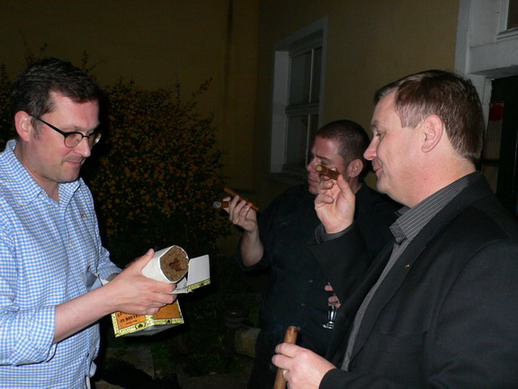 Good sticks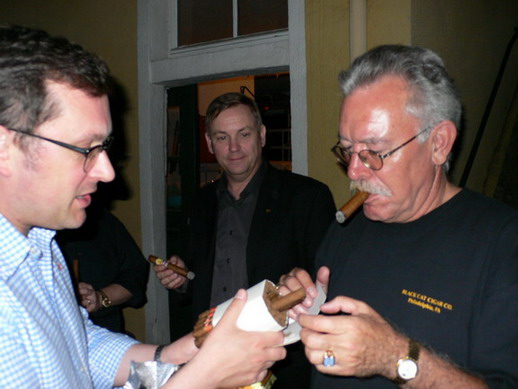 Thanks, buddy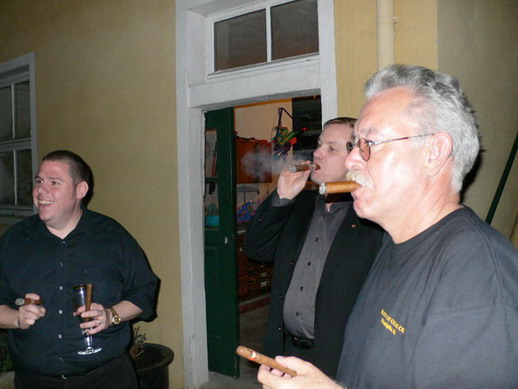 Livin' well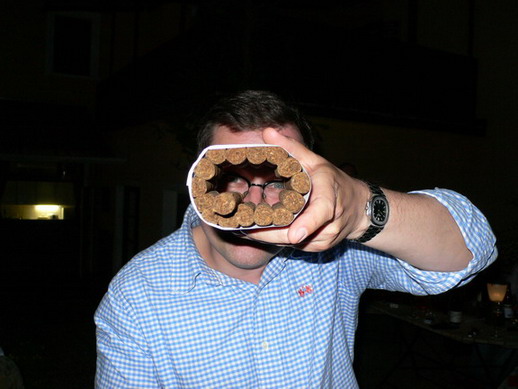 Tunnel Vision
Larry and Alan are welcomed and everyone takes an interest in their stories and gives them a feeling of being among friends.
Walter talks about the Habanos Specialist shops, Stephan invites us to attend the Big Smoke in Wiesbaden on Apr. 26, we talk about Cuba, it's all extremely interesting.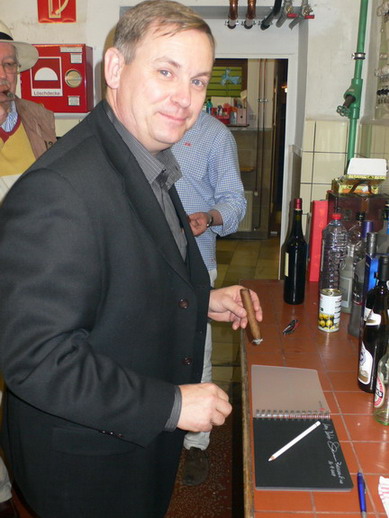 Larry signing in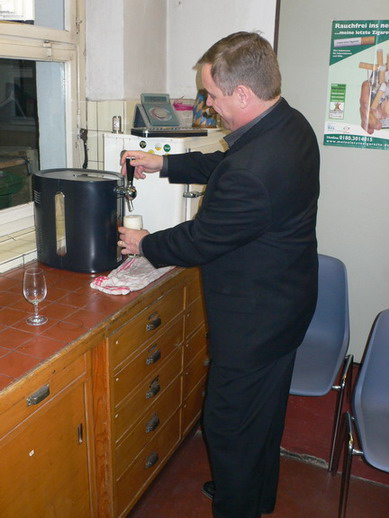 Helping himself to a draught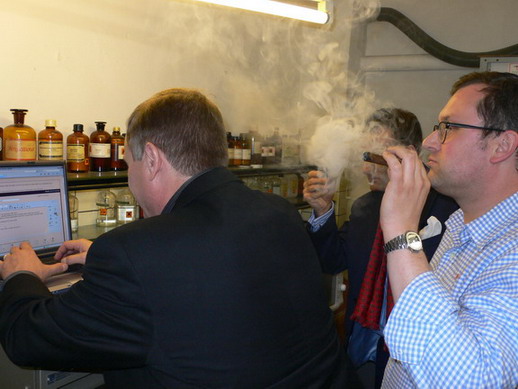 Introducing Andreas to ICC
Andreas tells of the Pharmacy's tradition and the history of the old house, which makes Larry exclaim :
Unbelievable, the toilet in this house is older than my country !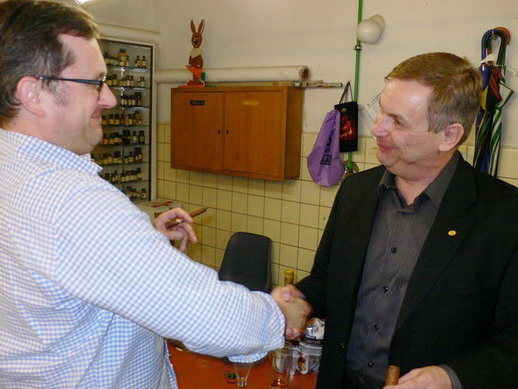 The pleasure is all mine …..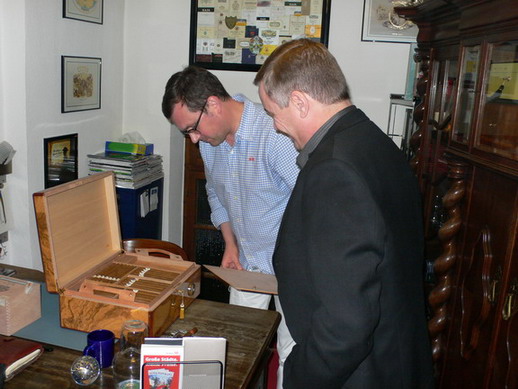 Cohiba 35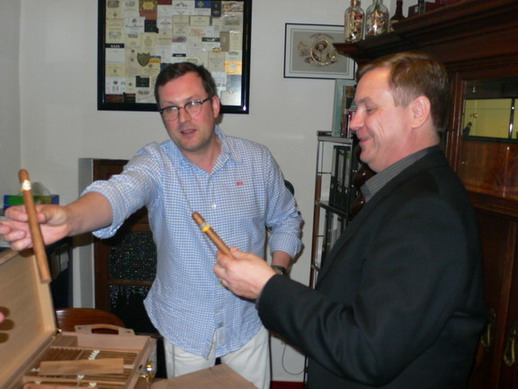 Have an "A"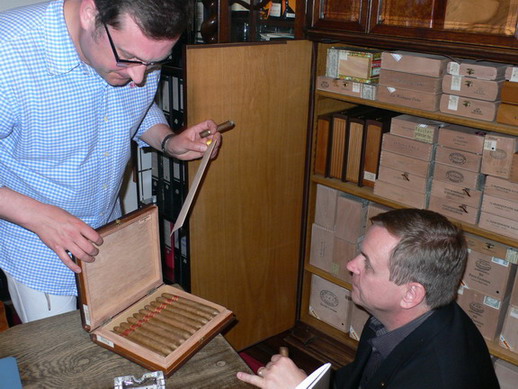 Larry on his knees admiring the books
Not the only old thing around – he gifts Larry and Alan some Cohiba 35-th Anniv. "A's", I pass out Cohiba Maduro 5 and a custom rolled Salomones for Tom and Larry and Larry is given a red "Los Puros" cap embroidered : "El Invitado".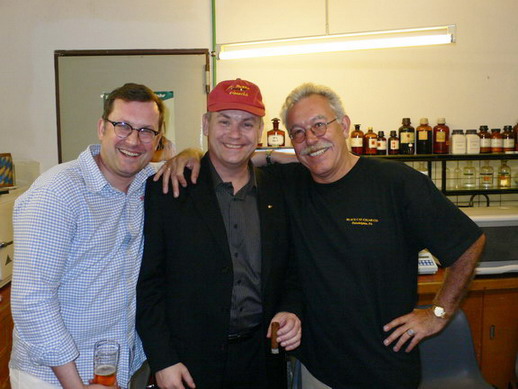 Los Puros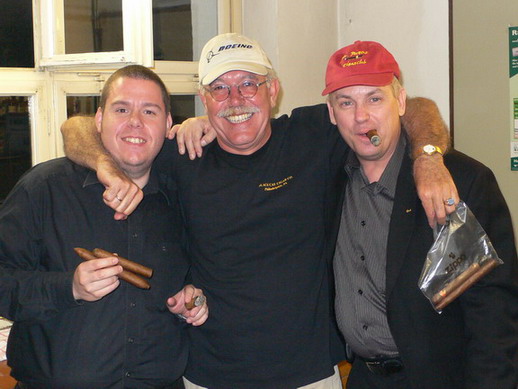 Absolutely International Cigar Club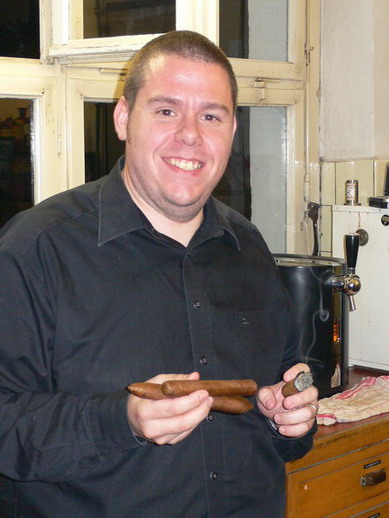 Tom – Double Habanos Expert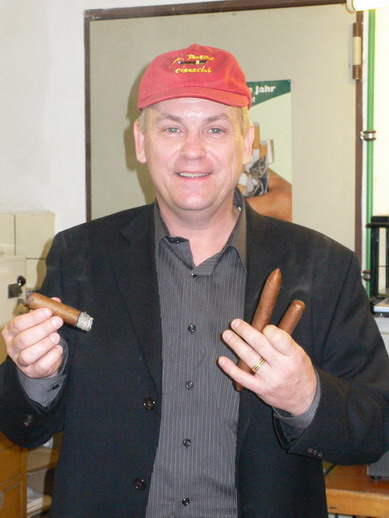 Larry "Head Cigar Officer" at ICC
Most stay around until midnight – we bid farewell to our US guests who promise to hold a Texas B-B-Q for us when we get to Dallas, Tx.
Tom, Stefan, Andreas and I linger around the old Lab enjoying the atmosphere, another cigar and a drink.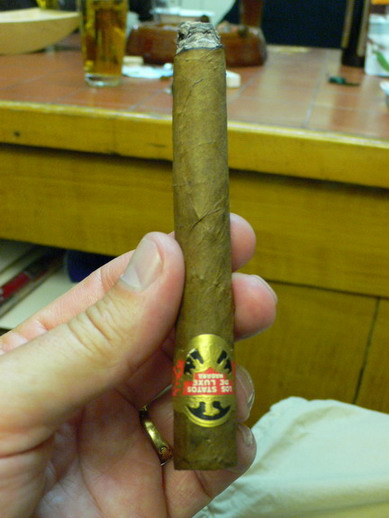 Los Statos TAM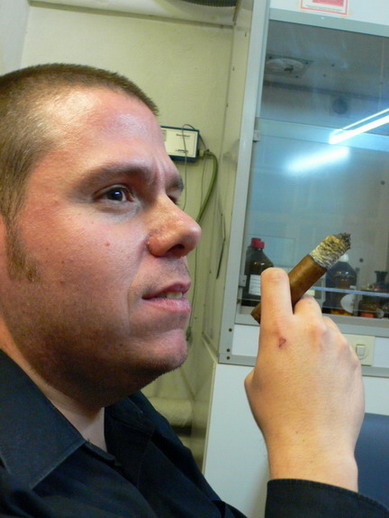 Tom & Cohiba Maduro 5
It's just a pretty feeling : small village – big cigars !
-.-

Deutsche Version :

Schon immer interessieren sich befreundete Smoker für den ANS, den Apotheken Notdienst Smoke den unser Rheinhessenraucher Andreas initiiert und liebevoll aufgebaut hat.
Wo sonst kann man in entspannter, loser Runde mit anderen Smokern gemütlich beisammen sitzen und Gespräche, Getränke und Zigarren geniessen ?
Der Kern der Gruppe besteht aus Smokern die sich als Rheinhessenraucher gebildet haben, dazu kommen die Freunde des Zigarrenzirkel Bergstrasse um Walter und die Cigar Cult Club Freunde um Stephan & Gottfried – noch einige Gäste, Bekannte, Nachbarn, Interessierte, Kollegen sowie Neugierige und fertig ist die Runde.
Anfragen haben wir im Laufe der Zeit viele bekommen, man raucht gerne mit uns, wobei das Ganze zwanglos ist und nur eine Voraussetzung hat – wir wollen einfach nur Spass an der Sache haben.
Daher lehnen wir Anfragen nach Bierschnelltrinken oder Langascherauchen von/mit Bayerischen Sparbrezeln und/oder organisierten Pottnummern ab. Wir sind zu alt für Zigarren- oder Alkoholakrobatik und lassen uns die besten Stücke auch nicht gern ab"schnorren".
Uns liegen eher Spass und Kontakt zu guten Freunden – sei es mit den Hamburgern, sei es mit dem Schwaben, sei es bei Saumagen, sei es im Weinkeller ;  Mer strunze net – mer hun !
Und da einige von uns bzw. unseren Freunden international an Foren teilnehmen, ergab es sich dass der Inhaber und Betreiber des International Cigar Clubs eingeladen wurde bei und mit uns zu rauchen.
Ich holte Larry und Alan in Rüsselsheim ab ( einer muss die Drecksarbeit ja erledigen ) und fuhr sie in herrlicher Sonne bei 28 Grad die B-9 hinunter nach Nierstein an Vater Rhein vorbei, Rechtskurve in die Weinberge und über Körngernheim, Dexheim ( letzte Chance für einen Cheeseburger bei der US Army ) letztlich nach Wörrstadt – ich denke soviel Weintrauben auf einmal haben sie nie im Leben gesehen.
Stippvisite in der Apotheke, kurze aber herzliche Begrüssung und dann gibt es noch ein paar Tausende Weintrauben mehr, als ich sie noch über Vendersheim zum Wissberg auf die Römische Kapelle und Golfplatz fahre. Dort oben Anruf : Tom "Bolivar" ist auch eingetroffen.
Er wollte mit uns allen beim ANS rauchen und fuhr die 4 ½ Stunden aus Zürich hoch. Bravo !
Schnell zurück, Tom begrüsst, im Labor zapfen wir ein Bier, draussen gibt es eine Zigarre und man lernt sich kennen. Andreas fleissiges Team bereitet den Spundekäs' vor.
Larry, Alan, Tom und ich lassen uns noch von Massimo ein gute Basis für den Abend kochen, wir reden über ICC, das Forum, Larry's Besuch in Hamburg bei Christoph zur Casa Eröffnung, Larry's Besuche in Hong Kong und Singapore, es ist wahrlich international !
Leider konnte Lusitanio nicht erscheinen und auch Turner war nicht anwesend – er weilt in Barcelona.
Noch einen Grappa on-the-house von Massimo und es geht zurück in die Apotheke – wir gesellen uns zur grossen Runde die draussen dampft.
Von Walter gibt es 1970'er La Corona Petit Coronas in Zellophan, Tom hat eine 10 Jahre alte TAM Kiste Los Statos Brevas für Andreas und alle ANS'ler dabei.
Larry und Alan werden willkommen geheissen, jeder kümmert sich, ist interessiert und tauscht sich mit ihnen aus.
Walter erzählt von den Habanos Spezialisten, Stephan lädt zum Big Smoke im Nassauer Hof am 26 ein, wir reden über Kuba, es ist extrem interessant für alle.
Andreas gibt ihnen einen kleinen Abriss über die Geschichte der Apotheke und des Hauses, den Larry zur Aussage bringt : Wahnsinn, in diesem Haus ist die Gästetoilette älter als mein Land !
Älteres und Interessantes gibt es ebenfalls von Andreas, Cohiba 35 Aniv. "A" für beide. Ich lege noch Cohiba Maduro 5 und eine Salomones für Larry und Tom bei. Larry bekommt die rote Los Puros Kappe mit "El Invitado" Stickerei.
Die meisten halten es bis Mitternacht aus. Wir verabschieden uns von unseren fasziniertem Besuch aus Texas (Dallas), der uns ein Texas B-B-Q beim Gegenbesuch verspricht.
Mit Tom und Stefan hocken wir noch lange im Labor und geniessen die Atmosphäre und ein paar gute Zigarren.
Es ist einfach schee : Kleines Wörrstadt – Grosse Zigarrenwelt.
Nino
Copyright 04-2007 © Ninos Flying Cigar