9 Aug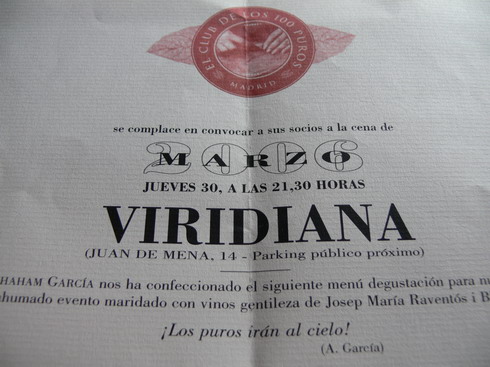 Los puros iran al cielo / Die reinen kommen in den Himmel / The pure will go to heaven
  Madrid / España, 30.03.2006
! Los puros iran al cielo !
The English Version follows the German text 
Auch andere Mütter haben schöne Töchter – und andere Länder haben auch gute Zigarrenclubs.
Es war kein Zufall dass ich für eine Woche meine Eltern in Spanien besuchte.
Da ich keine Flüge nach Alicante oder San Javier fand, entschloss ich mich allerdings über Madrid zu fliegen.
Bereits letztes Jahr hatte ich ein Treffen in Madrid mit Rafael Bernardo von ins Auge gefasst, aber es klappte nicht.
Dieses Jahr hatte ich mich darauf gefreut ihn in Havanna beim Festival zu treffen, aber da konnte er leider nicht teilnehmen.
So blieben wir in Kontakt und als sich mein Flug über Madrid konkretisierte schlug er mir vor den Rückflug um einen Tag zu verschieben um als sein Gast beim Dinner des "Club der 100 Zigarren" teilzunehmen. Zufall dass es am letzten Donnerstag des Monats stattfindet.
Gesagt, getan. Ich konnte noch innerhalb einer halben Stunde von zu Hause aus den Flug umbuchen. Ein Sakko und eine Krawatte in den Koffer und fertig.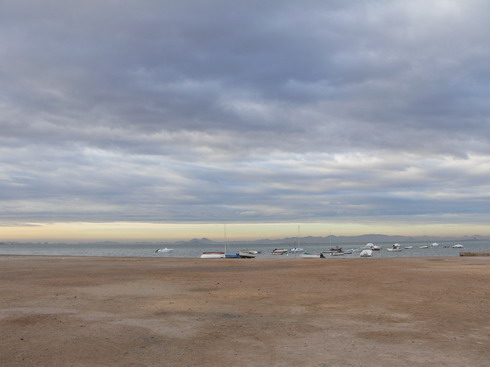 Mar Menor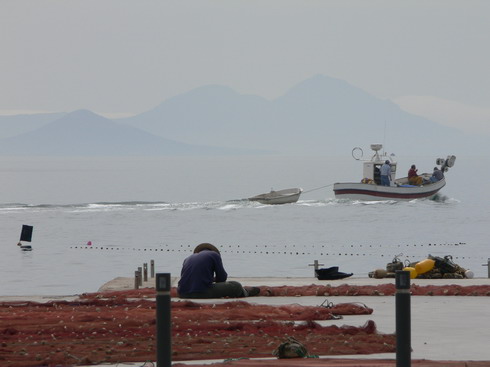 Mar Menor
Nach einer Woche in der Sonne am Mittelmeer – in Murcia bereits bis zu 31 Grad heiss – und nachdem ich mich um meine, immer fragiler werdenden Eltern gekümmert hatte, fuhr ich bei Sonnenaufgang gegen 07h45 nach Madrid los.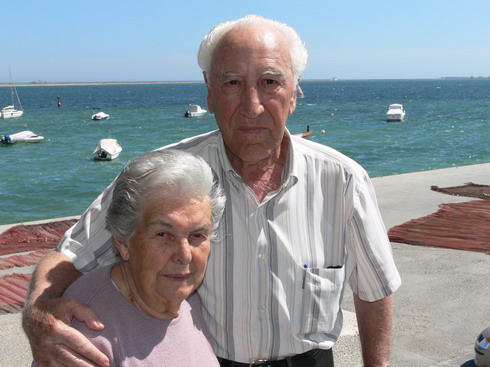 Meine Eltern / My parents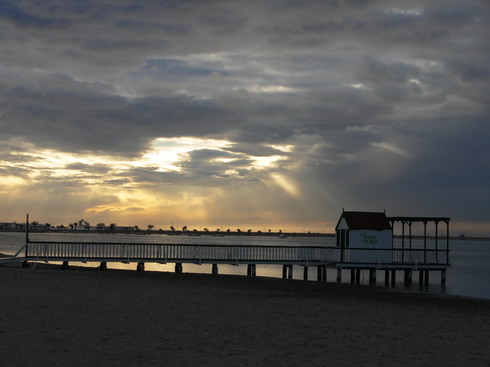 Mar Menor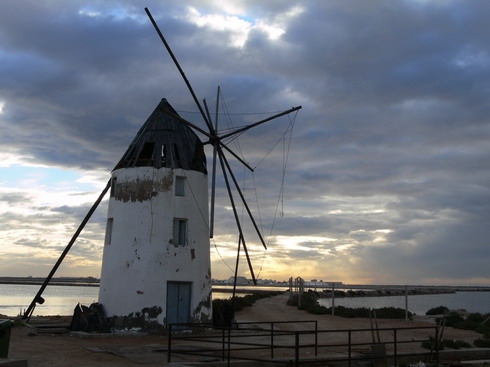 Mar Menor
Ziemlich genau 460 km warteten auf mich. Alles Autobahn – gut zu fahren, aber die öde Kastillische Weite macht die Fahrt etwas langweilig.
Eine unterhaltsame Unterbrechung der Langeweile war lediglich dass mich die Guardia Civil nach 300 km anhielt und mir eine Strafe von 90 Euro aufbrummte wegen Überholens in einem Baustellenbereich.
Zahlbar sofort da ich keinen Wohnsitz in Spanien hatte.
Alles korrekt, aber weshalb hatten sie nicht den Pick-Up vor mir ebenfalls angehalten ?
Der höfliche und korrekte Guardia Civil wollte sich nicht auf Diskussionen einlassen, ich, als wohlerzogener Sohn eines Guardia Civil auch nicht.
Das weckte sein Interesse. Wo war ihr Vater stationiert ? Haben sie ein Foto von ihm dabei ? Wie sind sie nach Deutschland gekommen ? Haben sie ihre Eltern besucht ? Er gab mir meine Papiere zurück, salutierte und wünschte mir gute Fahrt. Ich stieg aus, bedankte mich, salutierte ebenfalls den beiden Guardias und fuhr unbehelligt ( und etwas stolz ) weiter.
So konnte ich später Rafael berichten dass mein Abendessen von der Guardia Civil gesponsert worden sei.
In der Weite Kastilliens, in La Mancha, hielt ich dann auf ein Tortilla-Sandwich und einen Cafe con Leche. Dann zündete ich mir eine kleine alte Cabañas an, ein sehr leckeres Teil.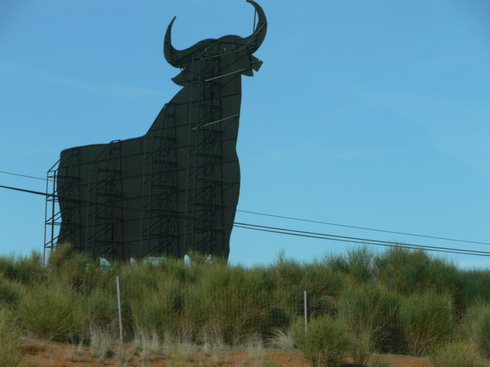 On the Road in Spain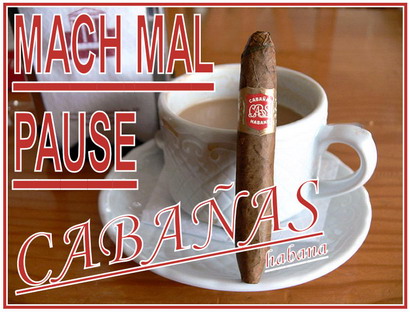 Have a Break, have a Cigar / Design : Michael "Turner"
Danke Turner !
Zigarre im Mund fährt es sich doch angenehmer. 
Genau 4h30 nach Abfahrt übergab ich das Auto an Avis im Büro an der GranVia, im Zentrum Madrids.
Reine Fahrzeit waren 3h45 gewesen, trotzEinfahrt nach Madrid am Prado Museum, dem Cibeles Brunnen und der Gran Via.
Nicht schlecht – da hätte die Guardia Civil doch ihren Spass an mir gehabt, denn es sind nur 120 km/h auf Autobahnen erlaubt …………..
Das Hotel hatte ich fast nebenan ausgesucht, das Melia Madrid Princesa an der Plaza de España. 
Geduscht, umgezogen und raus in den Wusel meiner Lieblingsstadt.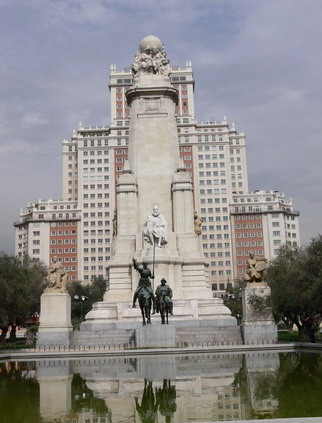 Plaza de España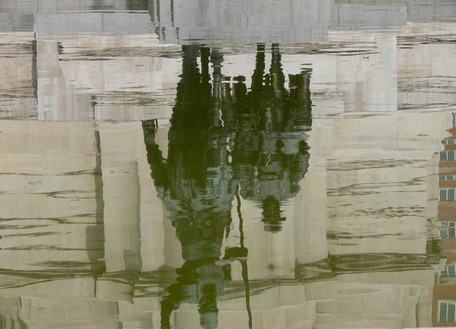 Don Quijote & Sancho Panza
Madrid, la ciudad invivible – pero imprescindible ( Madrid, die Stadt in der man nicht leben kann – ohne die aber man nicht leben will ).
Die Stadt mit Staus um 4 Uhr morgens und wo die Restaurants um 22 Uhr abends noch leer sind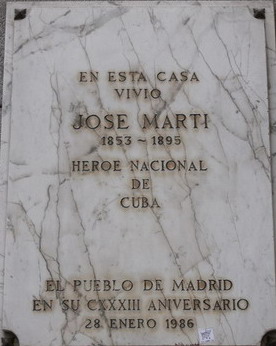 Kuba in Madrid
Die Gran Via hoch bis an die Telefonica und dann links in die Calle Ballesta an den
Fellini-esquen "Damen der Nacht " vorbei bis zur Nr. 18, der Casa Perico.
Hier habe ich meine "Familie" in Madrid – neben meinen Tanten und Onkels.
Hier ist das Restaurant von Perico, seiner Schwester Nines und seinem Bruder Javi.
Perico selbst ist in einem der engen hinteren Esszimmer geboren.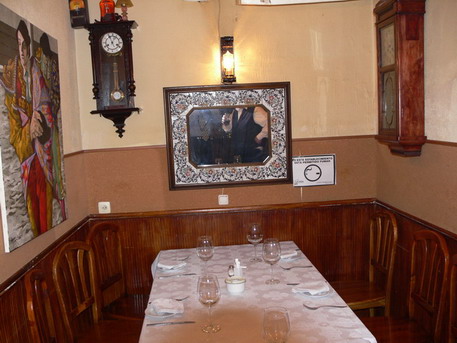 Pericos Geburtszimmer / Pericos Birthroom
Seine Schwester kocht ursprüngliche und solide Kastellische Hausmannskost.
Nicht umsonst ist es eine " Casa de la cuchara", also ein Haus wo man vornehmlich mit dem Löffel ( Eintöpfe ) geniesst.
Es besitzt gerade unter Journalisten und Fernsehleute aus den nahen Verlagshäusern einen exzellenten Ruf.
Hier treffen sich mittags und abends die Leute zum essen, Journalisten um Prominente zu interviewen und ab & zu mal eine Nutte um sich schnell im stehen mit einem Brandy zu wärmen.
Dabei fasst der Laden nicht mehr als an die 30 Personen …………
Kennen- und lieben gelernt habe ich Casa Perico – und meine "Ersatzfamilie" – vor etwa 15-16 Jahren als ich noch auf B-737 war.
Ein Tag frei in Madrid, "Du bist doch Spanier" sagte die Crew, "such' uns was gutes zum essen aus".
In die Touristenlokale rund um die Plaza Mayor wollte ich nicht. Zufall dass ich in einer Zeitschrift eine kleine Notiz über Casa Perico und die gute Hausmannskost las.
Reserviert, hin, wir sassen vorne und speisten lecker, hinter uns wurde gerade Jorge Valdano, damals Trainer von Real Madrid von 10 Journalisten "gegrillt", am Ende bekam er, wie alle anderen Interviewpartner dieser Journalistenrunde, eine lederne Hannibal Lecter Maske aufgesetzt, ein nettes Ritual das in Fotos an der Wand festgehalten wird.
Ich freundete mich mit Perico und Nines an, kam immer wieder mit Crews zurück, stellte den Laden in unserer Madrid Lay-Over Info ein, selbst heute kommen noch die Kurzstreckencrews zum essen hin, erzählt mir stolz Perico.
Selbst meine Eltern, meine Madrider Verwandschaft und meine Frau lieben den Laden.
Es ist einfach so als würde man "heimkommen". 
Und so begrüsse ich Perico und Javi, die vollauf beschäftigt sind. 14h30 Mittagsessen.
Abends werde ich hier Rafael treffen, da haben wir mehr Zeit zum reden.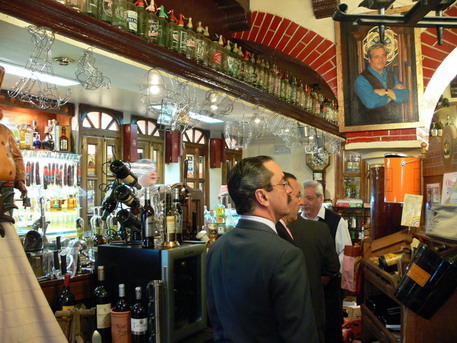 Casa Perico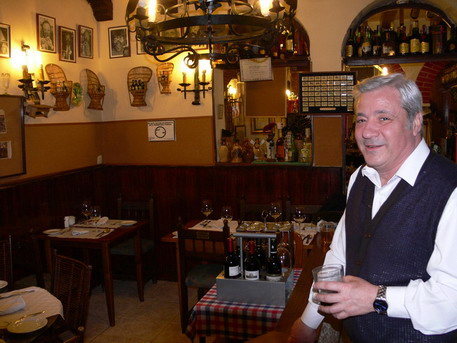 Perico en Casa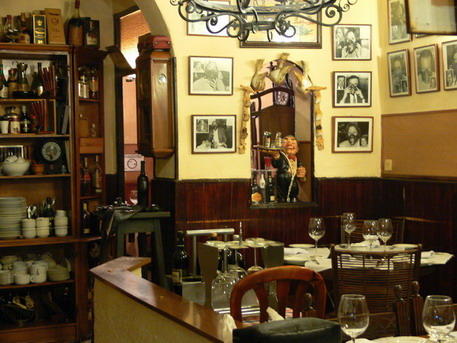 Casa Perico / "Journalistenzimmer/Journalists Room"
Wieder hoch an die Gran Via und runter zur Puerta del Sol, dem "Mittelpunkt" Spaniens.
Von hier gehen alle Strassen ab, hier ist der Null Kilometer.
Und hier ertönen die Glocken an Silvester die überall in Spanien gehört werden und nach deren Glockenschlag man die 12 Trauben isst die Glück im neuen Jahr bringen sollen.
Eine einzige Baustelle gerade da neue U-Bahn Stationen gebaut werden.
Weiter am Museo del Jamon und dem alt-ehrwürdigen Llhardy Restaurant in die Plaza de Santa Ana.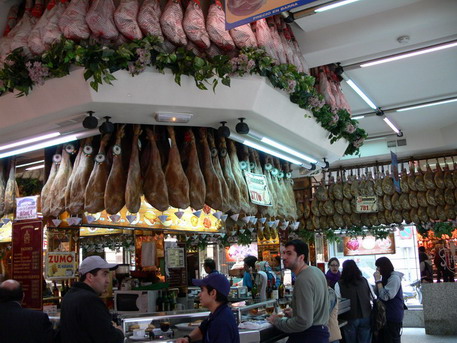 Museo del Jamon
Mein Lieblings Hotel, das Reina Victoria, wird gerade zur In-Style-Yuppie-Ikone von TrustHouse Forte umgebaut. Ein wunderschönes Art Deco Haus dass immer "die" Top Adresse aller Stierkämpfer in Madrid war, seit Manolete selig.
Siehe dazu interessanten Artikel der International Herald Tribune v. 11.04.2006 weiter unten
Gut dass ich noch vor kurzem hier mit Inge war. Der Umbau wird dauern.
An der Cervezeria Alemana – hier hat tatsächlich Papa Hemingway seine Berichte über den Spanischen Bürgerkrieg geschrieben – vorbei, am ältesten Theater Spaniens, dem Teatro Español.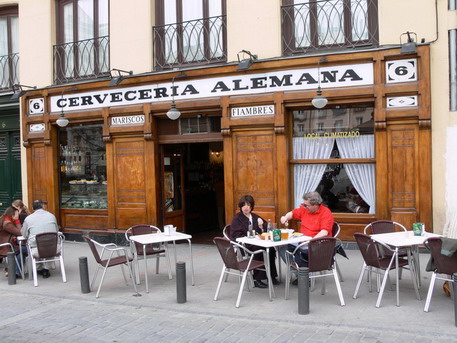 Cerveceria Alemana
Santa Ana, ein kleiner Platz, aber mein Liebling.
Über diesen Platz habe ich 1992 einen Bericht für das Lufthansa Bordmagazin geschrieben.
Um die Ecke an den In-Kneipen der Movida vorbei, das Viva Madrid, Los Gabrieles ( eine ehemalige Stierkämpfer Kneipe mit mehreren Zimmer von oben bis unten mit Azulejos (Kacheln) verkleidet, ein Traum.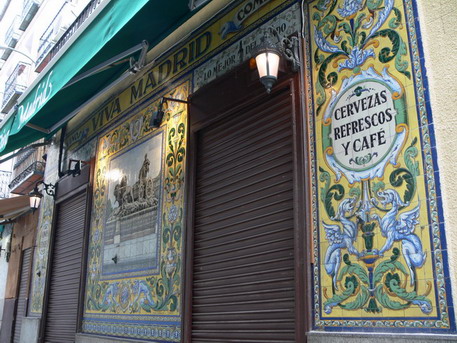 Viva Madrid
Ich gehe in La Venencia auf ein paar Manzanillas.
Eine dunkle, sehr dunkelschwarzbraune Bernsteinfarbene Höhle die von ein paar Glühbirnen mehr schlecht als recht beleuchtet wird.
Hier gibt es nur Sherry und sonst garnichts. Na ja, es gibt Tratsch und Klatsch der Stammgäste, einige reden über Stierkampf, andere über Essen und Trinken, einer hat eine Tüte mit frischen, grossen knackigen grünen Bohnen dabei die er herumgehen lässt.
Ich frage nach der Katze – sie lebt noch.
Es ist eine Katze die viele für eine Statue halten, unbeweglich hockt sie auf einem Tisch und überblickt das Lokal. Kommt jemand zu nah, faucht sie und man merkt dass sie lebt.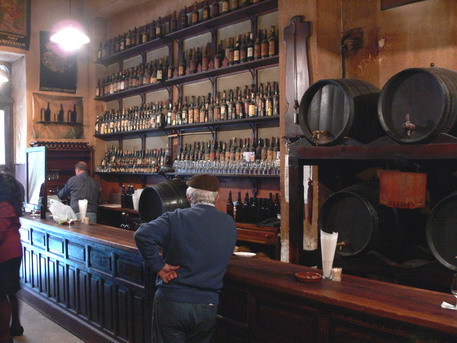 La Venencia
Der Wirt schenkt ein und gibt mir leckere Oliven zu jedem Glas. Mit einem Stück Kreide markiert er einen Strich auf der Theke als Deckel.
Nirgendwo schmeckt mir Manzanilla besser als hier – ausser in Sanlucar de Barrameda am Atlantik.
Ich laufe die Nachbarschaft ab, Cafe Central, der beste Live Jazz Schuppen, El Abuelo, die besten Knoblauch Gambas der Stadt, bis hin zur Plaza Mayor. El Gato Negro, wo Inge in Madrid ihre beste Wolle für Handarbeiten kauft.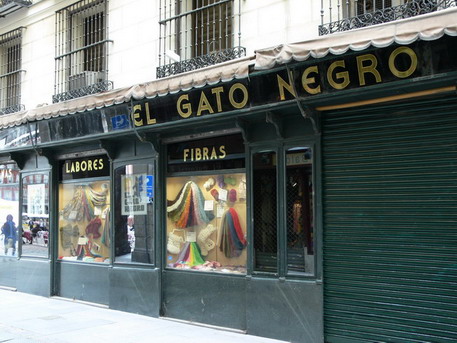 Wolle/Wool El Gato Negro
Aber mittlerweile hat auch die "typische deutsche Küche" Einzug gehalten – ich sehe immer mehr Döner Kebab Buden auftauchen ………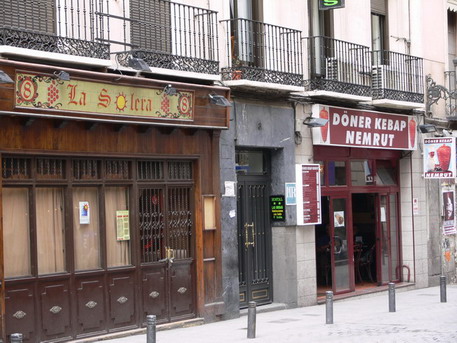 Span. & Deutsche Küche
Über die Plaza Mayor, das alte Rathaus und den Königspalast laufe ich wieder zurück ins Hotel.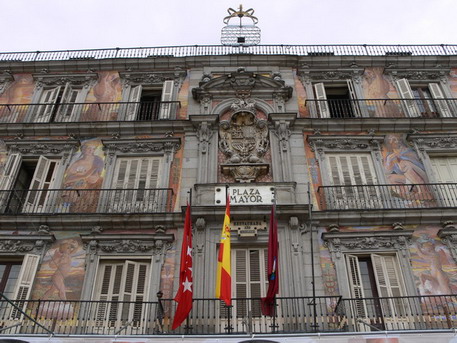 Plaza Mayor
Ich bin geschafft.
Wie es so schön heisst : Madrid me mata ! ( Madrid bringt mich um ! )
An der Hotelbar trinke ich ein cafe con leche und rauche eine Zigarre.
Trotz neuer Rauchgesetze ist es weiterhin fast überall ohne Probleme möglich zu rauchen. Über 90% aller Bars und Kneipen unter 100 qm Raum ( und das sind fast alle ) haben das Rauchen erlaubt.
Wie ich später hören werde, wird jetzt auch überall geraucht weil es ja explizit erlaubt ist, man nimmt weniger Rücksicht auf die Nachbarn, selbst wenn sie essen – früher hat man sich zurückgehalten.
Jetzt handelt man eher nach dem Motto : Ich darf rauchen, also muss ich rauchen.
Umgezogen und um 19 Uhr wieder bei Perico.
Es ist etwas Ruhe eingekehrt.
Perico spielt Domino mit einigen Freunden, es hocken noch Gäste vom Mittagessen am Tisch.
Wir haben uns länger nicht gesehen und so haben wir einiges zu reden und erzählen.
Ich bedanke mich für die Weihnachtslotterie die er mir jedes Jahr nach Deutschland sendet – leider nie etwas gewonnen, aber welch schöne Geste.
Ich mache einige Fotos, und plötzlich ist Rafael da.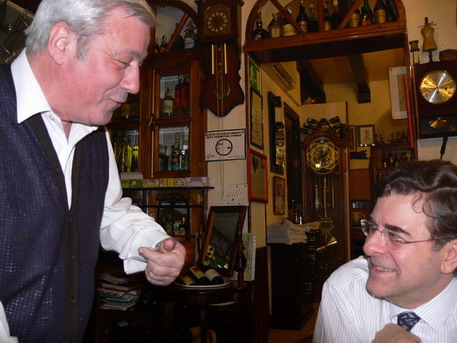 Perico & Rafael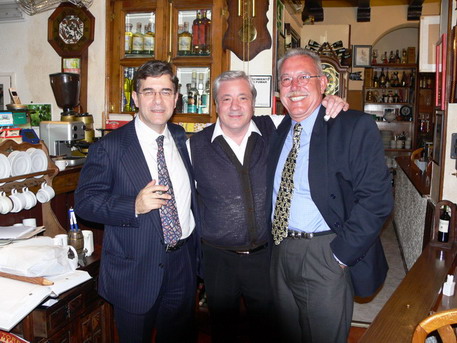 Rafael, Perico & Nino
Auch er wird ganz herzlich begrüsst, er war hier Stammgast bis er sein Büro auf die andere Strassenseite der Gran Via verlegen musste. Eine andere Welt sagt er, obwohl es nur die andere Strassenseite ist.
Jetzt zieht er wieder auf diese Seite und wird auch wieder öfters kommen.
Perico wundert sich wie wir beide uns kennengelernt haben – in Kuba letztes Jahr, und bereits da haben wir festgestellt dass wir ein gemeinsames Restaurant in Madrid haben. Kleine Welt.
Perico ist stolz.
Wir trinken ein paar Biere, essen vorzüglichen Serrano Schinken und Chorizo als Snack und rauchen eine H.Upmann von Rafael als Aperitif.
Ich schenke Rafael eine "massgeschneiderte" Salomones von Yolanda aus 05 und gebe ihm einiges an Information zum diesjährigen Festival del Habano für ein Bericht auf seiner Webseite. Ebenfalls eine Foto CD mit Fotos des Festivals von Thomas "Stocki El Bigotes" und mir.
Es wäre eine Freude wenn er Fotos von uns auf seiner Seite veröffentlicht.
Er schenkt mir ein altes Metalletui von H.Upmann mit 5 Medias Coronas, noch in Wachspapier eingepackt, eine wunderschöne Rarität.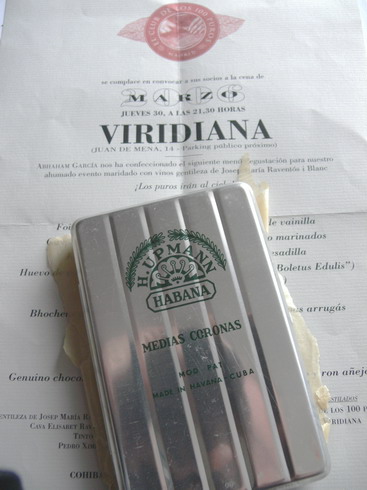 Rafael's Box
Gegen 21 Uhr fahren wir dann zu schöner Mozart Opernmusik – Rafael ist Mozart Liebhaber und wird dieses Jahr die Festspiele in Salzburg besuchen – ins Restaurante Viridiana von Abraham Garcia.
Hinter der Hauptpost gelegen, die manche Touristen mit dem Königspalast verwechseln, und nahe Retiro Park und Prado Museum.
Das Restaurant füllt sich schnell, es sind 72 Mitraucher anwesend !
Als Rafaels Gast zahle ich 80 Euro für das Abendessen.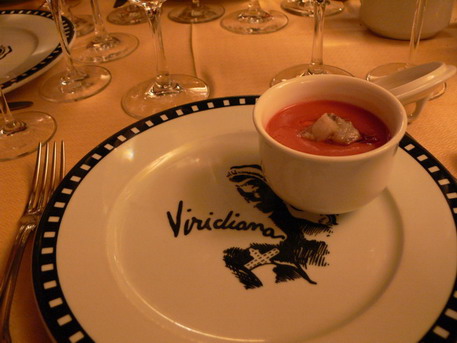 Rest. Viridiana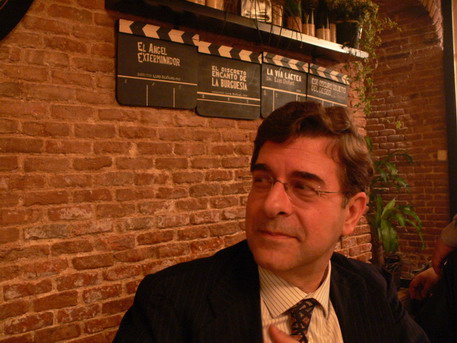 "El Angel Exterminador" …… de Puros !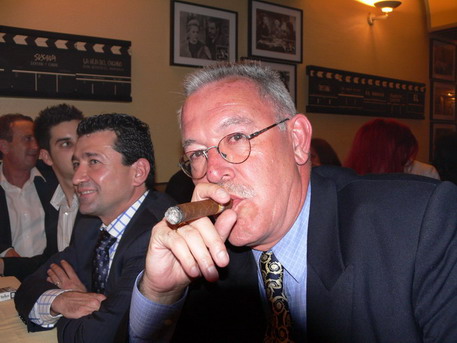 Jesus Llano, Jose Carlos Rubio  & Nino
Wir werden mit einer Petit Corona begrüsst.
Dann geht es an den vorgegebenen Tisch eine Etage tiefer. An diesem setzen sich noch 3 bekannte Estanqueros aus Madrid, teilweise mit Ehefrau und Sohn.
Es sind : Jesus Llano Muriel, Besitzer der Cava-Estanco Cardenal Cisneros und Habano Mann des Jahres 2005 ( dessen Cava ich am nächsten Tag besuchen sollte ), zu meiner Rechten Jose Carlos Rubio ( Estanco Calle Barquillo ) und gegenüber, neben Rafael, sitzt Jose Ignacio Otegui Piedra "Cuqui", ebenfalls ein bekannter Estanquero der seinen Laden in der Calle Felix Boix / Ecke Paseo Castellana hat und gerade eine eigene Cigar Lounge plant.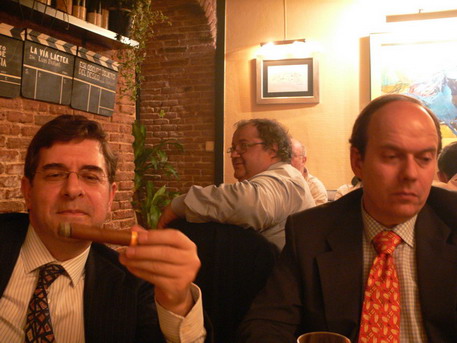 Rafael & Jose I. Otegui "Cuqui
Es folgt ein exquisites Menü professionell serviert und begleitet von hervorragenden Cavas und Weinen aus dem Hause Raventos, durch den Enkel, Josep Maria Raventos i Blanc vorgestellt.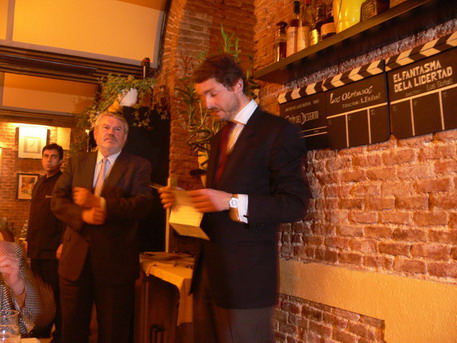 Bernard Soulier & Josep Raventos
Vorspeisen sind eine Entenfoie in Havannarauch, dann eine Heringsgazpacho aus Erdbeeren, eine typisch Kubanische Quesadilla "Ropa Vieja" ( Alte Klamotten ) im Vuelta Abajo Stil und ein frisches Ei in einer Pfanne mit einer Pilzmousse und frischen Trüffeln.
Dazu ein 2000'er sowie ein 98'er Cava.
Hauptgänge sind eine Fischbrochette (Corvina) und ein Schweineintopf in Cuscus.
Es folgt dann die Cohiba Siglo VI, die vom Präsidenten des Clubs, Monsieur Bernard Soulier professionell mit allen Attributen vorgestellt wird.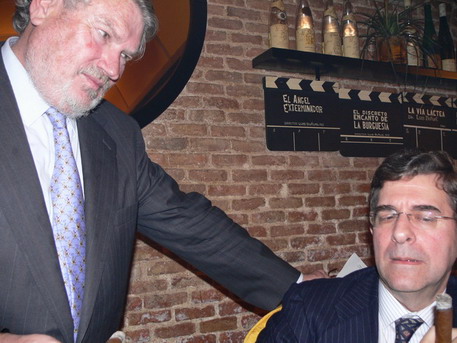 Bernard Soulier & Rafael Bernardo
Der  Nachtisch ; Kubanischer Früchtecocktail, sowie eine Dominikanische Schokoladenmousse mit Kokossauce und altem Rum.
Abgeschlossen wird mit einem 2002'er Pedro Ximenez.
Der Koch und Besitzer des Restaurants, Abraham Garcia, selbst passionierter Zigarrenraucher, kommt kurz hinunter und überzeugt sich dass es Allen geschmeckt hat.
Jeden letzten Donnerstag im Monat ist der Club hier zu Gast und er kreiert das Menü.
In der Unterhaltung mit den Estanqueros kommt zur Sprache dass immer mehr Kunden kleinere Formate kaufen, anscheinend hat man keine Zeit mehr die Grossen zu rauchen, wohl wegen der neuen Rauchergesetzgebung.
Es ist einfacher und schneller eine Mareva zu rauchen als eine Doble Corona.
Ebenfalls kommt zur Sprache dass in letzter Zeit alle Habanos einen einheitlichen Geschmack aufweisen. Der Markentypische Eigengeschmack fehlt, sie werden verwechselbar, immer ähnlicher.
Jemand erwähnt wie er in einer Fabrik in Havanna gesehen hat wie Robustos gleicher Provenienz mit fünf verschieden Ringen bestückt wurden für die Habanos Robusto Sampler Kiste ………… lediglich die Deckblätter waren verschiedener Farbe, die Tabakmischung war bei allen die gleiche.
Im Gespräch mit dem sehr freundlichen Don Eduardo Mencia, Altadis Direktor für Kommerzielle Beziehungen, erfahre ich dass es in Logroño, Haupstadt der Rioja in Nordspanien, ein riesiges Zigarrenlager mit 30 Millionen Zigarren gibt, wo diese von Altadis auf Qualität geprüft werden. Diese Zigarren sind auch alle gefroren worden.
Das Zentrallager ist gleichzeitig auch der zentrale Vertriebsort.
Er bietet auch die Möglichkeit einer Besichtigung des Lagers. Rafael ist sichtlich daran interessiert. 
Es ist ein wunderschöner Abend, trotz des vollen Restaurants ist es sehr angenehm, die Gespräche sind anspruchsvoll und es ist eine sehr gesellige Gesellschaft die sichtlich geniesst.
Ich bin Rafael sehr dankbar dass er mich als sein Gast zu diesem Dinner eingeladen hat. Durch seine Begleitung öffnen sich mir viele Türen und ich erhalte interessante Informationen.
Nach Mitternacht verabschieden wir uns, die Mehrheit ist noch am klönen.
Rafael fährt mich freundlicherweise zurück ins Hotel und wir verabschieden uns mit einem "Hasta pronto !".
An der Hotelbar beende ich dann meine Siglo VI mit einem Cuba Libre und lasse den Abend an mir vorbeilaufen.
Es war einfach schön !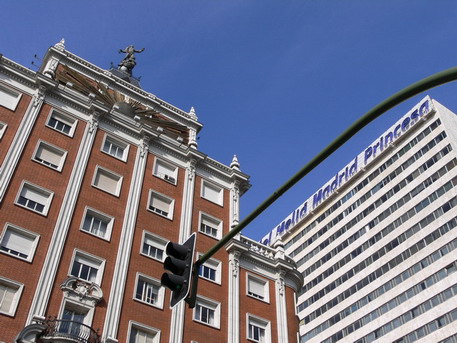 Madrid Old & New
Am nächsten morgen bin ich früh wach und sehe aus dem Fenster die schneebedeckten Berge der Sierra de Guadarrama in deren Nähe ich als Kind zur Schule ging.
Mit der Metro sind es 2 Stationen zur Glorieta de Bilbao Station, und dort frühstücke ich erst einmal die typischen Churros. Gestärkt gehe ich dann um die Ecke in die Calle Cardenal Cisneros 17 und besuche Jesus Llano in seiner Cava-Estanco.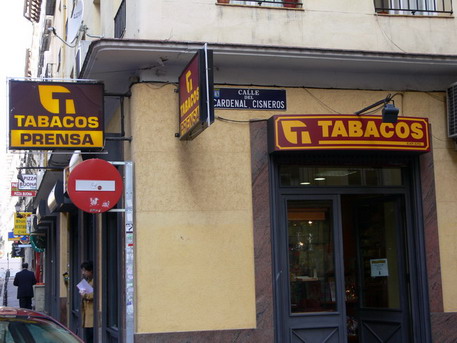 Cava-Estanco Cardenal Cisneros
Er hat alle Zeit der Welt für mich, führt mich in den riesigen und geschmackvoll eingerichteten Walk-In Humidor, zeigt mir Schätze wie Habanos für den jetzigen Spanischen König oder Habanos für die Hochzeit des Prinzen ( der eine Vorliebe für SCdLH El Principe haben soll, jedenfalls war es ein Geschenk seiner damaligen Verlobten Letizia ) oder eine Kiste Dunhill Mojitos, die er sorgfältig wieder belebt.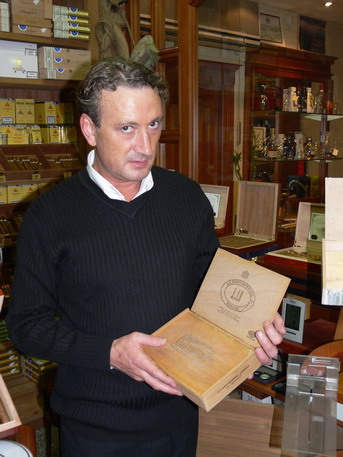 Jesus & Dunhill Mojitos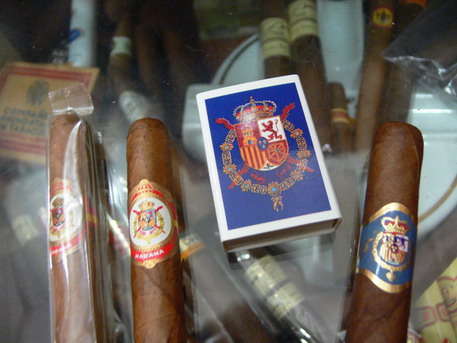 Royal Cigars / HM King left, HRH Prince right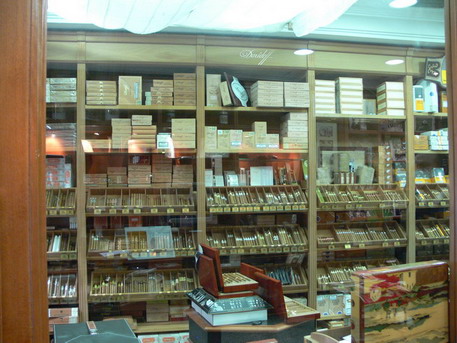 Cava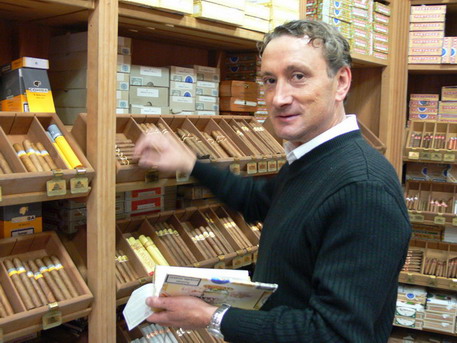 A passionate Cigar Man & Habano Man of the Year
Der Humidorraum ist voll elektronisch klimatisiert und befeuchtet. Die Lagerbedingungen hier perfekt. Das Problem ist in Madrid die trockene Luft. Er erklärt mir dass eine Zigarre von nachmittags bis Abends gut 20% Feuchtigkeit verlieren kann wenn man sie mit sich trägt.
Alles ist voller liebevoller Details. Ein Rollertisch mit allem Zubehör erklärt die Grundlagen des Zigarrenrollen, Tabakblätter hängen darüber, die Baumwolltücher, die Tapados, hängen von der Decke, es ist ein Paradies für Aficionados.
Dazu eine kleine, sehr gemütliche Sitzecke mit Bar und Espressomaschine.
Wer da noch Fragen hat, der kann sich mit einem Touch-Screen Monitor beschäftigen der ihm auf Anfrage sagen kann welche Vitola für welche Zeitspanne, Rauch-Gelegenheit oder Stärke passend ist.
Das ist die Cava ( der Humidor). Nebenan im grossen Estanco ( dem Geschäft) gibt es noch Accesoires, Presse und alles andere.
Es ist ein sehr empfehlenswerter Laden im Herzen Madrids, im urigem Viertel Chamberi, geleitet von einem sympathischen, passionierten Menschen der viel Herzblut investiert hat.
Kein Wunder dass er Habano Mann des Jahres geworden ist.
Ich verabschiede mich von ihm nachdem ich noch eine Kiste einer nicht mehr produzierten Zigarrenvitola gekauft habe die ich bei ihm durch Zufall entdeckt habe.
Eine Fundgrube.
Es ist ein wunderschöner, sonniger Tag in Madrid, an die 20-22 Grad, ideal.
Aber ich muss leider wieder zurück nach Frankfurt fliegen.
Der Rückflug verspätet sich wegen Gewitter in FRA um 45 Minuten.
Ich habe noch Zeit mir das Angebot in der Cava de Cigarros am Terminal anzuschauen, das Angebot ist gut, die Preise jedoch höher als in der Stadt, es sei denn man fliegt in ein Nicht-EU Land.
Es waren kurze, sehr kurze 24 Stunden in Madrid, aber ich habe sie genossen. 
Ich komme wieder !
Nino 
LISTE DER EMPFOHLENEN ESTANCOS / CAVAS DE PUROS
 IN MADRID : 
• Estanco CARDENAL CISNEROS 17.- Calle Cardenal Cisneros 17 – Besitzer : Jesús Llano. Tel: 91 – 4451 727
• Estanco CASTELLANA 204.- Castellana 204 – Besitzer : José Ignacio Otegui Piedra [Cuqui]. Tel: 91 – 3590 527
• Estanco JOSÉ DEL HIERRO.- Calle Jose del Hierro 39 – Besitzer : Eulalio Bejarano. Tel: 91- 3775 311
• Estanco MAGALLANES.- Calle Magallanes 14 – Besitzer : José Martínez Franco, Desi, Maria, Chema.Tel: 91 – 4462 817 / 91 – 4453 970
• Estanco BARQUILLO.- Calle Barquillo 22 –  Besitzer : José Carlos Rubio. Tel: 91 – 5220 222
• Estanco AVENIDA DE EUROPA (Cava de Somosaguas).- Avenida de Europa 1, Pozuelo de Alarcon – Besitzer : Jesús Fernández Montes. Tel: 91 – 3516 345
Danke an Rafael Bernardo.  
CREW LAY-OVER INFO  RESTAURANTE CASA PERICO :
Ein echter Geheimtip ist Casa Perico, ein Restaurant mit regionaler Küche im Zentrum der Stadt, Treffpunkt auch von Prominenten und Journalisten, dennoch bescheiden, und immer mit frischer, hausgemachter Küche.
Inhaber Perico bietet LH-Besatzungen ein Degustationsmenü zum Preis von ca. EUR 24 an; die Öffnungszeiten sind flexibel – am besten vorher anrufen, Tel. 91-532 8176, Mob. 669 74 9489.
Das Restaurant liegt kurz abseits der Gran Vía in der Calle Ballesta, 18 (ist zwar Rotlichtviertel, aber nicht außergewöhnlich gefährlich – gegenüber vom Restaurant ist eine Polizeiwache).
Copyright 04-2006
© Ninos Flying Cigar

Weitere Fotos zu diesem Bericht / Additional Pictures to this Report :
Ich hatte wieder mal das Glück der Patrulla Aguila der Spanischen Luftwaffe beim Üben über dem Mar Menor zu beobachten.
Again I was lucky to observe the Spanish Air Force Patrulla Aguila practicing over the Mar Menor.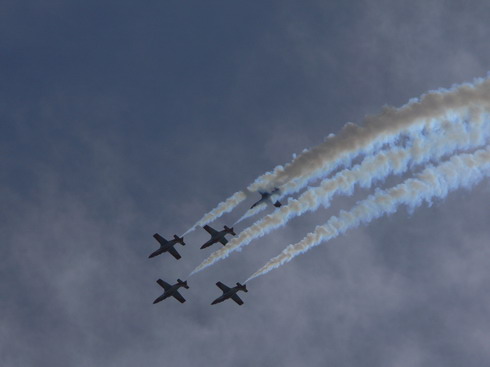 Patrulla Aguila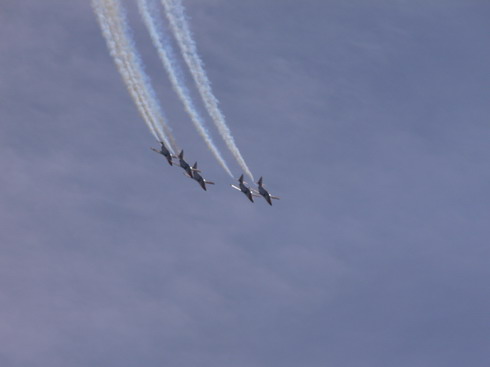 Patrulla Aguila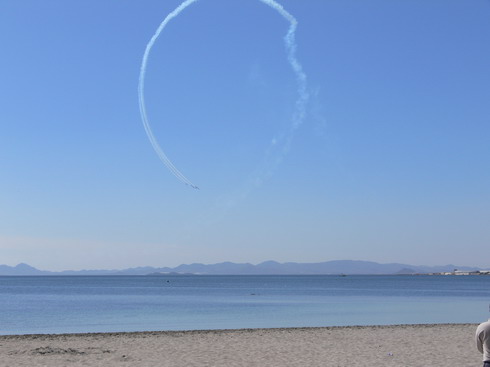 Patrulla Aguila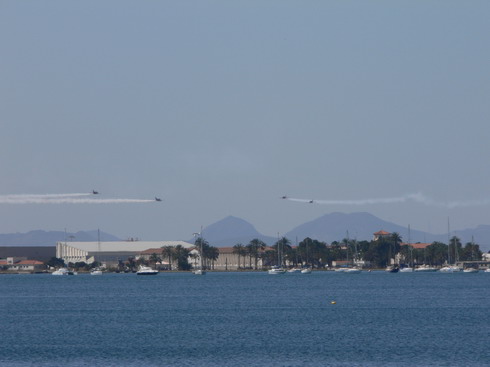 Patrulla Aguila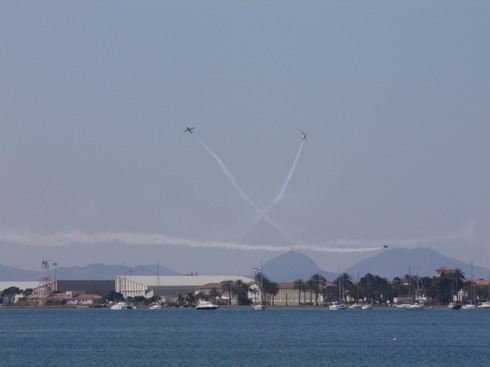 Patrulla Aguila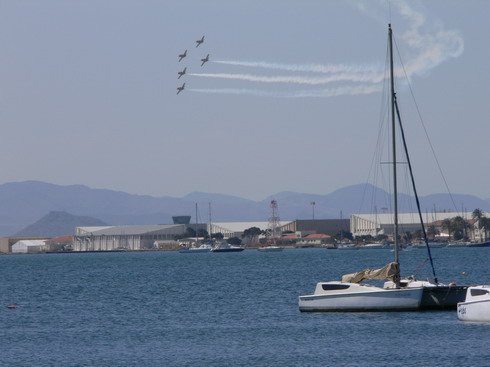 Patrulla Aguila
Copyright 04-2006
© Ninos Flying Cigar

English Version : 
Dinner "Club de los 100 Puros "  Madrid / Spain, 30.03.2006  
! Los puros iran al cielo !
To fellow Madrileño "Boss Hogg".
Different mothers also have pretty daughters – and different countries also have good Cigar Clubs.
It was not coincidence that I visited my parents in Spain for a week.
As I could not get any flights to Alicante or San Javier, I decided to fly via Madrid.
Last year I had already planned meeting Rafael Bernardo in Madrid for a cigar, but it didn't fit.
This year I looked forward to meet him in Havana at the Festival, but he could not make it for the first time in many years.
So we stayed in touch, and, as my flight plans via Madrid were booked, he recommended that I postpone my return flight for a day in order to assist as his guest to a dinner of the "Club de los 100 Puros". Coincidence that dinners are held on the last Thursday of the month.
I was able to switch my return flight from home within half an hour. A jacket and a tie into the suitcase, and all set. 
After a week of sun in the Mediterranean – already 31 degrees C  (88 F) in Murcia – and after taking care of my ever more fragile parents, I left for Madrid at 7:45, as the sun was starting to rise.
460 km (280 miles) were waiting for me. All highway – good driving, but the wide Castillian landscape -immortalized in so many works of literature- made driving a bit boring.
A funny interruption of my boredom was provided by the Guardia Civil  (highway patrol ) stopping me after 300 km for passing in a construction area. Fine : 90 Euros that I was supposed to pay on the spot as I do not reside in Spain.
All true – but why didn't  they also stop the Pick-Up that was ahead of me ?
The very courteous and correct Guardia Civil didn't want to argue with me – neither did I, a well-educated son of a Guardia Civil myself.
That interested him. Where was your father stationed? Do you have a picture of him? How did you get to Germany? Have you been visiting your parents?.
He returned my documentation, saluted and wished me a good journey. I got off, saluted both Guardias and drove on without a problem (and a bit proud ).
I could proudly tell Rafael later that my dinner had been "sponsored" by the Guardia Civil. 
In the Castillian plains, in La Mancha, I stopped for a tortilla sandwich and a café con leche. Then I lighted a small vintage Cabañas, a tasty lil' thing. (Thanks Turner!)
It does improve ones driving when you have a cigar in your mouth.  
Exactly 4 ½ hrs after departure, I returned the car to Avis at their Gran Via office in the center of Madrid.
Clean driving time were 3'45" despite driving into Madrid by the Prado Museum, the Cibeles Fountain, the Gran Via…..some of the more interesting sights in all of Western Europe.
Not bad – guess the Guardia Civil would have had their fun with me after all, as there's a 120 km/h (75 mph) speed limit on Motorways ………………..
I had chosen the Hotel basically next door to the Gran Via, the Melia Madrid Princesa at the Plaza de España. 
Shower, change and out into the buzz of my favourite City.
Königspalast / Royal Palace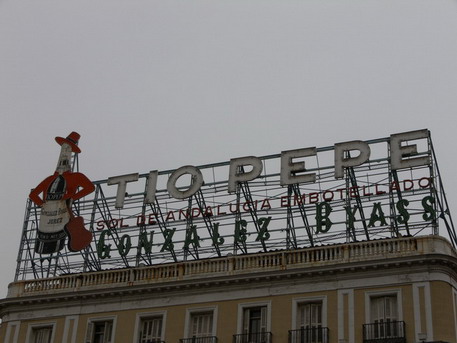 Puerta del Sol
Madrid, la ciudad invivible – pero imprescindible ( Madrid the (unlivable) city you can't live in and can't live without ).  A city with traffic jams at 4 am, and where restaurants are empty at 10pm. 
Up the Gran Via to the Telefonica Building, then left into the Calle Ballesta, passing the Fellini-esque ladies of the night, until I reach number 18, Casa Perico.
Here's my Madrid "family" – besides my uncles and aunts.
Here's Pericos Restaurant, his sister Nines cooking and brother Javi helping out.
Perico himself was born in one of the small rear eating rooms.
Nines cooks basic, solid and excellent Castillian fare. It's not called a "Casa de Cuchara" ( A Spoon House ) for nothing, you get to enjoy the best stews here.
Journalists and TV people from nearby Press offices love the place- the people watching is great. Journalists interview prominent people and the aforementioned pros  come in for a quick warm-up Brandy. And the place holds no more than 30 people ………… 
I first visited Casa Perico around 15-16 years ago, while still on B-737 flying around Europe.
When we had a day off in Madrid, my crew told me "hey, you're Spanish, you pick a good place for dinner."  I didn't want to go into any of the tourist traps surrounding the Plaza Mayor.Fortune or good coincidence that I read a small article in a newspaper about Casa Perico and its good food. I made the reservation, we got there and sat up front enjoying the food while behind us Jorge Valdano, then coach of Real Madrid soccer team, was being interviewed or rather "grilled" by 10 Journalists. In the end he received and donned a leather "Hannibal Lecter" mask as all other "victims" of this journalist club receive after the interview. Pictures of this ritual hang on the wall. 
I became friends with Perico and Nines, came back periodically with Crews, and put the place in our Madrid Layover Guide. Even today short range Crews will drop by for a meal, Perico proudly tells me.
I have been here with my parents, my Madrid relatives and with my wife, and all love the place and the food. It's like coming home. 
Perico and Javi greet me, they are real busy now, it's 2:30 pm, Lunchtime.
We'll have more time to chat later, as I will meet Rafael here before Dinner. 
I continue up the Gran Via and walk down to the Puerta del Sol, the "Center" of Spain.
All Roads depart from here, this is the "Kilometer Zero".
And this is also the place from where, on New Years Eve, bells toll that are heard all over Spain. The ritual is to eat a grape with each toll of the bell, as it brings you luck for the New Year.
Right now it's a construction area as new subway stations are being built.
On past the "Ham Museum" and the venerable Llhardy's Restaurant to the Plaza Santa Ana.
My favourite hotel, the Reina Victoria, is now being re-designed into a hip-fashionable-yuppie-in-place hotel by Trust House Forte. A wonderful Art Deco hotel that was always "the" address from the best bullfighters in town ever since Manolete.
See below for interesting Article by the International Herald Tribune April 11, 2006.
I was recently here with Inge – lucky us, as the job will take time.
I walk by the Cervezeria Alemana, where Papa Hemingway really did sit and write reports on the Spanish Civil War (1936-39) and by Spain's oldest Theater, the Teatro Español.
Santa Ana, a small square, but my favourite.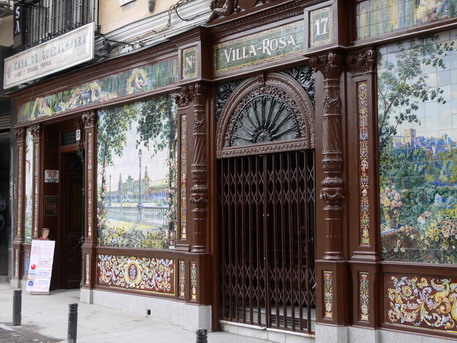 Villa Rosa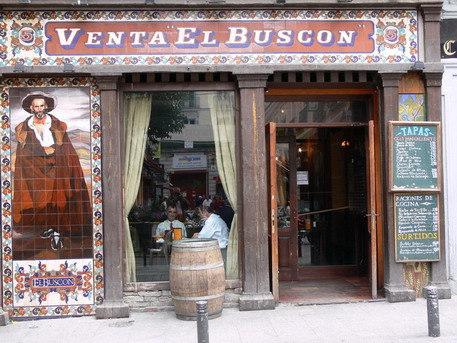 Venta El Buscon
I wrote an article on this square back in 1992 for the Lufthansa Inflight Magazine.
Around the corner are the bars and pubs of Madrid's world-famous nightlife aka "La Movida":  Viva Madrid, Los Gabrieles ( a Bullfighters Bar with rooms covered in colourful tiles – azulejos),,, a dream.
Into La Venencia for a couple of Manzanilla sherries. A dark amber-coloured cave awaits me, rather badly lit by a few weak bulbs.
Nothing but sherry here. Well maybe some chatter about bullfights, neighbourhood talk about food & drink, someone has a big bag with fresh green string beans and passes it around.
I ask about the cat – she still lives.
It's a cat that many people mistake for a statue, unmoving on a table and overlooking the Bar. But when someone comes too close she'll let you know that she's alive.
Another Manzanilla, with a plate of olives accompanying it. A small chalk line is drawn on the counter to mark my tab.
Nowhere does Manzanilla taste as good as here – except in Sanlucar de Barrameda on the Atlantic.
I walk through the neighbourhood, Café Central, best live Jazz dig, El Abuelo, best garlic shrimp, and up to the Plaza Mayor,  where there's El gato Negro where Inge gets the best wool for knitting.
But by now you already see more and more "typical German Restaurants" around offering Döner Kebab ……..
Across the Plaza Mayor, by the old City Hall and the Royal palace I return to the Hotel.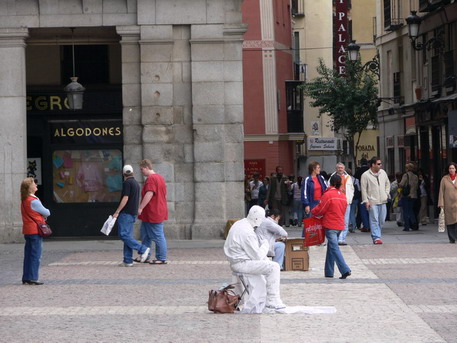 Plaza Mayor
I am done.
As people here exclaim : Madrid me mata ! ( Madrid kills me !)
I have a café con leche at the hotel bar and smoke a cigar.
Despite the new laws, there's no problem smoking basically anywhere in Spain.
More than 90% of all bars and places below 100 square meters (1000 sq. ft, as basically all of them are) have declared themselves "Smoking Areas" and allow smoking.
As I will learn later, people smoke even more now, as it is allowed by law, they take less consideration of others, even eating, when they used to be more considerate.
Now it's: I can smoke – so I must smoke ! 
Changed and back at Perico's at 7 pm.
A bit quieter now.
Perico is playing Dominoes with some regulars, there are still some patrons from lunch having last after lunch drinks. (Eating is a time-consuming affair in Spain and other Mediterranean countries)
It's been awhile since we last saw each other, so we have some catching up to do.
I thank him for sending me a Christmas Lottery ticket every year – not that we have won anything, but what a fine gesture.
I take some pictures as Rafael arrives.
He's also warmly greeted, he was a regular here before his office moved to the other side of the Gran Via. Just being on the opposite side of that chaotic boulevard changes the world, says Rafael. But now he's moving back to this side and he'll be back here again.
Perico is amazed at how Rafael and I met – in Cuba last year, and already there we found out that we love a common restaurant in Madrid. Small world.
It makes Perico proud to hear it. 
We have a couple of drinks, snack on some excellent jamon Serrano (akin to prosciutto) and Chorizo (sausage), shoot the breeze and smoke a fantastic H.Upmann by Rafael as an Aperitif.  I present Rafael with a custom rolled Salomones by Yolanda from last year and pass on information from this year's Festival del Habano for his Report.
I also give him a photo CD with pictures from Cuba and the Festival by Thomas "Stocki Bigotes" and me.
We would be happy and proud should he publish any on his website.
He presents me with a rare H.Upmann metal cigar box with 5 Medias Coronas, the box still packed in wax paper. A beautiful, rare piece. 
Around 9 pm we drive to the sounds of a Mozart Opera – Rafael is a Mozart lover and will visit this year's Salzburg Festival – to the venue of the cigar dinner, the first class Restaurante Viridiana of Abraham Garcia.
It is located behind the large Telefonica HQ building that many tourists mistake for the Royal Palace, and near the Retiro Park and Prado Museum.
The place fills up quickly, 72 cigar smokers are present for the dinner !
As Rafael's guest, I pay 80 Euros for the Dinner.  We are greeted with Petit Coronas.
Then we proceed to one of the assigned tables on the lower floor.
We are flanked by 3 well-known Madrid Estanqueros ( cigar shop owners ), some along with their wives or sons.
At our table we greet : Jesus Llano Muriel, Owner of Cava-Estanco Cardenal Cisneros and Habano Man of the Year 2005 ( whose Estanco I'll visit next day ), to my right Jose Carlos Rubio ( Estanco Calle Barquillo ) and across from me, next to Rafael, Jose Ignacio Otegui Piedra "Cuqui" ( Estanco Castellana/Calle Felix Boix ) who is planning on opening a cigar lounge next to his store.
What follows is an excellent, sophisticated menu, professionally presented and served.
We drink fresh, elegant Cavas ( Spanish sparkling wines ) from the House of Raventos in Catalonia, introduced by the grandson Josep Maria Raventos I Blanc (Spanish surnames are very long, as they combine one's father's and mother's surnames)
Appetizers are foie gras in Habano smoke, a  strawberry herring gazpacho, a typical Cuban quesadilla "Ropas Viejas" (it's stringy beef and is referred to as "old clothes")  in Vuelta Abajo style and a fresh egg in a mushroom sauce with truffles.  All to '98 and 2000 Cavas.
Main courses are a fish brochette (Corvina) and a pork stew couscous.
We all receive a Cohiba Siglo VI that is introduced by the Club's President Monsieur Bernard Soulier with a professional tasting of his own.
Dessert : Cuban fruits in cocktail and a Dominican chocolate mousse with coconut sauce and vintage rum.
We close with a 2002 Pedro Ximenez. 
The chef and owner, Abraham Garcia, himself a passionate cigar smoker, drops by and makes sure that all are happy with his Menu.
Every last Thursday monthly the club fills his restaurant and he creates a special menu.
In conversation with the Estanqueros we learn that lately most customers buy smaller vitolas, seems like people have less time on their hands to smoke the bigger ones, probably because of the new smoking laws.
It's easier – and quicker – to smoke a Mareva than a Double Corona.
Also we discuss the topic of Habanos tasting all basically identical lately.
The specific brand taste is missing, they become inter-changeable, and nearly identical in taste.Someone mentions he witnessed himself in a Havana factory how the same Robustos had different bands for a Habanos Robusto sample box ………… only the wrappers were of different colour, the tobacco was the same on all of them.
Talking with the very friendly Don Eduardo Mencia, Altadis Director for Commercial Relations, we learn that there is a huge central warehouse in Logroño, capital of the Rioja in northern Spain, where Altadis does the quality control on all cigars and that all are frozen before delivery.
Currently there are 30 million cigars stored in that warehouse which is also the distribution hub for Spain.
He offers a chance to visit the warehouse and Rafael is markedly interested. 
It's a wonderful evening, very pleasant despite the restaurant being full, the conversation is highly interesting and all the patrons obviously enjoy the dinner, the cigars and the company.
I am very grateful to Rafael for bringing me along as his guest. Through him many doors open, and I get loads of insight into the Spanish cigar world.
As we leave, way past midnight, the place is still humming.
Rafael is kind enough to drive me back to my Hotel and there we say "Hasta pronto". 
I walk down to the hotel bar and finish off the Siglo VI to a Cuba Libre (Rum 'n Coke) while re-running the evening in my head.  It was just fantastic! 
Waking up early next morning, I can watch the snow covered mountains of the Sierra de Guadarrama where I went to school as a kid.
The Metro takes me 2 stops to Glorieta de Bilbao station, and there I firstly have Breakfast on typical Madrid churros. Then I walk around the corner to Calle Cardenal Cisneros 17 and pay a visit to Jesus Llano in his Cava-Estanco.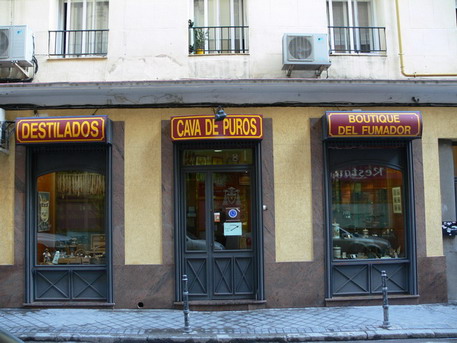 Cava-Estanco Cardenal Cisneros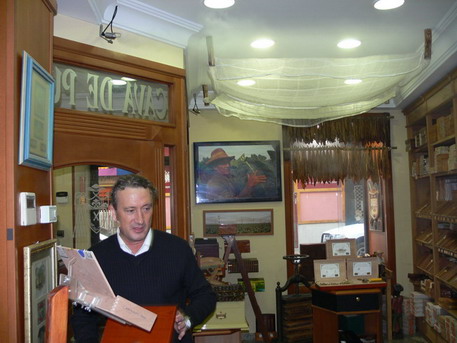 Jesus Llano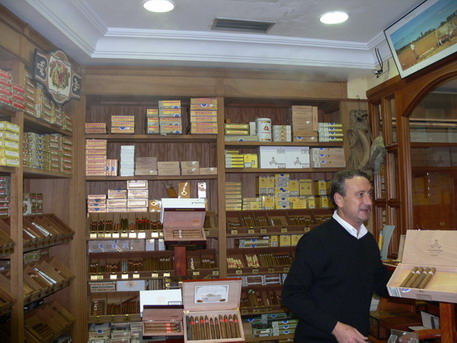 Cava & Jesus
He takes all the time in the world for me, leads me into his giant walk-in humidor, tastefully decorated with tobacco and cigar artifacts and shows me treasures like cigars made for the present King of Spain or for the wedding of the Prince   ( who is rumoured to have a preference for SCdlH El Principe, at least that was a present by his then bride Letizia ) or a box of Dunhill Mojitos that he is carefully reviving.
The walk-in humidor is fully electronically controlled in temperature and humidity. The storage conditions here are perfect. The problem in Madrid being the bone-dry air.
He explains that a cigar taken out at noon for dinner might lose 20% humidity by then.
All is full of loving details.
A Roller's table with all accessories explains the rolling process, tobacco leaves hang above it, cotton cloth sails explain the Tapados….. it's an Aficionado's paradise.  There's also a small sitting area and a bar with an Espresso machine.
If you still have any questions you may use a touch-screen monitor which can give you advice on which cigar to smoke for a specific time frame, strength, price range or size.
This is the walk-in humidor: the Cava. Next door is the shop (Estanco), full of accessories, magazines, tobacco and cigarettes. 
Truly a place to recommend – in the heart of Madrid, in the Chamberi quarter,  managed by a very kind, passionate man who has invested a lot of heart into his love for cigars.
No wonder he's been elected Habano's Man of the Year.
I discover a box of discontinued vitolas and purchase it. You can even treasure hunt here.
As we say our "adios" I am thinking that I hope to come back soon with more time on my hands.
It's a beautiful day in Madrid, sunny, 22C (70F), perfect springtime.
But I have to return to Frankfurt.
The return flight is delayed 45 minutes by thunderstorms in Frankfurt.
I use the time to check the Cava de Cigarros next to the Duty Free at the old terminal.
Selection is good but prices are higher than downtown unless you fly to a Non-EU country.
It was a very short 24 hours in Madrid, but I've enjoyed them to the hilt. 
I'll come back ! 
Nino  
LIST OF RECOMMENDED ESTANCOS / CAVAS DE PUROS
IN MADRID :
• Estanco CARDENAL CISNEROS 17.- Calle Cardenal Cisneros 17 – Owner : Jesús Llano. Tel: 914-451-727
• Estanco CASTELLANA 204.- Castellana 204 – Owner : José Ignacio Otegui Piedra [Cuqui]. Tel: 913-590-527
• Estanco JOSÉ DEL HIERRO.- Calle Jose del Hierro 39 – Owner : Eulalio Bejarano. Tel: 913-775-311
• Estanco MAGALLANES.- Calle Magallanes 14 – Owner : José Martínez Franco, Desi, Maria, Chema.Tel: 914-462-817 / 914-453-970
• Estanco BARQUILLO.- Calle Barquillo 22 –  Owner : José Carlos Rubio. Tel: 915-220-222
• Estanco AVENIDA DE EUROPA (Cava de Somosaguas).- Avenida de Europa 1, Pozuelo de Alarcon – Owner : Jesús Fernández Montes. Tel: 913-516-345
Courtesy of Rafael Bernardo / Gracias.
LAY-OVER INFO  RESTAURANTE CASA PERICO :
Ein echter Geheimtip ist Casa Perico, ein Restaurant mit regionaler Küche im Zentrum der Stadt, Treffpunkt auch von Prominenten und Journalisten, dennoch bescheiden, und immer mit frischer, hausgemachter Küche.
Inhaber Perico bietet LH-Besatzungen ein Degustationsmenü zum Preis von ca. EUR 24 an; die Öffnungszeiten sind flexibel – am besten vorher anrufen, Tel. 91 532 8176, Mob. 669 74 9489.
Das Restaurant liegt kurz abseits der Gran Vía in der Calle Ballesta, 18 (ist zwar Rotlichtviertel, aber nicht außergewöhnlich gefährlich – gegenüber vom Restaurant ist eine Polizeiwache).
Copyright 04-2006
© Ninos Flying Cigar


A Madrid hotel where they dressed to kill
By Renwick McLean International Herald Tribune
TUESDAY, APRIL 11, 2006
Madrid  In the ritualistic world of bullfighting, perhaps the most solemn ritual begins about 90 minutes before anyone confronts a bull, as the matadors and their teams begin to dress for the ring.
"The climate is mystic," said Fernando Galindo, a bullfighter in Madrid. "You are preparing to risk your life."
The clothes usually go on slowly, he said, often in front of a makeshift altar, a cross, or an image of the Virgin Mary.
Some prefer solitude, he said, others conversation or the hushed company of friends. But nearly all are superstitious adherents of routine, dressing in the same way in the same place over and over.
For many bullfighters in Madrid this year, however, sticking to routine will be impossible. The Hotel Reina Victoria, the traditional hub of Madrid's bullfighting culture and the place where Spain's great matadors have been dressing for more than 60 years, was shut down during the off-season.
"We've lost a landmark," said Muriel Feiner, wife of a former matador and an author of several books on bullfighting. "It's the passing of an era. All these ghosts are going to have to find somewhere else to go."
Practically all of bullfighting's legendary figures stayed at the hotel at one time or another since its construction in 1925, Feiner said.
Manolete, the emblematic hero who was fatally gored during his farewell tour in 1947, was a regular. His younger rival, Luis Miguel Dominguín, was another guest, and the famously courageous El Cordobés, who liked to kiss the bull on the head before finishing it with his sword, stayed there too.
"It was the symbolic axis of the bullfighting world in Madrid," said Galindo, who is also the secretary general of the National Union of Spanish Picadores and Banderilleros, an organization of bullfighters in Madrid. "Almost all of the commercial and personal exchanges took place around the hotel."
For decades, government officials and entrepreneurs wishing to put on a bullfight would visit the hotel rather than pick up the phone.
In the lobby or bar, they could negotiate contracts with matadors, purchase bulls from ranchers, rent an arena, or get a loan.
"I remember the atmosphere as a child," said Galindo, who would often accompany his father, also a bullfighter, to the hotel in the 1960s. "It was thrilling."
"The matadors were in one corner," he said. "The ranchers were in another, and the banderilleros and picadores in another," he said, referring to a matador's assistants.
As the hotel flourished, the bars, cafés and restaurants of the adjacent Plaza Santa Ana and surrounding streets developed into bullfighting institutions in their own right.
"Starting in the 1950s, if you didn't come here, you were nobody in bullfighting," said Lucio Burgos, the manager of the Cervecería Alemana, a bar on the plaza that was a favorite of Ernest Hemingway.
Over the years, the area has lost some of its mystique. Tourists and partygoers with little appreciation for bullfighting have become fixtures at the bars and restaurants, while matadors, turned off by the heavy traffic and crowds, have become less of a presence.
But the hotel clung to its roots, preserving its status as the favored gathering spot for bullfighters in Madrid.
Until its closing in December, bullfighters still met there to socialize, talk business, and hold informal seminars on everything from the art of killing a bull to the place of their profession in Spanish society.
On Sundays during bullfighting season, which generally lasts from March to October, crowds still formed outside to watch the matadors leaving for the ring in their customary black moccasins, pink stockings, and suits of embroidered satin.
Although matadors today do not enjoy the stardom they did in Manolete's time, the best are still celebrated as national icons and guardians of a quintessential Spanish tradition.
Every year, Spaniards spend more than $1 billion to watch an estimated 17,000 bullfights, according to industry figures. Many of the most prestigious of these take place in Madrid at the Las Ventas arena, particularly in May and June during the San Isidro festival, when the world's top matadors have descended on the Reina Victoria.
The whole neighborhood is changing. "It used to be common to see a matador or someone from the world of the bulls come for a drink or a meal here," said Burgos of the Cervecería Alemana. "Since the hotel closed, not many come anymore. All that is over now."
Not that the neighborhood is quiet. Like much of Madrid, the pace is frantically shifting to a hip but homogenous modernity. The Reina Victoria will soon reopen – as a Hard Rock Hotel, the first in Europe.
The Hard Rock Hotel might lure more business to the area when it opens this summer, Burgos said, but he admitted it will be a very different crowd.
"It's going to be high-fashion people, very modern people," he said.
Managers of the new hotel, who say they are completely doing away with the building's traditional décor to install cutting-edge amenities and modern panache, say that matadors and their teams will still be welcome.
But Galindo said that most were likely to turn to one of the other Madrid hotels with ties to bullfighting, such as the Hotel Wellington, which has drawn industry impresarios for years.
"Customs are very important to us," said Galindo, referring in particular to the ritual dressing before a fight. "We have peculiar habits, and we like to go to places where the people understand us."
The Wellington, he said, "doesn't have the spirit of the Hotel Victoria."
Copyright © 2006 The International Herald Tribune