9 Aug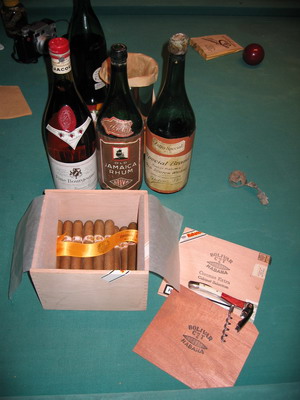 "Rommel Rum" & Bolivar Cabinet
" Heiner's Rommel Rum Smoke "
 English Version below the German text 
Und munter ging es am 21 Juli weiter mit unseren Rheinhessenraucher Smoke, den wir diesmal bei Heiner in Worms abhielten.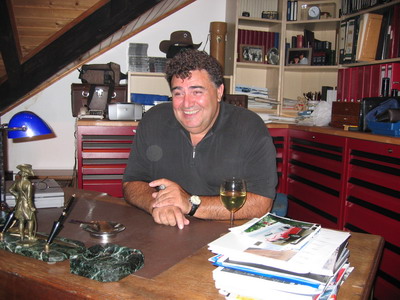 Heiner zufrieden / Satisfied Heiner
Der Grund war die Einweihung seiner privaten Zigarren Lounge bei sich im Haus.
Heiner's Zigarren Lounge
Damit wir das Haus auch fanden, hatte er bereit draussen einige Habanos Schilder aufgestellt, eines davon in einem seiner BMW Oldtimer. Dieser zog sofort unsere Blicke auf sich.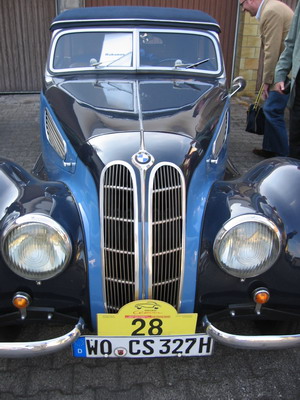 BMW Oldtimer Habanos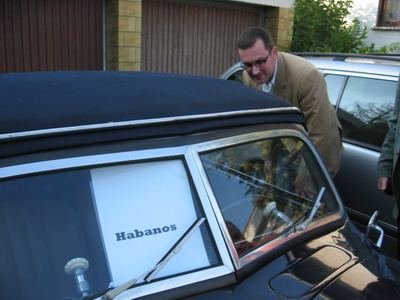 Andreas & Habanos Oldtimer
Etwa fünfzehn Männer versammelten sich dann auf der Terrasse um von "guten Service Geist" Britta, dem einzigen weiblichen Wesen des Abends einen Martell-Brandy-Ginger Ale- Angostura Cocktail zu bekommen.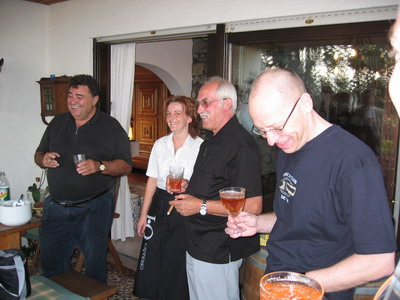 Heiner, Britta, Norbert & Gabriel
Heiner begrüsste uns alle herzlich, er hatte wahrlich keine Mühen für uns gescheut, und war sehr um unser leibliches wie auch spiritelles Wohl gesorgt.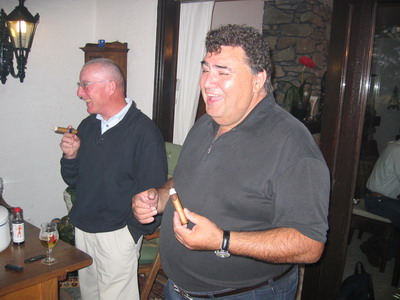 Happy People Bernd & Heiner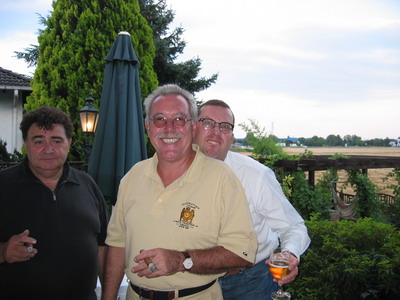 Auf der Terrasse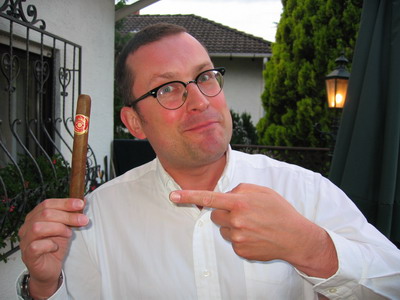 Die empfiehlt mir der Zahnarzt … 1972 Punch DC
My Dentist recommends ….. 1972 Punch DC
Von seinem Stamm Restaurant "Kolb's Biergarten" an der Wormser Rheinbrücke kam der Chef persönlich und lieferte die leckeren Spezialitäten des Abends.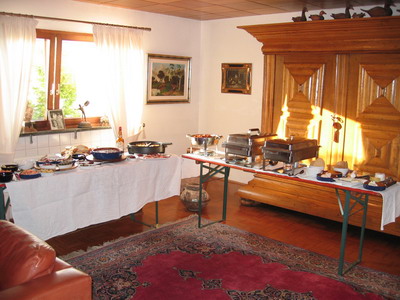 Buffett bei Heiner 
Wir bedankten uns alle für den herzlichen Empfang, Andreas überreichte Heiner eine 1972 Punch DC, ebenfalls von Andreas, Bernhard und mir bekam er eine originelle BMW Uhr.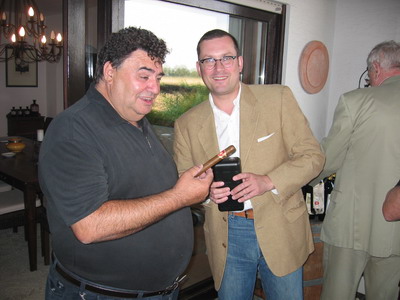 Heiner bekommt eine 1972 Punch DC von Andreas
Eine Batterie Rot und Weissweine war für uns aufgefahren worden, darunter Bordeaux der Jahrgänge '64 und '74 sowie deutsche Weine. Dazu kamen 3 Fässer Bier – die auch getrunken wurden.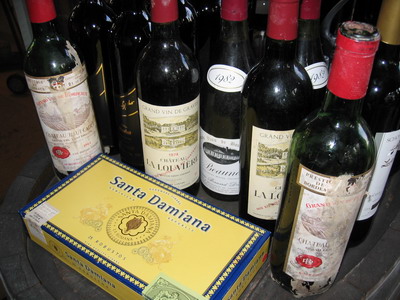 Heiner's Buffett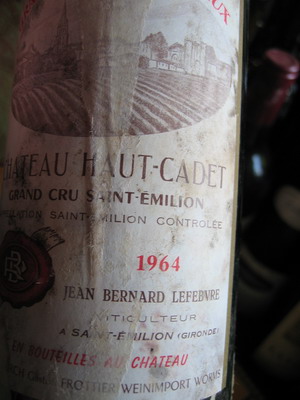 Leider vergangen / Regrettably past
Das Vorspeisen Büffet bestand aus hervorragend gemachten spanischen Tapas, von Pulpo über Gambas und Calamares bis hin zu Albondigas ( Fleischbällchen, von uns je nach Grösse Toro- und Torero"klicker" genannt : – ) 
Heiner hatte auch dafür gesorgt dass seine Hausmarke Santa Damiana ausreichend präsent war.
Wir begannen mit einer Corona und nach dem Hauptgang rauchten wir eine vorzügliche Robusto. 
Der Hauptgang war ein erstklassiges Herrengulasch mit verschiedenen Nudeln der uns satt und glücklich machte. 
Mit der Robusto in der Hand bekamen wir dann von Heiner eine Führung seiner Motorrad Sammlung, die sich auf alte und seltene BMW Modelle konzentriert.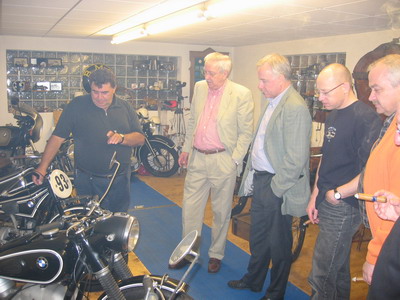 Ein Solzer Heiner / A Proud Heiner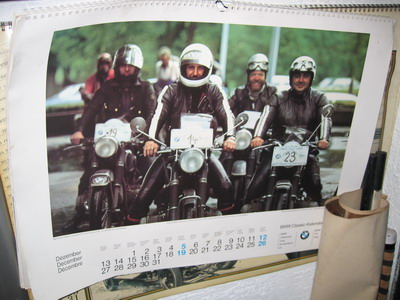 Heiner mit Nr. 23 rechts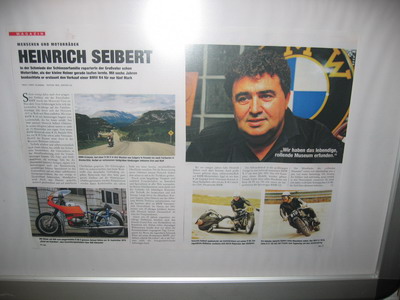 Heiners Portrait
Aber auch andere Marken – wie Triumph, hier das Marlon Brando Modell, sowie Moto Guzzi – sahen wir in seinem Keller.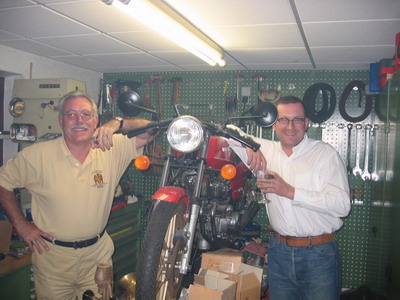 Mit Andreas & Moto Guzzi
Er hatte aus Platzmangel kurzerhand das Schwimmbad im Haus mit Holzbalken überdeckt und aus dem Swimming Pool war die Motorrad Halle entstanden.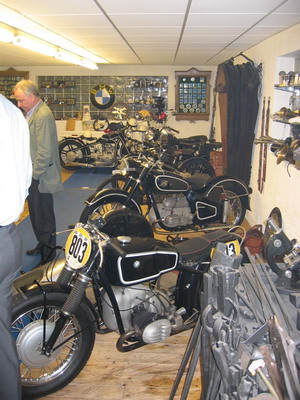 Das Ex-Schwimmbad / The Ex-Pool
Beindruckend und ein Beweis für die Sammler Leidenschaft von Heiner. 
Er erzählte uns Anekdoten seiner gefahrenen Rennen – heute noch im Oldtimer, allerdings Automobile – und seiner vielen Reisen durch die Welt mit dem Motorrad.
So auch von einer Begegnung mit einem Bären in Kanada als er einem menschlichen Bedürfnis folgen musste ………… 
Heiner sammelt nicht nur Motorräder, er sammelt auch Autos sowie Trecker, aber diese Sammlungen werden wir beim nächsten Smoke sehen ……….. 
Dann ging es wieder hoch, unters Dach, wo Heiner sich eine private Zigarren Lounge und Lesesalon eingerichtet hat.
Hier hat er seine gesamte Motor Literatur, seine Sammlungen, hier bewunderten wir eine alte Original Wurlitzer Juke Box und einen funktionsfähigen Billiard Tisch.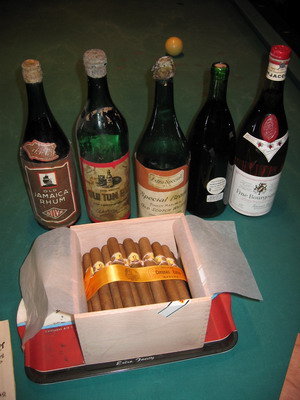 Schön / Pretty
Auf dem Billiard Tisch wartete bereits der Nachtisch auf uns : 
Neben einem 1966 Armagnac standen mehrere Flaschen Rum, Whisky und Gin und eine Cabinet Kiste Bolivar Coronas Extra Boxing Date 05-2005.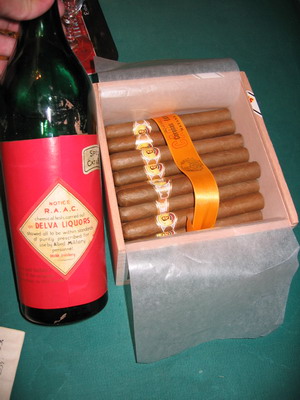 Good Combination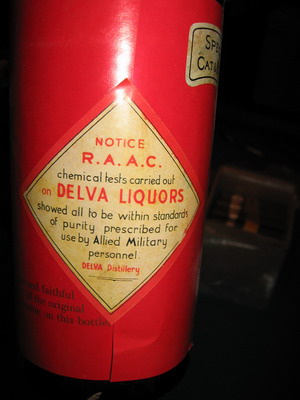 Perfect for Drinking
Die Flaschen waren versiegelt, und es gelang uns mit Mühe diese zu öffnen, teilweise waren dazu die Korken recht porös.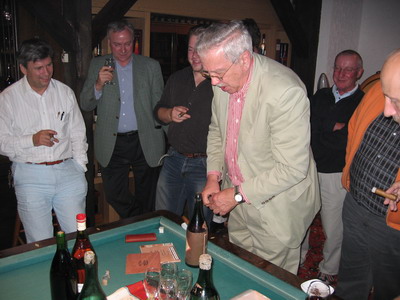 Sommelier
Aber die Mühe lohnte sich, denn der Rum und der Gin waren noch in guter Verfassung, allerdings – auch verständlich – etwas flach bzw. korkig.
Jeder bekam sowohl den Rum wie auch den Gin zu probieren.
Britta sorgte für Gelächter als Sie in die Runde fragte : Walter ? Wer ist Walter ??
Die angebotene Bolivar Coronas Extra war hervorragende Qualität. Frisch und perfekt gerollt. Einfach Spitze.
Heiner erzählte uns die interessante Geschichte der Flaschen, die britische Militäretiketten hatten : 
Als das deutsche Afrika Korps in Nordafrika einmarschierte eroberte es grössere Vorräte an britsichen Spirituosen. Diese wurden nach Italien verschifft, dort in Flaschen umgefüllt und für die Wehrmacht gelagert.
Die US Army wiederum "befreite" diese Vorräte bei der Invasion Italiens und brachte sie aus unerklärlichen Gründen nach Wien, wo sie in einer alten Kirche gelagert wurden.
Von hier aus wurden dann die US Offiziere mit den Spirituosen versorgt. 
Heiner selbst hatte – Jäger und Sammler der er ist – eine Garnitur der Flaschen kaufen können.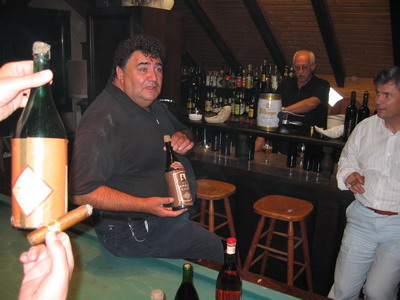 Heiner erklärt die Geschichte / Heiner tells the Story
So sassen wir dann gemütlich bis nach Mitternacht, plauderten, genossen und gratulierten Heiner zu seinem Glück.
Die Zigarren Lounge wurde wahrlich ihrem Namen gerecht, denn wir rauchten mit Freude und Genuss ob dieser wunderbaren Umgebung.
Auch die Heimfahrt im Taxi, 50 Km nach Wörrstadt gestaltete sich noch sehr lustig, denn wir fuhren durch die Rheinhessische Dorflandschaft um Gabriel und Gottfried abzuladen, und konnten so den derb-dörflichen Humor in Bernhard wecken, der den Taxifahrer die Richtung vorgab und sich sehr sorgte ob dieser auch mal so weit nördlich in der Republik gefahren sei ………..
Ein wirklich schöner Abend und ein unvergesslicher Smoke.
Danke Heiner !!
English Version :
A very good Month / Smokes  July 2005
Part Two
" Heiner's Rommel Rum Smoke "
We merrily continued on July 21-st and held our monthly Rheinhessenraucher Smoke Meet at Heiners in Worms.
The reason was the Inauguration of his private Cigar Lounge in his Home.
To help us find the House, he had posted Habanos Signs, one of them in one of his BMW Oldtimers.
This one caught our immediate attention.
About fifteen Men gathered at the Terrace to be served by the good spirited Britta, the only female in the House that Evening. We received a Martell-Brandy-Ginger Ale-Angostura Cocktail as a Starter.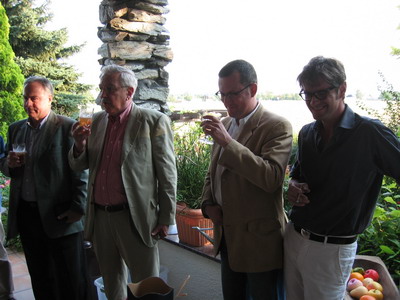 Auf der Terrasse, Albert, Walter, Andreas & Timm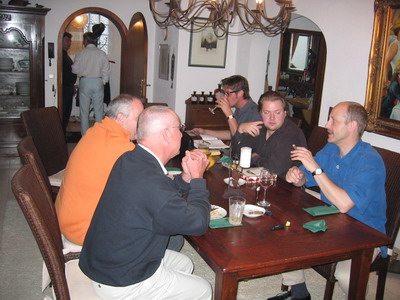 Bei Heiner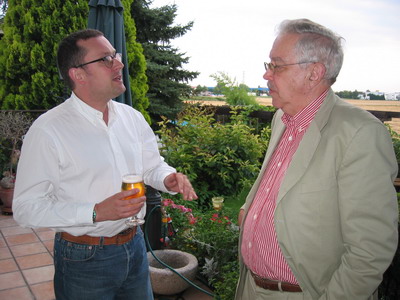 Andreas & " Wer ist Walter ?? "
Heiner warmly welcomed us all, he had spared no effort  and was very caring of our eating and drinking needs.
The Catering was done by his regular Restaurant, "Kolb's Biergarten" down by the Rhine Bridge in Worms and the Owner personally delivered the delicious Dinner.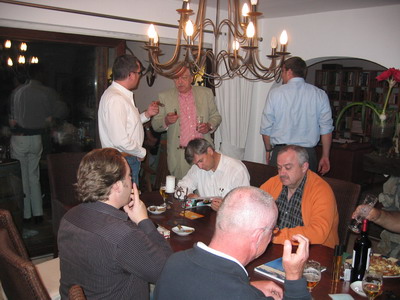 Heiner's Smoke
We all thanked him for the warm welcome, Andreas presented Heiner with a 1972 Punch DC and Andreas, Bernhard and I gave him a rare BMW Watch .
A battery of Red and White wine bottles awaited us, among them Bordeaux of the 64 and 74 Vintages as well as German wines. Also 3 Barrels of Beer – which were finished.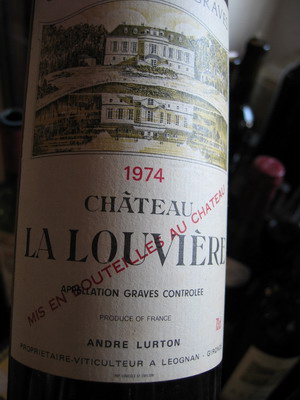 Le Rouge
 The Starters Buffet was excellently made Spanish Tapas, from Squid to Calamari, Prawns and Albondigas ( Meatballs, that we called according to size : Toro marbles or Torero marbles J )
Heiner also took great Care that his regular Santa Damiana Cigars were sufficient and available.
We kicked off with a Corona and had an excellent Corona later.
The main Course was a fantastic Goulash with assorted Noodles which made us well fed and happy. 
Robusto in Hand we received a guided Tour of Heiners Motorbike Collection, which concentrates on rare BMW Models.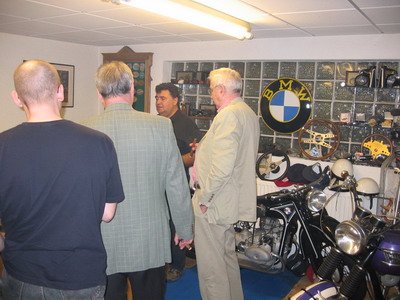 Heiner erklärt / Heiner explains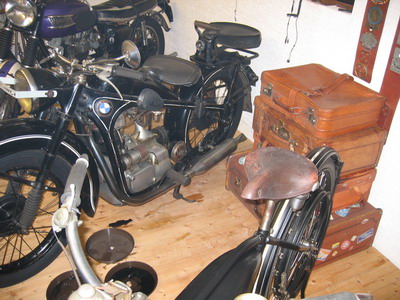 Oldtimer
But we also saw some other models – a Marlon Brando Triumph and a Moto Guzzi – in his Basement. 
Due to lack of Space – or too many Motorbikes – he just put wooden planking over his in-door Swimming Pool and created his Motobike Hall of Fame.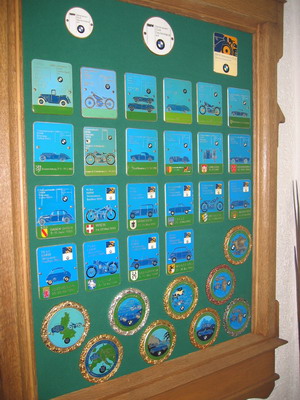 Rallye Plaketten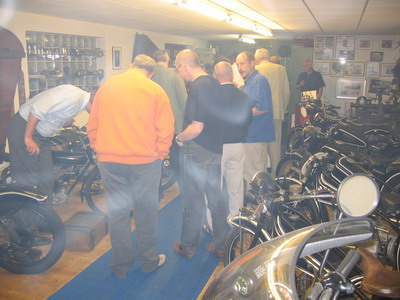 Blue Smoke & Motorbikes
Immpressive Proof of Heiners Passion as a Collector. 
He told us anecdotes of the Races he'd driven – still drives Rallies today in Oldtimer Automobiles – and his many travels throughout the World in a Motorbike. 
Like the time he answered nature's call in Canada just to face a Bear …………..
Heiner not only collects Motorbikes, he also collects Cars and Tractors, but we will see these Collections in the next Smoke …….. 
Then we went up under the Roof of his House, where Heiner has arranged for a private Cigar Lounge. 
His entire Motoring Literature, his Collections, a Vintage Wurlitzer Juke Box and a Pool Billiard Table are here.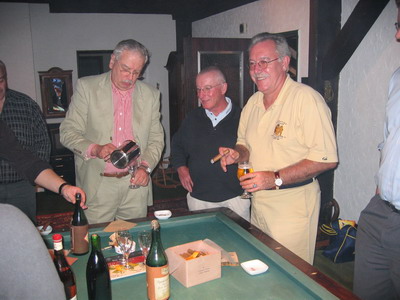 Der Rum wird rationiert / Rationing the Rum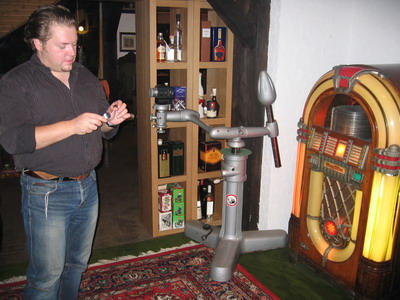 Bernd & Wurlitzer
On the Billiard Table, Dessert was waiting for us.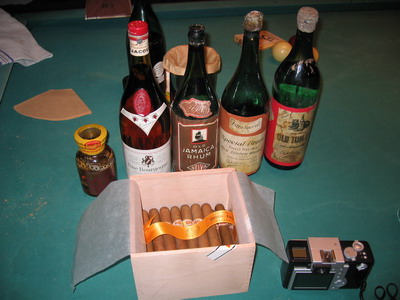 Pool Billiard Bottles
Along a 1966 Armagnac were several bottles of Rum, Whisky and Gin as well as a 50's Cabinet of Bolivar Coronas Extra Boxing Date 05-2005.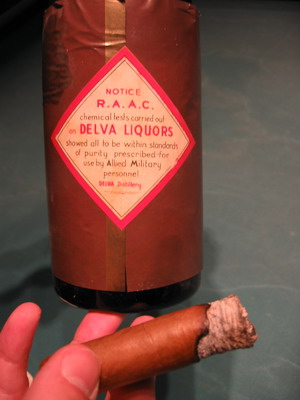 Perfect Combination
The bottles were sealed, and it took a bit of effort to open them. The corks were a bit porous. 
Öffnen der Gin Flasche / Opening the Gin Bottle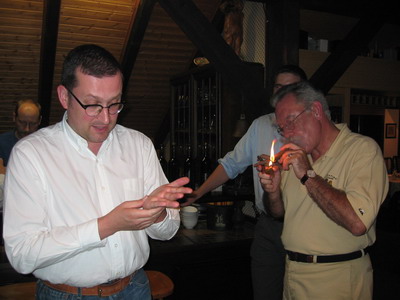 Achtung Explosionsgefahr ! Danger Explosives !
But the effort paid off, the Rum and Gin were in good condition, although – understandably – a bit flat and corked. 
Each of us tried both the Rum and the Gin.
Britta made us all laugh as she asked : Walter ? Who is Walter ??
The Bolivar Coronas Extra was of outstanding quality. Fresh and perfectly rolled. Just great.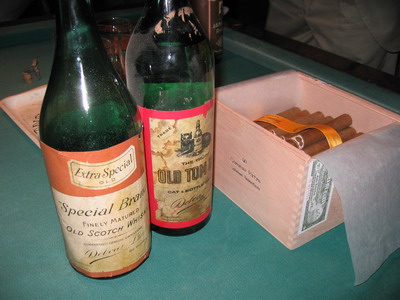 Good Combination
Heiner told us the Story of the bottles, which still had British Military Labels :
When the German Afrika Korps invaded North Africa, it conquered large Supplies of British Spirits.
These were shipped to Italy, filled in bottles and stored for the Wehrmacht.
The US Army again "liberated" these Supplies while invading Italy and brought them for unexplained reasons to Vienna where they were stored in an old Church.
It was from here that US Officers were supplied the bottles.
Heiner, being a Collector, had been able to buy a Set.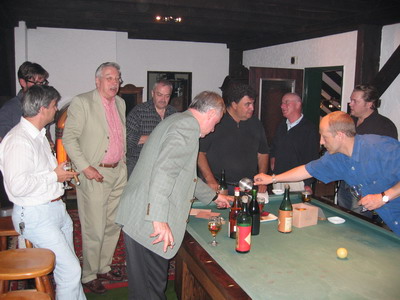 Rum am Billiardtisch
And so we sat comfortably until past Midnight, enjoyed all and congratulated Heiner on his Luck. 
The Cigar Lounge indeed received its Baptism of Fire, as we all smoked with Joy and Pleasure in these nice surroundings. 
Even our Taxi ride back home, 50 km to Wörrstadt was great fun, as we had to drive through most of the small Villages in Rheinhessen to drop off Gottfried and Gabriel. 
A really beautiful Evening and an unforgettable Smoke  
Thank you Heiner !! 
Copyright 07-2005
© Ninos Flying Cigar

Weitere Fotos zu diesem Bericht / Additional Pictures to this Report :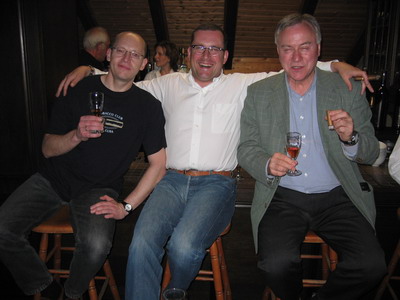 Rum macht happy !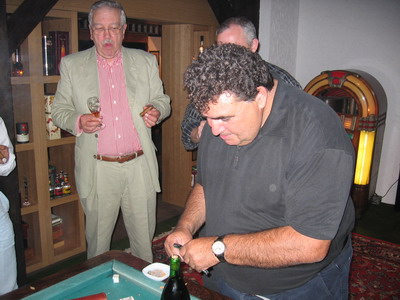 Harte Arbeit / Hard Work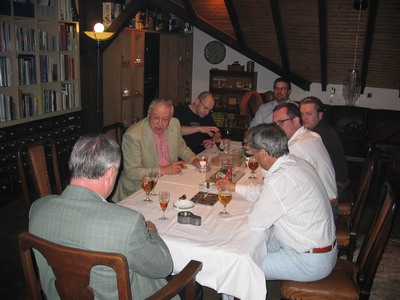 Gute Runde / Good People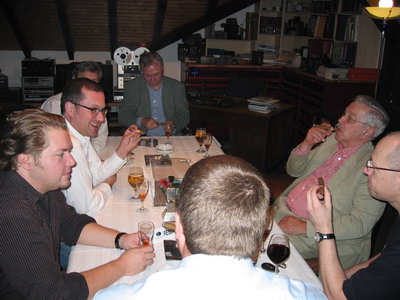 Gute Runde / Good People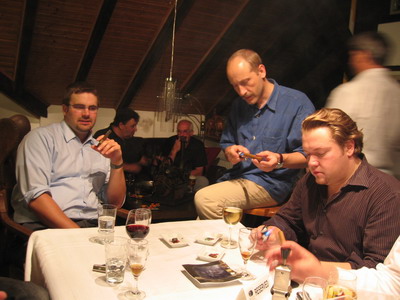 Good Smoke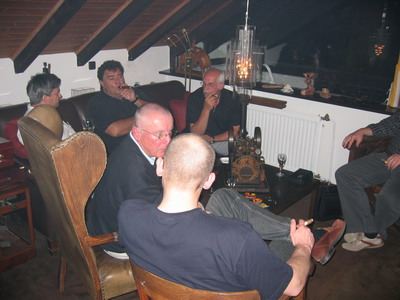 Gemütliche Ecke / Comfy Corner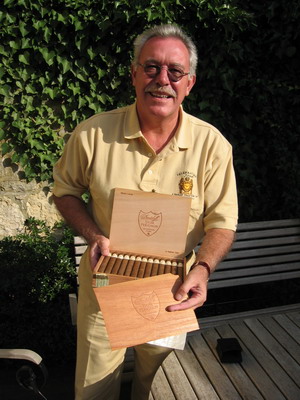 Vor dem Rommel Rum Smoke mit Davidoff Dom Perignon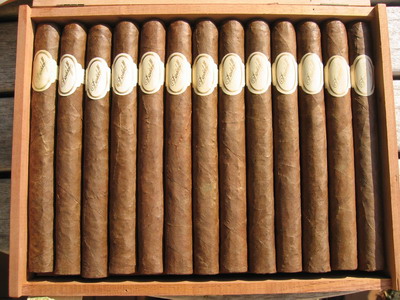 Schöne Farbe ! Beautiful Colour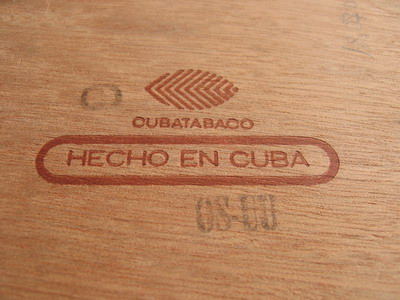 Boxing Date OS-UU = 09-88
Copyright 07-2005
© Ninos Flying Cigar