9 Aug
A Cigar Dinner at Lake Constance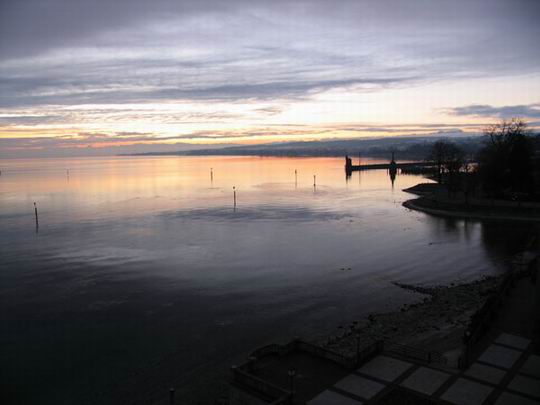 Am Bodensee / Lake Constance – Foto Thomas Stockinger
Urs Portmann / Thomas Stockinger 
30 Dez. 2004 
11 April 2005 : Welcome International Readers :
The English Version follows the German text 
Für mich ein faszinierendes, abenteuerliches Erlebnis : eine Grenze zu Fuß überqueren. 
Einfach so. Zu Fuß von einem Land in ein anderes. Mit anderem Geld, anderer Sprache.
Das hat mir immer schon ein Bauchkribbeln verursacht, aber es ist schon so lange her dass ich "klassisch" über eine Grenze bin.
Also so wie damals, als Kind, Mitte der Sechziger Jahre. Mit dem Auto nach Spanien über Belgien, Frankreich. Mit Passkontrollen, Auto- und Zollkontrollen. Es war nicht etwas einfaches, sondern es war Mühe.
Die Grenze war auch körperlich da, musste überwunden werden. Dahinter war fremdes Abenteuer.
Grenzen weckten in mir die Faszination für das Reisen. Sowie meine Jahre am Hafen von Bilbao. Schiffe, fremde Hafenstädte. Ich hatte mich angesteckt mit dem Reisevirus.
Und so lachte ich auf und freute mich als meine Frau und ich am 29 Dezember in Konstanz von unserem Hotel aus zu Fuß die etwa 800 Meter in die Schweiz zu Urs Portmann gingen.
Vorbei an den Grenzern, an der Passkontrolle, einfach so, zu Fuß in ein anderes Land spaziert.
Welch ein Unterschied zu unserem beruflichen Leben wo wir ständig Grenzen überqueren ohne es groß zu merken. Die Faszination ist weg.
Kaum über die Grenze, keine 20 Meter, und hinein zu Urs Portmann.
Warme, angenehme Begrüßung, man fühlt sich willkommen.
Das große Angebot an Zigarren, Accesoires und Humidore begutachtet. Ein Traum ! 
Herr Portmann kommt, begrüßt uns, bietet uns einen Kaffee an.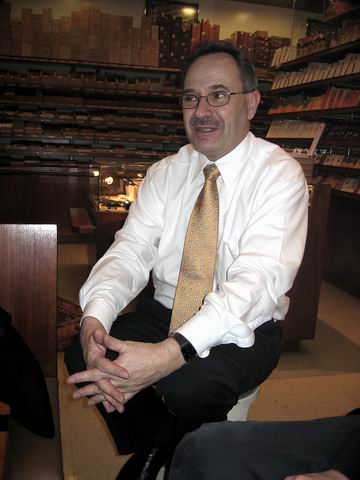 Urs Portmann in seinem Element ….. Urs Portmann in his Element …..
Wir fühlen uns als wären wir die einzigen Gäste, so werden wir – und alle anderen Kunden auch – behandelt.
Eine Zigarre wird mir angeschnitten.
Wir setzen uns in die kleine "Gäste-Ecke"  und reden über Gott und die Welt.
So als hätten wir gerade gestern damit aufgehört und heute wie selbstverständlich das Gespräch wieder aufgenommen.
Dabei war ich noch nie hier. Mein erster Besuch.
Ich überbringe Grüsse eines gemeinsamen Freundes aus Dubai, erzähle von unseren regelmäßigen Treffen dort und dem Respekt und der Bewunderung die Michael für Urs Portmann hat.
Und für die Zigarren von Urs Portmann, die ich bereits in Abu Dhabi rauchen durfte und als Maßstab für Qualität und erstklassige Lagerung gelten. Amen.
Andere Menschen gesellen sich dazu, man wird untereinander vorgestellt, sofort entwickelt sich ein gemeinsames Gesprächsthema das man auch mit "Neu-dazu-kommenden" weiterführt.
Und so redet man von der schwierigen Lage des Mittelstandes, von den Steuerproblemen, die Lage der Airlines, über das Fliegen bis zum Habanos Festival in La Habana wo man hofft sich wieder zu treffen und das Thema weiter zu bereden.
Ein Traum von anderthalb Stunden Länge mit einer Trinidad, einem Cafe und einem Glas Wasser, der die sozialen Defizite mindert, die ich, berufspezifisch, in mir trage.
Ich muss mich nicht bewegen, ich sitze. Ich habe es nicht mit schnellen Entscheidungen und der Lösung von Problemen zu tun, sondern mit einem gemütlich fließenden Gespräch wo ein Agreement zwischen den Teilnehmern implizit ist.
Eine Leichtigkeit, ein Gefühl von Trance, von Zeitlupentempo überkommt mich.
So stelle ich mir die ideale Zigarren-Gesprächsrunde vor.
Es ist dieses herrliche, wonnige Gefühl von Zufriedenheit und Glück wenn man am Meer unter einer Palme liegt, den Wellen zuhört während man ein gutes Buch liest das einem gerade aus den Händen entgleitet weil das Hirn so wunderbar in eine Siesta beginnt zu fallen.
Vollständige Zufriedenheit. Man möchte den Moment, das Gefühl einfrieren, konservieren.
 Und das war erst der 29 Dezember 2004. 
Am nächsten Tag sollten wir, eine Gruppe Aficionados und Freunde von Thomas "Stocki", an ein Abendessen mit Herrn und Frau Portmann teilnehmen.
Initiiert hat alles Thomas. Vor ca. 6 Wochen kam seine Einladung. Er hat auch die Planung übernommen und den Kontakt zu Urs. Dieser wiederum hat alles vor Ort organisiert. 
Das Abendessen sollte im Hotel Restaurant Villa Barleben am See in Konstanz stattfinden.
Hier wiederum stellte uns der markante Chef und Gastgeber Herr Reiber ein köstliches, zur Jahreszeit passendes 4-Gänge Menue von selbst geschossenen Wild zusammen, komplementiert durch hervorragende Weine und Zigarren von Urs Portmann.
Aber zurück zum ersten Tag in Konstanz.
 Da wir diese Stadt und Region nicht kannten, reisten wir bereits einen Tag früher an.
Vom Rhein-Main Gebiet eigentlich fast ein Katzensprung, wir fuhren angenehme 2h30.
Dann die Sicht auf den verschneiten Südlichen Schwarzwald. Göttlich. So stellte ich mir als kleiner Spanier immer Weihnachten und Deutschland vor !!
Ein Wintermärchen.
Schnee, Berge, verschneite Tannen.
Von der Autobahn hinunter, kein Schnee mehr zu sehen. Der Bodensee wirkt als Wärmespeicher.
Fast schon Orientalische Anmutungen als ich das Minarett einer Moschee erblicke.
Wir sind im Hotel Mercure Halm. Dort erblicke ich erneut etwas sehr luxuriös Orientalisches, nämlich das Maurische Zimmer. Ein Restaurant ganz im maurischen Stil. Fast wie in der Alhambra von Granada.
Abends, noch fasziniert und überwältigt vom Besuch und den Erlebnissen bei Urs, spazieren meine Frau und ich durch die Altstadt von Konstanz.
Von einem Zigarrenfreund unseres Cigar Cult Clubs – Danke Karlheinz – den Tipp bekommen die Bodega Canaria, La Bodega, in der Schreibergasse 40 zu besuchen.
Ein Sammelsurium an verschiedener Einrichtung, jeder Tisch, jeder Stuhl ist anders, begrüßt uns als wir den dicken Vorhang öffnen und eintreten.
Die charmante, herzliche und lebenslustige Wirtin kommt mit einer Schiefertafel und sagt uns alle Gerichte auf. Sie redet spanisch, deutsch, erklärt die Gerichte, freut sich, unterhält sich, sie lebt in der Bodega auf. Ihr Mann schmeißt die Küche. Tapas vom feinsten die auch meine Mutter nicht viel besser machen könnte. Wir bestellen 6-8 verschiedene, alle toll.
Dazu einen exzellenten Hauswein aus Extremadura. So gut dass wir später eine Flasche mit ins Hotel nehmen sollten.
Wir verbringen volle 4 Stunden dort.
Der Abschluss mit Cafe solo, Copa y Puro zieht sich in die Länge, denn es werden einige Cafes und einige Copas. Die Puro ist eine San Cristobal La Fuerza. Die Wirtin gesellt sich zu uns, wir tauschen Erfahrungen zu Spanien und spanischen Schwiegereltern aus.
Wir kamen als Fremde und gehen als Freunde.
Wie bei Urs Portmann heute Nachmittag. Spanischer hätte es nicht sein können.
Am nächsten Tag ein Spaziergang durch Konstanz. Die Altstadt. Das Münster. Ich pflege meinen Kopf. Langsam geht es wieder.
Nachmittags um 13h30 dann wieder mal dieses schöne Erlebnis. Zu Fuß über die Grenze.
Die Grenzer ignorieren einen genauso wie sie ignoriert werden. Mit dem Auto muss man aber anhalten und sich ausweisen.
Ich komme wieder zu Herrn Portmann. Die äußerst freundliche Mitarbeiterin : Herr Portmann ist im Keller mit Herrn Stockinger und Begleitung, darf ich sie begleiten ?.
Ich soll, darf oder sogar muss in den Keller. In diese legendäre Schatztruhe.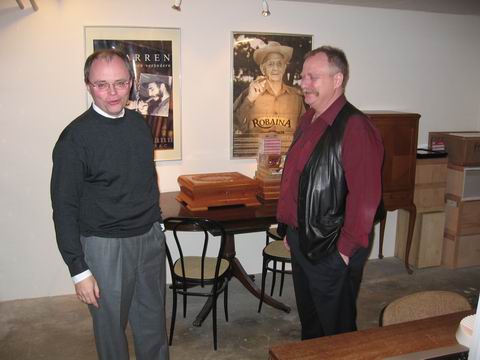 "Treuhänder" Paul und Stocki im Urs Keller / "Trustees" Paul and Stocki in the Cellar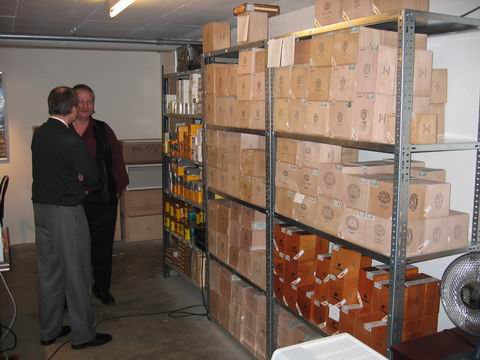 Eine kleine Auswahl im Keller /  A small selection in the Cellar
Dort begrüße ich Herrn Portmann, Thomas und Paul. Gerade angekommen, noch nicht eingecheckt, gleich her. Verstehe ich.
Wir schauen uns alles an, Herr Portmann wird oben verlangt, wir sind Treuhänder.
Ich bin kleines Kind im Schokoladengeschäft.
Meine Frau hatte gestern noch erwähnt : " Vielleicht findest Du ja eine Kleinigkeit hier".
Gefunden. Allerdings ist es ein schöner Schrankhumidor für ca. 50-75 Kisten. Meine Frau versteht es. Ein schöner Anlass wieder zu kommen.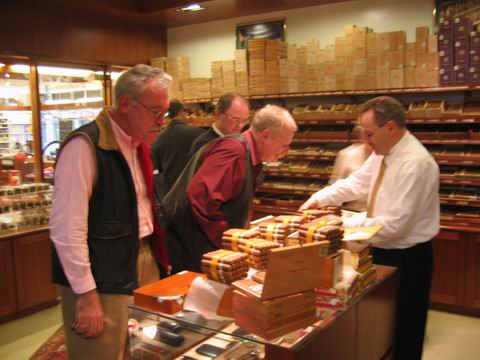 Bewunderung / Admiration
Wir gehen dann wieder hoch, setzten uns in die "Gäste-Ecke". Kaffee. Ich rauche eine Griffins Maduro. Wieder diese angenehme Gespräche, wieder diese angenehmen Menschen die sich, wie von Geisteshand zu uns setzen. Stefan kommt dazu. Später noch Kai.
Nach endlich langer Zeit dann Aktion. Paul und Thomas möchten einiges kaufen.
Was dann folgt ist unbeschreiblich. Unendlich viele Kisten werden hochgebracht, geöffnet, begutachtet, berochen, besehen, bei einigen Kisten werden sogar die Zigarren mit einem Pinsel bestrichen ob der Lagerung von Kristallen.
Es ist ein Traum. Dutzende Kisten Cohiba Robusto, Montecristo Nr. 2 liegen auf den Vitrinen.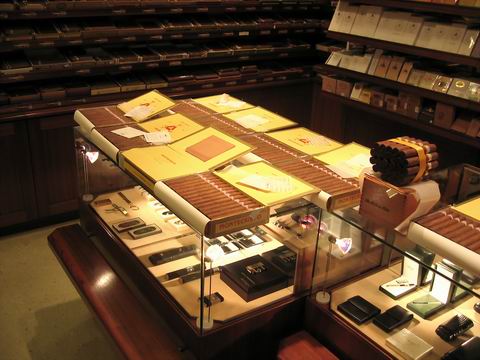 Eine kleine Auswahl / A small selection
Dazu die neuen "Bücher" von Romeo y Julieta". Welche Deckblattfarbe hätten sie denn gerne ?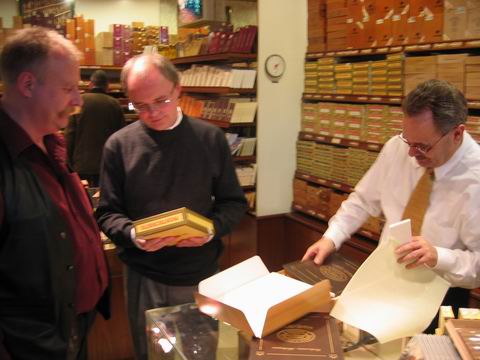 Die Bücher werden ausgesucht / Choosing the Books
Spätestens hier versteht man warum dieses Geschäft, dieser Mann und sein Team, warum Urs Portmann eine Legende ist. Amen.
Ich verabschiede mich. Ich muss diese Eindrücke, diese Gefühle verarbeiten.
Abends, 18h30, Steigenberger Inselhotel, Zeppelin Bar.
Ein Gin Tonic, eine Zigarrillo.
Stefan, Paul, Kai und Frau, Thomas und Frau und Inge und ich treffen uns.
Zu Fuß laufen wir über die Brücke, die Villa Barleben am See ist keine 10 Minuten vom Zentrum Konstanz entfernt.
Mitte der Brücke bleiben wir alle stehen und schauen zurück. Riesiges Feuerwerk.
Hat Stocki denn alles organisiert ?? Hat er das Silvester Feuerwerk auf heute verlagert ?
Es ist ein schönes, langes, anspruchsvolles Feuerwerk am Konstanzer Hafen. Später erfahren wir dass es von der DLRG organisiert worden war,  Schwimmer springen mit Fackeln ins kalte Wasser.
Eine Villa am See.
Ich denke : hier könnte Tolstoy gelebt haben. Sieht nach alter Datscha des 19 Jahrhunderts irgendwo im Birkenwald bei St. Petersburg aus.
Wir werden erwartet. Marc Andre ist da. Hannes Weiss konnte glücklicherweise auch teilnehmen. Frau Portmann begleitet ihren Mann. Ein Freund von Herrn Portmann, Herr Norbert Nothhelfer, ist ebenfalls anwesend.
Die Gästeliste an diesem Abend :
Herr Urs Portmann und Gattin
Herr Thomas Stockinger und Gattin
Herr Kai Fischer und Gattin
Herr Paul Altenau
Herr Marc Andre
Herr Stefan Balcerczack
Herr Hannes Weiss
Herr Norbert Nothhelfer
Ein Freund von Urs Portmann
Inge und ich
In den beeindruckenden, lebendigen Zimmern der Villa nehmen wir ein Glas Sekt zu uns.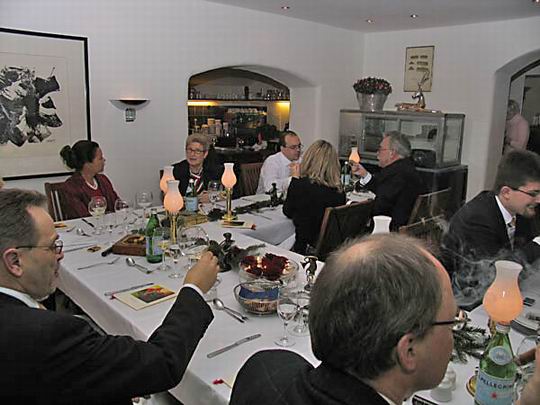 Ein Blick auf die Runde ( Foto Thomas Stockinger )
View on the Table
Dazu eine Bolivar Inmensas von Herrn Portmann.
Um uns herum alte Möbel, ausgestopfte Tiere, ein ideales, gediegenes, männliches Ambiente für eine Zigarre. Ich muss mir Hemingways Villa anschauen, fällt mir ein.
Aber ich bin gerade hier und  jetzt, am Bodensee, nicht in Kuba, mit guten Menschen, rauche, rede, freue mich. Das Haus, die Villa lebt, wir fühlen uns wie im Wohnzimmer bei guten Freunden. Der Gastgeber, Herr Reiber, erklärt uns nonchalant die Villa und sein Konzept für Haus und Küche.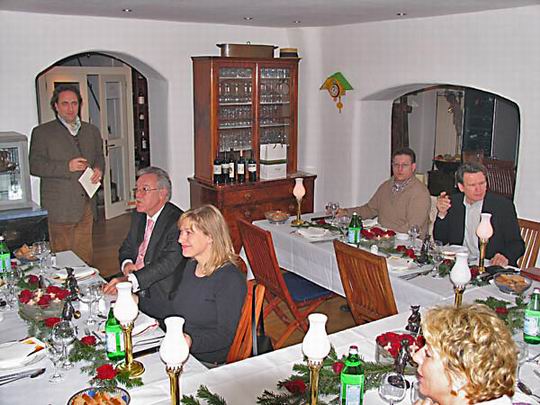 Herr Reiber, unser Gastgeber begrüsst uns / Mr Reiber, our Host greets us
( Foto Thomas Stockinger )
Er gehört ganz natürlich zu unserer Gruppe. Bietet uns die Weine zum Dinner an, begleitet uns dann beim Abendessen am Tisch und später wird er uns seine Raritäten vom A. Fussigny Cigare Blend Cognac bis hin zum torfigen und unglaublich passenden Single Malt The Corriemhor kredenzen.
Das Menue für den Abend :
Paprikasuppe mit Ingwer und Zitronengrass
Feldsalat mit gebratener Wildentenbrust
Wildschwein- und Hirschstücke mit Beilagen
Panna Cotta auf Grappa-Walbeerenkompott
Nach einem ( wenn ich mich richtig erinnere ) Sauvignon Blanc,  entscheiden wir uns für einen  Vina Izagi, einen Rioja der ohne viel Barrique, als Crianza eine fantastische Begleitung für das ausdruckstarke Wildfleisch ist. Hervorragende Wahl, Maestro !
Eine Ansprache von Urs Portmann, der Wunsch nach einem schönen Jahresabschluss und dem Beginn eines guten, neuen Jahres.
Jeder der Anwesenden bekommt eine fast 4-jahre gelagerte, privat für Urs Portmann auf Kuba gerollte Diadema. Die anwesenden Damen bekommen eine süsse Überraschung.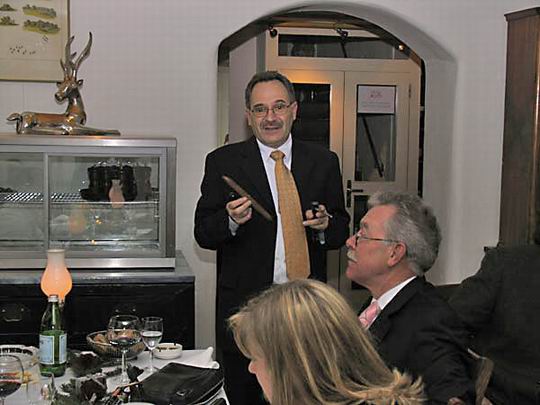 Herr Portmann überreicht jeden von uns uns eine Diadema ( Foto T. Stockinger )
Mr Portmann presents each of us with a Diadema
Thomas hält auch eine kleine Ansprache und bedankt sich für die Gastfreundschaft und Herzlichkeit von Urs Portmann sowie für das arrangieren dieses herrlichen Rahmens.
Es folgen herrliche Stunden des geniessens von zwischenmenschlichen Gefühlen, der Konversation, des Rauchens und des Degustierens.
Von Michael habe ich in Dubai eine Cubanische Davidoff Nr. 1 von 1987 für den heutigen Abend bekommen.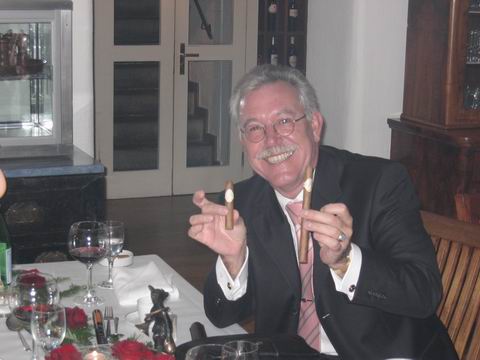 Die aged Davidoffs: Links Kai's Haut-Brion, rechts meine Nr 1 von 1987
The Vintage Davidoffs, Kai's Haut-Brion left, my 1987 Nr 1  right
Ein Traum von einer Zigarre, absolut betörend, himmlisch im Geschmack und Rauchverhalten.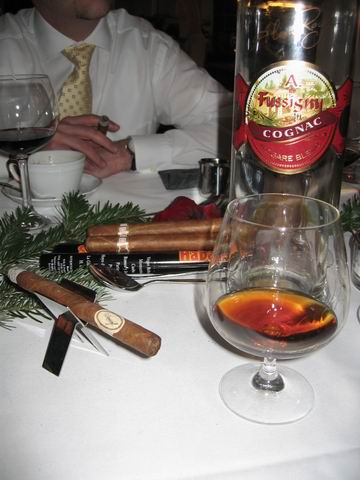 Das letzte Glas vom Fussigny Cigare Blend / Last Snifter of Fussigny Cigare Blend
Mein gegenüber, Kai, hat auch eine ältere Cubanische Davidoff für heute Abend dabei, eine Haut-Brion.
So zieht sehr schöner Habanos Duft durch die Gewölbe. Hannes überreicht mir eine Sonderanfertigung der Fabrica La Corona die für ihn gerollt wurde.
Meine zweite Zigarre ist meine letzte Cohiba 2000 Millennium Reserve.
Kein besserer Ort, kein besserer Rahmen sie zu Asche zu verwandeln.
Wir sitzen noch bis 02h früh zusammen, reden, planen – ich entschliesse mich endgültig, im Februar Kuba zu besuchen, da sowohl Hannes wie auch Urs zum VII Festival del Habano dort sein werden.
Ein grandioser, unvergesslicher Abend.
Danke Urs Portmann, danke Thomas Stockinger, danke allen Anwesenden.
11 April 2005
As a Courtesy to International Readers, here's the English Version.
My apologies for any errors. 
Nino
A Cigar Dinner at Lake Constance
A fascinating and adventurous experience to me : to cross a Border on foot.
Just like that. To walk from one country to another. With another money, another language.
It has always given me goose bumps to cross borders, but it's been a long, long time since I last crossed a Border in the "classical" sense.
I mean, like back then, as a child, in the mid-sixties. Traveling by car to Spain through Belgium and France. Undergoing Passport, Car and Customs controls. It wasn't easy then, it was an effort.
Borders were evident then, even physically, they had to be crossed. Beyond them, there was a foreign adventure.  
Borders started my fascination with traveling. As well as my years growing up near Bilbao Harbour. Ships, foreign ports. I had been infected with the travel virus.
And so I was happy as my wife and I walked the 800 yards from our Hotel in Konstanz to the Swiss border on Dec. 29th  to visit Urs Portmann. 
Past the bored Border Guards, past the Passport Controls, just like that, walking into another country.  
What a change from our professional life of flying, where we constantly cross borders without noticing them. The Fascination is gone. 
Barely across the border, not even 20 yards away from it, we enter Urs Portmann's store. 
A warm, heartfelt greeting, we feel welcome.
I take a look around at the large stock of cigars, the Accesoires and Humidors. A Dream ! 
Mr Portmann arrives, greets us and offers coffee.
We feel like we are the only guests, the way we – and all other customers – are treated 
I am offered a cigar that is then cut for me.
We sit down in the small "Visitors-Corner" and talk about all things, as we say in German : "about God and the World".
It happens just as naturally as if we had stopped the conversation yesterday and taken it up again today.
But I have never been here before. This is my first visit. 
I pass on regards from a common friend in Dubai. I  tell Urs of our regular Cigar Smokes there and the Respect and Admiration that Michael has for him.
As well as for his cigars, which I had the pleasure of smoking with Michael in Abu Dhabi, and are considered the Industry Standard for Quality and proper first-class storage. Amen.
Other people join in, introductions are made, a common topic is found and newcomers feel welcome any time.
And so we talk of the tough economic conditions for small companies, their tax problems, the state of the airline industry, everything from aviation to the upcoming Habanos Festival in La Habana, where we hope to meet again and continue the conversation.
A Dreamlike one and a half hours, with a Trinidad, a coffee and a glass of water, that softens the social deficits that I suffer due to my job.
I don't have to move, I sit. This is not about quick decisions and problem-solving, but a comfortable and nicely flowing conversation where tacit Agreement is implicit among the participants.
I feel taken over by a feeling of lightness and trance, a feeling of slow-motion.
This is how I imagine the ideal cigar conversation round to be.
It is that same glorious, warm feeling of Satisfaction and Happiness when you're lounging by the sea underneath a palm tree, listening to the waves, while the book you're reading slowly glides off your hands because the brain is wonderfully falling into a siesta.
Perfect Bliss. You want to freeze the moment, to preserve the feeling.
And this was just Dec. 29th.
The following day, we, a group of Aficionados and friends of Thomas "Stocki" Stockinger, were to participate in a Dinner with Mrs and Mr Portmann.
Thomas had the Idea. His invitation came about 6 weeks ago. He planned it and also contacted Urs, who arranged everything there by the Lake Constance.
Dinner was to take place at the Hotel Restaurant Villa Barleben by the Lake in Konstanz.
The Chef and Owner cum Host Mr Reiber had prepared a delicious 4-course seasonal Dinner, that consisted of game shot by Mr Reiber himself, and complemented by his excellent wines and cigars from Urs Portmann.
But let's return to that first day in Konstanz.
As we had never been to this City, my wife and I arrived a day earlier.
It was only a two and a half hour drive from the Rhein-Main Area where we live.
We took in the sight of the snow covered southern Black Forest. Divine. This is how I imagined Christmas in Germany to look like when I was a little Spanish boy.  
A lovely winter tale.
Snow, Mountains, firs full of snow.
As we get off the Autobahn, there's no more snow to be seen. The Lake  acts as a Heat reservoir.
Almost Oriental feelings, as I get a glimpse of the minaret of a Mosque.
We stay at the Hotel Mercure Halm. There, I again admire something very luxuriously Oriental, the Moorish Room. A Restaurant in perfect moorish style. Almost like in the Alhambra in Granada.
In the evening, still fascinated and overwhelmed by the visit at Urs Cigar Store, my wife and I walk through the Old Town of Konstanz.
A Cigar buddy of mine from the Cigar Cult Club – thank you, Karl-Heinz – gave me a good Tip for dinner, La Bodega Canaria, located in the Schreibergasse 40.
A funny collection of all sorts of different furniture greets us as we pass the thick curtain. Every table, every chair is different
The charming, lively and friendly Lady Owner arrives with a slate on which the dishes are written.
She speaks Spanish and German, explains the dishes, enjoys the conversation and really lives up in the Bodega. Her Spanish husband runs the kitchen. Excellent Tapas that not even my mother could do better.
We order 6 to 8 different ones, all of them excellent.
The Extremadura house red wine is also very good. We would later take a bottle along to the Hotel as a Night Cap.
All in all, we stay 4 hours in the Bodega.
We finish off dinner with coffee, Brandy and a cigar, which takes a bit of time as we make it several coffees and several Brandies. The cigar is a San Cristobal de la Habana, La Fuerza. The Lady Owner joins us and we exchange vivid tales of Spain and Spanish In-laws with her.
We arrived as strangers and leave as friends.
Just like at Urs Portmann this afternoon. Could not have been a more Spanish experience.
Next day, I nurse my headache as we stroll through Konstanz's Old Town and Cathedral.
In the early afternoon, we again repeat that nice experience : we walk across the Border.
The Border guards ignore us just as we ignore them. Traveling by car though, you have to stop and ID yourself.
I ask for Mr Portmann. The friendly staff replies : Mr Portmann is in the Basement with Mr Stockinger and company, may I take you there ?
I shall, may, or even must go to the Cellar. To that legendary Treasure Vault.
There I meet Mr Portmann with Thomas and Paul. They have just arrived, have not even checked into the Hotel. I understand their hurry.
We take an admiring look at everything. Mr Portmann is called upstairs, we suddenly are the Trustees.
I feel like a little boy in a Candy store.
My wife remarked yesterday : "Maybe you find something there"
Bingo. Found It. A pretty Humidor Cabinet for up to 75 Boxes. A nice excuse to return.
We walk up again and sit down at the "Visitors Corner". Coffee.
A Griffins Maduro for me.
Again we enjoy relaxed conversations, nice people miracously join our group. Stefan and Kai arrive.
And then : Action. Paul and Thomas do some serious shopping.
What follows is indescribable. Mountains of Boxes are brought up, opened, checked, smelled, looked at, some cigars are even cleaned with a brush just in case they might have some crystals.
It's a Cigar Lover's Dream. Dozens of Cases of Cohiba Robusto, Montecristo #2 lying on the shelves.
Also the new "Books" by Romeo y Julieta. What Colour would you prefer the wrapper ? Light, Dark, Maduro ??
It is here and now, that you understand why this store, this man and his team, why Urs Portmann is such a Legend. Amen.
I say good bye. I have to process all these Impressions.
Six-thirty p.m. at the Zeppelin Bar in the Steigenberger Inselhotel,
Stefan, Paul, Kai and wife, Thomas and wife, my wife Inge and I meet for a Gin & Tonic and a small cigar.
Later we walk across the Bridge. Villa Barleben is less than 10 minutes walking from downtown Konstanz.
Midway across the Bridge we stop and look back. There is a giant Fireworks.
We wonder : Has Stocki organized everything ?   Did he even               re-scheduled New Years Firework to happen today ?
A long, pretty and elegant Fireworks takes place down at Konstanz harbour. Later we learn that it was organized by the Rescue Swimmers who also jump with torches into the cold water.
An elegant Villa by the Lake.
My thoughts : Tolstoy could have lived here.
It looks like an old 19-th century Dacha somewhere in a Birch tree forest near St Petersburg.
We are expected. Marc Andre and Hannes Weiss have also joined us today.
The evening's Guests :
Herr Urs Portmann und Gattin / Mr and Mrs Urs Portmann
Herr Thomas Stockinger und Gattin / Mr and Mrs Thomas Stockinger
Herr Kai Fischer und Gattin / Mr and Mrs Kai Fischer
Herr Paul Altenau / Mr Paul Altenau
Herr Marc Andre / Mr Marc Andre
Herr Stefan Balcerczack / Mr Stefan Balcerczack
Herr Hannes Weiss / Mr Hannes Weiss
Herr Norbert Nothhelfer / Mr Norbert Nothhelfer
Inge und ich / My Wife Inge and I
We enjoy a Glass of Champagne in the impressive rooms of the Villa.
And we light up a Bolivar Immensas from Mr Portmann.
We are surrounded by old furniture and stuffed animals. An ideal, very virile Atmosphere for a big cigar.
I make a mental note to visit Hemingway's Villa in Cuba.
But I am right here, right now. At Lake Constance, not in Cuba.
Smoking and talking and enjoying myself with good friends. This Villa lives. We feel at home at the fireplace.
The Host, Mr Reiber explains his concept of the Villa and the Restaurant.
He is a natural part of our group. He introduces the wines for dinner, he joins us for dinner, and later he will present us with a rare A. Fussigny Cigare Blend and an incredible tasty The Corriemhor Single Malt.
The Menu :
Soup of peppers with Ginger and Lemon grass
Fresh Winter salad with grilled breast of wild duck
Chunks of wild Boar and Venison with trimmings
Panna Cotta on a Compot of Grappa and wild Berries
After a Sauvignon Blanc with the Starters, we decide, if I remember well, on a Vina Izagi, a Rioja with very little Barrique that goes along perfectly with the impressive game. Excellent Choice, Maestro !
A short Toast by Urs Portmann, wishing us a good Year's End and a good beginning to the new Year.
Each one of us receives a four year old, custom rolled Cuban Diadema. The Ladies receive a sweet surprise
Thomas toasts to Urs Portmann's Hospitality and Friendliness and thanks him for arranging this glorious setting.
We then enjoy some glorious hours of smoking, tasting and sharing the experience.
Michael in Dubai gave me a  Vintage 1987 Cuban Davidoff Nr 1 to enjoy tonight.
A fantastic cigar, absolutely divine in taste and perfectly made.
Across from me, Kai also has an aged Cuban Davidoff for tonight, a Haut-Brion.
Cuban smoke wafts through the ceiling.
Hannes presents me with a custom made cigar by La Corona Factory that was rolled specially for him in La Habana.
My second cigar is the last of my Cohiba 2000 Millennium Reserve Jar.
No better group of people, no better place, to turn it into ashes.
We all sit around until 2 a.m. and talk and make plans – I finally decide to visit Cuba next February, as both Urs and Hannes will be there for the VII Festival del Habano.
A grand and unforgettable Evening.
Thank you Urs Portmann, thank you Thomas Stockinger.
Copyright 12-2004
© Ninos Flying Cigar

Weitere Fotos zu diesem Bericht / Additional Pictures to this Report :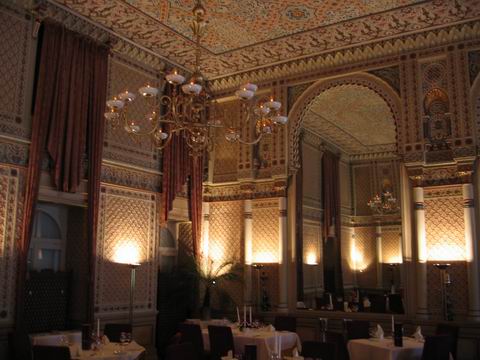 Das Maurische Zimmer im Hotel Mercure Halm Konstanz
The Moorish Restaurant at the Hotel Mercure Halm Konstanz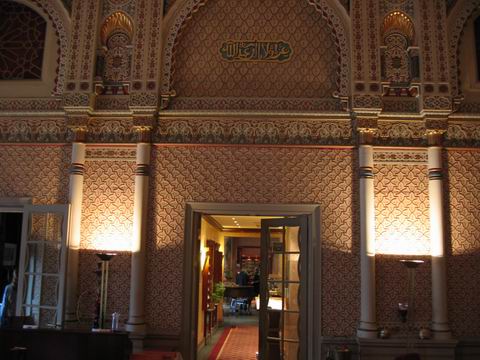 Das Maurische Zimmer im Hotel Mercure Halm Konstanz
The Moorish Restaurant at the Hotel Mercure Halm Konstanz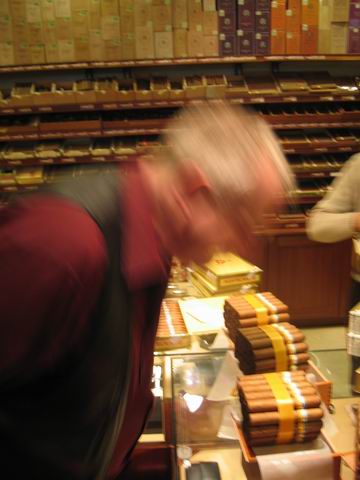 Stocki in seinem Element Stocki in his Element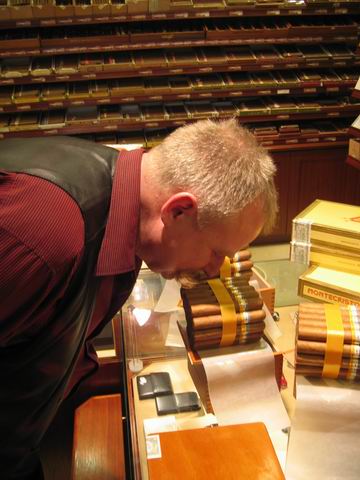 Ein Genuss für alle Sinne / A Joy to all Senses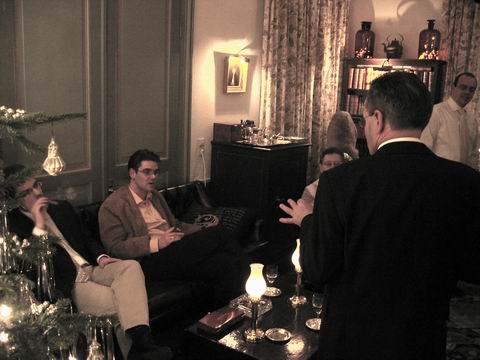 Stefan, Marc, Urs, Kai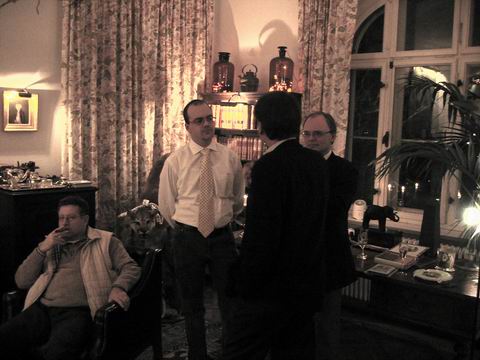 Norbert, Kai, Hannes, Paul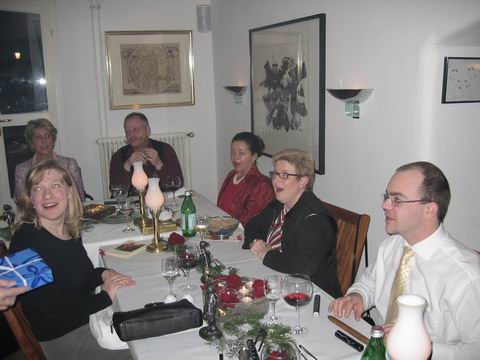 Süsses für die Damen, selbst Frau Portmann ist überrascht
Sweets for the Ladies, even Mrs Portmann is surprised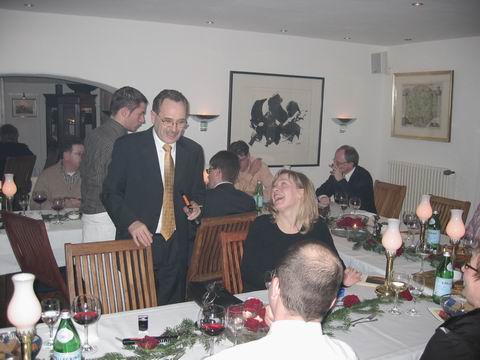 Freude und Genuss / Joy and Pleasure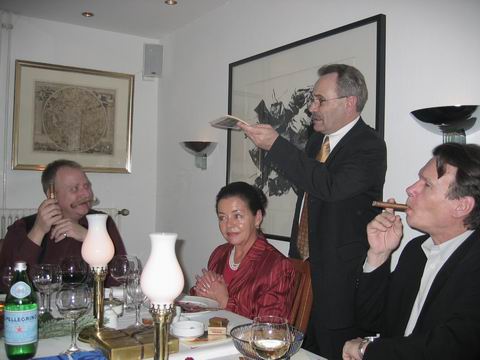 Thomas, Inge, Urs und Hannes bewundern Pauls alte Zigarrenbücher
Admiring Paul's Vintage Cigar Books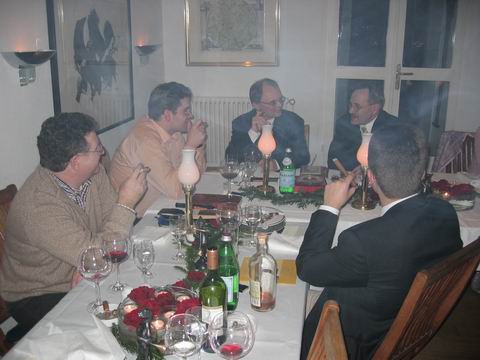 Habanos Wolken im Gewölbe / Habano Clouds in the Cellar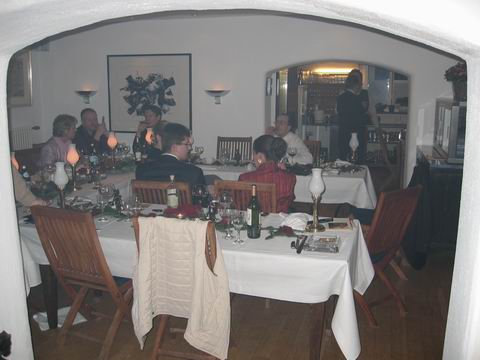 Das Esszimmer direkt neben der Küche / The Dining Room right next to the Kitchen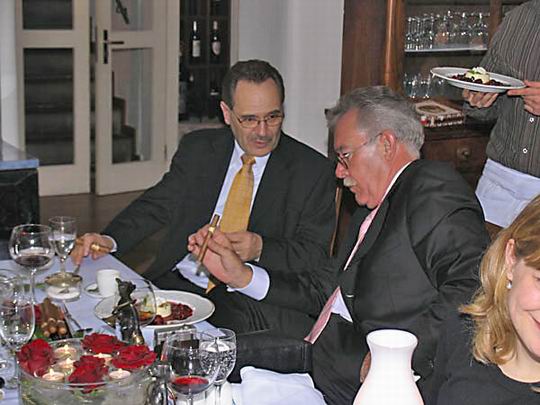 Im Gespräch mit Urs Portmann ( Foto Thomas Stockinger )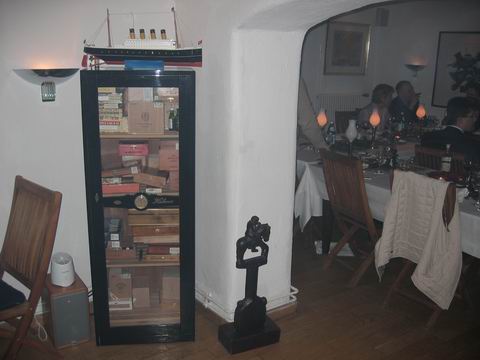 Das Zigarrenangebot in der Villa Barleben / The Humidor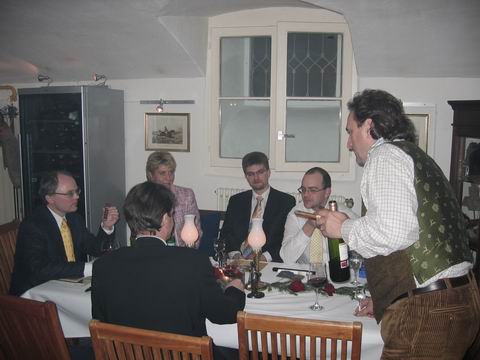 Herr Reiber bewirtet uns weit nach Mitternacht / Our Host, Mr Reiber, way past mid-night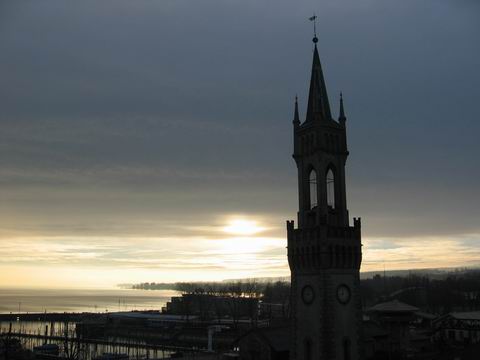 Blick aus unserem Zimmer auf den Bodensee / Wir werden zurückkommen !
View from our Hotel room at Lake Constance, we'll return !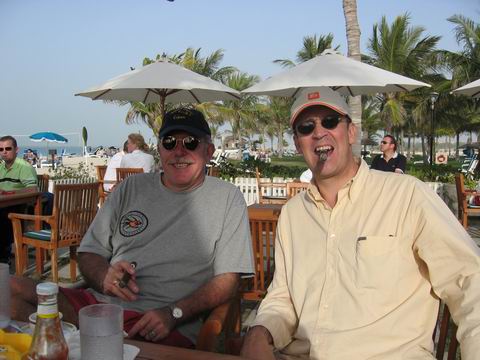 Nachtrag : Am 08 Januar 2005 bringe ich Michael in Dubai die Diadema von Urs
Postscript : On Jan. 8th 2005, I deliver Urs Diadema to Michael in Dubai
Copyright 12-2004
© Ninos Flying Cigar