10 Aug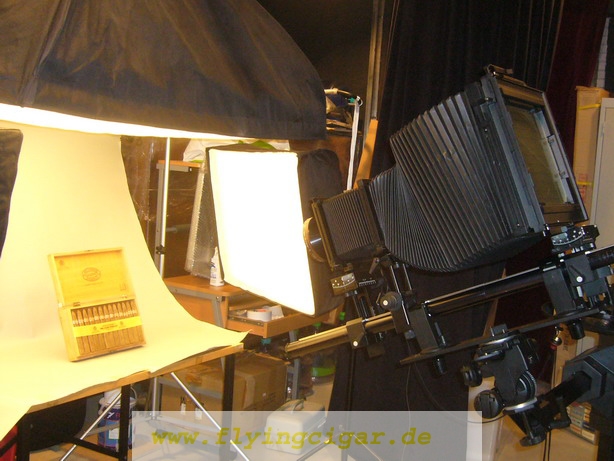 Photography Studio – Work on the II Edition
Picture by : Min Ron Nee
Details below
August 2010
Hello Nino.
Here are some updates for the production of the second edition MRN book.
This book will be somewhere between 1,000 to 2,000 pages and there will be tons of photos.
As I have only one Saturday afternoon to do photography in my studio, do not expect to see the book soon.
Best Regards
Min Ron Nee
-.-
Update I
I have built a professional photography studio in one of my garages and I shoot 8 x 10 films in addition to 4 x 5 films. (8 x 10 means the films are 8 inches x 10 inches).
With the advent of direct computer-to-printing-machine skipping the computer-4 CYMK films-to-printing-machine offset printing method, now offset printing can be done with 350 to 400 line screens instead of 200 which was used in the first edition. 350 line screens have 3 to 4 times the resolution of 200 line screens. The 4 x 5 films do not have enough resolution to deal with double spread pages using 350 line screens.
The first edition was printed with 200 line screens. The highest at that time, as film to plate offset printing method was used.
Now all printing machines are using direct computer to printing machine method, which allows up to 350 to 400 lines screens, papers of much higher quality need to be used for this purpose.
The photographs used in the first edition were 4 inches x 5 inches. The maximum magnification of films without loss of details using 200 line screens is about 5 times (calculated lengthwise).
You can see that 4 x 5s are just bare enough for a double page photo for 200 line screens.
If I use 350 line screens 4 x 5 films will not be enough to do justice for double spread pages.
The problems I am now facing:
1. Camera.
I need 8 x 10 films to get the maximum resolution results. I use Sinar p2 8 x 10 camera.
Sinar is the only yaw free large format camera available to date to my knowledge.
Being yaw free means nothing is left to chance, but to exact mathematical calculations.
www.sinar.ch/en/infos/yaw-free
The Sinar p2 8 x 10 camera is made of solid steel, together with the bigger lens needed, and adding the fine adjustment mounting stand connected, it weighs at least 60 lbs and cannot be mounted on any tripods. So I need to use a Foba stand. The Foba stand is too high to be installed in my former photography studio located in another house. I have to switch my photographic studio to one of my garages.
www.foba.ch/eng/programm/inhalt.shtml
2. Lack of experience of printers with 8 x 10s and 350 screens offset printing.
Films are now obsolete in the commercial photography field. Every "professional photographer" in Hong Kong says digital is "good enough" and "excels 4 x 5s."
So I bought a Leaf Aptus II 10 digital back to test this theory. The highest resolution digital back available, launched in April this year.
www.leaf-photography.com/products_aptus210.asp
(See pictures 1a, 1b and 2a)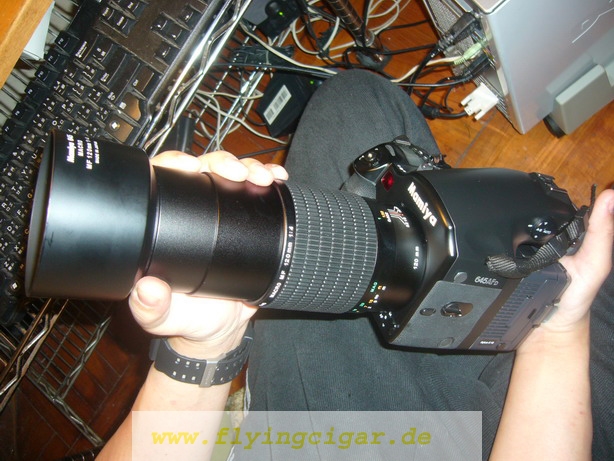 Picture 1a – Mamiya 645 AFD and Sekor lens
Min Ron Nee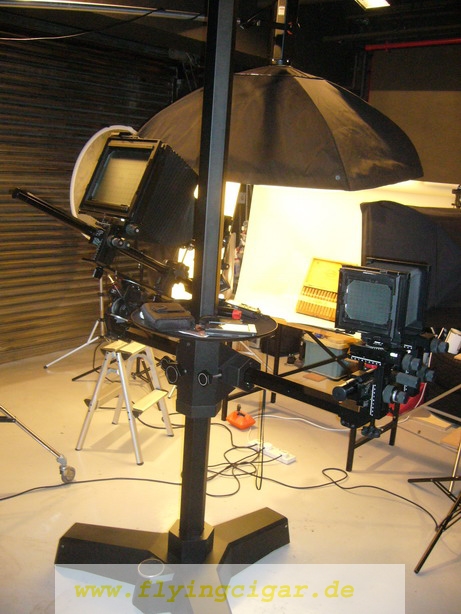 Picture 1b – Sinar p2 and Foba stand
Min Ron Nee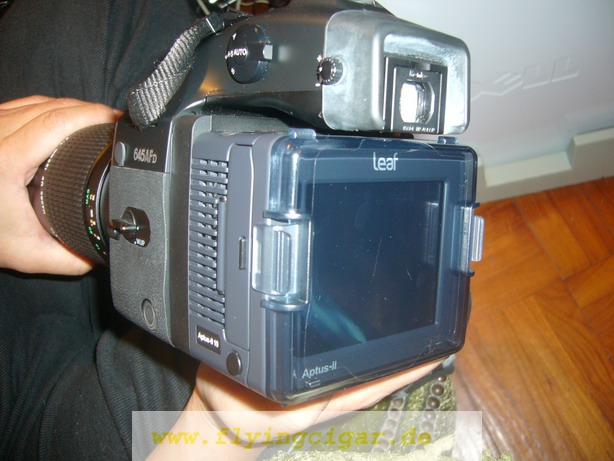 Picture 2a – Leaf Aptus II Digital Back
Min Ron Nee
This digital back has 56 mega REAL pixel resolution. (Commercial cameras grossly exaggerate on the real pixel counts, using every means to mislead.)
I compared the results with my 4 x 5 films scanned with an ICG 380 drum scanner.
For information about drum scanners vs flatbed scanners, see this link:
en.wikipedia.org/wiki/Image_scanner
No match to 4 x 5 inches large format camera films. Not even close. Nobody is knowing or admitting this and I wasted HK$ 240,000 (nearly a quarter million!) for this "tiny experiment".
I shot some trial photos with this Leaf back and have the photos trial printed. It turns out the image quality cannot even match medium format camera films. (I use Mamiya 645 AFD with Mamiya Sekor lens medium format camera.)
Despite the high enough resolution to match medium format films (I use Fuji ProviaF films), digital backs do not have the high dynamic range as films, a lot of details are lost as the result.
Why all commercial people are now using digital? Every "professional photographer" in Hong Kong is doing things in a cut-throat price competition manner nowadays. No one cares about "maximum quality" anymore. Printers have not done any printing with films in the last few years. All "high resolution" photos supplied to them were taken digitally.
Every commercial photographer in Hong Kong has abandoned traditional films.
They can shoot hundred of shots without cost using digital backs. And they then paste and patch the best shots using Photoshop to make up a "photo". The results are very artificial.
Totally unacceptable to me.
As I am an old style photographer who absolutely looks down on computer generated pictures.
4 x 5s or 8 x 10s are still used by "amateurs" (about 100 people in Hong Kong). The problem is these "amateurs" do not do books.
It looks like the art of real photography is dying in the commercial field. Very sad.
So no printers in Hong Kong yet has any experience with 8 x 10 films printed with 350 line screens.
I am the first person in Hong Kong to do this.
3. Lens.
I am also experimenting switching to Docter Wetzlar Apo Germinar 8 x 10 large format camera lens vs the Rodenstock Apo Sinaron lens I used in the first edition. Docter Wetzlar lenses are much more expensive, 2 to 3 times more than Rodenstock. The difference might not be apparent in 4 x 5s. But the quality of Docter Wetzlar lenses – they manufacture lenses for Carl Zeiss – might shine through using 8 x 10s.
Docter Wetzlar stopped production in 1995 but the quality of Apo Germinar lenses they produced remains unrivalled up to today. These are legendary lenses which are without peers even by today's standards. Rodenstock only produces Apo lens up to 600mm. Docter Wetzlar Apo Germinar 750mm and 1,000mm lenses are extremely rare to come by in the second-hand market today.
www.largeformatphotography.info/docter-optik.html
groups.google.co.uk/group/wholeplate/web/3-82-docter-wetzlar-optic-apo-germinar-450mm-f9
See picture below: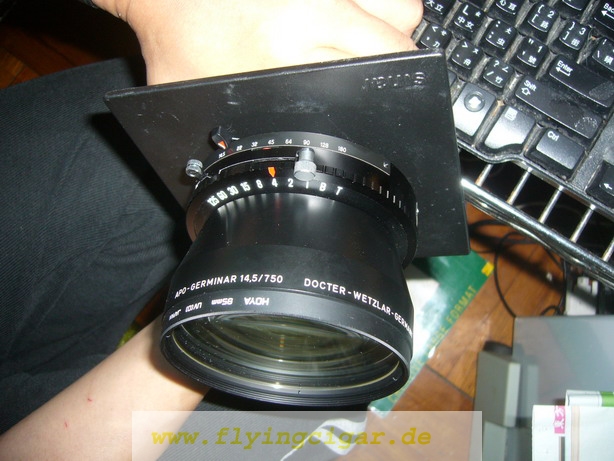 Docter Wetzlar Apo-Germinar 750 mm lens
Picture Min Ron Nee
For the definition of Apo (apochromatic) lens, see this link:
en.wikipedia.org/wiki/Apochromatic_lens
4. Papers.
I am also experimenting with "stone papers". A new type of paper made from stones. No need to cut down trees. Can be recycled and 100% environmental friendly.
www.treehugger.com/files/2006/08/viastone_biodeg_2.php
Problem is that it is too expensive for commercial use. How much more expensive? 30% more in cost of papers. This is too much for commercial printing except for folks like me who self-publishes.
Anyway. I am experimenting with the highest quality book regardless of cost. 8 x 10 films using 350 line screens.
The result? No one knows yet. You will see it.
I have attached some pictures of me doing trial shooting in my garage yesterday.
In picture 1b you can see my Sinar p2 8 x 10 (on the left side) mounted on the giant Foba stand which must weigh over 200 lbs altogether. (Barrel lens hood removed to reveal the lens.)
Despite the massive weight, it can be move around without effort. A little step on the stand will caused the wheels to be retracted and the stand is "glued" to the ground like a rock.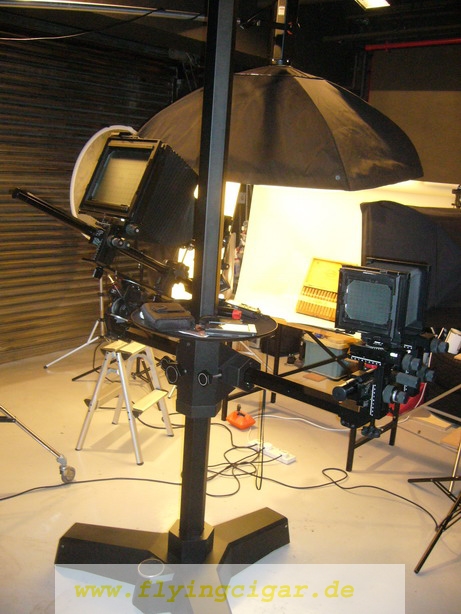 Picture 1b
Min Ron Nee
In picture 2b you can see the big gold circular light reflector. This is to enhance the gold dust in the cigar bands. This technique had been used in the first edition shooting. You can see the distance of the reflector from the box. As time goes by. I have learned to do things in a subtle way. (See the photo of La Escepcion Longos in page 236 of MRN book, a perfect example of over-enhacement of gold colour in the cigar bands because the reflector was placed too close to the cigars)
The Foba stand can accommodate 2 cameras. On the right side you can see my 4 x 5 Sinar X camera which dwarfs in comparison.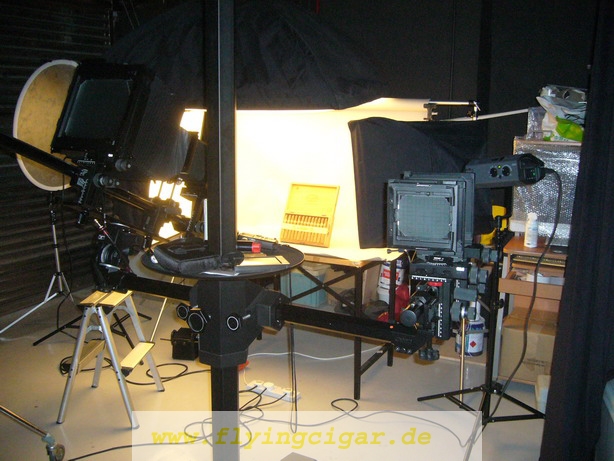 Picture 2b
Min Ron Nee
In picture 3b you can see that despite the Sinar p2 8 x 10 being a giant camera, adjustments can be done to within +/- half millimetres. Swiss precision in engineering is astounding!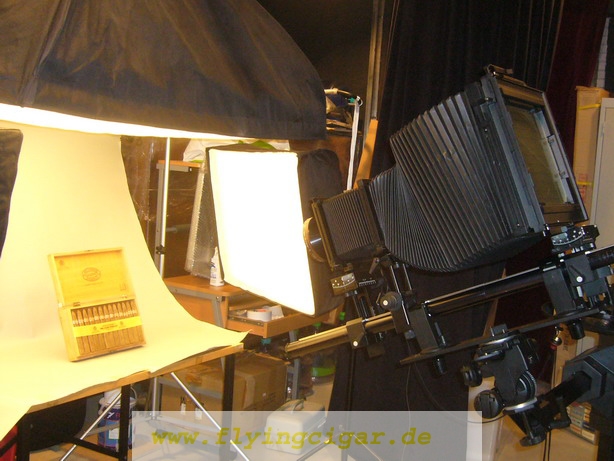 Picture 3b – Sinar p2
Min Ron Nee
Update II
Here are some photos taken by my wife yesterday, Saturday, 7 August 2010, and today about me shooting a vacuum cigar tin from the 1950s.
1. Using the Sinar X 4 x 5 to shoot a vacuum cigar tin.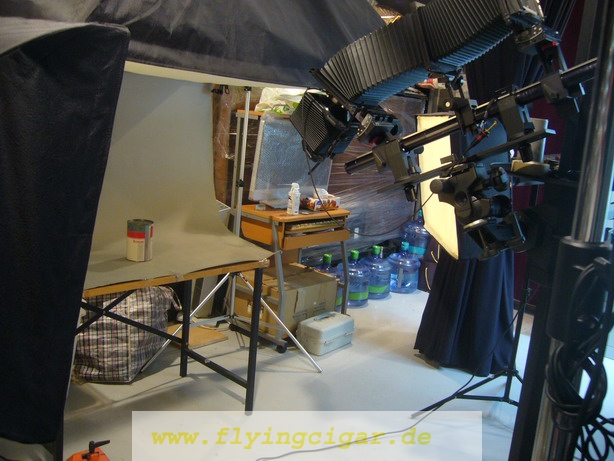 Picture 1
Min Ron Nee
2. Difficult shots. Was only able to take 2 shots working from 4 pm to 11 pm and was totally exhausted. One of the most difficult shots was to film the top of a 1950's vacuum cigar can featuring the "sardine can opener key". I used an Apo-Sironar 360mm lens to keep distortions to a manageable level and used massive front tilts to shoot the plane of top of the can to 100% perfect focus. All Sinar large format cameras have a built-in calculator to calculate the tilt but in this case the tilt is so massive it was out of range. I had to do things by pure mathematical calculations and trial-and-errors.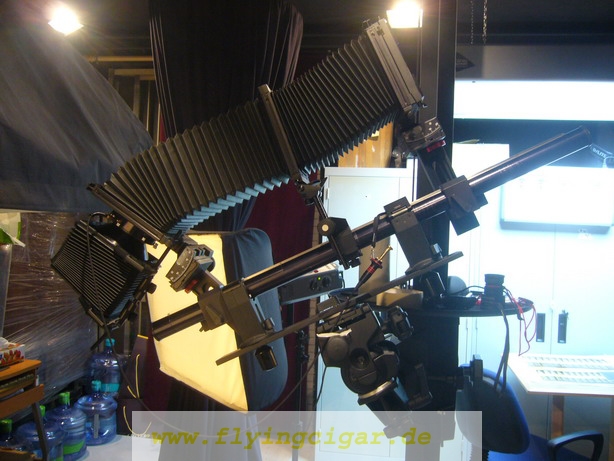 Picture 2
Min Ron Nee
3. Barrel lens hood removed to show the lens. Lens: Rodenstock 360mm Apo-Sironar-S, 68° angle of view. Settings: Front tilt: 31°, rear tilt: 0°. Swing: 0° both front and rear standard. Rear standard moved 3.8 cm upwards. Aperture: 2 shots taken: f28 and f36.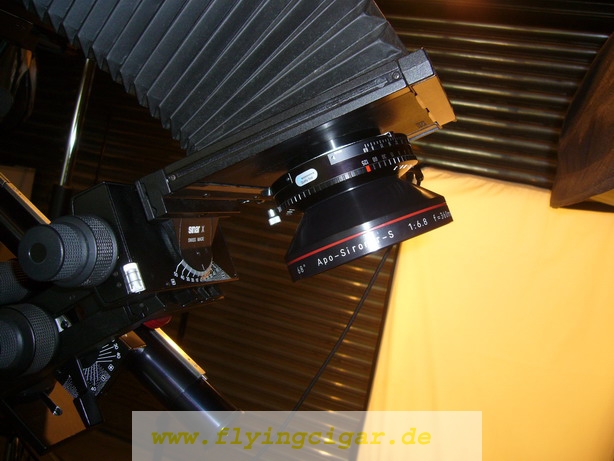 Picture 3
Min Ron Nee
4. Proofreading the colour of films is done by industrial standard light box. Proofreading the colour of trial printings is done by using an industrial standard overhead light source. The colour of the pictures in the first edition was done by guessing. For the second edition no guessing is allowed. Everything is to be precise. An attempt to reproduce absolute "true colour" by using a 7 colour state-of-the-art Kodak printing machine.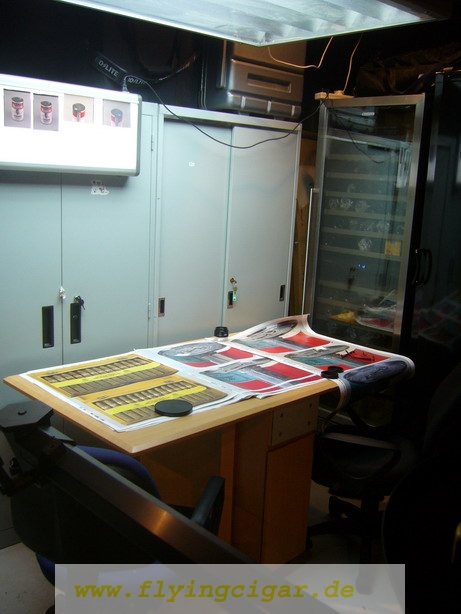 Picture 4
Min Ron Nee
5. Trial printing of double page of a 8″ x 10″ film to 12 inches x 19 inches enlargement (double page spread) using 350 line screens offset printing. Note the dots are not visible to the naked eye and close-up of the cigar band reveals no loss of details. See the texture of the old paint in the cigar bands remains almost "real" and the 3 dimensional "feel" created by 2 parallel light sources to the plane of the cigar box.
(The actual print is much more beautiful than this picture taken by my wife using an idiot HK $2,000 pocket digital camera.)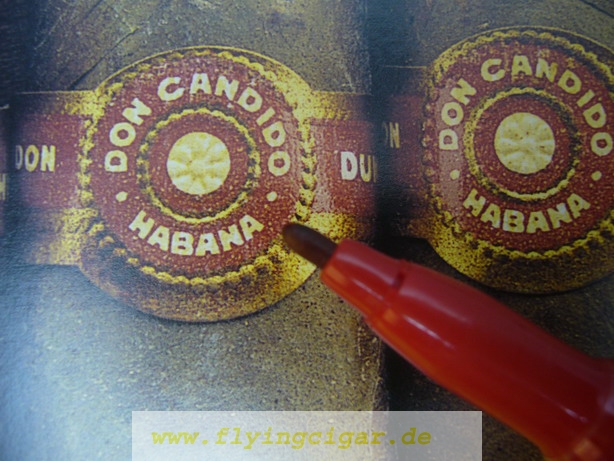 Picture 5
Min Ron Nee
Copyright all photographs and text : Min Ron Nee – August 2010
Copyright 08-2010 © Ninos Flying Cigar