17 Feb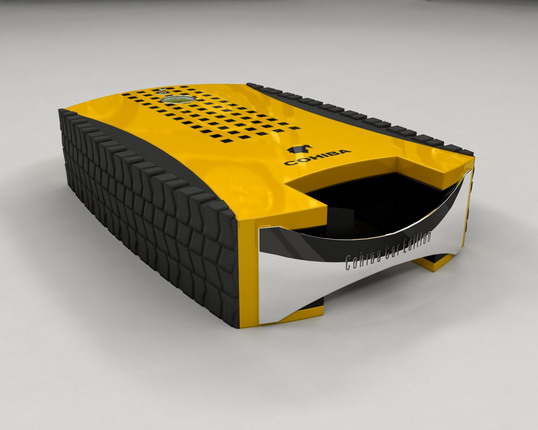 Cohiba Car Humidor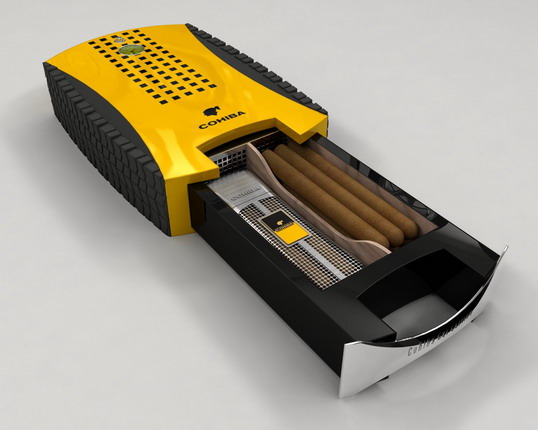 Cohiba Car Humidor incl. take out metal cigar pouch
February 2010
I received this information & pictures from good friend Rafael Bernardo in Madrid yesterday and thought it might be of interest to someone – as indeed, a good friend has already put an order for it.
Madrid 16.02. 2010
Cohiba launches an exclusive car humidor.
It says in the press note that Cohiba will put on sale as of March 1-st an exclusive car humidor designed in close co-operation with Ferrari ( and tested on the Ferrari F430 and 599 GTB )  that stores up to 12 cigars in style and includes an additional metal cigar pouch that will allow you to take the cigars out of the car in style.
The humidor is easy to install in any car and has lateral rubber protection to make it rugged.
The humidor will be on sale for 645 € and the price includes 12 Siglo VI's cigars.
This is the original Altadis Press Relase :
MADRID.- 16 FEBRERO DE 2010
Cohiba lanza un exclusivo humidor para coche
Cohiba, la marca más prestigiosa del mundo del tabaco, lanza al mercado español
Cohiba Car Edition, un innovador y exclusivo humidor para coche que reúne las
mejores características de su clase.
El Cohiba Car Edition tiene un diseño único, tanto por su moderno acabado, con los
colores de la marca, como por su ergonomía, que facilita su adaptabilidad a todo tipo
de vehículos. El Cohiba Car Humidor no necesita instalación, evitando así costes
añadidos y complicaciones técnicas, algo que permite además rellenar fácilmente el
humidor antes de cada viaje. Además, el humidor cuenta con un protector antichoque
de caucho que aumenta su resistencia.
El humidor Cohiba emplea un sistema de humidificación por gel de silicato, ideal para
la óptima conservación de los cigarros incluso en las condiciones más extremas.
Para completar el humidor, y como auténtico elemento novedoso y práctico, se ha
desarrollado una purera extraíble de última generación. Ésta permite conservar los
puros en perfecto estado en el interior del humidor, con la comodidad añadida de
poder llevarlos consigo en cualquier momento, con las mayores garantías.
Para hacerse una idea de la exclusividad del nuevo humidor de Cohiba, sólo hay que
destacar que para su desarrollo se contó con la estrecha colaboración de Ferrari. La
marca italiana sirvió de inspiración en todo momento, algo que se puede apreciar en el
higrómetro, que simula el cuentarrevoluciones de los famosos deportivos. Dos de
estos vehículos, el F430 y el 599 GTB sirvieron para probar la solidez y resistencia del
humidor Cohiba.
El humidor, que se vende con doce cigarros Cohiba Siglo VI en su interior, tiene un
precio de 645 euros, y saldrá al mercado del 1 de marzo.
Copyright 02-2010 © Ninos Flying Cigar