9 Jun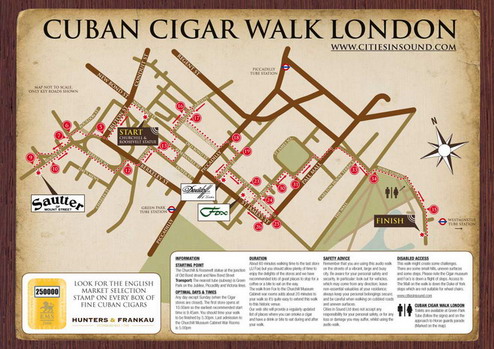 Cuban Cigar Walk London / Map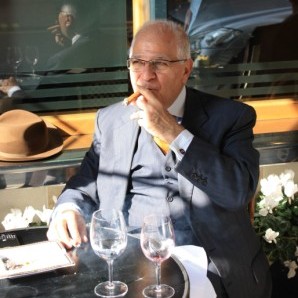 Enjoying a Cigar in London
"A blend of luxury, history and Cigars"
"Quite simply, it was one of the most pleasant and informative afternoons
I've had in London"
Mark Hedges, Editor – Country Life, May 2009
The Cuban Cigar Walk, London is an Audio Guide which introduces you to the very best of London. A wonderful blend of luxury, history and cigars; the walk acknowledges Sir Winston Churchill's long relationship with Cuban cigars and visits two of the stores which supplied him through his life.
The walk starts at the Churchill statue in Bond Street and ends at the Churchill Museum Cabinet War Rooms on Whitehall. During the walk you will hear all about the great man's love of cigars with extracts from the book Churchill's Cigar read by the author.
Update 01 July 09 : Here is an excellent video of the London Cigar Walk narrated by Nic Wing :
For only £10 the walk can be purchased and downloaded from the Cities in Sound web site, uploaded onto an MP3 player or iPod in the same way as music downloads.
During the walk you will be introduced to four of most historic cigar stores in London with history and stories from the rich past which goes back as far as 1787 in the case of JJ Fox & Robert Lewis.
The walk is timed to take around 60 – 90 minutes allowing plenty of time for the walkers to spend time familiarising themselves with the many wonderful shops on the route of the walk.
In conjunction with the walk, Cities in Sound web site will tell you about great places to pause for a bite to eat or a drink while you walk and afterwards and for cigar smokers there is a regularly list of the best locations to relax and smoke a cigar.
Our Cuban Cigar Walk is narrated by Professor Maxwell Hutchinson. Maxwell is a regular radio and television broadcaster, a practicing architect and is a past president of the Royal Institute of British Architects.
Cities in Sound has also launched "walk packs" which include a pre-loaded MP3 player, souvenir map and memento's of the walk. These packs are on sale at Sautters of Mount Street, Davidoff and JJ Fox & Robert Lewis in St James's Street.
Cities in Sound is also able to offer the Cuban Cigar Walk London as a personalised, fully accompanied walk for small groups.
A wide range of additional options  include Cigar sampling, Champagne tasting, personalised tours of the Churchill Museum  Cabinet War Rooms and dinner at one of London's finest restaurants and Jazz clubs which has its own Cigar Terrace.
For Further Information please contact Nic Wing at Cities in Sound
on +44 208 447 1627, email nic@citiesinsound.com
All text and pictures courtesy of Nic Wing / Cities in Sound
Additional Pictures :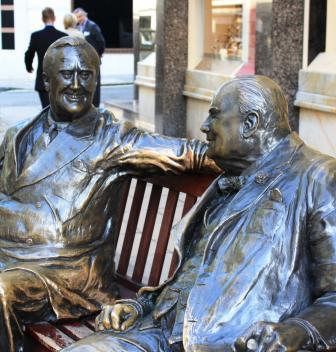 Winston Churchill & F.D. Roosevelt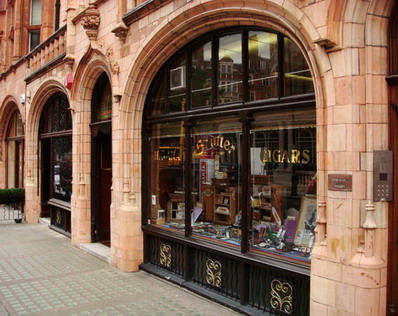 Sautter front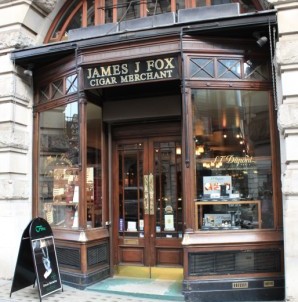 James J. Fox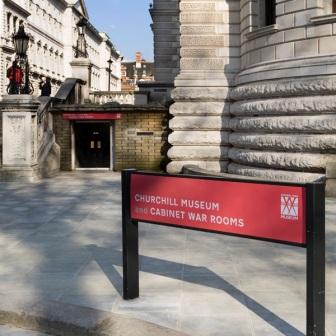 Churchill Museum & Cabinet War Rooms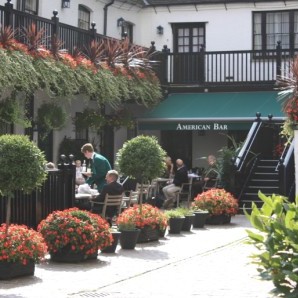 American Bar
Copyright 06-2009 © Ninos Flying Cigar