29 Mar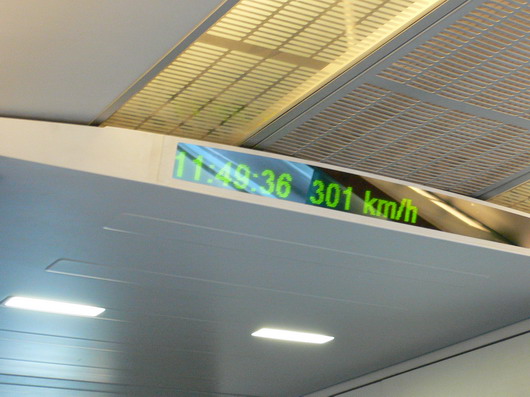 Transrapid/Maglev train – Pudong International Apt. to Shanghai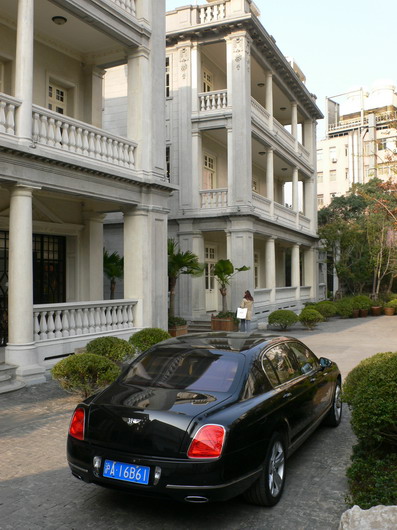 Dunhill House – Shanghai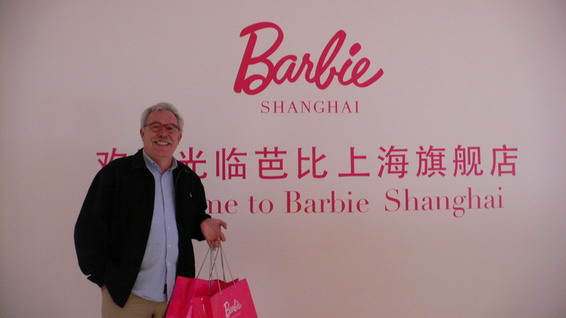 Barbie Shanghai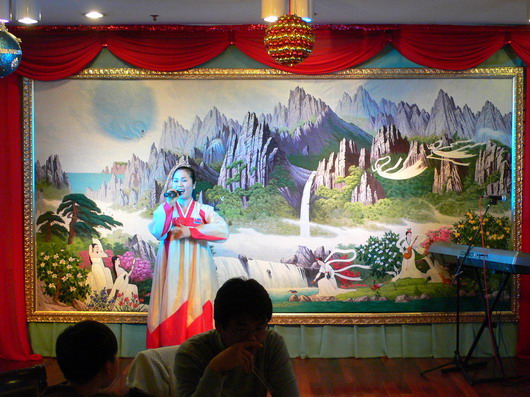 Yuliu – North Korean Restaurant – Shanghai
March 2009
What is the fastest connection between Dunhill vintage cigars , Barbie dolls and North Korean Pyongyang-style Kimchi ?
The German Transrapid, known as Maglev in Shanghai, the only place in the world where it operates.
The Maglev basically floats on air and reaches a top speed of 420 km/h.
It was perfect for my purposes, as I wanted to avoid driving into town on the crew bus after our arrival, changing at the Hotel and driving back down to the Bund to pick up the custom tailored stuff I had ordered 10 days earlier. Along with a colleague we handed our bags over to the Hotel rep at the airport, changed into civvies and took off for the city while our crew took the bus in.
Indeed, we took off, as it's more of a low level flying experience. Leaving barely 2 minutes after we boarded it, the ride takes 7 minutes and costs 50 RMB or 6 €. It takes you from Pudong airport to just south of the Bund or downtown Shanghai.
Accelerating to over 110 Km/h in a few seconds, we silently and almost imperceptibly reached 300 Km/h after a few eye-blinks.  The landscape, the highway and the sky all mixed, blurred and flew past soundlessly.
Seven minutes later we alighted at the station – our crew bus would have taken 45 minutes.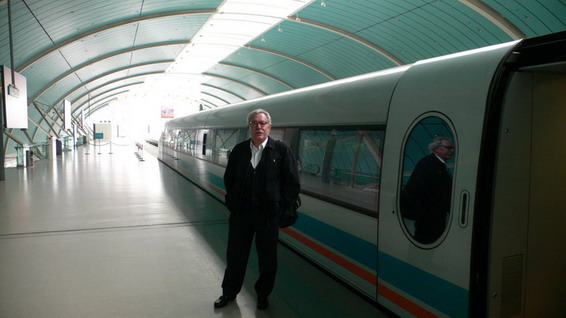 Pudong Station – Maglev train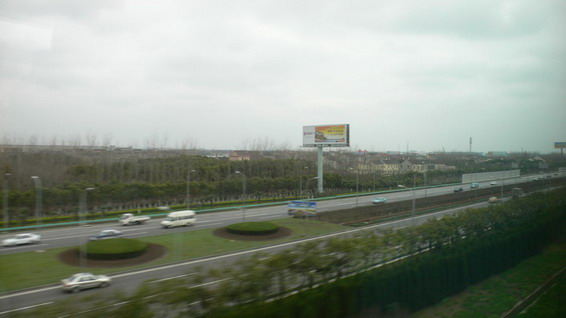 Low level flying
We hopped on a taxi and a few minutes later I was picking up my pre-ordered shirts, while the tailor was taking measures for a pair of trousers.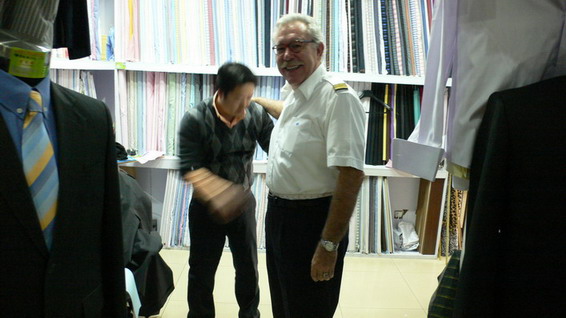 Li Tailors – South Bund Fabric Mkt.
The Chinese jacket was also ready and I liked it, but next day, on the "China Daily" paper I would see a picture of Jackie Chan in an even more stylish model, so I guess I will have to return to Shanghai again …
We arrived at our Hotel just a few minutes after our crew had, so I was able to get a  few hours of shuteye before meeting them again at the Bar for a sun-downer and a cigar.
As usual, dinner was at 1221, The Dining Room, and as I smoked a HdM du Depute at the table, I decided against dropping in at the Roosevelt cigar lounge and in favour of a more relaxing adventure, a 2 hr body and foot massage at Dragonfly.
I am quite impressed with this upscale spa and wellness place as I had enjoyed a very soothing time here during my last visit.
We had 2 hours of perfect relaxing bliss from 10 pm to midnight. Having a private room, listening to easy new age sounds, being massaged both expertly & smoothly it doesn't take long for me to fall into a state of oblivion. Absolute bliss and we even receive a 20% reduction for being airline crew.
Gotta love it.
The next day came up sunny and crisp.
After a quick breakfast it was down to the Bund and another stop at the fabric market. Being better rested and having more time on my hands, I managed to order some more dress shirts, find matching cufflinks and strolled the 3-storied market. As it had been featured in "Newsweek" recently as a "must-do" place, it was heavily visited by Americans.
Feeling like having a snack and a cigar in the lovely sun down by the Bund, I took a taxi there past all the construction going on, just to wander the old, restored buildings in search of "La Finestra", an Italian restaurant with a stunning view over the Bund.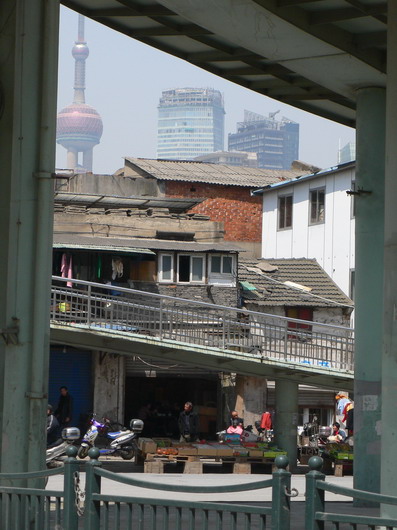 South Bund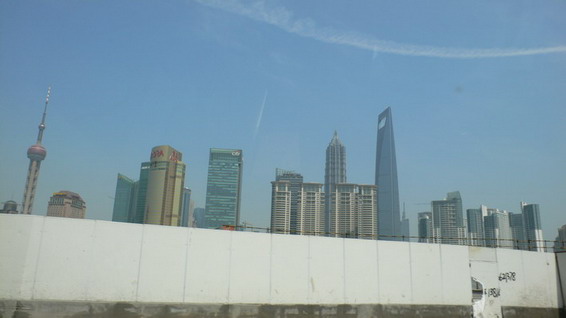 Bund looking over to Pudong
Pearl Tower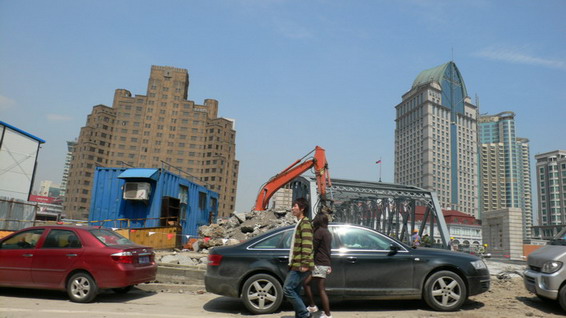 North Bund
No such luck – no one knew it or wanted to be bothered by this Gweilo asking funny questions in English.
But in my stubborn search for it, I was fortunate to enter some of the beautifully restored buildings on the Bund, like the old Hong Kong & Shanghai Bank (HSBC) HQ. A pleasure to see the stunning Art Deco in mint condition. I managed to get by the "no pictures" warning from the security guys and snap a few.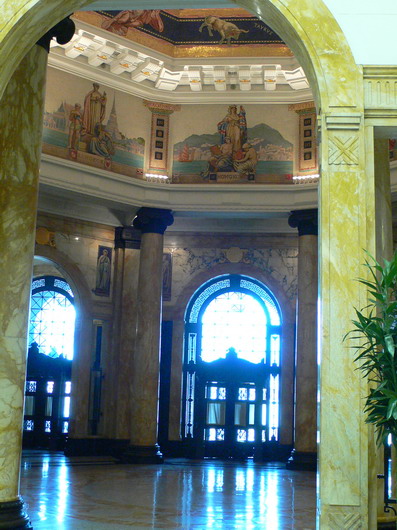 Old HSBC HQ, The Bund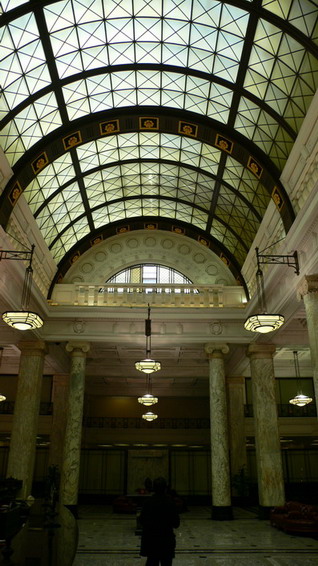 Old HSBC HQ, The Bund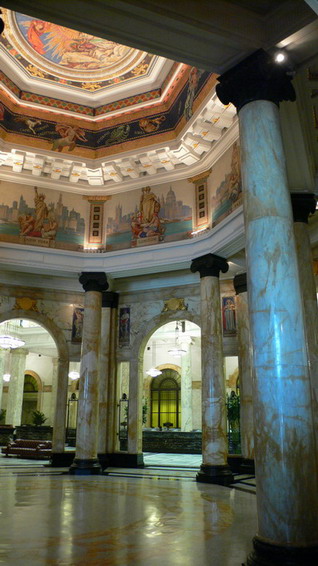 Old HSBC HQ, The Bund
When I finally found the address, the doormen I asked laughed at the name of the restaurant and shut the sliding window of their office exclaiming "open", "open" and waving their arms signalling closed.
It was a clear case of them saying the opposite of what they meant and we had a good laugh after I pointed out their mistake – Another English lesson for free.
I returned to my hotel for a burger, a coffee and a cigar in the lobby bar while waiting for my shirts to be delivered, which they were sharply on the agreed time despite the infamous traffic.
Half an hour later, perfectly timed as well, Fatcigar arrived to provide me with part two of a tour through this multi-faced city.
Off we took for the Dunhill House, a complex of luxury shops owned by the Richemont group, their main piece being a beautifully and expertly restored villa housing not just the Dunhill store but a veritable museum of old travel artefacts, cigar pouches, fine leather travel gear, vintage aviator jackets, all tastefully arranged.
See : www.dunhill.com/en-cn/ourhomes/shanghai/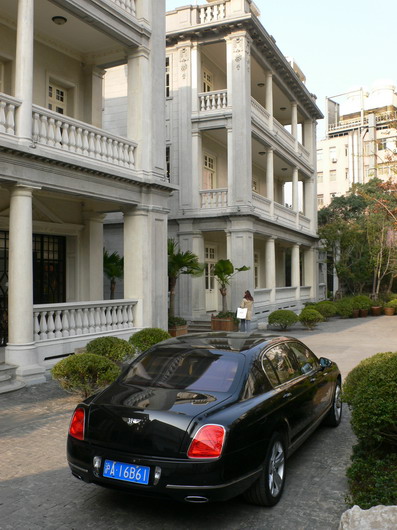 Dunhill Store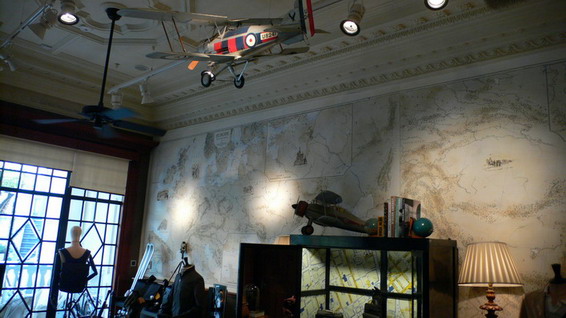 Dunhill Store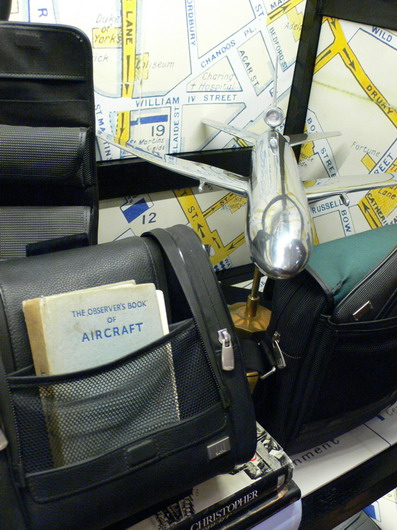 Dunhill Store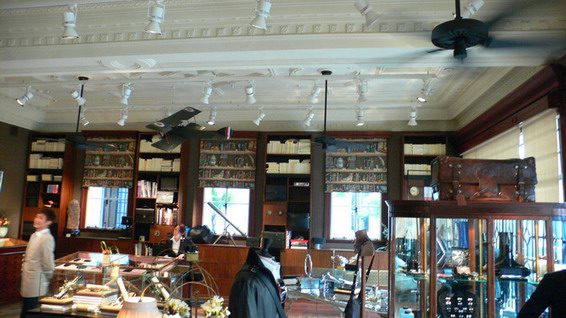 Dunhill Store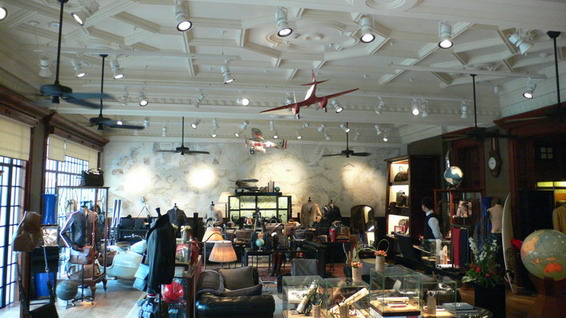 Dunhill Store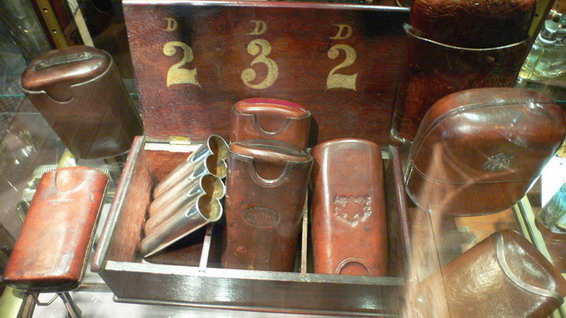 Dunhill Store
I was asked by Fatcigar to try out a table made of the wing of an old DC-3 Dakota, a great piece of polished aluminium with the starboard position light still attached to it. The chair was also a vintage pilots seat from the aircraft. I have always had a warm spot for Dakotas, and this was truly amazing !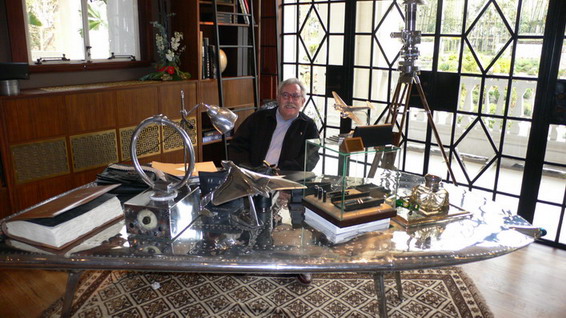 Flying the Desk – Dakota at Dunhill Shanghai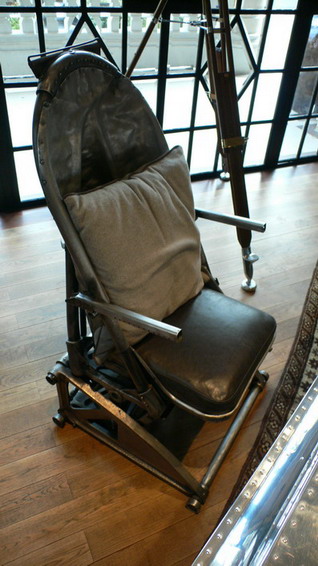 Flying Desk Chair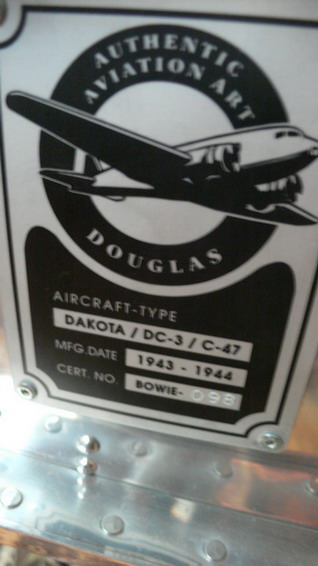 Authentic Dakota
As were the vintage motorcycles and sidecars on show at the store-cum-museum.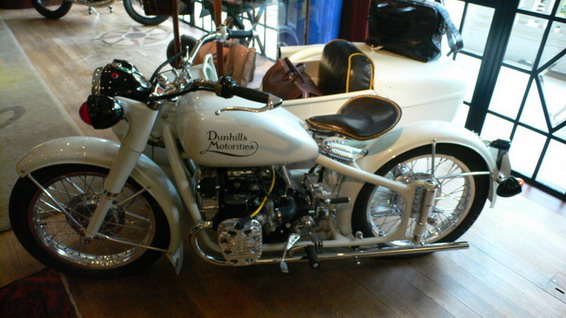 Lovely sight
More detailed information on the DC-3's / Dakotas at the end of this report.
It was thanks to Fatcigar that I was able to photograph the lovely objects, as Thomas, the store manager, came out to welcome him and I was allowed to take pictures, after first being denied.
Up to the second floor we went, passing the menswear department and the shaving salon, equally well equipped with great antiques. We passed an aquarium that contained live gold-fish and was shaped in the form of an old Dunhill lighter – amazing.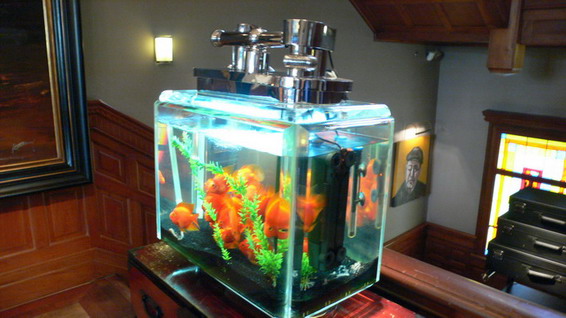 Dunhill Goldfish Lighter
The second floor houses a Restaurant and Bar that also serves as a cigar lounge. A few Chinese aficionados were enjoying their early afternoon cigars.
Taking advantage of the pleasant temperatures we chose the terrace where I was reminded of sitting at the Raffle's in Singapore – same dignified and laid back atmosphere.
First cigar was a late 70's / early 80's Dunhill Punch Seleccion Nr 756 – of course a Dunhill at Dunhill house.
Dunhill Punch Seleccion 756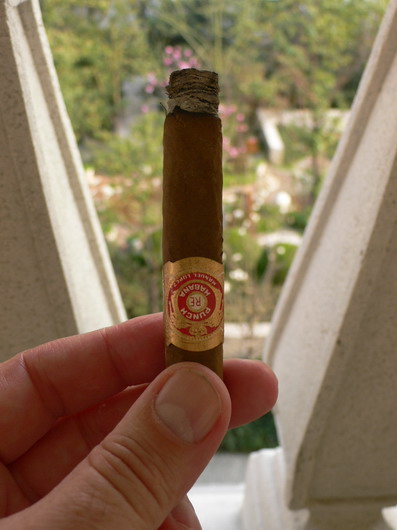 Dunhill Punch Seleccion 756
A very much "alive" cigar, still pleasantly strong, very much Punch with an "in your face" taste and aroma. All round a great smoke.
Then Fatcigar proceeded to unpack a Vegas Robaina 5-th Aniversario humidor, a beautiful work of art which we let rest atop our table to the curious and admiring looks and glances from other smokers.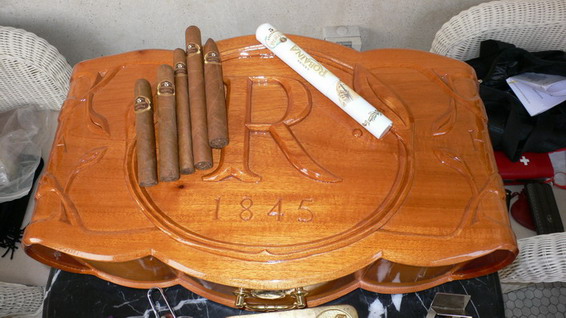 Vega Robaina 5 Aniv. Humidor & Cigars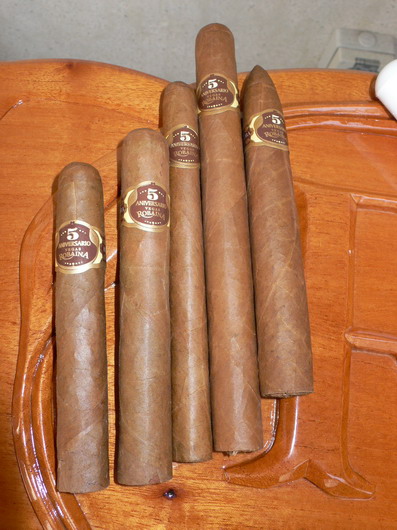 Vega Robaina 5 Aniv. Humidor & Cigars
I fell in love with the AR 5 Aniv. Robusto right from the cold draw – what an intense bouquet of aromas and taste if offered to the palate ! Honey and spices coated the mouth.
And for the first half it was a great tasting, marvellous cigar, a wonderful smoking experience.
The last third was nothing to write home about, but overall the cigar is a big mouth-full of excellent tobacco and the humidor itself a great buy as it's still available at reasonable prices.
Fatcigar looked satisfied to have predicted my taste preferences in cigars just from one visit and our conversations.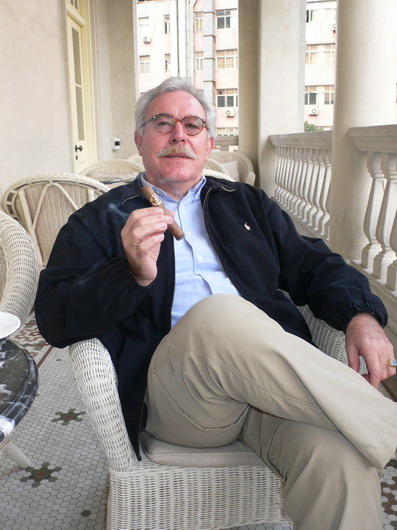 Very Happy with my Vega Robaina 5 Aniv.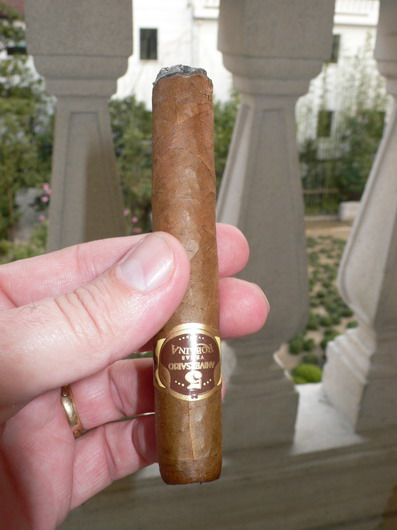 Vega Robaina 5 Aniv.
We moved away from the terrace as it became chilly and a wave of cigarette-smoking participants of some conference or another flooded the area.
Like Fatcigar I also prefer to smoke in quiet places when the cigar is to be respected and enjoyed.
Fatcigar had a private room made available to us, it happened to be the private dining room seating 16 but with a cozy corner and great soft leather seats that you sank in.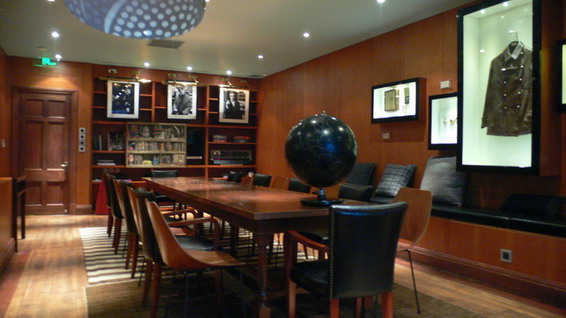 Dunhill Store – Private Dining Room
We continued our dialogue on Cuba, politics, similarities of leftist (Cuba) and rightist (Spain until '75) dictatorships and the global economic mess.
Even with the Dow jumping over 500 points that same day we remained wary and pessimistic in our overall outlook regarding the next 12-24 months.
We left the villa heading for dinner but Fatcigar decided we had to check out the Barbie flagship store that just opened 2 weeks ago.
I couldn't for the life of me imagine what we should find attractive in the pink megastore and  wondered about the Barbie spa and Barbie Restaurant. Once inside though, I have to admit that it was great fun.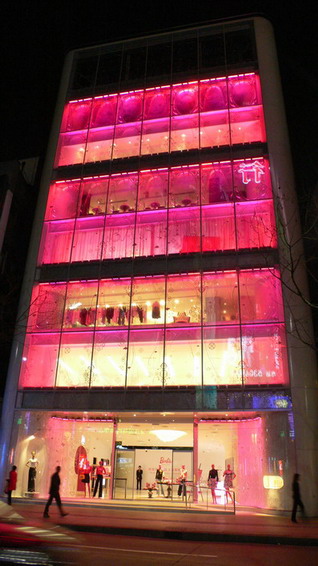 Barbie Flagship Store Shanghai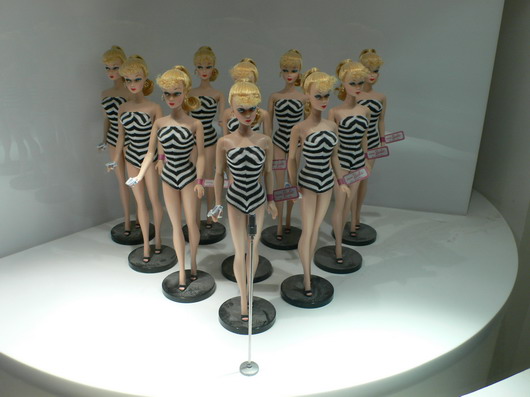 Barbie Rockettes
We took the elevator up to the 6-th floor and checked out the Restaurant first, a classic diner serving classic snacks and ice-cream.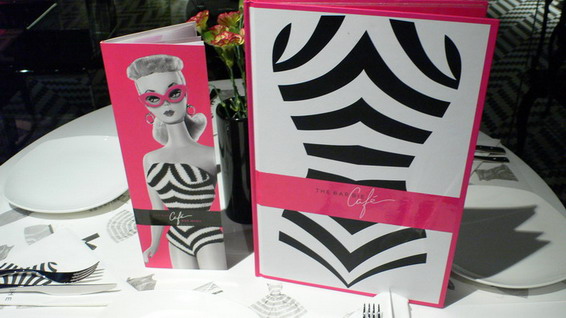 Barbie Cafe
Then it was down the spiral staircase that is the store's masterpiece, a transparent wall of dolls that covers floors 3 to 5. Way cool.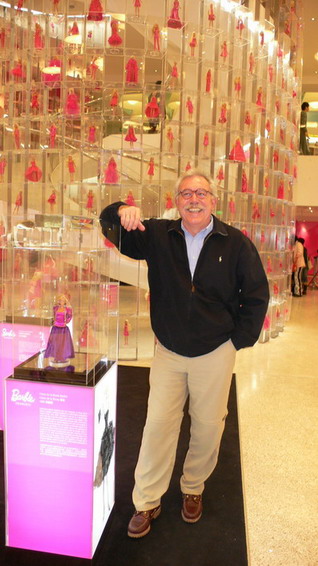 Barbie Staircase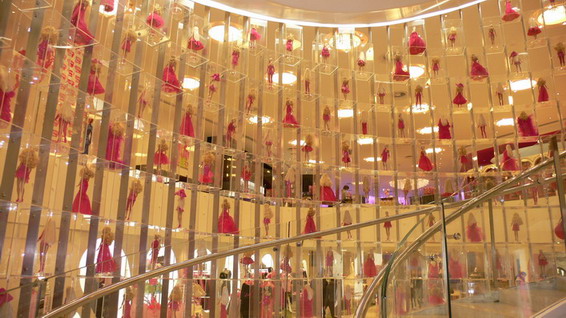 Barbie Staircase
I bought a t-shirt for my wife and some Barbie mugs for  Barbie addicts.
They should look nice holding the Partagas 15 Aniv. Condes for a picture.
From Shanghai with love, Barbie !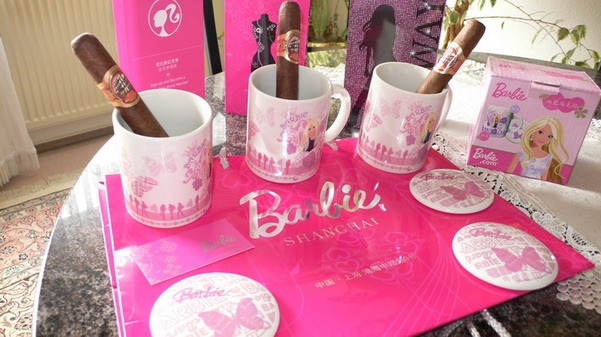 From Barbie with ……….. Partagas 15 Aniv. LCH Partagas
The store was well frequented but we heard from the very friendly staff that on week-ends it's packed to capacity.
We were impressed with the store ourselves and it's easy to see how girls become addicted to theis cute doll.
But what a contrast awaited me next !
I had been asked earlier if I liked Korean food for dinner, and, being straightforward, I had replied that it's the only food in Asia that I would not even consider eating when hungy.
Fatcigar then suggested we change plans and have a Chinese dinner instead, but I sensed that there was more to the story.
Why would anyone  – even considering Fatcigar's business trips to Seoul – want to eat Korean in Shanghai ?
He explained that it was actually a North Korean Restaurant with the waitresses performing  a show in-between serving the diners.
Now that sounded intriguing and I immediately reversed my decision. I absolutely, necessarily, positively had to see the place.
And what a thrilling experience it was !
The "Yuliu" Restaurant is located in the state run "Jianguo" Hotel and Fatcigar was welcomed as a valued patron by the truly beautiful girls. They looked like natural innocent angels with bone-china like skin and the most soft and angelic facial expressions I've seen this far.
They were incredibly beautiful socialist Barbie dolls – and they would not shake hands with me.
That was the first tip off that this was indeed Kim Yong Il territory, the real McCoy if you will – the second being the North Korean flag on their name tags and the button with the revered great leader's face on some guests jackets.
Playing next to the stage was a large screen tv belching out patriotic clips about the beloved little big boss with the funny hairdo. Incredible. A space odyssey through the tunnel of time.
We arrived in time to take in the show, which was a very well orchestrated song and dance routine with lovely sugary Barbie-like songs a la " how green was my North Korean valley" with flag waving and dancing interludes, all by the waitresses which even performed on the instruments – being professional musicians must have been part of the job description – they were absolute pros.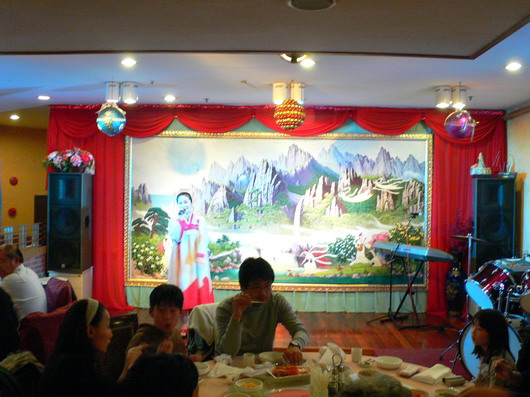 North Korean Folk Songs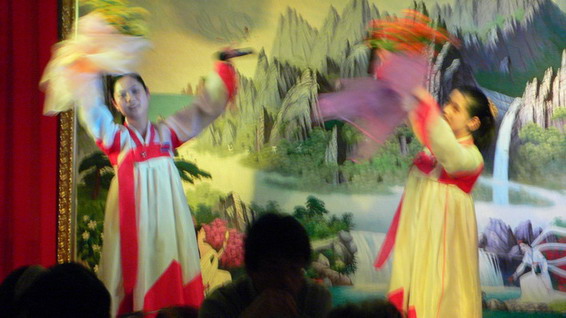 North Korean Folk Dances
The meal was OK, we ordered some excellent pork cutlets and Pyongyang-style Kimchi, a seafood pancake that was a bit bland, we had different snacks on the table, it was tasty, very Korean meal with good Tsingtao on the side.
Fatcigar, speaking some Korean and being a regular patron finally arranged for me to have a picture with the waitresses – but even this was a very formal affair, bit on the stiff side.
I kept wondering if their Polit Kommissar was having a fit.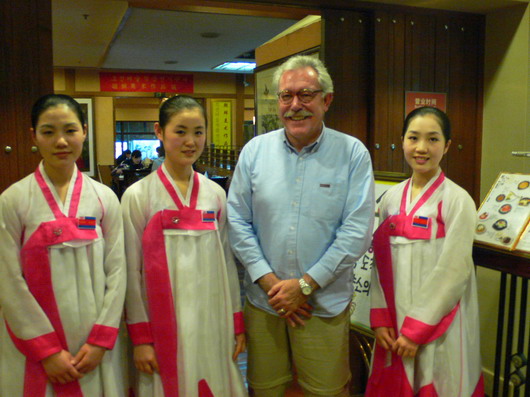 Friendly North Koreans at Pyongyang Yuliu – Shanghai
I must admit that, even for me as a seasoned traveller, it was one of those evenings when you feel like stepping into a whole new world.
Where else can you step out of a Barbie mega-doll-house and into the Barbie-like real life North-Korean eating house listening to tributes to the great leader ?
Mindboggling to say the least.
Links to "Yuliu" Restaurant :
www.okryu.net/jade_exhibition.htm
And to "Jianguo" Hotel :
www.jianguo.com/en/food_overview.htm
www.jianguo.com/en/about_overview.asp
To digest this contrast we removed ourselves once more to the Roosevelt cigar lounge.
Barbie and GI Joe are still residing happily in their humidor window and I was happy to meet the waitress again that had "saved my life" last visit with her head and shoulder rub.
Knowing that she was a Barbie addict, I had bought her a Barbie mug as well – she was in pink heaven when I presented her with the bright red Barbie bag.
Pink Heaven for her
Wanting to taste and review the Cohiba Gran Reserva, I had brought a stick with me, Fatcigar having received one earlier. But he wanted me to try the new Trinidad Robusto T also launched at the last Festival. Revenge of the cigar lover !
Again a cigar that I was impressed with – after the first 5 minutes where I thought the cigar to be flat and one-dimensional it opened up with the sweet floral aromas of Trinidad.
A cigar to watch out for and I will certainly smoke some more.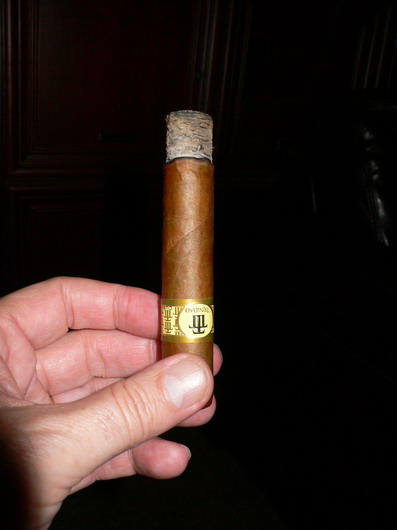 Trinidad Robusto T Heaven for me
We were joined by Bill, a San Francisco-Chinese working for a large multi-national in Shanghai.
There we were, sitting in Shanghai, discussing the Casas in Florence, Rome and Milan, the upcoming Habanos Day Italia by our friend Gino, vendor reputation and Siglo XXI humidors, Hong Kong's new anti-smoking laws, everything making perfect sense in this cosy atmosphere.
A wealth of information here and proof that the cigar world is indeed a very small microcosmos and news travel fast inside this bubble.
My only regret now is that I will not be travelling that fast back to Shanghai again.
It has been a great month with just the 2 Shanghai flights, a perfect host in Fatcigar and with perfect cigars in a perfect city.
I will now enjoy 5 weeks off – and see that I get back to Shanghai as soon as possible. Even my wife would like to join me, so I guess we will be there for a private visit later this year.
Once again, my most sincere thanks to Fatcigar for his companionship, his humour, his hospitality and time and the surprising and genuinely rare insights !!
Nino
Some additional Information on the DC-3/Dakota from Air-International March 2009 :
First flight was Dec. 17, 1935 at Clover Field, California by Carl A Clover. 
Who would have imagined that almost 75 years later there are almost 300 examples still active today.
Around 10.655 DC-3 variants were built in the USA between 1935-1945, while licence production was undertaken in the Soviet Union from 190-1954 ( 4.937 built as Lisunov PS-84 or Li-2 ) and Japan from 1940-1945 ( 487 built as Showa L2D "Tabby" ).
Very few Li-2's are airworthy and none in commercial use and no "Tabby" remains.
Hundred of DC-3's however are still flying around the world.
In the USA the DC-3 was built both for airlines as well as for the military and supply overseas. American military examples were assigned a wide range of designations, although most of the air force aircraft were completed as C-47 Skytrains or C-53 Skytroopers and the Navy and Marines Dc-3's were R4D Skytrains prior to being re-designated as C-47's or C-117's in 1962. 
Aircraft serving with the RAF or the air arms of former nations of the British Empire were known as Dakotas.
Around 160 DC-3's are currently earning their keep with commercial outfits, undertaking a variety of roles. Others are owned by private individuals or organisations.
The number used to fly passengers is small.

-.-
I am always fascinated  by Pudong's Terminal building and the great opportunities it offers to take interesting photographs so here are some additional pictures to this report of Pudong's Airport International Terminal :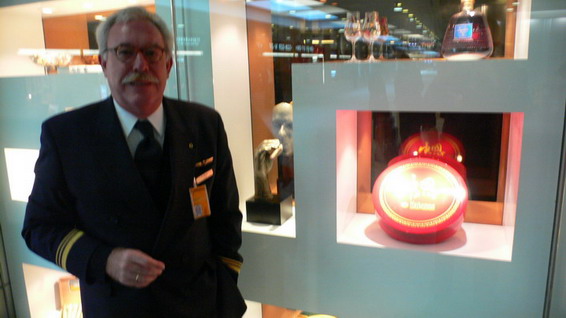 Bolivar Armonias at the Duty Free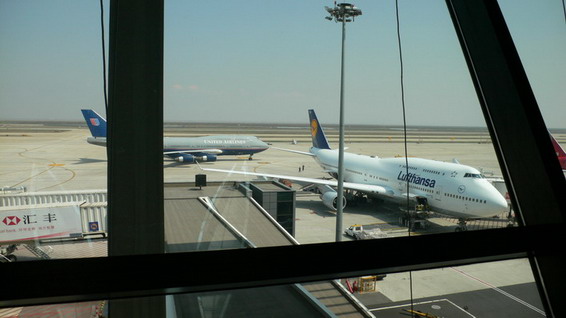 Pudong International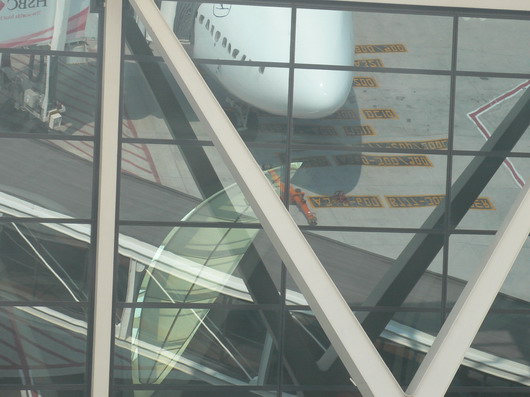 Pudong International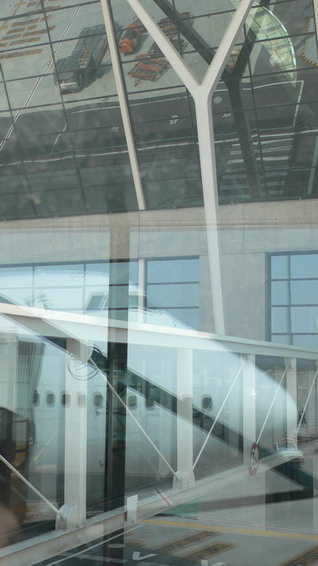 Pudong International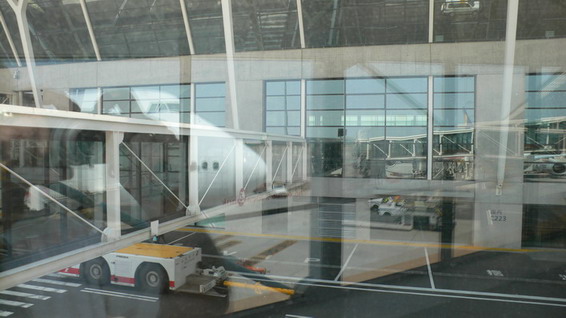 Pudong International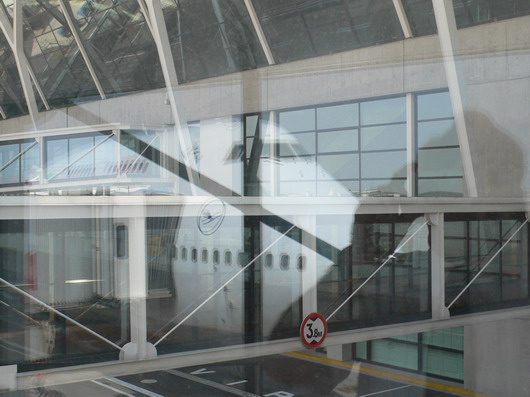 Pudong International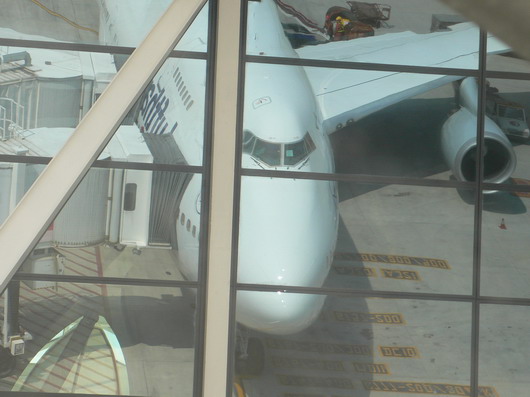 Pudong International
Copyright 03-2009 © Ninos Flying Cigar