15 Mar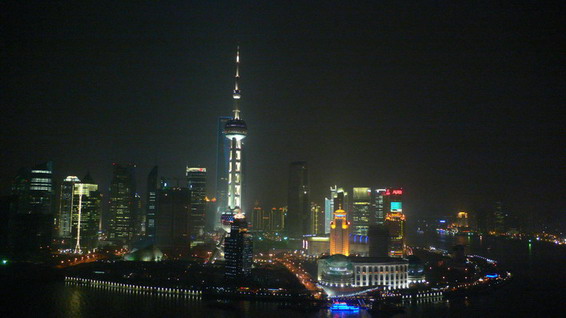 Pudong viewed from atop the Hyatt on the Bund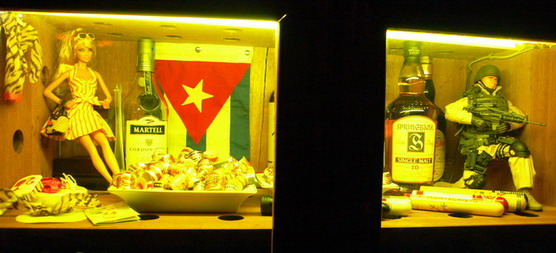 Barbie and GI Joe at Roosevelt's Steakhouse
March – 2009
Barbie turned 50 this week, thin and blond as ever.
Three days before I arrived in Shanghai a giant 6 floors high Barbie flagship store had opened to much fanfare in the city and the Barbie craze was seriously going around town.
See : www.barbieshanghai.com/en/Map.html
I could observe it when Christoph W from Hamburg ( no, not that CW ) a German expat and Portmann fan who makes Asia his home, gifted a Barbie doll to Fatcigar at the Roosevelt cigar lounge so that GI Joe guarding the humidor would have some company.
Our friendly waitress totally & absolutely forgot the world around her for half an hour while she un-wrapped the package, took out Barbie, admired the spare dresses, the hairbrush and all those accessories that came along.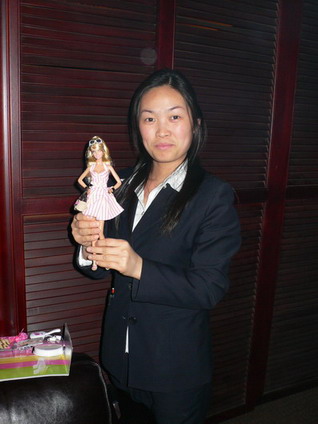 Happy with Barbie
Barbie was then given a corner in the humidor next to GI Joe.
I was happy the waitress did not understand English when I told Fatcigar and Christoph about the best Barbie bumper-sticker I've seen so far : When I grow up I want to be Barbie – the bitch has everything !
The three of us had met some hours before. Fatcigar had invited me to smoke in Shanghai last year but we missed.
This time, we had not only set up a date, but we would meet twice in Shanghai, as I will return there again in a week's time.
After they picked me up from my Hotel it was flowing along with the rush hour traffic down to the Bund river promenade and the Hyatt on the Bund.
Fatcigar treated us to a terrific early dinner of Chinese classics that was way too much for us.
A very rare thing : we cancelled a few dishes and left the dessert untouched ( even though I was full, I really regretted leaving the dessert behind ).
The place was "Xindalu – China Kitchen", the Hotel's Chinese restaurant in the Lobby with 4 special kitchens for Beijing Roast Duck with a wood oven, Dumpling & Noodles, Chop & Wok and Shanghai and Hangzhou dishes.
A first for me : Beijing Duck in Shanghai. Absolutely delicious with the crispest skin and fatless meat, one of the best ducks I've eaten in China so far.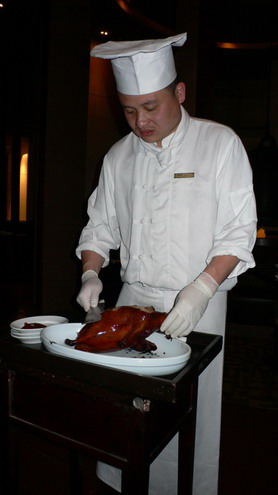 Beijing Duck in Shanghai – Hyatt on the Bund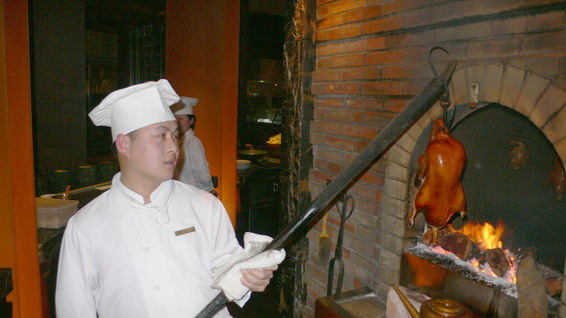 Xindalu – China Kitchen – Hyatt on the Bund
I had the pleasure of meeting the cook later and received a little insight in his oven before leaving.
My thanks to the newly arrived F&B manager Heiko !
We left the Restaurant but not the Hotel as the best view in the city can be had from the VUE Bar atop the Hotel. Located on the 32 and 33 floors, it gives a most stunning view over the Bund and across the river to the Pudong side. Lots of construction going on there for next year's Expo.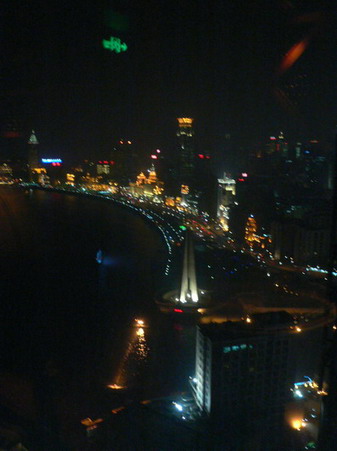 The Bund
Even better was the view from the topmost 33-rd floor, above the Bar, where one can lounge around a Jacuzzi and take in the view open air laying on a day bed.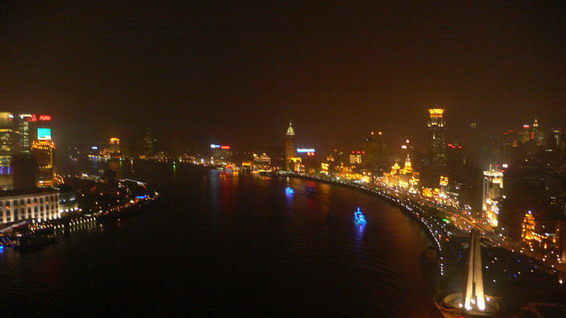 The Bund and Pudong
Our final and most relaxing part of the meeting took place at the Roosevelt Steakhouse cigar lounge, where Barbie met GI Joe and we met a Partagas 15 Aniversario XV LCH Partagas humidor.
The Roosevelt is run by George Chen and has as a partner H.Delano Roosevelt, a grandson of FDR. It is located in the Marshall Mansions, where Gen. Marshall resided in Shanghai, a great old mansion in the French Concession. It opened in 2007.
Extremely recommended.
See :  www.rooseveltsteakhouse.com/aboutus.htm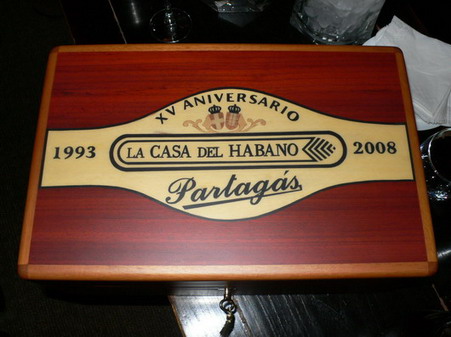 XV Aniv. LCH Partagas humidor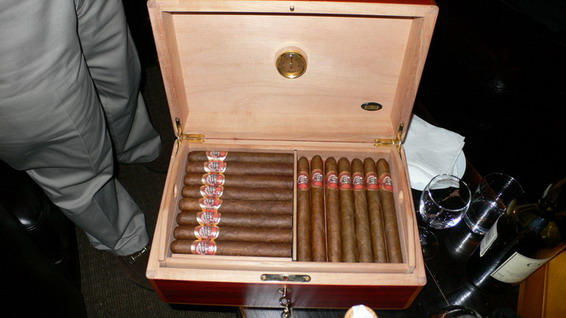 XV Aniv. LCH Partagas humidor
A very generous host, Fatcigar offered us a extremely rare – only 15 humidors produced worldwide – and memorable cigar, the Partagas 15 Aniv. LCH Partagas, with a Conde 109 vitola made exclusively for this humidor. Christoph reciprocated with 30 yr old Grahams Port from his own locker.
Truly a great cigar now, but give it more time, say 5 to 8 years and it will be even more amazing.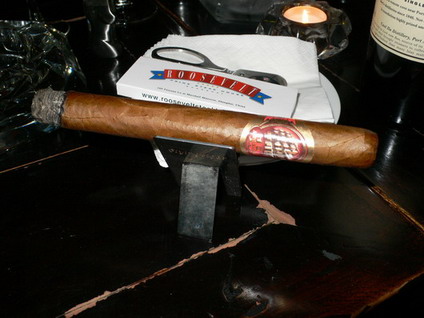 Partagas XV Aniv. LCH Partagas Conde
We had a few hours of good conversation, the topics ranging from China to Cuba to tghe economy to the village pharmacy and I could finally relax.
After 8 days in Havana on very little sleep, lots of cigars and rum and then only a few days home sorting out the pictures and not sleeping much either, I was having nightmares about cigars, feeling like a Zombie with cigar-fried brains.
Finally I could sit back, relax and enjoy. Especially after receiving a soothing head & shoulders massage right at my seat.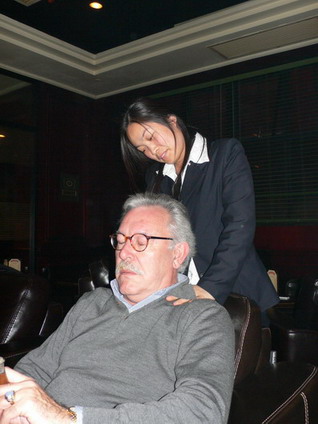 Sit back and …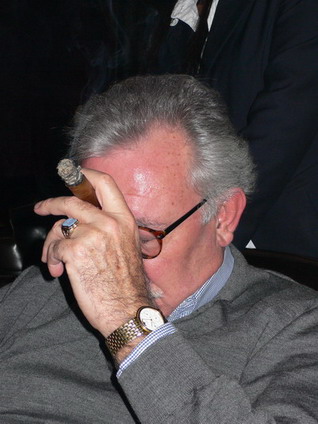 finally relax !
I presented Fatcigar a Cohiba Gran Reserva from the Festival's Gala dinner and we will taste it in a few days.
The following day was spent at the tailors, as I visited the South Bund fabric market and the down-town shops and had some shirts ordered as well as a formal "Chinese"-style jacket for next year's Festival.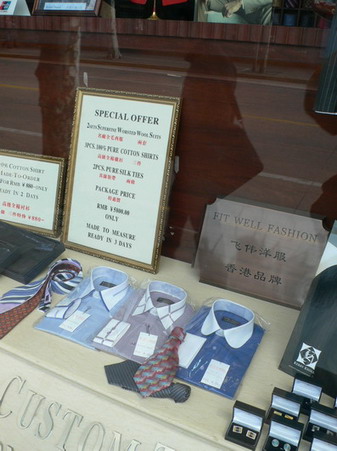 Shanghai tailors
Another Shanghai first for me – I used the subway line to avoid the worst of the traffic.
Great way to travel except that everyone seems to be talking to at least 2 or 3 mobiles simultaneously.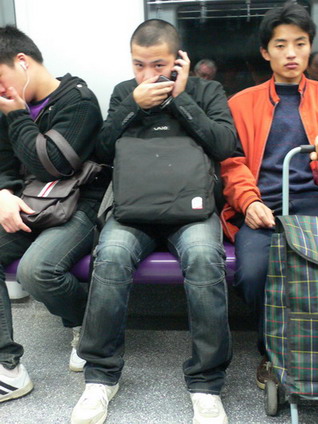 Two way talking
Dinner was at 1221 The Dining Room, where a new item has been added to the menu, the "Lufthansa Special" – a combination of all the dishes most liked by LH crews. A good way to save time and discussions – and it shows how efficient Chinese can be, even in small details like these.
A few days rest at home to re-arrange my sleeping patterns, and it's back to Shanghai to check on Barbie's relationship with GI Joe inside the humidor.
Are wedding bells ringing ?
Stay tuned.
More pictures of this trip :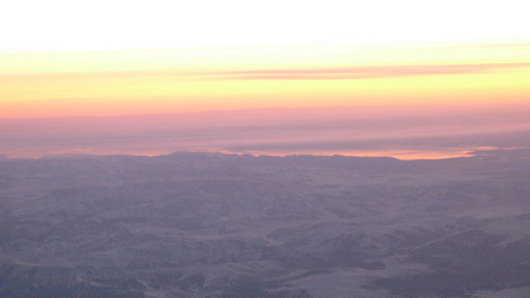 Sunrise over Lake Baikal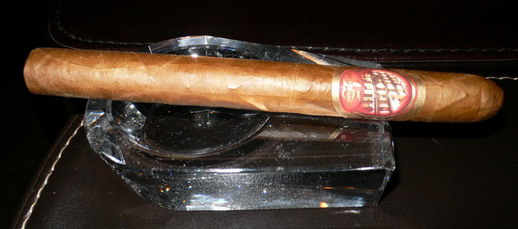 Sundown over Shanghai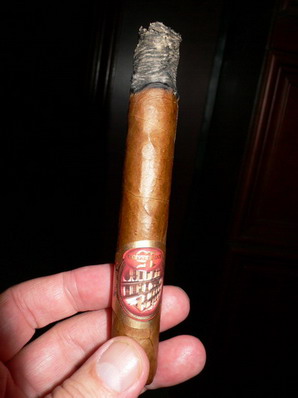 Great cigar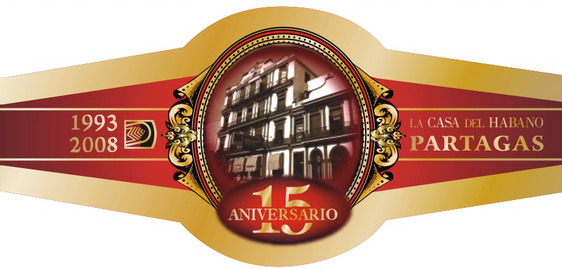 Most Beautiful Band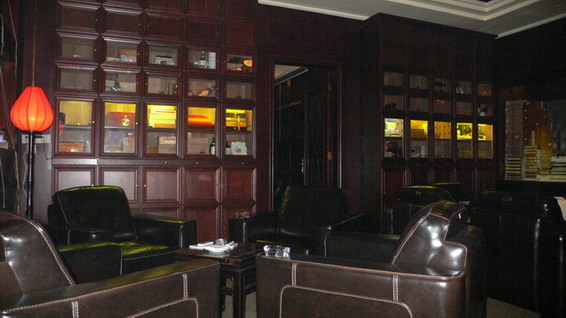 Most Beautiful Lounge – Roosevelt
Shanghai Tang's shop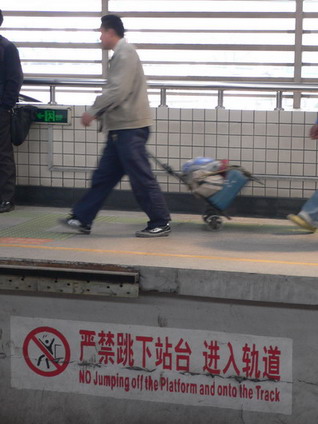 Good advice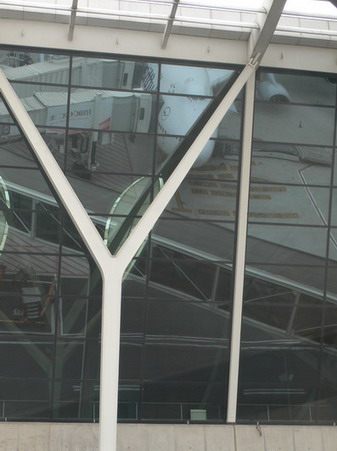 Pudong Intern. Airport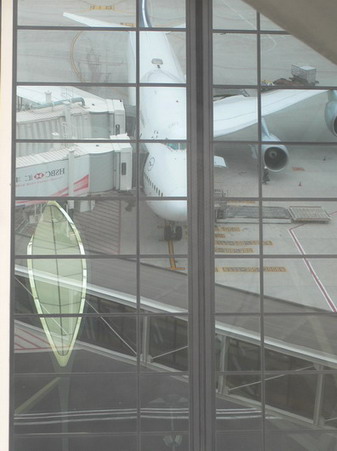 Pudong Intern. Airport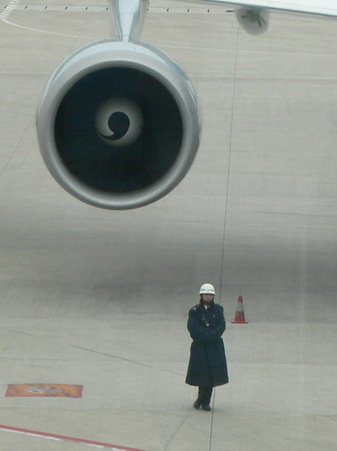 Pudong Intern. Airport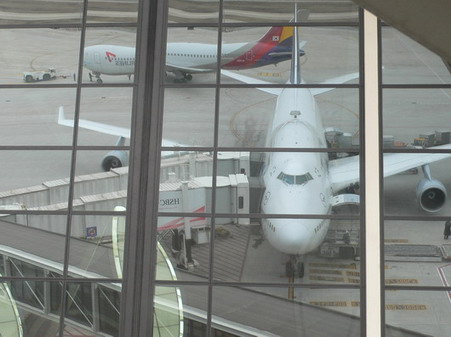 Pudong Intern. Airport
Copyright 03-2009 © Ninos Flying Cigar